Tim Ho Wan often comes up in the first sentence when discussing where to go in Hong Kong for dim sum. It's not for its location (a small alley in Mongkok), choices (few), views (none) or ambience (close to zero). Nope, it's for the food, or at least for the novelty factor of ostensibly being the cheapest Michelin-star restaurant anywhere.
I had to try it, so after leaving my luggage at the Four Seasons Hong Kong, I took Hong Kong's efficient MTR (red line) a few stops and walked about 7 minutes to the tiny shop. Tim Ho Wan opens at 10am, and it was a bit after 11am that I got there, so there was a sizable wait but not nearly as bad as it might have been, probably due to the fact that a typhoon was scheduled to hit later that afternoon/evening. There was a small table set up outside the shop but initially no one staffing it (staff does double duty as both line/queue managers and servers) so I asked the folks standing around to understand whether to try to go in and put my name in, or wait until someone emerged. The latter was the consensus, so I waited some minutes until a brisk but not unfriendly Chinese matron came out to put additional names down on the list, and give out dim sum menus (English and Chinese versions available) for you to mark the quantity of each type of dumpling you want.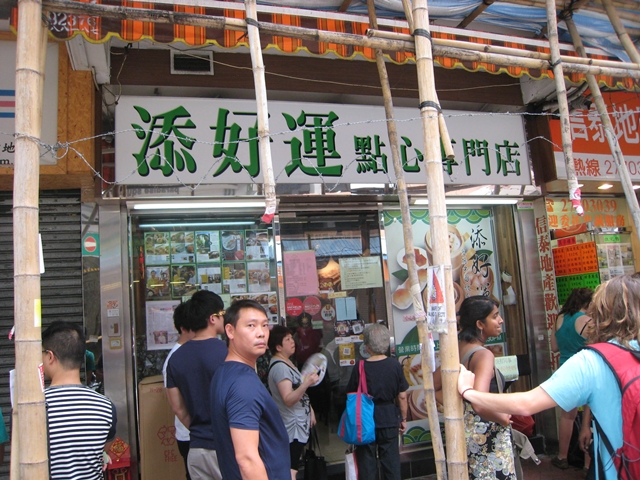 Since I was just one person (my husband and son were on a later flight to Hong Kong) I managed to be seated in about 35 minutes, which for Tim Ho Wan is very good indeed–some folks have been known to have waits of 3 or more hours, although you can get a time estimate, go run errands and come back at your appointed time.
I was seated with another solo diner, a sleep-deprived doctor from Korea, so we shared some of the dim sum we had each ordered and talked about how we had learned about Tim Ho Wan, Korean vs. U.S. medical systems, travel, etc. If you're flying solo, you'll probably also get seated with others, which I think is fun, but if it's not your cup of tea, something to be aware of.
The absolute must-order at Tim Ho Wan are the Cha Siu Bao. Usually cha siu bao are among my least favorite dim sum dishes in both their traditional steamed or bready baked form, but these were truly different. They were smaller, giving a better filling to bun ratio, and baked with a crunchy, sugary crust on top. You'll want to eat more than one of these morsels, so make sure you allow for at least two per person for each person in your group (they come 3 to an order).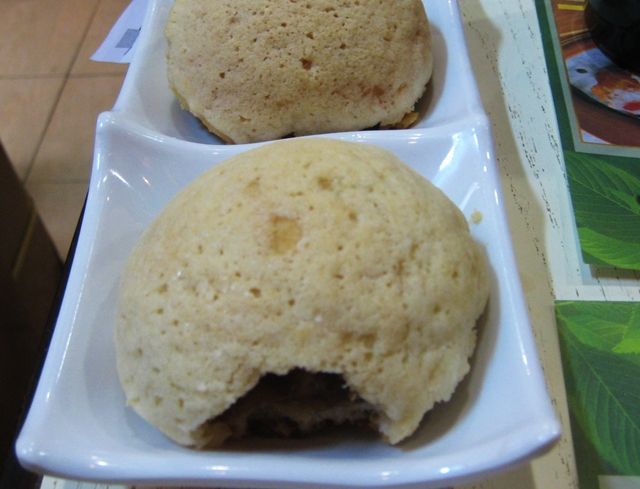 I also tried another dim sum standard, Har Gow (shrimp dumplings) which were sweet and bursting with shrimp from their thin translucent skin. Among the best I've had. It probably didn't hurt that since there was no soy sauce on the table, I ate everything plain, allowing the freshness of the seafood to really shine.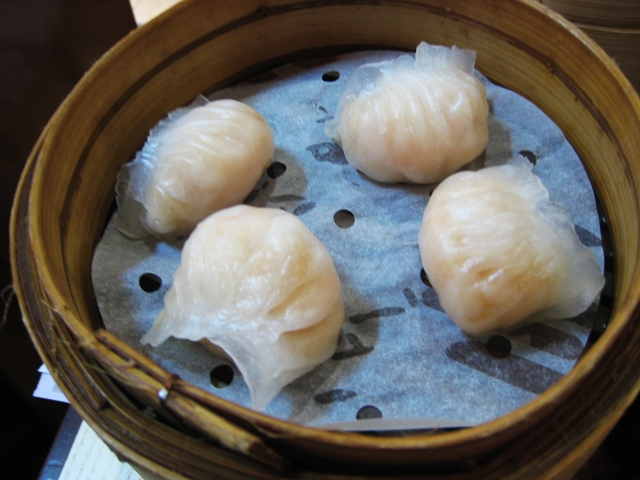 The Chiu Chow Dumplings have a variety of vegetables in them; the contrast in textures was pleasing and the skin was thin and translucent and it probably epitomizes what a Chiu Chow dumpling is supposed to taste like, but I can't say this is my favorite kind of dumpling.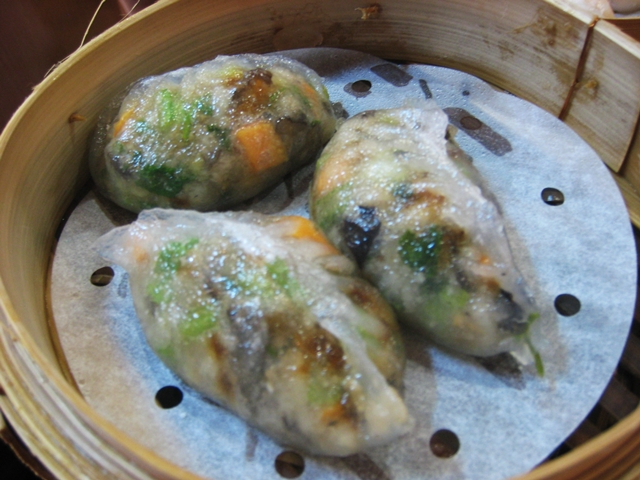 Another one that I'd give a miss to next time was the pork spare ribs in black bean sauce. Mostly bone, so a lot of trouble to eat for, in my opinion, pretty average taste. I donated it to the neighboring table, which was happy to eat them, so at least they didn't go to waste.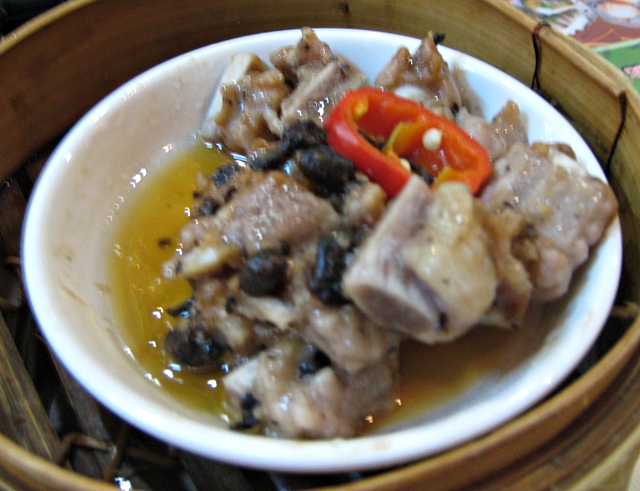 One of my favorite dim sum specialties is not a true dumpling at all, but rather the glutinous rice stuffed with char siu pork, Chinese sausage and other fillings, wrapped in aromatic lotus leaves and steamed. While Tim Ho Wan's version didn't have a few of the fillings I enjoy, such as dried shrimp and mushrooms, it was still one of the best versions I've ever had, not to mention enormous–count on sharing it with 1-2 other people, as part of a dim sum meal.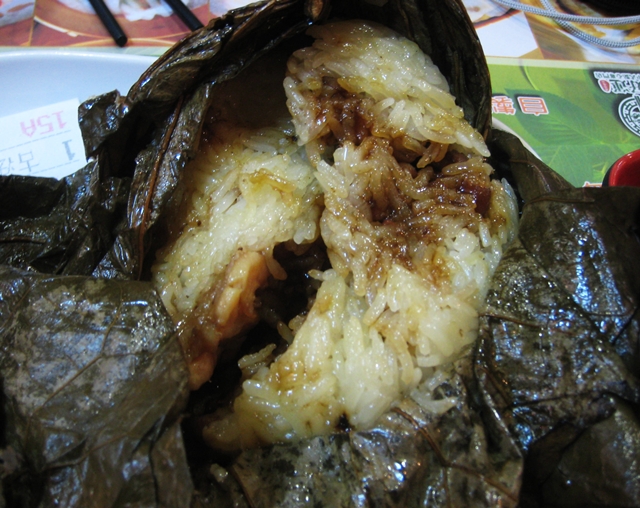 Verdict: Even though I vastly overordered (due to the cheap prices, I somehow forgot that each order came with 3-4 pieces (except for the massive sticky rice in lotus leaf) I still only paid about $20 for a very filling lunch and tons of leftover cha siu bao for my son and husband. I wouldn't want to wait around for hours, but if you're going to be in Mongkok anyway, just come early to get your number and come back later. You may not like every single dumpling type, but at bargain basement prices, it doesn't matter. I don't know that this is definitively the best dim sum in Hong Kong, but I think it must be some of the best value dim sum in terms of food/price. If advance reservations and ambience are musts, however, I've heard good things about Man Wah at the Mandarin Oriental Hong Kong, though I haven't personally tried it. Also check out TravelSort readers' recommendations on
which places in Hong Kong serve the best dim sum
.