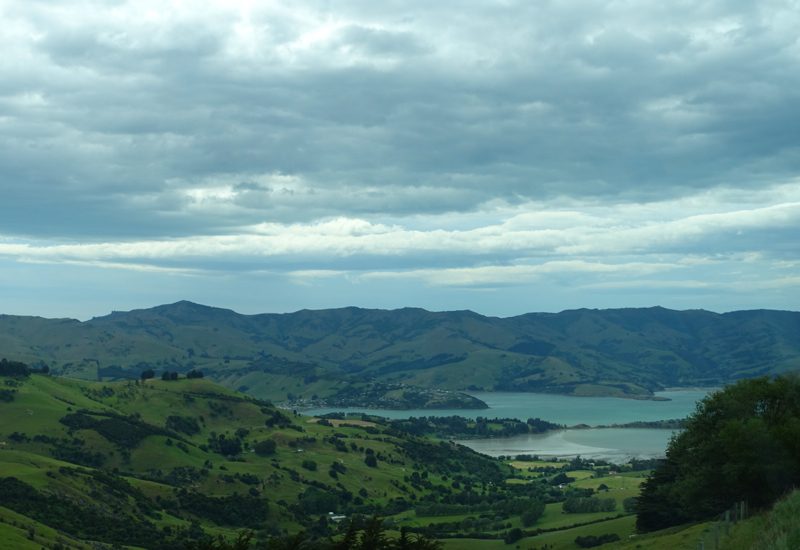 This Things to Do in Akaroa post is from our visit to this small but picturesque town on the Banks Peninsula, during our stay in Christchurch, New Zealand. We visited Akaroa as part of our trip to New Zealand's South Island, including stays at luxury lodges in Christchurch and Queenstown. For the prior posts please see:
Review: Eagles Nest, Bay of Islands, New Zealand
Review: Gables Restaurant in Russell, New Zealand
Paihia Dive Review, Bay of Islands, New Zealand
Review: Otahuna Lodge, Christchurch, New Zealand
Otahuna Lodge Dining Review: Best Meal in New Zealand
Getting to Akaroa
Akaroa is just over 50 miles from Christchurch, but due to some of the windy roads, count on about 1.5 hours to reach it from Christchurch, or about 1 hour 15 minutes from Otahuna, depending on traffic. The good thing is that once you get on State Highway 75 going towards Akaroa, you're unlikely to get lost, since it's the only major road.
Things to Do in Akaroa
1. Enjoy a Scenic Walk by the Bay
Akaroa is a small harbor town, and very walkable. Enjoy the glimpses of the bay (see first photo of the post) on your drive into Akaroa. Then wander along the harbor to take in the views: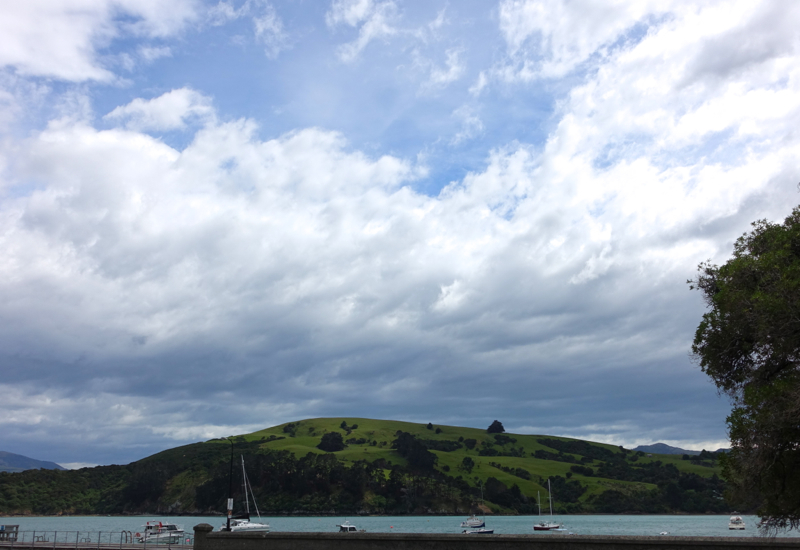 You also can't help but notice some of the landmarks, which are by the water, such as this stone laid in 1940, commemorating the 100th anniversary of the arrival of Akaroa's first French settlers in 1840: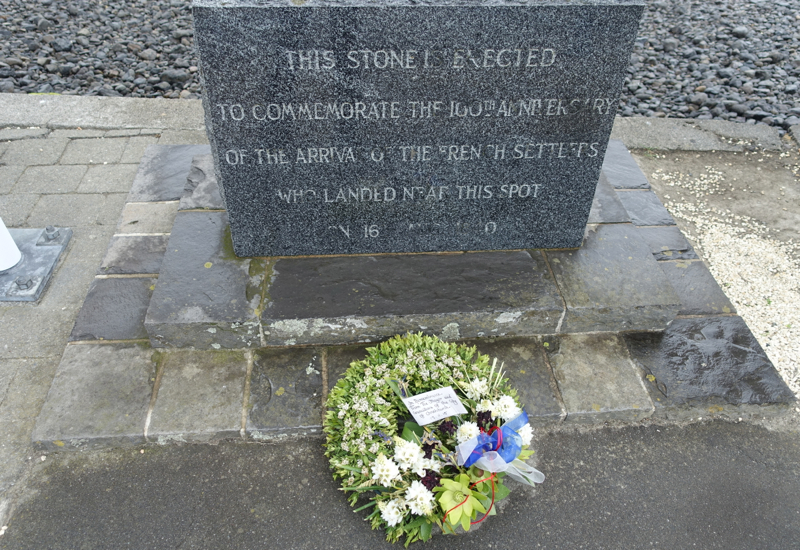 Or Akaroa's War Memorial, which had to be rebuilt after being partially destroyed after the major Canterbury earthquake in 2010, which Christchurch and its environs are still recovering from.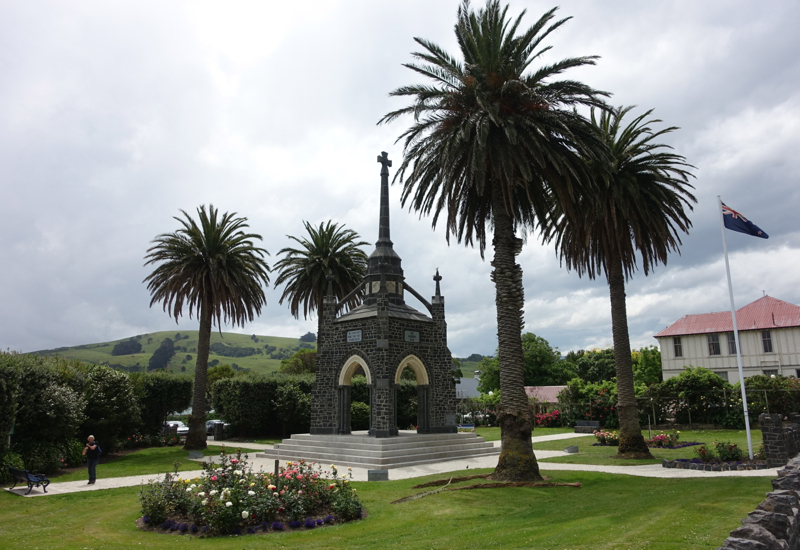 2. Go Sea Kayaking in Pohatu Marine Reserve
We'd originally planned to swim with Akaroa's rare Hector's dolphins with Black Cat Cruises, but due to the stormy weather that preceded our visit, it was cancelled that morning–unfortunately Black Cat didn't even notify us until we were already on our way to Akaroa, so I wasn't happy about that, as it left us no time to make other plans.
In retrospect, I would instead have booked us to go sea kayaking in Pohatu Marine Reserve with Pohatu Penguins. There are trips that depart Akaroa at 12 noon, with a ride in a 4WD to Pohatu, followed by guided sea kayaking in the bay. There's a chance (though not guaranteed–these are of course wild dolphins) to see Hector's Dolphins up close while sea kayaking, as well as other marine life and birds.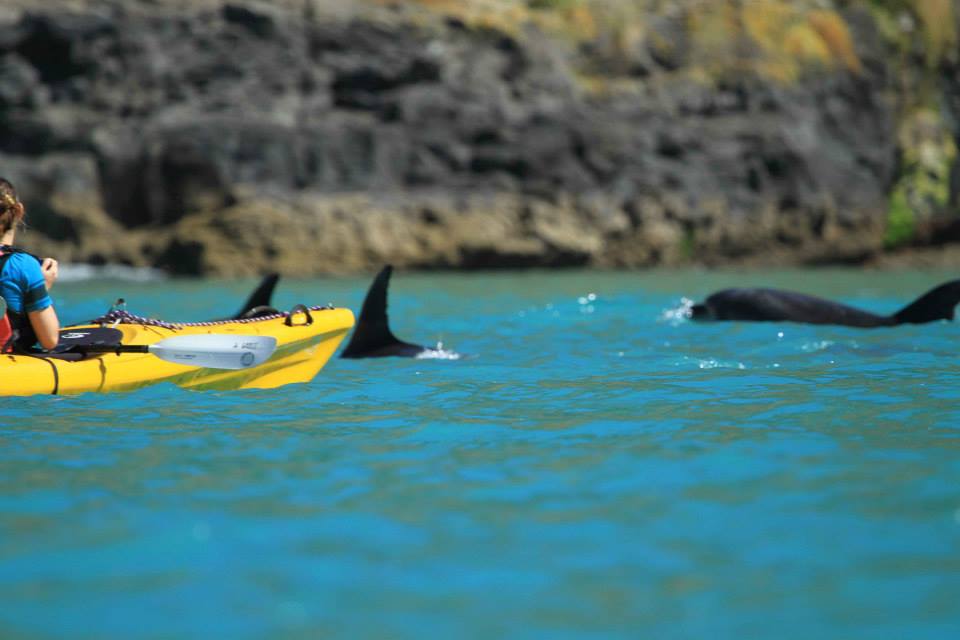 3. Have Lunch at The Brasserie
While there are various restaurants by the wharf, we bypasssed these and instead wandered over to the more residential area of Akaroa, where The Brasserie Kitchen and Bar is, at 41 Rue Lavaud. It has a lovely rose garden leading up to the house, with seating right in the garden as well as on the covered veranda. Our friendly young server was even French and visibly happy when I spoke French with her. Plus, there was free WiFi, making it easy to quickly check my email and get a little work done.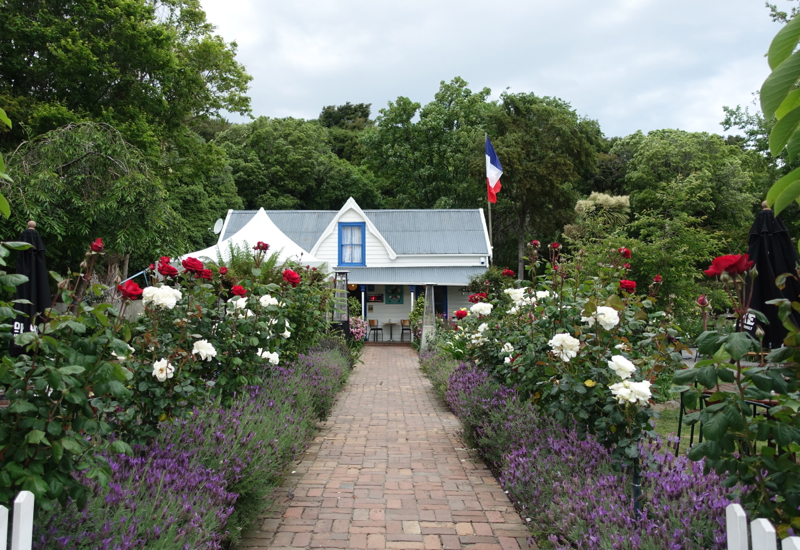 I really enjoyed my Moroccan Seafood Chowder, with its warming spices and generous chunks of seafood, served with garlic bread: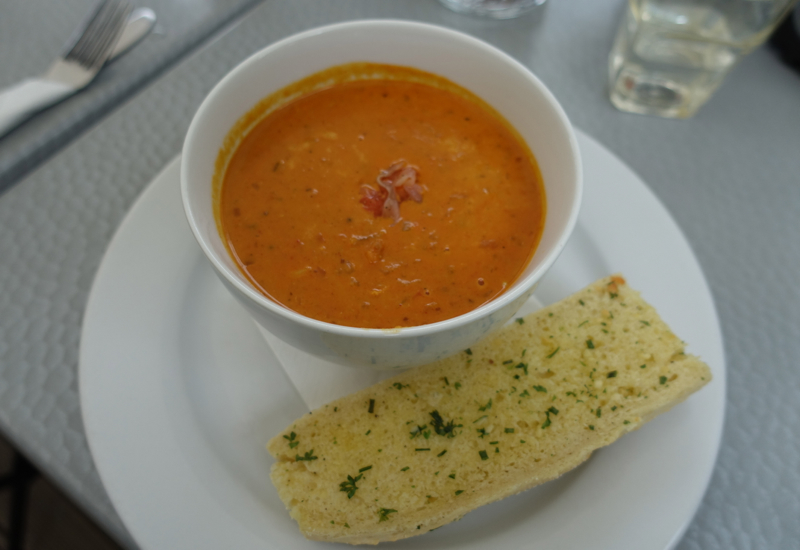 And my husband was happy that they accommodated his request to order French Toast with blueberry compote off the breakfast menu. Usually it's hard for me to get excited about french toast, but this was excellent.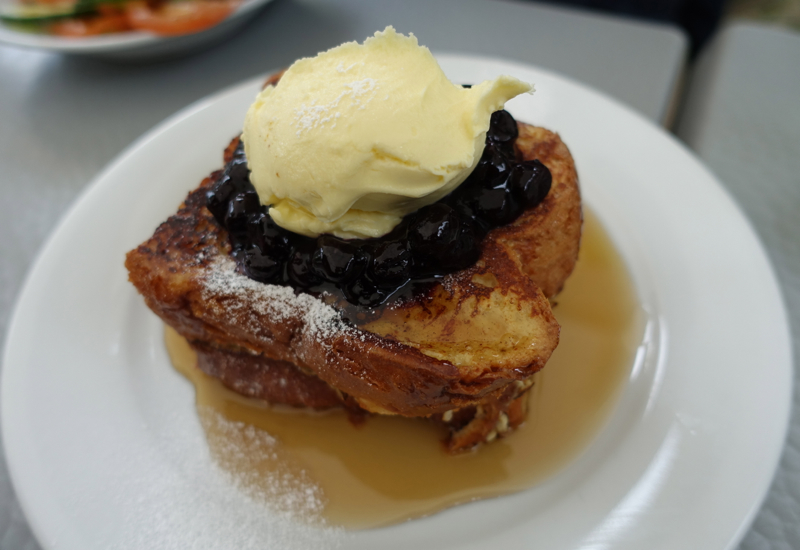 4. Learn About Akaroa's History at The Akaroa Museum
After our lunch, we stopped in at the Akaroa Museum, just a few doors down at 71 Rue Lavaud, to learn more about the town's history.
The indigenous Maori who had originally settled the Banks Peninsula where Akaroa is located enjoyed the rich natural resources of the area. They cultivated kumara (a type of sweet potato), a staple part of their diet, as well as Karaka trees, valued for their berries. The Maori also fished the bay, gathered shellfish on the coasts, and trapped eel in the streams.
The town's French flavor, from its street names to some of the historical homes and trees planted there, stem from the small group of early French settlers who arrived on the Comte de Paris in 1840, two years after Captain Jean Francois Langlois had purchased land in the area from local Maori.
But in the two year interim that it took Langlois to gather prospective French settlers, the British, who were shocked by the involvement of Captain John Stewart in helping one Maori chief Te Rauparaha to capture and kill a rival Maroi, Te Maiharanui, issued an Imperial Proclamation in 1839 that claimed New Zealand for Britain. Hence, when the French settlers arrive at Akaroa on July 11, 1840, they found the Union Jack already flying, and ended up settling in spite of the British sovereignty that had already been established, and that the Treaty of Waitangi, signed earlier in 1840, had established New Zealand as a British colony, though Maori chiefs were to keep their land and chieftainships, and all Maori were to have the same rights as other British subjects (though these latter rights would be subject to dispute and bitterly fought over in later years).
In addition to the written historical displays, I recommend watching the film next door, especially if you have younger kids who may not be up for reading the history but would be more engaged by a film.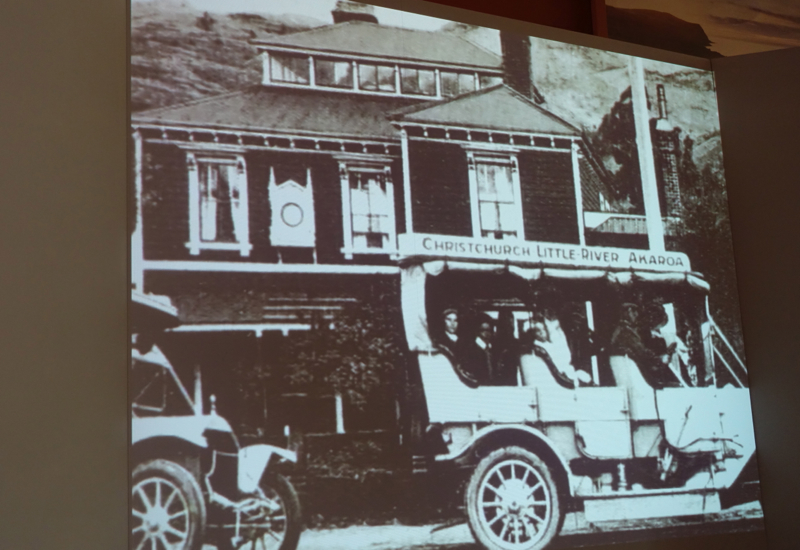 5. Skip Stones by Akaroa Harbor
After trying to check in for our Black Cat dolphin cruise and finding it canceled, my husband and son walked along the harbor's edge and enjoyed finding flat stones to skip along the water.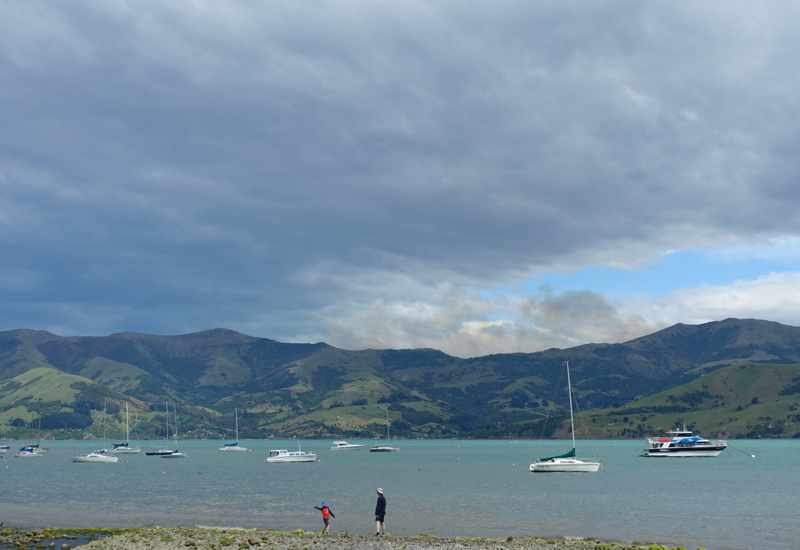 6. Visit Barry's Bay Cheese Company on the Way Back from Akaroa
It's no secret that New Zealand has a thriving cheese industry–in fact, one of the cheeses I regularly buy at my local Trader Joe's is New Zealand grass-fed cheddar. A nice stop on the way back from Akaroa is Barry's Bay Cheese Company. While they weren't making cheese the day we were there, we watched a movie of the process, and of course bought some yummy prize-winning aged Gouda.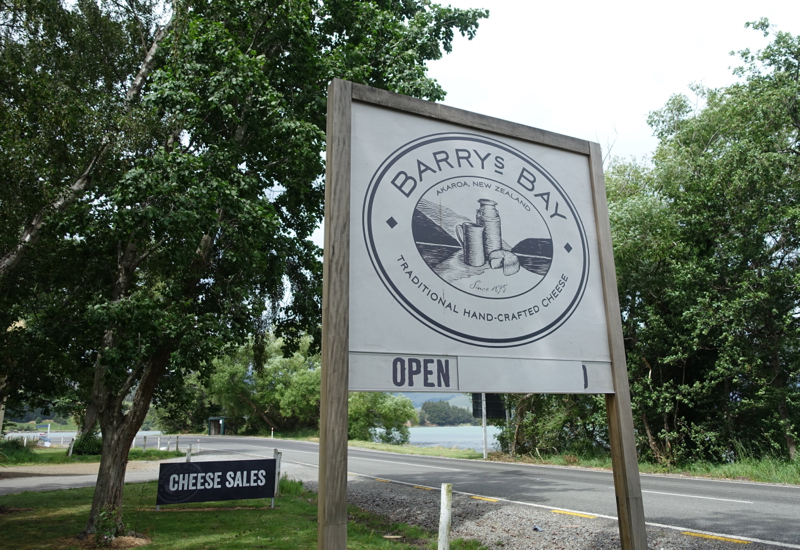 If you've visited the Banks Peninsula, what do you recommend as things to do in Akaroa?
Related Posts
Review: Otahuna Lodge, Christchurch, New Zealand
Otahuna Lodge Dining Review: Best Meal in New Zealand
Review: Eagles Nest, Bay of Islands, New Zealand
Need Award Booking Help? Our fee is as low as $75 per ticket if you book your hotel or cruise with us.
If you enjoyed this, join 200,000+ readers: please follow TravelSort on Twitter or like us on Facebook to be alerted to new posts.
Become a TravelSort Client and Book Your Hotel with Virtuoso or Preferred Partner Amenities!