The Langham Place New York Fifth Avenue (formerly The Setai Fifth Avenue) is one of our most popular NYC hotels, so I decided to experience it firsthand recently. You may have seen in the news last year that it's been acquired by Langham, and will be rebranded as Langham Place. It was supposed to take place in January, but this has been pushed back and for now, at least, it's still The Setai Fifth Avenue and there are numerous reminders of its former owner, Capella.
The Setai's location at 400 Fifth Avenue, between 36th and 37th streets, is best suited for business travelers with meetings in lower midtown, although of course it is just 2 blocks from the iconic Empire State Building, which was another motivation for our stay. Hint: You can only hear about the 102 floors and other Empire State Building trivia every night at dinner for so many weeks before you give in and take your kid there 🙂
We'd had a busy Saturday, so arrived around 4pm. There was only one agent at the front desk, and she was busy speaking to a prospective guest on the phone when I arrived, but she ended the call soon and welcomed me. Our deal was only for the entry level Standard King, so I asked about a potential upgrade, knowing this is a slow time for the hotel. The agent offered to upgrade us to the next level up, a Superior, but mentioned she wasn't authorized to give any further upgrades. Fair enough, so I asked about paying for an upgrade, and mentioned how much we'd love to have a view of the Empire State Building. We arranged one at a fair rate, and we were on our way to our Empire State King Room on the 15th floor.
The design sensibility of the Setai Fifth Avenue is sleek, modern and minimalist–very akin to the Park Hyatt, though I found our room to have a lot more light than, say, the Park Hyatt Washington DC, thanks to the Setai's floor to ceiling windows. The foyer offered plenty of space to remove our shoes, and on the left was an intriguing closet-like space, although not a closet since it had no place to hang things. Instead, it served as one of the (many) favorite hiding spots for the munchkin. There was also a Capella umbrella conveniently visible, though thankfully we had perfectly clear weather and no need for it.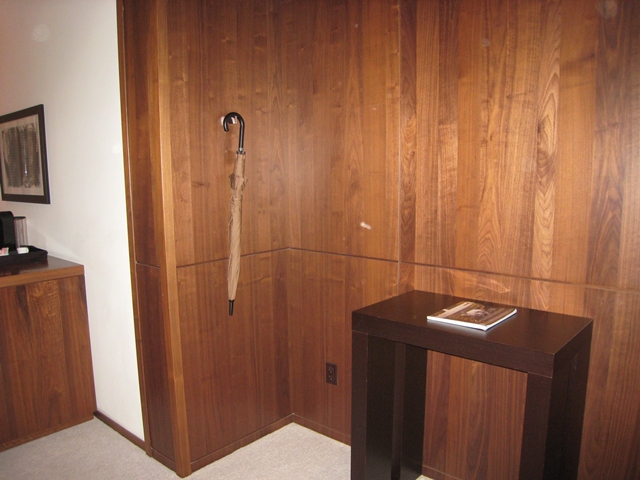 Entering the main room, we were struck by the space. Our most recent NYC hotel stay prior to this one was at the W New York Downtown, and while we enjoyed our corner room there, it was nothing space-wise compared to this: 930 square feet.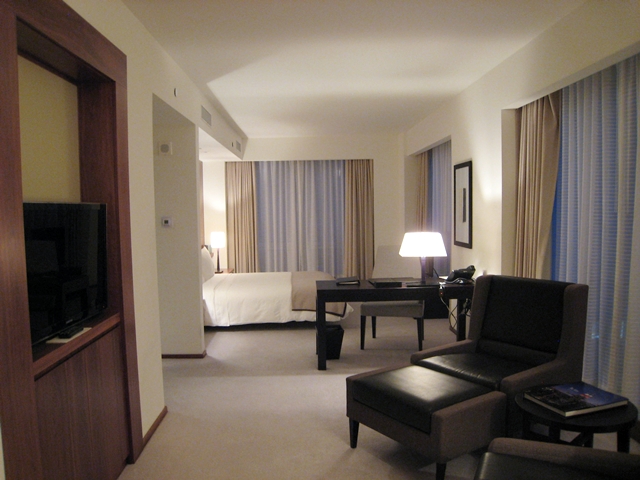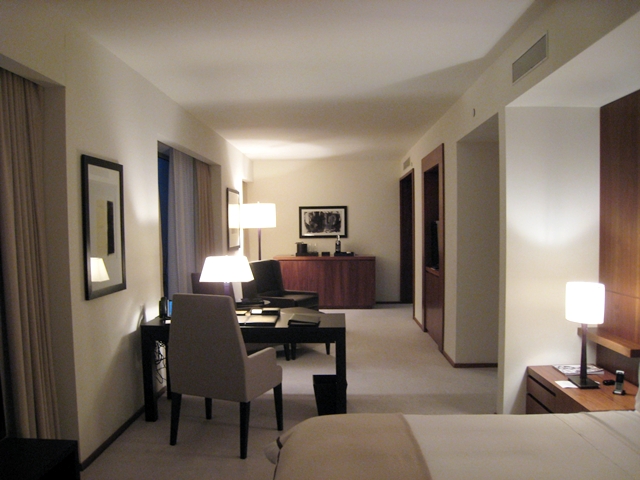 Here's the sitting area: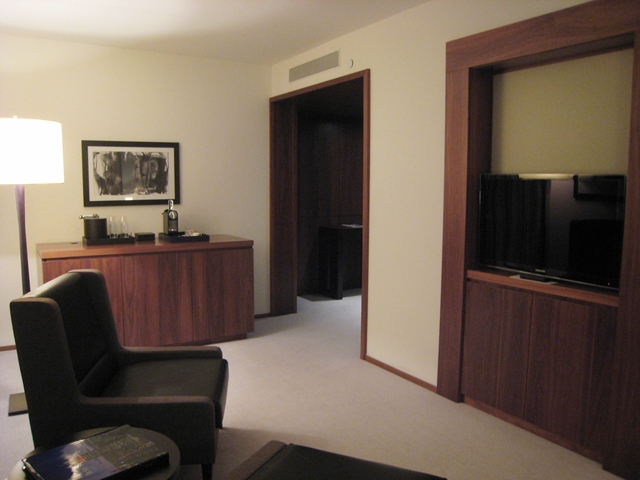 And the King bed, custom made by Duxiana with Pratesi linens. A bit low to the floor, but that was fine by us, and certainly fine by the munchkin, who as a special treat got to watch a Dora the Explorer episode on the flat screen TV.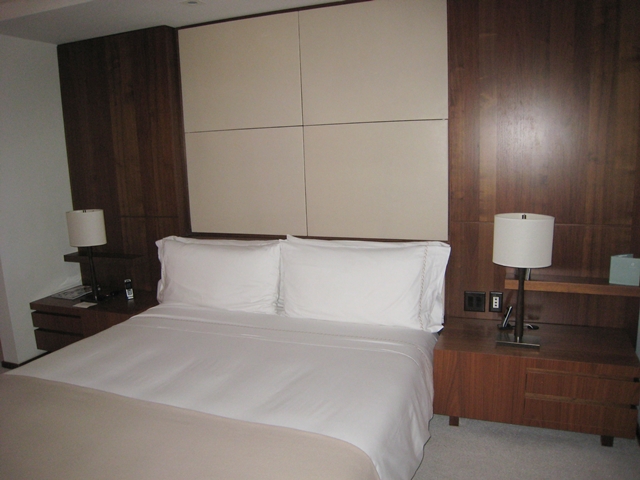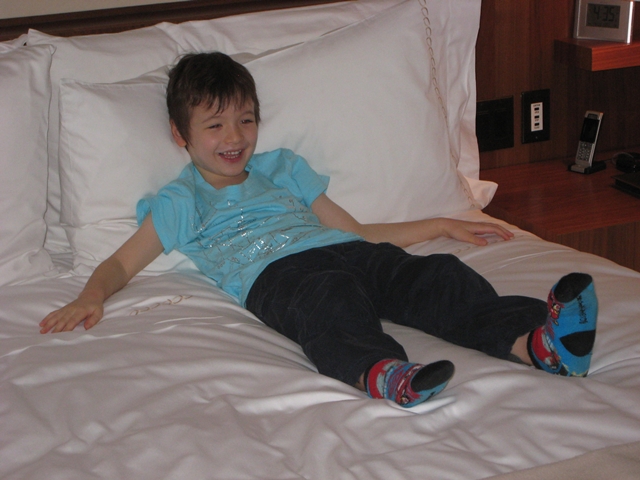 Of course, the most arresting view came from the floor to ceiling windows facing south, towards the Empire State Building:
There was a door to the bathroom and walk-in closet, which meant that we were effectively able to turn this room into a suite. We made up a cozy bed for our son in the walk in closet, with cushions from the chairs and an extra duvet and pillows, and he was very happy "camping out" there. Now, this wouldn't work for an older child or adult, as there's not enough space for an actual rollaway bed in there, but for us it was perfect.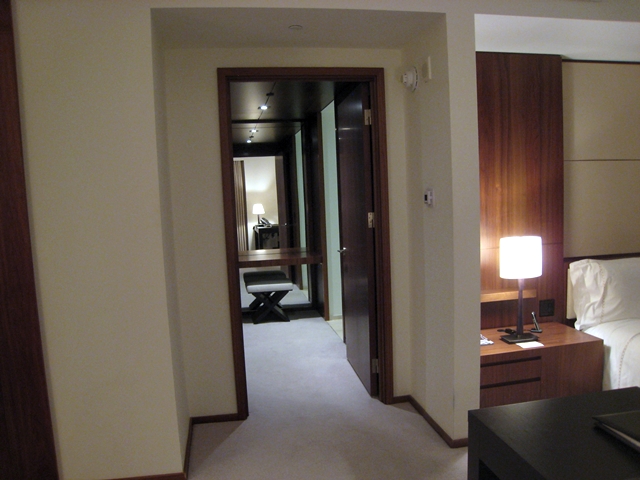 The bathroom has a deep Zuma soaking tub and separate glass enclosed rain shower:
There was a dual vanity with "his and hers" sinks, and the mirror had an embedded TV, handy if you wanted to watch the news while getting ready in the morning or…in the munchkin's case, "Sid the Science Kid" on PBS. I haven't watched PBS children's programming in a few decades, so it's come a long way since Sesame Street viewed on a black and white TV 🙂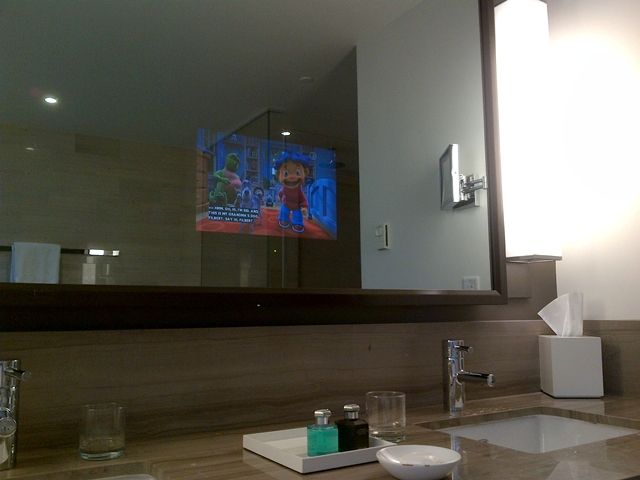 The toilet is in a separate chamber: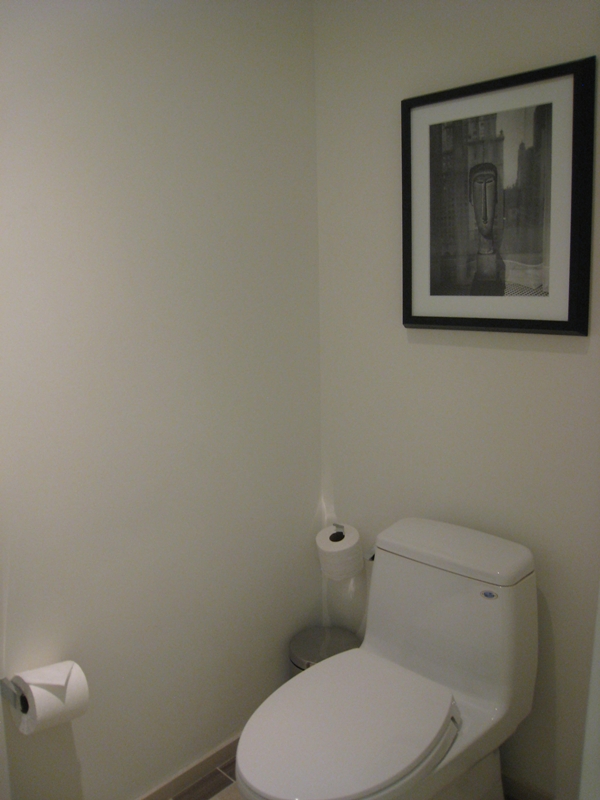 Bath amenities are by Lorenzo Villoresi of Florence. A nice fragrance, although my personal preference is for L'Occitane. There were bath salts placed on the soaking tub, a nice touch, although my son would have preferred bubble bath, as at the Amankila in Bali.
The minibar was complimentary, a nice touch, even though we're not ones to maximize this as we don't drink any soda. Still, the complimentary Saratoga spring water was refreshing. There were also half & half containers available, if you didn't want to take your espresso black.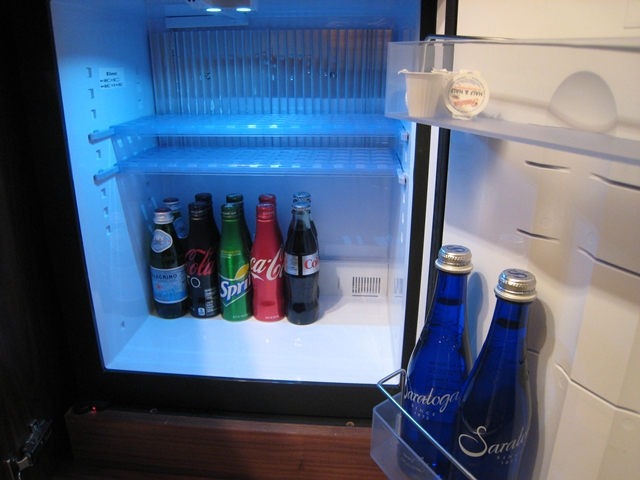 I especially loved the in-room Nespresso machine, which is in every room, even Standard Rooms.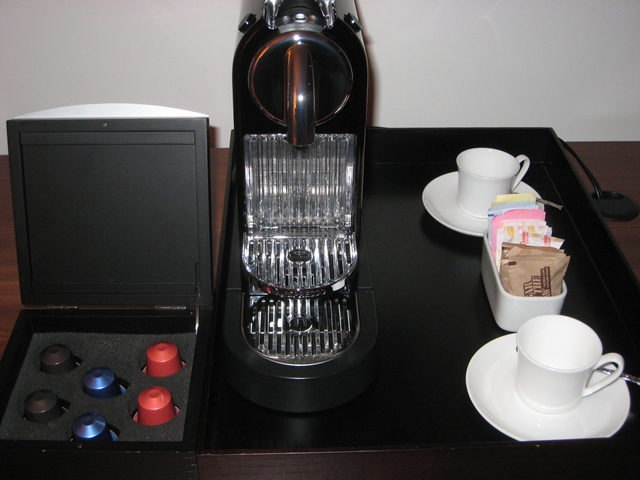 Our room deal included complimentary breakfast, and from prior reviews, I thought that it might only mean coffee or juice and a pastry, but surprisingly, we were told it was a $70 credit. So in the morning, we went down to Ai Fiori. I pretty much savaged Ai Fiori last year for its Restaurant Week offering (lackluster service and food, except for dessert) so again I wasn't expecting much.
I was pleasantly surprised this time around. Breakfast wasn't cheap, but no pricier than most other hotel breakfasts, and they didn't stint in the serving of the fresh squeezed orange juice: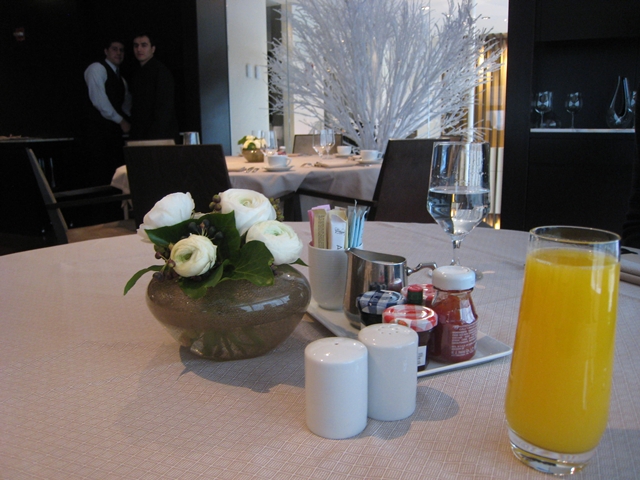 There were three generously sized buttermilk pancakes, and while the ricotta and apple compote that they came with was a rather small portion, there was plenty of maple syrup, and even chocolate syrup.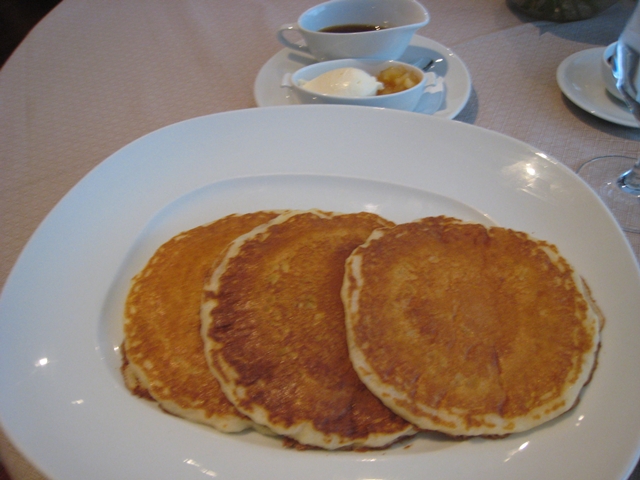 The lobster benedict was fantastic–best I've had anywhere.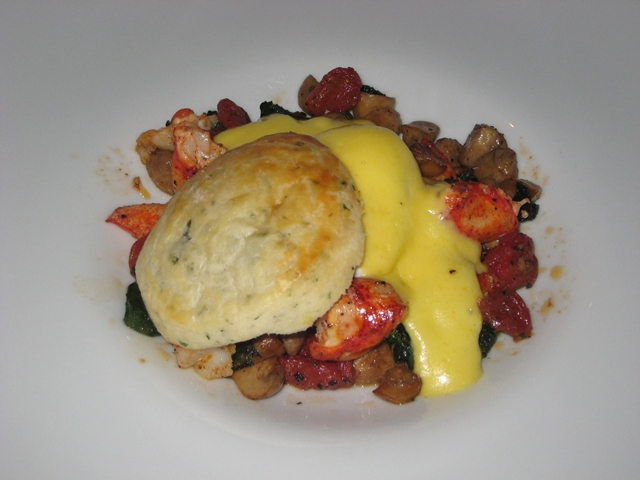 We didn't have time to try Auriga Spa or use the fitness center, but the fitness center was a bit larger than I expected: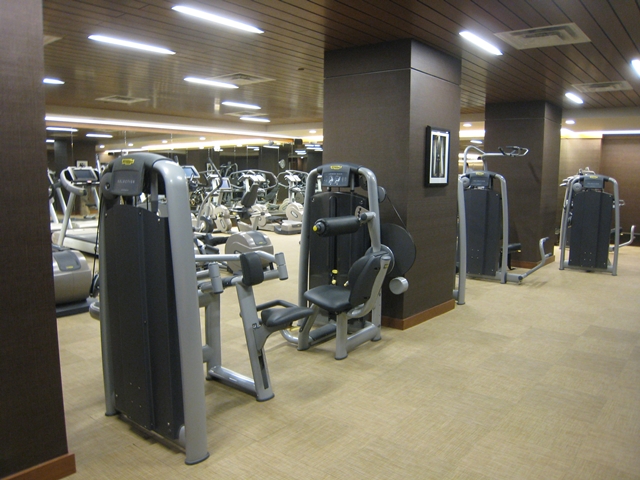 One of the things I love most about The Setai Fifth Avenue is the no set check in or check out time–you simply arrange your own with the front desk. Now, I've heard that some folks waited to check in, so I advise contacting the hotel well in advance if you really need an early check in, but at least for us, it was no problem to arrange a 3:30pm check out, and then move that later to 4pm when 3:30pm proved to be not quite enough time for us.
Another perk? The Maserati house car. Yep, enjoy arriving–to your meeting, dinner, or wherever you need to go in Manhattan–in style. Safe to say this was the first time for all three of us in a Maserati.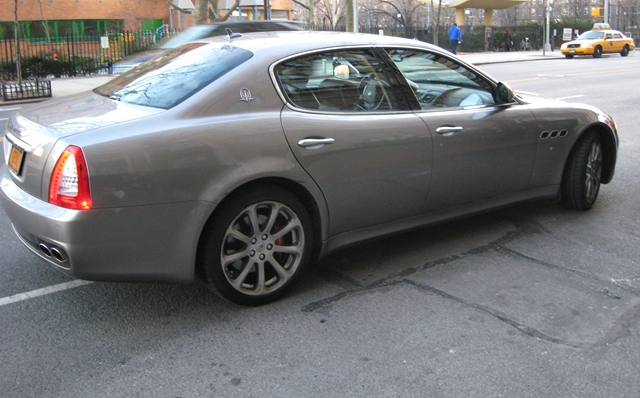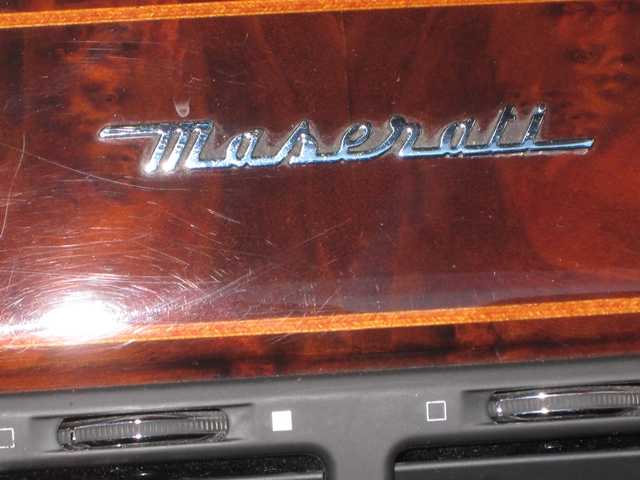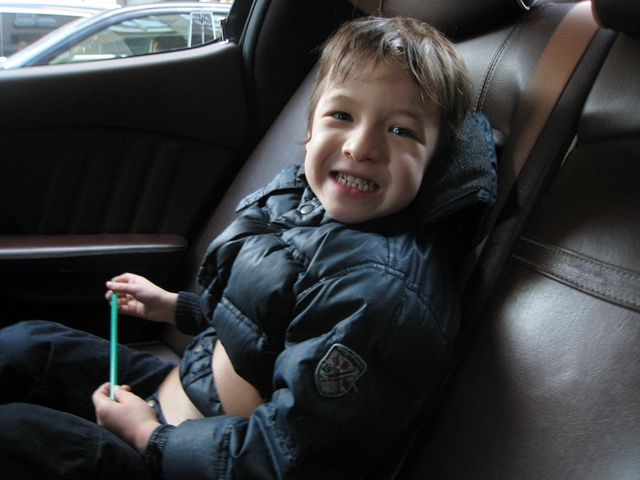 The Verdict: I hope Langham knows what it's doing and doesn't change much, because at least our experience, notwithstanding the transition from Capella to Langham, was excellent. Really, the only thing I'd say was missing was a true hotel lobby. There's a bit of seating off to the side of the stairs and sculpture, but nothing else, probably because that space was instead allocated to Bar on Fifth. Which is fair enough, this is pricey real estate, and the hotel wants to make some money from that space. The hard product is excellent, especially if you can get one of the larger rooms or suites, since it's rare to find this much space in a Manhattan hotel room. And every staff members we encountered was pleasant and helpful. Definitely recommended, at least for now–time will tell how well the hotel holds up under Langham.
Finally, note that obviously this is not a cheap place to stay in NYC, especially in an Empire King, even with a good rate. But if you can afford it and appreciate a spacious, modern room that's more like having your own luxury apartment in NYC than a hotel room, The Setai Fifth Avenue is a great choice.
If you've stayed at The Langham Place New York Fifth Avenue, what was your experience?
Related Posts
Empire State Building Visiting Tips
Ai Fiori NYC Restaurant Week Review
Romantic Getaway to New York City
Need Award Booking Help? Our fee is as low as $75 per ticket if you book your hotel through us.
If you enjoyed this, join 150,000+ readers: please follow TravelSort on Twitter or like us on Facebook to be alerted to new posts.
Become a TravelSort Client and Book 5-Star Hotels with Virtuoso or Preferred Partner Amenities!