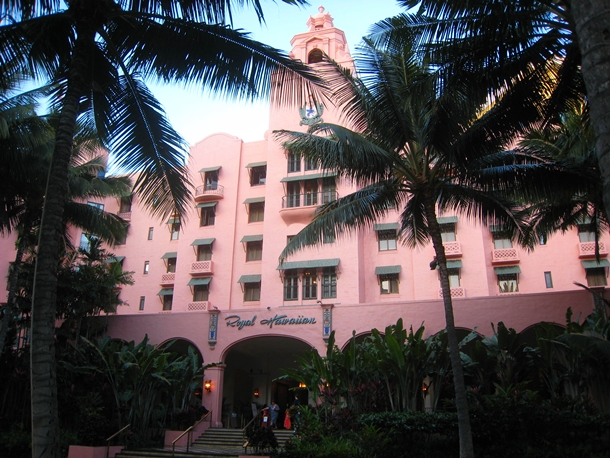 Built in 1927, The Royal Hawaiian, whose Spanish-Moorish style was influenced by film star Rudolph Valentino, has managed to retain its striking facade through several changes of ownership and renovations, the most recent ones in 2008 for the Historic Building, and 2012 for the Royal Beach Tower. The Royal Hawaiian is part of Starwood's Luxury Collection, so it does afford its guests access to the pools and facilities of sister properties, The Westin Moana Surfrider and the Sheraton Waikiki.
We stayed 2 nights at The Royal Hawaiian, with our first night in a Grove guestroom, a standard room that overlooks the Coconut Grove where you enter the hotel. As we exited our taxi, my son and I were greeted, welcomed with an orchid lei for me, and kukui nut leis for my son, and helped with our luggage, then ushered to the reception area. Instead of a long reception desk, there are 4 individual reception desks where guests check in while being seated and served a cool towel and guava juice with a splash of lime (which I enjoyed, but was a bit too tart for my son). They even had a beautiful Hawaiian postcard coloring kit for my son, which he was excited to receive and which kept him busy while I unpacked.
Our Grove Room had 2 double beds as requested, to accommodate my husband (who arrived on a later flight), my son and me, and both were very comfortable, with plush featherbeds, soft white linens, and feather pillows.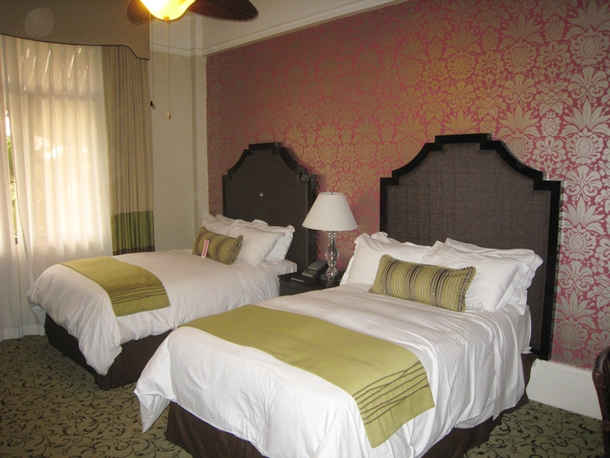 The room itself was decent sized but not huge, especially due to the space taken up with two chairs and a small table, which held a pink pastry bag with welcome banana bread mini muffins (delicious, but I was expecting them to be larger!)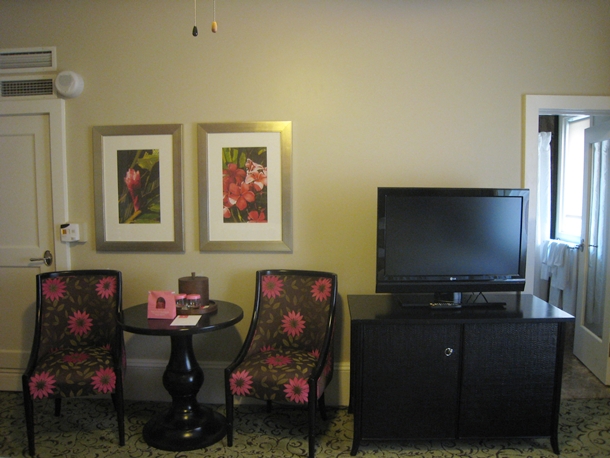 There was also a large work desk and chair, which my son and I shared for his postcard coloring and my work.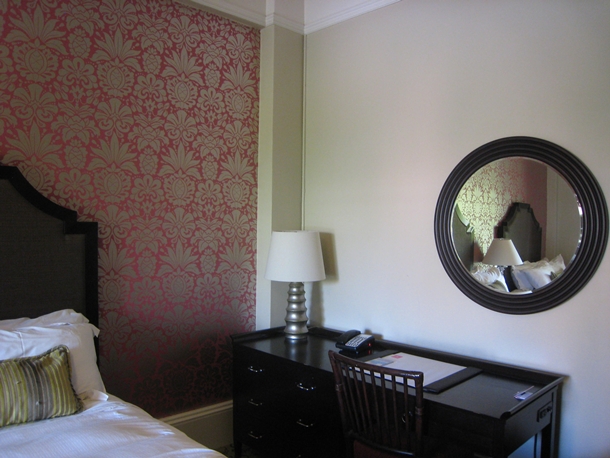 The bathroom, as I expected, was small, with a shower-tub combo and just barely enough space for the toilet and sink, with very little counter space for toiletries.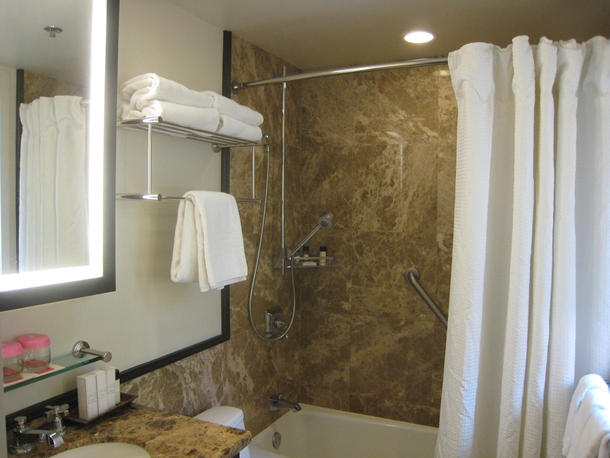 I personally found it disappointing that the bath amenities were Gilchrist & Soames, which I view as perfectly adequate for a mid-range or budget boutique style property, but not for a hotel that claims to be 5-star and is part of the Luxury Collection. Either L'Occitane or an excellent local brand of spa products that include Hawaiian (preferably organic) ingredients would be more appropriate.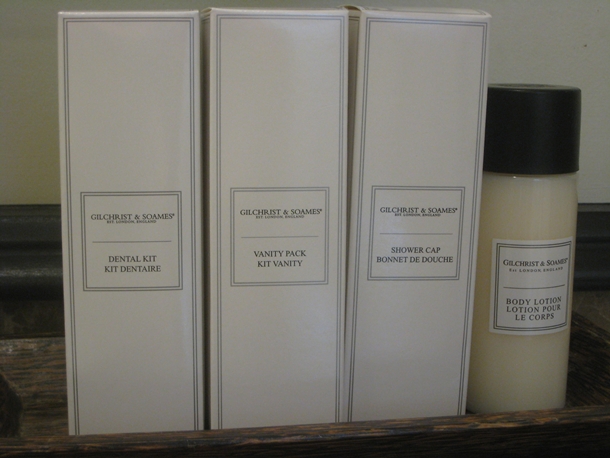 The pink theme was carried through to the Frette robes, which were pink and white striped–hard for me to imagine many guys donning these, although who knows, maybe there are plenty of guys with a penchant for luxury secretly wanting to wear pink–I wouldn't know!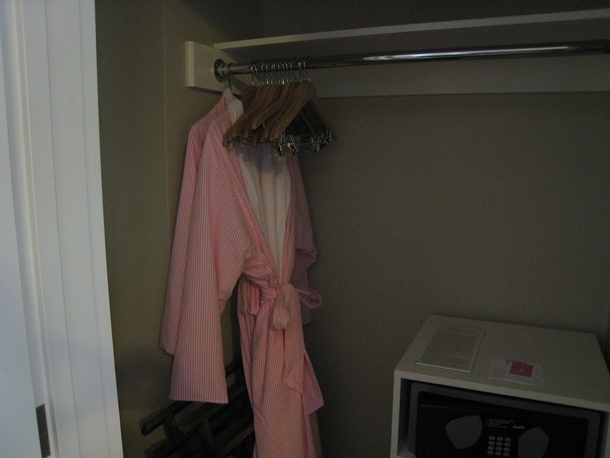 The view was just of the main entrance, where taxis and cars drop guests off, but more scenic than you might expect due to the grove of swaying coconut trees.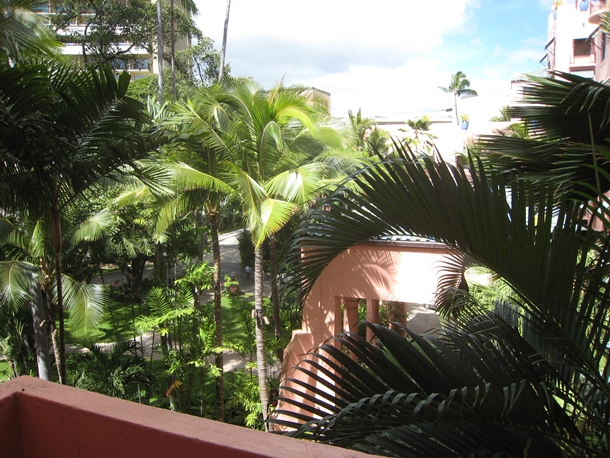 I was a bit leery of noise issues, having heard some prior guests complain of thin walls and staff talking on walkie talkies outside their room, but while we certainly could hear some hallway noise (the occasional door closing, staff vacuuming and passing by) the overall noise disturbance was minimal, and we didn't hear our neighbors.
Our second night, we had requested (and were generously granted) an upgrade to a room with a view, which turned out to be a Royal Ocean Junior Suite. These days, many Junior Suites are simply one big room with a sitting area, so I wasn't necessarily expecting much, but this was more similar to a true suite, albeit with sliding doors rather than a swinging door separating the bedroom from the living area.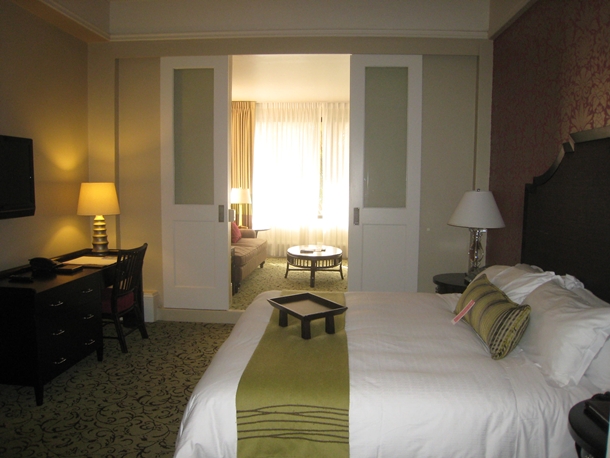 Our window didn't face directly onto the ocean, but the ocean and beach were just to the left, with Azure and the Mai Tai bar in the foreground.
The King bed was just as comfortable as the two double beds, and they were able to bring a crib for our son (he's getting far too big for one, but he managed for one night–the sofa in the living room does not convert into a bed, and there is a charge for rollaway beds, but not for cribs).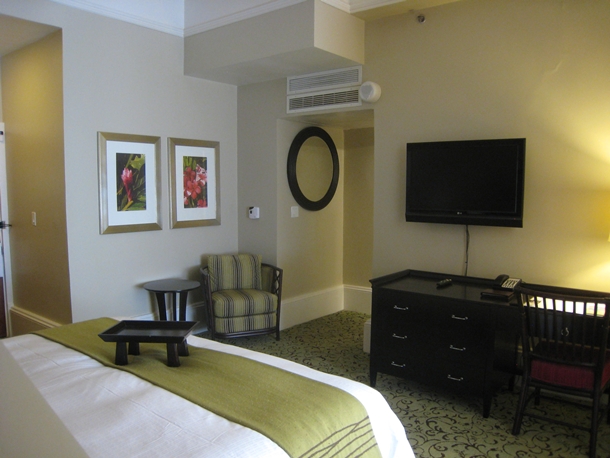 I was a bit disappointed that the bathroom was so small, given the size of the Junior Suite, with only a walk-in shower and no tub, but then again this is a historic building with the constraints that entails.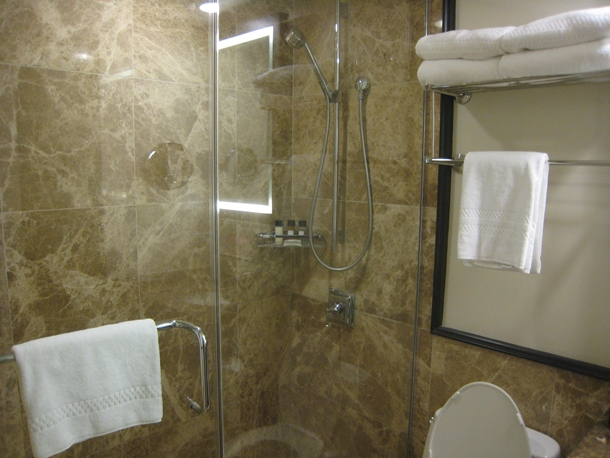 The living area had a sofa, two chairs and small table, and a large flat screen TV, with mini fridge and coffe/teamaker underneath.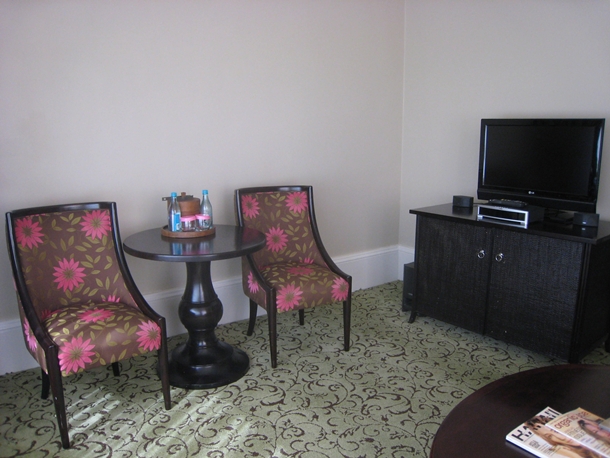 One of the key reasons to stay at The Royal Hawaiian, apart from its rich history, is its location on a prime section of Waikiki Beach–soft sand and typically calm waters. We don't sunbathe, so we did not compete for lounge chairs, but it actually didn't seem that crazy–my son and I had a picnic breakfast on a couple of the lounge chairs at around 7:30am one morning, and there were plenty of unoccupied lounge chairs on the beach, in the cordoned off area reserved for Royal Hawaiian guests. Note that Hawaii law is that all beaches are public, so there is no such thing as a private beach in Hawaii. I'm not even sure how The Royal Hawaiian is able to cordon off a section of the beach for guests, but regardless, if you're a guest or not, there are plenty of other nice places to put your beach towel right in front of and to the sides of that cordoned off area if you don't need your own lounge chair.
As with several other luxury properties in Hawaii and elsewhere, The Royal Hawaiian does charge a resort fee of $26.18 per room per day, which includes WiFi, self-parking, complimentary morning coffee and tea in the lobby, bottles of water (which weren't in either of our rooms, but didn't bother us since we either drank the tap water or grabbed water at the fitness room), up to 60 minutes of long distance phone calls per day, and complimentary children's meals from the kids' menu for breakfast and lunch at onsite restaurants. I knew and expected this resort fee, and given that I used a great TravelSort rate for one night and Cash & Points for the other night, it didn't bother me, especially as we were even able to get a free child breakfast buffet at Veranda (at the Westin Moana Surfrider) one day, which paid for the resort fee right there since my 4-year old eats as much as an adult.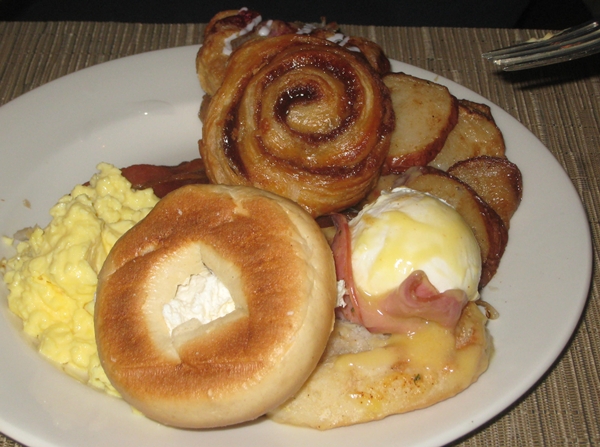 The verdict: I'm very glad we stayed at The Royal Hawaiian at least this one, for a few reasons: historic charm, the great beach right in front of the hotel, comfortable beds, convenient access to the Sheraton Waikiki pools (with water slide and hot pool that my son loved), nightly Hawaiian music and hula at the Mai Tai Bar, and excellent dinner at Azure Restaurant right downstairs. Would I stay there again? Probably, with a young child, assuming I used a TravelSort rate or Cash & Points. Couples that prefer more modern accommodation, however, should either stay in the Royal Beach Tower or another hotel, such as The Modern Honolulu, which we'll be reviewing next.
Become a TravelSort Client to book the Royal Hawaiian with these Virtuoso benefits:
Upgrade on arrival, subject to availability
Daily full breakfast, for up to two in room guests
$100 USD Resort or Hotel credit, to be utilized during stay
Early check-in/late check-out, subject to availability
Related Posts
10 Things You Shouldn't Miss in Honolulu, Oahu
Luxury for Less: The Top 5-Star Honolulu Hotels
Honolulu, Hawaii with Kids: Things to Do
Tips for Booking Award Flights to Hawaii
How to Book a Business Class Award Ticket to Hawaii
Need Award Booking Help? Our fee is as low as $75 per ticket if you book your hotel through us.
If you enjoyed this, join 100,000+ readers: please follow TravelSort on Twitter or  like us on Facebook to be alerted to new posts. 
Become a TravelSort Client and Book Your Hotel with Virtuoso or Four Seasons Preferred VIP Amenities!