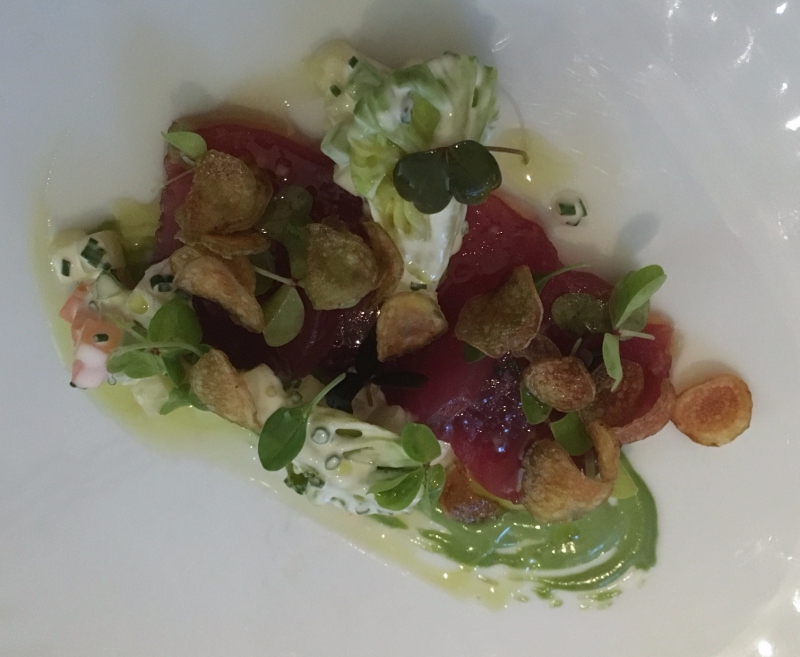 This review of The Dining Room at The Modern, NYC is from our recent dinner there. Several years ago we'd dined in the bar area of The Modern, and I remember being fairly disappointed both with the quality for the price and the very loud environment. I was looking forward to a hopefully quieter and more upscale experience, by trying The Dining Room, which was awarded two Michelin stars for 2016, and has retained them for 2017.
Visiting New York? See all of our posts tagged NYC.
Getting to The Modern at MoMA
The Modern is located in the Museum of Modern Art (MoMA) at 9 West 53rd Street, between 5th and 6th Avenues. If coming from the West Side, take the B, D or E train to 7th Avenue and 53rd Street, or if coming from the East Side, take the 6 to 51st Street and Lexington Avenue.
The Scene
The Bar at The Modern is fairly dark and often crowded with a mix of professionals and visitors, but on the other side of the wall, The Dining Room at The Modern is light filled during the day and summer evenings, with a view of the sculpture garden outside.
We had a reservation for 7:30pm on a weekday, and the crowd definitely skewed older than the bar crowd, and seemingly with a good number of visitors and out of towners.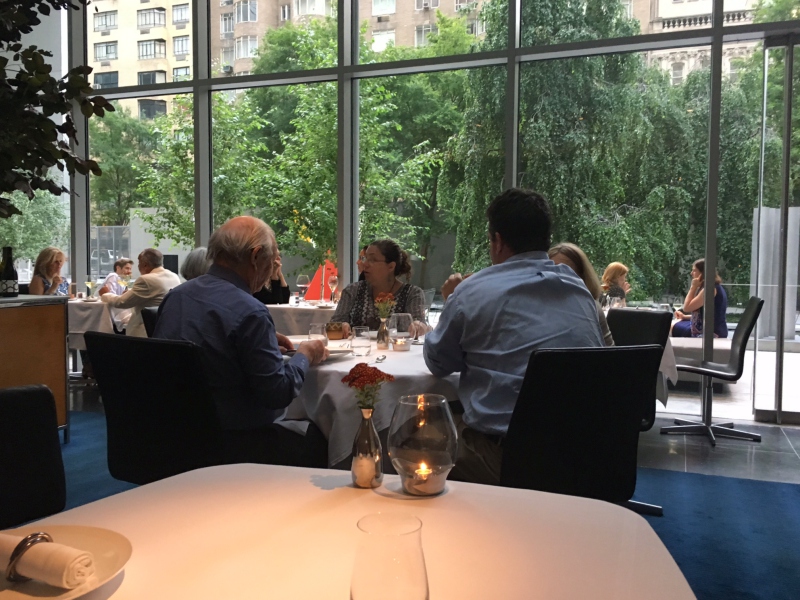 Menu and Food at The Dining Room at The Modern
At The Modern, you can either select the 8 course tasting menu or do the mix and match 4 course menu, where you select a dish from each of 4 columns: an appetizer, small plate, main course, and dessert. The 8 course tasting menu is $208 per person, while the 4 course menu is $158 per person, although keep in mind that these prices already include gratuity–see Danny Meyer Ends Tipping at The Modern.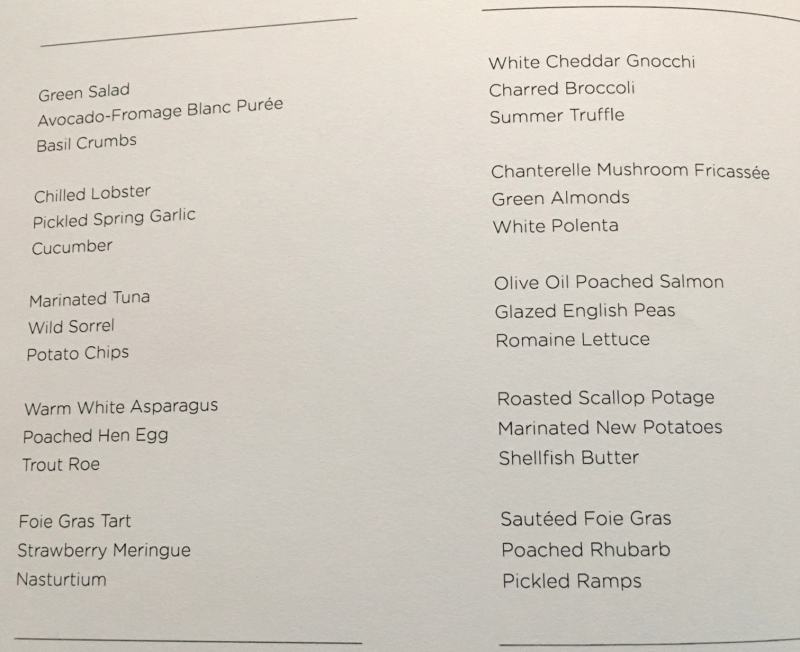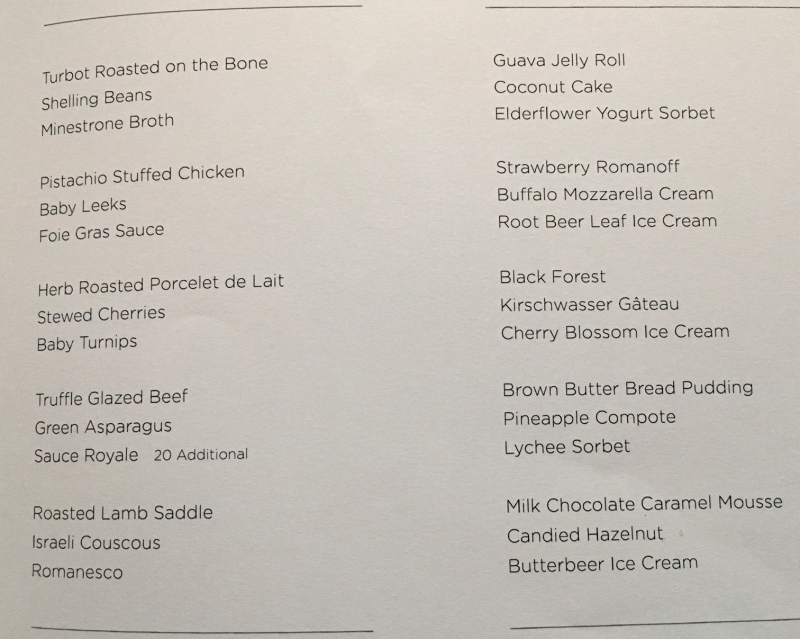 There is also an extensive wine cellar, and six people comprise the Wine Team. We are not wine snobs and are very happy with our $15 bottles of New Zealand Sauvignon Blanc from Trader Joe's, but our friend whom we were dining is far more knowledgeable and treated us to a 1990 Clos Ste. Hune Riesling that was exquisite. But there are also full bottles of wine in the $40-50 range, so there's something for almost everyone.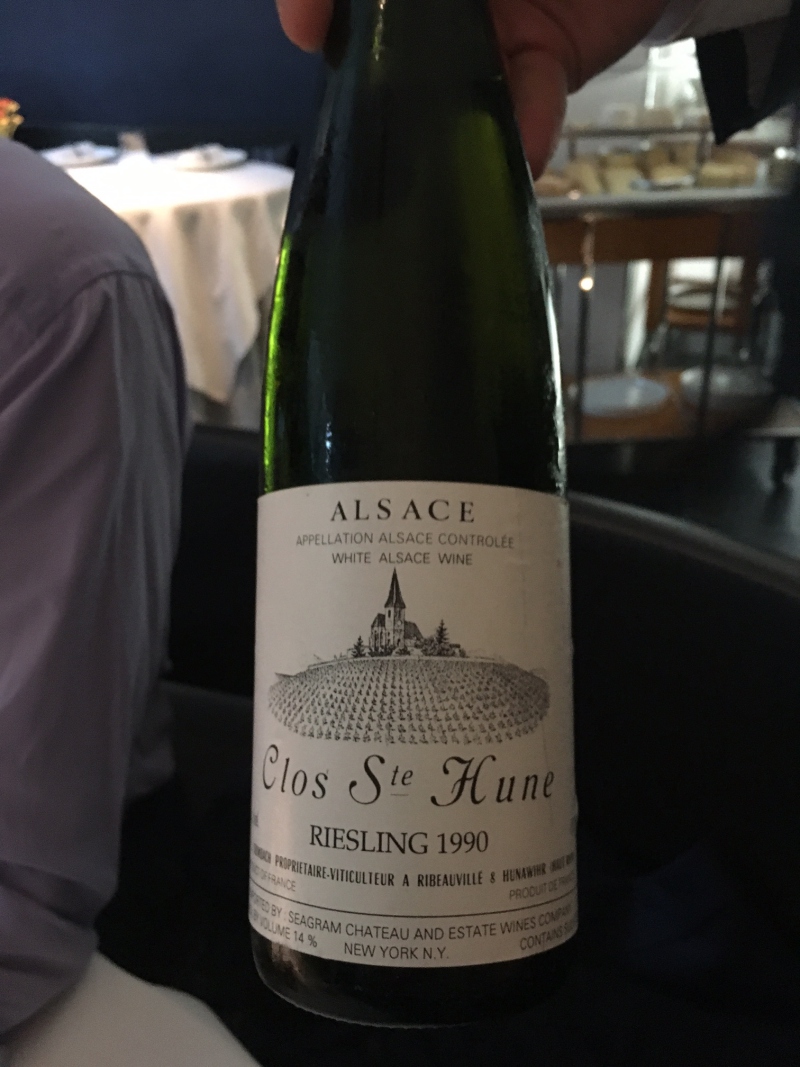 Our amuse bouche was in two parts, my favorite being the split peas and confit carrots with carrot sabayon, that had a lovely green spring pea soup poured over it tableside. It was tepid, but we all agreed this was better than it being served too hot, as the flavors really popped.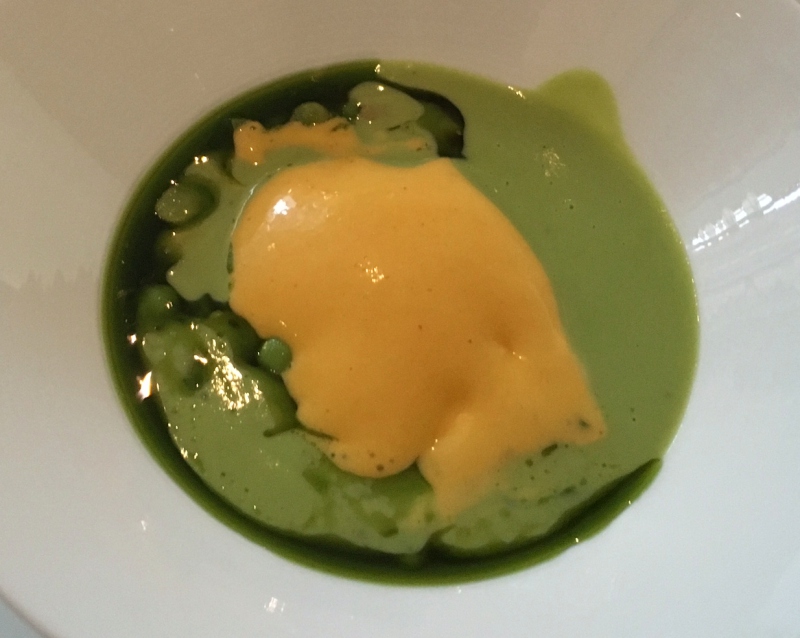 The spring pea gougeres were more intriguing looking, and were good, but not as much of a stand out as the soup, perhaps because the spring pea flavor was too subtle for the rich ingredients. I find strong cheeses and flavors work best for gougeres.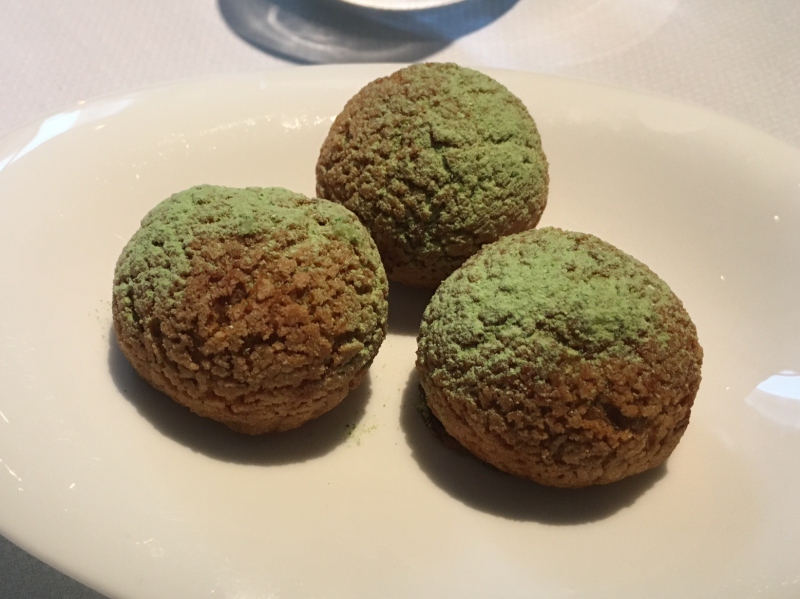 For his appetizer, my husband chose the Chilled Lobster with Pickled Spring Garlic and Cucumber. I would have been thrilled with this if it was a dish in Singapore First Class or the like, but airlines don't pretend to serve Michelin star food, so while very good, it wasn't memorable to me.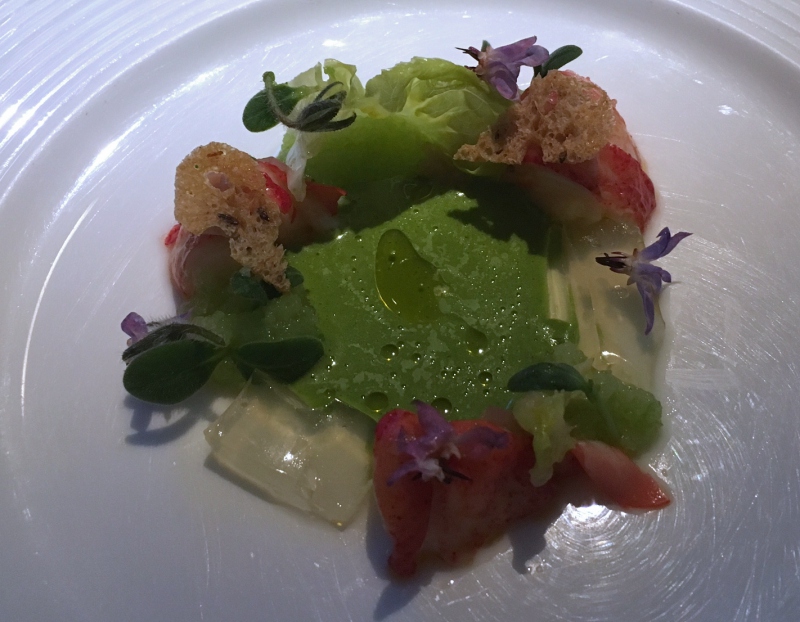 Despite its slightly humbler ingredients, I preferred my Marinated Tuna with Wild Sorrel, which lent a welcome herbaceous element, punctuated by the playful contrast of crunchy potato chips.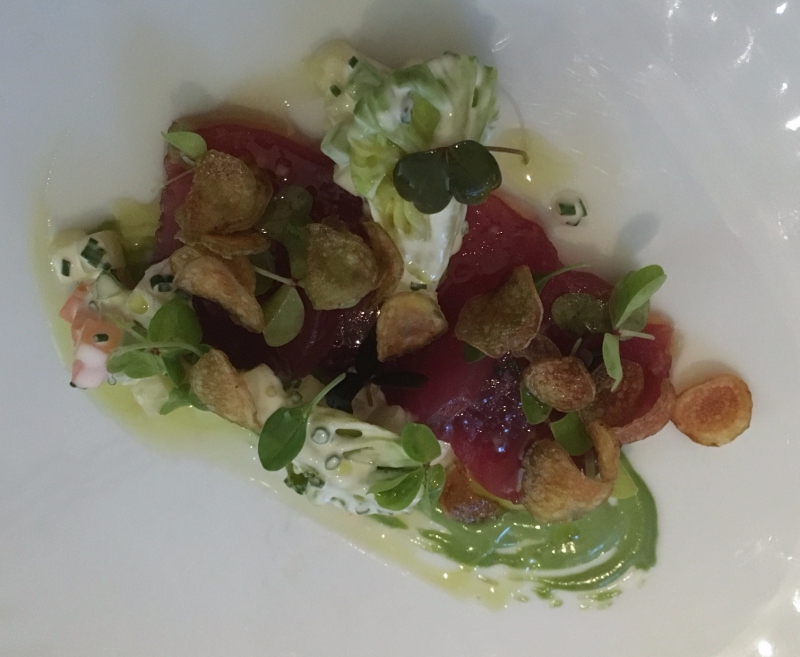 For our small plate courses, my husband chose the Sauteed Foie Gras with Poached Rhubarb and Pickled Ramps. This was an inspired pairing with the tart rhubarb and ramps cutting the richness of the foie gras, and the foie gras was first rate, but over the years foie gras has become too rich in taste and texture for me, so I didn't enjoy it as much as my husband clearly did.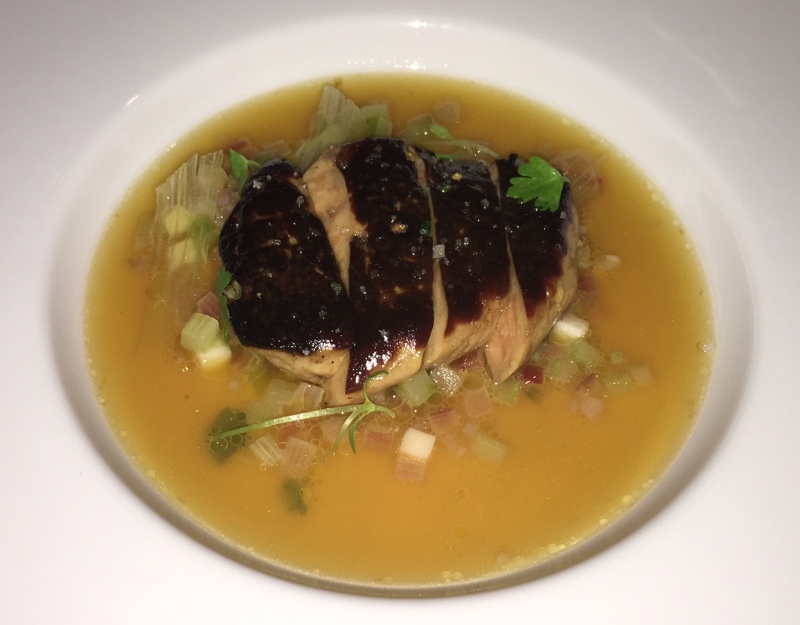 My small plate was also rich, White Cheddar Gnocchi with Summer Truffle Sauce and Charred Broccoli, but I preferred it to the foie gras.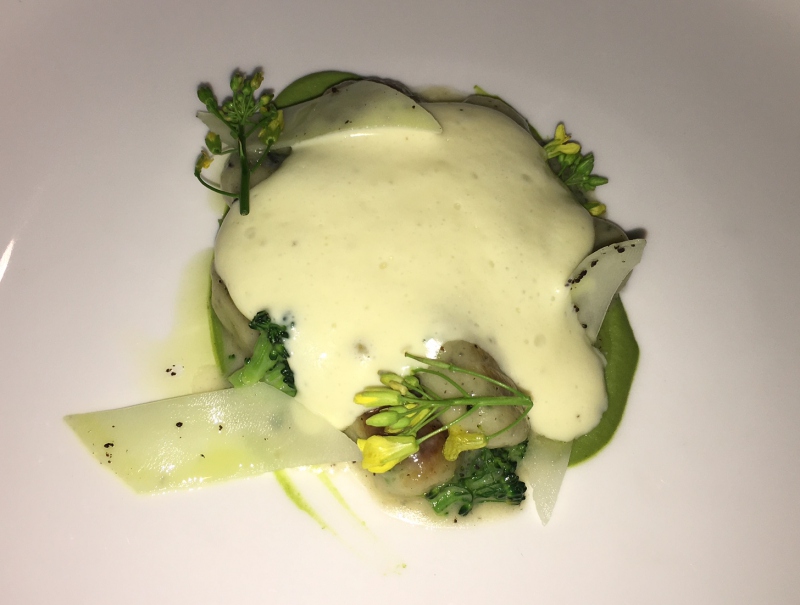 My favorite dish of the night, however, was my Pistachio Stuffed Chicken. I rarely order chicken in restaurants, but I'm so glad our server recommended this dish, as was the best chicken dish I've had in recent memory. The pistachios were under the skin, which was gorgeously caramelized, as well as found adorning the baby leeks. The sauce was enriched with foie gras, which while rich, I prefer to actual seared foie gras. Truly a fantastic dish and one I would go back for.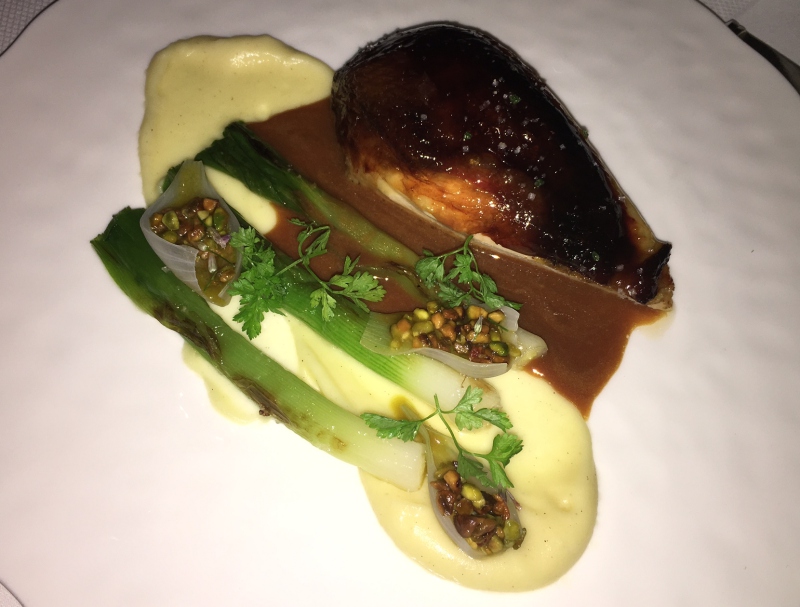 My husband chose the Herb Roasted Porcelet de Lait with Stewed Cherries and Baby Turnips. He easily polished off all of it, and the meat was very tender, but I couldn't get as excited about this dish, it was too subtle for what I felt in the mood for.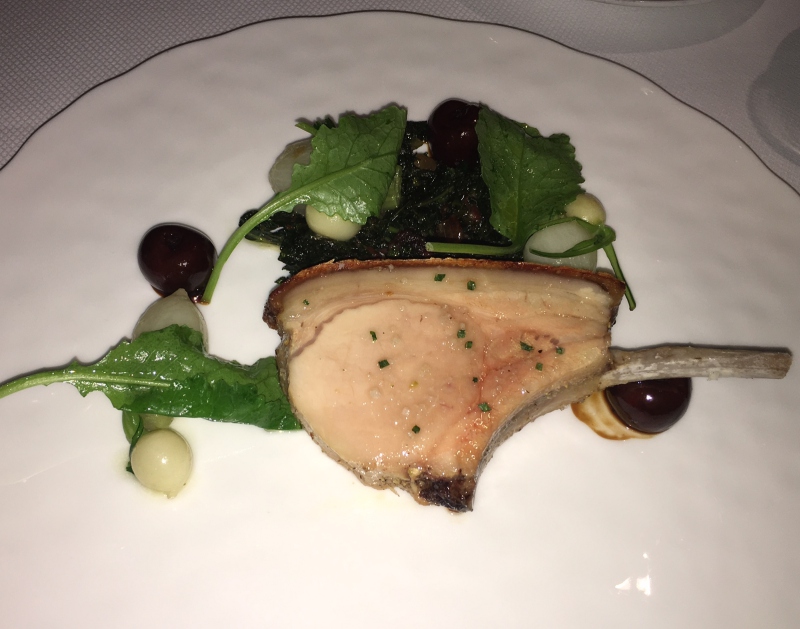 As a palate cleanser, we were presented with coconut sorbet in mango. It was refreshing, but I was disappointed that, even though we'd mentioned at the beginning of the meal to our server that my husband has a slight mango allergy, no alternative was offered for him.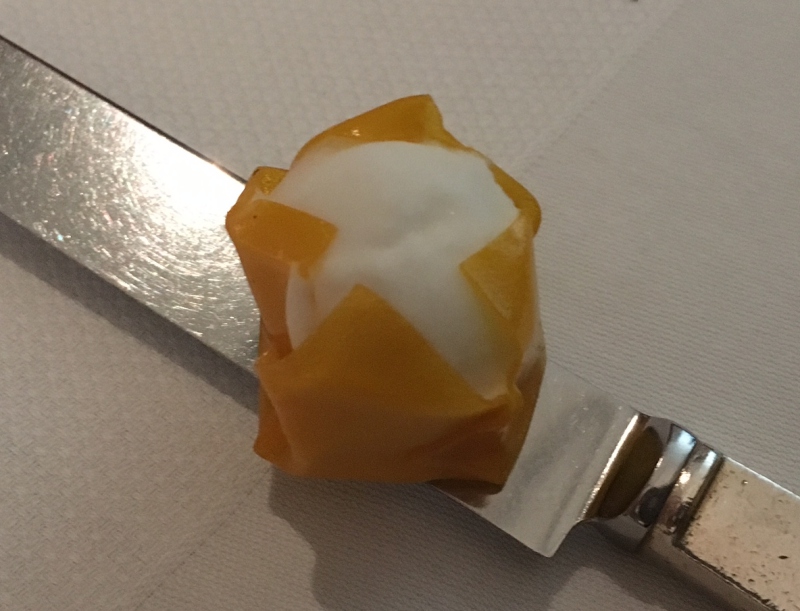 Although I'm a dessert fiend, I didn't see anything among the dessert choices that looked compelling to me. Our friend had a beautifully plated Strawberry Romanoff dessert with Buffalo Mozzarella Cream and Root Beer Leaf Ice Cream.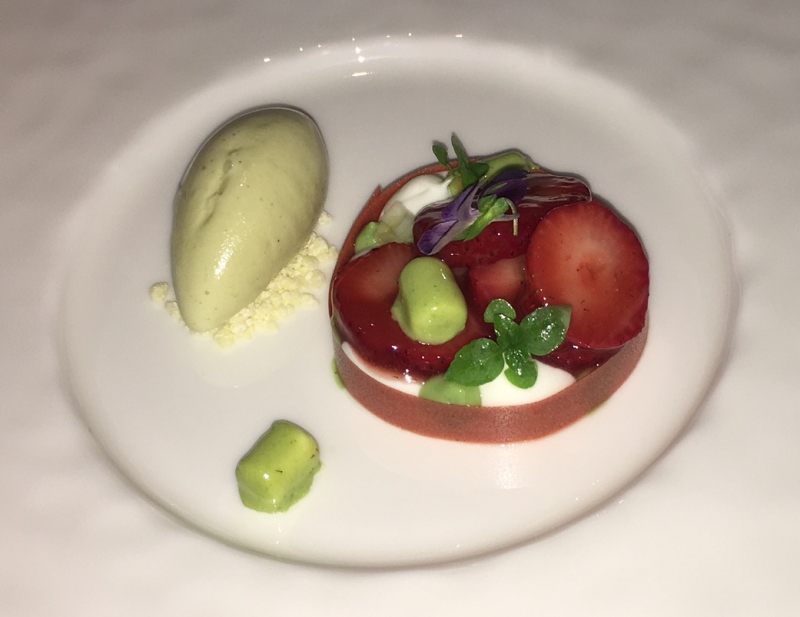 And my husband chose the Brown Butter Bread Pudding with Pineapple Compote and Lychee Sorbet. This may have looked like a modern work of art, but I just wasn't taken with the taste.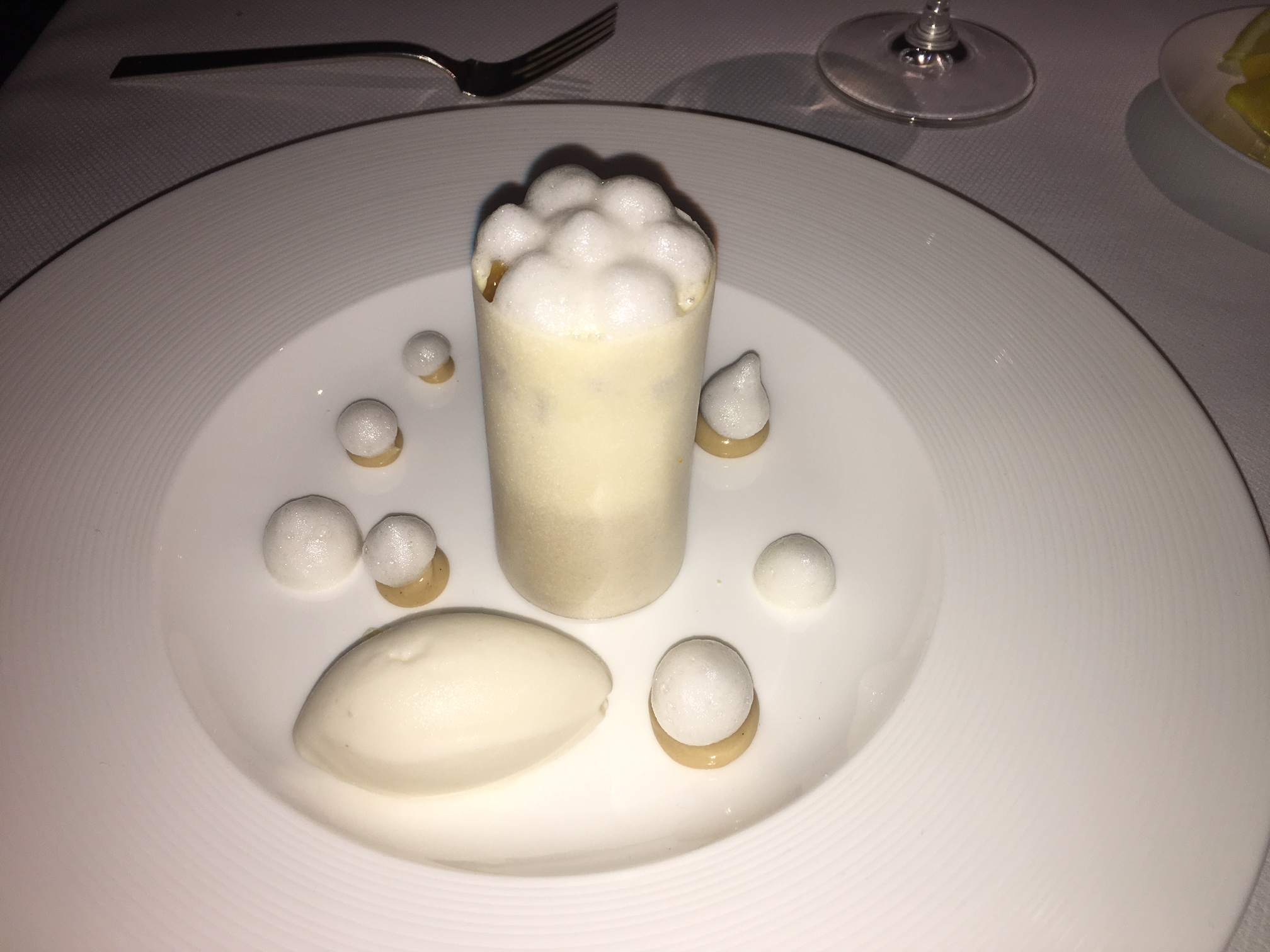 It's a good thing we ordered a double cheese plate (with a supplemental charge) as my dessert, since my husband and his friend enjoyed sampling from my cheese plate. I was somewhat disappointed that I didn't get to select the cheeses myself from the cheese trolley, but the cheeses selected for me were excellent, and represented a fine variety both from mild to aged and of geographical areas, from Switzerland, Italy, France and the U.S.
The accompanying apricots and port wine gelee were also superb.
The Verdict
Standout dishes were the amuse bouche confit carrots with carrot sabayon and spring green pea soup, and the Pistachio Stuffed Chicken, but while the other dishes were solid and beautifully plated, I didn't feel they quite rose to 2 Michelin Star level. I also expected more from the offered bread, which while good, was not memorable in the way the bread at Aska or bread at Eleven Madison Park is memorable. The ambience and service were 2 Michelin Star level, however.
I was disappointed that my husband's allergy was not taken into account with the palate cleanser, and also would have expected some type of mignardises to close the meal, but none were offered.
Overall, certainly a fine place in midtown for either a business dinner or special occasion for out of town visitors, but as a local, for our next 2 Michelin star dinner, we'll likely either return to Aska or venture to Daniel for classical French cuisine.
If you've had dinner recently at The Modern, what was your experience?
Recommended Posts
Aska NYC Restaurant Review, 2 Michelin Stars
Gabriel Kreuther NYC Review, 1 Michelin Star
Review: Casa Mono New York, 1 Michelin Star
6 Tips for Michelin Star Dining with Kids
Need Award Booking Help? Our fee is as low as $75 per ticket if you book your hotel or cruise with TravelSort.
If you enjoyed this, join 200,000+ readers: please follow TravelSort on Twitter or  like us on Facebook to be alerted to new posts. 
Become a TravelSort Client and Book 5-Star Hotels with Virtuoso or Four Seasons Preferred Partner Benefits