The Modern Honolulu is a bit of an anomaly among Waikiki hotels, for a few reasons. It's not in Waikiki proper,  but rather just outside of it, about a 10-15 minute walk from the heart of Waikiki. As such, it fronts the yacht harbor instead of the beach. It also has, as its name implies, a striking white, modern interior, courtesy of Ian Schrager, who originally designed it as the Waikiki Edition, one of Marriott's boutique brands. The hotel's name change occurred as part of a controversial takeover orchestrated by the hotel's owners and a new management company, Aqua, which Marriott is still contesting in court. So it was with some curiousity that I booked the Modern and did a site inspection. Become a TravelSort Client to enjoy these Virtuoso benefits at The Modern Honolulu:
Upgrade at time of booking, subject to availability City View (upgrade to Partial Ocean View), Ocean View (upgrade to Studio Suite) categories only.
MODERN HONOLULU Breakfast at The Grove for two daily (Not applicable for in-room dining)
Welcome Amenity on arrival
Penthouse Bookings to receive additional VIP Amenities and Inclusions
A $100 USD Hotel credit to be utilized during stay (applicable to all incidental charges excluding room/tax and any third party vendor charges, no cash value if not redeemed in full)
Early check-in/late check-out, subject to availability
We arrived around 12:30pm, well before the 3pm check-in time. There was a small line at the front desk, but no more than a 5-7 minute wait. The front desk staff were accommodating, and allowed us to check in early to our ocean view room. Elevators require your room key in order to access any of the floors, apparently added as a security measure due to nightclub revelers wandering around the floors looking for their friends.
The first impression of the room was how "South Beach" it looked, with tons of white and just a few colorful accents. The sarongs, shells and ukelele, however, added a welcome Hawaiian touch that mitigated the rather austere feel: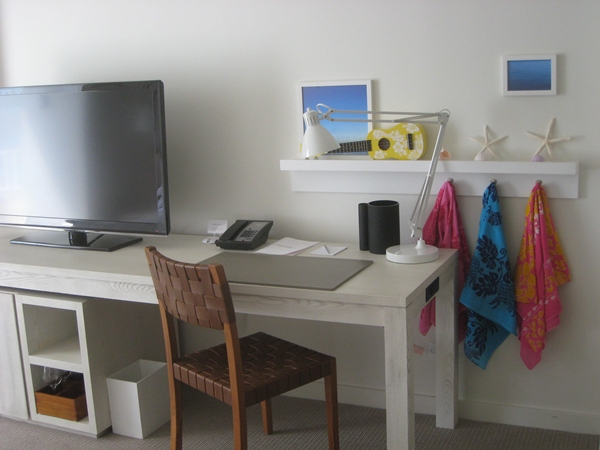 We had reserved two double beds, and even with them the room was good sized (compared to many Waikiki hotel rooms) and got plenty of natural light: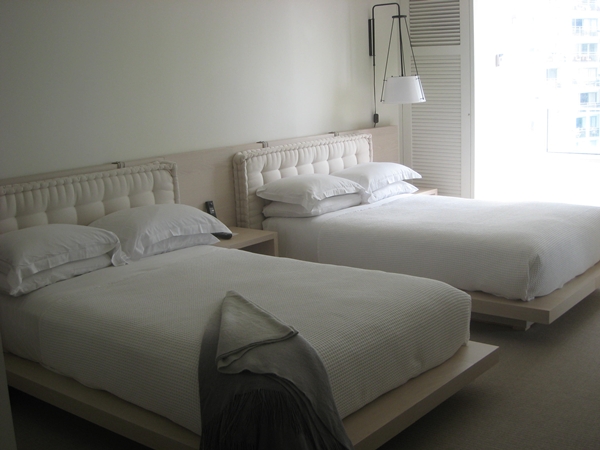 To be honest, the view of the yacht harbor and the ocean wasn't that spectacular, in part because the day was rather cloudy, but also because we had just come from a beautiful ocean view junior suite at The Royal Hawaiian.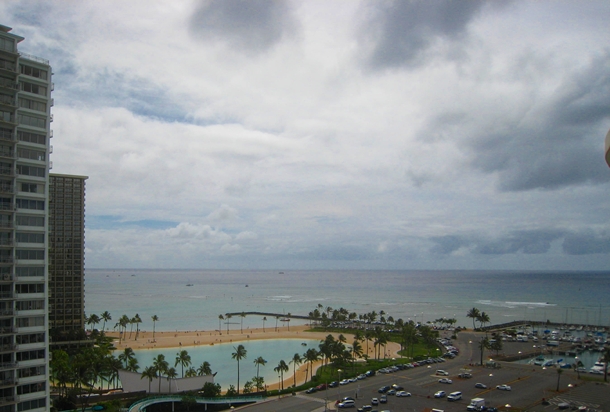 I did enjoy looking down at the Sunset and Sunrise pools though: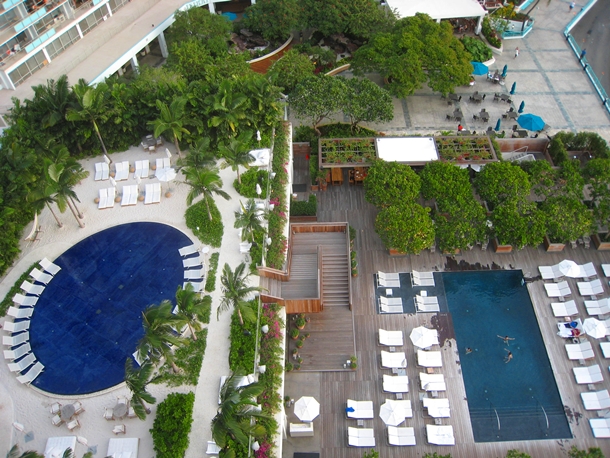 The pool area itself is very relaxing, and there's even underwater music while in the sunrise pool and a lush, tranquil area by the bar to enjoy drinks and live music on occasion: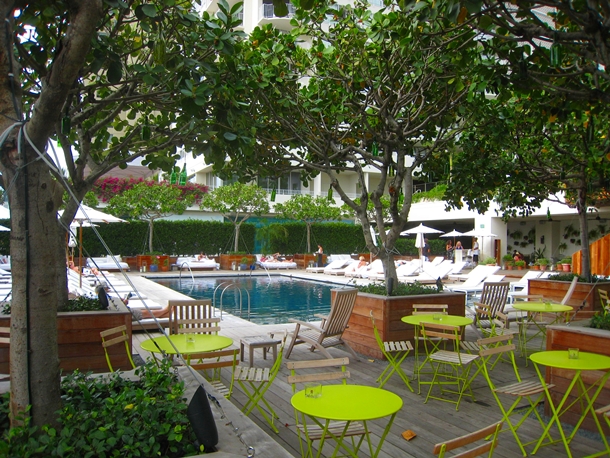 Probably the worst design feature of the hotel is the use of teak louvers in the bathroom. While it didn't bother us that much as a family, it's not what I would want as a romantic couple, because it means that you can get some of the light and sounds from the bathroom in the sleeping area–especially inconvenient during the night, if someone is a light sleeper and is woken up by the other person using the bathroom.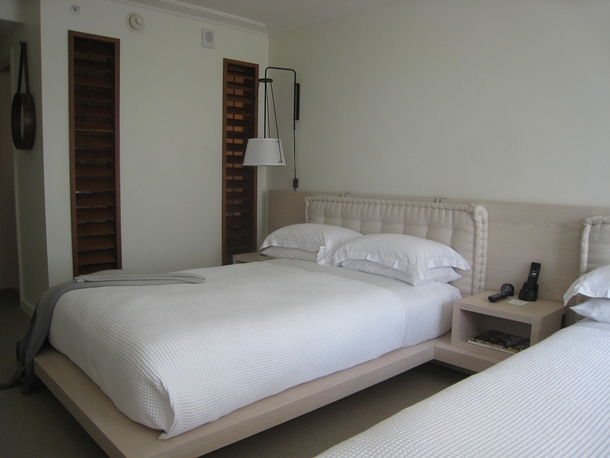 I did like the Lather bath amenities: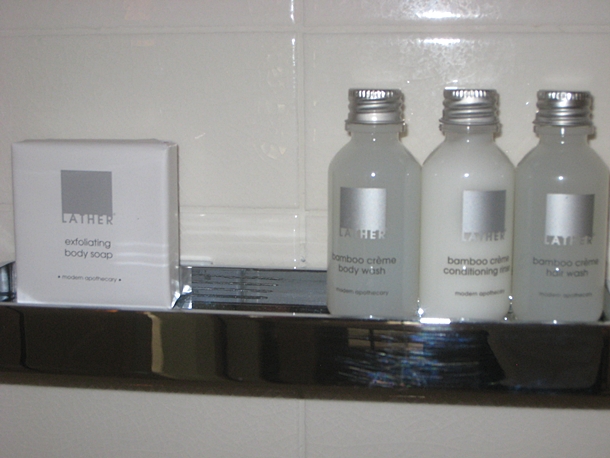 And while I didn't get a chance to take a photo, the room service chicken sandwich and salad we ordered was excellent. Apparently the chef makes all their bread and pastries in-house.
I also got a chance to view the hotel's Penthouse Suite on my site inspection. It looks great for a huge splurge, a stay with extended family, or anyone traveling with their entourage 🙂
There's a nice large lanai for sunbathing or al fresco dining: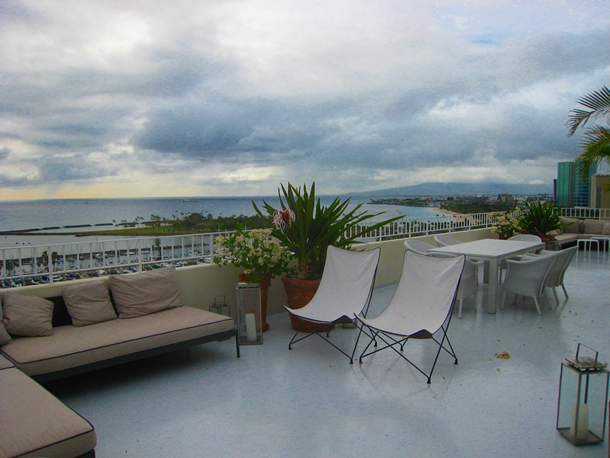 One of the walls of the sitting area continues The Modern's surfing theme: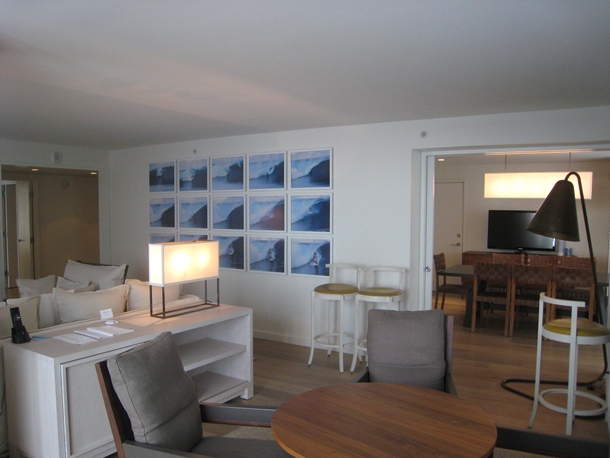 The dining area comfortably seats 8, and there's an adjacent full kitchen in case you feel like cooking (or brought your own chef):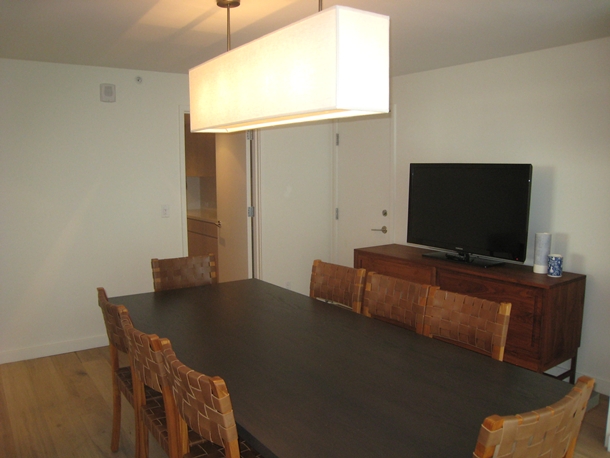 The bathroom features a huge walk-in shower with two shower heads; there's also a separate bathtub: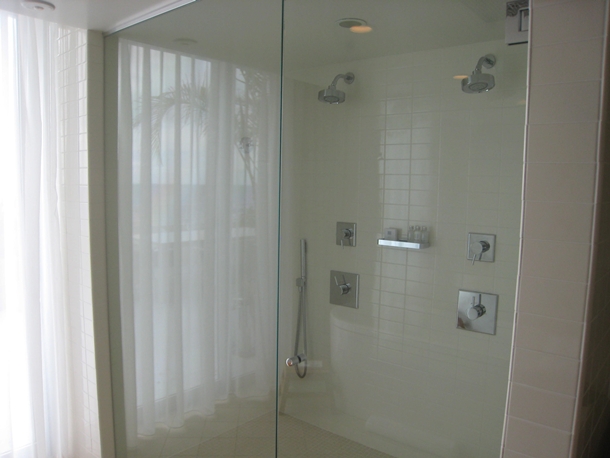 The verdict: I enjoyed the spacious room, ample natural light, two pools, chill poolside vibe, high quality bath amenities and surprisingly great quality room service at The Modern. The teak louvers though are a very poor design feature, and the location isn't the best, although the walk into Waikiki is pretty quick. For the price, The Modern Honolulu is a great bet if you like modern, design hotels.
Related Posts
Top 5-Star Honolulu Luxury Hotels
Royal Hawaiian, Honolulu Hotel Review
Where to Eat in Honolulu, Hawaii: Hidden Gems
Morio's Sushi Bistro, Honolulu Restaurant Review
10 Things You Shouldn't Miss in Honolulu, Oahu
Need Award Booking Help? Our fee is as low as $75 per ticket if you book your hotel through us.
If you enjoyed this, join 200,000+ readers: please follow TravelSort on Twitter or  like us on Facebook to be alerted to new posts. 
Become a TravelSort Client and Book Your Hotel with Virtuoso Amenities!