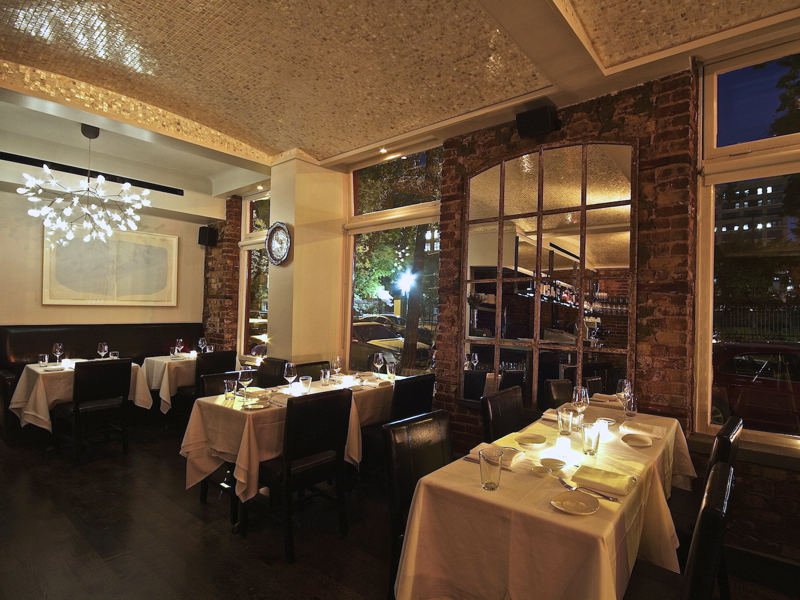 The Clam NYC Restaurant Review is one of our many NYC Restaurant Reviews. Visiting New York? See all of our posts tagged NYC.
The Clam opened earlier this year, in January 2014, and is from Chef Mike Price who also is the Executive Chef and owner of The Market Table. Price, who hails from the Chesapeake Bay area, offers a curated menu of updated New England classics, from a fried clam and lobster sandwich to clam dip, clam chowder, steamed littleneck clams and other seafood focused favorites.
Our introduction to The Clam was via friends of ours, who have a well-connected foodie friend who managed to snag us a last minute dinner reservation for 7pm on a Friday. Otherwise, definitely consider reserving well in advance given the restaurant's small size and increasing popularity.
Getting to The Clam
The Clam is located at 420 Hudson Street in the West Village, at Leroy. The closest subway station is West Houston on the 1 train, or you can walk over from West 4th Street (A, C, E, B, D, F and V trains).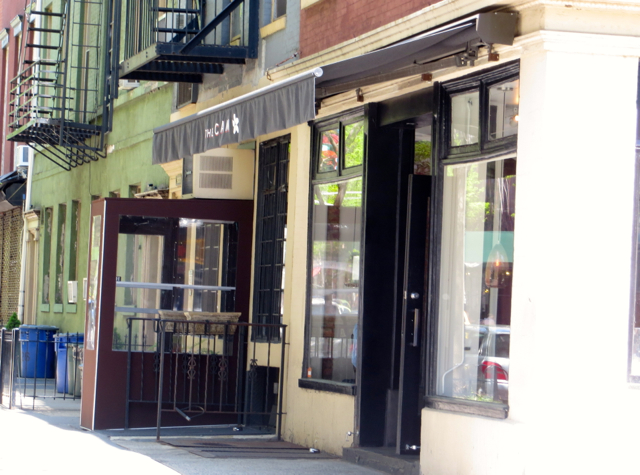 The Scene
When we visited The Clam for dinner, the place was abuzz with activity, even though we arrive at 6:45pm which is early by Manhattan standards. There were chic couples in work attire enjoying a drink at the bar, several tables couples or a small group of friends, and even a family with a couple young kids finishing up an early dinner.
The evening lighting is romantic, but a lively ambience prevails, although fortunately not as loud as some other places in the West Village.
We came back a few weeks later for brunch on Mother's Day, and due to our early reservation were the first guests there. It was serene and light flooded, thanks to its corner location, and the perfect place for a relaxed Sunday brunch.
The Clam Menu and Food
The Clam's classics, such as Chilled King Crab, The Clam Dip, and the Fried Clam and Lobster sandwich make appearances on all the menus. I recommend visiting at least once for dinner, if you can get a reservation, so as to enjoy the full range of what the kitchen can offer. Here's the dinner menu: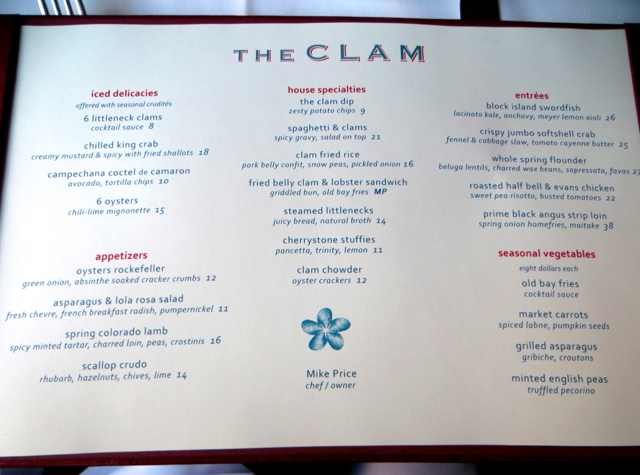 After our server took our drink and food orders, we were offered piping hot house baked Parker House rolls–deliciously buttery, so that the butter dish was entirely superfluous.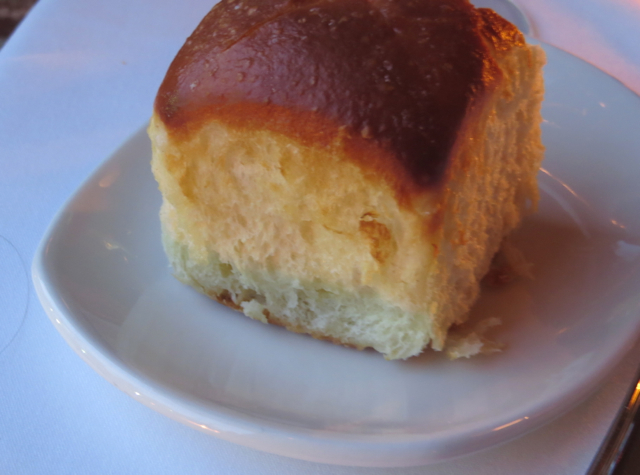 We started off with one of the iced delicacies, Chilled King Crab served with creamy mustard and a little spicy tangle of crab with fried shallots, plus some veggie pickles on the side. This was incredible, so fresh it tasted as though it had just been plucked from the sea. A must order.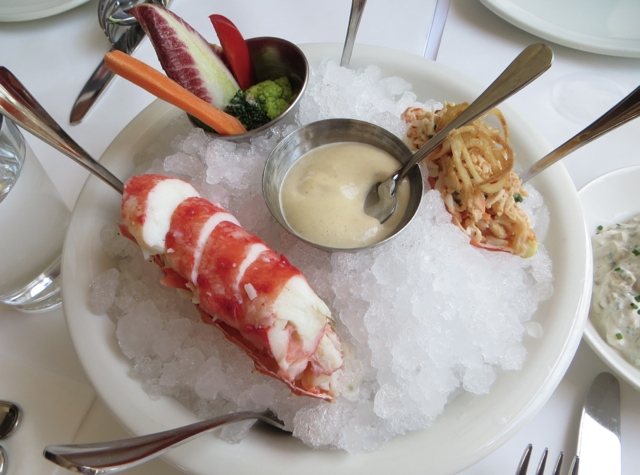 For an entree, my husband chose the Spaghetti & Clams with spicy gravy, with salad on top. Unusual looking, it was a superb dish and we just wished there was a bit more of it. Al dente pasta was bathed in a meaty, spicy clam sauce, with littleneck clams in the shell.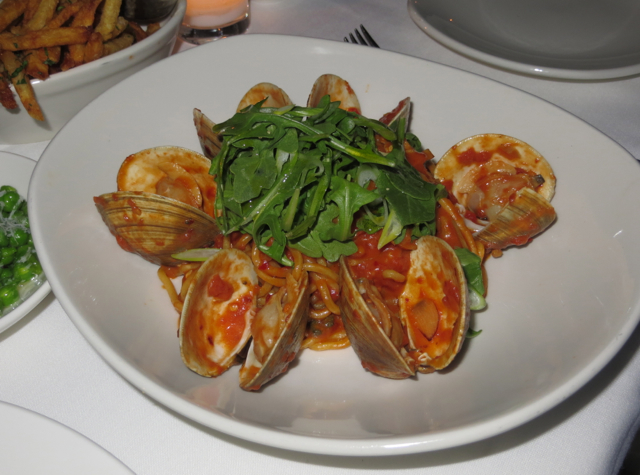 Whenever I see softshell crab on the menu, especially at a seafood focused restaurant, I order it, and this was probably my favorite preparation in recent memory: a large, juicy softshell crab lightly battered and fried to a perfect crisp. My husband agreed that this was a great choice as well, as much as we enjoyed his Spaghetti & Clams.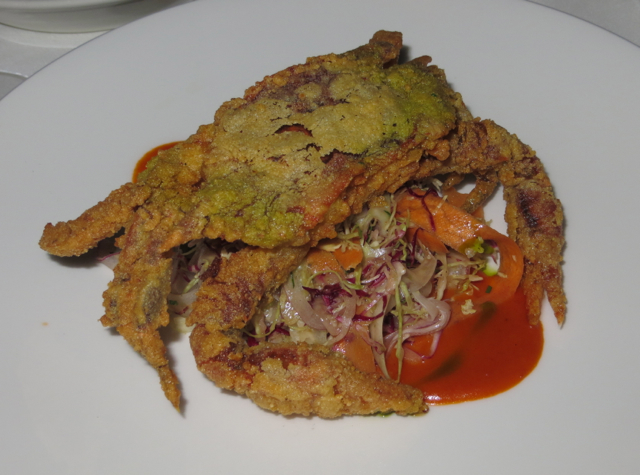 As a side, we enjoyed some Old Bay Fries. I only managed a few tastes of these, since the Old Bay seasoning and accompanying cocktail sauce proved addictive to my husband and before I knew it, he'd devoured most of the portion.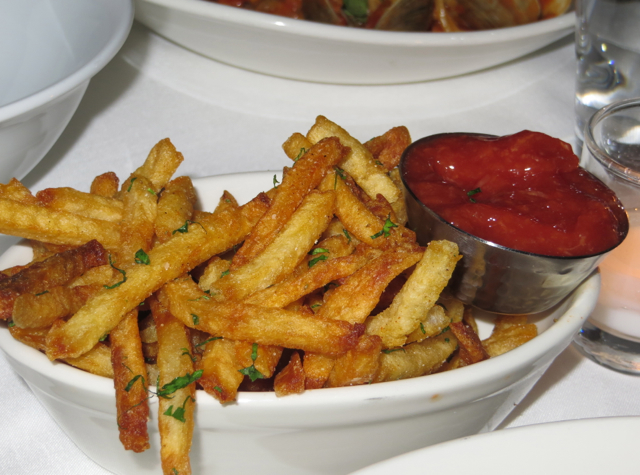 On our brunch visit, we again started off with the super fresh King Crab, and also reordered The Clam Dip–another must order, which I didn't manage a photo of on our first visit, because it was so tasty and gone very quickly.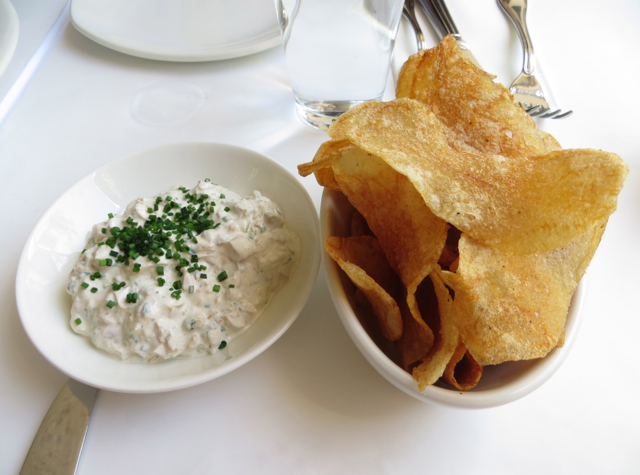 For entrees, I'd say that the weakest of the bunch was the Smoked Salmon & Brie Scramble. Many other places in NYC do this as well or better, so no point in ordering it here.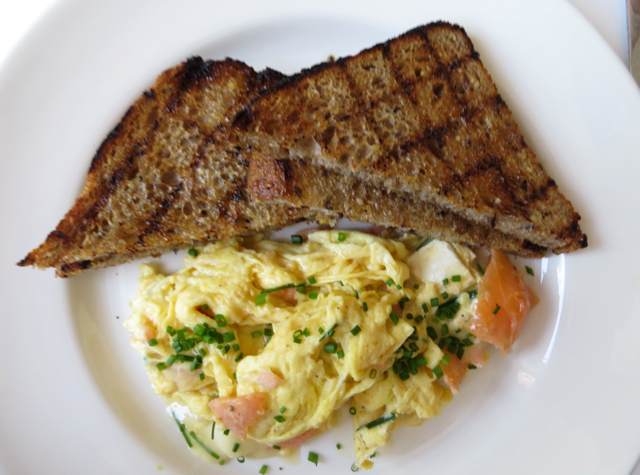 The munchkin ordered the La Frieda Cheddar Chees Burger, and while very good, it's again really not what you come to The Clam to order: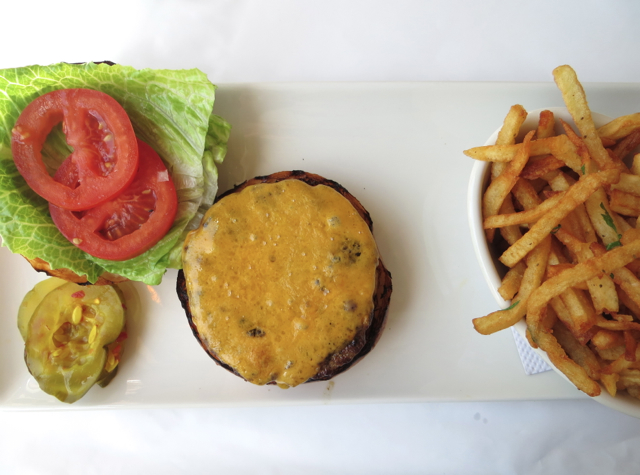 Our friend ordered the Organic Egg & Peekytoe Crab Benedict, and this was excellent. Well worth ordering, for any egg dish or eggs benedict lovers: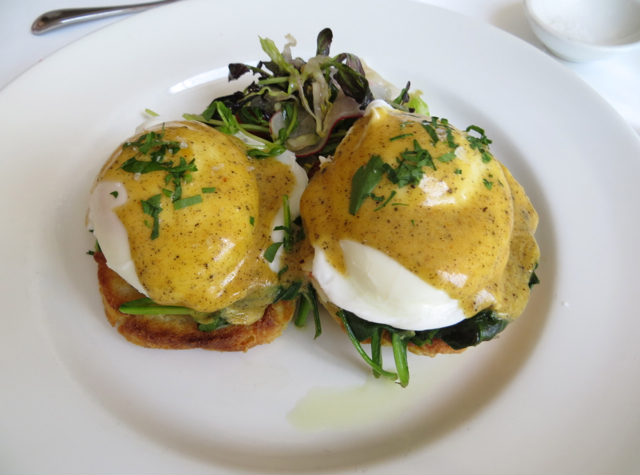 I ordered the Buttermilk Waffle with Strawberries, Pistachios and Rhubarb Maple Syrup. It was very good, and while again not a seafood item, it hit the spot and I'd recommend it if you're looking for one sweet item in addition to any seafood savory mains that you order.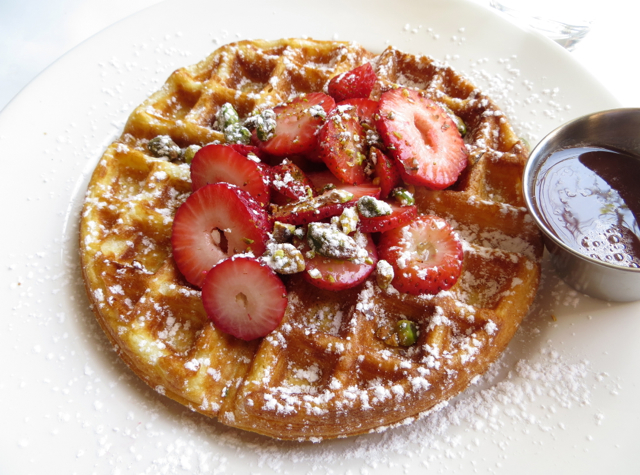 The Service
Both for our dinner and brunch visits, service was excellent–attentive and friendly. Sometimes West Village hot spots come with an attitude, but fortunately that's not the case here.
The Verdict
The only thing keeping us from visiting The Clam more often is the location, since we don't live in the West Village and it's quite a hike from where we are. We would love to have such a neighborhood spot, and if it was in our 'nabe, would probably be there once every couple of weeks. Still, I'll probably grab a gift certificate to The Clam using the current Chase Freedom 5X Q2 Restaurant Bonus, for 5X dining on future visits.
If you've dined at The Clam in NYC, what was your experience?
Related Posts
Khe-Yo NYC Restaurant Review: Laotian in Tribeca
Where to Go for the Best Brunches in New York
5X for All Dining: Activate Chase Freedom 5X Q2 2014 Bonus for Restaurants
Need Award Booking Help? Our fee is as low as $75 per ticket if you book your hotel through us.
If you enjoyed this, join 100,000+ readers: please follow TravelSort on Twitter or like us on Facebook to be alerted to new posts.
Become a TravelSort Client and Book Your Hotel with Virtuoso or Four Seasons Preferred VIP Amenities!