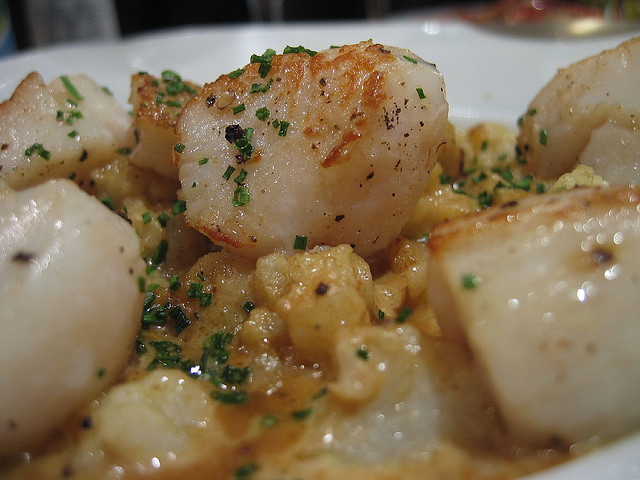 While summer is a popular time to visit Paris, many Parisians themselves take their annual holidays, especially in August. This includes many of the most noteworthy and popular restaurants, which tend to close for all or part of August, and this can be quite a challenge if you're hoping to sample delicious bistro food or haute cuisine.
But don't be discouraged; in celebration of Bastille Day, I've done all the hard work for you. I personally phoned each of my favorite Paris restaurants and foodie spots to check which dates they're closed, and am sharing these gems with you, along with two favorites of TravelSort founder Hilary Stockton. So now there's no excuse for getting caught in a tourist trap café, overpaying for stale baguettes, reheated crepes or burnt coffee (and yes, it is possible to get very bad food in Paris, just as in any other city).
It's always a good idea to call ahead and reserve as far in advance as possible to avoid disappointment; if you don't speak French well and are staying at one of the nicer hotels, ask for help from the concierge even before you travel. Although all information was verified at the time of writing, it's still possible that these places could spontaneously close- that's the French way. Unless otherwise noted, the restaurants are open all of August.
(Closed 14th – 31st Aug)
6 rue Bailleul +33 1 45 96 05 72
Open Tuesday-Saturday for dinner, lunch on Friday only
Spring barely needs an introduction, given all the hype it and Chef Daniel Rose have gotten since its reopening. From their housemade bread through the 64 Euro tasting menu, which changes daily and may include treasures such as duckling stuffed with apricots, crispy shredded veal breast confit with orange, sparkling fresh sea urchin, and rich chocolate ganache with salted caramel and chestnut, may stop your conversation in its tracks. There's also the lively entertainment of the open kitchen, and although the chef isn't known for mincing words with his staff, don't let that dissuade you from enjoying one of the very top tables open in the first half of August. If you can't initially get a reservation, try calling early afternoon to see if there have been cancellations for that evening.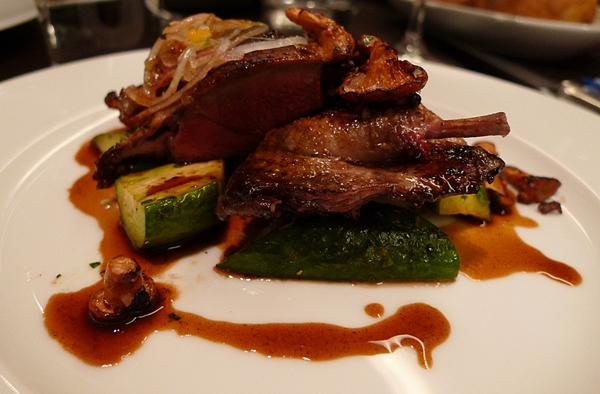 28 rue du Mont-Thabor +33 1 42 96 28 18
Open Tuesday-Saturday for lunch and dinner, and on Sunday for dinner
If you're disappointed that La Regalade de St. Honore is closed in August, reserve a table at L'Ardoise, which serves delicious French bistro classics such as the Galette of escargots and mushrooms, wild mushroom ravioli, duck foie gras, roast partridge with chestnuts, seared sweetbreads with parsnips, and superb hazelnut soufflé and Paris Brest. The prix fixe is 35 Euros for both lunch and dinner, and a few items do require supplements. The only real downside here is that tables are close together, so it may not be the perfect ambiance for a quiet romantic evening; but if great French food is your top priority, come here…and make a reservation, especially for dinner.
3. Pamela Popo
15 rue Francois Miron, 75004 Paris (Marias) +33 1 42 74 14 65
Open every day, lunch and dinner
In the hip Marais, Pamela Popo is the coolest place to be seen. Linger over a drink on the inviting outdoor terrace, do some people watching or have a tete-a-tete on the cosy and intimate first floor. The seasonal menu changes weekly and alternates with crowd pleasing favorites such as Mushroom and Asparagus Ravioli with Savory Pain Perdu, Crab and Avocado Millefeuille with Wakame Emulsion and decadent Chocolate Hazelnut Praline Mousse.
4. Retro Botegga
(Closed 13th – 22nd Aug)
12, rue Saint-Bernard, Paris 75011 +33 1 74 64 17 39
Open every day for wines, lunch and dinner
God I love this place. I hope I don't regret writing about it, as there are only four tables in this special Italian wine bar, two inside and two outside.
Opened only five or so months ago by talented ex-Rino Sommelier Pietro and his charismatic business partner Salvatore, Retro Botegga channels rustic Italy. With an impressive selection of imported Italian wines, each recommended based on your tastes and paired perfectly to your meal- you'll have a delightful evening. Pietro is modest about his cooking abilities, but what he does create with simple ingredients, top quality fresh produce and a retro charcuterie slicer is superb.
5. Comptoir de l'Arc
73 Avenue Marceau 75116 Paris (Champs Elysees/George 5) +33 1 47 20 72 04
Monday – Friday, lunch and dinner. Closed weekends
I almost decided against including Comptoir de l'Arc in this list, as it's one of my favorite summer hangouts and I don't want to make it any harder to get a table! This place has the perfect 'summer in Paris' vibe and friendly buzzing ambience, and is situated conveniently close to the Champs Elysees and l'Arc de Triomphe. The food is of consistently good quality and inexpensive, particularly given the location. You will find dishes such as Chicken Brochettes and Creamy Risotto, Poached Trout Salad, Grilled Market-fresh Fish and classic Steak Frites as well as comforting Buttery Potato Puree. The cheese plates and desserts are also nicely presented and a delicious way to conclude.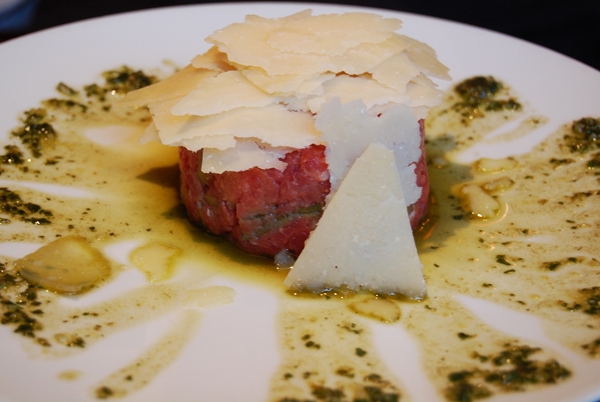 6. Mini Palais
3 Avenue Winston Churchill 75008 Paris (Champs Elysees in Grand Palais) +33 1 42 56 42 42
Open every day, lunch and dinner
If you're looking for something a little more upscale and gourmet, you will love the Mini Palais. It's hard to beat the location, right off the Champs-Élysées next to the Grand Palais, and a short stroll from la Seine. Even better, Mini Palais has a stunning view of the Eiffel tower. Signature dishes include Pan-seared Scallops with Celeriac Purée and Coconut Emulsion, Baked Escargot in Cherry Tomatoes with Almond Butter, Penne 'Risotto' with Chorizo and Basil, and their famous Baba Géant au Rhum. Bon Appetit!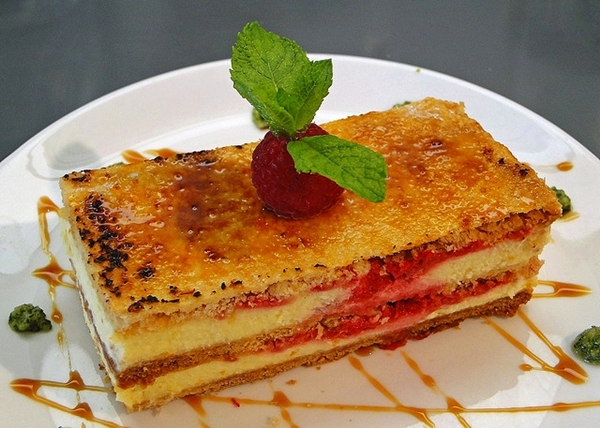 (closed 13th – 31st August)
40 rue des Blancs-Manteaux 75004 Paris +33 1 42 71 55 45
Open Monday to Saturday
Claude Colliot specializes in one of my favorite styles of cuisine. Light, innovative and refined, the menu changes frequently, driven by what is freshest at the market. Signature dishes include Girolle Mushrooms with Apricots Pochés, Oyster Sorbet, White Asparagus and Rhubarb, , Capucines-Jaune d'oeuf entire, fresh almonds (dairy free), and Smoked Volaille (Quail) à la Reglisse. A three-course lunch menu is only $29 Euros, so be sure to reserve in advance.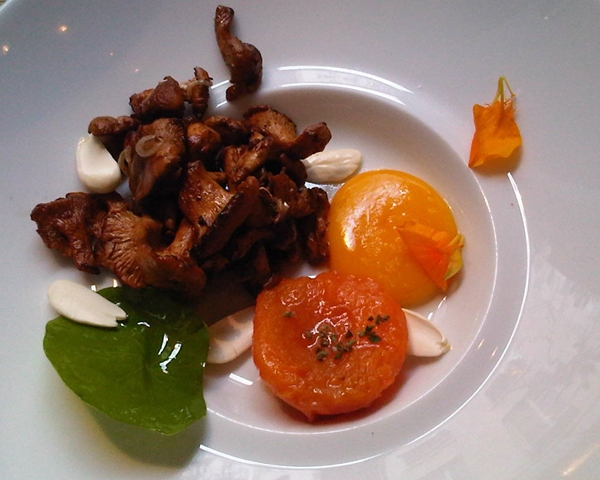 8. Derierre
69, rue des Gravilliers. 75003 Paris (Marias) + 33 1 44 61 91 95
Every day, lunch and dinner
Derierre is another Marais gem, and so non-descript from the outside that you could easily miss it while walking past. But once inside, you'll be glad you didn't—whether you savor an incredible meal or linger over a cocktail at sunset in the pretty courtyard or in the sexy lounge. The trendy yet super friendly staff will dispel any fears of snooty Parisian waiters. Try the classic Coq au Vin, Grapefruit and Sweet Pea Salad, BBQ Chilli Oil Squid with Grilled Aubergine, and Prawns in Seafood Bisque served as Oeuf Cocotte.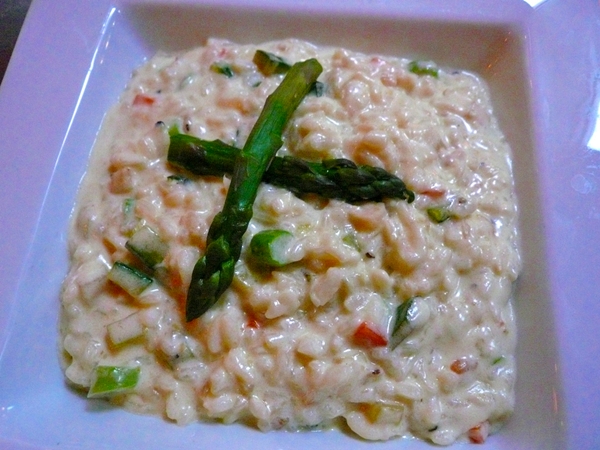 (Closed 14th– 22nd August)
27 rue du Dragon, 75006 Paris + 33 1 45 48 29 68
Open every day lunch and dinner
The latest chic French bistro concept by Cyril Lignac, Le Chardenoux des Pres in Saint Germain is a great spot if you seek well-executed French bistro classics cooked with love and French flair. Don't miss pâté de canard en croûte, émietté de tourteau et salade de pommes de terre, carpaccio de dorade au gingembre, curry de lotte, tartare (au couteau) frites, côte de cochon noir de Bigorre au saté, riz au lait, and for dessert, profiteroles.
10. Café de la Paix
12, bd des Capucines (75009 Paris (Opera / 9eme)
+33 1 40 07 36 36
Open every day lunch and dinner, Sunday brunch
Café de la Paix is a true Parisian institution, open since 1862, originally to serve the Grand-Hôtel de la Paix , this famous café was designed by Charles Garnier, the architect of the Paris Opéra (located across the plaza). If you can manage the hefty price tag and have a sense of humor about the 'Parisian arrogance' that so we love to hate, then you will really enjoy this little piece of La Belle Epoque over a sumptuous Sunday brunch or dazzling dessert.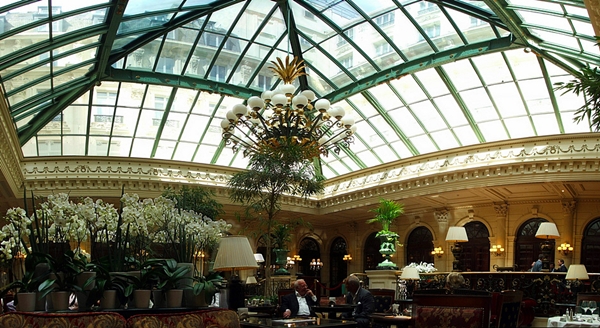 (Closed 31st July- 15th August)
4 rue des Grands Augustins 75006 Paris +33 1 44 32 00 32
Open Monday – Saturday lunch and dinner, closed Saturday lunch
Don't go to Ze Kitchen Galerie if you're after hearty portions of French bistro classic or comfort food. Do go if you love inventive, modern, risk-taking French-Asian fusion. Along with the innovative cuisine and stellar wine list, you can watch the chefs at work in the open gallery style kitchen. The menu includes Shrimp and Crab Ravioli with Thai Basil Pesto, Miso Wagyu Beef, and White Chocolate Wasabi Ice-cream with Lychee Jasmine Emulsion.
12. Le Tir Bouchon
22 rue Tiquetonne 75002 Paris (Montorgueil/Etienne Marcel) +33 1 42 21 95 51
Open every day lunch and dinner, except Sunday lunch
Le Tir Bouchon is one of my fail-proof favorite spots. Tucked into a romantic little lane in the heart of Paris just off rue Montorgueil, you're bound to have one of those "I Love Paris" moments when you dine here. The food is mostly traditional French, but with a few modern twists on the classics. Start with their Chevre Salad with Sweet Balsamic, then pick from their range of great pastas and ravioli- just don't order the Pasta with Foie Gras Sauce if you want to be able to walk yourself out of the restaurant, especially since it's critical to save room for their wonderful Tarte Tatin.
Enjoy your trip to Paris and if you have any of your own favorite Paris restaurants open in August or personal dining stories from a past summer visit to the city of lights, feel free to drop a comment below.
This guest post is by Hilary Stockton and Rachel Bajada, who blogs at French for Foodies
Follow Rachel at @RachelBajada
If you enjoyed this, please follow TravelSort on Twitter or like us on Facebook to be alerted to new posts.
Become a Member to find your perfect luxury or boutique hotel at up to 50% off: TravelSort Hotels
Photos: fmpgoh, kerolic, Hotels Paris Rive Gauche, Diva Eva, Michelle la Rue, TomFleming