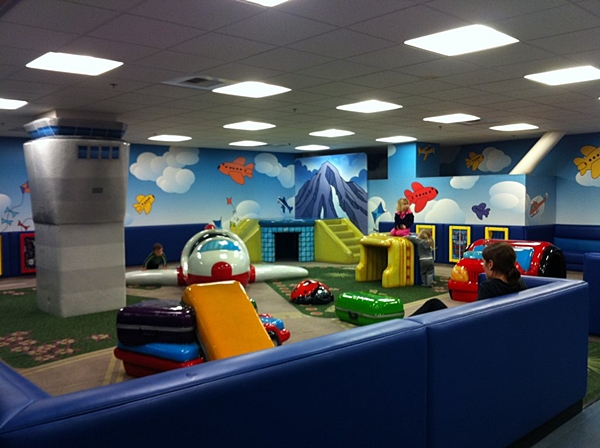 Flying long-haul with young kids can be a bit of a lottery. As parents we can plan exhaustively, picking one of the best airlines for kids, taking heed of the myriad tips for flying with toddlers, and trying our best to ensure a kid that will read, play quietly, and hopefully sleep some during the flight. And sometimes all the stars align and everything goes without a hitch. And then there are the times we'd rather forget.
Airports can be an important part of the equation. Usually I don't want to spend more time than absolutely necessary at airports, and avoid stopovers since it adds time to the journey and there's the chance of a missed connection or delay. But sometimes they're unavoidable on an itinerary, and may even be needed when the flight is simply too long. But while my son initially loves racing to the window and looking at the planes, he's happiest when he's playing basketball, at the playground or building an elaborate tower, and most airports just aren't well suited to any of these activities.
Thankfully there are a few airports we've been to that are more child friendly though, and there's a growing number that offer children's play areas, a family bathroom, some nice green space or even a multi-storey slide.
Singapore Changi Airport (SIN)
We mentioned Singapore Changi as having some of the best airport amenities, and it would be our top airport choice if we had to have a long layover. Naturally there are multiple indoor playgrounds; the best is Singkids Playsystem in Terminal 3 (Basement 2) with its Waterfall Tunnel and Spinning Palm Tree, but there are also other playgrounds in Terminal 3 (Next to the Special Service Lounge at the Departure Transit Lounge Central and outside gates A16-A20 at the Departure Transit LoungeSouth, Level 2), in Terminal 1 (Departure Transit Lounge West) and in Terminal 2 (Next to the Family Zone at the Departure Transit Lounge North, Level 2). Anyone traveling with a baby or young toddler will appreciate the baby care rooms (multiple locations in Terminals 1, 2 and 3) with hot water dispensers for warming bottles and changing tables.
It's also not that expensive to take your kid swimming–the Ambassador Transit Hotel has a swimming pool, and use of it, the jacuzzi, a shower and juice or soft drink is only about $11.
If your child loves planes, there are two aviation galleries, one in Terminal 2, which focuses on ground services such as baggage handling, aircraft landing and take-off, passenger services, and airport vehicles such as refueling trucks. The Terminal 3 Aviation Gallery displays models of the airplanes that fly through Changi daily, and explains in-flight operations. Both galleries also feature a number of wooden aviation-themed designs that kids can make paper rubbings out of as souvenirs.
Older kids and teens are likely to be drawn to the Entertainment Deck, with its Xbox Kinect Room, Movie Theater, free LAN Gaming, MTV Booth, and Music Area.
Of course, Singapore Changi is probably most famous for its Slide at T3, Singapore's tallest slide at about 4 storeys tall. Note that your child needs to be at least 8 years old and 4 feet, 3 inches to go down it. One ride down the slide is free with a purchase of at least $10 on a single receipt. If your child is 6-7 and at least 3 feet 7 inches, she or he can ride the smaller slide at the Basement 2 level, which is one and a half storeys tall; this ride is free.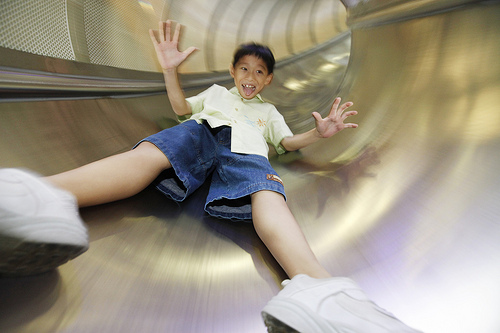 Amsterdam Schipol Airport (AMS)
The Netherlands in general is pretty child-friendly, and Schipol Airport is no different, with a great little "Kids' Forest" of wooden treehouses, slides and climbing equipment. It's located between Piers E and F.
If you're traveling with a baby, there's also a Baby Care Lounge located between Lounges 2 and 3 with 7 cribs for sleeping and facilities for feeding and bathing. If only all airports could have someplace peaceful like this, it would make for happier babies, parents and other passengers!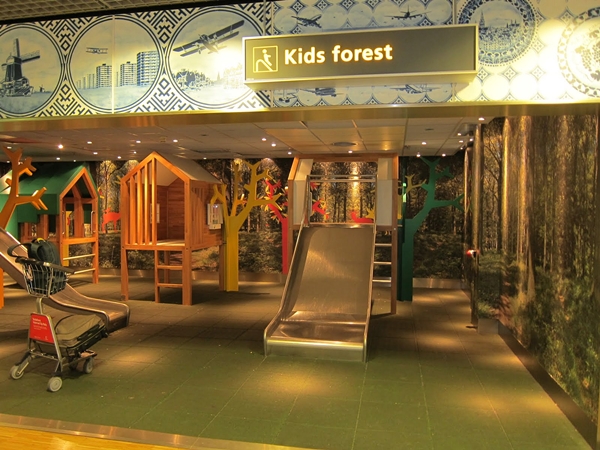 San Francisco International Airport (SFO)
If you have a wriggly toddler on your hands, head to the Kids' Spot with tunnels to crawl through and interactive exhibits courtesy of the San Francisco Exploratorium. There are 2 Kids' Spots, one post-security near Gate 87A, Boarding Area F, Terminal 3; and the other post-security near Gates 54A and 58B, Boarding Area D, Terminal 2. Young kids can also ogle fish and other marine life at the three aquariums located at the Departures/Ticketing Level of Terminal 1, thanks to the Steinhart Aquarium.
If you have older kids and just realized you left their portable DVD player at home, you can rent players and movies for use at the airport or even the entire vacation from InMotion Entertainment in the International Terminal Main Hall.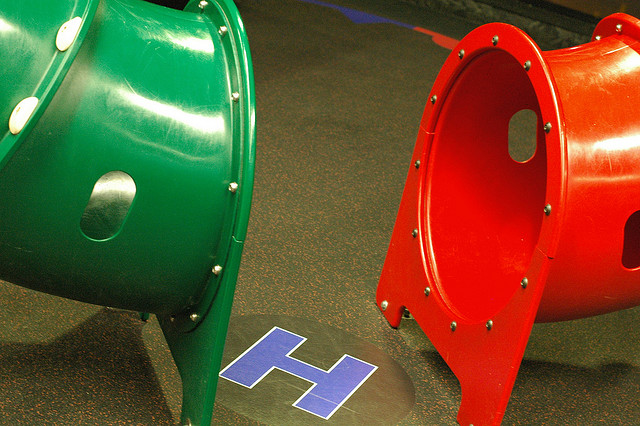 Chicago O'Hare International Airport (ORD)
Chicago's O'Hare offers a "Kids on the Fly" interactive children's museum in Terminal 2 where kids can pretend to direct air traffic, fly planes, and load luggage. Also in Terminal 2 is a restored WWII F3F-4 fighter plane, which should suitably impress your little airplane buffs. If your kiddo loves dinosaurs, head to Terminal 1 to see an enormous brachiosaurus in front of the Field Museum store.
Hong Kong International Airport (HKG)
For younger kids, Hong Kong International Airport offers two colorful play areas, one between Gates 23 and 25 in Terminal 1, and the other between Gates 509 and 510 in the North Satellite Concourse. A huge boon for mothers that need to nurse or change a baby are the private nursing rooms. There are 33 in total, with 21 of them in Terminal 1 alone, so you likely won't have to wait.
And while I'm not that keen on TV, the Children's TV Lounges are bound to appeal to many kids and parents, and some of them also have blocks and other games available. There are 4 of them, near Gates 1, 15, 40 and 60.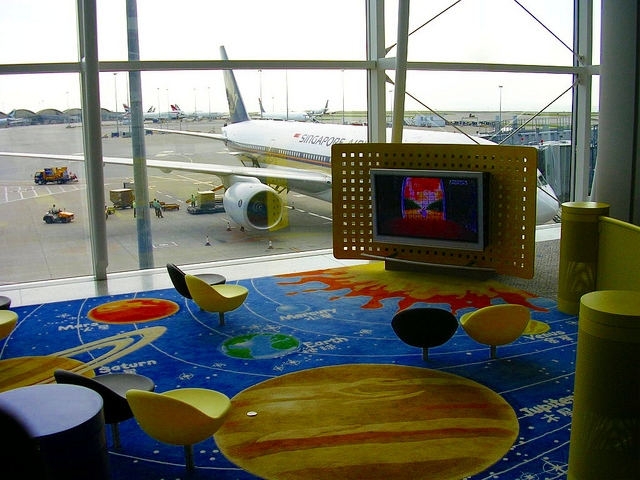 Honolulu International Airport (HNL)
While Honolulu Airport doesn't have a traditional play area, it has a nice outdoor courtyard with trees, flowers, a pavillion and a koi pond. Young kids will enjoy running around the paths, watching the colorful fish and feeding the birds. Weather permitting, you could even bring or purchase food and have an outdoor picnic.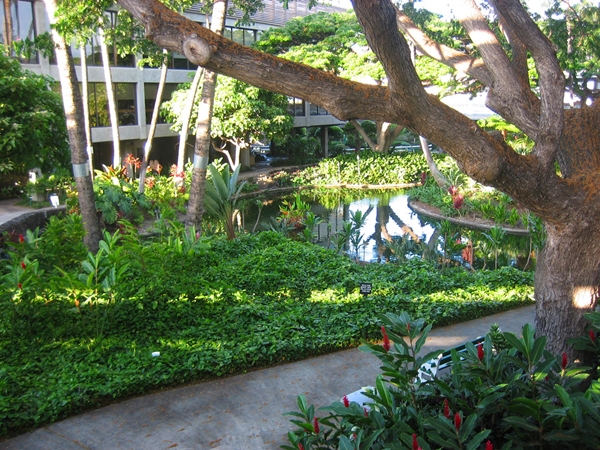 Check out and apply for the Best Travel Credit Cards.
If you enjoyed this, please follow TravelSort on Twitter or like us on Facebook to be alerted to new posts.
Become a Member to find your perfect luxury or boutique hotel at up to 50% off: TravelSort Hotels
Photos: xcode, mikecogh, DeeKnow, pixel me Hawaii, Peg Syverson