Much like airplane food, airport hotels seem to have a bad reputation. To a large extent that's understandable, given that they're usually not destination hotels. Typically people are selecting airport hotels by price, if they're selecting them at all. A good chunk of airport hotels have contracts with airlines where a certain percentage of rooms are blocked for crews, often over half of them. Many of the other guests at airport hotels are those that didn't even make bookings, but are stranded at the airport or were disserviced by the airline, so really aren't staying by choice. Therefore it can be tempting for these hotels to cut corners. After all, much like at the DMV, they know that most people aren't staying at their hotels because of the great service and amenities, but instead out of need.
That being said, there have been a few airport hotels that I've encountered over the past few years there were especially memorable. I would almost classify some of them as relaxing, destination hotels.
In no particular order, here are some of my favorites:
Crowne Plaza Changi Airport Singapore
While some airport hotels are great because they're luxurious, traditional hotels, the Crowne Plaza at Singapore Changi airport wins cause it's funky, but in a good way. First of all, the hotel is connected directly to Terminal 3, with easy access to the rest of the terminals by tram.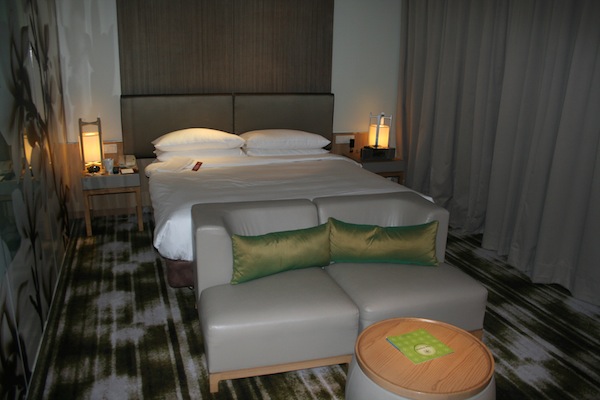 But it's the design of the hotel that makes it stand out. It has a jungle theme, not just in the rooms, which feature funky coloring and designs, but also in the public areas. The corridors of the hotel are all open air, filled with plants and other jungle themed features, like green spiral staircases and a forest-like facade.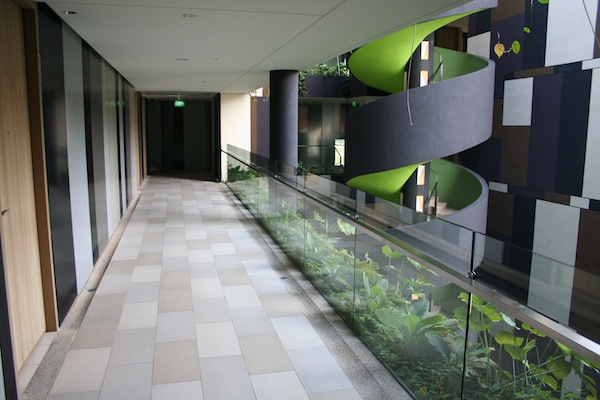 More importantly, the employees at the hotel are great, everything is "fresh," and the hotel has all the amenities you could possibly want, from a fitness center to a pool to a club lounge. If you're an airplane geek, this hotel features some pretty unparalleled views as well. During my most recent stay, the corridor outside of my room had a direct view of a Singapore Airbus 380 for most of the day.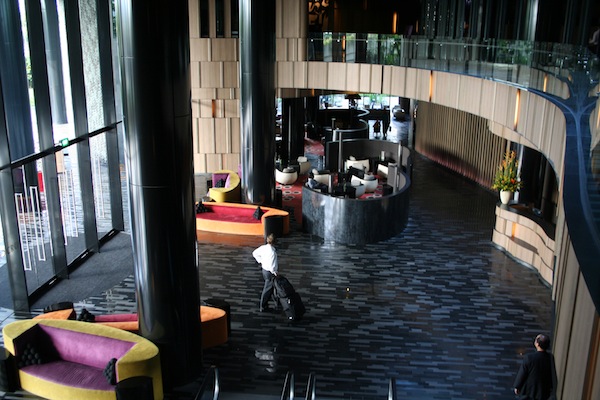 InterContinental Chicago O'Hare
When I first heard that InterContinental was opening an airport hotel a few years ago, I was puzzled. How can they possibly get the yields they want and offer the services people expect from InterContinental with an airport hotel? Well, given that the rates are no different than any other airport hotel (often under $100/night) I'm still not quite sure, though I do know for a fact that this hotel has some of the best service and facilities of any InterContinental out there.
You know this airport hotel is different when you get on the free airport shuttle. Usually airport shuttles are in pretty bad shape with ripped seats, rude drivers, etc. Instead, the InterContinental has a black party bus of sorts with black, plush leather seats and "mood" lighting.
I guess the biggest compliment I can give the hotel is that I actually completely forgot I was staying anywhere near an airport, starting from the moment I stepped in the lobby. The lobby has an artsy airplane theme, the theme of which continues in their in-hotel art gallery.
The rooms are typical, modern InterContinental rooms, with all the features you could want.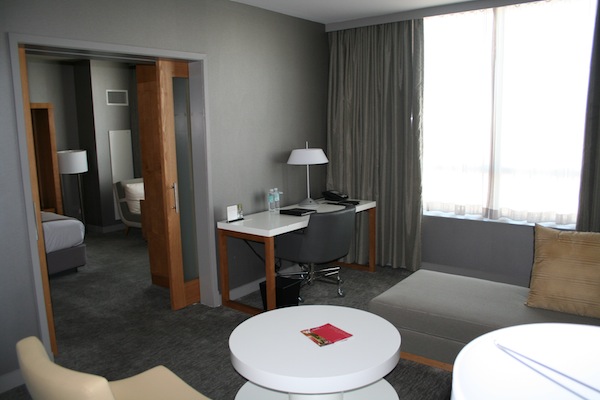 It's easy to stop maintaining quality when many guests are staying on airport accommodation rates where the rate for the hotel is pretty low. But the InterContinental O'Hare still puts quality first, to the point that I'd almost like to go there for a vacation.
Holiday Inn Ontario Airport, California
When it comes to Holidays Inns, and especially airport Holidays Inns, most of us probably visualize an old style hotel with 1970s furniture and a bad attitude.
I used to travel to Ontario quite a bit, mostly just laying over between flights, and in the process of trying to decide on a hotel picked the Holiday Inn Ontario Airport. The first time I stayed the rate was something like $55, so I booked it and sighed, hoping that the hotel would at least be clean.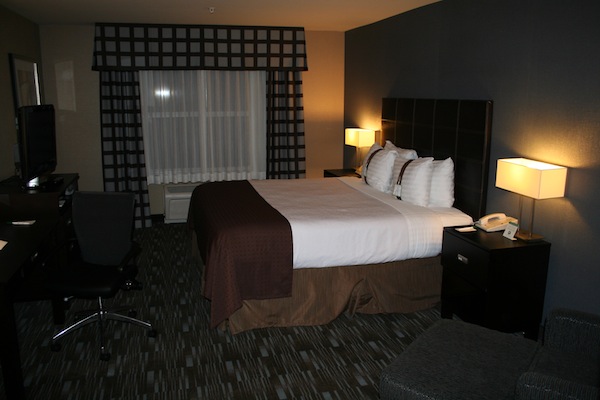 Well, this is the hotel that has exceeded my expectations more than any other. It starts with the trip from the airport. The hotel shuttle stops running at around 11PM, as I recall, which is perfectly reasonable. Instead of leaving you in the dark, though, the hotel will pay your cab fare to the hotel, even on a $55 rate. As I recall during my last stay too, when I was leaving in the afternoon, they said it would be another 30 minutes till the shuttle was leaving, so instead they insisted I take a cab, which they paid for as well.
Everything about this hotel is what Holiday Inn aims to be, though often falls short of. The hotel is "fresh," the rooms are modern and large, and most importantly, the service is amazing. I almost always arrived at this hotel after midnight for my stays, and I'm quite used to incompetent "night auditors" that seem to be just as tired as I am. However, the guy I encountered at this hotel every time was incredibly friendly, thanked me for my business during my first stay, and starting with my second stay addressed me by name, seemingly by memory.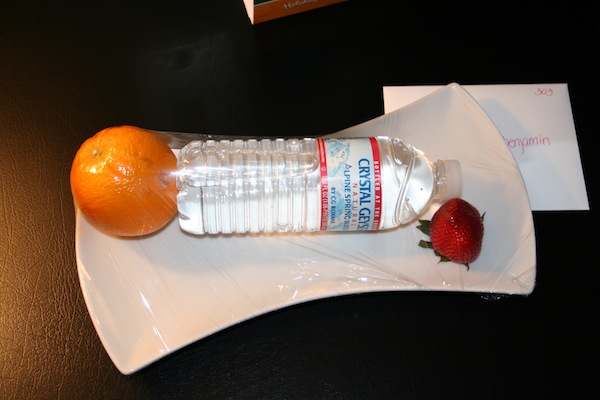 Marriott SkyCity Hong Kong
Hong Kong is my favorite airport in the world, so I was quite pleased when Marriott opened up a new hotel right near the airport a couple of years back. The hotel faces the ferry terminal and convention center on one side, and airport on one side. While the views towards the water are generally preferred, I quite liked the airport view, given that Hong Kong Airport is one of the most exciting in the world as far as the diversity of traffic they see.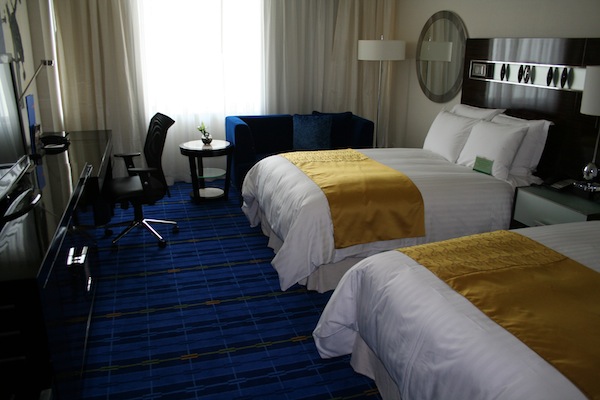 The service, rooms, club lounge, and even restaurants at this hotel are also great. Also, the hotel offers easy access to Kowloon and Hong Kong, given that the Airport Express train leaves from the convention center across the street. Lastly, it's worth mentioning that this hotel has a very nice pool, sauna, and steam room, something that's often missing from airport hotels due to space constraints.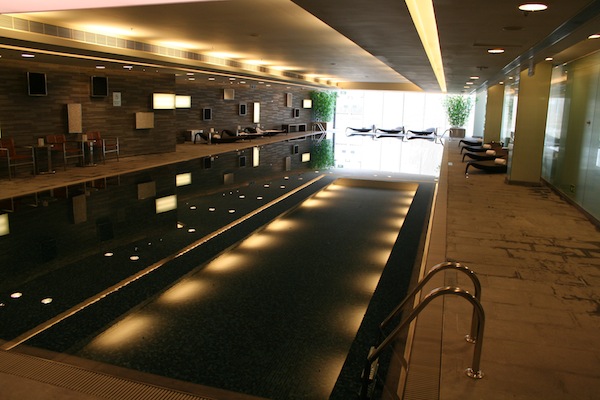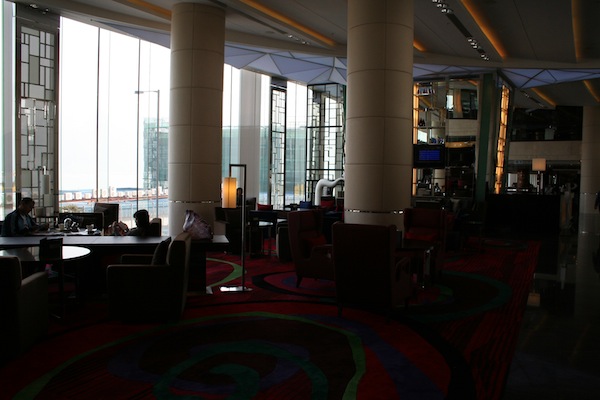 There's no doubt there are other great airport hotels out there, though those are a few of my favorites. Airport hotels as a whole have become quite innovative lately, as competition continues to increase. While many airport hotels compete primarily on price, others see the value in offering it all, from an ideal location to a great club lounge to a world-class restaurant. When done properly, these hotels can command quite a premium. As public transportation continues to improve, I think we'll see more people actually stay at airport hotels even when they reach their destination. With good public transportation one can save a lot of money by staying near an airport as opposed to in an expensive city, and the quality can often be better.
Do you have any other favorites not mentioned above?
Related Posts
Crowne Plaza Changi Airport Hotel Singapore Review
Review: Hilton Tokyo Narita Airport Hotel
Complimentary Overnight Hotel Stay: Which Airlines?
Novotel Bangkok Suvarnabhumi Airport Hotel Review
Need Award Booking Help? Our fee is as low as $75 per ticket if you book your hotel through us.
If you enjoyed this, join 200,000+ readers: please follow TravelSort on Twitter or like us on Facebook to be alerted to new posts.
Become a TravelSort Client and Book 5-Star Hotels with Virtuoso or Four Seasons Preferred Partner Amenities!