This Thai Airways Business Class Review is for a short Singapore to Bangkok flight. It's part of a Southeast Asia trip report; here are the previous posts:
ANA All Nippon Airways Business Class Review, LA-Tokyo
Singapore Airlines Business Class Review, Tokyo to Singapore
St. Regis Singapore Hotel Review
Mandarin Oriental Singapore Hotel Review
Ritz-Carlton Millenia Singapore Hotel Review
Since this Thai Airways flight was so short, just 2 hours and 20 minutes, I wasn't particularly anticipating it. I'd only flown Thai Airways once, years ago, in economy, and it had actually been a very comfortable flight because an entire row had been open so I stretched out and slept. Ah, the days before capacity cuts!
I got a foot massage in the Singapore Changi (I know, you're supposed to wait until Bangkok to get cheaper ones, but I had a bit of time and my feet were sore) so I got to the gate just before boarding started. The flight attendants greeted passengers with hands pressed together, in the classic "sawadee" greeting, and gestured to the correct aisle to reach our seats. I was in 11K, the windowseat bulk head, which was a nice surprise since I hadn't even bothered to request a particular seat for this flight, given how short it was. If you enjoy purple, Thai is your airline!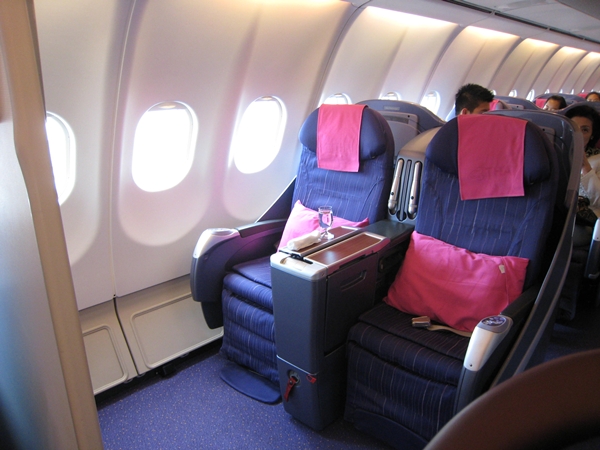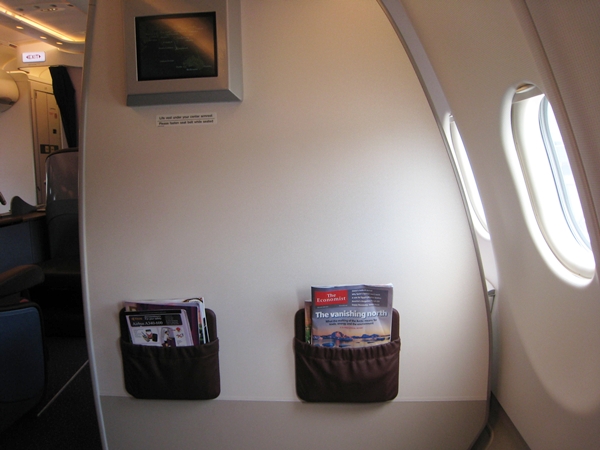 Before the flight departed, we were offered a drink (I opted for water) and a cool towel. We also, to my surprise, received menus. I figured that even if we were served some kind of refreshment on the flight, there wouldn't be a choice of items, but I was wrong. There was a set appetizer of prawns and black cod char siew, then a main course choice of roasted chicken breast with potatoes, carrots and broccoli; baked dory fish with oriental sauce and egg fried rice; or fried duck with Thai chilli sauce with rice noodles, and finally pear and cinnamon crumble for dessert. So not very Thai, but who's complaining, on a little over 2 hour flight?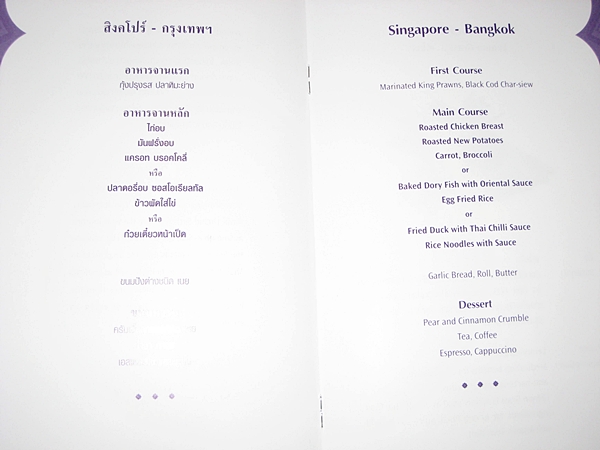 There were no delays and we took off smoothly and on time. I decided to check out the seat controls, and saw that on this A340-600, as expected, there was a lie-flat option.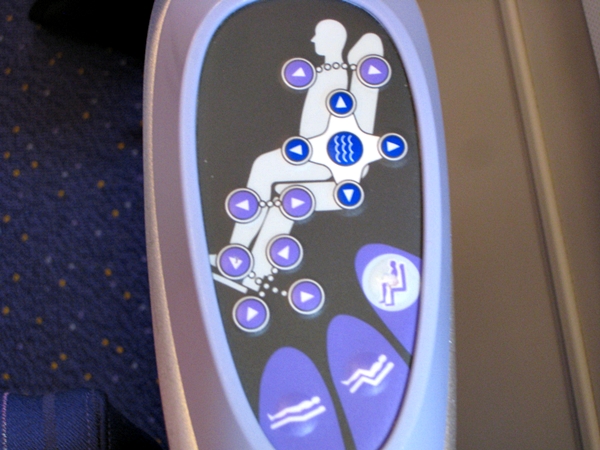 Even though this is technically an angled flat seat, not a fully flat seat such as British Airways has in business class, at least for the amount of time that I tried it, it was more comfortable than both the ANA business class seat and than the Singapore Airlines business class seat. It seemed much closer to 180 degrees of recline, but perhaps it was the better padding that helped create that sensation.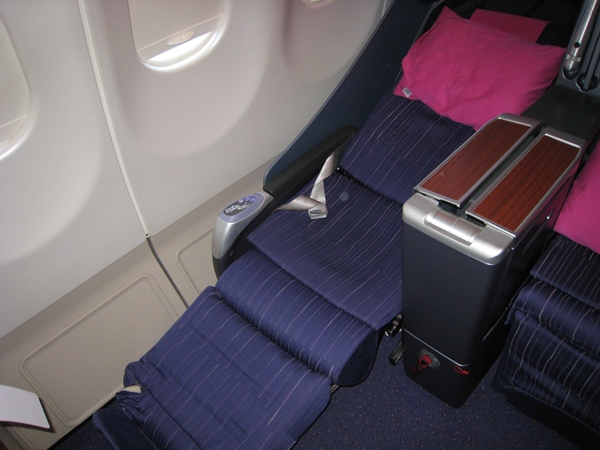 If I liked the business class seat better on Thai Airways than on ANA and Singapore, I liked the food less. The appetizer was fine, although they had substituted smoked salmon for the black cod char siew: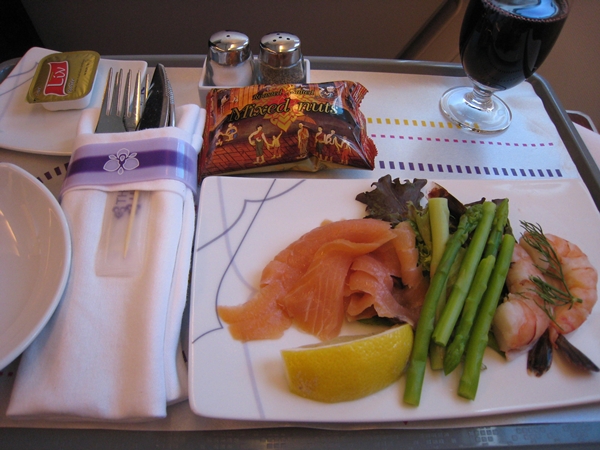 The main dish, for which I'd chosen the most Thai-style option offered, the fried duck with Thai Chilli Sauce and Rice Noodles, was not good–rather gummy noodles, and duck of course not nearly as good as the duck we get from our favorite NYC Chinese delivery place, Wa Jeal. I didn't care much for the wine I tried either, a Chateau de Rouillac 2005 (58% Cabernet Sauvignon, 42% Merlot). Perhaps it hadn't been stored optimally, but it had probably seen better days, although I can't be sure as I hadn't tried this appellation before. Maybe it just wasn't very good to start with. And lest anyone point out that most wines (especially red!) don't go well with Thai food, I was judging it on its own–I didn't actually drink it with my meal, only before and after 🙂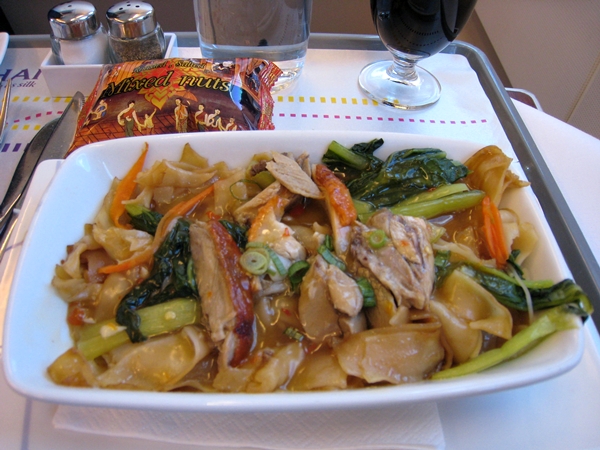 I'm a hard critic when it comes to dessert, so the pear and cinnamon crumble dessert was very average. Yes, I preferred it, marginally, to the sundaes United serves, because of the poor quality of the ice cream involved. But I wouldn't serve it to guests. Now that I'm rereading the menu, I see cappuccino there–I should have given that a try, but didn't, so for me at least, the jury's still out in terms of the quality of Thai Airways' cappuccino.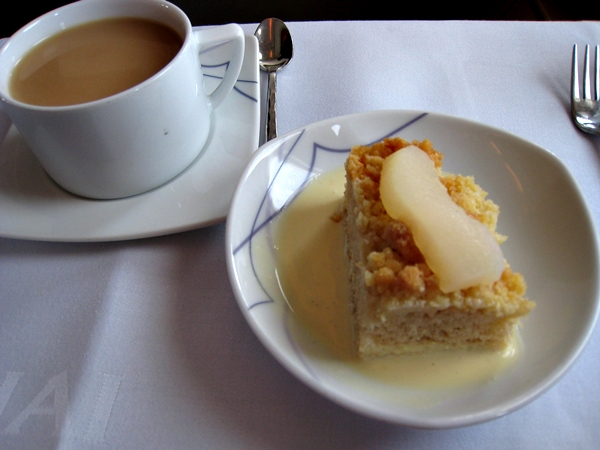 Service was good–somewhere between the very polite and feminine service aboard ANA and the more brisk, assertive service on Singapore Airlines. There was a male flight attendant who very nearly dropped a china cup on someone, but fortunately caught it in middair before it did any damage. So some clumsiness, but good reflexes.
The bathroom was completely standard–the only differentiating things was a rather tired looking orchid, and the fact that there was a window. Most airplane bathrooms I've been in don't have a window, and the natural light is nice to have (not that one spends much time in there, but still).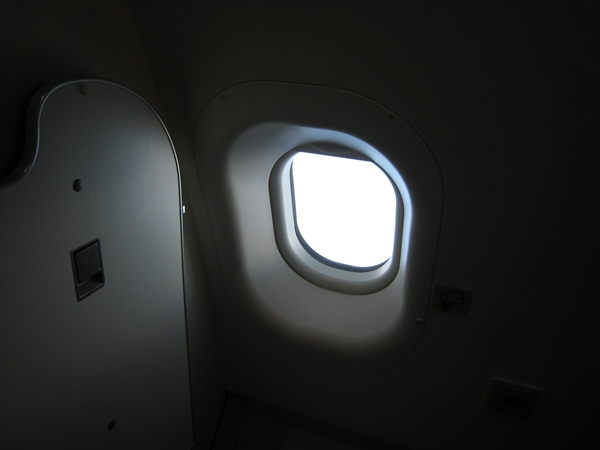 Verdict: This was a very short flight, but I was more impressed with the hard product (the seat) than I expected to be, and less impressed with the quality of the food than I expected. Nonetheless, I was impressed with the amount of food and the choices offered, on such a short flight. While I wouldn't go out of my way to fly Thai Airways business class again, I certainly wouldn't dread it the way I would ANA's seat for a long haul flight.
Using United Miles to Fly Thai Airways
As with the ANA and Singapore Airlines flights, I booked this segment on Thai Airways as part of a mini round the world trip on a discount Aeroplan award deal back in early December 2011 when Aeroplan had an unadvertised award sale. Your best bet now to fly Thai Airways on this route is to use United miles, because Aeroplan now imposes fuel surcharges on most of its partners apart from United, Swiss, US Airways and Air New Zealand. Business class is 17,500 United miles and just $21.80 for a one-way flight, and you can easily book it at United.com. Here's a screenshot: