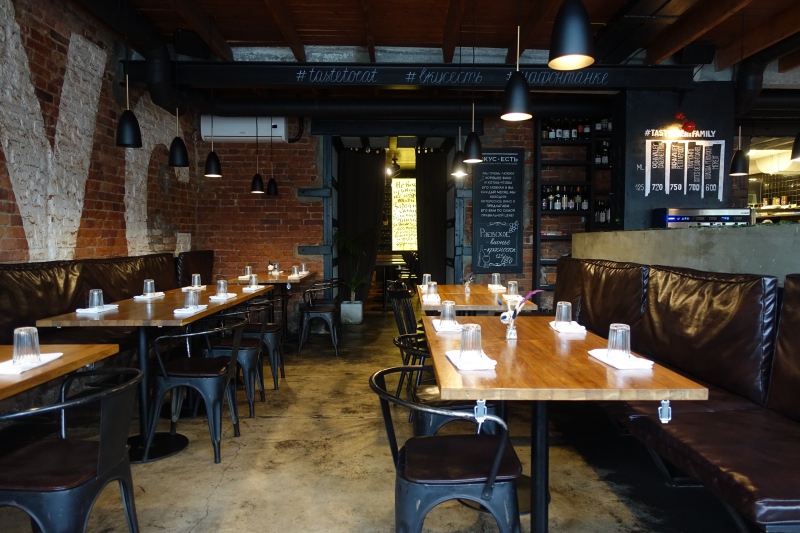 This 2017 Review of ВКУС ЕСТЬ (Taste to Eat) in St. Petersburg, Russia is an updated review of my favorite place to eat in St. Petersburg, Russia. I enjoyed it so much last year, when I dined there several times for lunch, that I visited it again for lunch and dinner during this year's visit.
Visiting St. Petersburg, Russia? See our 10 Travel Tips for St Petersburg, Russia and our posts tagged St. Petersburg.
Vkus Est, St. Petersburg Location, Hours and Reservations
Vkus Est is located at Nab. Reki Fontanki, an easy 15 minute walk from Nevsky Prospect or from Metro station Dostoevskaya / Vladimirskaya. The restaurant is open daily from 1pm-11pm, and while it's spacious enough that you don't usually need an advance reservation, I recommend making one online, so that you can enjoy a complimentary housemade lemonade: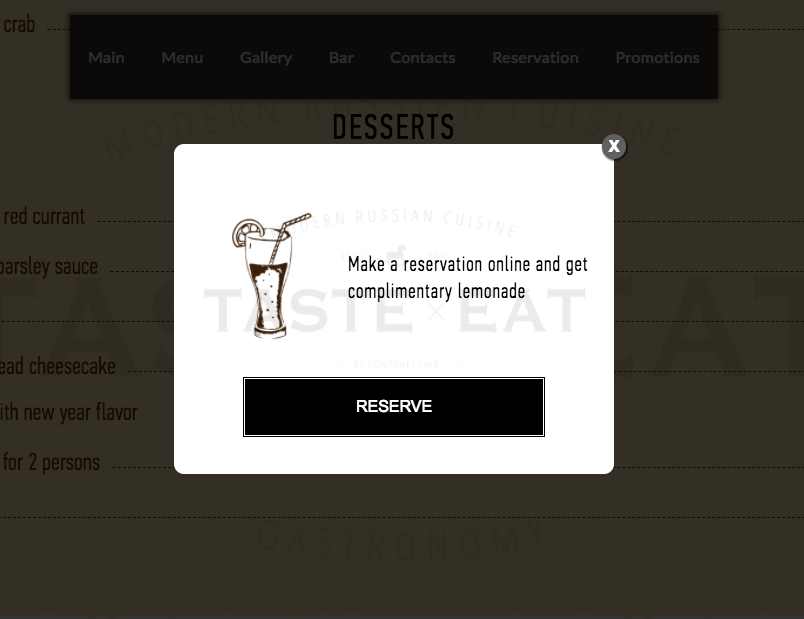 The complimentary lemonade was made with red currants and fresh mint, and was incredibly refreshing: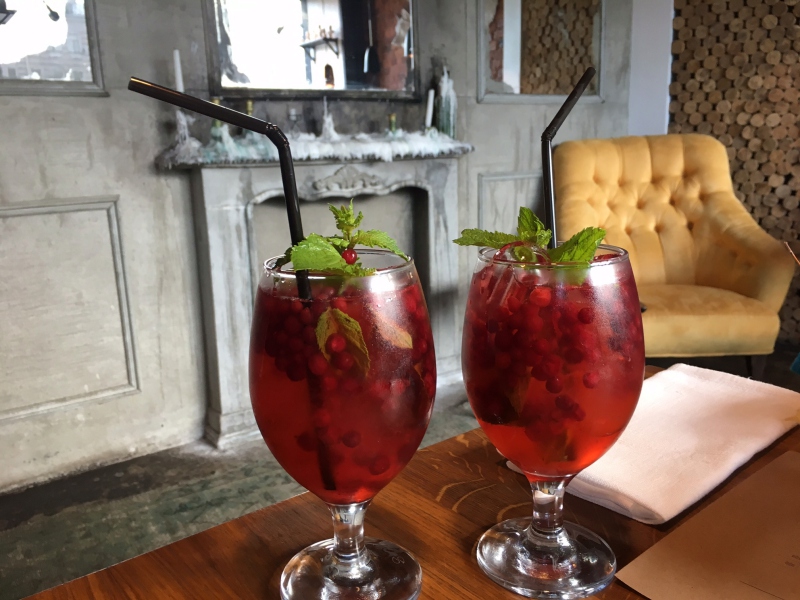 The Scene
The nice thing about Vkus Est / Taste to Eat is that it's not touristy. Yes, there are often other foreigners there, but there are also a good number of locals who dine there, whether couples or small groups of friends. The decor of exposed brick, candles in wine bottles and wooden tables would look right at home in Brooklyn.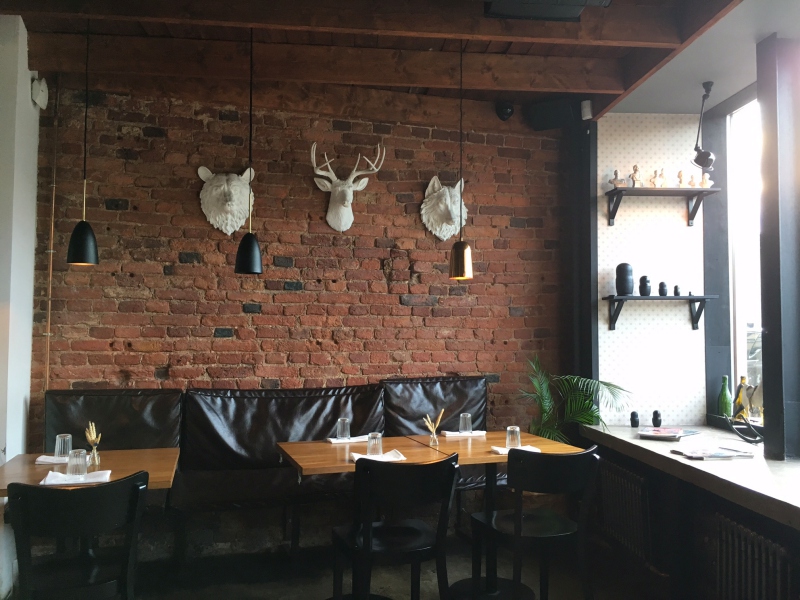 Vkus Est (Taste to Eat) Menu and Food
Taste to Eat's menu is Russian-Nordic, with both locally sourced vegetables and meats, as well as crab from Russian's Far East. Here are some of the main dishes, pastas and desserts on the menu during our visit: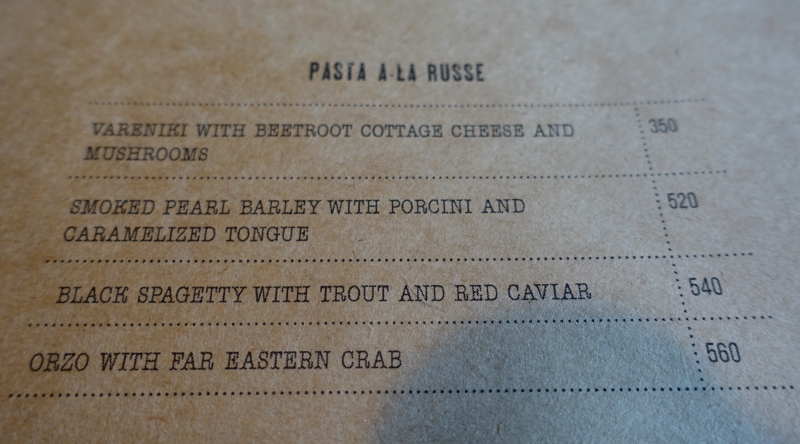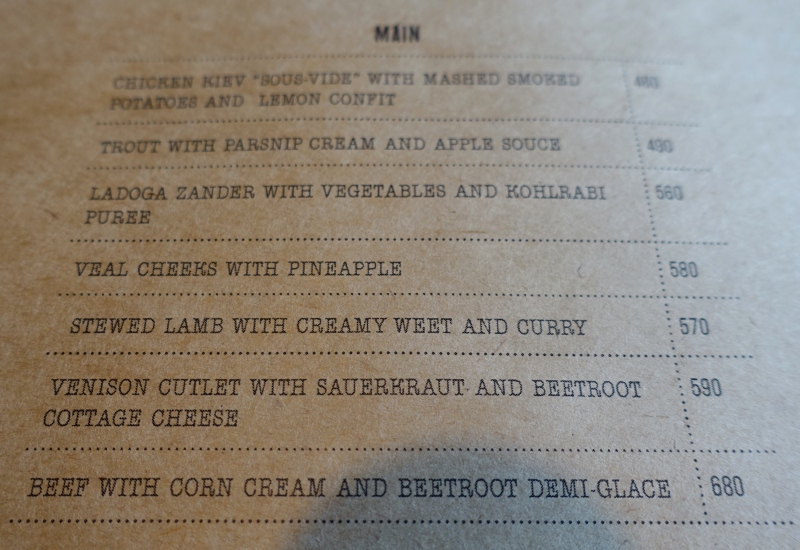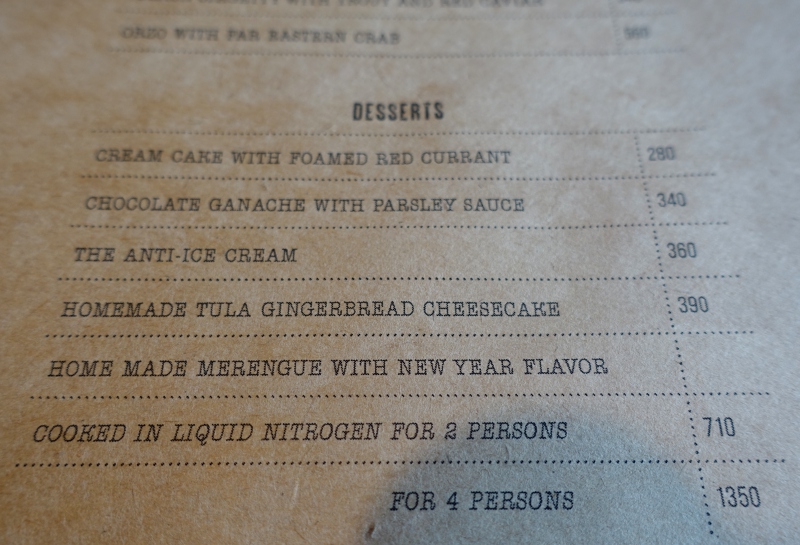 There's also a good selection of starters and appetizers. On one visit, we started off with the sandwich of Far Eastern crab, which was a fairly small portion, but with utterly delicious fresh crab.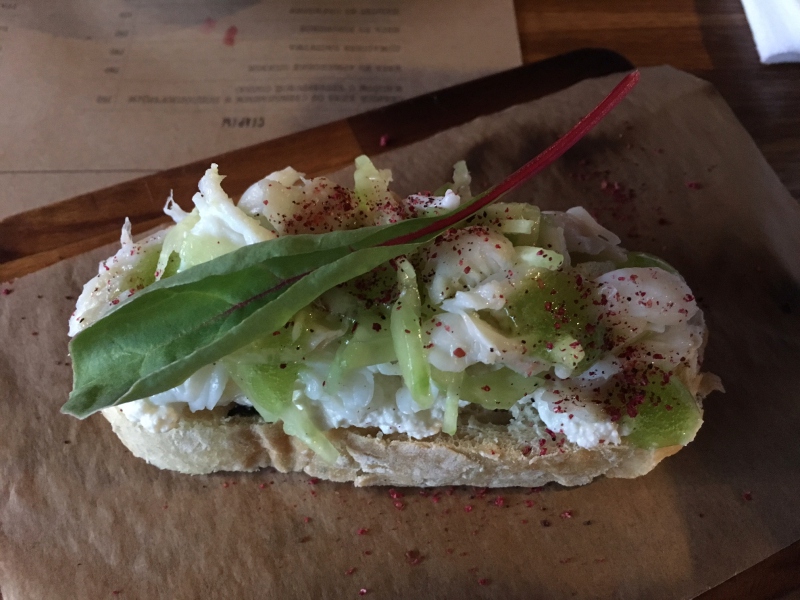 I also ordered the savory Tbilisi Cheesecake again, which is a unique combination of a caramelized onion topping with a creamy cheese base using Georgian sulguni cheese (the Georgian cheese that is used in traditional khachapuri, and something akin to a cross between feta and mozzarella).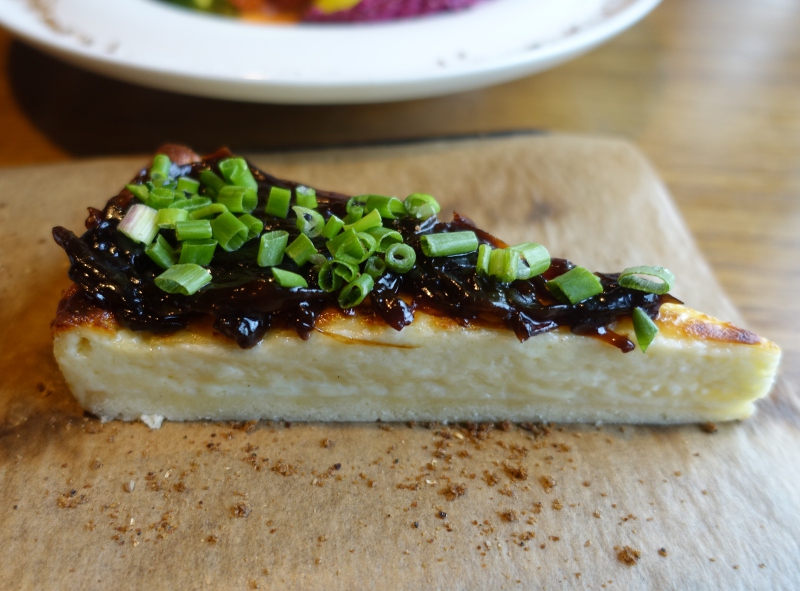 A couple times I also ordered the seasonal vegetables with sunflower seeds and beets, a great way to eat your vegetables, making full use of beets (which might as well be Russia's national vegetable), tomatoes, cucumbers, crumbled goat cheese, and crunchy sunflower seeds.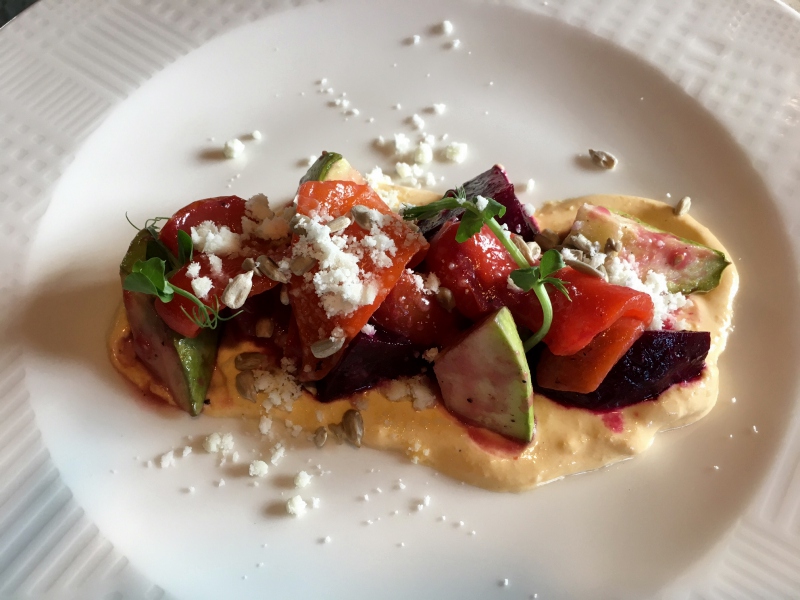 On one occasion I tried the Venison with Sauerkraut and Beet Tvorog (farmer's cheese). I don't always like venison, which can be gamey, but this was one of my favorite venison dishes, the meat tender and hearty enough to stand up to the sauerkraut, but not gamey. I liked the beet farmer's cheese on its own, which was a brilliant lavender, although I'm not sure it was the best complement to the meat.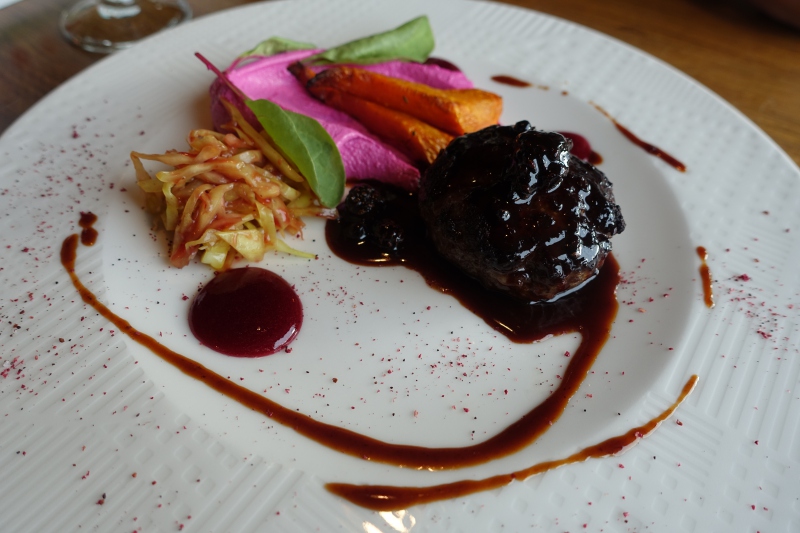 My son really liked his Orzo with Far Eastern Crab, which seemed to be flavored with saffron, and I have to agree it's the best crab pasta dish we've ever had. And at RUR 560, or less than $10, also the best value crab dish we've had.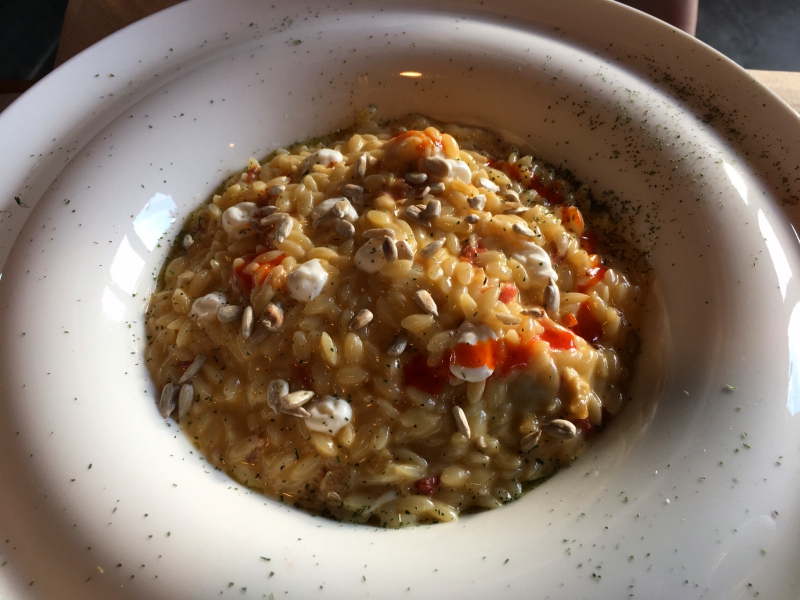 On another occasion I tried the Beef with Corn Puree and Beet Demi-Glace, and I liked it even better than the venison, although the meat for both dishes was very tender. The flavor combinations are more straightforward than some of the restaurant's other dishes, but the beet demi-glace is still unique enough to differentiate it from your typical beef dish.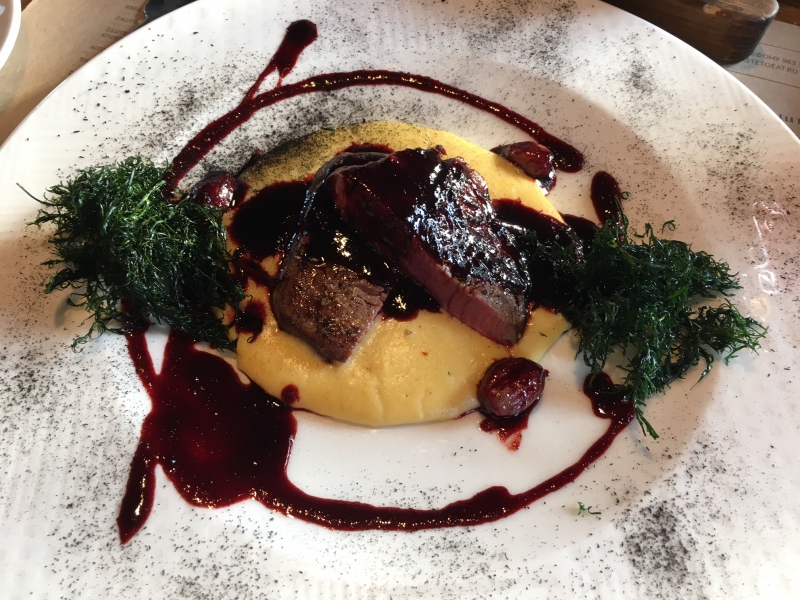 My favorite main course, however, remains the Chicken Kiev Sous-Vide, which was every bit as moist inside, with a thin crunchy exterior, as I'd remembered. I was glad the accompaniment was still smoked mashed potatoes, although this time the dish was accented with lemon confit, adding a welcome sweet-tart note, and also dots of beet puree, also a great sweet, slightly earthy complement to the dish.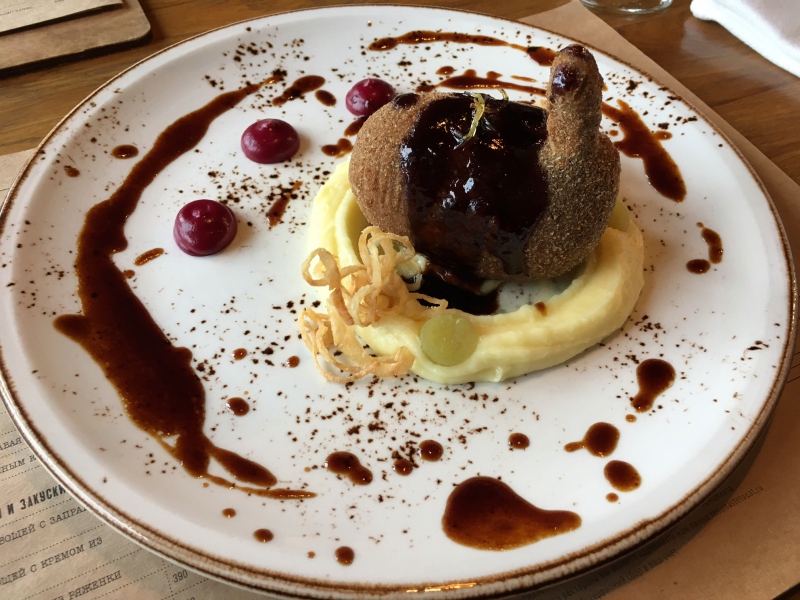 As a dessert one evening we tried the Tula Gingerbread Cheesecake. This is really my only disappointment, although my son enjoyed it. I personally don't care much for whipped cream, and was expecting a baked cheesecake, whereas the filling was really whipped cream. Instead of this dessert, if you're with a partner or group of friends, I'd order the meringues–more on that next.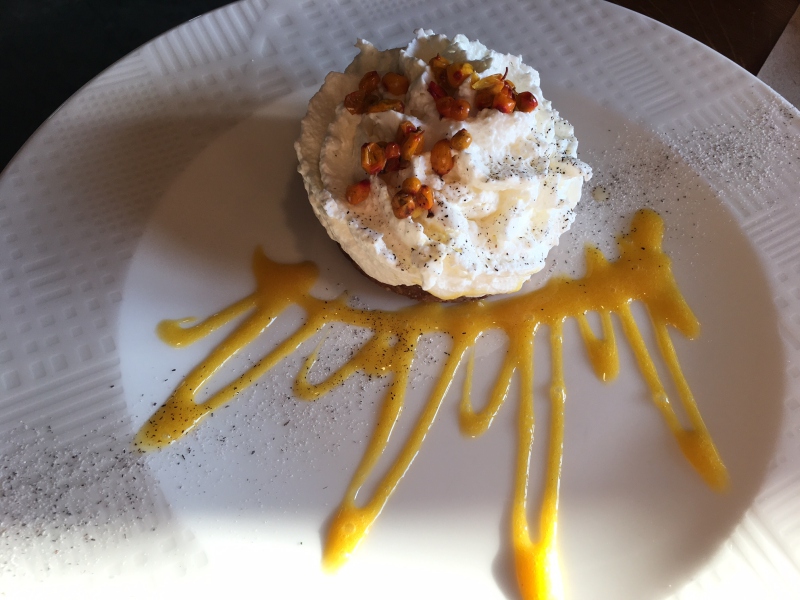 On our final evening, as a special treat, we ordered the showy Pine Meringues that are "cooked" table side in liquid nitrogen. While I've had special cocktails with a similar meringue type preparation in liquid nitrogen once at a NYC 3 Michelin Star restaurant, I actually preferred Taste to Eat's dessert, with the distinctive and very Russian-Nordic pine flavor, served with a homemade "granola" of edible pinecones and dried fruit. I'd expected a fun experience but perhaps not a great dessert, but the meringues were delicious in their own right, and well worth the indulgence.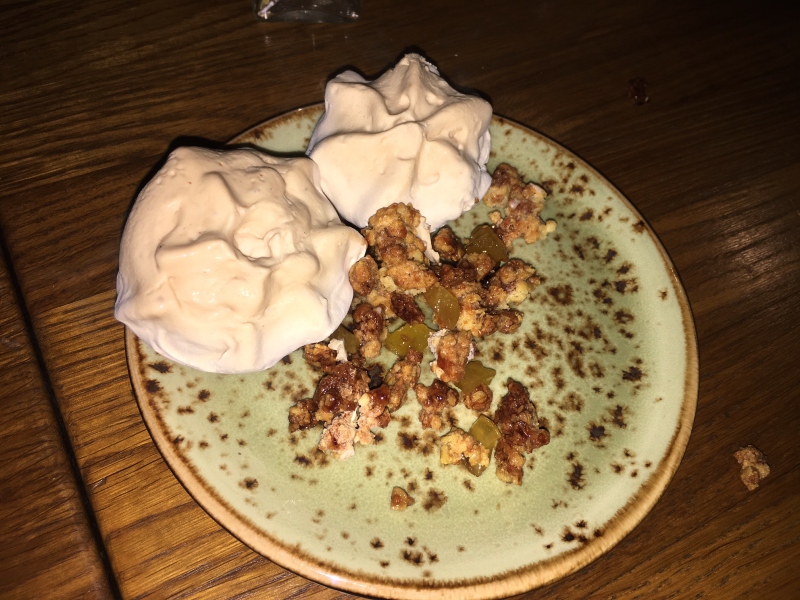 The Verdict
Have you ever wished you could bring a restaurant you discover abroad home with you? That's how I feel about Vkus Est–I wish I could bring it home with me to NYC. The cuisine is stellar, both creative yet incredibly delicious, with carefully sourced ingredients. The atmosphere and vibe is relaxed, and the service has always been friendly, with all staff fluent in English as well as Russian. And the pricing (which I realize would be much higher in NYC) is a bargain for almost anyone with the means to visit St. Petersburg from the U.S., Europe, Asia, etc.
If you've visited Vkus Est / Taste to Eat in St. Petersburg, Russia, what was your favorite dish?
Related Posts
Review: Hamlet + Jacks, St Petersburg Russia
Dom, St. Petersburg Restaurant Review
Duo Gastrobar Review, St. Petersburg, Russia
Review: Belmond Grand Hotel Europe, St. Petersburg Russia
Review: Four Seasons St Petersburg, Russia
Need Award Booking Help? Our fee is as low as $75 per ticket if you book your hotel or cruise with us.
If you enjoyed this, join 200,000+ readers: please follow TravelSort on Twitter or like us on Facebook to be alerted to new posts.
Become a TravelSort Client and Book 5-star hotels with Virtuoso Perks and Four Seasons Preferred Partner Benefits