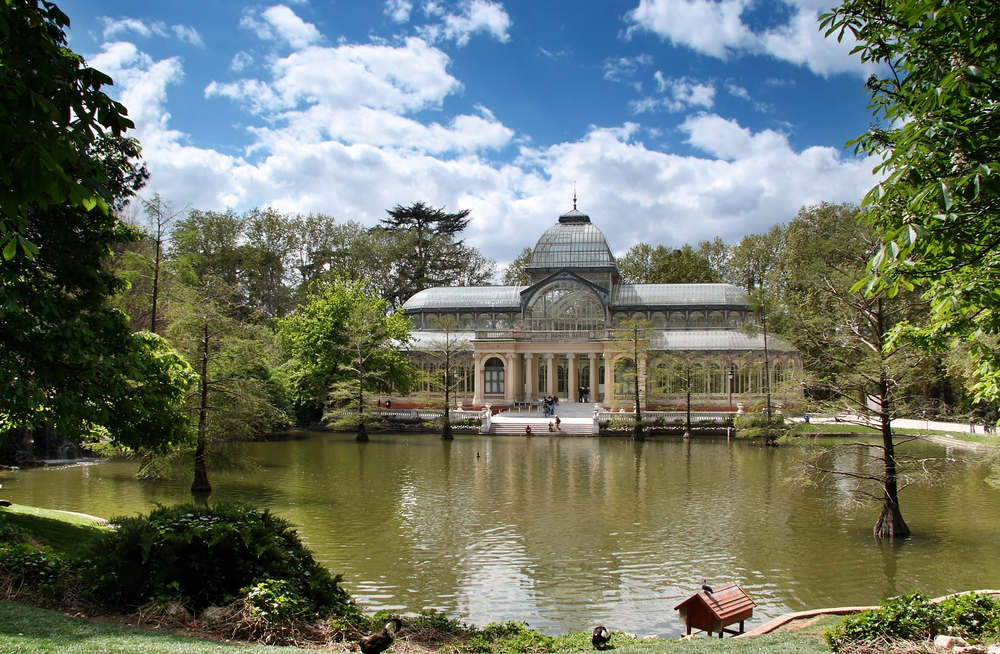 Why Go
Once the Spanish sky turns to ink, the streets of central Madrid vibrate with madrileños. Stomping through tapas bars, chucking down ham and Rioja with insouciance, the crowds are a glistening image of the good life.
'Tonight everybody in the street!' Has been Madrid's war cry since it turned hip during la movida, the counterculture movement of the 1980s. The people of Madrid shook off the strait-laced living imposed on them during the Franco years, and loosened up with a punk style adopted from Berlin and London. Especially in the debauched Malasaña district, kids would drink anything, take anything and make out with anyone.
But there is an intelligence to Madrid, it houses some of the best art and live music in the world. And at Metro stations there are vending machines filled with books, an old school twist in the age of the Kindle.
And Madrid is a handsome city of three million. The low buildings in the city center are sophisticated shades of terracotta, more Provence than Barcelona. Visit outside the summer months, when temperatures reach the forties. Wrap up against the crisp winter air that rolls off the Sierra de Guadarrama, and wander the quiet streets of the old city by day. Past artisan bakeries, bars and galleries that glow in the fading light, follow the hand-illustrated street signs to Plaza Mayor. A historic square, where street performers entertain little princesses in pea coats as they stroll with their parents.
Madrid seems too charming to be the capital of a country in crisis, but Spain has the highest rate of unemployment in the EU. 20% of people are out of work, and peaceful protestors are increasingly common in grand squares like Puerta del Sol. Yet the country continues its culture of cronyism. Life may be unfair, but madrileños know how to make it beautiful. So join them in their world-renowned galleries and handsome parks, in their innovative restaurants and lively bars.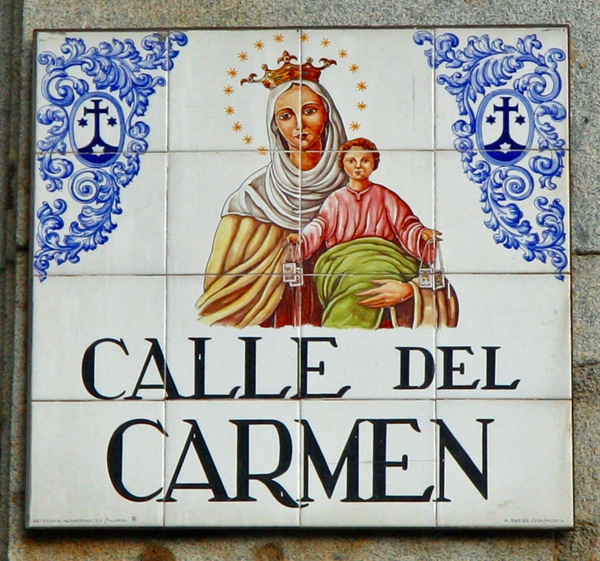 Insider Tips
Fly into Madrid – Barajas International Airport. With four terminals, it can be a long walk to the Metro. Tickets to and from the airport cost €2. Otherwise tickets cost €1, and can be used on the Metro network as long as you stay within the Metro zone.
Most of Madrid's sights are concentrated in the center, so an unlimited Metro tourist travel pass is unnecessary for most visitors (1 day is €5.20 and 7 days is €23.60). A ten-trip ticket is more useful, and costs €9 from Metro stations, news-stands and tobacconists. As the second biggest Metro network in Europe after London, the Metro is efficient and far-reaching. The trains officially stop running at 1.30 am, at which point frequent night buses take over. Use your Metro ticket on the bus, the main hub is at Cibeles. The airport express runs to the airport throughout the night, costs €2 and stops at Cibeles and Atocha.
Taxis can be expensive at night – Madrid never sleeps, so there can be traffic jams at 4am on avenues like Gran Vía. Taxis from the city center to the airport should cost around €32.
Learn a few phrases of Spanish before you go. Finding a Madrileño who speaks English is surprisingly rare. There are four tourist information desks at the airport, so ask for help there if you are not sure how to get to your accommodation.
Where to stay
For hedonists on a budget, Way Hostel (Calle de Relatores, 17 Sol Metro) is perfectly located in the heart of the city. The fiesta feel that runs through Madrid's avenues and arcades continues into the dorms. So sleep later, and learn tango in one of the rooms inspired by Spanish singers and artists. Or simply relax on the terrace and watch life go by. Dorm beds cost as little as €15 a night, including breakfast.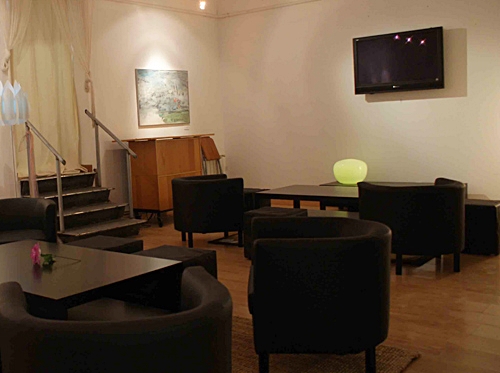 Individual and achingly-hip are not adjectives that usually describe a five-star chain hotel, but when the owners of Hotel Silken Puerta América (Avenida América 41 ) asked nineteen of the world's most renowned architects to design its different floors, they created more than a concept, they created beauty. On a motorway. So Puerta América is awkwardly located on the outskirts of Madrid, but the Metro is moments away and runs straight into the city centre. Zaha Hadid's white womb-like rooms are the most popular, while Arata Isozaki has brought Japanese simplicity to floor ten. Since some of these rooms put style above function, for rooms as comfortable as they are colourful, opt for Fernando Salas and Javier Mariscal's eleventh-floor design. Rooms start at €109 -the hotel also boasts a pool, spa, and the Michelin-recommended Lágrimas Negras restaurant.Cutting-edge design at Puerta América hotel.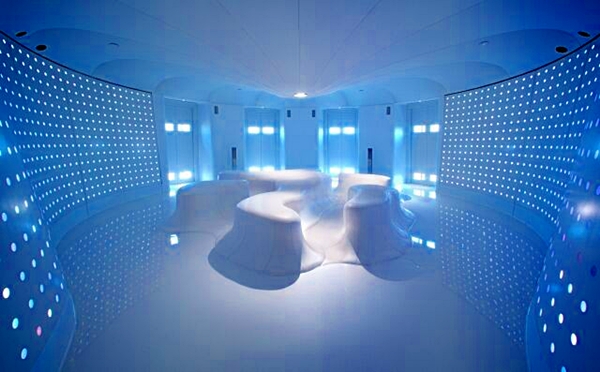 Where to Eat
Madrid boasts more bars per person than any other city on earth. On Friday nights the joints down from Plaza Mayor in the La Latina district are full, particularly round Plaza Santa Ana and Cava Baja. Cigarettes and napkins swim about madrileños' feet as they float from bar to smoky bar seeking the house specialties – waxy strips of cheese with ham, or blue cheese and bacon toasties, accompanied by Rioja. Pig and cheese, cheese and pig, every place does it differently and deliciously. The pig trotters at Almendro 13 (Calle de Almendro 13) are especially good.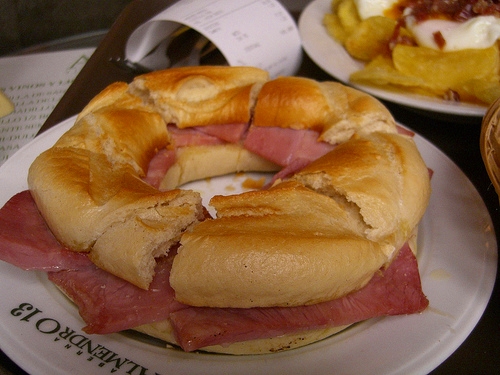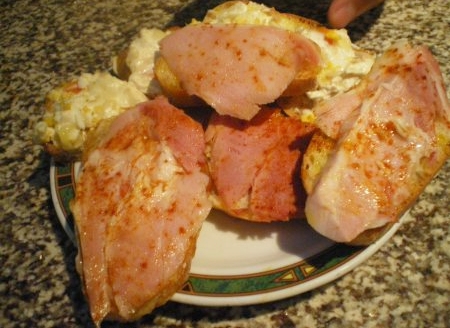 Los Amigos (Calle de las Conchas, 5-6, Opera Metro) is sweaty and loud, as Spanish as a bullfight. Middle-aged waiters shout for orders over the din of friends who shout, drink, and nosh on sizzling chunks of chorizo. Standing room only in this tiny aperitivos bar, where the tapas are included in the price of the drink.
Plates groan with cheese pastries and sausages until you leave food on your plates, this indicates to the waiters that you that you are finished, although you may never want the patatas bravas to end – Moorish chunks of potato that crunch under a spicy tomato sauce. The food at Los Amigos is charming because it is so brash, because the atmosphere is so rambunctious after the elegance of the old town by day.
For more refined tapas, head to the recently renovated San Miguel market (Plaza Oriente 3, Opera Metro). A gorgeous mix of glass fronts and iron pillars, Madrid's beautiful people order champagne and oysters from the Daniel Sorlut stall, and slurp them in the middle of the market as if Madrid is one big tapas bar, which it might as well be.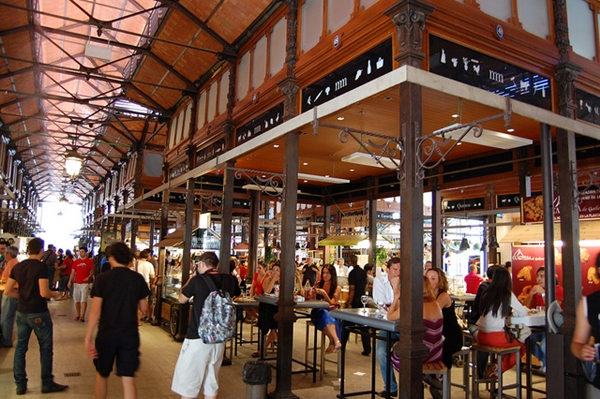 The decor at Madrid's best Moroccan restaurant Al-Mounia (Calle de Recoletos 5, Banco de Espana Metro) comes close to Arabian Nights tacky. But let their fresh cups of mint tea placate you, and devour spiced meatballs and couscous bejeweled with saffron-tinted strands of onion.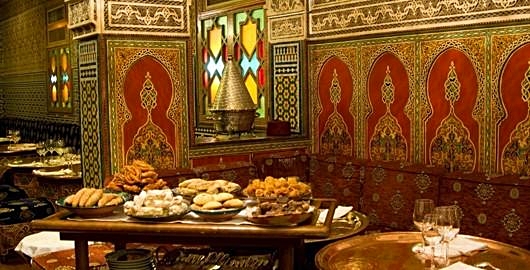 The cider house Casa Mingo (Paseo de la Florida 34, Tribunal Metro) has ruled since 1888. Home-brewed apple cider from the Spanish region of Asturias bubbles gold, but the restaurant is most famous for its whole roasted chicken. At wooden tables, families and friends tear off chicken skin -salty and sweet, crunchy and chewy, and mop up the juices with hunks of fresh bread. From the cider-cooked chorizo to the barn-like interior, Casa Mingo could not be more rustic, and could not be more perfect for a winter's day. Walk off your lunch along the Manzanares river, a quiet stretch of water that leads you back to the royal palace and the buzzing streets of central Madrid.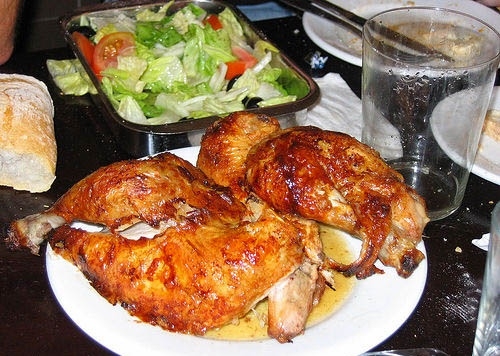 Estado Puro at NH Hotel (Plaza del Cánovas del Castillo 4, Banco de España Metro) serves up experimental dishes – deconstructed Spanish tortilla in a glass, a spiced pork fat sandwich that comes close to genius. The food is nearly as innovative as seen at El Bulli in the Costa Brava, for years the world's number one restaurant.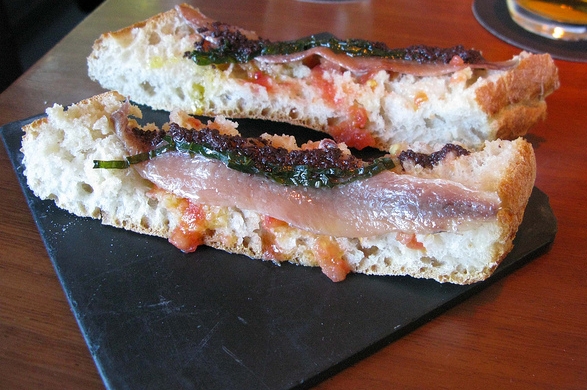 For a sweet tooth, the upmarket Moulin Chocolat (Calle de Alcalá 77, Retiro Metro) offers the most delicate French macarons in the city.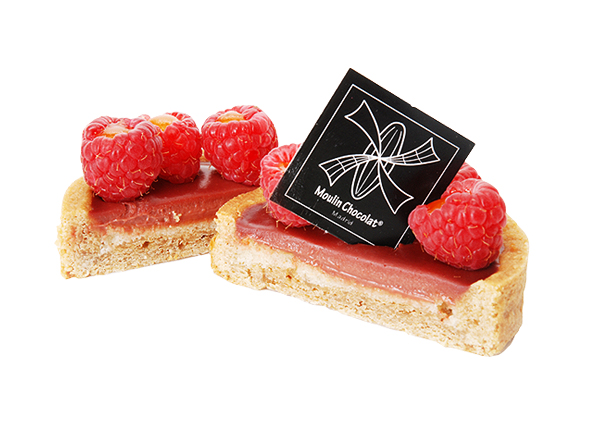 What to do
For when you can eat no more, there is Cafe Manuela (Calle de San Vicente, Ferrer 29). Its heavy red doors open into a bohemian bar of art nouveau decor and boardgames. It could be the Left Bank, it could be Paris. But the joie de vivre encountered here is all Madrid's own.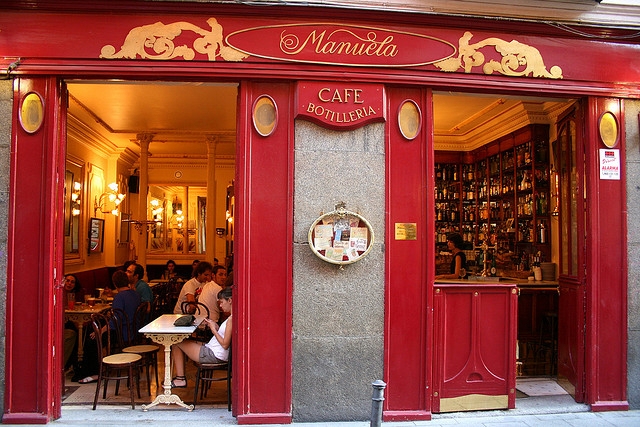 Even in mid-winter, the Royal Botanic Garden (Plaza de Murillo 2) is rich in umbers, ochres, reds. Manicured into precise squares and rectangles, Real Jardín can feel as if it was a museum, with well-to-do couples peering at labels detailing the grand trees and plants. Flower beds burst with strawberries and satsuma trees, lemon balm and basil. The beautiful exhibits look good enough to eat. Entrance costs €2.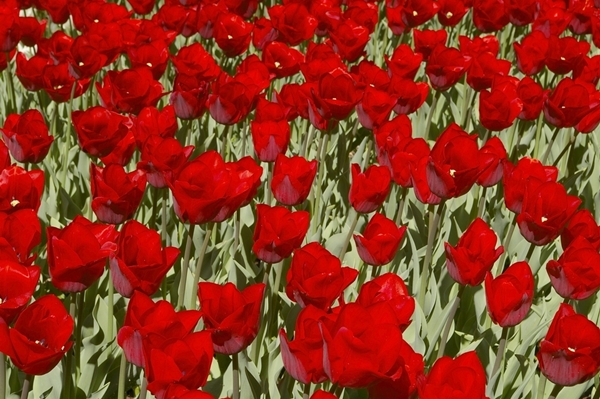 For the best classical art in the city, including works by Boticelli and Velázquez, head to Museo el Prado opposite the botanic gardens. Closed Monday. Entrance €8. Free Tuesday – Saturday from 6-8pm, and on Sunday from 5-8pm.
For modern masterpieces, Centro de Arte Reina Sofia houses Picassos, Mirós and Dalís. Closed Tuesday. Entrance €6. Free weekdays from 7pm, Saturday from 2.30-9pm and on Sunday from 10am-2.30pm.
The huge El Retiro Park is just up the hill from del Prado, and boasts a lovely rose garden and boating lake. Retiro is especially lively on a Sunday afternoon, when a free concert is played near the Calle de Alcalá (May-October at midday). You can also rent rowboats and enjoy a row around the pond.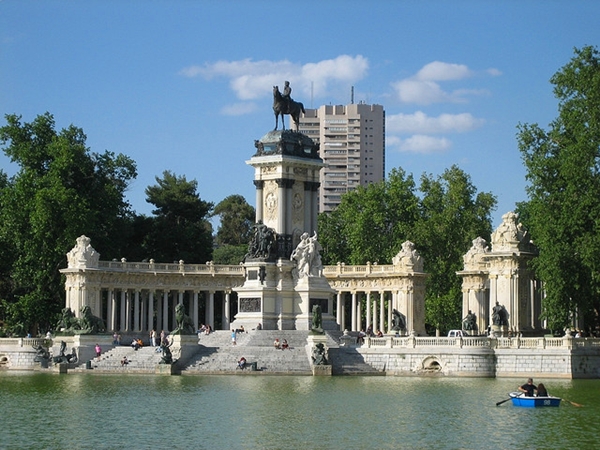 On Sunday morning, hunt out bargains at el Rastro (La Latina Metro), Europe's biggest flea market. Try Calle de San Cayetano, the famous painters' street. For shinier baubles, head to the trendy Chueca district.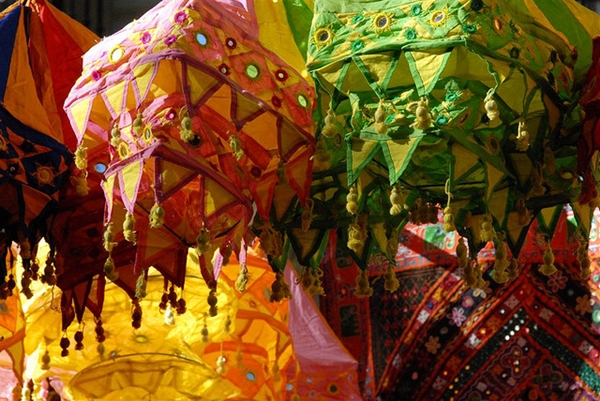 If you have read any of Ernest Hemingway's work from Spain, you might want to stomach a bullfight at Las Ventas in May and June. For aficionados, the fights are a dance between matador and bull, and one of them is sure to come to a gory end. Tickets can be expensive and are snapped up quickly from various offices in the city, but try Plaza de Las Ventas, Alcalá.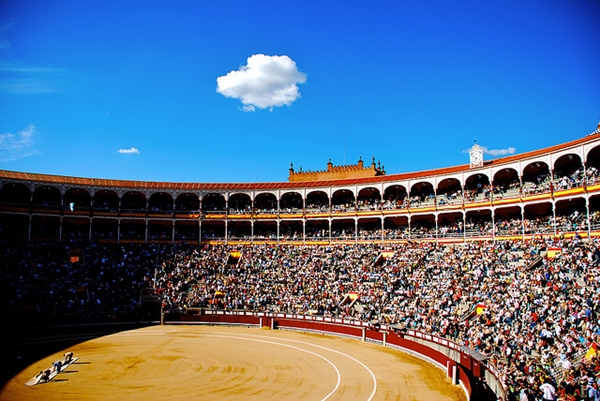 Need Award Booking Help? Our fee is as low as $75 per ticket if you book your hotel through us.
If you enjoyed this, join 90,000+ readers: please follow TravelSort on Twitter or like us on Facebook to be alerted to new posts.
Become a TravelSort Client and Book Your Hotel with Virtuoso or Four Seasons Preferred VIP Amenities!
Photos: jafsegal, exfordy, erlin1, sallylondon, Lance and Erin, jhietter