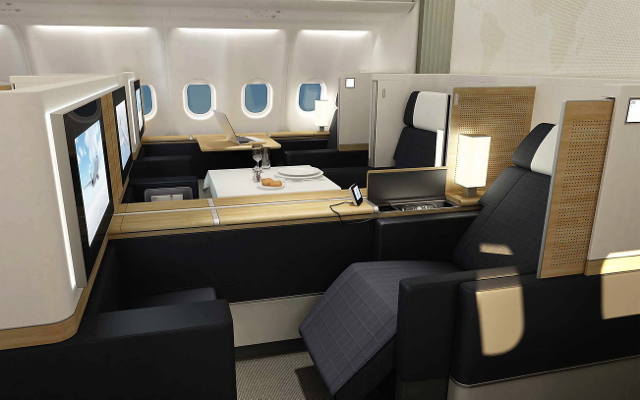 SWISS First Class Miles & More awards are going the way of the dinosaurs, at least for non-elites. As SWISS announced back in September, starting January 1, 2014 you'll no longer be able to redeem Miles & More miles for a SWISS First Class award ticket, unless you're an Hon Circle member or Senator (and even they have to call in–first class award availability won't be displayed online).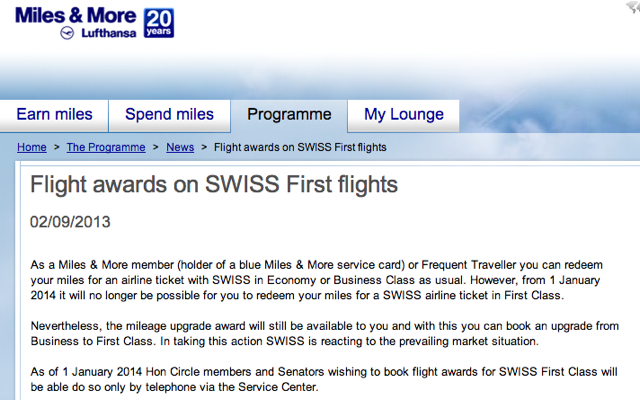 So, if you've accumulated Miles & More miles, you have ~5 weeks to book your 2014 SWISS First Class award.
Is it worth it? Here are the pros and cons as I see them:
Pros
Great food (especially departing Switzerland): Hot Amuse Bouche even before take off, Taste of Switzerland menus, Balik salmon, Nespresso espresso
Excellent bedding and pajamas
Arrivals service in select cities, such as Bangkok (met and escorted through customs and baggage claim)
Ideal if you want to fly non-stop to or from Switzerland (Zurich or Geneva)
Last chance (for non Miles & More elites) to fly this product
Cons
Ground services not as good as Lufthansa: SWISS' Zurich First Class Lounge can't compare to the Lufthansa First Class Terminal in Frankfurt
Service can be inconsistent: sometimes great, sometimes mediocre (in the context of other airlines' first class)

As with other Miles & More awards on Lufthansa, Miles & More awards come with significant fuel surcharges, although these are lower if flying one way from Europe to the U.S.
FAQ
What are Examples of the Miles and Fuel Surcharges Required for SWISS First Class Awards?
What's the Best Way to Top Up My Miles & More Account to Redeem for SWISS or Lufthansa First Class?
If you've gotten 50,000 Miles & More miles from the
Lufthansa Premier Miles & More MasterCard
, you can top up your account for an award by t
ransferring from Starwood Preferred Guest (SPG): 20,000 SPG points = 25,000 Miles & More miles. If you're planning to redeem for a SWISS First Class award before the end of the year, I recommend initiating the transfer soon, since SPG does manual transfers only ~2 times a month to Miles & More.
How Far in Advance Can I Book SWISS Awards Using Miles & More?
While Miles & More awards in Lufthansa First Class may be booked up to 361 days in advance, lately I've only seen SWISS First Class award space up to 10 months in advance–so you can now book into mid-September 2014.
Why Can't I Book a First Class Award Between SFO and ZRH?
For whatever reason, this particular SWISS first class award is pretty much impossible to get. I haven't seen any availability at all for this award for any of the dates I've searched, only between LAX and ZRH.
Will SWISS Business Class Awards Still be Available to United and Partners?
Currently SWISS does still release business class awards to United and Star Alliance partners, mostly a few days in advance of the departure date. For a trip report, see my
SWISS Business Class Review
.
What's with the Edelweiss First Class Flight Out of NYC?!
This is actually simply an Edelweiss crew on a SWISS A330-300, with the same seats, hard product, catering, etc. If you're paying for this flight you'll also earn your usual Miles & More miles, so it's basically equivalent to flying either of the other SWISS first class flights out of NYC.
Do you plan to book a SWISS First Class Award before it becomes impossible for non-elites?
Related Posts
Need Award Booking Help? Our fee is as low as $75 per ticket if you book your hotel through us.
If you enjoyed this, join 100,000+ readers: please follow TravelSort on Twitter or like us on Facebook to be alerted to new posts.
Become a TravelSort Client and Book Your Hotel with Virtuoso or Four Seasons Preferred VIP Amenities!
Disclaimer: Note that some cards in this post offer credit to me if you're approved using my links. The opinions, analyses, and evaluations are mine. This content is not provided or commissioned by Chase, Barclays, American Express, Citibank, US Bank, Bank of America, or any other company. They have not reviewed, approved or endorsed any of my articles.