This Swiss Business Class Review for a Bangkok to Zurich award flight is part of a Southeast Asia trip report; here are the previous posts:
ANA All Nippon Airways Business Class Review, LA-Tokyo
Singapore Airlines Business Class Review, Tokyo to Singapore
St. Regis Singapore Hotel Review
Mandarin Oriental Singapore Hotel Review
Ritz-Carlton Millenia Singapore Hotel Review
Thai Airways Business Class Review
St. Regis Bangkok Hotel Review
Peninsula Bangkok Hotel Review
Royal Barges Museum and Bangkok Canals Tour
Swiss Airlines, especially its First Class, is often lauded as one of the best, and its new business class seats are supposed to be fully lie-flat (not angled flat) so I was looking forward to trying it a long-haul flight from Bangkok to Zurich.
In keeping with my aversion to taking Bangkok taxis or pricey car services, I decided to get back to Bangkok Airport the way I came–using the BTS, then the airport train. Unfortunately it turned out I was on the wrong platform to get the Airport Express train (and instead got the local airport train), so I fretted a bit about whether I'd get to the airport with enough time to spare, but fortunately there was absolutely no line at check-in and security and passport control also proceeded quickly. I even had enough time to duck into the very crowded Thai Business Class Lounge (which Swiss uses in Bangkok) and nosh on some pomelo and papaya, to take the edge off since I hadn't had dinner. The other food offerings there–overcooked dim sum, tired sandwiches–did not appeal, and I figured I could save my hunger pangs for the meal onboard.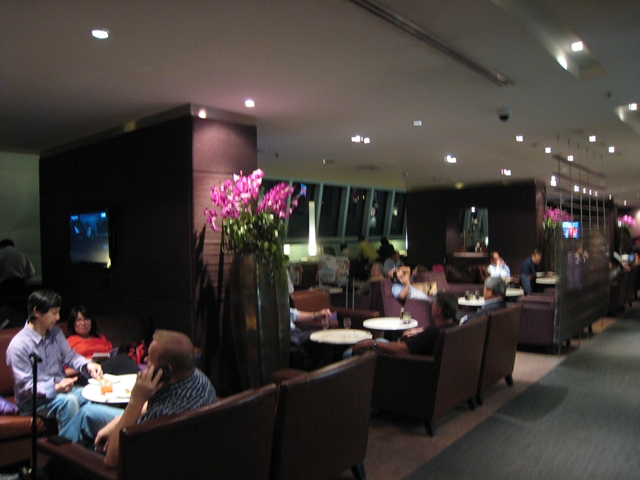 There was even a children's room (messy, but functional) in the business class lounge, which as a parent I'm always glad to see: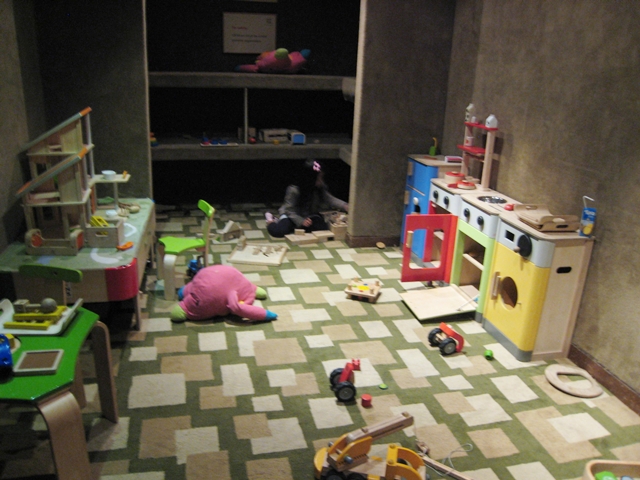 The gate area was packed, so it looked as though it would be a full flight. I was glad that I'd been able to secure a seat reservation in the business class "mini cabin" between first class and the main business class cabin, and highly recommend you try to get a seat reservation there. I was in seat 5G, since my ideal choices of 4A, 4K and 5K were already taken. Here's what row 5 (or at least 5A, 5B and 5D) look like: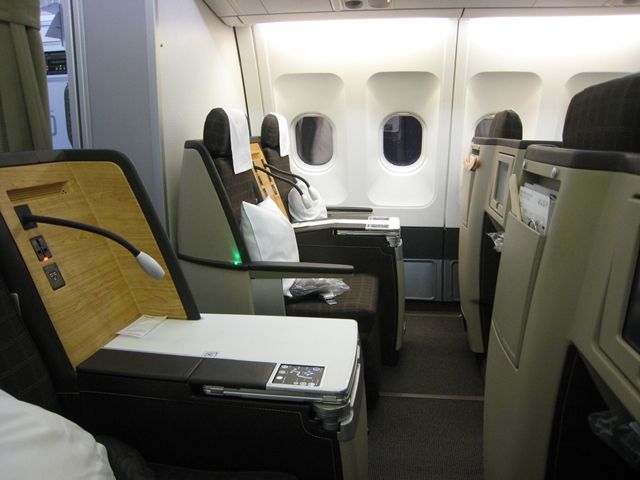 And here's the view from 5G: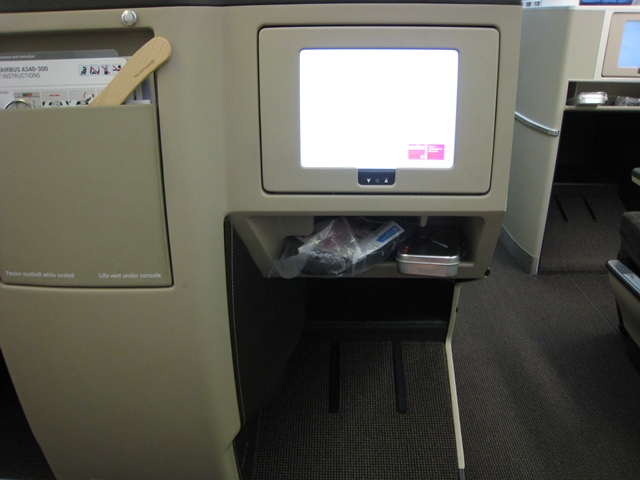 I was surprised to see not a usual toiletry bag as our amenity kit, but instead a Swiss Airlines metal box with socks, earplugs, toothbrush and toothpaste: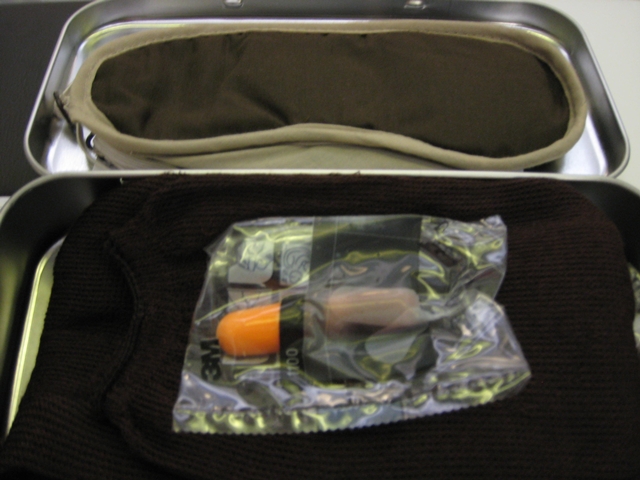 We were offered a pre-takeoff drink (I chose water, as usual–don't need dehydration to compound jetlag) and, a bit later, the menu: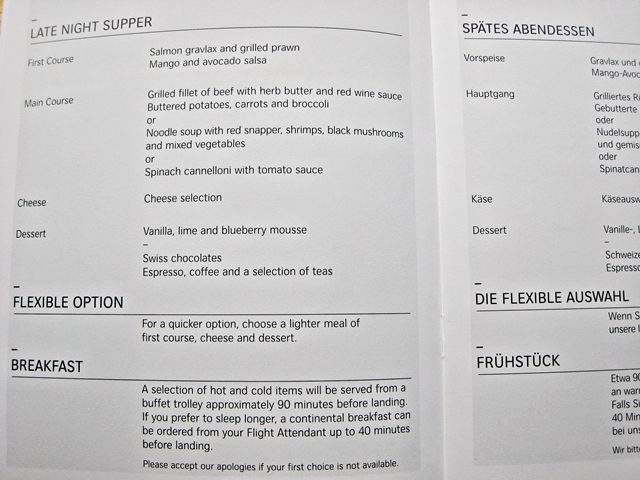 Even though it was a night flight, I was very glad to see that they had a main course offering of beef fillet with red wine sauce and vegetables. Normally I wouldn't eat so late, but since I hadn't had time to grab dinner, I was famished. There weren't any kind of pre-dinner nuts offered, and that was fine with me–I wanted to get right to the dinner.
Takeoff was on-time and went smoothly, and we were soon airborne. Even though Switzerland is one of the few countries to have four national languages (French, German, Italian and Romansh) I noticed that virtually all crew appeared to be Swiss German (there was one crew member in business class who was Thai), and messages were provided in German, English and Thai. German is not one of my languages, but I had fun pretending to speak it with the friendly attendant who was serving , using the 5 or so German words I know–bitte, danke, wein, stark, heidelbeer, etc. Eventually I gave up though and switched to English, which surprised her–I think she thought I was Thai 🙂
The tray tables on Swiss are not the most intuitive. You have to push the right button, and then manipulate it until it clicks into place. You could probably figure out who has been on a Swiss Airlines flight before just by seeing whether they open the tray table correctly on the first try.
My favorite part of the meal was the salmon gravlax and prawn with mango and avocado salsa. Everything was very fresh and flavors went together perfectly. I would have been happy to have had a few more servings of just this for dinner. The cheese plate was also on the tray, and given the late night flight this was just as well–I can't imagine many passengers wanting to have a protracted multi-course meal at that hour.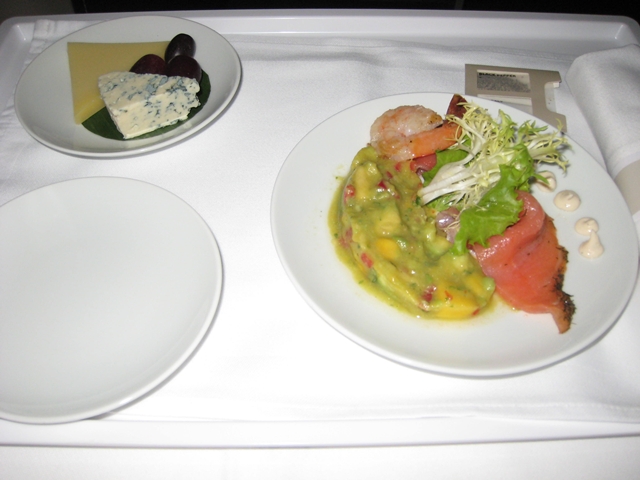 The main course of beef fillet was good, but nothing special. The best part was was partnering it with a glass of Chateau Pontet Fumet St Emilion Grand Cru 2006.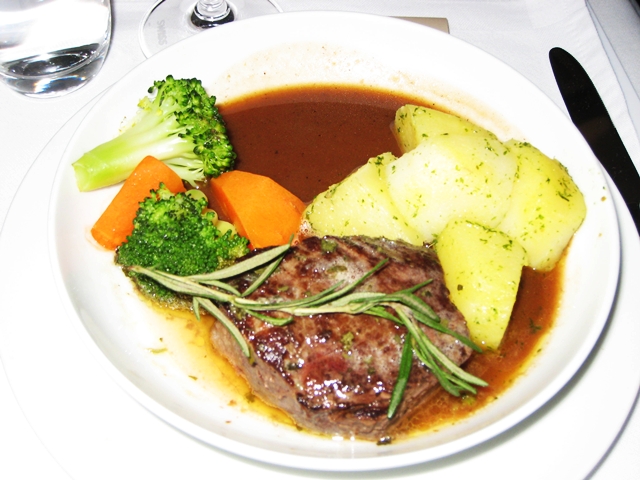 The dessert of vanilla, lime and blueberry mousse was the weakest link, at least for me. It's pretty hard for me to give full marks to any kind of mousse, unless it's a rich, complex chocolate mousse made with high caliber chocolate. I can see why airlines like to serve mousse, because it's easy to make, store and serve, and to be fair, the light flavors are what you'd want after a substantial meal, but it wasn't impressive. What was nice was to be offered a Sprungli chocolate afterwards–they came around with a box, and you could choose one or several.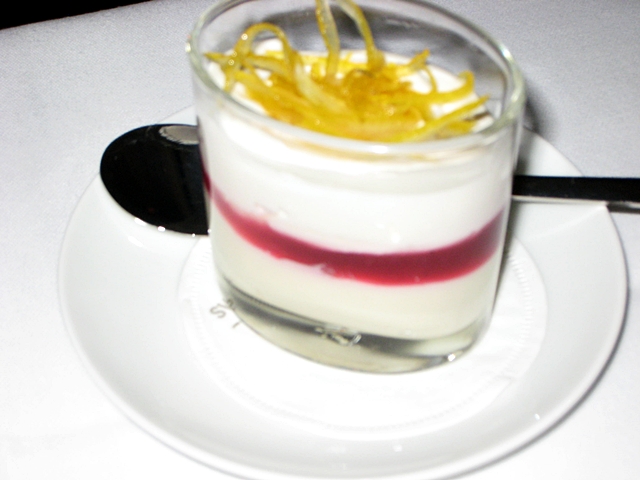 After the meal service, it was time to get ready to sleep. Here's the seat control: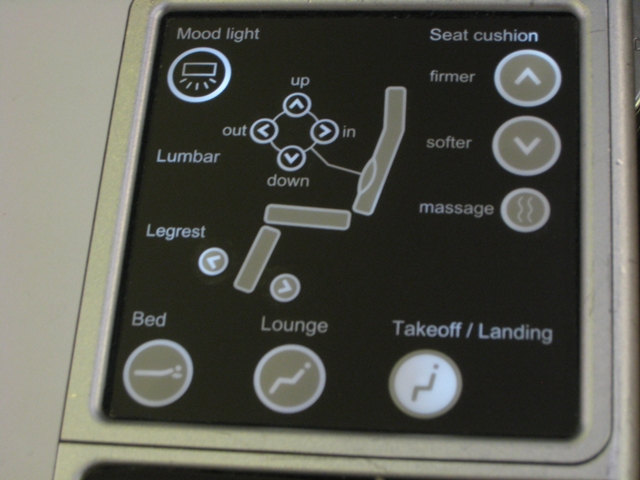 The seats are staggered, allowing your seat to extend beneath the armrest and divider area of the seat in front of you. As expected for a Western airline, the beds were longer than on ANA and Singapore. Even in the supposedly full flat position, however, there seemed to be a bit of an angle. Nonetheless, it was definitely flatter than ANA, Singapore and Thai, and I did get a few hours of sleep before tossing and turning the rest of the night. Let's face it–when you have a really comfortable bed at home (I have a Spring Air) it makes it hard to get a good night's sleep in an airplane. I'll need to see how it compares to Cathay Pacific business class and first class when I fly those next month.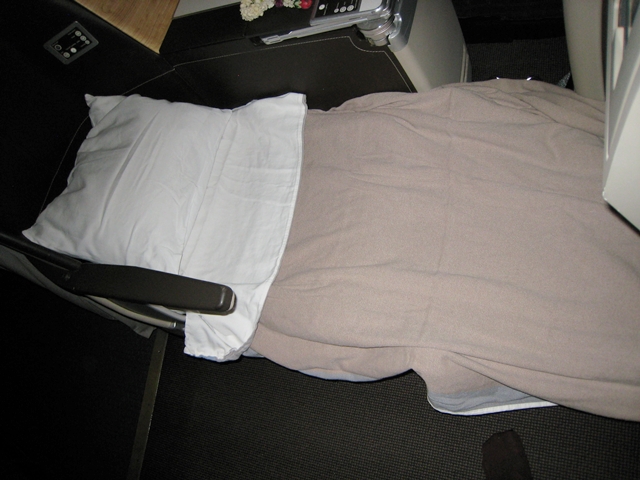 Swiss gives you the option to either sleep longer and enjoy a continental breakfast up to 40 minutes before landing, or have a full hot breakfast served from a trolley 90 minutes before landing. Since I wasn't sleeping anyway, and always tend to be hungry when I haven't slept well, I had both hot and cold options. The eggs and sausage were fine, but nothing that you couldn't get in a decent diner. You get to choose your own pastry or roll from a bread basket, and although it was a bit messy, I enjoyed the custard danish. The Swiss yogurt was fine, but not as good as Wallaby organic yogurt that I get in the U.S. Coffee was good, not great.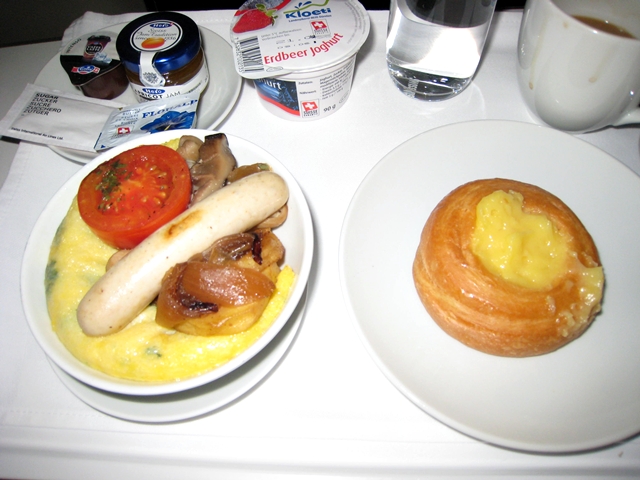 Verdict: I'd expected to be more impressed with the bed and hard product than I was, and least impressed with the service, which I was thinking might be quite cool and aloof, but it was the reverse. Don't get me wrong, the bed is definitely better than any angled flat product, but if you're used to a really comfortable bed at home, don't expect a great night's sleep. The amenity kit was very basic compared to what I've received in British Airways Club World (although the metal case was a nice souvenir for my son). And for a foodie, Swiss Business Class food is not their strong point, although appetizer was very good and nothing was bad–simply average. I did like the St. Emilion Grand Cru, and while the wine list isn't extensive, I prefer having at least one very good option to many mediocre ones. My Singapore meal was better, although it is hard to compare Asian to Western meals. I was pleasantly surprised at the friendliness of our business class crew. Maybe it was entertaining for them to see me try to speak German, but in any case, after some minimum threshold of cabin comfort and food is met, service is very key to my enjoyment of a flight, and service helped me enjoy this flight more than I would have otherwise. I also liked the quiet and possibly better service from being in the small "mini cabin" and would recommend Swiss for this alone, given a choice between another similar business class product without a mini cabin and Swiss in the mini cabin.
Using United Miles to Fly Swiss Business Class
As with the ANA, Singapore Airlines and Thai Airways flights, I booked this segment on Swiss Airlines as part of a mini round the world trip on a discount Aeroplan award deal back in early December 2011 when Aeroplan had an unadvertised award sale. You can still use Aeroplan to book this route (since Swiss is one of the few partners for which Aeroplan does not yet impose fuel surcharges on award tickets), or United miles. Business class is 62,500 United miles and $97.20 for a one-way flight, and you can book it at United.com, although the issue is that Swiss now tends to only release last minute award availability to Star Alliance partners for the next few days, not in advance. This isn't surprising, since Swiss is part of the Lufthansa group, and there is also no more Lufthansa advance award availability Here's a screenshot of a Swiss business class award from Bangkok to Zurich on United.com: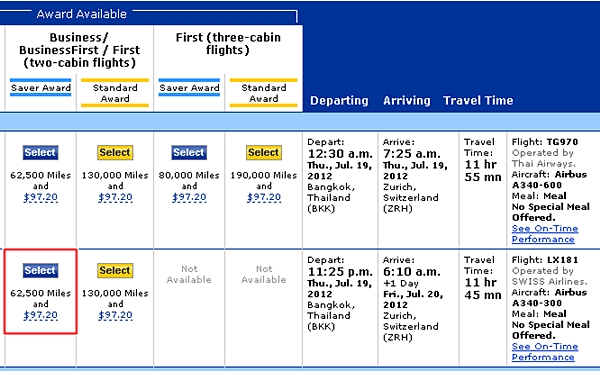 The fastest way to earn United miles if you're not a frequent flyer is by leveraging category bonuses with the Ink Bold, Sapphire Preferred, or Chase Freedom, since Ultimate Rewards points transfer 1:1 to United.
Apply: Ink Bold Business Card – 50,000 points transfer 1:1 to United
Apply: Sapphire Preferred – 40,000 points transfer 1:1 to United
Related posts
Does Swiss First Class Award Availability Exist?
Swiss Arrivals Lounge in Zurich Airport: Photos and Review
How to Find Star Alliance Award Seats
The Airlines with the Best First Class Ground Experiences
Review: Four Seasons Koh Samui
Need Award Booking Help? Our fee is as low as $75 per ticket if you book your hotel through us.
If you enjoyed this, join 100,000+ readers: please follow TravelSort on Twitter or like us on Facebook to be alerted to new posts.
Become a TravelSort Client and Book 5-Star Hotels with Virtuoso or Four Seasons Preferred Partner Amenities!