I recently reviewed Swiss Airlines' Business Class on the Bangkok-Zurich route, and was curious to see whether I'd have a similar or different experience on the Zurich-Montreal route. This was the last long-haul leg of my mini round-the-world trip in business class booked with 75,000 Aeroplan miles on United, ANA, Singapore, Thai and SWISS.
Since I hadn't managed to connect to WiFi at the Hotel Bristol, the Zurich budget hotel I'd stayed at, I took the train to Zurich Airport several hours before my flight so that I could use the WiFi in the SWISS Business Lounge. The Lounge was nice enough, but busy, and got even more crowded during the time I was there. And unlike the SWISS Arrivals Lounge, I couldn't seem to find Movenpick ice cream for breakfast this time! Ah well, #FirstWorldProblems…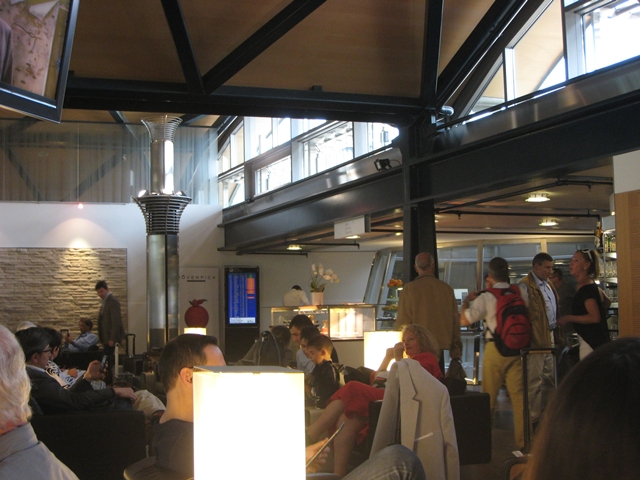 It was a bit surprising to me that there was no gate information posted until fairly close to when passengers were supposed to leave. I was finishing something up and really ought to have left more time to make it to the gate, which turned out to require a train ride to another terminal. I did some running (literally), almost afraid I wouldn't make the plane. Fortunately I wasn't exactly the last to arrive there, but I was definitely among the last folks to board. First impression was good–the purser was greeting everyone coming on board, and while I didn't catch his name, he was clearly not only a consummate professional, but a people person.
I made my way to Seat 5K, in the Business Class "mini-cabin" of rows 4-5. I'd actually enjoyed meeting my Thai seatmate when sitting in 5G on my Bangkok-Zurich flight, but it was also nice to try 5K, which is perfect for solo travelers since it's by itself and has both a window and aisle access. 4A and 4K similarly have both window and aisle access.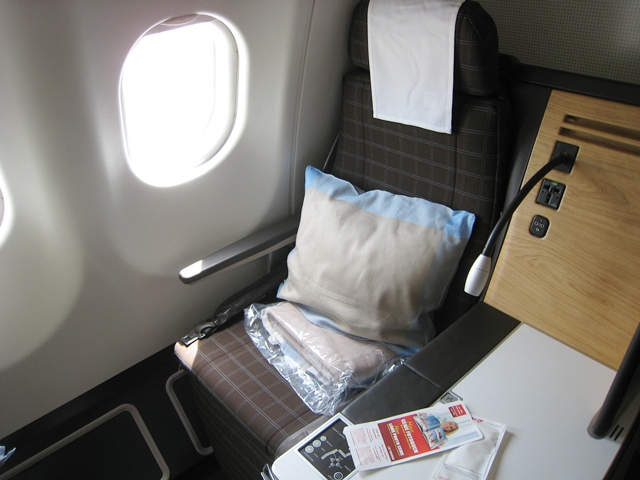 As with all business class seats, you have plenty of room for your feet because the seats are staggered: the seat of the passenger in front of you is to the side, and not directly in front of you.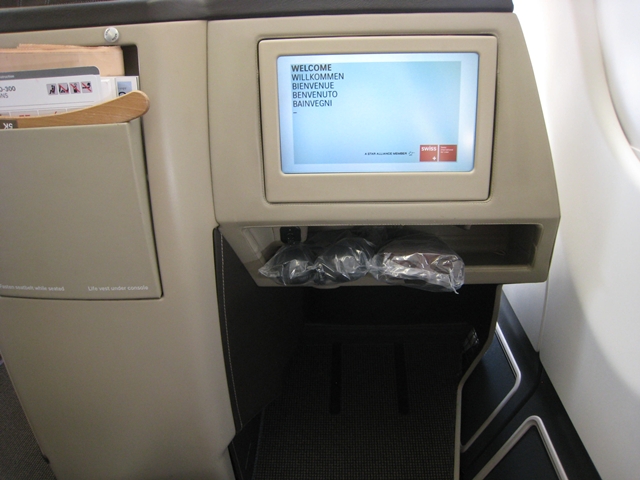 That also is how your seat is able to recline into a full bed position–the leg portion extends into the cut-out: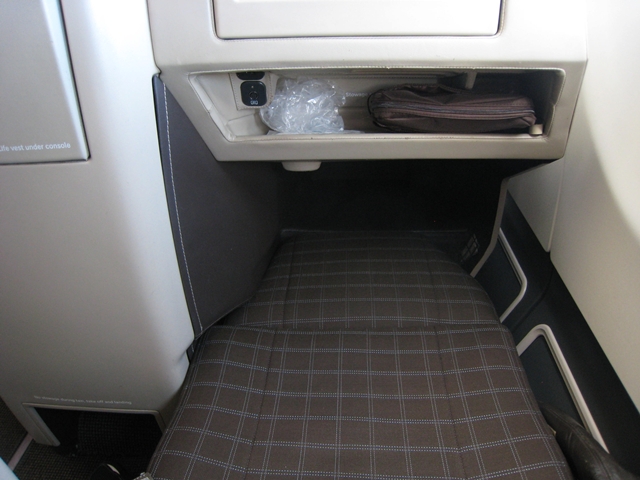 The amenity kit contained pretty much the same things as on the Bangkok-Zurich flight, but it was in a sleeker amenity case, not a metal box: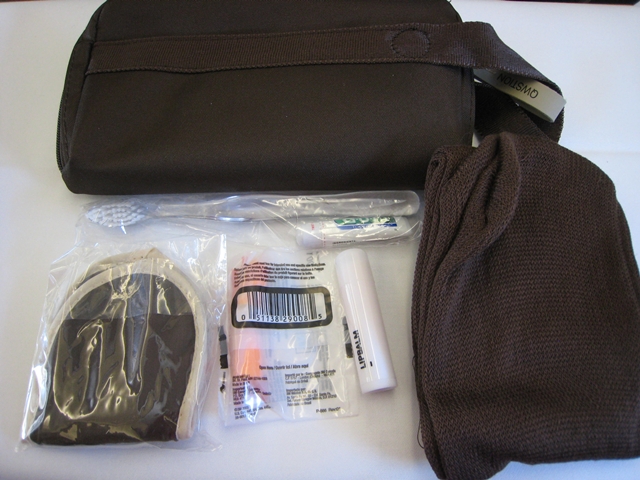 In terms of the service, I decided to run my own (decidedly unscientific) experiment to see how service would be if I spoke French, which I do actually speak, unlikely German. So I spoke only French to the flight attendants, only read French publications, etc. As on my other flight, as far as I could tell all the flight attendants were native German speakers, and while they could speak some French, they seemed pretty loathe to switch into French. Except for the purser, who was definitely fully trilingual–all announcements that he made were in German, French and English.
I've unfortunately misplaced my lunch menu from the flight, but here were the choices:
First Course
Chicken terrine wrapped in cured ham, blueberry chutney (Taste of Switzerland choice created by featured chef Alexander Kroll, Widder Hotel, Zurich, Switzerland)
or
Smoked salmon tartare with potato salad
Main Course
Zurich Geschnetzeltes – Sliced veal with mushroom cream sauce, butter potato rosti, broccoli with flaked almonds (Taste of Switzerland choice created by featured chef Alexander Kroll, Widder Hotel, Zurich, Switzerland)
or
Chicken breast with lemon oil, Parsley polenta, mango and artichoke
or
Red snapper with pineapple curry sauce, Fried rice, glazed carrots
or
Wholemeal penne with a tomato, olive and caper sauce
Cheese
Selection of cheeses from the canton of Zurich
Dessert
Raspberry creme with biscotti and almonds, Coffee mousee
or
Fresh fruit salad
__
Swiss chocolates
Espresso, coffee and a selection of teas
Since SWISS has made much of its Taste of Switzerland menu, I opted to go with both of the selections from chef Alexander Kroll. The terrine was perfectly tasty, although not convinced that blueberry was the right accompaniment to it–seemed somewhat incongruous. The individual flavors were good, but the sum seemed less than its parts.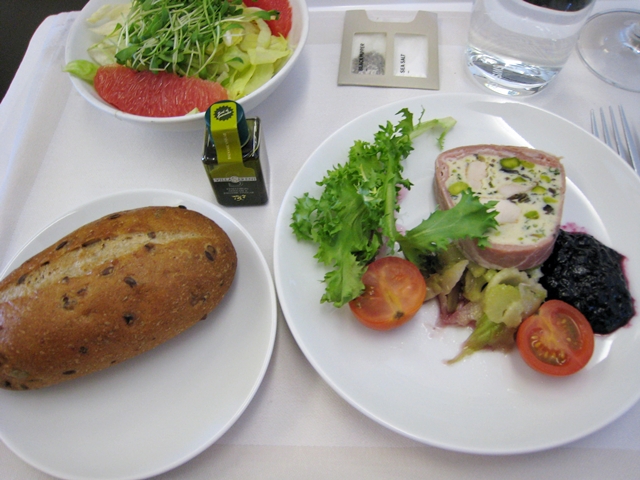 The veal in mushroom cream sauce with rosti was very good, and probably the best savory Swiss food I had during my trip–better than my lunch at Parkhuus at the Park Hyatt Zurich. Broccoli is, well, broccoli, though, so nothing that great there.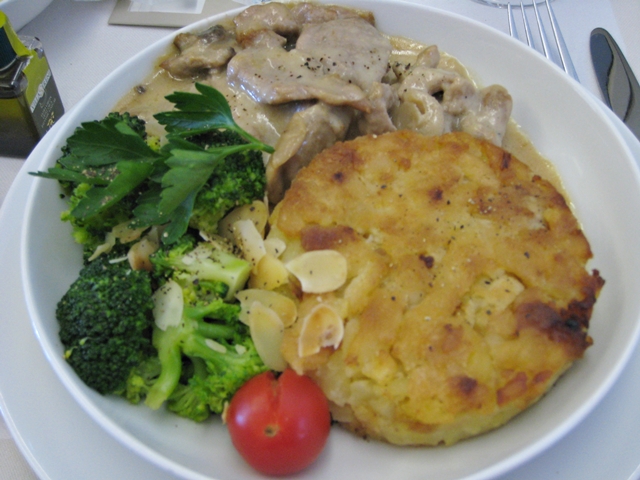 Next was a selection of cheeses. Good, but no match for my favorite cheeses from Murray's in NYC, or even my local Trader Joe's or Whole Foods.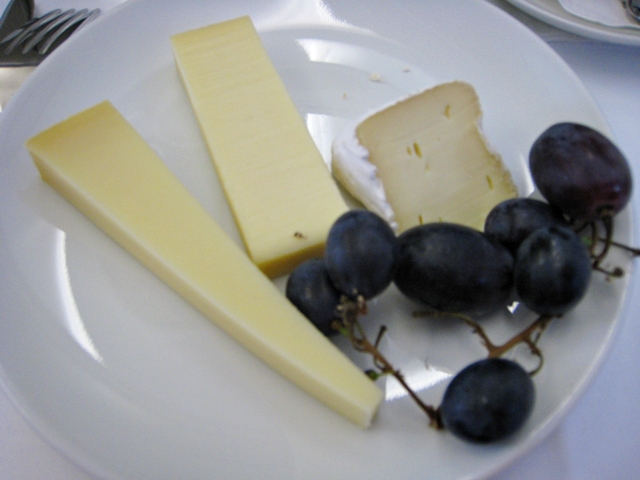 For dessert, of course I chose the raspberry creme (I like fruit, but come on, I can make fruit salad at home any time). I hadn't expected them to put the raspberry creme together with the coffee mousse. Hmm–another case of good individually, but not a great flavor combination. I love raspberry and dark chocolate; raspberry and coffee? Not so much.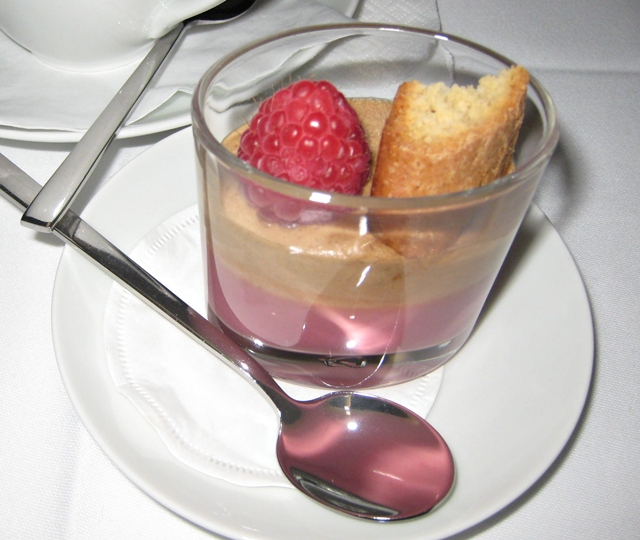 Afterwards, the purser himself came around to offer all the business class passengers some Swiss Sprungli chocolate (at least in the mini cabin; not sure if he also did this in the main business cabin). For once, when I spoke French, he automatically switched to French, and gamely tried to help when I asked him which was the darkest and most bittersweet chocolate.
Afterwards, I decided to rest and fully extended my seat. As I noted in my other review, the seat isn't truly perfectly flat, but it's close, and great for resting. I didn't fall asleep, however.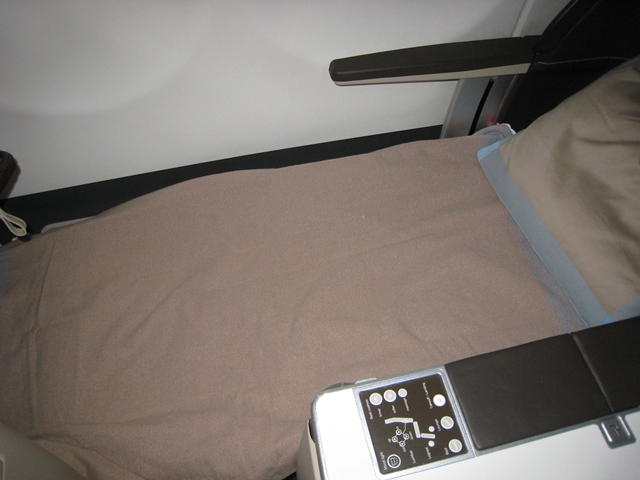 I also tried out the various seat controls by my head, to try to adjust the seat cushion firmness and the massage function, but found the effects barely perceptible.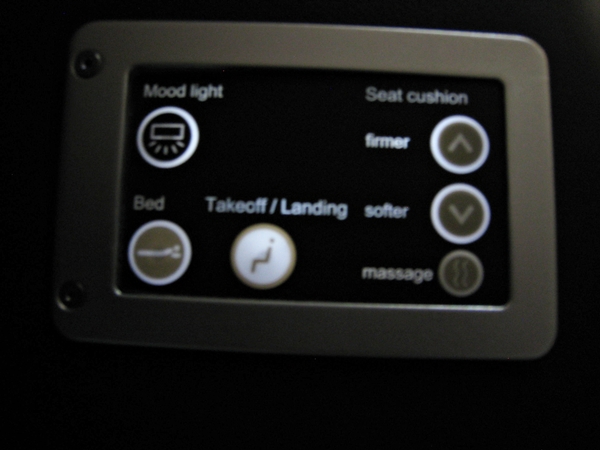 The bathroom was clean and stocked with Swiss Valmont products. Personally, I would have preferred L'Occitane, as Singapore offers.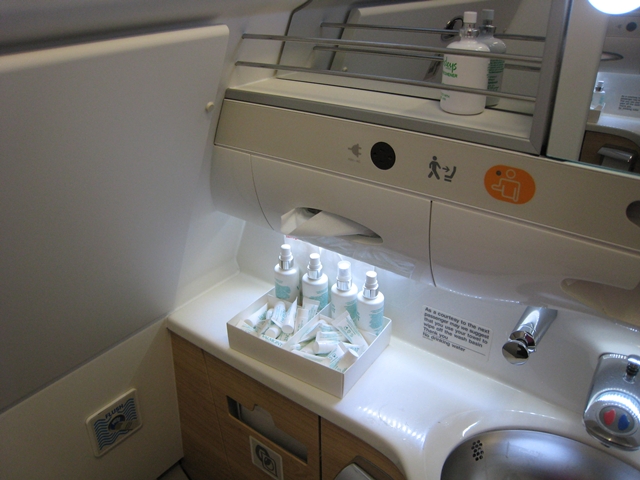 Verdict: Naturally the seat and hard product was exactly the same as on my Bangkok-Zurich flight. The service was mixed–perfectly professional, but not nearly as friendly from the flight attendants as on the Bangkok-Zurich flight, except for the purser. As I wrote above, it could be due to my weird experiment of speaking only French (although I don't think it wholly unreasonable, as we were flying to Montreal, after all). Food was fine and the main course was quite good, but nothing close to matching my favorite NYC restaurants, or even that great Japanese bento box I had on Singapore Airlines business class. I would of course still like to try SWISS first class at some point, and SWISS business class is probably one of the best business class products to Europe, but I wasn't blown away. Picky, picky, I know!
Using United Miles to Fly Swiss Business Class
As with the ANA, Singapore Airlines and Thai Airways flights, I booked this segment on Swiss Airlines as part of a mini round the world trip on a discount Aeroplan award deal back in early December 2011 when Aeroplan had an unadvertised award sale. You can still use Aeroplan to book this route (since Swiss is one of the few partners for which Aeroplan does not yet impose fuel surcharges on award tickets), or United miles. Business class is 50,000 United miles and $117.70 for a one-way flight, and you can book it at United.com, although the issue is that Swiss now tends to only release last minute award availability to Star Alliance partners for the next few days, not in advance. This isn't surprising, since Swiss is part of the Lufthansa group, and there is also no more Lufthansa advance award availability Here's a screenshot of a Swiss business class award from Zurich to Montreal: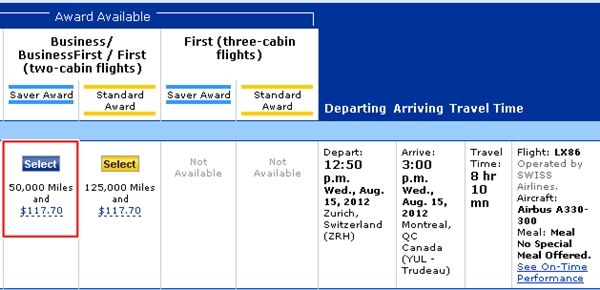 The fastest way to earn United miles if you're not a frequent flyer is by leveraging category bonuses with the Ink Bold, Sapphire Preferred, or Chase Freedom, since Ultimate Rewards points transfer 1:1 to United.
Apply: Ink Bold Business Card – 50,000 points transfer 1:1 to United
Apply: Ink Plus Business Card – 50,000 points transfer 1:1 to United
Related posts
SWISS Airlines Business Class Review Bangkok-Zurich
Does Swiss First Class Award Availability Exist?
Swiss Arrivals Lounge in Zurich Airport: Photos and Review
Park Hyatt Zurich Parkhuus Restaurant Review
Check out and apply for the Best Travel Credit Cards.
If you enjoyed this, please follow TravelSort on Twitter or like us on Facebook to be alerted to new posts.
Become a Member to find your perfect luxury or boutique hotel at up to 50% off: TravelSort Hotels