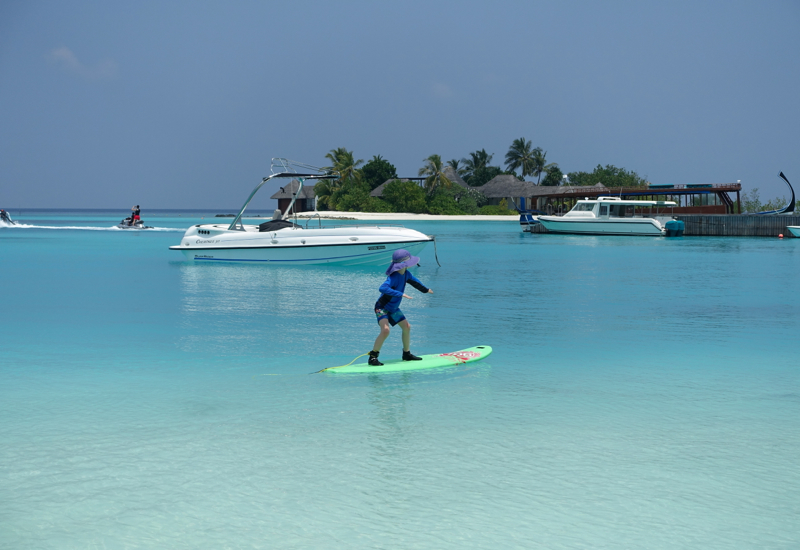 Surfing in the Maldives? Yes, at the Four Seasons at Kuda Huraa! While there is an international surfing competition held at Kuda Huraa each August, you don't need to be a pro to learn the basics. If you've ever been curious about trying surfing, Kuda Huraa offers beginning surfing lessons to both adults and kids.
This review is part of a trip report including Etihad First Class and luxury resorts in the Maldives and Southeast Asia. For the prior posts, please see:
Review of Etihad's Lounge at Washington Dulles Airport (IAD)
Etihad First Class 787-9 Dreamliner Review
Review: Wingtips Lounge JFK for Etihad First Class Passengers
Review: Etihad First Class 777-300ER NYC to Abu Dhabi
Review: Etihad Business Class Lounge Abu Dhabi AUH Terminal 1
Four Seasons Maldives at Landaa Giraavaru Review
Four Seasons Maldives at Landaa Giraavaru Restaurant Reviews and Menus
Four Seasons Maldives at Landaa Giraavaru Activities: Top 10 Things to Do
Review: Four Seasons Maldives at Kuda Huraa
TravelSort Clients receive these Four Seasons Preferred Partner benefits, when reserving the Four Seasons Maldives at Kuda Huraa:
Upgrade of one category, based on availability at time of check-in (excluding signature suites and villas)
Daily full American breakfast for two people per bedroom, served through In-Room Dining or in the hotel restaurant (including buffets)
Spa credit of USD100 once during stay (not applicable to products)
Complimentary basic Internet (up to 2 devices) in all guest rooms, complimentary premium Internet (up to 4 devices) in all suites.
Surfing 101 at Four Seasons Maldives at Kuda Huraa
I'll admit I was dubious when I heard that my Four Seasons Maldives at Kuda Huraa contact had signed me up for a surfing lesson. Sure, I may be from Hawaii, but confession: I have never been surfing or taken a surfing lesson…ever. And it's not as if I'm a twenty-something any more either, so I envisioned a lot of bumps and bruises falling off and injuring myself against a hard surfboard.
Then again, when else am I going to try surfing? I was told the calm lagoon was a perfect place to learn the basics of how to stand on the surfboard, so decided to give it a try. Originally the plan was to drop the munchkin off at the Kuda Velaa Kids Club, but at the last minute he decided he wanted to try surfing too. Thank goodness, since I didn't want any photos of me surfing 🙂
First stop was Tropicsurf (which runs the Four Seasons Surf School), where our instructor fitted us with water shoes and taught us how we would be lying on the surfboard to paddle, as well as how to stand up on the board.
The video he showed us very clearly laid out each step:
Step 1: Hands Ready to Push Up: The first step was to get hands ready to push the body up, in a "chicken" like position.
Step 2: "Flamingo" Leg: Next was bending one leg and getting the toes near the other leg's knee in a kind of "flamingo" or pirouette position. The bent leg is the one that ends up being in back, when you stand up on the board
Step 3: Crouch and Find Balance: Next, in a smooth fluid motion, it was time to take the still straight other leg into a forward position, with the body in a crouch and turned to the side. Hands are still down as you find your balance, and make any necessary adjustments to your position.
Step 4: Standup and Look Forward: Once your feet are in a good position and you're balanced, it's time to standup (still with legs bent), look forward and get your arms into position to steady yourself.
Here's a snapshot of the video showing Step 3, the crouch position, showing how the shoulder and front leg should be aligned: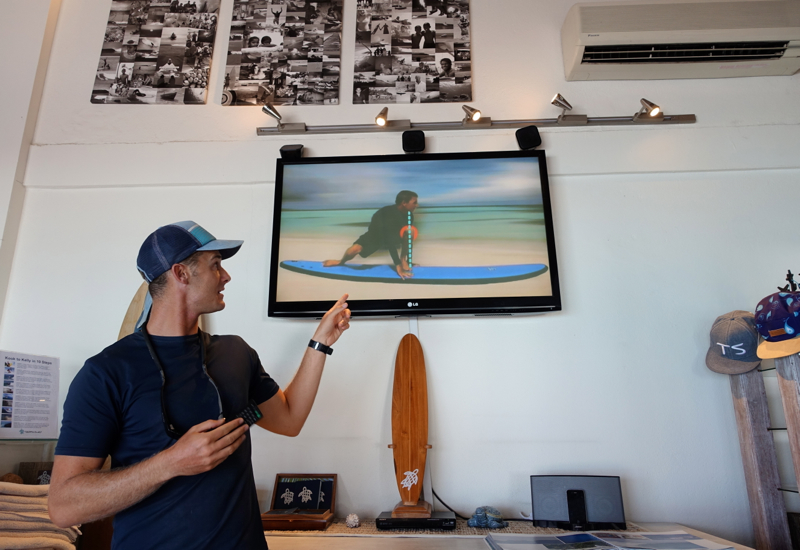 Next it was time to get our boards. I was very happy to learn that there are boards with a nice soft top for beginners, since in my mind standing up on a slippery board was going to be quite a challenge.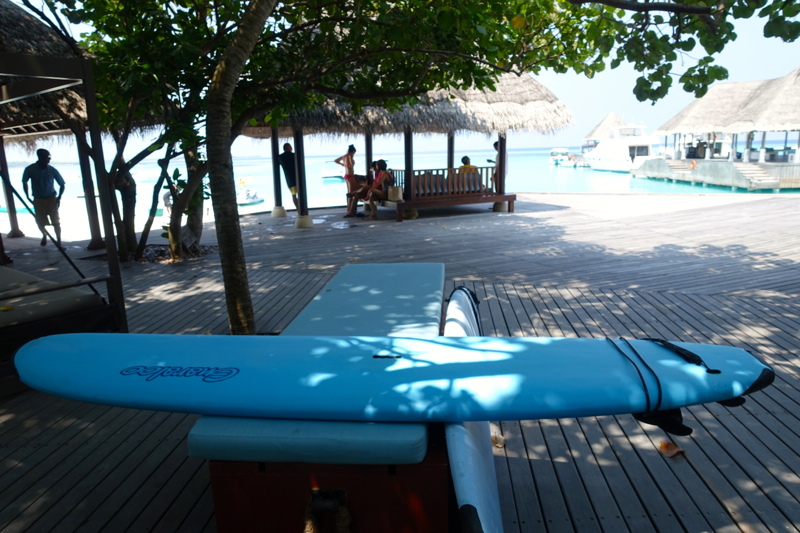 We then moved to the beach, where we attached one of our ankles to the board. This was to ensure that when falling off we didn't get too separated from our surfboard, making it easier to retrieve our board and get back onto it.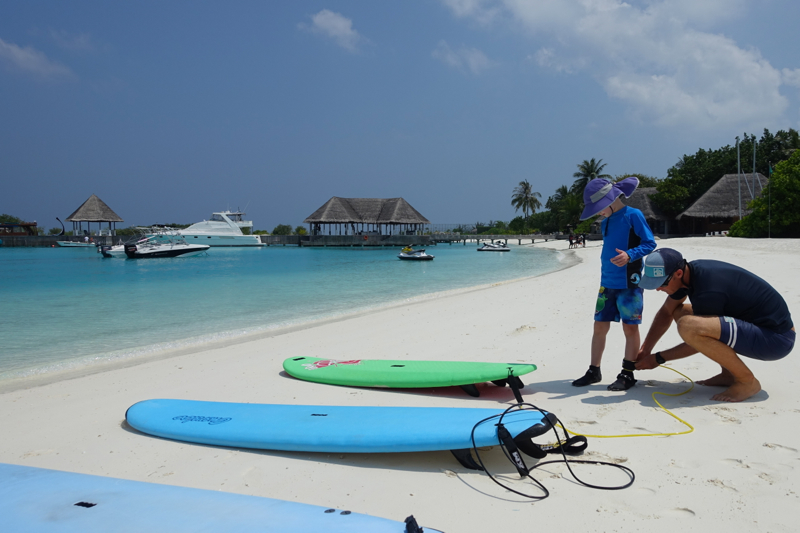 First we started by lying down on our boards and paddling, then practiced the four steps to get up on the surfboard. Here's my son going from the crouch position to standing: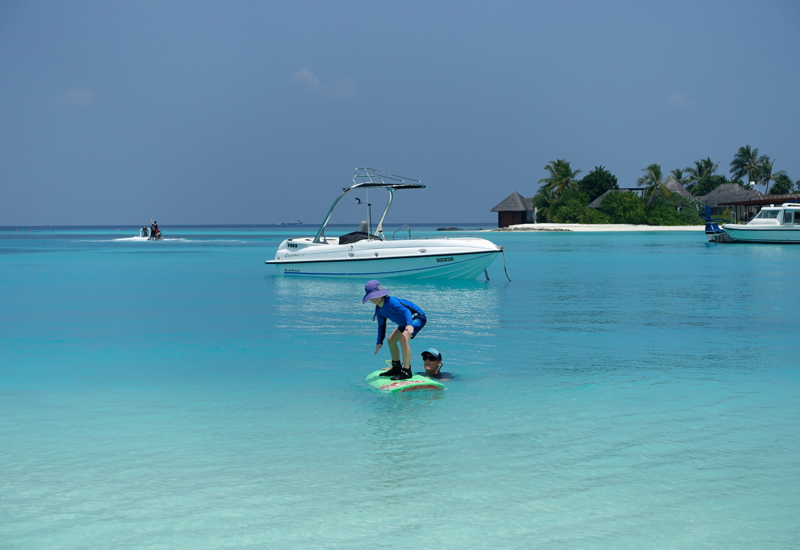 We both of course had our share of falling off the board–though on one occasion I found that the munchkin had gleefully pulled on the back of my surfboard, causing me to fall off, which our instructor good-naturedly called him out on 😉
Here's a short video of him learning to surf:
In general, my son was better balanced on the surfboard than I was (hey, it helps being shorter and younger!) which he was very proud of. So if you're curious about surfing and are planning to go to the Maldives, I recommend a few days at Kuda Huraa–our experience with Tropicsurf, as complete beginners trying surfing for the first time, was fantastic.
If you've taking surfing lessons or surfed at Four Seasons Kuda Huraa, what was your experience?
Related Posts
Review: Four Seasons Maldives at Kuda Huraa
Four Seasons Maldives at Landaa Giraavaru Review