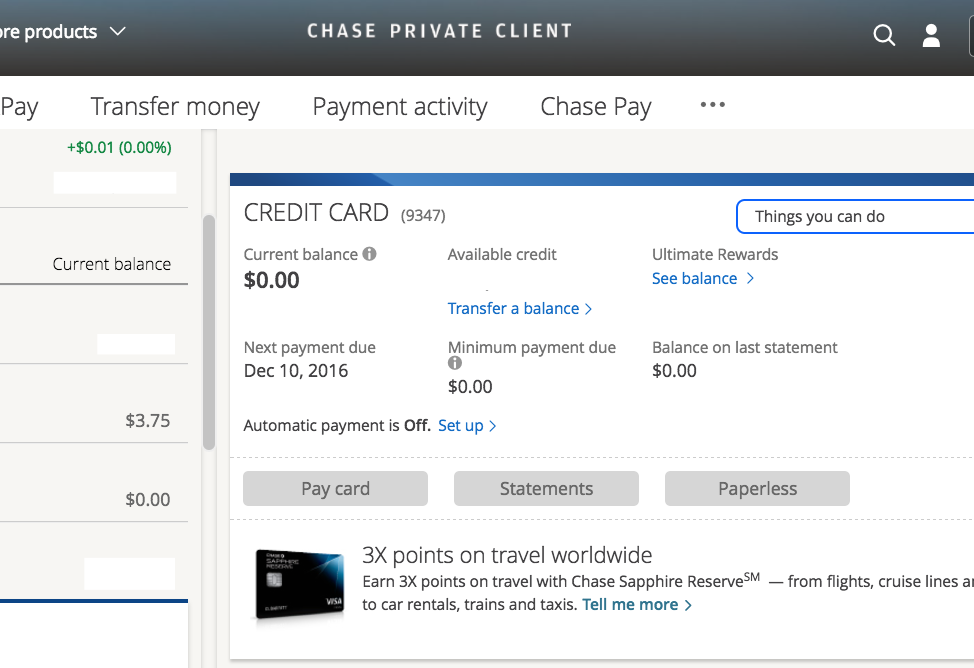 Success: My husband was approved for a 100K Chase Sapphire Reserve after becoming a Chase Private Client. When the Chase Sapphire Reserve first launched on August 21, 2016, I assumed that neither of us would be able to get approved, since we were both well over Chase 5/24. To my surprise, after I went into a Chase branch and asked if I was pre-approved, I was, and was able to successfully apply for the card (see How to Get Approved for the 100K Chase Sapphire Reserve If Over 5/24).
Unfortunately, my husband didn't have any pre-approvals, even after ensuring he was opted in both with Chase and the OptOut Prescreen, and after checking back regularly over the next couple months. So finally, he bit the bullet and decided to become a Chase Private Client. I figured I'd share his experience for anyone considering the same thing for himself/herself or a spouse.
Chase Private Client Requirements / Are There Any Fees?
The two questions I'm most often asked is what the minimum investment amount is to become a Chase Private Client, and what fees there are, if any. While I can't speak for everyone's experiences at other Chase branches, in our case, we were asked to have a minimum of $250,000 in investments, and we were able to keep these in the same Vanguard funds we already had them in. We were not required to change any of our investments, which was very important to us, as we eschew actively managed funds in favor of index funds, for our stock investments. I've also seen mention on Flyertalk of people not having to have $250,000 in investments with Chase, so even if you don't have that amount in investments it's worth exploring if you can be accepted as a Chase Private Client.
There was also no fee, either to open our Chase Private Client, account or to maintain it. There would of course be fees for stock trades.
Applying for the Chase Sapphire Reserve as a Chase Private Client
The same day my husband completed paperwork to become a Chase Private Client, he applied for the 100K Chase Sapphire Reserve. As expected, he was initially declined for having opened too many accounts, since he was not pre-approved for the card. He called his Chase Private Client banker, reminded her that he had primarily become a Chase Private Client in order to be approved for this and other Chase cards, and she called on his behalf and got him approved with a great credit line.
The Verdict
Yes, it took about 2-3 hours between my husband's initial visit and discussion and completing the paperwork to transfer over our Vanguard funds, but for us it was worth it for him to be approved for the 100K Chase Sapphire Reserve, and also be able to get approved for other Chase credit cards thanks to Chase Private Client status.
If you're a Chase Private Client and applied for the Chase Sapphire Reserve, what was your experience?
Related Posts
100K Chase Sapphire Reserve Bonus Posted and What's in the 3X Travel and Dining Categories?
Chase Sapphire Reserve: Keep or Cancel AMEX Platinum Given 5X Airfare Benefit?
How to Check If You're Under Chase 5/24 to Qualify for the New Sapphire Reserve
Best Ways to Use 100K Ultimate Rewards Points?
Chase Sapphire Reserve Priority Pass Select Lounge Access and FAQ
Need Award Booking Help? Our fee is as low as $75 per ticket if you book your hotel through us.
If you enjoyed this, join 200,000+ readers: please follow TravelSort on Twitter or like us on Facebook to be alerted to new posts.
Become a TravelSort Client and Book 5-Star Hotels with Virtuoso or Four Seasons Preferred Partner Benefits!