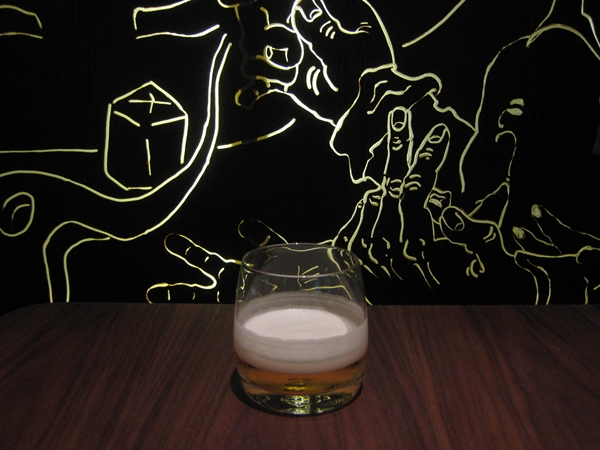 Unless you live in NYC (and even if you do) you probably haven't heard of Hospoda. But I can say it's the best restaurant meal I've had in the 2 months since our visit to France, when we splurged at Le Cinq and enjoyed innovative dishes at Restaurant Spring. On the face of it, it would seem unlikely–Hospoda is a Czech restaurant, and especially prides itself on its beer, which I don't even drink. But while it's not Le Cinq or Per Se, don't mistake it for a beer hall; Hospoda serves innovative small plates, many of which have roots in Czech classics, but offer their own unique take and pleasing contrast of flavors and texture. The team is impressive as well: Executive Chef Olda Sahajdak and Chef de Cuisine Marek Sada both are from La Degustation Bohême Bourgeoise, one of Prague's top restaurants (which many foodies know from it's appearance on Anthony Bourdain's "No Reservations") and Lukas Svoboda, who manages all aspects of the beer served at Hospoda, was named the 2010 International Master Bartender of the Year, over 4,000 bartenders from 17 countries competing for the title.
We went on a Saturday evening for an early seating, since we had the munchkin with us. Since we live only 20 blocks away, it was an easy bus ride, although if we'd allowed more time we could have just walked. Hospoda is in the same building as the Consulate General of the Czech Republic, so the building itself wasn't hard to find although the entrance was a bit confusing. They greeted us warmly, including our son (always a plus!) and showed us to our table. The restaurant is dimly lit, with a sexy vibe, and would make a great date place with one caveat–it could use some softer surfaces and better acoustics. It wasn't an issue when we were there, as it had just opened for the night and there were only a few other couples, but we could sense it could get very loud had the restaurant been packed full.
The menu is not a la carte, but rather offers three choices: two plates for $32, three plates for $45 and a seven course tasting for $88. The dishes are grouped into three sections, First, Second and Third, mostly it seems depending on how filling they are. And yet–here's the thing–you can order both of your two plates from the Third section (or even have two of the same dish, if you like). This is what makes it a better deal than you might think, given the $32 price point.
After we had made our selections, our server brought us complimentary beer foam, known as mliko. It was mainly lost on me, since I don't drink beer, but my husband enjoyed it. All of us also enjoyed the fresh rye bread, slathered with sour cream flecked with chives–it would have been all too easy to fill up on this alone.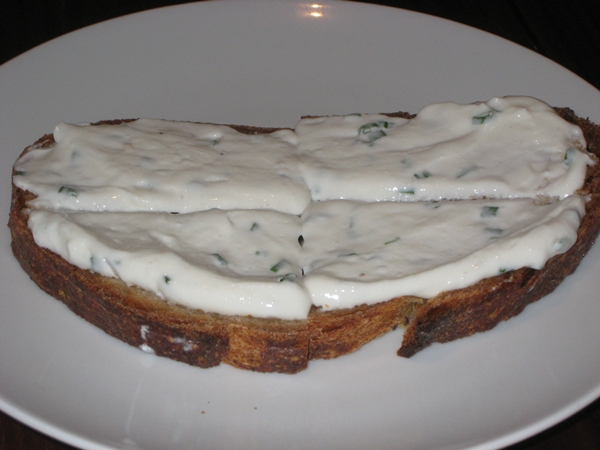 What I really thought was superlative though were the amuses bouches of steak tartare, delicately sandwiched between two crisp wafers: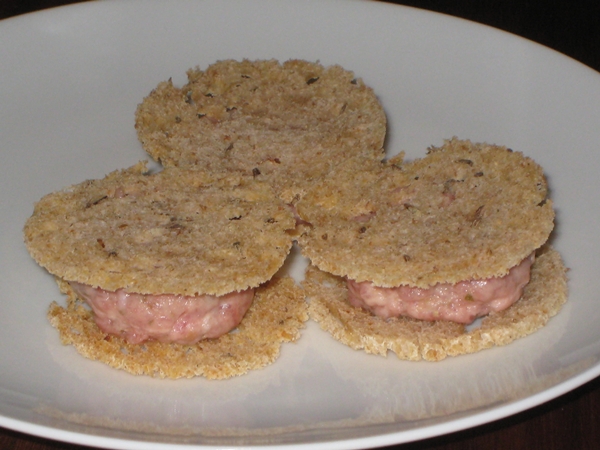 My husband had ordered the potato variation for his first course, and it was more interesting than I anticipated, with potatoes not only prepared different ways, but also different varieties of potatoes including a purple variety, all served with a saffron sauce. I'd love to describe the flavor but my husband managed to eat it all before I could sneak in a bite!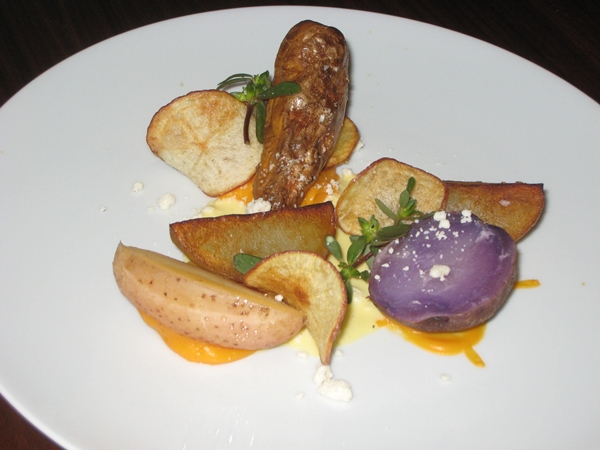 I ordered two main courses, and the first to come out was the rabbit with chestnut puree, pumpkin and juniper chocolate sauce. This was really an incredible dish–the delicate, perfectly cooked rabbit was complemented so well by the natural sweetness of the chestnut puree and the kabocha pumpkin, with a deep savory undertone supplied by the juniper chocolate sauce. I could practically have this for dessert, it was so good–and I'm a dessert fiend.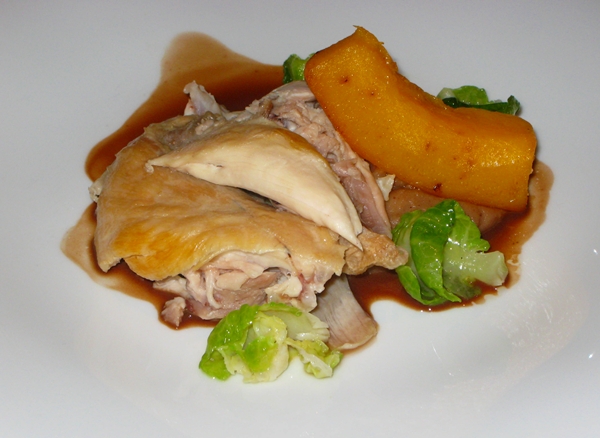 For a main course, my husband ordered the confit of duck leg with red cabbage essence and dumplings. If you haven't tried duck confit, Hospoda is a great place to have it–again, perfectly cooked with tender meat and super crisp duck skin, with the red cabbage essence providing a nice foil to the richness of the duck. The puffy bread dumplings were like clouds, and were a hit with the munchkin (as was the duck–he's the only 3-year old I know who regularly requests duck and/or blue cheese).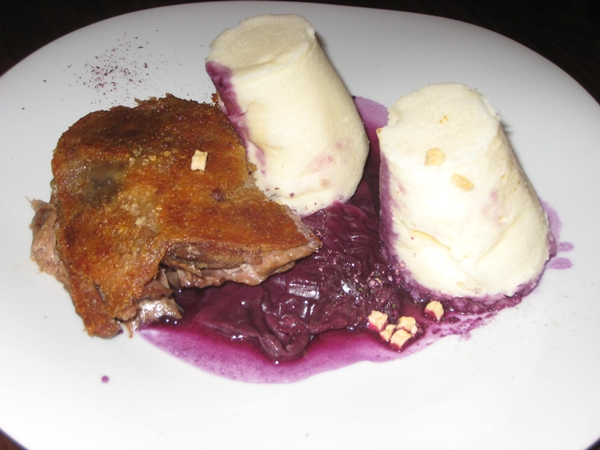 I'm a pretty adventurous eater, so even though I probably wouldn't have ordered smoked beef tongue on my own, the reviews I'd read of Hospoda mentioned this as a great dish, so I ordered it. It was indeed excellent, and I especially loved the rich, reduced sauce it came with. It's well worth ordering if you want something very meaty and rich, although I'd have a hard time not ordering the rabbit and duck confit again when we go back.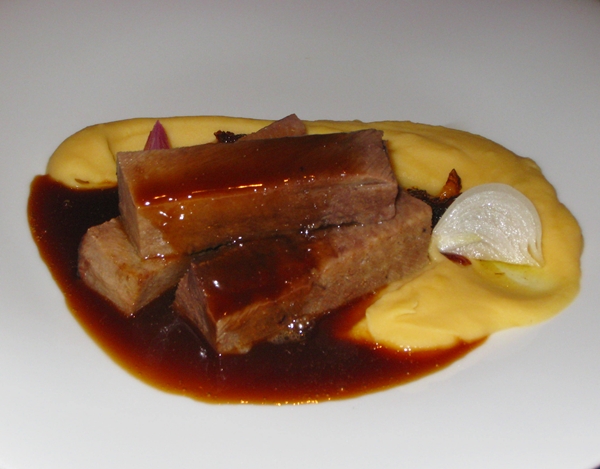 Although I've seen reviews that complain about too skimpy a portion with the small plates, I think they just ordered wrong. My advice, at least if you eat meat and are hungry, would be to simply order two dishes from the Third section. I was so full from mine, that I had no room to order dessert, even though I really wanted to. All I can say is–those staffers at the Czech Consultate have it made.
If you go:
321 East 73rd Street
New York City, NY 10021
Opening hours
bar: mon – sat: 4pm – midnight
dinner: mon – sat: 6pm – midnight
lunch: coming soon
sun: closed
Related Posts
Seasonal Restaurant and Weinbar NYC Review
NYC Summer Restaurant Week Winter 2013: Where to Go
Tom Colicchio's Riverpark, NYC Restaurant Review
Jean-Georges NYC Restaurant Review
Need Award Booking Help? Our fee is as low as $75 per ticket if you book your hotel through us.
If you enjoyed this, please follow TravelSort on Twitter or  like us on Facebook to be alerted to new posts. 
Become a Member to find your perfect luxury or boutique hotel at up to 50% off: TravelSort Hotels