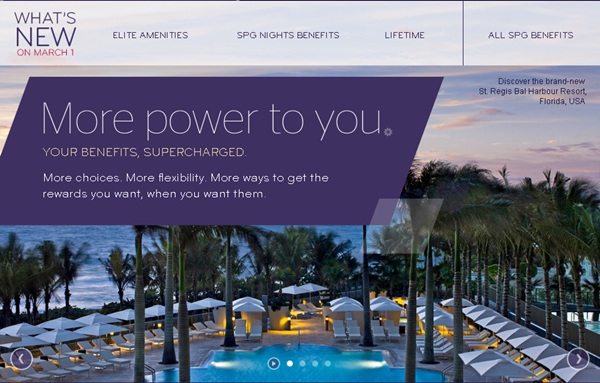 Starwood Preferred Guest is introducing new elite amenities for both Gold and Platinum Preferred Guest members, effective March 1, 2012. Here's a summary of the key changes:
SPG Gold Members
Who qualifies: SPG members with 25 nights or 10 stays per calendar year; Platinum AMEX cardholders; SPG AMEX cardholders with $30,000 in annual spend
New welcome gift options:
Gold Preferred Guest Members may choose one of these three options at check-in:
250 Bonus Starpoints (125 Starpoints at Aloft, Element, and Four Points properties); or
Free in-room Internet access for duration of stay, for all devices; or
Complimentary beverage (at designated onsite restaurants/bars, up to price maximum set by hotel brand)
Which stays are eligible: all SPG Eligible nights, SPG Free Night Awards and Cash and Points Awards
SPG Platinum Members
Who qualifies: SPG members with 50 nights or 25 stays per calendar year
New Continental breakfast welcome gift option:
Platinum Preferred Guest Members have a new Continental breakfast option as one of their amenity choices:
Continental breakfast at the designated hotel restaurant (not in-room) for the Platinum Preferred Guest Member and 1 companion; or
500 Bonus Starpoints (250 Starpoints at Aloft, Element, and Four Points properties); or
Local gift (e.g. chocolates, wine, handcrafted item)
If the property offers a full breakfast, the member can upgrade to it by selecting the Continental breakfast amenity and paying the price difference between the Continental and full breakfast options.
Which stays are eligible: all SPG Eligible nights, SPG Free Night Awards and Cash and Points Awards
SPG Nights Benefits (Confirmable Suite Upgrades)
Starwood Preferred Platinums are finally getting confirmable suite upgrades, likely a response to the popularity of Hyatt's Diamond amenity of four confirmed suite upgrades annually, which can be applied to any paid stay of up to seven nights at the time of booking, as we noted in How to Compare Top Tier Hotel Status Benefits.
Who qualifies: Starwood Preferred Platinum Members who stay 50 eligible nights in a calendar year earn 10 Suite Night Awards. Members with 50 eligible nights in 2011 or 2012 will receive 10 Suite Night Awards in their account on March 1, 2012, which will expire on December 31, 2013
Which suites are not eligible: Specialty Suites, including but not limited to presidential, honeymoon or multiple bedroom suites, may not be eligible for Suite Night Awards.
When they can be used: Members may request a Suite Night Award upgrade on any SPG Eligible Rate, SPG Free Night Award or Cash & Point Award
When they may be requested and when confirmed: Members may request their Suite Night Award upgrade anytime up until 2pm local hotel time the day before arrival. Suite Night Awards are confirmed, subject to availability, starting 5 days before arrival.
Per Starwood, you'll be able to login to SPG.com, go to "My Stays" and be able to either select the exact upgraded room or suite type you want to be upgraded to, or simply request the system to search all upgraded options for you and confirm you in the most premium room available. No word on the exact prioritization, but now that there are several tiers of Platinum, presumably the greater the number of nights stayed with Starwood in the past, the higher your priority.
Number of Suite Night Awards to redeem: The number of Suite Night Awards must match the length of stay, including any bonus or promotional nights
Expiration: Suite Night Awards activity page lists the expiration date; members have at least a year to use the Suite Night Award after it is awarded
New Benefits for SPG Platinum Members who stay 75 Nights per Year:
4 Bonus Starpoints per dollar spent: Currently SPG Platinum members get 3 points; if you stay 75 nights with Starwood per calendar year you'll get an additional point.
YOUR 24: This is an intriguing benefit: the ability to check in at any time and check out 24 hours later, subject to availability and as long as you confirm it at least 48 hours in advance. So, unfortunately, it won't work when you unexpectedly arrive much earlier than anticipated, but still nice if you know you'll be getting in at an ungodly hour and just need 24 hours or less there. Even better, if you confirm a time 9am or later, you'll get more than 24 hours as you'll get 4pm late check-out.
Ambassador Benefit for SPG Platinum Members who stay 100 Nights per Year:
This seems a bit of throwaway benefit, at least for anyone who is travel savvy or already has a great personal assistant or concierge: if you stay 100 nights with Starwood per calendar year you'll receive a Starwood Ambassador to help you with your hotel, dining and activity reservations and help resolve any customer service issues.
Lifetime Status
Lifetime Gold Status: after 250 nights and any 5 years (need not be consecutive) of being an elite (Gold or Platinum) SPG member
Lifetime Platinum Status: after 500 nights and any 10 years (need not be consecutive) of being a Platinum SPG member
Bottom Line
SPG Gold: Choose free Internet
While I wish the benefits would kick in sooner, since I have a Starwood stay later this month, these are on the whole good changes for Starwood members. Do I wish Internet was always complimentary? Sure; but it's unsurprising that hotels continue to charge for it so they can provide it as a "benefit" to their elites. As a current Starwood Gold I'll certainly be choosing free Internet as my benefit whenever I stay at a Starwood property.
SPG "Basic" Platinums: Standard Suite Upgrades remain a benefit–but eroded somewhat
For Platinums, the good news is that the standard suite upgrade remains in effect, so even "basic" Platinum members who have 25 stays (but not 50 nights) will still have the chance to be upgraded, subject to availability. The bad news, though, is that for properties that see a lot of "super elite" Platinums there may not be suite upgrades left for "basic" Platinum members at check-in, since the system will start confirming the Suite Night Award upgrades 5 days prior to check-in. So whereas before, it would largely come down to the suites that were available when you checked into the hotel, there will be potentially reduced suite inventory now, due to the Suite Night Awards.
Choose more obscure properties and/or travel off-season to maximize upgrade chance
So in the future, it may be harder to be as lucky as I've been as a past Platinum SPG, with check-in upgrades such as the penthouse suite at the Westin Moana Surfrider during peak winter travel season (see
What's Right with Starwood Preferred Guest
). If you're a "basic" Platinum and won't be getting Suite Night Awards, I'd try to travel to more obscure properties and/or in the off-season, to maximize your chance of getting a standard suite upgrade at check-in. My analogy would be frequent flyers based in San Francisco, which is notoriously one of the harder places to get elite upgrades. The difference is that, at least for leisure, you can choose your destination and hotel, so don't follow the crowds.
SPG 50+ night Platinums: Suite Upgrade Benefit still not as good as Hyatt, but more SPG Options
Hyatt Diamonds are able to confirm their suite upgrade at booking, and get 4 of them each good for up to a 7 night stay. That said, Starwood has more premium properties in more places around the world
Consistent Implementation?
The other thing that concerns me is how Starwood will make sure that its many, diverse properties honor these new benefits. In particular, will they make sure that all properties that do have suites have them available for 50+ night Platinums to select for the Suite Night Awards? There continue to be reports of Platinum members not receiving their upgrade to best available room (including standard suites) at various foreign properties. And this really erodes brand trust, when a loyalty program's most elite members don't receive (or only receive after arguing with the front desk or tweeting their complaint to
@SPGInsider
) the benefits they're entitled to.
What are your thoughts and questions about Starwood Preferred Guest's new elite amenities?