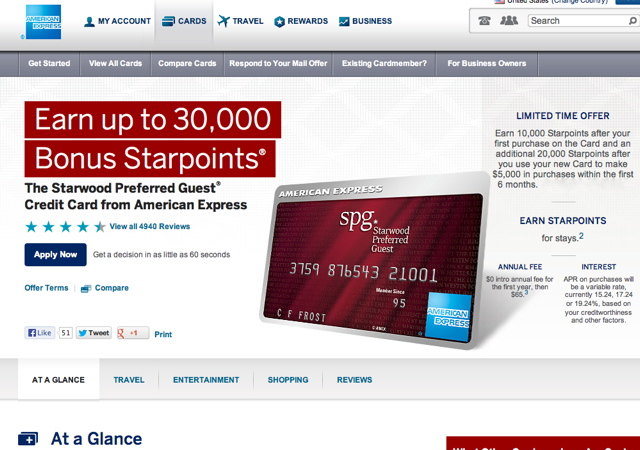 The Starwood Preferred Guest (SPG) American Express 30,000 bonus points offer is back. While many blogs trumpet this as a great offer, I'll give 7 reasons why, in my view, the SPG AMEX 30,000 points offer just isn't worth it, for $5000 minimum spend.
In fact, I no longer have either the personal SPG AMEX or the business SPG AMEX, even though I have held both of those cards in the past. My husband still has a personal SPG AMEX, but we don't plan to renew it when the annual fee comes due, and even though we could earn some points by emailing referrals, I'm not going to push that, especially as the public offer is already around. Plus, chances are you know someone with the card if you do want to apply, so by all means reward your family or friends if you would like them to refer you to the SPG AMEX. I do NOT receive any referral credit for the links below.
First, the SPG AMEX offer details:
Starwood Preferred Guest Credit Card from American Express (Personal)
Starwood Preferred Guest Business Credit Card from American Express
Note: These is a personal SPG AMEX and a business version; they are different products and you can apply for both to earn two bonuses IF you have not had the card previously. The details are similar:
Earn 10,000 SPG points after first purchase
Earn 20,000 additional SPG points after spending $5000 within the first 6 months
Earn 2 extra SPG points per $1 spent on Starwood hotel spend (so 4-5 points total including the 2-3 points from the SPG program)
No annual fee the first year, then $65
Offer expires 6/30/14

Welcome bonus offer not available to applicants who have or have had this product.
7 Reasons It's Not Worth Getting the SPG AMEX, Even with the 30K Bonus Offer
1. Not Eligible if You've Ever Had the Starwood Preferred Guest Card
Note that, as of May 1, 2014, you are NOT eligible to earn a signup bonus again for AMEX personal credit cards and charge cards, if you've previously had the card. So even if it's been 3 years or more since you've been an SPG AMEX cardholder, you're not eligible for the 30K signup bonus.
Note that as of now, the SPG Business AMEX terms merely specify "Welcome bonus offer not available to applicants who have or have had this product within the last 12 months" so you WOULD be eligible for the SPG Business card, as long as you don't currently hold the card and haven't had it anytime in the last 12 months.
2. SPG Points Don't Transfer Instantly to Airline Miles
Frankly, I find it's a huge pain that SPG points don't transfer instantly to airlines miles. Clients of my
Award Booking Service
who have most of their balance in SPG points also get frustrated, especially if they haven't done transfers to airline miles before and had no idea how long it can take.
Yes, it's great that you earn a 25% bonus when transferring in increments of 20,000 points, but the fact that you can never transfer points in time even for awards that you put on hold (for example AA awards can be placed on hold 5 days) means that you have to transfer before you know if award availability will exist.
3. Opportunity Cost: Earn Bigger Signup Bonuses for Other Credit Cards
While this isn't a big deal for those with high spend, if you have only so much spend in the coming 6 months and want to get the biggest bang for your buck in terms of signup bonuses, even the 30K SPG AMEX offer isn't it. Instead, you could earn 100K AAdvantage miles with the
100K Citi Executive AAdvantage offer
, which is 100K miles for $10,000 spend (equivalent to 50,000 miles for $5000 spend), and even with the effective $250 fee (taking into account the $450 fee and $200 statement credit) I view this as a better deal than 30,000 SPG points for $5000 spend.
Through today, June 1, there's also the 60,000 Ink Bold and 60,000 Ink Plus bonus offers, for the same $5000 spend. And those earn Ultimate Rewards points that transfer instantly to several programs.
4. One of Best Uses of SPG Points, Transfers to Singapore KrisFlyer, More Easily Earned with Other Cards
For example, if you receive a targeted AMEX Business Platinum 100K Bonus Offer or are approved for a 60K Ink Plus card and put $2000 of the minimum spend in 5X categories, you could earn 110K AMEX Membership Rewards points after $10K minimum spend, or 75,000 Ultimate Rewards points after the $5K minimum spend, respectively. Either, in my view, trumps 35,000 SPG points after $5K minimum spend.
5. The Best Starwood Hotels Are Terrible Value as Awards
Even if we look at the SPG card relative to other hotel credit cards, for the purpose of hotel redemptions, it fares poorly, at least if your eye is on the most luxurious and aspirational hotels and resorts for award stays. The W Retreat Koh Samui, for example, is 40,000 Starpoints per night for a free night. If you value Starpoints at about 2.2 cents per point, that's $880, which is often more than the paid rate for entry level "villas" and about as much as the Four Seasons Koh Samui, which is so much nicer than the W Koh Samui anyway. And how about the St. Regis Bora Bora? That's even pricier, at 120,000-140,000 Starpoints per night. So let's see–that 30,000 bonus will get you, oh, about 6 hours at the St. Regis Bora Bora.
Meanwhile, the Hyatt Visa still offers 2 nights at any Hyatt worldwide, including Category 7 properties such as the Park Hyatt Paris Vendome, the new Park Hyatt New York and the Category 6 Park Hyatt Maldives. And the Hilton Reserve card offers 2 free weekend nights at any Hilton worldwide, including the Conrad Koh Samui.
6. Foreign Transaction Fees
Absurdly, for a travel card, the SPG AMEX does not waive foreign transaction fees. There's a 2.7% foreign transaction fee on purchases made abroad or processed abroad. So instead, consider the many
other
credit cards with no foreign transaction fee
.
7. How Valuable is SPG Gold and Platinum Elite Status Really?
Sure, you do receive 2 elite stay credits or 5 elite night credits for each card, which can help you more quickly achieve SPG Gold or SPG Platinum status. But let's take the benefits. SPG Gold gets you 4pm late checkout, an "enhanced" room if available at check-in and a choice of welcome amenity, namely complimentary WiFi or a complimentary drink (most will choose the WiFi).
Meanwhile, SPG Platinum is supposed to get you an upgrade to the best available room at check-in, including Standard Suites, a choice of welcome gift (including an option to choose continental breakfast), 4pm late check-out, Club level where available and Platinum Concierge service.
But these benefits are primarily beneficial for award stays, since for paid stays you'd be better off booking a
Virtuoso
, Starwood Luxury Privileges or AMEX FHR rate (all of which you can book as a
TravelSort Client
) since you would also receive a property specific amenity, such as a complimentary lunch for two or a resort credit once during the stay, typically worth $100, which you don't get as an SPG elite.
The Verdict
This isn't to say SPG points aren't valuable–they can be, if acquired cheaply, at low opportunity cost (for example, if you have plenty of work-paid Starwood hotel stays) and transferred to frequent flyer programs in advance of when you need an award.
But if you have a limited amount of spend available for credit card signup bonuses, this isn't an offer I'd prioritize.