The St. Regis Singapore hotel was a welcome sight, after several sleepless flights. Although you might expect something modern inside based on the avant garde red sculptures and almost Guggenheim-like parts of the hotel's exterior, the interiors, both public areas and guest rooms, are more classically elegant than cutting edge.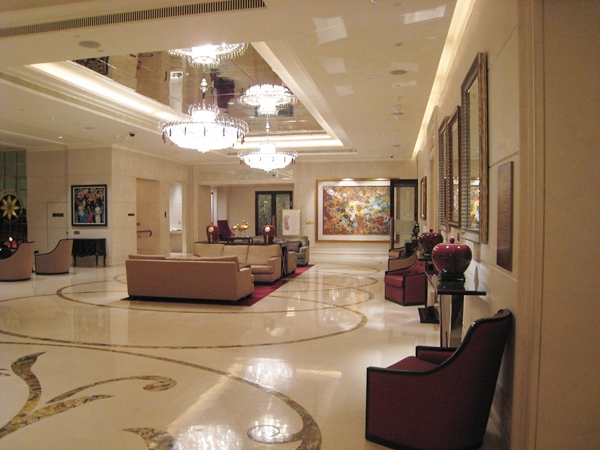 I was greeted by the bellmen and escorted to the check-in desks, but then a rather long wait of 15-20 minutes or so ensued since there was no associate at my desk, and the associates at the other two desks were helping other guests. I probably looked as annoyed as I felt, since the associate who did finally arrive to help me was very apologetic and did everything he could to help. He even gave me a double upgrade to a Lady Astor Room, from the Executive Deluxe Room that I'd booked, after checking with me that I didn't mind having two twin beds instead of a King. Two beds, one bed–I didn't care, just let them be comfortable and not angled flat seats 🙂
There was a small foyer as you entered, with a table holding a card with the various types of tea one could order from your Butler (though I never took advantage of that).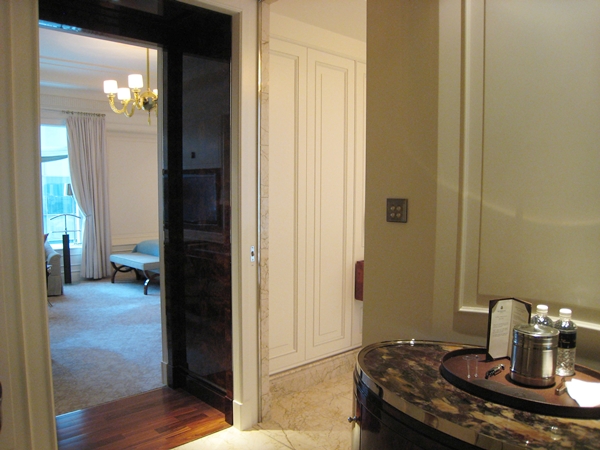 The beds themselves were each an oversized single–perfect for one adult each. Although I never like bedspreads, the light blue silk throws were super soft and added a nice colorful accent to contrast with the more neutral colors of the rest of the room.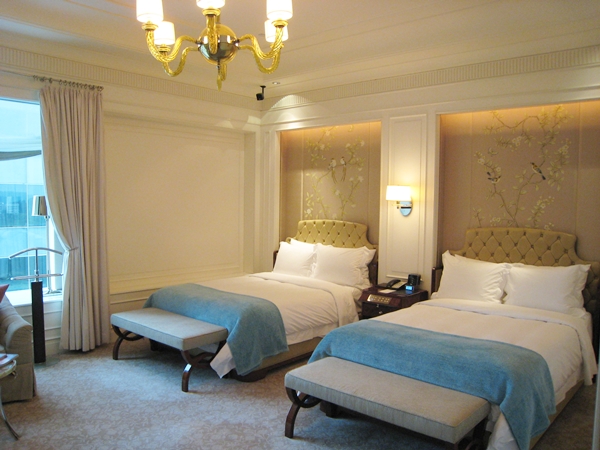 There was a sitting area that I never used, and small coffee table containing a complimentary bottle of orange juice (or, the card read, you could instead help yourself to a chilled one from the minibar, which is what I did the next day).
The flat screen should have been big enough for anyone save those that have home theater systems at home. I only did a few hours of work at the desk, and it was fine for that.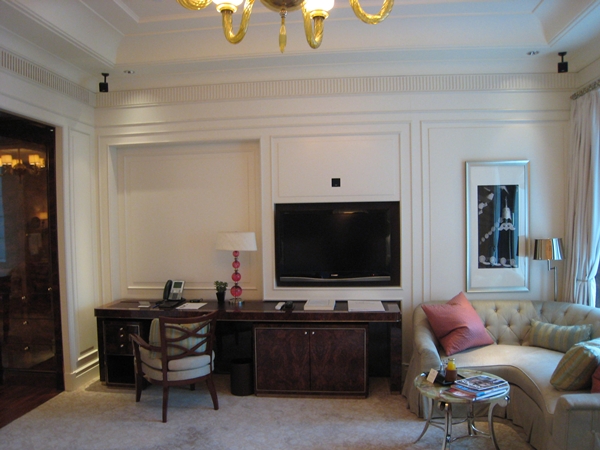 The view, especially compared with the two subsequent hotels I stayed at, was nothing special, but at least it included some greenery, not just other tall buildings.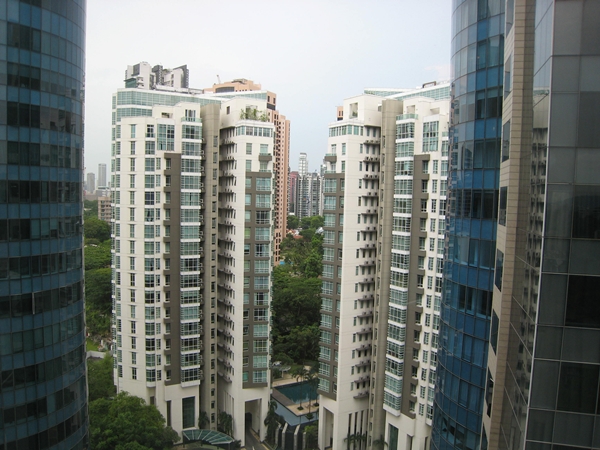 The bathroom is what I really loved about this room: a window by the bathtub let in natural light. There was also an anti-mist TV screen, in case you wanted to watch a film while in the bath: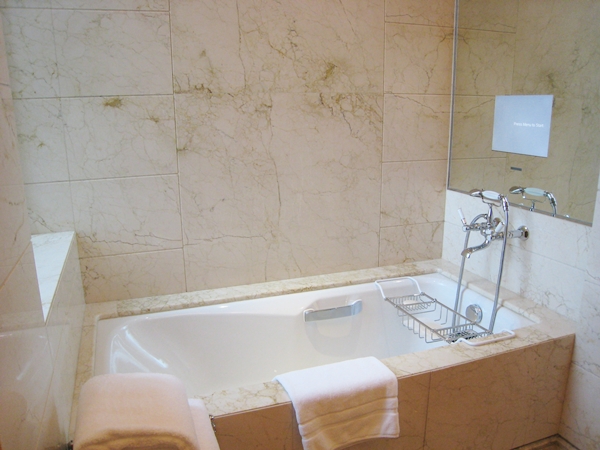 Dual vanities are so convenient if you're with a partner, though needless to say I only used one of them since I was by myself. There was also a separate vanity table and stool, in case you felt like sitting down while powdering your nose.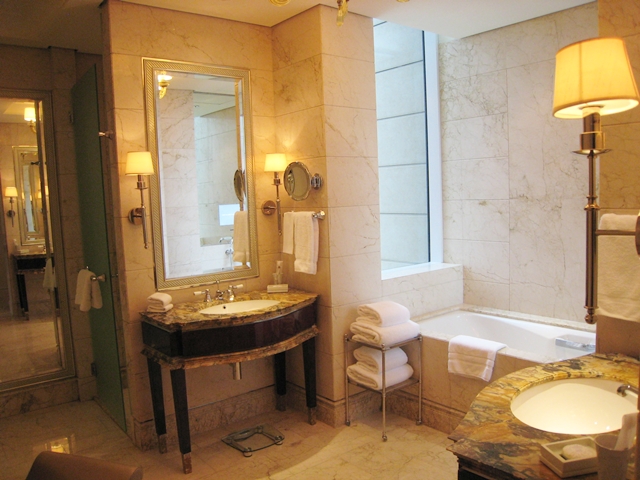 Toiletries, as at all St. Regis hotels, are Remede. While I know it's a good brand, I just can't get excited about this line–I'd much prefer L'Occitane or Bulgari, but it's a matter of personal preference.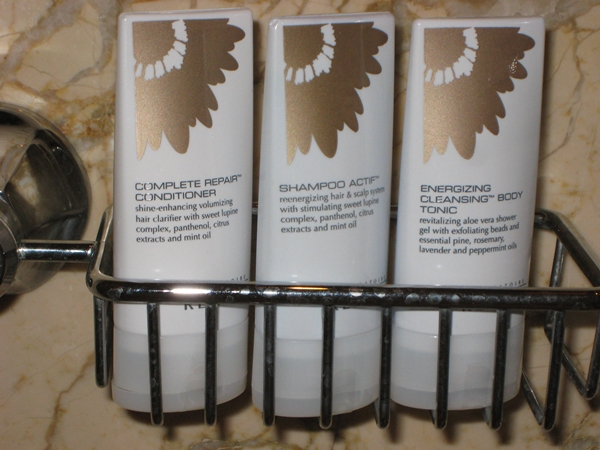 For once, I was glad I read the hotel information, as it mentioned that there was a complimentary wine and cheese tasting at the hotel bar, Decanter, from 5:50-6:30pm. It practically seemed like a secret, since only one guy and a family of four were there when I arrived, and no one else came during the time we were there. And the Rioja I sampled was so good that I simply had two pours of it instead of tasting another wine. A large platter held crackers, cheeses, and grapes to accompany–all simple but good quality. It was very convivial, and I really enjoyed meeting and talking with the other guests there.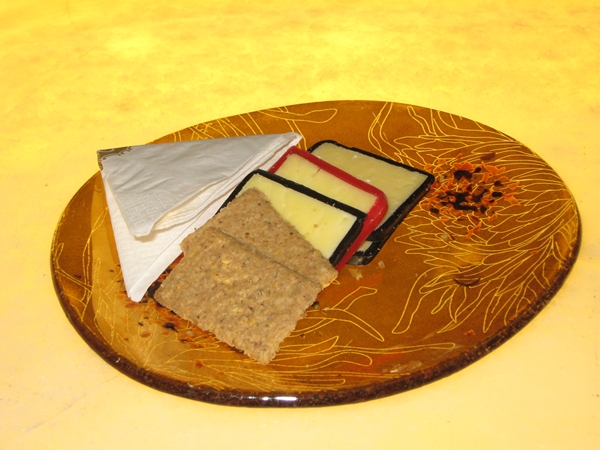 When I got back to my room, not only had it been turned down, there was a small box of very high quality chocolate next to it–definitely my favorite kind of turndown service!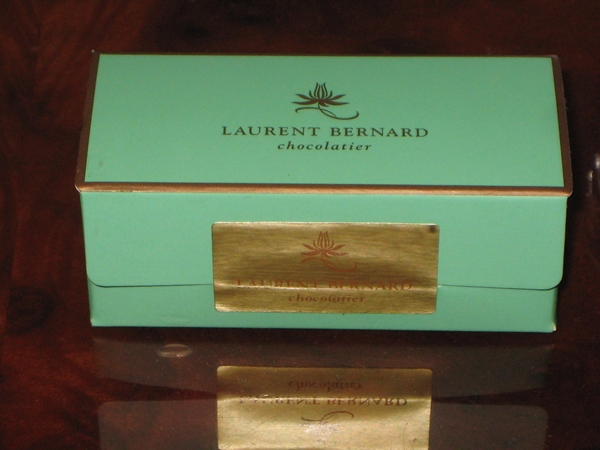 The next day, I went down to the fitness center and pool area. The fitness center isn't huge, but covers all the basic machines and weights. It didn't seem very popular as I never saw anyone in it.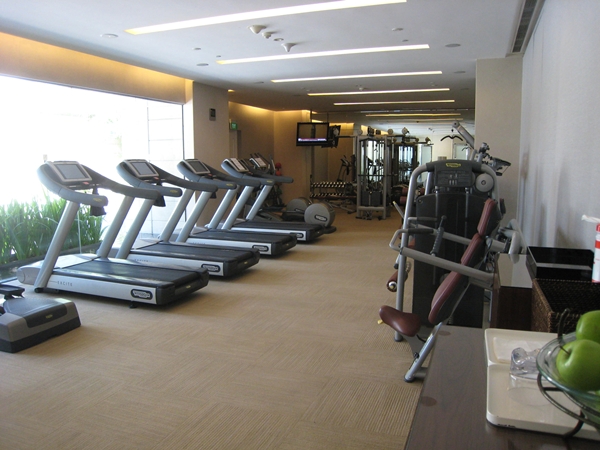 The pool looks beautiful, and I did see someone swimming in it, but most people were simply sunbathing by it or reading the newspaper or a book.
The little fountains, while not officially a wading pool, were a hit with little kids–I saw several families during my visit, but the St. Regis certainly wasn't overrun by kids; it seemed to be a good mix of people on business, and couples and families on vacation.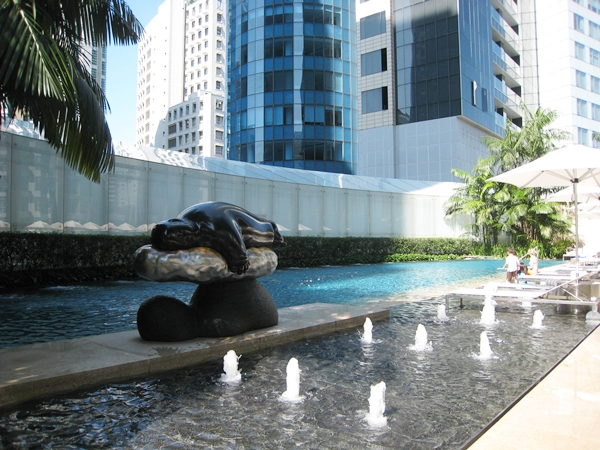 g
Rather than hang out at the pool, I decided to investigate the spa, since I figured heat would be good for muscles that were still sore from flying. The attendant, apparently Australian, judging from her accent, cheerfully gave me a locker key. There was a robe and slippers already in the locker, as well as what looked like a washcloth (for the sauna?) though I didn't use it. I first went to the steam room, which was toasty–no wonder they advise not spending more than about 10 minutes there, before giving yourself a break. I probably only lasted 5 minutes, before relaxing on one of the wave loungers. The loungers aren't supposed to be hot, but just slightly above normal body temperature.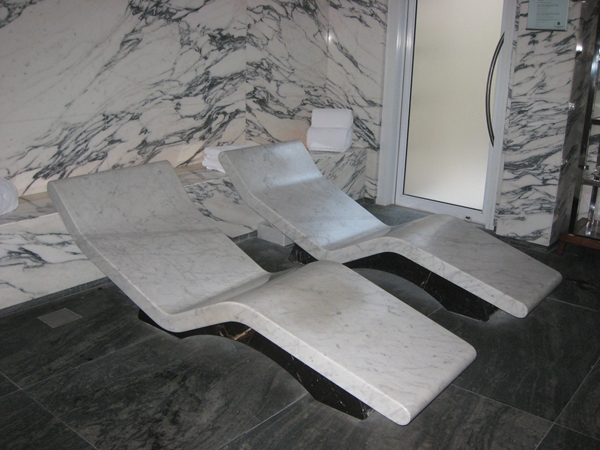 Then it was time for a dip in the hydrotherapy pool, with its continuous powerful stream of water. It reminded me of some of the public baths I went to in Japan, where there was also hydromassage. I let the water pound my knotted neck and shoulder muscles for awhile, and it probably did as much good or more than any massage therapist could have–my muscles were that knotted and the water that powerful.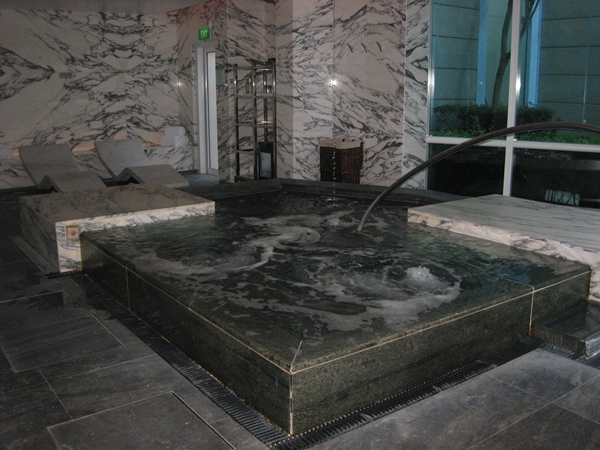 Finally it was time for more heat, so I went outside to the outdoor jacuzzi. Supposedly the white stones are supposed to be good for your feet, but they just felt awkwardly painful when I tried walking on them, so I stuck to the jacuzzi, which was a great temperature and very relaxing. After finishing in the spa, I had a shower and changed. There were Remed products in the shower, and in the changing room there was moisturizing cream, deodorant, tissues, and disposable combs. A few other additions such as disposable razors and cotton balls would have been good.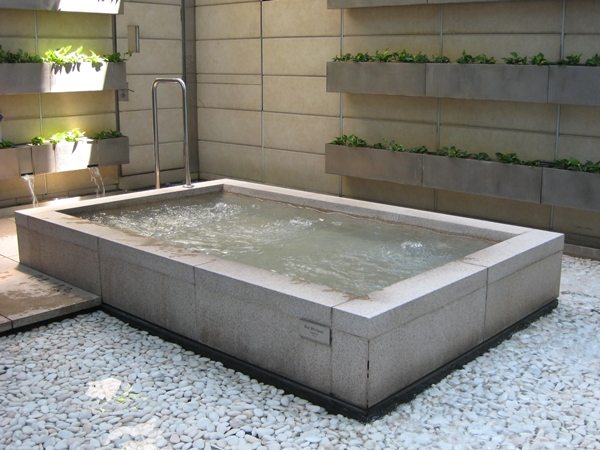 My rate didn't come with breakfast, so I didn't try the breakfast buffet, but I did order a local breakfast of roti prata with curry. It was a bit slow in coming, and they gave me fish curry instead of the chicken curry I requested, but it was delicious nonetheless.
While it would be easy to criticize the hotel for the couple slips–waiting around awhile to check-in, messing up my breakfast order–the recovery from these minor lapses was tremendous–a wondrful room upgrade, an apology and slight discount off my breakfast bill. And I inadvertently tested the hotel by forgetting a silk dress in the closet. I noticed it and came back, and the front desk handled it perfectly, calling housekeeping, then going to meet the housekeeper and retrieve my dress, all within a few minutes.
Verdict: The St. Regis Singapore lacks the prime marina location and views of hotels such as The Mandarin Oriental and The Ritz-Carlton, and it does suffer some occasional service lapses but recovers from them very well. Its staff seem to genuinely care about guests and do all they can to delight them. The spa is a treat, and even if you don't book a treatment you can use the various steam rooms, hydromassage and jacuzzi. The nightly wine and cheese tasting is a nice perk and way to mingle with other guests. If I was in Singapore again and planning to visit something nearby, such as the extensive Singapore Botanic Gardens, I'd definitely stay here again. Actually, the laksa in the nearby Ion Food Court was so good that too would tempt me…
Become a TravelSort Client to book the St. Regis Singapore with these Virtuoso benefits:
Upgrade on arrival, subject to availability
Daily buffet breakfast for two
$100 food and beverage credit once during stay (excludes Sunday at St. Regis, Sunday Brunch at Brasserie Les Saveurs, Dim Sum Brunch, Sunday Brunch at Yan Ting)
Early check-in, late check-out subject to availability
Related posts
Best Luxury Hotels in Singapore
Singapore Airlines Business Class Review: Tokyo to Singapore
A Truly Tasty Melting Pot: Singapore for Foodies
Need Award Booking Help? Our fee is as low as $75 per ticket if you book your hotel through us.
If you enjoyed this, join 100,000+ readers: please follow TravelSort on Twitter or like us on Facebook to be alerted to new posts.
Become a TravelSort Client and Book 5-Star Hotels with Virtuoso or Four Seasons Preferred Partner Amenities!