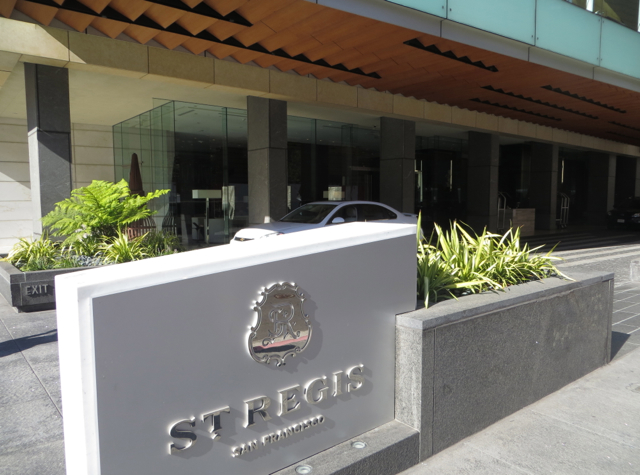 This St. Regis San Francisco hotel review is part of a San Francisco trip report. For the prior posts, see:
Mandarin Oriental San Francisco Hotel Review
Marrakech Magic Theater with Peter Morrison, San Francisco
House of Thai (Thai House Express) San Francisco Restaurant Review
Mandarin Oriental Brasserie S&P Breakfast Review
Tartine Bakery San Francisco Review
The St. Regis San Francisco is most SPG members' favorite Starwood property in San Francisco, and is Starwood's only 5-star property in San Francisco, so I was curious to see how it would compare to other luxury San Francisco hotels, such as the Mandarin Oriental San Francisco, Four Seasons San Francisco and Ritz-Carlton San Francisco.
I'd heard that there is a fair amount of construction going on at MOMA, so I'd requested a room facing away from the construction noise about a week prior to my arrival, and the associate I spoke with was pleasant and made the note in my reservation, although he did note that there are very few double bedded rooms, which I was also requesting since I would be traveling with the munchkin.
St. Regis San Francisco Location, Check-In and Lobby
The St. Regis San Francisco is at 125 Third Street, right across the street from the Yerba Buena Gardens and a few blocks below Market Street. It took us about 8 minutes to walk to the Montgomery Street BART Station. The hotel is right next to the St. Regis Residences. There were many guests in the lobby, such that I didn't feel comfortable snapping photos, but the Lobby Bar reflects the sleek, modern aesthetic: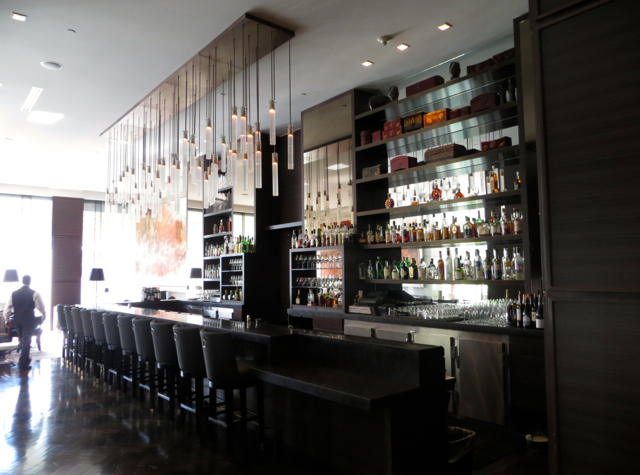 Check-in was smooth; there was no line and the associate was welcoming, confirmed that as an SPG Gold we had been upgraded, and made a point of welcoming the munchkin as well, who got his own welcome amenity of San Francisco post cards to color, colored markers, and even a San Francisco cable car puzzle that with all its small pieces proved to be quite challenging, but he'll probably be better at it when he's 6.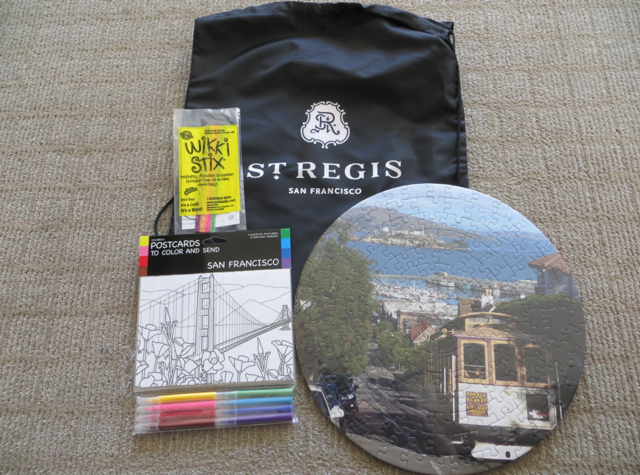 Grand Deluxe Room
Our Grand Deluxe Room was on the 19th floor and faced 3rd Street and the Yerba Buena Gardens. Here's the view: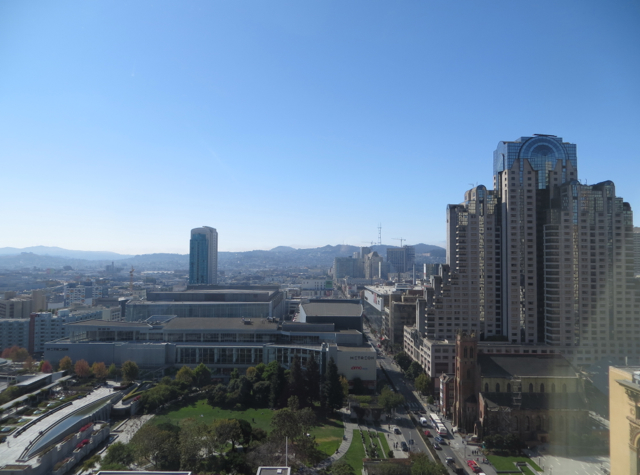 The Grand Deluxe Room is quite spacious, at 452-484 square feet, although king bedded rooms will feel larger–our two double beds took up much of the usable space.
The two double beds proved to be quite comfortable, although firmer than I care for–I still prefer Mandarin Oriental and Four Seasons beds, which typically have a plusher pillow top mattress. It looked a little odd that there was only one bench at the foot of one of the beds, not that it mattered to us.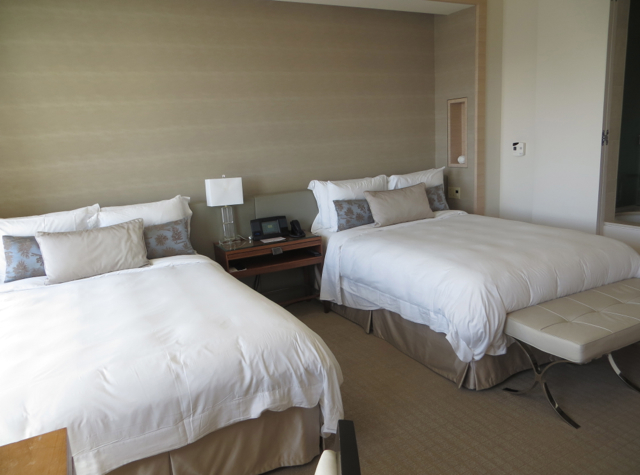 The flat screen was most conveniently placed for the bed closest to the door, not that it mattered to us as a non-TV household that rarely watches anything in hotel rooms either.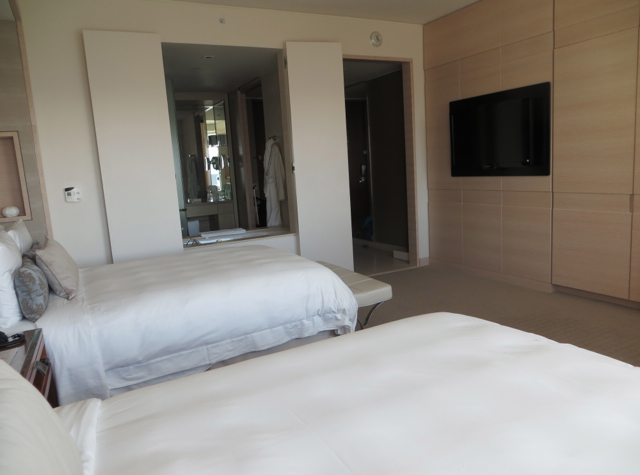 The blinds are electronically controlled from the telephone touchscreen, under Room Control. That's fine as long as it works, which it did in our room, although I'd read a review from a guest placed in a room where the drape control was broken, which would be pretty awful given the amount of light that streams in, if you were trying to sleep in. I do like having an electronic "do not disturb option" that's visible outside to staff, avoiding the problem of potentially missing "do not disturb" door signs.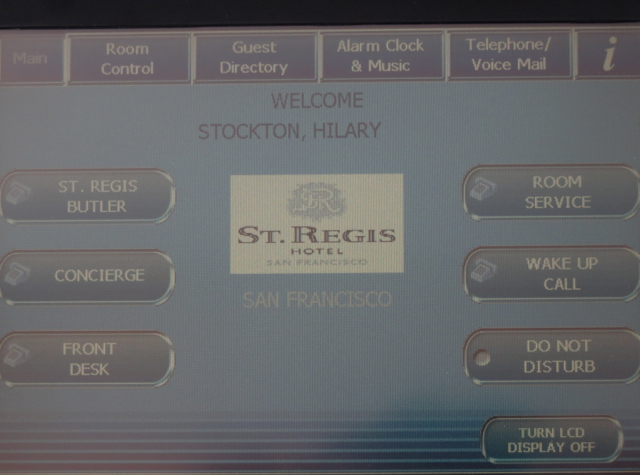 The bathroom, or at least the part with a sink and bathtub, is open to the bedroom, which may look nice and even work well if one of you is having a bath and wanting to talk to the other person who's in the bed or at the desk. But it really doesn't work well if one person needs to get up in the middle of the night, since you don't want to turn on the light and wake the other person, run water in the sink, etc.
I also really disliked not being able to have it as a separate room where I could turn a light on after the munchkin went to bed. At the Mandarin Oriental, the bathroom was so spacious and nice it was perfect for a bath and for checking email after putting the munchkin to bed. Here, I didn't have that option.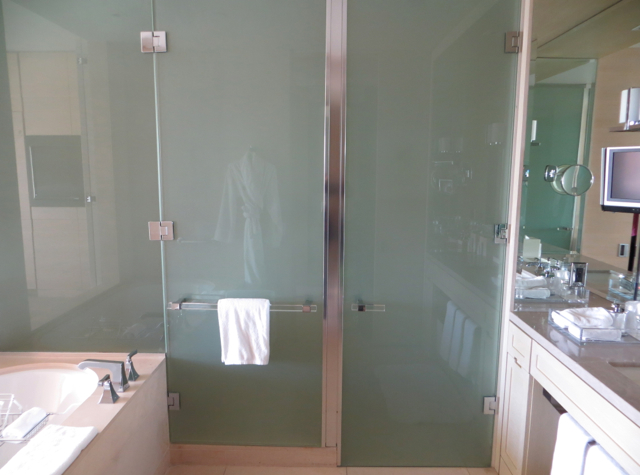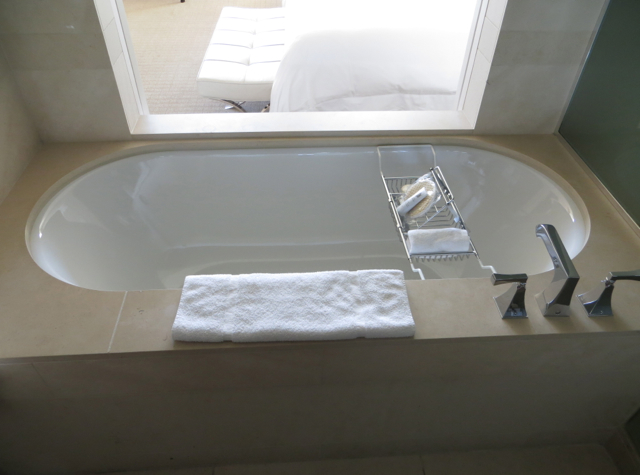 The rain shower took some time to warm up, it wasn't as quick as at the Mandarin Oriental. Due to the initial water that came out of the handheld shower pointing directly at the door, it also ended up leaking a lot of water onto the floor. Fortunately, the bathroom was stocked with enough towels to mop up the resulting mess.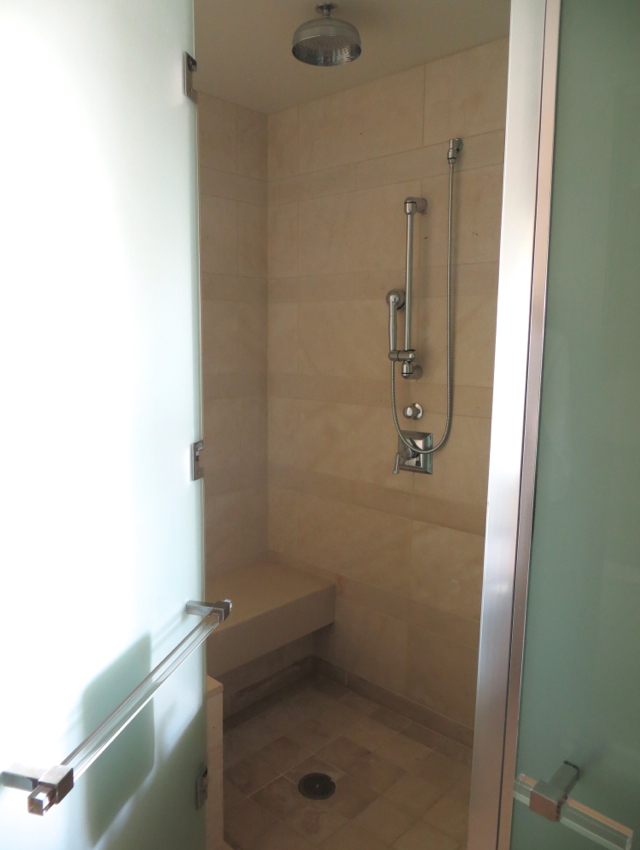 Bath amenities are by Remede, which frankly I've never enjoyed. The mint in them reminds me of toothpaste, which isn't what I want to use for shampoo or shower gel. I used the Molton Brown amenities from the Mandarin Oriental San Francisco instead.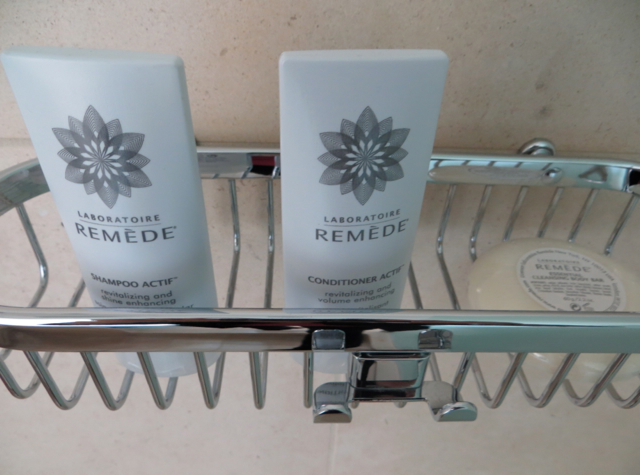 I did like that the desk was well stocked with pencils, paper clips, and binder clips: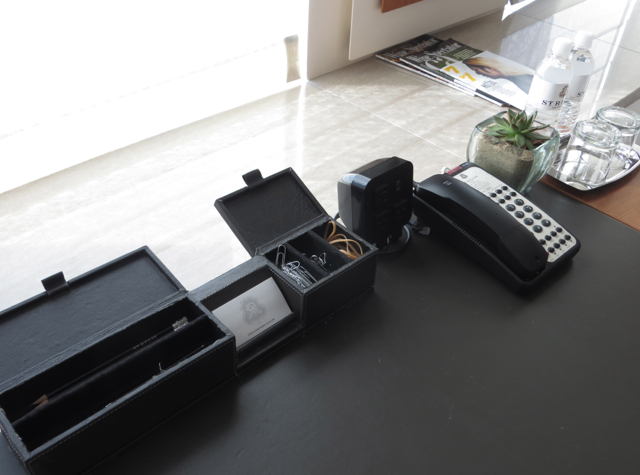 The mini bar seemed standard, and there was no coffee or tea maker, nor was I asked whether I'd like any tea. I gather that at this and most U.S. St. Regis properties there's only butler service for suites. I missed the welcome tea and cookies I received at the Mandarin Oriental, which is offered to all guests, regardless of room or suite category.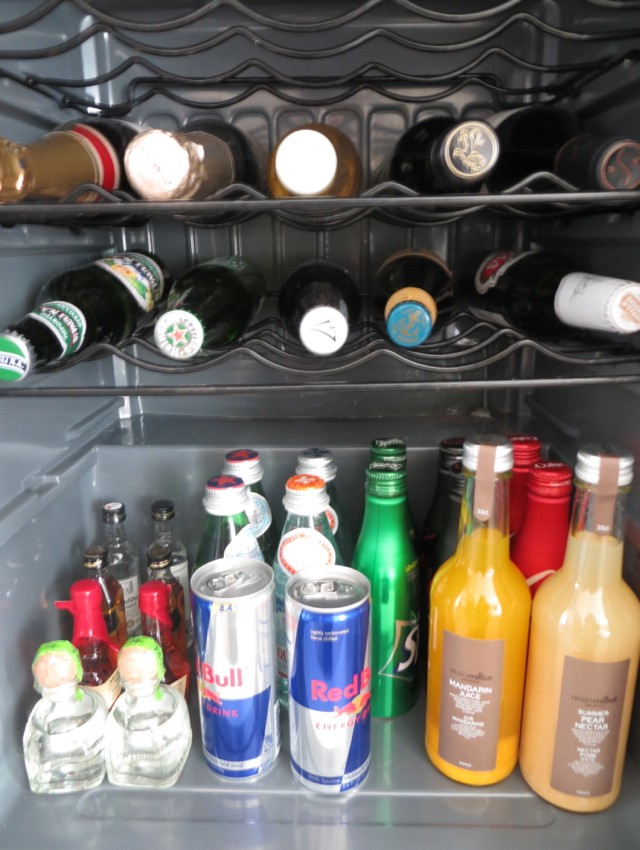 We were somewhat surprised and dismayed that when we came back in the evening from dinner at 8pm with the munchkin dead tired (due to still being on East Coast time) housekeeping was in the room doing turndown service. Fortunately they were able to make a fairly quick exit.
Fitness Center and Swimming Pool
A big draw of staying at the St. Regis San Francisco is its heated indoor lap pool, which is open 24 hours. It gets great natural light from the large windows, although it's not as aesthetically pleasing, as, say, the pool at the Mandarin Oriental Washington DC. We had a peek at the pool soon after arriving, when no one was around. Later, when I took the munchkin for a swim, there was one other guest doing laps and a couple guests lounging by the pool.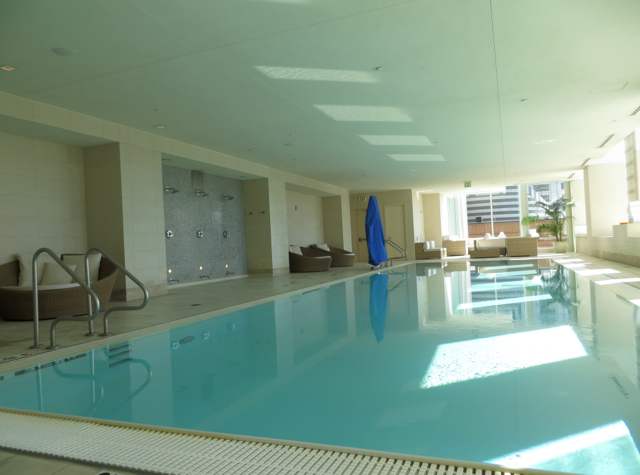 We stopped into look at the fitness center, which appeared well equipped. There were only a couple of guests working out while we were there mid-afternoon, although I expect it's more crowded weekday mornings.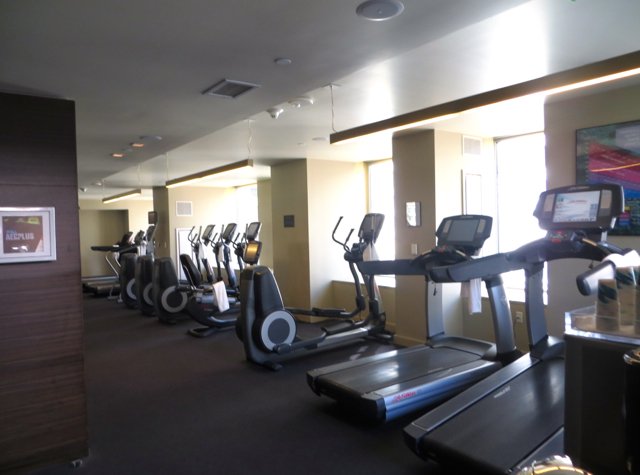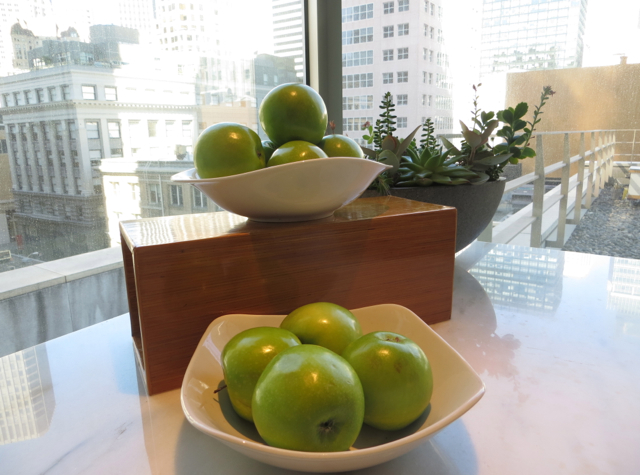 Virtuoso Amenities
If you book the St. Regis San Francisco with TravelSort, you can enjoy these Virtuoso amenities:
Upgrade on arrival, subject to availability

Continental breakfast for two daily

Lunch for two at Vitrine Restaurant once during stay (excludes alcohol and gratuitites)

Early check-in/late check-out subject to availability
The Verdict: The St. Regis San Francisco is convenient to Market Street and the Moscone Center, and has a nice modern style that will appeal to many fans of the brand, or even to those who like the modern Park Hyatt aesthetic. My pre-check-in and check-in experience was very good, but I wasn't impressed with the abrupt manner of the concierge or the fact that housekeeping was still servicing our room in the evening, having been out for 3 hours. The heated indoor pool is certainly a big plus for swimmers and families with kids, since an in-house pool is a rarity at other San Francisco luxury hotels. That said, it doesn't have the incredible views and service standards of the Mandarin Oriental San Francisco, or the Club Lounge experience of the Ritz-Carlton San Francisco.
In terms of other recent St. Regis stays, it's in the middle of the pack, above the St. Regis Bangkok, but below the St. Regis Singapore.
If you've stayed recently at the St. Regis San Francisco, what was your experience?
Disclosure: I paid for my own stay at the St. Regis San Francisco, using SPG points.
Related Posts
Mandarin Oriental San Francisco Hotel Review
Best Fine Dining Restaurants in San Francisco for a Splurge?
What are the Best San Francisco 5-Star Hotels with Great Views?
Starwood Luxury Privileges: Top Hotels to Book
Starwood Cash & Points Devaluation & FAQ
Need Award Booking Help? Our fee is as low as $75 per ticket if you book your hotel through us.
If you enjoyed this, join 90,000+ readers: please follow TravelSort on Twitter or like us on Facebook to be alerted to new posts.
Become a TravelSort Client and Book 5-Star Hotels with Upgrades, Complimentary Breakfast and Other VIP Amenities!