This St. Regis Bangkok Hotel Review is for a short Bangkok trip, part of a Southeast Asia trip report; here are the previous posts:
ANA All Nippon Airways Business Class Review, LA-Tokyo
Singapore Airlines Business Class Review, Tokyo to Singapore
St. Regis Singapore Hotel Review
Mandarin Oriental Singapore Hotel Review
Ritz-Carlton Millenia Singapore Hotel Review
Thai Airways Business Class Review
As much as I'd like to write an unequivocally glowing review encouraging everyone to book the St. Regis Bangkok through TravelSort, in all honesty I can't. Everyone has their own particular experience at a hotel, and also sees it through their own prism of prior hotel experiences, the mood they're in that day, etc., but I'll try to be as fair as I can, while still writing from the vantage point of someone who has stayed in a number of 5-star hotels over the years. So here we go:
One of the things I liked best about the hotel was the ability to get there entirely on mass transit. You can also do this with a number of other Bangkok hotels, but the St. Regis is actually directly connected to a BTS station, Ratchadamri, making it even easier. Now, it's not a straight shot from the airport, so this is still not for you if you're traveling with a lot of luggage. But when I travel solo, I never check anything, so I just had a small rolling suitcase and was able to take the airport link to Phaya Thai, transfer to the Sukhumvit Line and go two stops to Siam, then transfer to the Silom Line and go one stop to Ratchadamri. Like I said, not for everyone, but I wasn't in a huge hurry (it took me 45-50 minutes) and when I'm not time pressed, I prefer safe, clean and air-conditioned mass transit to taxis that may or may not be in a safe condition, that may or may not have a tampered meter, safe driver, air conditioning, etc.
Since I was arriving rather late in the day, there was no wait to check-in. The associate checking me was polite enough, but there was no warmth, she seemed a bit unsure of how to do things, and she didn't speak English that well. I had booked a package that included an upgrade, Internet access, complimentary breakfast and $25 food credit, but she didn't refer to the room type I would be in, didn't refer at all to my request to have a view of the Royal Bangkok Sports Club, didn't tell me where breakfast would be served, and also didn't seem to be able to see my SPG Gold status in her system, since towards the end, she asked as an afterthought "Are you an SPG Member?" Instead, she pointedly told me that my $25 food and beverage credit excluded room service, and that I'd need to check out by 12 noon, because they were fully booked the next day. At that point, I just wanted to get to the room, so I refrained from having a discussion right then about guaranteed 4pm late checkout for SPG Gold for all SPG properties that are not resorts or conference centers.
She did escort me to the room, a Grand Deluxe, which was side facing with a view of the pool and, if you craned your neck, you could see the Royal Bangkok Sports Club. So at least there was a partial view, although the view was definitely one of the worst for Grand Deluxe Rooms, since it was almost all the way to the end of the hallway, so the view was primarily of the rest of the hotel and the pool.
The room itself was modern and new (as it should be, since the St. Regis Bangkok is so new, having only opened in April 2011, just over a year ago).
The bathroom was a highlight, with a standalone tub (although made not of porcelain but of some plastic type material–seemed a bit cheap) and glass enclosed shower: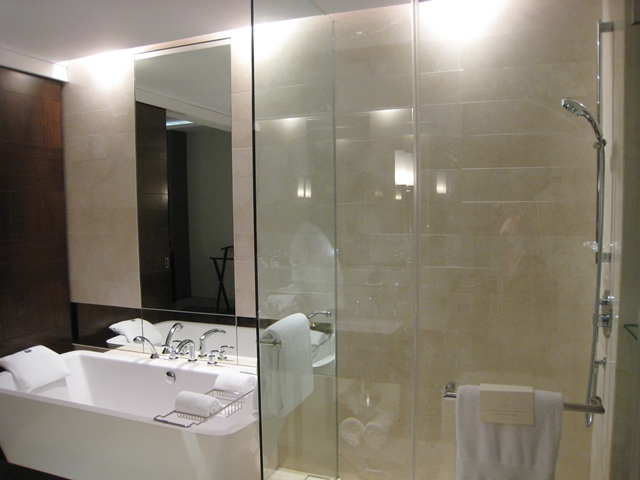 Dual vanities would be convenient if traveling with a partner: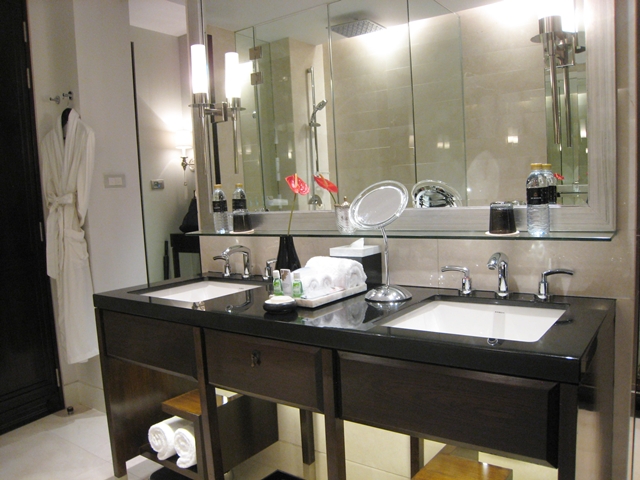 There was a large flat screen and music already playing when I entered the room, presumably part of the evening turndown service:
And some interesting candies in little woven baskets. At first I thought they were marzipan, but the flavor was more like pandan. They weren't bad, but I'd have preferred good quality chocolate.
I would have liked to enjoy a wine tasting at Decanter as I had at the St. Regis Singapore, but unfortunately at the St. Regis Bangkok this is only complimentary to SPG Platinum members (and, according to some on FlyerTalk, it can be hard to get this benefit and decent service due to the hotel also promoting it as a paid event). To me, if the St. Regis wants to have a more coherent brand image, it should align these kinds of policies across hotels, especially if they're going to have a bar with the same name, Decanter. Something that was a little highlight of my stay at the St. Regis Singapore turned into a disappointment at the St. Regis Bangkok.
Similarly, if a hotel is going to promote butler service, it should make that a true highlight in its service offerings and standardize what that means. Should the Butler proactively introduce himself or herself to a guest? Because if I had one at the St. Regis Bangkok, mine didn't. Which complimentary drinks may a guest ask the Butler to bring? In my room at the St. Regis Singapore, there was a list. At the St. Regis Bangkok, there wasn't. In fact, it would have been helpful to have had a card with my butler's name and examples of the kinds of help he or she could provide. Otherwise, butler service very quickly just becomes one of those "paper benefits" at best, or at worst, a disappointment to a guest because it doesn't provide the assistance or services the guest had hoped for.
As I really had not planned on checking out at 12noon, I decided to phone my Butler about this, hoping he or she would be more up to speed with SPG member benefits, but whoever answered barely seemed to understand English, and before I even finished my request had transferred me to the front desk. It was probably the same associate who had checked me in, as she seemed a bit impatient with my request to honor 4pm checkout. She insisted they were full, and then made it seem as if she was doing me a big favor by allowing me to check out at 2pm. As usual, I decided to thank her, hang up, double check SPG policies, then call back, hoping to get someone else. No such luck. Since I had no one else to deal with, I decided to be firm. "Look, SPG policies entitle me to a 4pm late check out. Would you like me to get someone from SPG involved so that this benefit can be honored?" She went to check with someone, and after a couple minutes confirmed I would have 4pm check out.
What a difference this was from the St. Regis Singapore, where my SPG Gold status had been recognized at check-in, the associate had gone so far as to grant me a double upgrade, and he assumed that I would be taking advantage of the 4pm late checkout.
The next day, by craning my neck I was able to take this photo of the Royal Bangkok Sports Club grounds: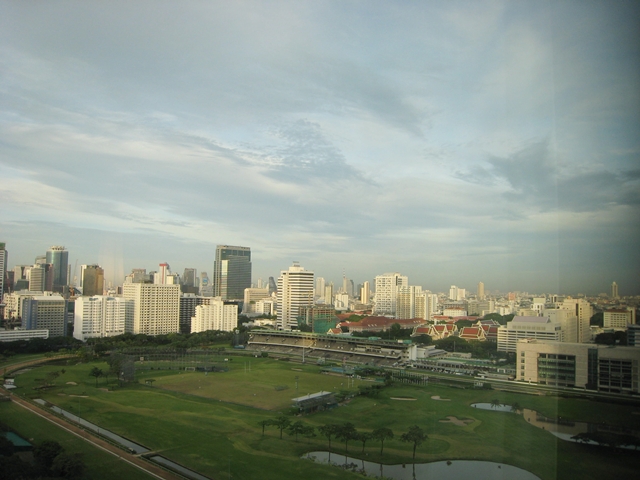 Breakfast the next morning, once I learned where it was (Viu Restaurant) was good, although as others have remarked, not as extensive as some of the other breakfast buffets in Bangkok, Singapore, or elsewhere in Asia.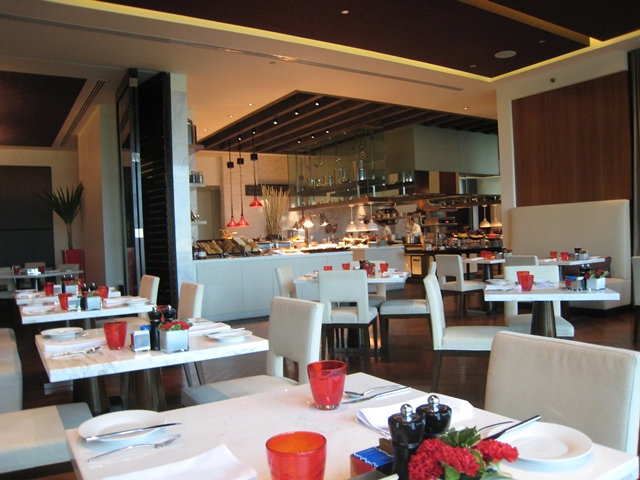 I liked the fish station, which included smoked salmon and little dishes such as ahi sashimi (although only later did they put out soy sauce and wasabi for this).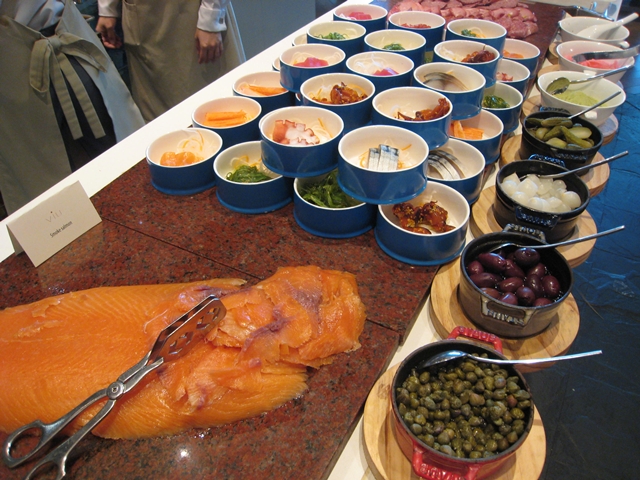 I ordered a duck noodle dish from the cooked to order noodle bar, and it was fine, although not memorable, and could have used more Thai basil: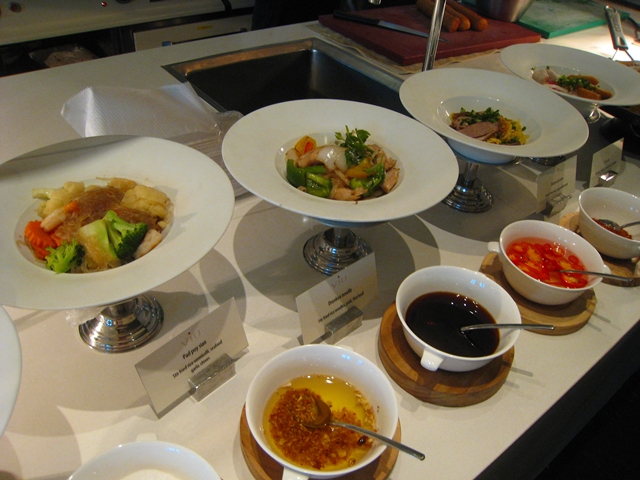 Pastries were ok, but not as good as at The Peninsula, and jams were not as high quality either:
Anyone who likes stinky durian would be in luck, since the fruit buffet included it. I liked the fact that there was pomelo, but wished their pineapple were better quality and that there was mango. There was mango juice, however.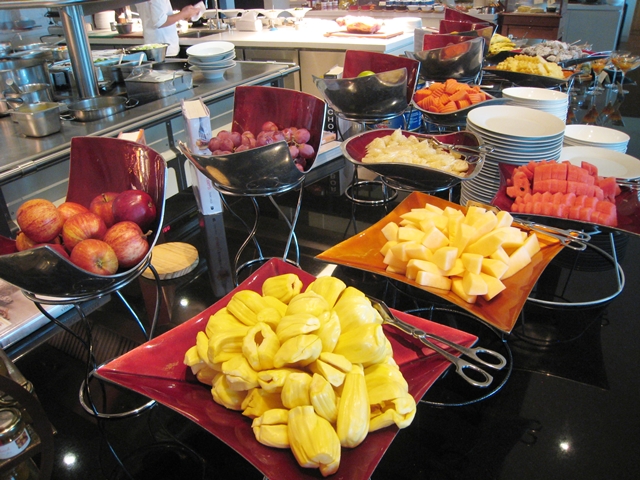 I should also mention that the cappuccino was done very well.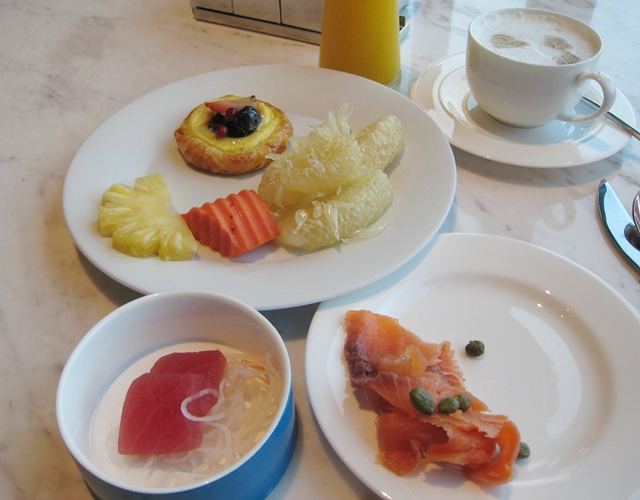 There's an outdoor pool, but although I did see some people in it, it seems more of a display pool than one for actual swimming: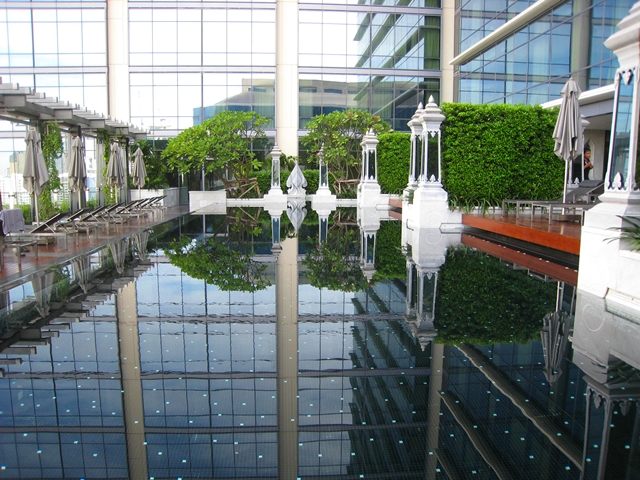 The fitness center, as usual, was pretty empty, so any workout fiends should have no problems keeping up their routine: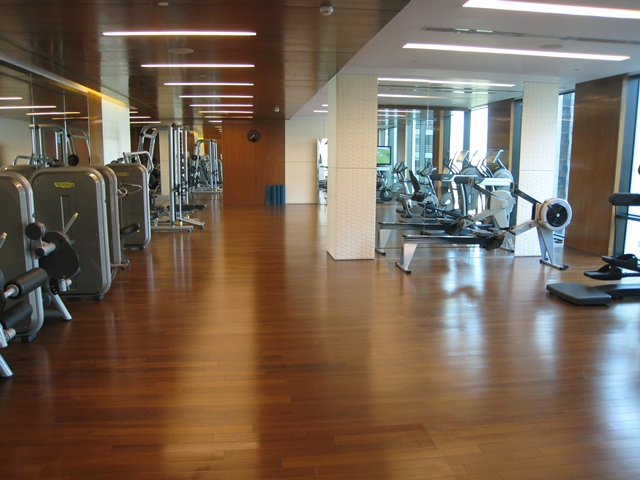 The spa wasn't as nice as the St. Regis Singapore. For one, I had to ask for a robe, instead of it being in the locker (only slippers were in the locker). For another, there weren't any of the little amenities you expect: a comb, razor, cotton balls, etc. I was at first excited to see what seemed to be a hydrotherapy pool, then realized it was freezing cold water. For massaging sore muscles, the water should be warm. There was a jacuzzi next to it which I used, but no hydrotherapy there.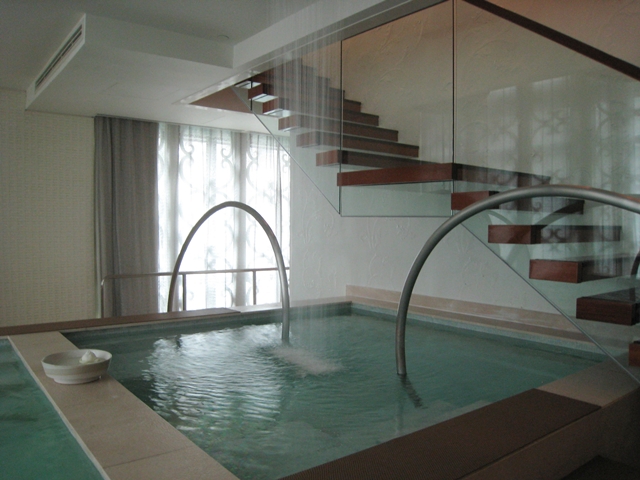 I also missed the warm stone loungers, although there were interesting looking "egg" type lounges. Form over function though, as they weren't that comfortable to lounge in.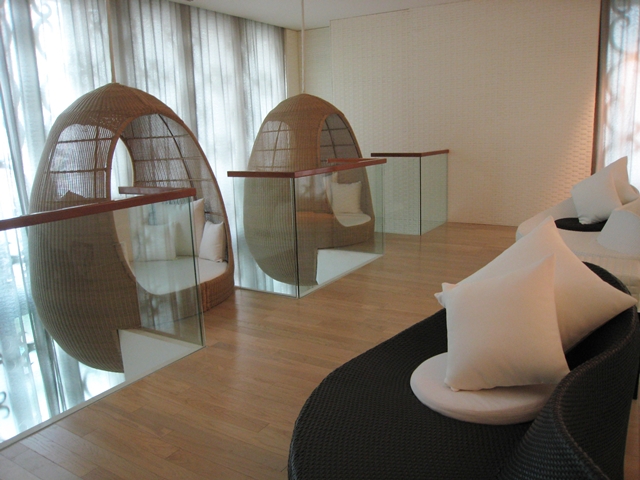 Another disappointment was that, when I tried to go enjoy my $25 credit on a buffet lunch at Viu, the restaurant wasn't open to guests due to a wedding party. No one had mentioned this at check-in, nor was there any kind of notice about this in the guest room, as one would expect when a hotel restaurant or facility isn't open to guests.
Verdict: This was easily my most disappointing 5-star hotel stay of the past 2-3 years, and among my most disappointing SPG stays ever. That's not to say it's a bad hotel–it's not, and its rooms are among the most modern and well appointed in Bangkok. Rather, my disappointment stems from expectations I had, rightly or wrongly, based on my stay just days earlier at the St. Regis Singapore. While the stay there wasn't perfect, everyone without exception there was eager to recover from any service lapses and to more than make up for them. That wasn't the case at the St. Regis Bangkok, where I felt like I had to battle for a standard SPG perk with a passive aggressive associate, where butler service was MIA, and where in general I felt like a second class citizen due to a large wedding taking over the hotel. So perhaps it was just bad luck to be there on those days, but my overall impression wasn't positive. Anyone who mostly cares about the hard product and needs a modern, conveniently located hotel at a very reasonable price, however, would do well to pick the St. Regis Bangkok.
As an aside, this is one hotel where I would not advise using Cash & Points to book, because normal rates through the hotel, and especially through TravelSort, are so reasonable that it's not worth wasting 8000 SPG points and paying $150 plus taxes; you'll do better with a cheap revenue rate. TravelSort's Visa Signature Rate comes with the perks I received (room upgrade, breakfast, $25 food and beverage credit, complimentary Internet) and also earns Starpoints and Starwood stay credit, so there's very little reason to book a Cash & Points rate at this property, unlike at others, such as The Royal Hawaiian or expensive European properties, where it can be a great deal. See Best Ways to Use SPG Points.
Also note, if you're an SPG Platinum, that due to the volume of SPG member, including SPG Platinum stays, your most typical upgrade will be to a Grand Deluxe Room or a Metropolitan Suite (all Metropolitan Suites face the city, not the Royal Bangkok Sports Club) and it's rare that you'll receive an upgrade to one of the 15 Caroline Astor Suites, which are corner suites facing the Royal Bangkok Sports Club. Contrary to most city hotels, the St. Regis Bangkok tends to be just as if not more busy on weekends with leisure travelers or groups (such as the wedding party that took over the hotel during my stay), so if anything you may have a better chance early in the week, during low season, usually considered May to August.
Here are a couple photos from one of the much coveted Caroline Astor Suites: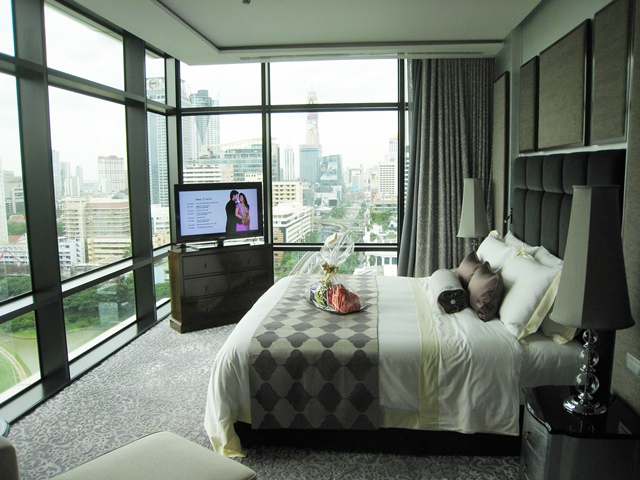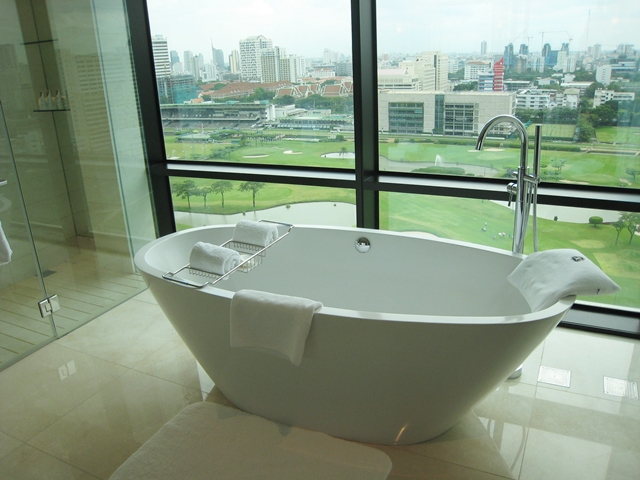 Related posts
St. Regis Singapore Hotel Review
Peninsula Bangkok Hotel Review
Bangkok, Land of Gilded Temples
Need Award Booking Help? Our fee is as low as $75 per ticket if you book your hotel through us.
If you enjoyed this, join 100,000+ readers: please follow TravelSort on Twitter or like us on Facebook to be alerted to new posts.
Become a TravelSort Client and Book 5-Star Hotels with Virtuoso or Four Seasons Preferred Partner Amenities!