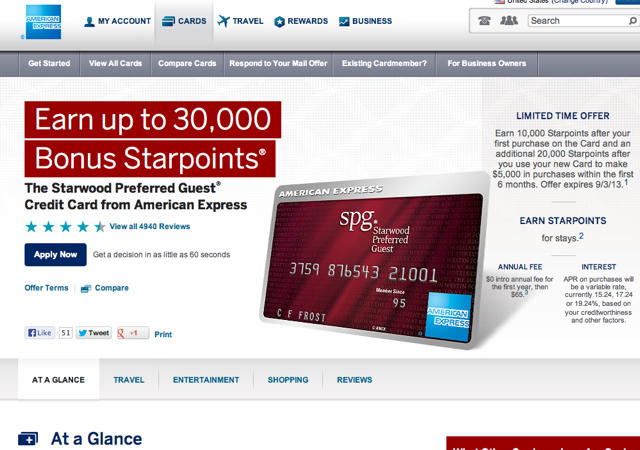 The Starwood Preferred Guest American Express 30K bonus points offer is back. Given that other credit cards can have 100,000, 75,000 or at least 50,000 bonus points offers, it's a legitimate question to wonder if the SPG AMEX 30,000 points offer is worth it, for $5000 minimum spend. I don't receive an affiliate referral for this card, so I'll give my unbiased opinion with pros and cons, to help you decide whether it's worth it for you.
First, the details.
Note: These is a personal SPG AMEX and a business version; they are different products and you can apply for both to earn two bonuses. The details are similar:
Earn 10,000 SPG points after first purchase
Earn 20,000 additional SPG points after spending $5000 within the first 6 months
Earn 2 extra SPG points per $1 spent on Starwood hotel spend (so 4-5 points total including the 2-3 points from the SPG program)
No annual fee the first year, then $65
Offer expires 9/3/13
Not available to applicants who have had this product within the last 12 months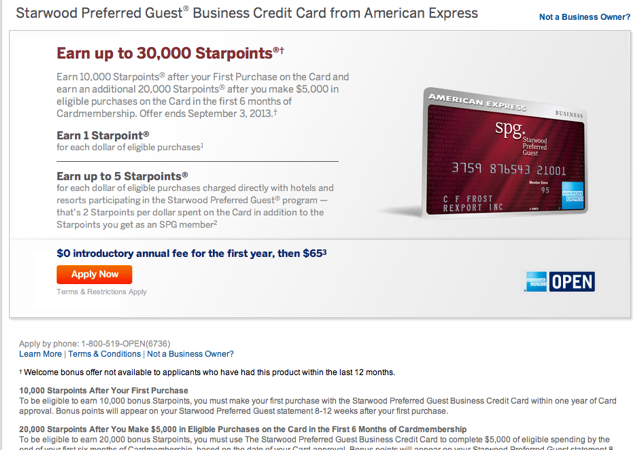 Pros: Why It's Worth Getting the SPG AMEX
1. The 30K Bonus Is As Good As It Gets
The usual bonus for the SPG AMEX card, either in the personal or business version, is 25,000 Starpoints. So with the current offer, you'll earn 5000 more Starpoints than usual. While there perhaps are targeted offers for more Starpoints, as far as public offers go, 30,000 points is as good as it gets.
2. SPG Points Are Useful for Topping Up Airline Partner Accounts
You can transfer SPG points to tons of airline partners, usually at a 1:1 ratio, with the notable exception of United MileagePlus (that's what Ultimate Rewards points are for). And for airlines such as Alaska, if you don't fly it much, the main way to earn miles is with the airline's own credit cards, such as the Alaska Visa, and with transfers from SPG. Also see
Starwood Preferred Guest Airline Transfer Partners: Turn SPG Points into Miles
3. SPG Points Offer a Built-In 25% Transfer Bonus for Airline Partner Transfers in Increments of 20K Points
This is the biggest draw for many of SPG points: the built in 25% transfer bonus to airline partners for transfers in increments of 20,000 SPG points.
4. For Non-Bonused Spend, SPG AMEX Earns an Effective 1.25 Miles Per Dollar
As a corollary to the above transfer bonus, this means that if you use your SPG points exclusively for transfers in increments of 20,000 points to airline partners, you're earning an effective 1.25 Miles per dollar spent. While this isn't much compared to 5X category bonuses using the Ink Bold or Freedom 5X bonuses, it does apply to a wide range of airline partners and can be a good use of spend that doesn't otherwise earn any kind of category bonus.
5. If a Few Nights Shy of Elite Status, 2 Stay Credits/5 Night Credits Can Help
If you're a few nights shy of Starwood Platinum status, it can be worth getting one or both cards for additional stay credits/night credits towards elite status. Note that you're only supposed to get 2 stay credits/5 nights per card product, but some who have multiple SPG cards have reported earning the 2 stay/5 night credits per card, which can be pretty valuable if you stay a lot at Starwood properties and are able to make it to Platinum status that much faster. Your mileage may vary.
It's not worth just using the card to help achieve Gold status if you have or plan to get the AMEX Platinum however, since that card comes with SPG Gold status. Plus, just by having the card you have Starwood Preferred Plus status, which gives you 4pm late checkout and the chance of an upgrade to a preferred room.
Cons: Why It's Not Worth Getting the SPG AMEX
1. Opportunity Cost: Could Earn More Miles, Points or Perks with $5000 Spend
2. SPG Points Don't Transfer Instantly to Airline Miles
Some of my
Award Booking Service
clients have significant SPG points balances, which is great, except that, unlike Ultimate Rewards points and AMEX Membership Rewards points, transfers to airline partners aren't quick, much less instant. In several instances the award space we wanted disappeared before the transfer was complete. This is why, even though I do value having some SPG points to top up accounts and to diversify, I don't go out of my way to earn SPG points–I mainly try to replenish the ones I've used.
3. SPG Cash & Points Devaluation Means Fewer Hotel Redemption Values
4. Top Starwood Hotels and Resorts Only Offer Overpriced Free Night Awards
Fancy a night at the St. Regis Resort in Bora Bora? Keep saving those Starpoints, since it's 120,000-140,000 Starpoints *per night.* The W Maldives? That will be 90,000 to 140,000 points per night. Even if you're willing to settle for the St. Regis Princeville, it's 30,000-35,000 SPG points–basically even the increased 30K bonus will only cover 1 night, in the basic entry level room.
5. Foreign Transaction Fees = Don't Use This Card Abroad Or On Foreign Currency Transactions
With so many other
credit cards with no foreign transaction fee
, it's annoying that except for the Platinum AMEX, all AMEX cards, including the SPG AMEX, still charge a foreign transaction fee. So forget using this card abroad or for any foreign currency charges, even in Canada, unless you're willing to eat the forex fee.
6. Elite Night and Stay Credits Do NOT Count Towards Lifetime Elite Status
This isn't surprising, but for anyone wondering–no, the 2 elite stay credits/5 elite night credits that come with each card do NOT count towards lifetime SPG elite status. But don't forget that award stays (free nights, Cash & Points) and paid stays do count. Also see
Do SPG Cash & Points Award Stays Earn Elite Status?
If You Get the SPG AMEX, Consider Applying for Other Credit Cards At the Same Time
If you decide to go ahead and apply for the SPG AMEX, consider applying for a few other credit cards at the same time. It's better if issuers don't see a bunch or recent inquiries, which is why it's good to apply for all your credit cards on the same day, as close together as possible. Here are my suggestions:
The $440 credit towards travel and no foreign transaction fees comes in handy for international connecting flights on small carriers that aren't part of rewards programs, and for paying award taxes and fees or change fees. And the reason I recommend applying for this card first is that Barclay's is very picky when it comes to seeing a lot of recent inquiries–so best to get approved for this card BEFORE you do a ton of new credit card applications.
Also see:
Barclays Arrival Card Review
3. United MileagePlus Explorer: 55,000 United Miles
Even if you can't get to the application page as described in
United MileagePlus Explorer 65,000 Bonus Miles Offer Tips
, TravelSort readers have recently commented that you can potentially get this offer, albeit with $2000 minimum spend, from your local Chase branch (thanks Elizabeth!) and send a secure message to receive a $50 statement credit (thanks Robert!)
4. SPG AMEX: 30,000 SPG Points
If you're a big spender or minimum spend isn't a problem for you, you could go ahead and get both the SPG AMEX personal and business versions in order to earn 60,000 SPG bonus points after $10,000 total minimum spend on the two cards. Just ensure you haven't had the SPG AMEX card that you're applying for within the past 12 months, so that you're eligible for the bonus.
The Verdict: SPG points are best used for airline transfers, given the 25% transfer bonus for transfers in increments of 20K points, but the time required for the transfers means you'll need to transfer proactively or hope the award space is still there once the transfer is complete. Hotel award nights at top SPG properties are expensive and Cash & Points awards offer few values post-devaluation. But it's still handy to have SPG points to top up accounts, diversify miles and points and to give yourself options, so if the $5000 minimum spend isn't too big an opportunity cost, you may as well apply for the personal and/or business card if you're eligible and haven't had the same card within the past 12 months. That said, this is a card I would cancel before the annual fee comes due in the 2nd year.
Related Posts