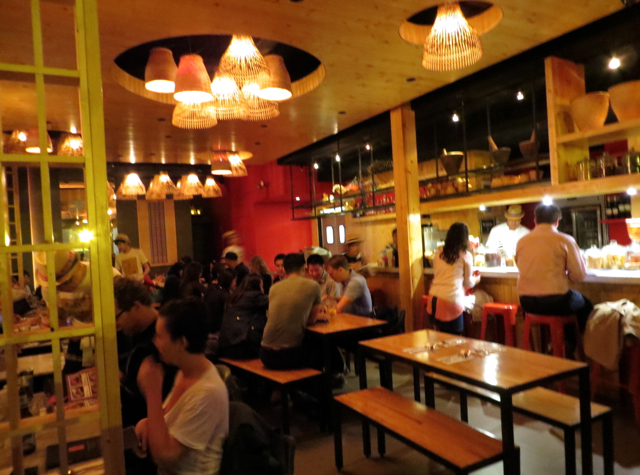 This Somtum Der NYC Review is one of our many NYC Restaurant Reviews. Visiting New York? See all of our posts tagged NYC.
Regular readers know that my favorite Thai food is Isan, from northern Thailand. It tends to be spicier and more fragrant, with more chili, herbs and lime, and less sugar. Mainstay dishes are som tum (green papaya salad), larb (minced meat mixed with chili, herbs and topped with toasted rice powder), sticky rice, and grilled meats served with jaew sauce (an Isan dipping sauce made with lime juice, fish sauce, palm sugar, dried red chili, and toasted rice powder).
I've been meaning to try Somtum Der for awhile, since it's not that far from our usual go-to Isan place, Zabb Elee. Somtum Der opened in NYC in September 2013, and it's actually a Thai import, given that the original Somtum Der is in Bangkok, opened in 2012 by friends Thanaruek Laoraowirodge and Kornthanut Thongnum who have an affinity to the Isan region of Thailand. I finally made my first trip to Somtum Der this past weekend, of course using my Chase Freedom thanks to 5X for all dining (see Activate Chase Freedom 5X Q2 2014 Bonus for Restaurants).
Getting To Somtum Der NYC
Somtum Der's NYC restaurant is located at 85 Avenue A in the East Village, Alphabet City. If taking the subway, the closest subway station is the F line's 2nd Avenue stop, or you can walk from the L line's 1st Avenue stop or from Astor Place on the 4 or 6 train.
Alternatively, take the express 15 Select bus service to Houston, than walk up Avenue A.
The Scene
Somtum Der definitely has more style than most Thai restaurants in the city. It's a lively spot, as you'd expect for the East Village, and with its communal tables not as romantic, as, say, Up Thai or trendy Laotian Khe-Yo in Tribeca, but the space is inviting, with its open kitchen, wooden walls and tables, and distinctive lanterns based on "huad," the sticky rice steaming baskets, and "soom," traditional Thai fish traps.
I arrive a little after 7pm, and most of the tables for two were already occupied by young couples, with several small groups of friends at the larger tables, but I was the first person at the bar area by the window, facing Avenue A. In just the next 20-25 minutes, however, all the other bar seats near me were occupied, so consider getting to Somtum Der on the early side if going on a weekend night.
Somtum Der NYC Menu and Food
Somtum Der's menu is focused on Isan, which I was happy to see. As at Zabb Elee, there are multiple options for Somtum (green papaya salad), right on the first two menu pages, so that is a must-order. Portions are purposely small so that you can try a variety of dishes, so if there are more than two of you, consider ordering a couple varieties of somtum.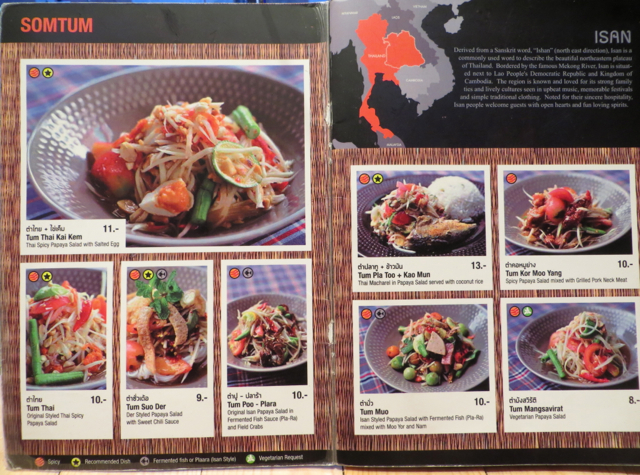 Subsequent menu pages feature deep fried items, grilled meats, and several varieties of larb salad and soups: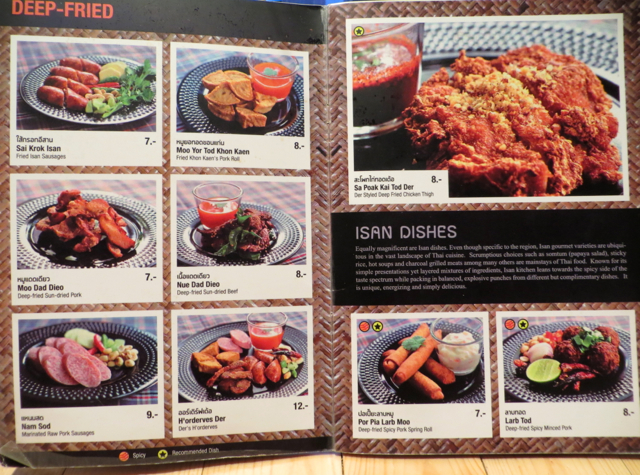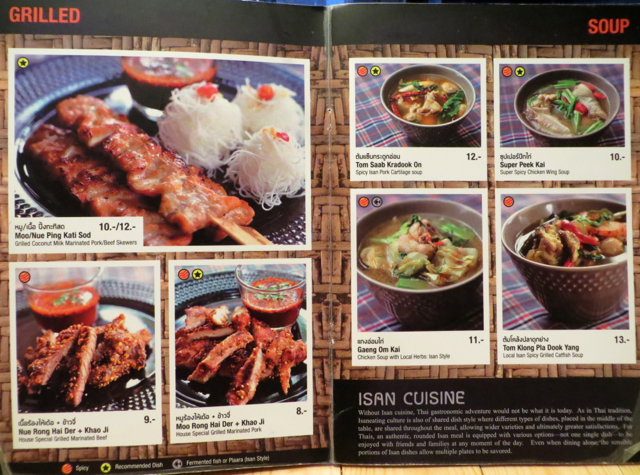 In case you or any dining companions can't tolerate spice and chilis too well, there are also Central Thai noodle and rice dishes. But honestly, you're in the wrong place if you came here to order Pad Thai.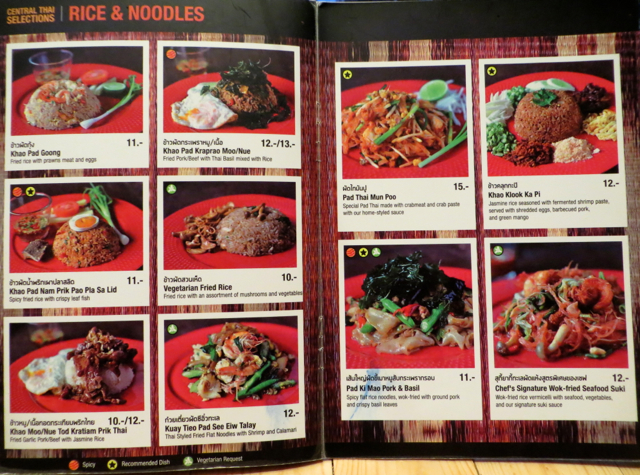 Since it was just me, I ordered green papaya salad with grilled pork, deep fried chicken thigh with jaew dipping sauce, and grilled sticky rice.
The somtum arrived first, and while it doesn't look like much in th photo, it was delicious, and plenty spicy and delicious. I ordered it at the 3 chili level (spice levels range from 1 chili to 4 chilis) and it was perfect for me–and I love spicy food. As at any authentic Isan restaurant, I recommend that you *not* order the spiciest level (4 chilis at Somtum Der) unless you're a native Thai or regularly eat similarly spicy hot food.
I liked the grilled pork in the somtum, but I will say that due to the smaller portion size, it's not as good value as Zabb Elee's, which can easily feed 3 as a side dish.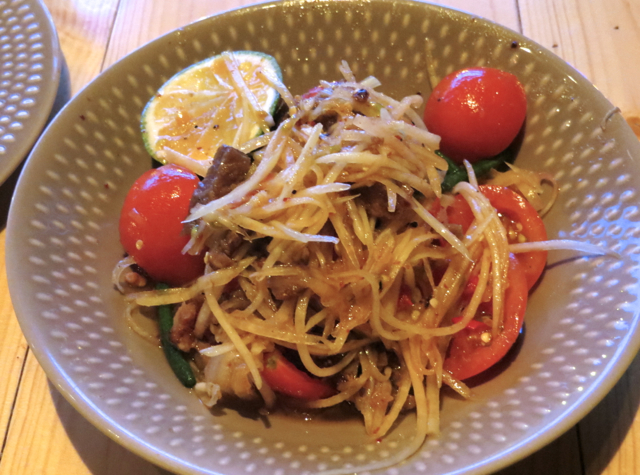 Next, the Sa Poak Kai Tod Der (deep fried chicken thigh) with jaew dipping sauce and the grilled sticky rice arrived. While I don't normally order or eat much deep fried food, this was absolutely worth it: ultra crispy skin, tender meat inside, adorned with fried shallots and perfectly complemented by the spicy sour jaew sauce. I just know that my husband and the munchkin, who like fried chicken even more than I do, will go crazy for this dish.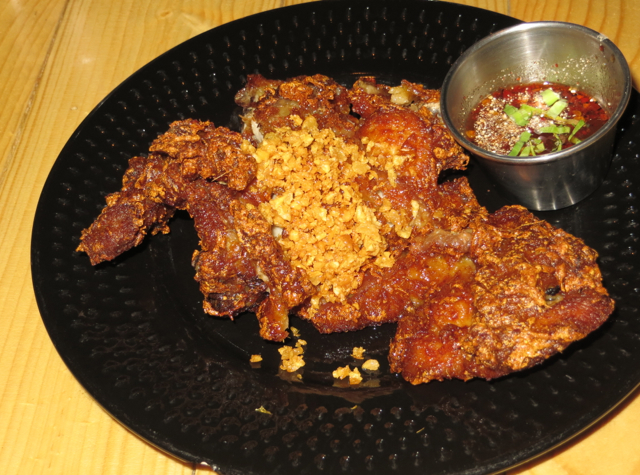 I've never seen grilled sticky rice on a Thai menu in NYC, even though it's probably a common street food in Thailand. Somtum Der's version was addictive, with its coconut and nutty flavor enhanced by the grill.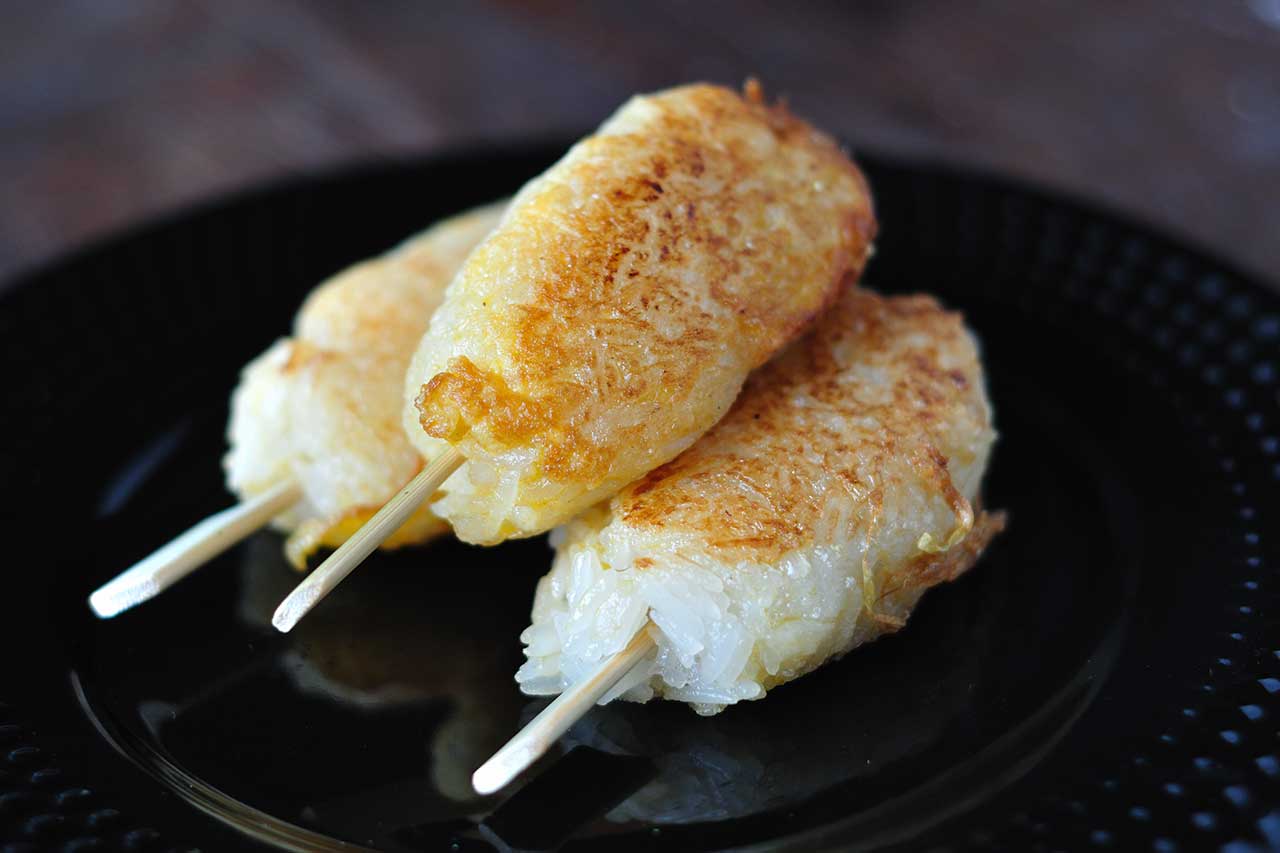 The Service
Somtum Der's service was very good, especially considering how busy it was when I was there. I was immediately welcomed when I arrived, and led to a bar stool, although I did ask to sit at the window instead of facing the wall, which was accommodated.
I apparently look Thai enough that one of the servers started speaking to me in Thai soon after sitting down (then again, I'm used to "passing" for a local in places ranging from Japan to Russia to Kyrgyzstan) but she soon realized I didn't understand a word, and apologized, then spoke to me in English.
My food arrived quite quickly, water was refilled promptly, and they were gracious enough to pack up my leftovers and also include some fresh jaew sauce, which I'd requested, at no extra charge.
The Verdict
While I wish that it was a little easier to get to, since I don't live in the East Village, Somtum Der may well become our new favorite Isan Thai restaurant in NYC. We'll probably continue to get takeout from Zabb Elee, particularly when there's a Seamless discount code since it's a bit more convenient to us and cheaper, but for eating in, I can't wait to try more of Somtum Der's dishes. It's a bit more expensive than Zabb Elee taking into account the smaller portions, but it has a great vibe and if other dishes are even nearly as good as as the Sa Poak Kai Tod Der, it's worth it.
If you've tried Somtum Der in NYC (or in Bangkok) what was your experience?
Related Posts
Zabb Elee NYC Restaurant Review
Khe-Yo NYC Restaurant Review: Laotian in Tribeca
Perbacco NYC Wine Bar and Restaurant Review
Best Thai Food in Seattle: Pestle Rock Restaurant Review
Where to Eat in NYC: The Best Places New York Restaurants Right Now
Need Award Booking Help? Our fee is as low as $75 per ticket if you book your hotel through us.
If you enjoyed this, join 150,000+ readers: please follow TravelSort on Twitter or like us on Facebook to be alerted to new posts.
Become a TravelSort Client and Book Your Hotel with Virtuoso or Four Seasons Preferred VIP Amenities!