This Solano at the Four Seasons Marrakech Restaurant Review is part of a trip report including Iberia Business Class, plus reviews of luxury hotels and dining in Marrakech, Morocco. For the prior posts, please see:
British Airways Galleries Lounge at JFK Terminal 7 Review
Iberia New Business Class A330-300 Review
Getting to Solano at the Four Seasons Marrakech
Solano Restaurant is at the Four Seasons Marrakech, about 10 minutes by car from Marrakech Airport, and 10-12 minutes by car from the Medina. We paid 10 EUR + tip for our pre-arranged meet and greet airport transfer to the Four Seasons Marrakech.
The Scene at Solano
Solano offers an international breakfast buffet in the morning from 7-10am, which is where you'll likely see more guests in one place than at any other time if you stay at the resort. There was a good mix of both young and older couples as well as families, with most of the guests from the UK and France, but also from the U.S. and other countries.
In the morning Solano is light-filled, with a cheery vibe. Here's the munchkin ready for breakfast: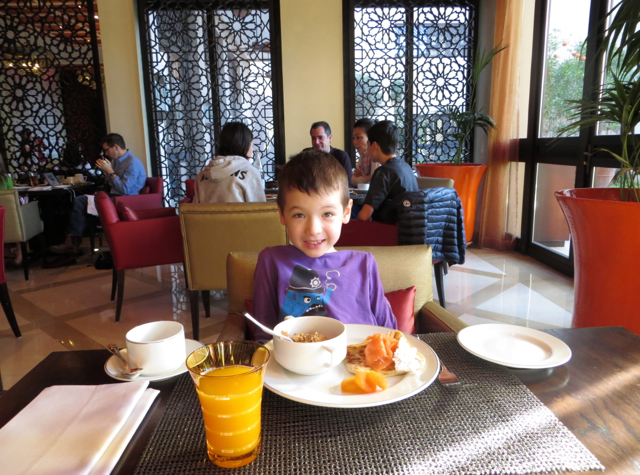 For the Moroccan Feast we attended, Solano was transformed into a romantic, exotic setting. There were some other families seated, but with the live Moroccan music, candlelight and abundance of red roses, it was perfectly suited to the couples who had dressed for the occasion.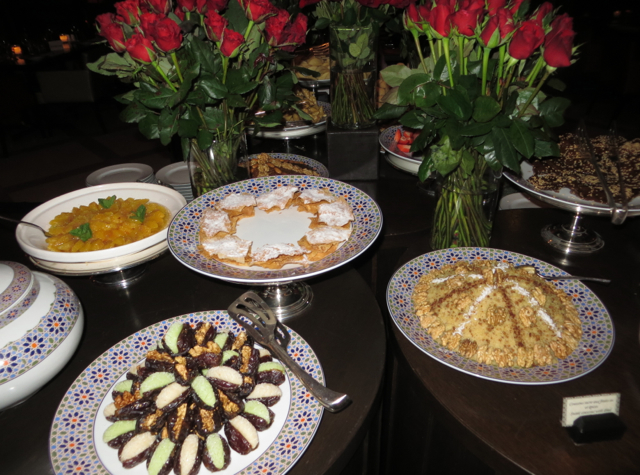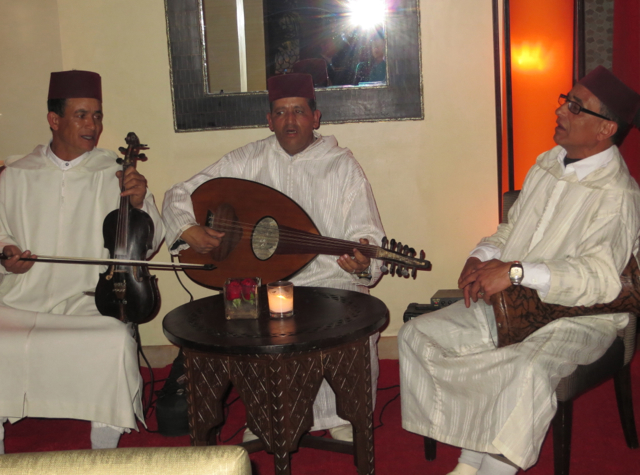 Solano Menu and Food
There's no menu for the breakfast buffet, which you help yourself to, but a wide variety of both international and Moroccan dishes is offered. When you're seated, you're asked if you would like orange juice, which is some of the best tasting fresh squeezed orange juice we've had anywhere. You're also asked if you would like coffee, and they'll gladly make you an espresso drink, and prepare hot chocolate for kids.
Don't forget that Solano's breakfast buffet is complimentary if booking the Four Seasons Marrakech as a TravelSort Client, thanks to Four Seasons Preferred Partner benefits.
Fresh fruit included watermelon, oranges, mango, pineapple, kiwi and strawberries: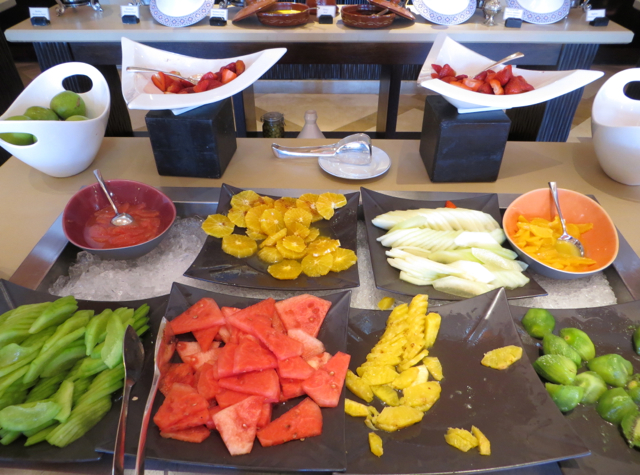 I loved that there were Moroccan dishes, from traditional eggs poached with spicy Harissa sauce to different types of Msemen Moroccan Flatbread, Moroccan doughnuts, and couscous.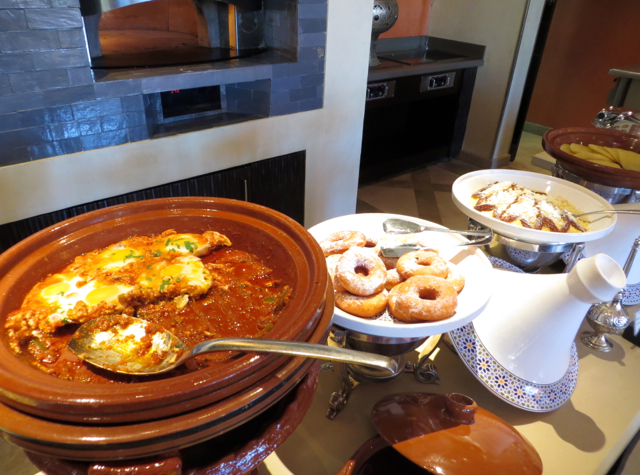 Here's what my first breakfast plate with the Moroccan egg dish, smoked salmon, fresh fruit and couscous looked like: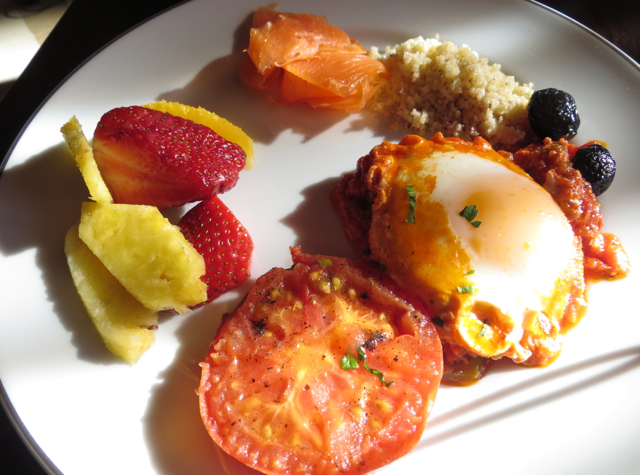 There were croissants, muffins, pastries, and even a very good apple tart as part of the breads and pastries on offer: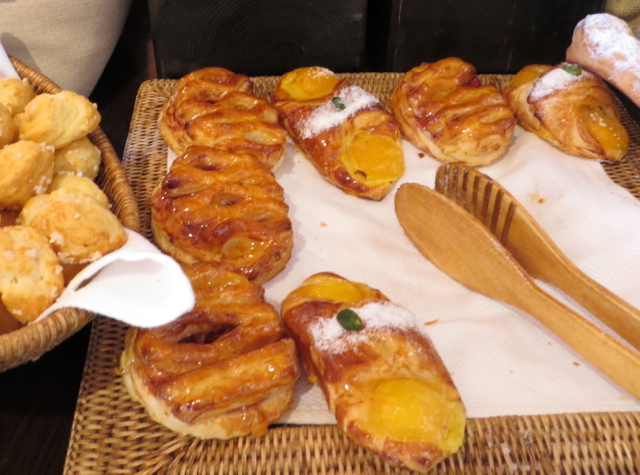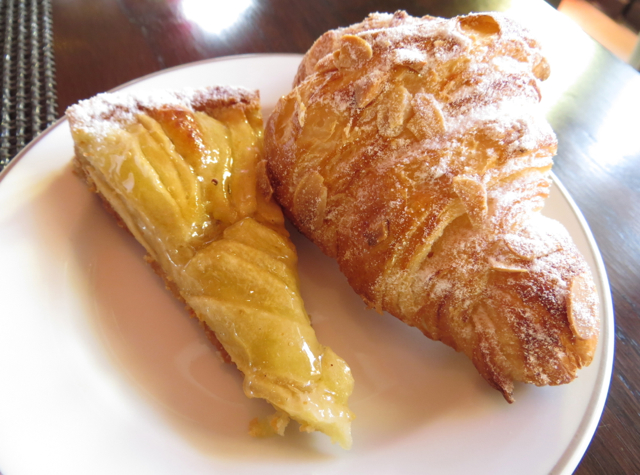 We also helped ourselves to seemingly housemade strawberry yogurt, and to a nice selection of French cheeses. There was also an omelet station, although we didn't have occasion to try it given all the other buffet choices offered.
The Moroccan Night was also buffet style, and presented if anything even more choices of deliciously prepared, authentic Moroccan dishes.
One of my favorite Moroccan specialties is bastilla, which is traditionally made with pigeon or squab, and is a savory-sweet dish with a filling of shredded meat flavored with saffron and ras-el-hanout (literally, "top of the shop," a special spice blend unique to each spice vendor), encased in flaky phyllo pastry and finished with a dusting of powdered sugar and cinnamon. I preferred the large baked version offered at Solano's Moroccan Feast Night to the individual fried version that we ate via room service the night prior, although both were tasty.
There was an array of salads, both Moroccan and Mediterranean to choose from: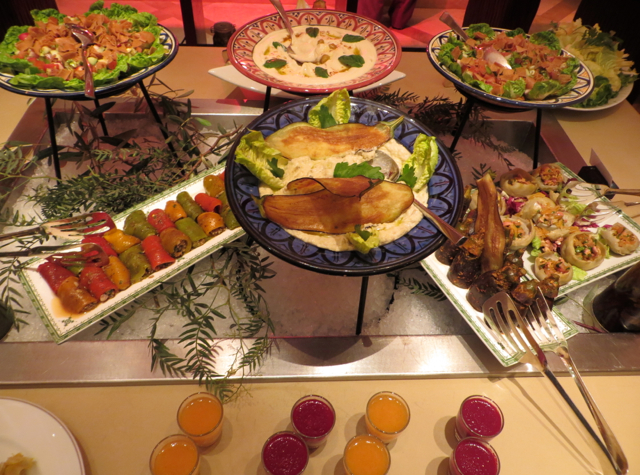 One of the munchkin's favorite dishes was the lamb with Mrouzia sauce, deliciously sweet from the honey and almonds, pictured on the right of the plate (bastilla is on the left):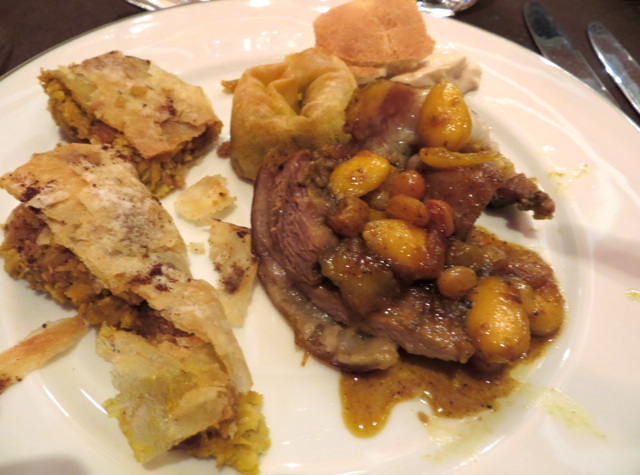 There were also individual tagines prepared to order, so we enjoyed a chicken one, simply flavored with saffron, raisins and a bit of chili: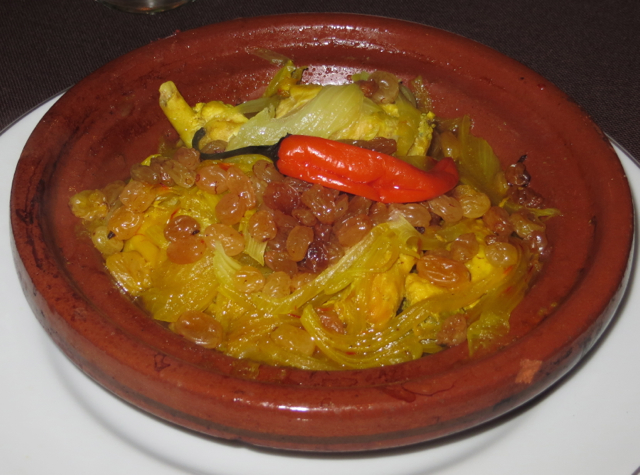 The dessert table was stunningly displayed, thanks to the beautiful red roses. We selected some baklava-like pastries and house-made yogurt, but didn't have room to sample much given the delicious courses we'd just enjoyed.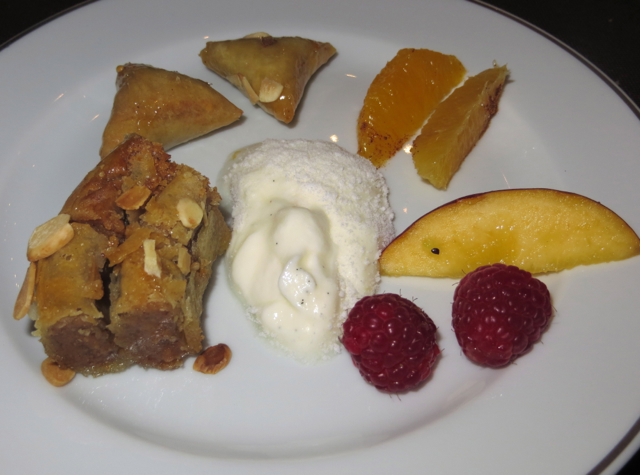 The Service
Solano service was exemplary during our visit. At breakfast we were always cheerfully welcomed and led to a table, with plentiful refills of fresh squeezed orange juice. And for our Moroccan Feast dinner, staff went out of their way to check up on us, even though I hadn't made a reservation and they'd graciously made room for us at one of the tables just outside the main restaurant.
All staff that we interacted with were fluent in both English and French, so there was never any language barrier.
The Verdict
Solano Restaurant was a great experience along the three dimensions I focus on: food, service, and ambience. I usually don't have very high expectations for a hotel's "all day" restaurant, so Solano was a very refreshing surprise in terms of its high quality. If I had to nitpick, I'd say that I would have loved some housemade or excellent branded jams and preserves alongside the breads and pastries at the breakfast buffet, and for there to be self-serve water available to guests at breakfast, but those are minor quibbles. And if a Moroccan feast night is available during your stay and you enjoy Moroccan food (or want to try it) I highly recommend making a reservation.
Disclosure: My family and I paid for both dinners at Solano Restaurant, but were guests and enjoyed a complimentary stay and breakfast at the Four Seasons Hotel Marrakech, however the views expressed in this post are my own.
Related Posts
Four Seasons Preferred Partner Benefits
Top Hotels in Madrid, Barcelona, Lisbon, Istanbul and Marrakech
Need Award Booking Help? Our fee is as low as $75 per ticket if you book your hotel through us.
If you enjoyed this, join 90,000+ readers: please follow TravelSort on Twitter or like us on Facebook to be alerted to new posts.
Become a TravelSort Client and Book 5-Star Hotels with Virtuoso or Four Seasons Preferred Partner Amenities!