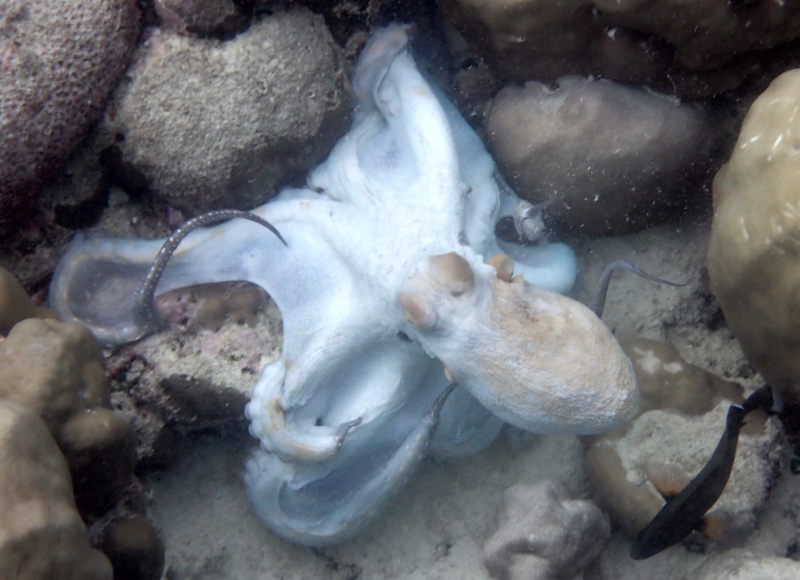 Have you ever seen an octopus while snorkeling? We saw an octopus–actually two of them–while snorkeling at Cheval Blanc Randheli in the Maldives, after taking a 15-20 min. boat ride. The Maldives is one of my very favorite places in the world for snorkeling and scuba diving, and we've enjoyed seeing manta rays, turtles, black tip reef sharks (one even came too close for comfort–see Should You Punch a Shark in the Nose? My Shark Encounter) and all kinds of tropical fish, from Unicorn Fish to Anemone Fish (Clown Fish). But until Cheval Blanc Randheli, I'd never seen an octopus in the Maldives.
While we took a boat ride to a great snorkeling spot, there are also good snorkeling areas right by the resort. Here are the resort's recommended areas for snorkeling, illustrated with red lines: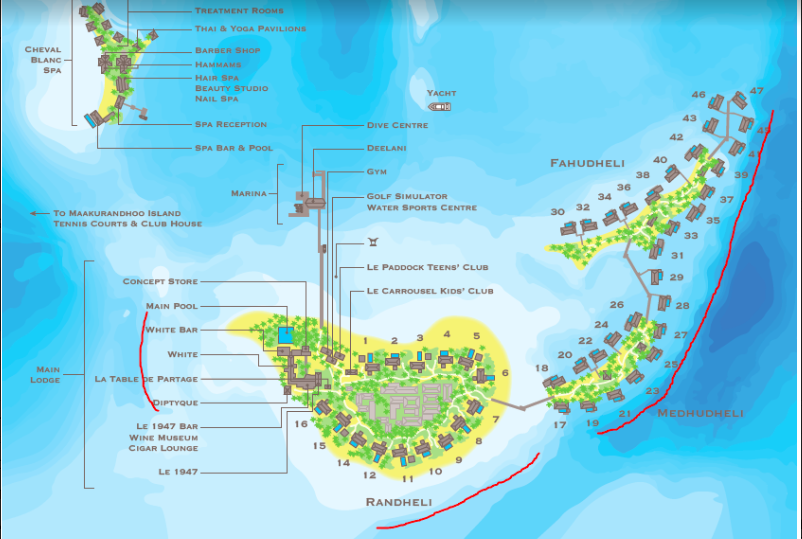 We snorkeled for about 35-40 minutes, and saw a variety of colorful tropical fish:
1. Clark's Anemone Fish
You can "find Nemo" while snorkeling–just look for the anemones, and you're bound to see Clark's Anemone Fish, more commonly called clownfish, nearby. The fish have a special mucous coating that protects them from the anemone stings.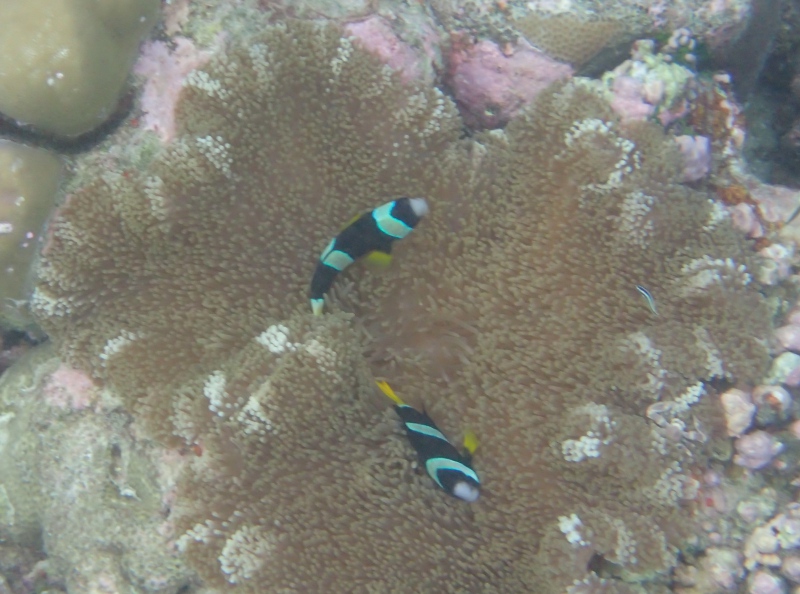 2. Clown Trigger Fish
I love the striking pattern of the Clown Trigger Fish. While I've seen them before, if you'd never been snorkeling and had only seen a drawing of these in a book, you could easily think it was someone's imaginative invention rather than a fish that actually exists.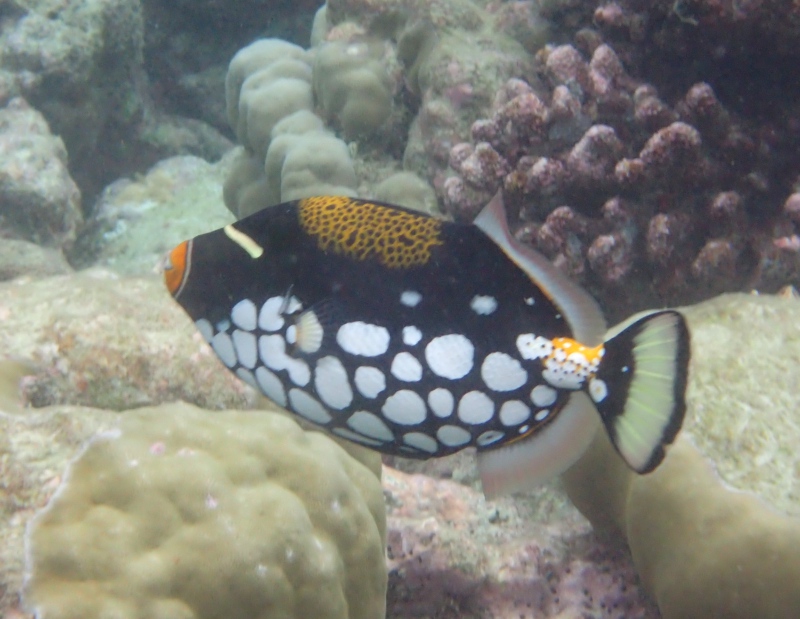 3. Parrot Fish
Enjoy white sand beaches? You have parrot fish to thank for all that sand–they create it by nibbling the coral.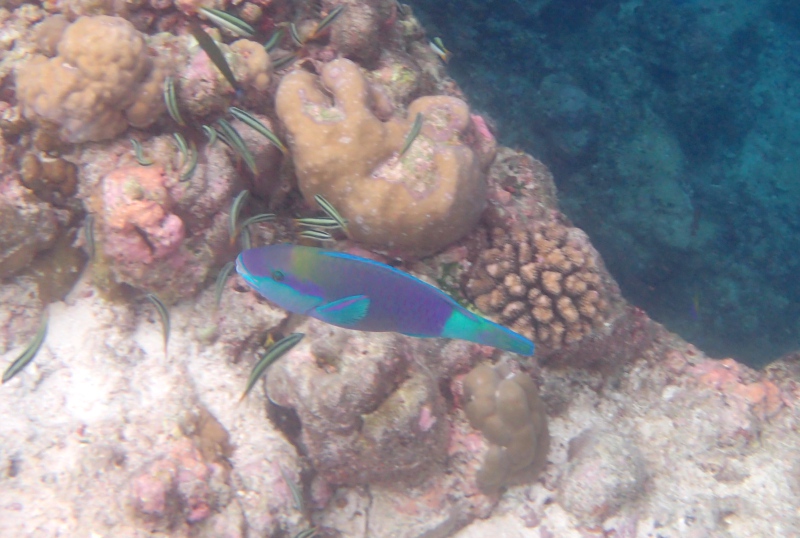 4. Unicorn Fish
While this isn't a very good photo, Unicorn Fish are ubiquitous in the Maldives, and the Maldives is the first place I'd ever seen them.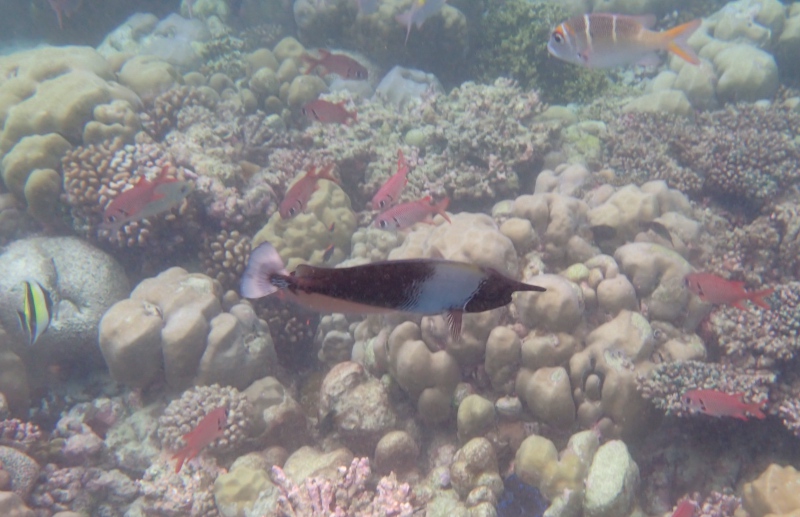 5. Black Pyramid Butterfly Fish
We saw many Black Pyramid Butterfly Fish while snorkeling–they were the most common of the fish we saw that day. You can also see a yellow and black Sergeant Major in the photo.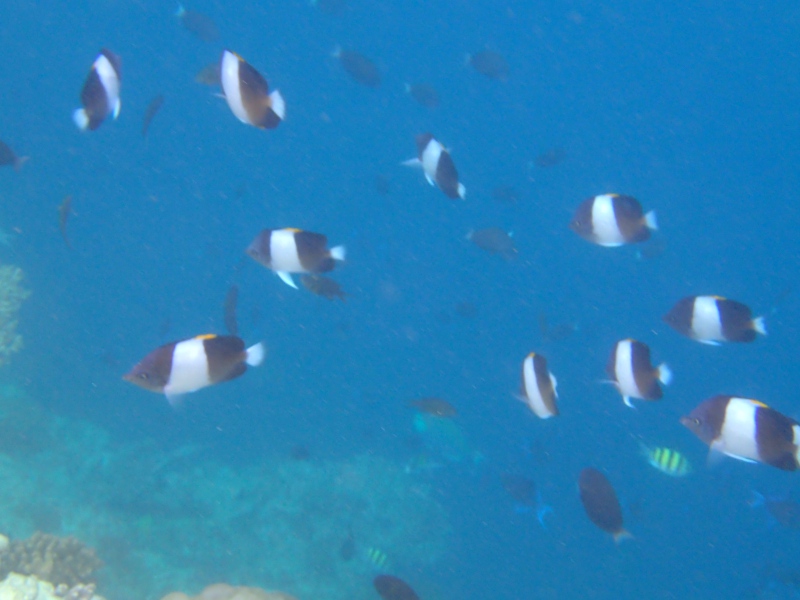 6. Neon Fusiliers
Again, not a great photo, but we also saw quite a few Neon Fusiliers: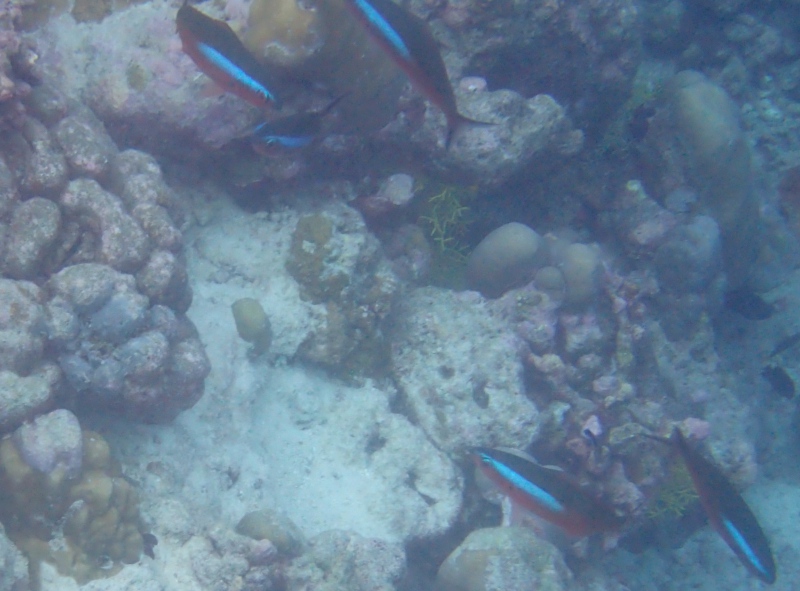 7. A Turtle
It was exciting to also see a turtle, although it was quite a shy one and glided away from us.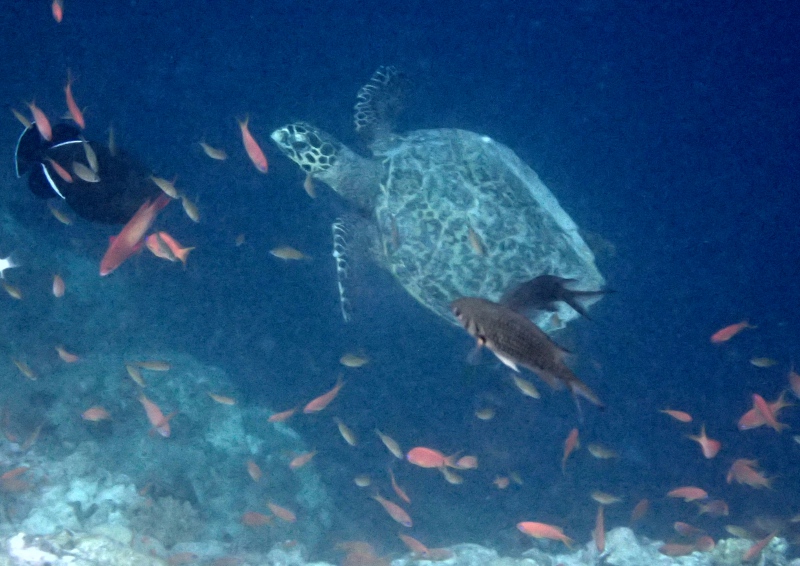 8. Octopus! Wait, Make That Two!
So now we come to the highlight, at least for me–the octopus, or rather, two of them. You can see the pale one in the photo below, which is also the one that features most prominently in the video, but later on in the video you can also see a darker, browner one. Possibly they were hunting together.
Incredibly, we learned that there have been cases in the Maldives of an octopus climbing up a coconut tree to eat crabs.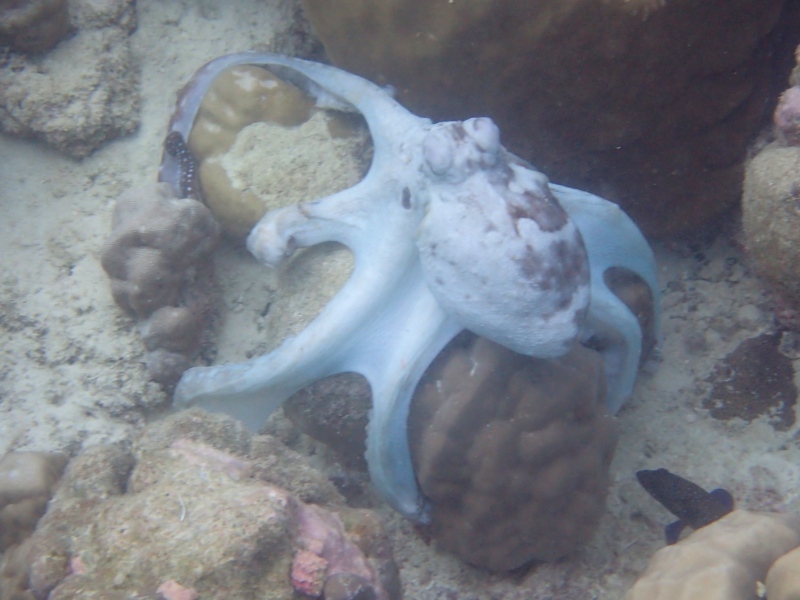 If you've snorkeled at Cheval Blanc Randheli in the Maldives, what did you see?
Related Posts
Review: Cheval Blanc Randheli, Maldives
Le 1947 Maldives Review, Cheval Blanc Randheli
Park Hyatt Maldives Diving and Snorkeling: What to See
Review: Cheval Blanc Randheli Lounge, Male Maldives
Need Award Booking Help? Our fee is as low as $75 per ticket if you book your hotel through us.
If you enjoyed this, join 200,000+ readers: please follow TravelSort on Twitter or like us on Facebook to be alerted to new posts.
Become a TravelSort Client and Book Cheval Blanc Randheli with Virtuoso Benefits!