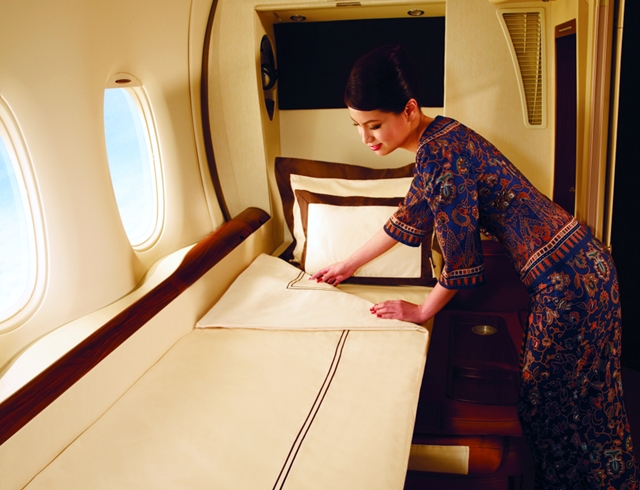 TravelSort reader Paul writes "I'm trying to book Singapore First Class from San Francisco SFO to Singapore via Hong Kong, then Business class from Singapore to Male, Maldives since there is no First Class on the Singapore to Male flight. It looks from the Singapore KrisFlyer Award Chart that a Saver First Class or Suites Award from the U.S. to Male should be 125,000 KrisFlyer miles each way, or 109,000 miles taking into account the 15% discount for booking online.
Unfortunately I can't get Singapore's online system to price out this mixed itinerary award flight, with the SFO-SIN flight in first class and the SIN-MLE flight in business class, even though I checked and there is availability for both flights. Instead, the system just says "
No results were found for cabin class FIRST; the following results are for cabin class BUSINESS instead" and gives me business class only for the entire itinerary. Help! Will they still give me the 15% discount if I call?"
Paul has unfortunately run into a problem that I've encountered several times, since I regularly book Singapore Award flights as part of my
Award Booking Service
. It occurs in both of these scenarios:
You want a first class award, but for part of your itinerary, you're on a Singapore flight that doesn't offer first class, only business class (such as the Singapore to Male flight in Paul's case)
You're flying business class, but one of your flights has sold out of business class award seats. You still need to fly that segment in coach
Can You Book Mixed Class Singapore Award Flights Using KrisFlyer Miles Online?
Unfortunately, no. Even if there is award availability for all your flight segments in your desired class of service, you won't be able to book a mixed class itinerary using the online system.
How Do You Book Mixed Class Singapore Award Flights?
You'll need to call Singapore KrisFlyer to book these. Call (213) 404-0301 and follow the prompts, eventually pressing "0" for KrisFlyer award bookings.
Can You Still Get the 15% Discount When Booking by Phone, Since It's Not Possible to Do Online?
Yes, although it may take some time on the phone with the customer service representative. Some reps have told callers that it's not possible, but just thank them politely, end the call, and call back.
Other Tips for Getting the Rep to Book It As a Single Award and Provide the 15% Discount?
It can be helpful to go over the number of miles required on the KrisFlyer award chart with the rep, and quote the footnote on the award chart:
"…SilkAir and selected Singapore Airlines flights have only Economy and Business Class cabins. Business Class seats will be allocated to members who redeem their miles for award tickets on the Singapore Airlines Suites and /or First Class on Singapore Airlines flights which only have two cabin classes. The number of miles required for the entire trip may be determined at the redemption level of the highest class of service flown."
The footnote should help the rep to see that your entire itinerary (unless you are, say, violating stopover or backtracking rules) should be booked as a single award, using the number of miles required for first class, even though a given segment is in business class. You should *not* be forced into booking a separate award for the business class segment.
While the award chart says nothing about the 15% online booking discount, it's pretty clear that the online booking system doesn't have the capability to enable you to book a mixed class award ticket, so you can easily make a case for receiving the discount given you can't get it done online.
All the Singapore Reps Tell Me I Can't Get the 15% Discount for a Mixed Booking Done by Phone, Help!
Don't give up–try to end each call as quickly and politely as possible and call back. If all else fails, you may be forced into booking the two segments separately online with the 15% discount, but in that case do request a credit back of the extra miles you end up paying by having to book two separate segments. Here's a
Flyertalk report
where the poster eventually did get the excess miles credited back, after being told by various reps that mixed class bookings couldn't qualify for the discount.
Can I Include a Stopover in My Mixed Class Award Booking?
Yes, if you're booking a saver roundtrip. You are not allowed a stopover on a one way saver award. You are, however, allowed stopover on a one way standard or full award, and are allowed 2 stopovers on a roundtrip standard or full award.
Have you had problems making Singapore KrisFlyer mixed class award bookings and getting the 15% online booking discount?
Related Posts