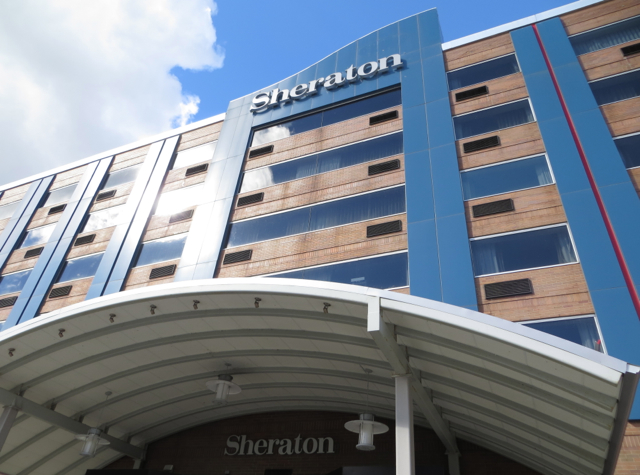 This Sheraton at the Falls Niagara NY hotel review is part of a trip report. For the prior post, please see What to Do in Lockport, Near Niagara Falls. Future posts will include the Cave of the Winds, Maid of the Mist, Old Fort Niagara, Niagara Falls Culinary Institute and Becker Farms.
Sheraton at the Falls Location and Check-In
The Sheraton at the Falls is located on the New York side of Niagara Falls, a short walk from Niagara Falls State Park (the oldest state park in the U.S.). This is important, because, confusingly, there's also a Sheraton on the Canadian side called Sheraton on the Falls. So watch your prepositions!
The Sheraton at the Falls used to be the Crowne Plaza Niagara Falls, and was badly in need of renovation when it was reflagged as a Starwood Sheraton property in late 2011. Most rooms have been renovated, but some haven't yet, so be sure to ask for a renovated room if staying. Renovations are scheduled to be completed by October 13, 2013.
I got in late at night from my flight from NYC, so was initially discouraged that there was no one at the front desk, but fortunately, after I said "hello?" a cherry associate emerged from the adjoining office. My reservation had been made for me and I hadn't had a chance to attach my SPG number, so I asked her if she could do that and also if there was an upgraded room available. She checked, and there was, so she checked me into that room and also mentioned I would have Club Lounge access, which is offered to SPG Gold and Platinum members. I was soon on my way to my room on the 2nd floor, which turned out to be a kind of Junior Suite.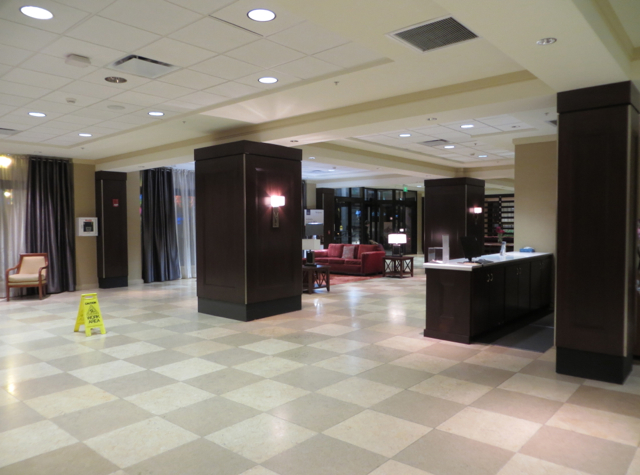 Sheraton at the Falls Rooms and Suites
The Sheraton at the Falls has 394 guest rooms, including 25 suites. Although at the time I thought I'd simply been given a larger than normal room, it seems I had a suite, which was really more a junior suite than a true suite, since the bedroom was open to the living/dining area (not a separate room).
Apparently it had also been renovated, although frankly it was hard to tell. It looked to be in good condition, but I find brown color schemes, while no doubt practical given all the wear and tear on hotel rooms, make the room look older than it actually is.
There was a work desk, which I spent some time working at in the evening, and was perfectly serviceable. While some reviewers and even one person in our group reported Internet problems, the WiFi worked fine for me. No password was required, and you simply clicked the "Accept" button and were online. The only problem I had with it was when the power completely went out one of the mornings (right when I was trying to rebook one of my Award Booking clients on another Cathay Pacific business class flight out of Hong Kong, thanks to Typhoon Usagi–talk about perfect timing!)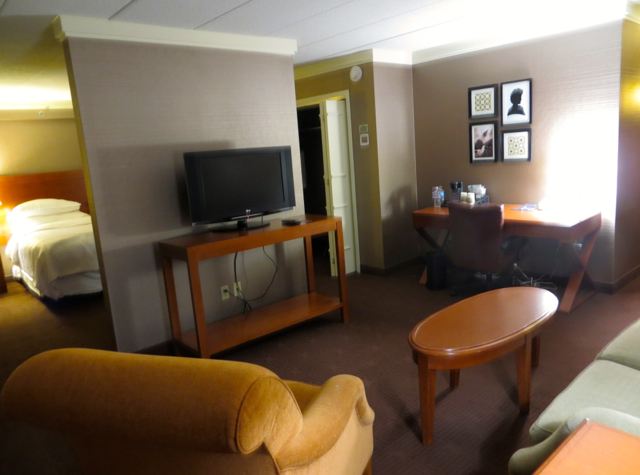 The Sheraton Sweet Sleeper bed was firmer than I like, but after all it's the Sheraton, not the Four Seasons. I was a little surprised at how carelessly it seemed to be made up, but everything looked clean, so no big deal.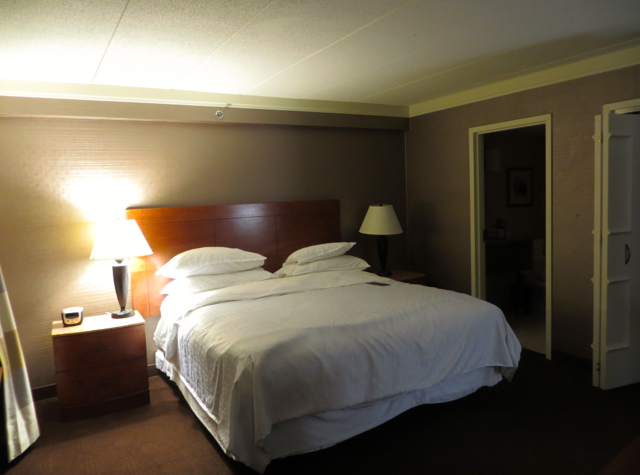 The bathroom was small and had a shower tub combo, which is par for the course for Sheraton, and even Westin for that matter. There was a full length mirror in the bathroom, so that was helpful.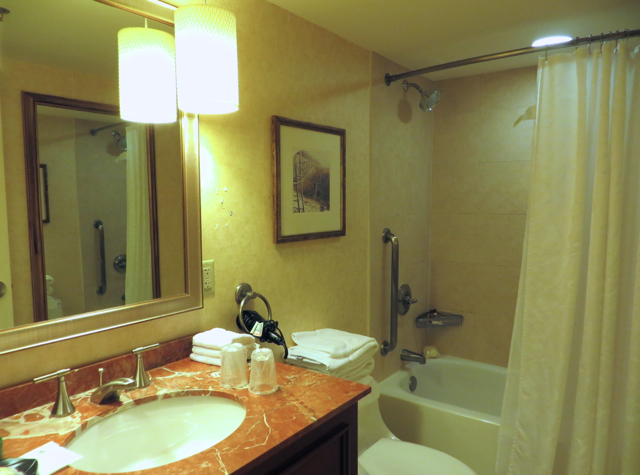 Bath amenities were Shine, which I didn't use, having brought some Bulgari amenities that I'd kept from the Prince de Galles Paris.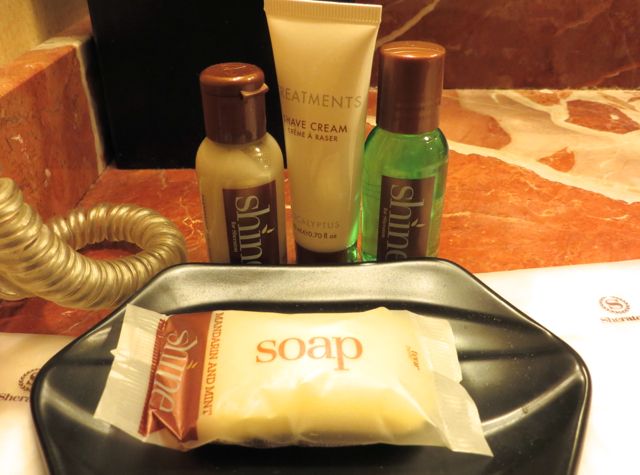 There were several complimentary bottles of water and also a coffee maker, which I never used, since I was able to get coffee at the Club Lounge and at the conference I was attending.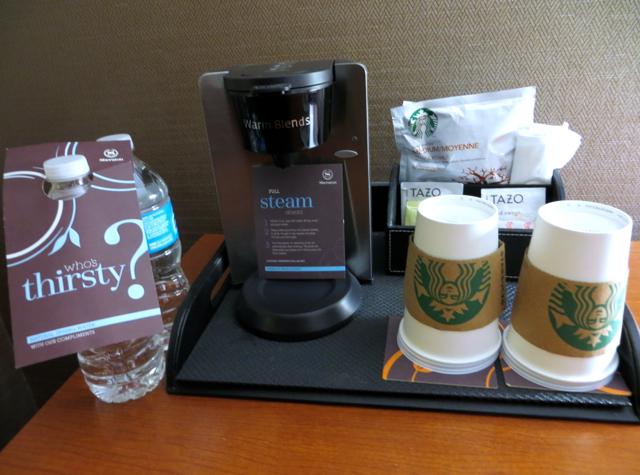 Club Lounge at the Sheraton at the Falls
On the first day my key didn't work for the Club Lounge, so knocked until it was finally opened by the attendant. There was a good variety of offerings, although I stuck with the fresh fruit and Oikos greek yogurt, since I'm a pastry snob and the scones and breads looked pretty highly processed and a step down from what you'd get at any good bakery. But that's personal taste, I'm sure most folks would have been perfectly happy with the selections.
I did think it was a bit strange not to have more seating in the Club Lounge, with much of it at the communal table, and it did get a bit crowded during the evening drinks although not at breakfast, at least the times I went.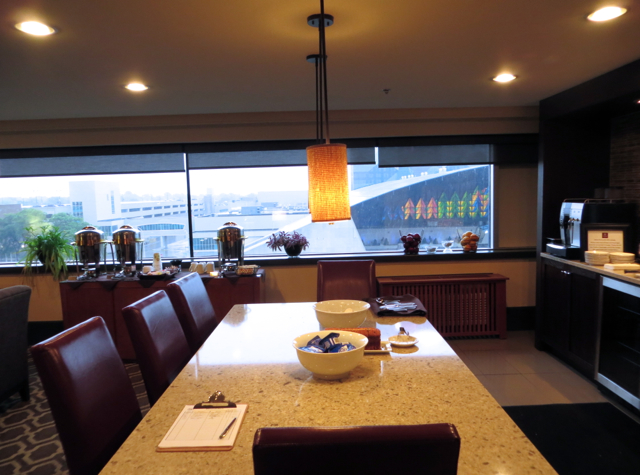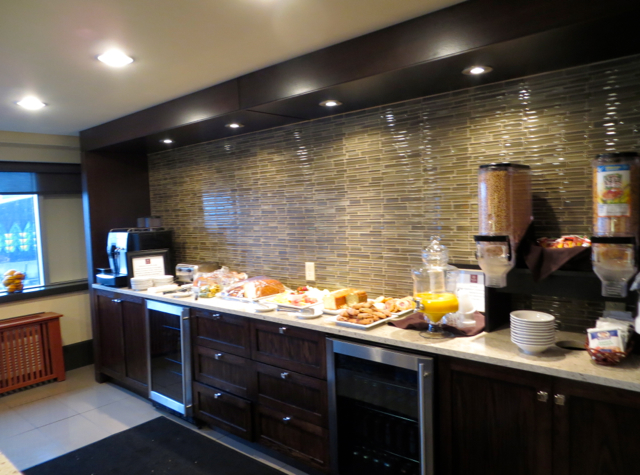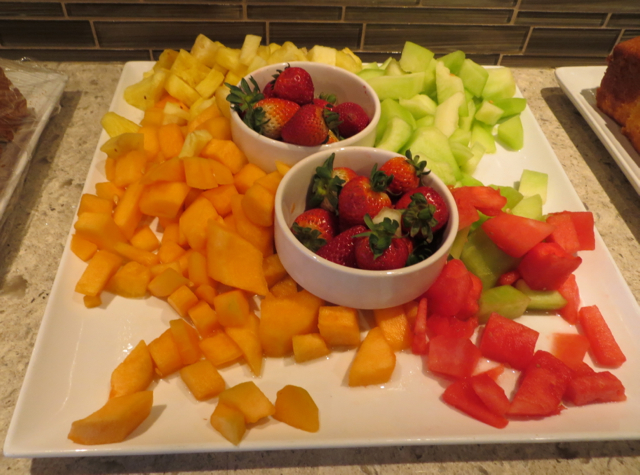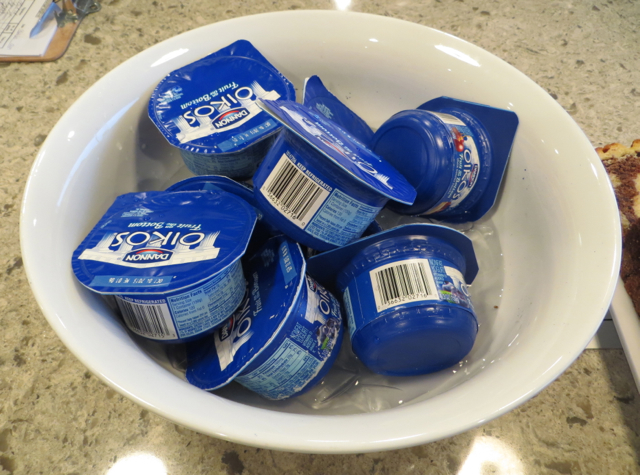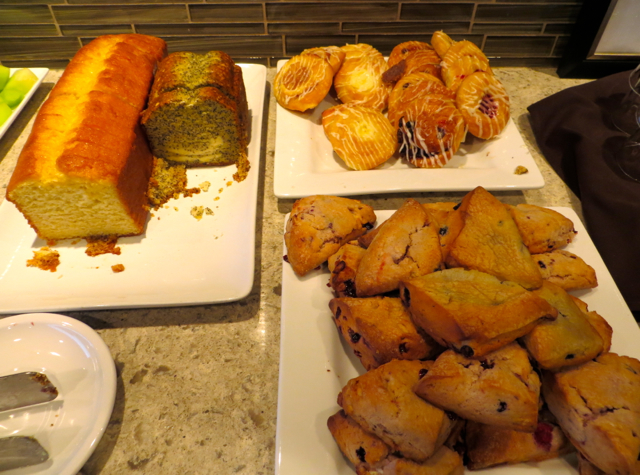 I was disappointed that the espresso machine was broken (and from what the attendant said, not optimistic of it being fixed anytime soon) so just standard coffee and hot water for tea were available.
The cocktail hour features very decent wines (ostensibly all 90 or above in rating, not sure if that's a Wine Spectator or other rating), cheeses, chips, salsa, and one hot appetizer. One night I went the hot appetizer was some kind of taquito which was just plain bad, but on another night it was bacon wrapped scallops, which were very good.
Swimming Pool
I didn't have any time to try the pool, which was visible from the fitness center, but although small, it's nice to have a heated indoor pool, especially if traveling with kids: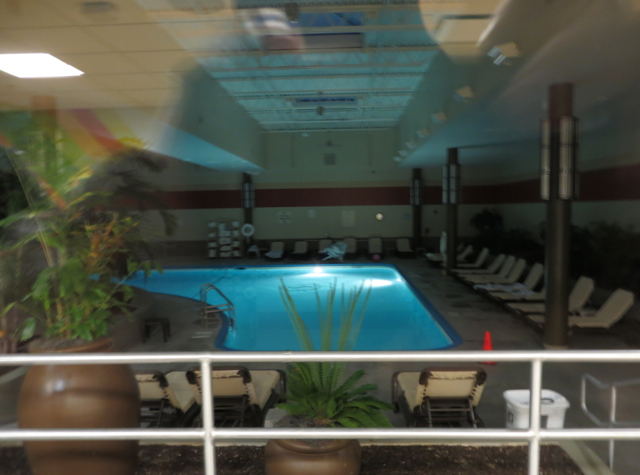 The Verdict
The Sheraton at the Falls is pretty much what you expect from an typical Sheraton–neither great, but not bad either. I must say that I was positively impressed by the friendliness and helpfulness of the front desk staff, particularly the front desk manager who went out of her way to get me some yogurts and fruit when she discovered that I'd missed the Club Lounge breakfast due to being given incorrect breakfast time info by another associate.
And while I've certainly heard some negative reviews of the Club Lounge and its offerings, it was actually better than I expected for such an inexpensive Sheraton. I found it equivlent or better (when it came to the wines) than the Grand Hyatt San Francisco Airport Club Lounge, for example. Overall, I'd say the hard product is average or a bit below that of other Sheratons, but the soft product and staff helpfulness was better than I've encountered at some other Sheratons.
Disclosure: I was the guest of Niagara Tourism and received a complimentary stay at the Sheraton at the Falls, however the views expressed are my own.
Related Posts
What to Do in Lockport, Near Niagara Falls
Governors Island Ferry, Bicycling and Family Fun
NYC with Kids: Family Travel Guide
Need Award Booking Help? Our fee is as low as $75 per ticket if you book your hotel through us.
If you enjoyed this, join 90,000+ readers: please follow TravelSort on Twitter or like us on Facebook to be alerted to new posts.
Become a TravelSort Client and Book 5-Star Hotels with Virtuoso or Four Seasons Preferred Partner Amenities!