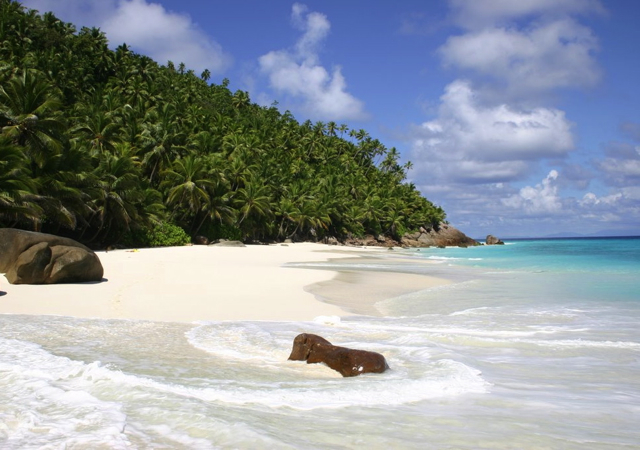 Seychelles award travel with frequent flyer miles and points is more challenging than to the Maldives, another favorite honeymoon and couples destination, particularly now that Qatar no longer flies to the Seychelles from Doha. As recently several TravelSort clients have requested the Seychelles, interested in its incredible beaches, great snorkeling and scuba diving, indigenous birds and the Giant Aldabra Tortoises, here are my tips for Seychelles award tickets and the top Seychelles luxury resorts.
1. Emirates First Class or Business Class with JAL Miles
If you're looking to fly first class and either have JAL miles or can transfer SPG points to JAL Mileage Bank, this will be the best deal from the U.S. JAL Mileage Bank has a distance based award chart, and since JFK-DXB-SEZ-DXB-JFK is just under 18,000 miles, Emirates First Class roundtrip is 155,000 JAL miles, while Emirates Business Class is 100,000 JAL miles.
2. Emirates First Class or Business Class with Alaska Miles
You can also use Alaska miles to book some (but not all) Emirates awards–basically the Alaska Award Chart for Emirates is purely for travel between North America and India, the Middle East or Africa (you must be flying from or to North America on your Emirates award, so no Fifth Freedom flight Emirates flights such as HKG-BKK).
Emirates First Class round trip is 200,000 Alaska miles, and Emirates Business Class roundtrip is 155,000 Alaska miles. So, while not as good as JAL, Alaska miles are easier for most U.S. based flyers to earn, thanks to the Alaska Airlines Visa (including the recent 50,000 Alaska Visa bonus offer) or by flying. You can also redeem for a one way, in case you don't have enough miles to redeem for a round trip award.
3. British Airways First or Business Class with AAdvantage Miles to Mauritius, Then Paid Flight to SEZ
As with Emirates, there's very limited first class award availability, and with British Airways, you'll be going to Mauritius, as it doesn't fly directly to the Seychelles. But I can see a few dates in 2014 that do have availability at least from London to Mauritius, and using AA miles it would be 100,000 AA miles + $766.70 one way. Keep in mind that this may entail a connection in the U.S., and also an airport change from Heathrow (LHR) to Gatwick (LGW) since British Airways' flights to Mauritius depart from Gatwick. Count on $500-$600 for a one way economy ticket from Mauritius to the Seychelles. Business class would be 75,000 AA miles each way.
4. British Airways Business Class with Avios to Mauritius, Then Paid Flight to SEZ
British Airways awards to Mauritius are more expensive with Avios, as it's mostly a distance based chart, but could still be a decent option for those based in London or the UK, with plenty of Avios. Business class would be 60,000 + $591 from London to the Seychelles.
5. Air France Business Class to Paris Then Kenya Airways via Nairobi to SEZ
While I'd put this option rather low on the list as Air France *still* has angled flat seats in business class, instead of the flat bed seats that have become industry standard, it could be a good use of Delta SkyMiles if you find availabilty at the saver level. Note that with the most recent Delta award chart devaluation, a Business Class roundtrip award to Africa, including the Seychelles, will go up to 140,000 Delta miles at the saver level for travel starting June 1, 2014. Prior to then, roundtrip saver level awards to Africa, including the Seychelles, are 120,000 SkyMiles.
6. Air France Business Class via Paris to Mauritius with Delta SkyMiles, Then Paid Flight to SEZ
If you want to work in a stay in Mauritius anyway or if you prefer not to connect in Nairobi (or to fly Kenya Airways), this can be a good option, even though you do have to purchase the Mauritius to Seychelles segment. Again, this award is going from 120,000 to 140,000 Delta miles for roundtrip business class starting June 1, 2014.
7. Etihad First or Business Class (Two Awards) with AAdvantage Miles
You would think Etihad would be a great award option to the Seychelles, but it's not, because it's not in Oneworld and the arcane AAdvantage routing rules mean that it prices as two separate awards: one award from the U.S. to Abu Dhabi, and a second award from Abu Dhabi to the Seychelles. So if you want to fly First Class from NYC JFK to Abu Dhabi and Business Class Abu Dhabi to the Seychelles (two cabin aircraft, so no first class on that segment) you're looking at 270,000 AA miles per person. Or for an all business class itinerary, 225,000 AA miles per person. Ouch! And remember, since Etihad is an AAdvantage partner but not part of Oneworld, you *cannot* use the AAdvantage Explorer Award Chart.
Top Seychelles Luxury Resorts
My two top recommendations for the Seychelles are Fregate Island Private, booked with Virtuoso benefits, and the Four Seasons Seychelles, with Four Seasons Preferred Partner amenities. Ideally, you'll be spending enough time in the Seychelles (1 week or more) so that you can experience both. And if money is truly no object, there's also North Island, where Prince William and Kate Middleton spent their royal honeymoon (renting out the entire island, of course, to ensure total privacy).
Fregate Island Private with Virtuoso Benefits
Fregate Island is a private island, with seven gorgeous beaches, two of which are arguably the best in all of the Seychelles: Anse Victorin and Anse Macquereau. The resort features private pool residences, each with infinity pool and butler service, Giant Aldabra Tortoises (nurtured through conservation efforts), and water sports such as scuba diving, sailing, surfing, kayaking and deep sea fishing. Excellent cuisine, amenities and service are reflected in the all inclusive pricing of ~2000 EUR per person per night (includes all meals anywhere on the island, house wines, local beers, personal laundry, island buggy, non-motorized watersports and guided nature walks).
Virtuoso Benefits for Fregate Island Private
Complimentary 50 minute massage for two people, once during stay
1 hour snorkeling excursion
1 hour sunset cruise
Early check-in, late check-out subject to availability
Four Seasons Seychelles with Four Seasons Preferred Partner Benefits
The Four Seasons Seychelles is the best resort on Mahe, which, although it lacks the privacy and seclusion of Fregate or other private islands, gives you easier access to boat and helicopter excursions and day trips as the operators are all based on Mahe. The other nice aspect of booking a 4 night stay at the Four Seasons Seychelles is that there's a Fourth Night Free offer for certain dates, subject to availability at time of booking. Fourth Night Free is available: Jan 16, 2014 – Mar 22, 2014, May 14, 2014 – Jul 23, 2014, Aug 23, 2014 – Sep 30, 2014 and Dec 01, 2014 – Dec 20, 2014
Four Seasons Preferred Partner Benefits
Upgrade of one category, based on availability at time of check-in (excluding signature suites and villas)
Daily full American breakfast for two people per bedroom, served through In-Room Dining or in the hotel restaurant (including buffets)
Food and beverage credit of USD100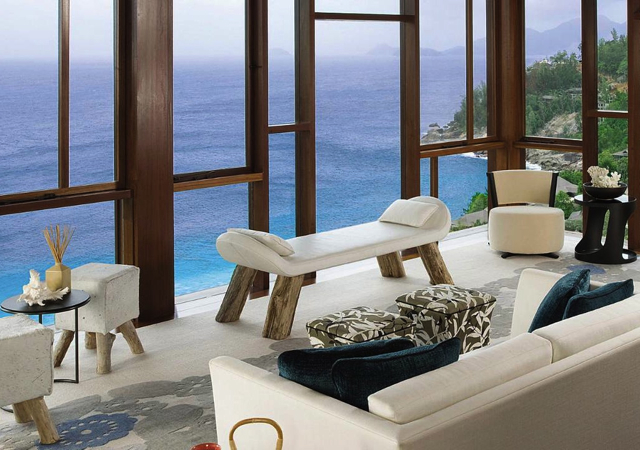 North Island
With just 11 villas on this 2000 acre private island, so a maximum of 22 guests on the island even if fully booked, North Island is truly a peek at how celebrities and truly wealthy vacation. Your villa may be larger than your house at home, and comes with butler service, yoru private pool, library, and secluded beach. Enjoy a romantic dinner or picnic virtually anywhere on the island. This is the most luxurious all inclusive you're likely to ever experience in your life, and rates reflect this, starting at 2582 EUR per person per night.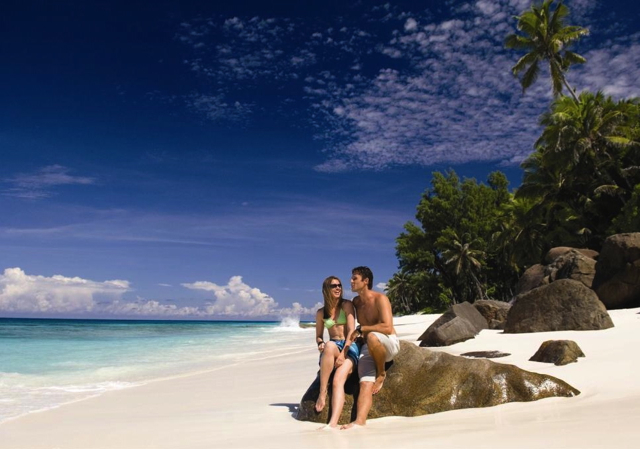 Have you been to the Seychelles, or is it on your bucket list?
Related Posts
Top 20 Luxury Honeymoon Destinations
Alaska Airlines: Online Award Search for Emirates
How to Book a "Crazy" Award Routing
Need Award Booking Help? Our fee is as low as $75 per ticket if you book your hotel through us.
If you enjoyed this, join 90,000+ readers: please follow TravelSort on Twitter or like us on Facebook to be alerted to new posts.
Become a TravelSort Client and Book Your Hotel with Virtuoso or Four Seasons Preferred VIP Amenities!