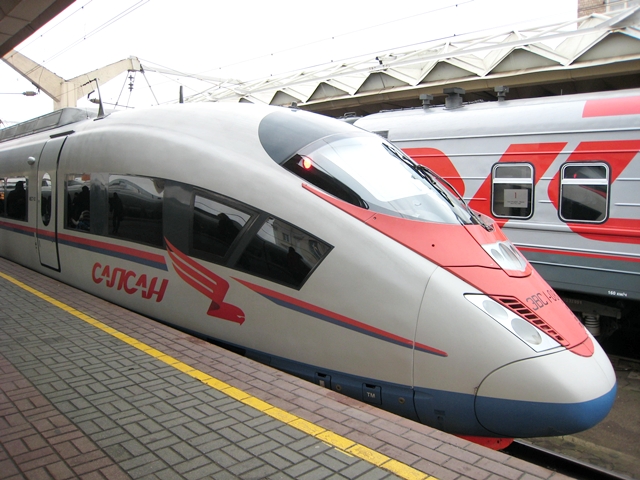 This Sapsan Train Moscow to St. Petersburg Review and Tips are part of a trip report including First Class and Business Class to Moscow on Lufthansa, with reviews of luxury hotels and dining in Moscow and St. Petersburg, Russia.
For the prior posts, see:
Lufthansa First Class Award Booked 15 days in Advance
Lufthansa New First Class Review
Review: Lufthansa First Class Lounge in Munich
3-Year Russian Visa Application Requirements and Tips
Radisson Royal Moscow Hotel Review
8 Things to Eat in Moscow, Russia
Les Menus par Pierre Gagnaire at Lotte Moscow, Restaurant Review
Getting Around Moscow by Metro: Top 10 Tips
Although the Sapsan high speed train contract had already been signed before I moved back to the U.S. from Russia, the first Sapsan trains only started operation in late 2009, so I only recently got a chance to ride one. Sapsan is Russian for Peregrine Falcon, and these trains are built by Siemens. While the current trains only go up to a maximum speed of 155 miles per hour (250 km/h), new high speed lines are planned that will allow for speeds of up to 205 miles per hour (330 km/h).
I'll include online booking tips at the end of the post, but I actually simply bought my ticket two days before my departure at the train station, which is Leningradskaya (since St. Petersburg was known as Leningrad in Soviet Union times). While I spoke to the agent in Russian, the couple in front of me, who were Swedish, managed fine with a combination of English and writing down the dates and times they wanted. The ticket office takes credit cards, so that wasn't a problem either. In addition to my Sapsan ticket, I also bought a return ticket on the Krasnaya Strela (Red Arrow) Night Sleeper Train.
The Leningradskaya Station is one of the older stations, so I wouldn't arrive there until close to your departure time. If you arrive 25 minutes prior, that's plenty of time and gives you some cushion in case you take the wrong subway or something, although since the Moscow subway trains run every minute or less, you're unlikely to be delayed due to the metro itself.
Once you get to the platforms, look for a lighted sign with Sapsan written in Cyrillic and your time of departure.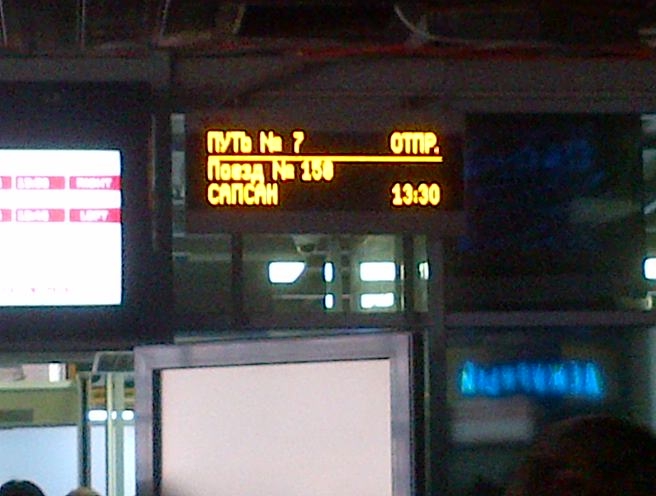 You'll need to go through security, which is simply putting your bag and all metal through the machine, similar to the airport.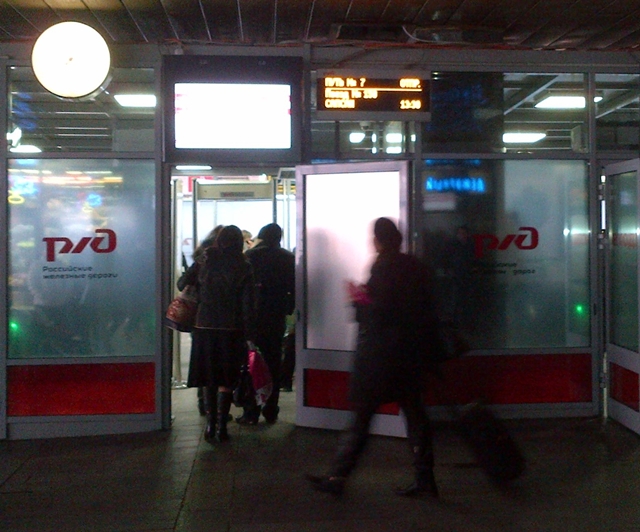 You'll then get to the train platform and see uniformed agents, one by each car of the Sapsan, so if you're not sure which car you're in (all Sapsan seats are assigned) just check with one of them. You'll need to show your ticket and passport before you can board.
I opted for Business Class, since really the main difference apart from only slightly more comfortable seats is that First Class food and drinks are complimentary, and I wasn't planning to eat heavily on the train. Here are the business class seats (the Citi advertising says "Travel together" with their 200th anniversary logo).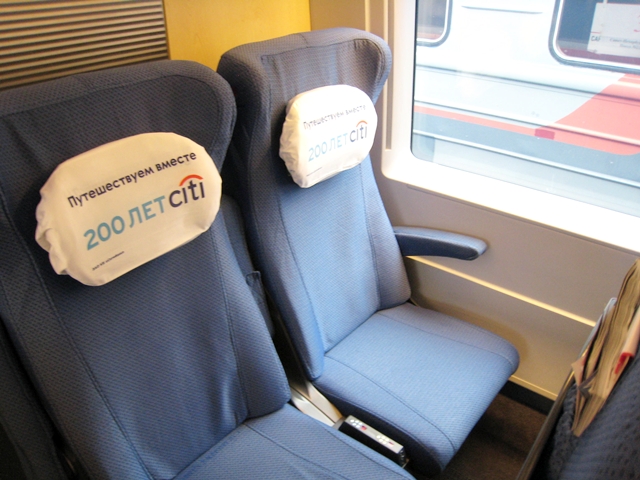 And here's a photo of the car. There's a coat rack on the right, which is convenient in winter when everyone has a coat to hang up.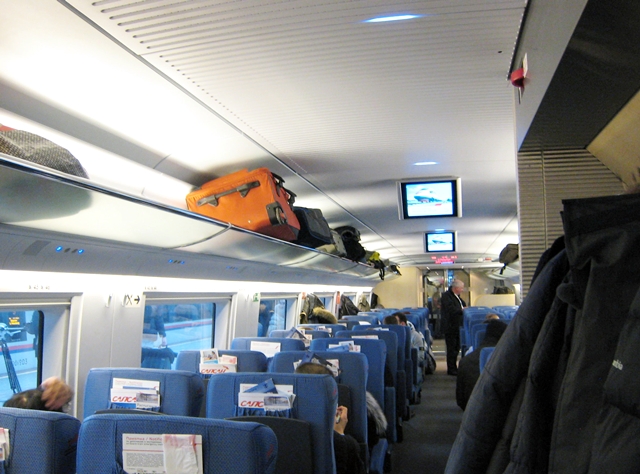 The train left exactly on time, and since I didn't have a seat companion, I was able to stretch out a bit. The announcements were made in both Russian and English, so no worries if you don't speak Russian.
Eventually I got a bit hungry and went to the dining car to see what they had. To my surprise, the menu was incredibly extensive. There were English menus, but I forgot to request them, so you'll have to bear with my photos being of the Russian menus. In addition to nutritional information, you can see exactly how many grams of the main ingredients there are.
Here are the options for sandwiches, salads, appetizers and soups: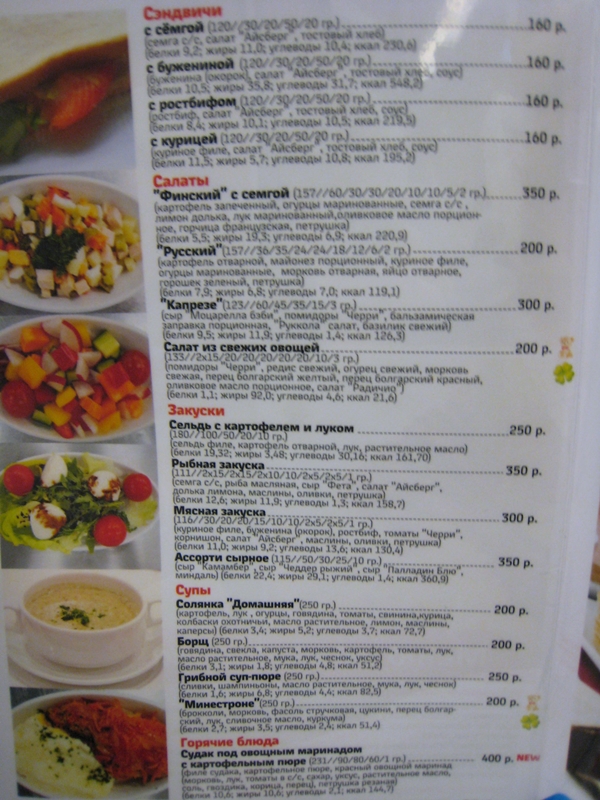 There were also hot dishes, pastries and desserts, and chocolate: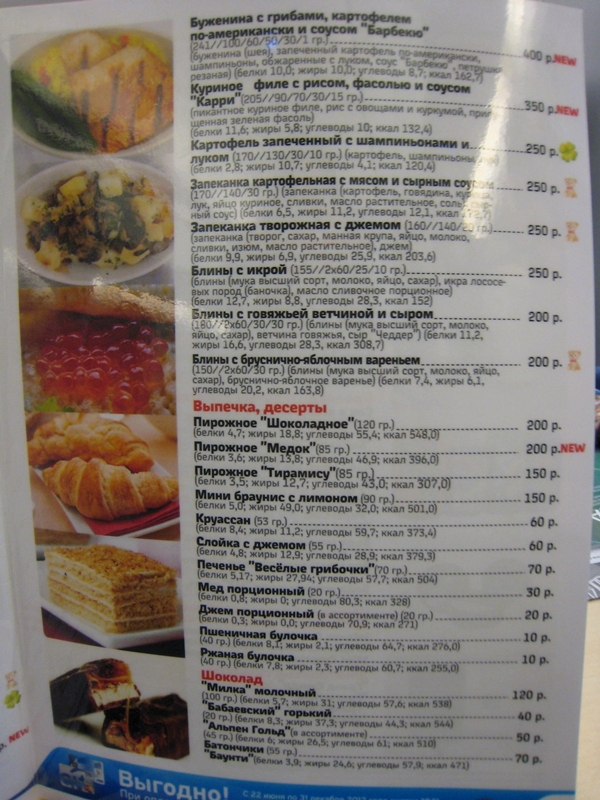 And here's the wine list, which also includes listings for (of course) vodka, tequila, rum, whisky and beer: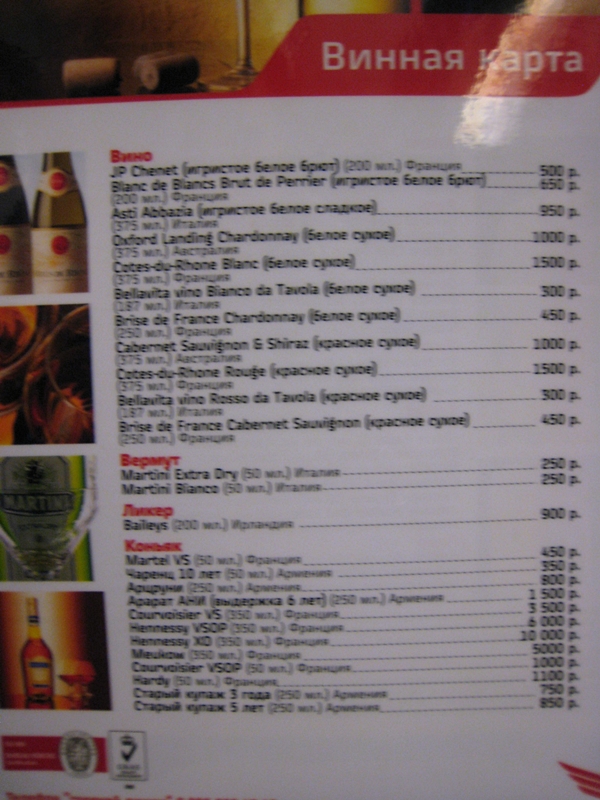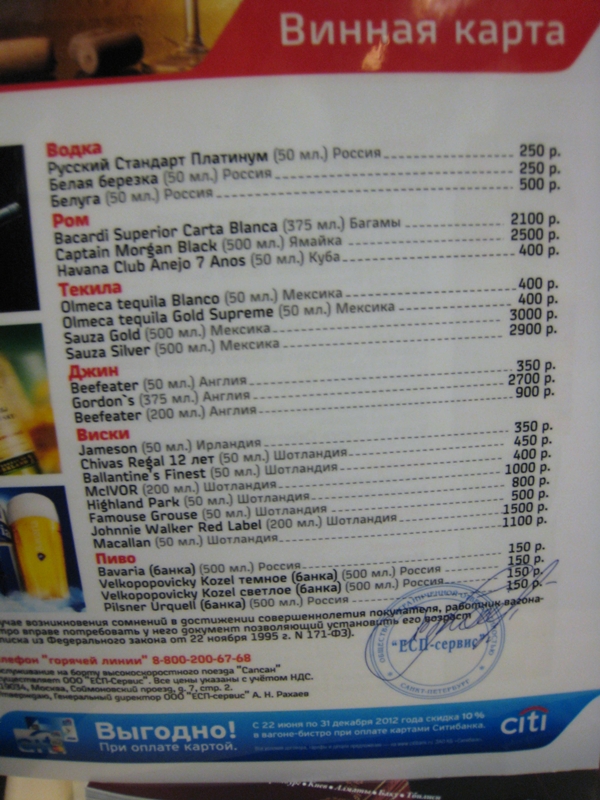 What I really wanted was Solyanka, a traditional hearty meat soup, but they were out of that so I went with borscht. I know the picture looks awful, but it actually tasted pretty good, notwithstanding the way it was served. I would not add that mayonnaise to it though–real borscht is served with smetana, Russian sour cream, so packaged mayonnaise is just gross by comparison.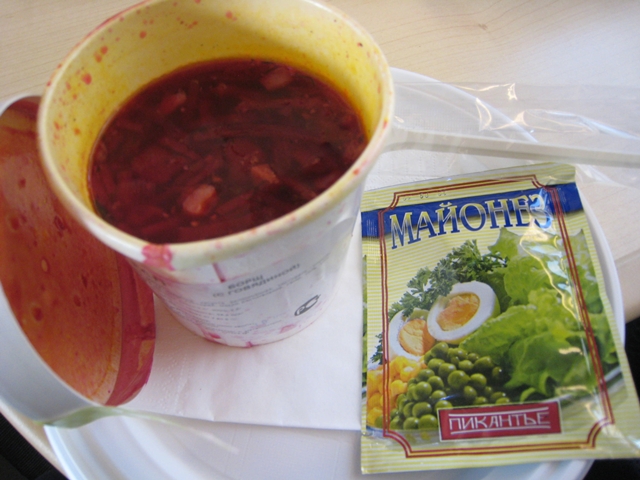 I shared a table in the dining car for awhile with a Russian couple, and the woman next to me ordered what appeared to by syrniki (farmers cheese pancakes) that looked pretty good, so I ordered those as well. They were very good for train food, although not of course as good as the mini syrniki at the Lotte Moscow breakfast buffet.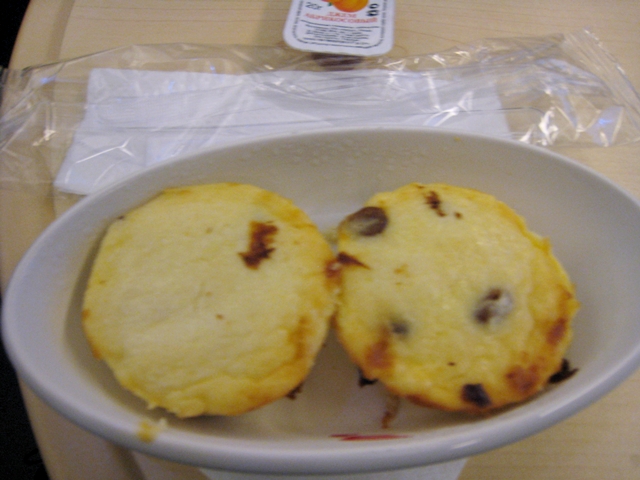 Since I was on an afternoon train, which takes longer than the very early morning trains, the journey took just over 4 hours. I highly recommend it compared to taking a flight, since you don't have to trek out to the airport on either end, and of course it's much faster than the regular local trains. The early morning trains are a bit shorter, but leave very early, at 6:45am and 7am, so if you're not a morning person, just take the early afternoon train and get into St. Petersburg before 6pm.
If there's only one train time that works for you, you may want to book ahead online. Keep in mind you can only book 45 days prior to your date of departure, and that you can only book on the Russian Railways site, which is rzd.ru. If you go to the English site, you'll just see corporate info, but no booking engine.
Update: The rzd.ru site currently doesn't accept U.S. credit cards, so if you have U.S. credit cards and need to book online in advance, I recommend using tutu.ru.
1. Register at rzd.ru
Just use Google Translate if you don't read Russian, to know how to fill in the fields: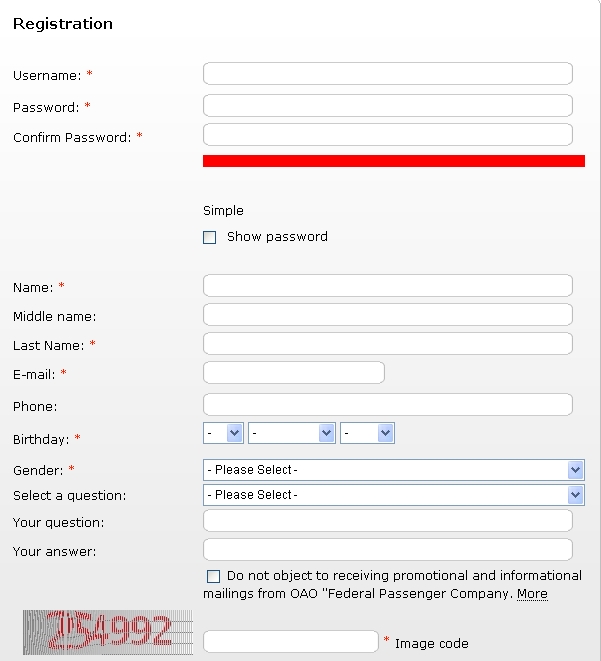 2. Enter Your Origin
Go to the homepage and enter your starting city. In this example, I typed "Mo" and the dropdown provided Moscow, which I selected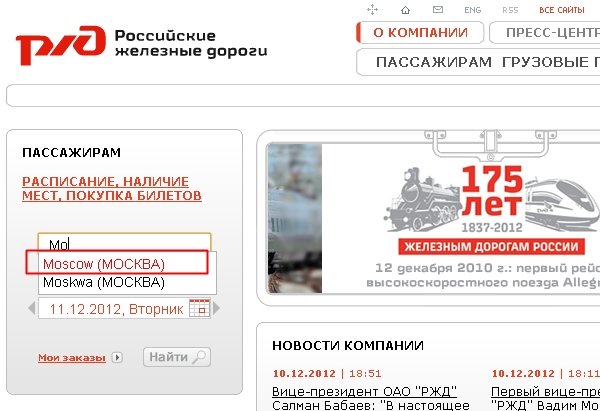 3. Enter Your Destination
You'll need to do this in Cyrillic, so just use Google translate to find the name of your destination city in Cyrillic, and enter it. In this example, I entered St. Petersburg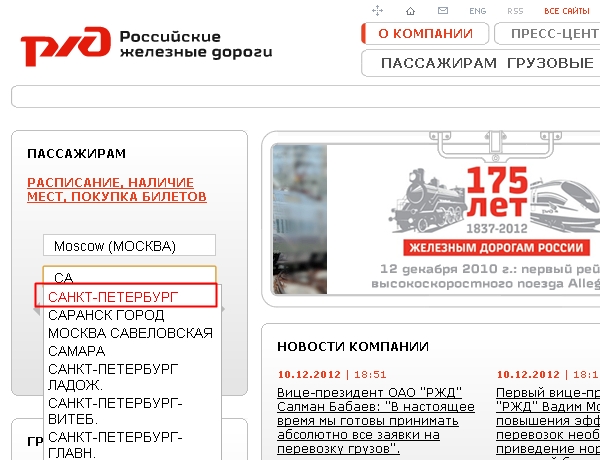 4. Select Your Date
Keep in mind that for Russians, the first day of the week is Monday, and the last day of the week is Sunday.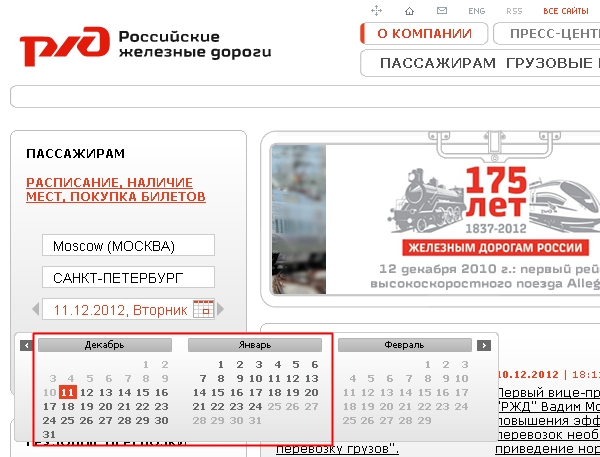 5. Select Your Train
After entering your origin, destination and date, you'll see the available trains, times and prices. The Sapsan trains show the Sapsan logo, making them easy to identify.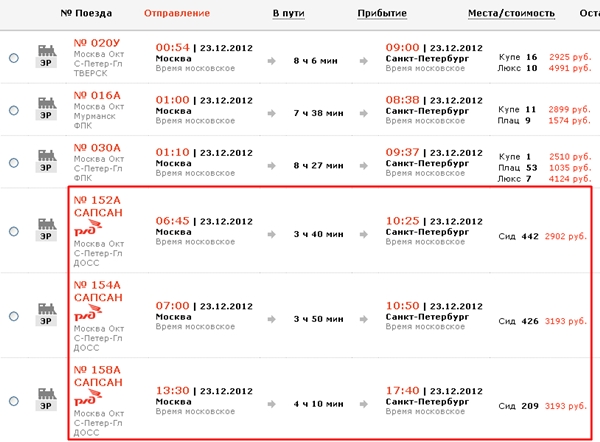 6. Select Your Car
After selecting your train, you'll be prompted to select the specific car of the train you'll be in. Note that the higher prices here are for First Class.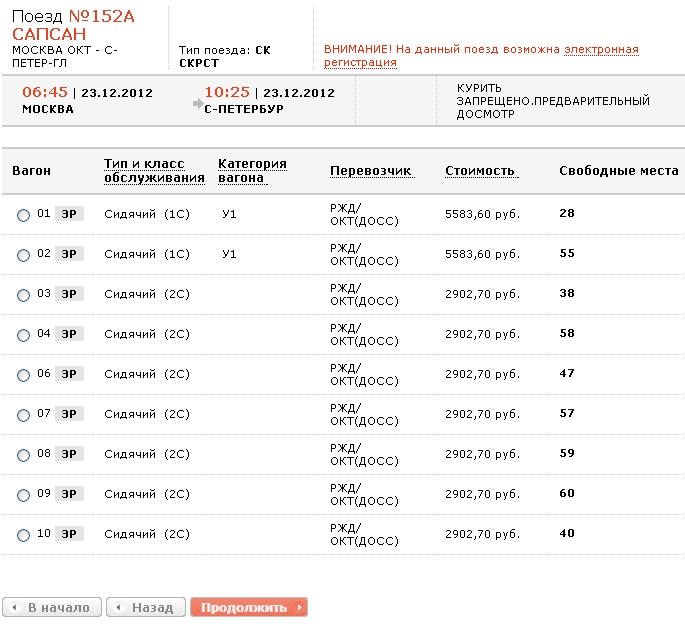 After this, if you haven't already, you'll be prompted to log in with your registration credentials in order to proceed to select your seat and pay by credit card. Don't forget to use your Sapphire Preferred for 2.14X points, since it's a travel purchase. Or you can simply book at the Leningradskaya ticketing window once you're in Moscow, as I did.
If you've taken the Sapsan, what was your experience?
Related Posts
The Most Beautiful Subway Stations in the World
Moscow Metro Tour with Happy Moscow Tours
8 Things to Eat in Moscow, Russia
Top Luxury Hotels in Moscow, Russia
Need Award Booking Help? Our fee is as low as $75 per ticket if you book your hotel through us.
If you enjoyed this, join 200,000+ readers: please follow TravelSort on Twitter or like us on Facebook to be alerted to new posts.
Become a TravelSort Client and Book 5-Star Hotels with Virtuoso or Four Seasons Preferred Partner Amenities!