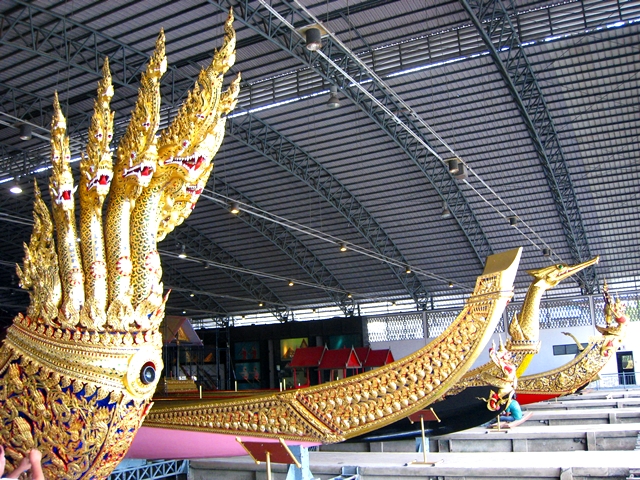 This Royal Barges Museum and Bangkok Canals Tour post is for a short Bangkok trip, part of a Southeast Asia trip report; here are the previous posts:
ANA All Nippon Airways Business Class Review, LA-Tokyo
Singapore Airlines Business Class Review, Tokyo to Singapore
St. Regis Singapore Hotel Review
Mandarin Oriental Singapore Hotel Review
Ritz-Carlton Millenia Singapore Hotel Review
Thai Airways Business Class Review
St. Regis Bangkok Hotel Review
Peninsula Bangkok Hotel Review
Bangkok has been called the "Venice of the East" for its many canals, or "khlongs" as they are called in Thai, so I knew I wanted to take a Bangkok canal tour on my recent quick visit there. There are many operators, but I opted to have the hotel I was staying at, The Peninsula Bangkok, arrange a 2-hour canal tour with a guide that had been recommended. And since it was only me, I got a private tour, with an entire long-tailed speedboat to myself.
We cruised along through narrow waterways, mostly lined with very modest shacks, some of which looked all too close to being ready to slide into the canal. In stark contrast, there were some dwellings that could best be described as mansions, that belonged to the odd politician or official: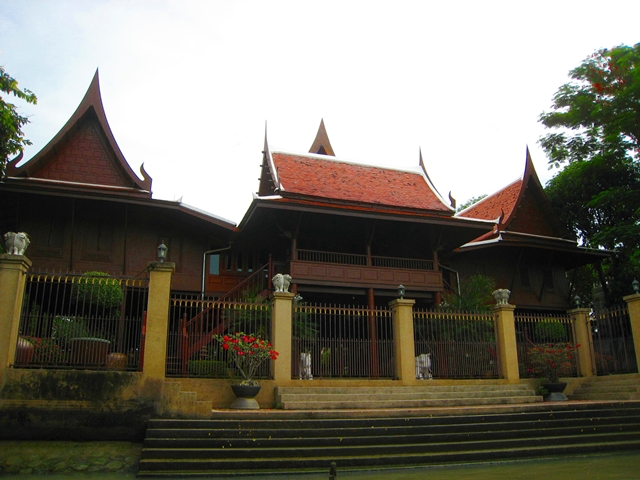 There was also a vendor trying to sell me some souvenirs, but fortunately she didn't unduly hound me, and we were soon off: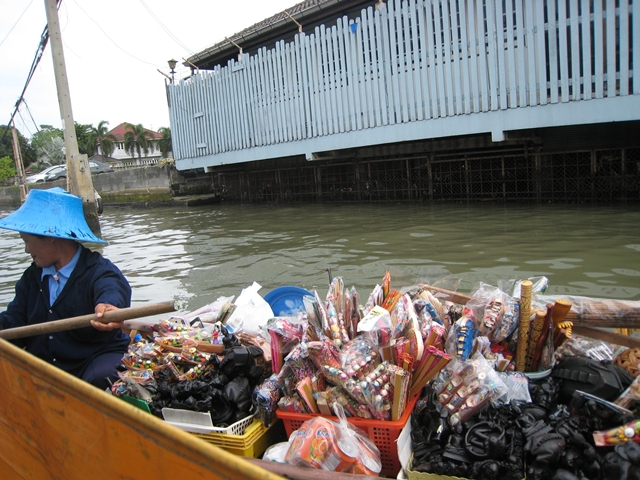 My least favorite things were the enormous monitor lizards that we saw crouched under houses or in the water. While it was interesting seeing iguanas in the Galapagos, I wasn't so fond of these ones in Bangkok: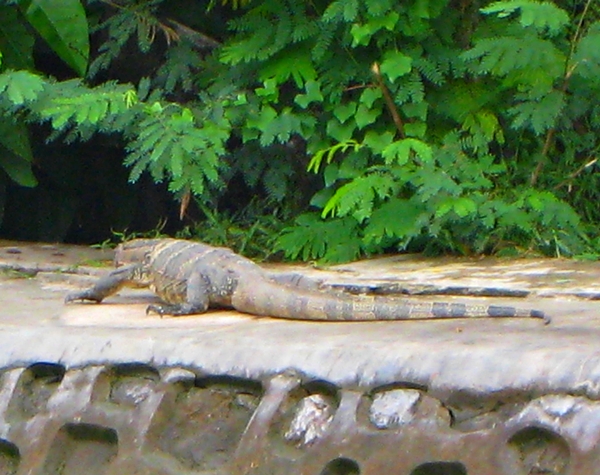 One of the highlights of the trip was the Royal Barges Museum, which houses the exquisitely carved and gilded royal barges used in the rare Royal Barge Procession. The next one is to be held later this fall, having been postponed from last year due to the flooding.
Historically, Thailand's royal barges were used not only for religious occasions and royal ceremonies and coronations, but also for boat races and battles. The early barges of King Narai the Great were unfortunately burned after Thailand's early capital, Ayutthaya, was ransacked by the Burmese.
The museum is open air and you can touch the barges, although I didn't. It was incredible to see workers diligently and painstakingly engaged in almost every aspect of the decoration process, from painting the designs: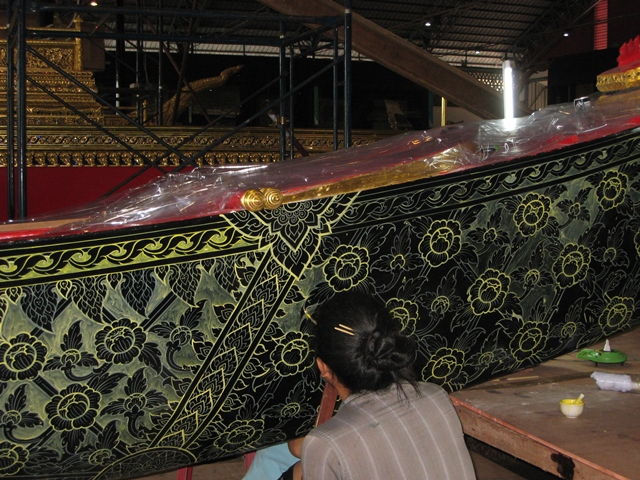 To applying the glass jewel-like pieces and gold leaf: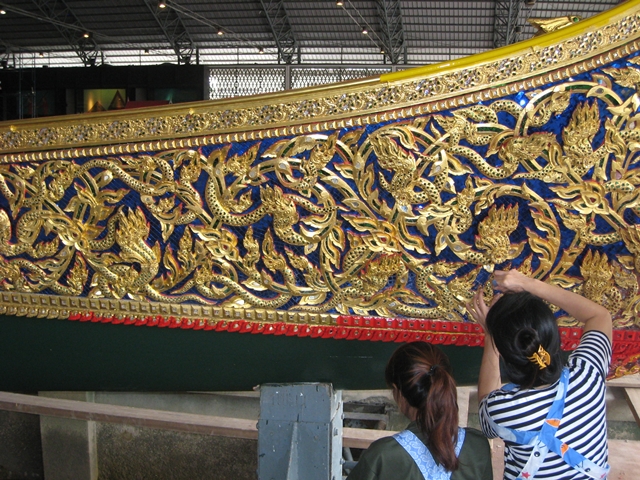 While there are a number of escort barges, there are just four Royal Barges:
Royal Barge Suphannahong (meaning "Golden Swan") designated a Maritime World Heritage. Note that in the photo, it's to the left, in the background: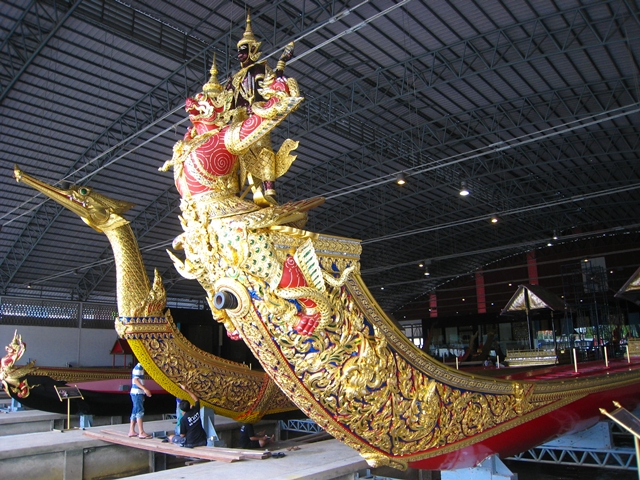 Royal Barge Anantanakkharat ("King of Serpents"), originally built under Rama III, although the current version was built under Rama VI. The ornate bow is carved in the form of Nakkharat, with multiple snake creatures embellished with gold leaf and glass jewels.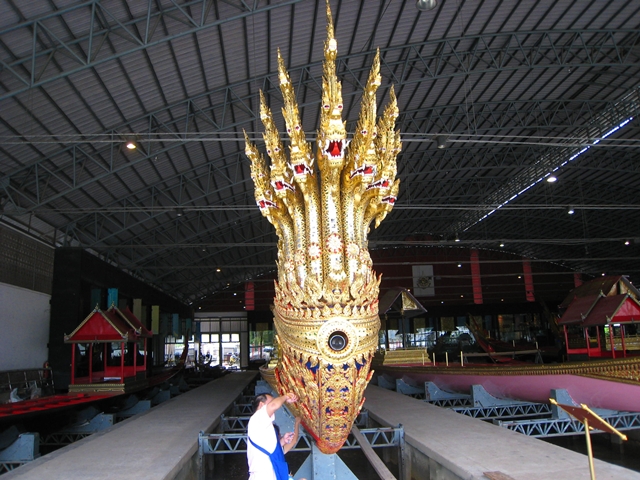 Royal Barge Anekkachatphuchong is the oldest of the current four royal barges, and is the original barge built during the reign of Rama V. It lacks a figurehead on the bow, but has many ornamental Naga figures carved into the bow. No photo of this one, I'm afraid.
Royal Barge Narai Song Suban HM King Rama IX was built during the reign of the current monarch, King Bhumibol Adulyadej, to coincide with the 50th anniverasary of his accession to the throne.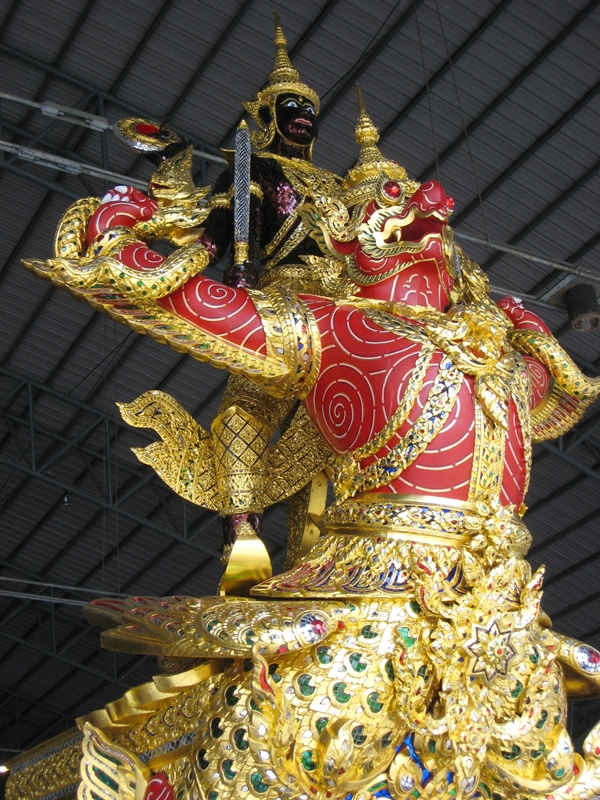 Getting to Bangkok on an Award Booking
If you recently took advantage of the temporary availability of Singapore Airlines First Class awards available on United, you know how valuable Ultimate Rewards points and United miles can be in getting first and business class flights on Star Alliance partners, including Singapore Airlines, which flies to Singapore from NYC, San Francisco, LA and other worldwide cities, then to Bangkok. Thai Airways is also a Star Alliance partner, so you could fly to Bangkok nonstop from LA, although award availability is very poor. Europe routes to Bangkok would be better, but if you plan to go via Europe, Swiss would offer a better product on their Zurich-Bangkok route.
The fastest way to earn United miles if you're not a frequent flyer is by leveraging category bonuses with the Ink Bold, Sapphire Preferred, or Chase Freedom, since Ultimate Rewards points transfer 1:1 to United.
You could also use American AAdvantage miles to fly Cathay Pacific to Hong Kong, then to Bangkok. And if you're hopping around Asia, there are many low cost carriers or you could use British Airways Avios for award flights on partners, as that can end up being cheaper for short direct flights than using AA miles.
Related posts
Bangkok, Land of Gilded Temples
St. Regis Bangkok Hotel Review
Need Award Booking Help? Our fee is as low as $75 per ticket if you book your hotel through us.
If you enjoyed this, join 100,000+ readers: please follow TravelSort on Twitter or like us on Facebook to be alerted to new posts.
Become a TravelSort Client and Book 5-Star Hotels with Virtuoso or Four Seasons Preferred Partner Amenities!