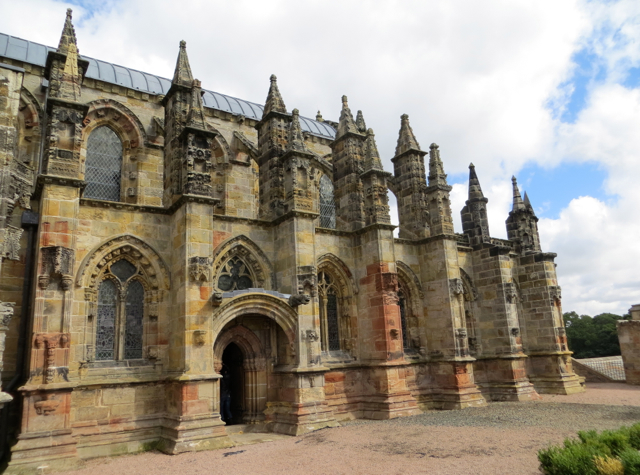 Rosslyn Chapel, of Da Vinci Code Fame, is the subject of many still unsolved mysteries. We visited it as part of our UK and France trip, including flights in British Airways in New First Class, Singapore Business Class and Singapore Suites, and stays in a Scottish castle and 5-star hotels in London and Paris. Somehow I missed writing about it earlier, but for the prior trip report posts, please see:
British Airways New First Class 777 Review
British Airways Galleries Arrivals Lounge London and Concorde Room
Singapore Business Class Review NYC (JFK) to Frankfurt
Petrus London Restaurant Review
Dalhousie Castle Hotel Review, Scotland
Dalhousie Castle Falconry Review
Rosslyn Chapel is best known to most people via its role in Dan Brown's Da Vinci Code, where it figures prominently towards the end of the novel. Robert Langdon and French policy cryptographer Sophie Neveu arrive at Rosslyn Chapel, and discover that the Rosslyn Chapel docent is in fact Sophie's brother, whom she believed to be dead, and that Rosslyn Chapel's guardian, Marie Chauvel Saint Clair, is Sophie's grandmother, with all three of them descendants of Jesus Christ and Mary Magdalene, who, in Dan Brown's novel, is the true Holy Grail due to having carried the child and hence the blood of Christ.
But even before the Da Vinci Code, Rosslyn Chapel was steeped in mysteries that remain unsolved to this day. Here are a few of them:
What Is the Significance of the Hundreds of Code Like Carvings in Rosslyn Chapel's Ceiling?
There are 215 cubes embedded in Rosslyn Chapel's arches and pillars, with intricate patterns carved in them. The most recent effort to decode and make sense of them has been by a father and son team, Thomas Mitchell and Stuart Mitchell, who matched them to 13 unique geometrical sound patterns. These patterns are known as Chladni figures (after being documented by Ernst Chladni in 1787) or Cymatics, but are said to have been understood well before Chladni. This would have to have been the case if these carvings are part of the original Rosslyn Chapel interior, since Rosslyn Chapel was built in the 15th century, starting in 1456.
What Are Rosslyn Chapel's Connections with the Knights Templar?
While in the Da Vinci Code, the Knights Templar, together with the Priory of Sion, are the guardians of the bloodline of Christ and Mary Magdalene, the actual Knights Templar from Medieval Times were known for their fighting prowess in the Crusades and for their financial power. After the Crusades, they were abruptly dismantled by King Philip IV of France and Pope Clement V, and in fact the St. Clair family (who later built Rosslyn Chapel) testified against the Knights Templar when they were tried in Edinburgh in 1309.
Nevertheless, there are stone carvings inside Rosslyn Chapel that recall Templar symbols, so combined with the mysteries surrounding what is actually buried in the underground vaults, it's no wonder there's been speculation that everything from Knights Templar treasure to the Holy Grail was somehow buried there by the Knights Templar.
What Are Rosslyn Chapel's Connections with the Freemasons?
Many of Rosslyn Chapel's carvings also reflect Freemasonry imagery, such as a blindfolded man being led forward with a noose around his neck, apparently a Freemasonry initiation rite. Since Freemasonry dates back to the late 16th century and Rosslyn Chapel was built in the 15th century, it's most likely that these carvings were added later when James St. Clair Erskine, 3rd Earl of Rosslyn, had Edinburgh architect and freemason David Bryce carry out restoration work on many of the carvings.
What Is Actually Hidden in the Crypt and Underground Vaults?
The original Rosslyn Chapel Crypt served as a burial place for the St. Clair family, but the crypt has been sealed shut for centuries. Male members of the St. Clair family are buried there, in their full knightly garb. There was a seismic survey done in the 1980s that apparently revealed metal objects within the vaults, but no further scans have been done and there are no current plans for excavations of the vault.
We visited Rosslyn Chapel on a sunny day, and spent much of it wandering outside the chapel, since the munchkin got antsy in the chapel itself, which was packed full of visitors. That said the docent was great in discussing the history of the chapel, intricate carvings, and mysteries and theories surrounding Rosslyn Chapel).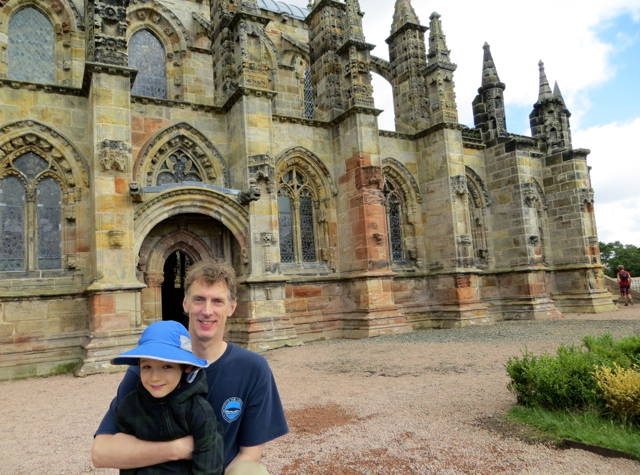 Not all of the St. Clairs were buried in the mysterious crypt and underground vaults. Here's the grave of Francis Robert, 4th Earl of Rosslyn: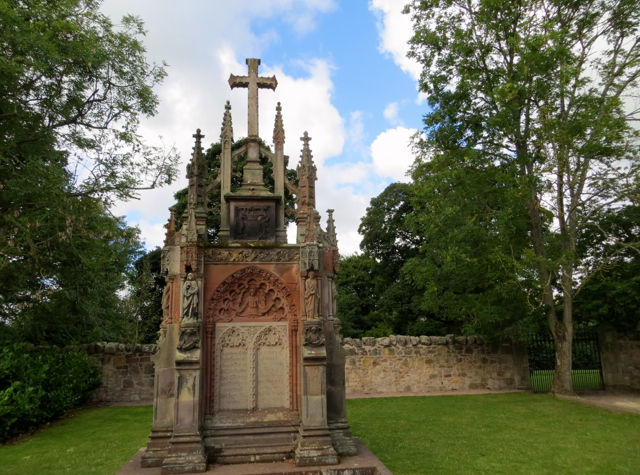 After running around, the munchkin was happy to relax on one of the benches: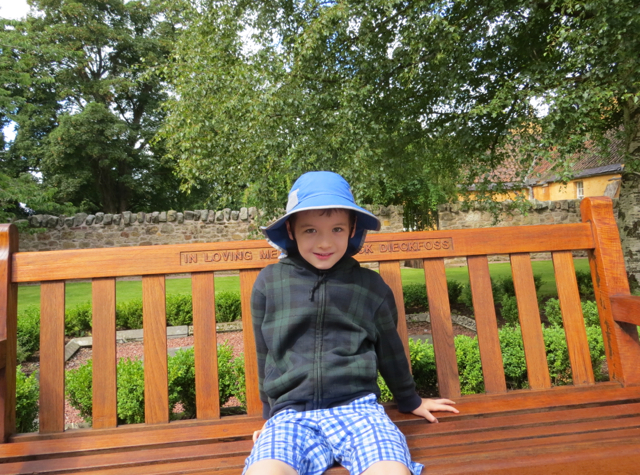 The Rosslyn Chapel Visitor Center carries a selection of books, with of course Dan Brown's Da Vinci Code featured prominently: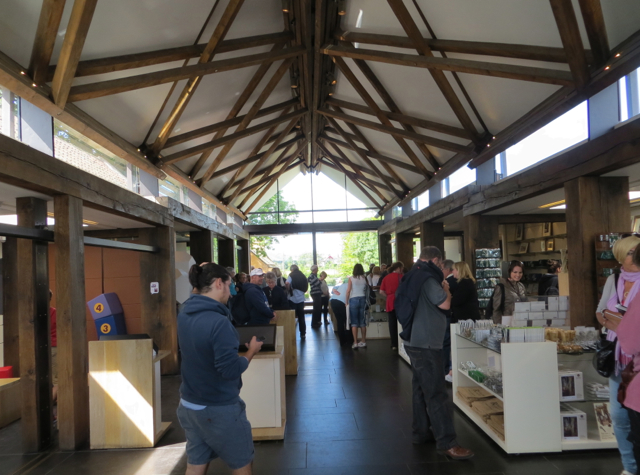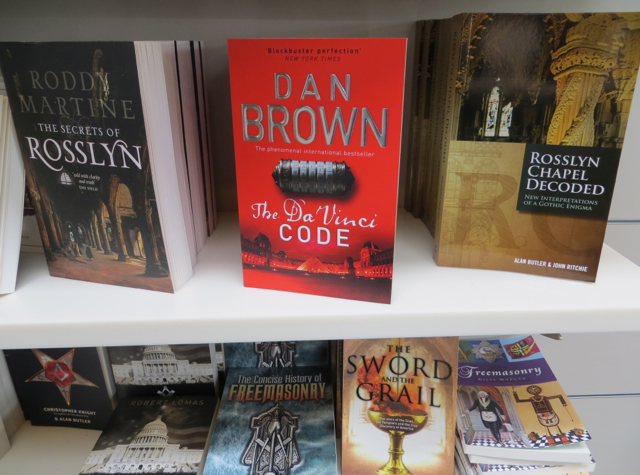 There's also a Cafe and a nice terrace seating area. We didn't try it, but there seemed to be a small but good quality selection of sandwiches, soups, pastries and coffee drinks. Here's the menu:

And the outdoor terrace seating area: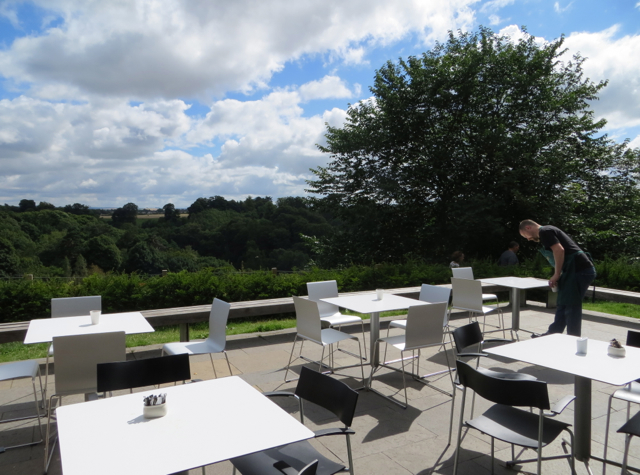 Since I couldn't take you inside Rosslyn Chapel, here's a BBC Youtube Video that enables you to see more of the stonework up close:
Have you visited Rosslyn Chapel, of Da Vinci Code fame? What do you make of the still unsolved mysteries surrounding it?
Related Posts
Dalhousie Castle Hotel Review, Scotland
Dalhousie Castle Falconry Review