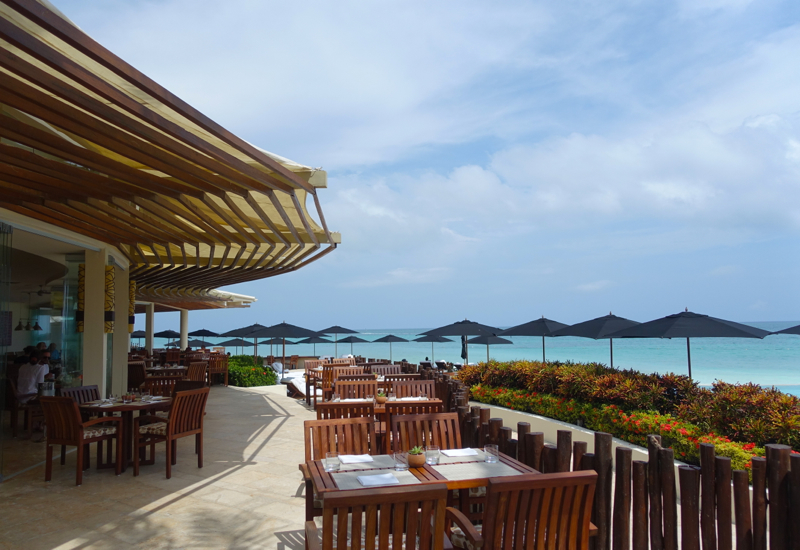 This Rosewood Mayakoba Menus and Dining Review is from a recent work trip to the Riviera Maya for ILTM Americas. See Rosewood Mayakoba Review: Deluxe Lagoon Suite for my site inspection, and Fairmont Mayakoba Breakfast and Dining Review for my dining experiences at the neighboring Fairmont Mayakoba resort.
TravelSort Clients receive these Virtuoso benefits at the Rosewood Mayakoba:
Upgrade on arrival, subject to availability
Daily Buffet breakfast, for up to two in room guests
$100 USD Equivalent Spa Services credit, to be utilized during stay (not combinable, no cash value if not redeemed in full)
Early check-in/late check-out, subject to availability
Rosewood Mayakoba Restaurants
Rosewood Mayakoba offers three restaurants:
Casa del Lago, situated by the main pool, serves daily breakfast 7-11:30am, lunch 12:30-4pm and dinner 6-11pm. It focuses on Italian cuisine prepared with Mexican ingredients.
Punta Bonita serves light lunches 11am-5pm, and regional Mexican cuisines for dinner 6-11pm.
Agave Azul Sushi Bar serves sushi and Asian entrees for dinner only, 5-11pm.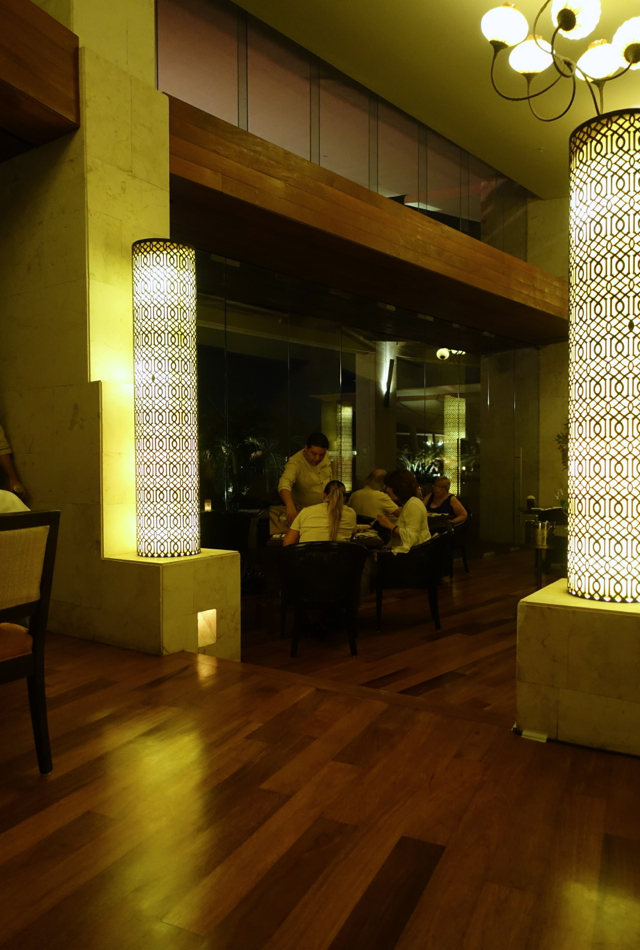 Dinner at Casa del Lago
Casa del Lago is Rosewood Mayakoba's main all-day dining restaurant, and I have to admit I was a little skeptical of Italian food with Mexican ingredients, but if my dinner is anything to go by, it's quite subtle and the concept is executed well.
I asked to be seated in one of the cozy banquettes in the quieter part of the restaurant, since there were a few larger groups. Here's the Casa del Lago dinner menu: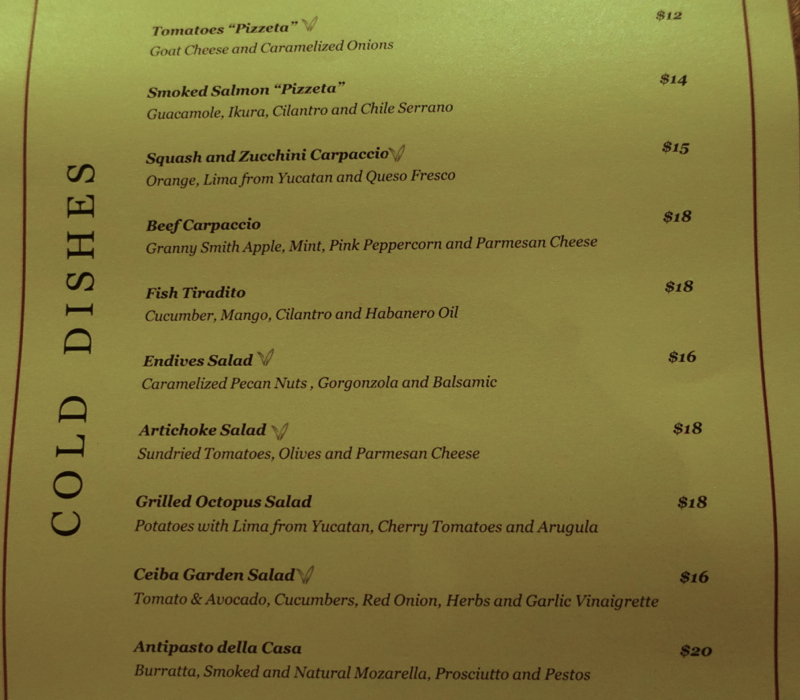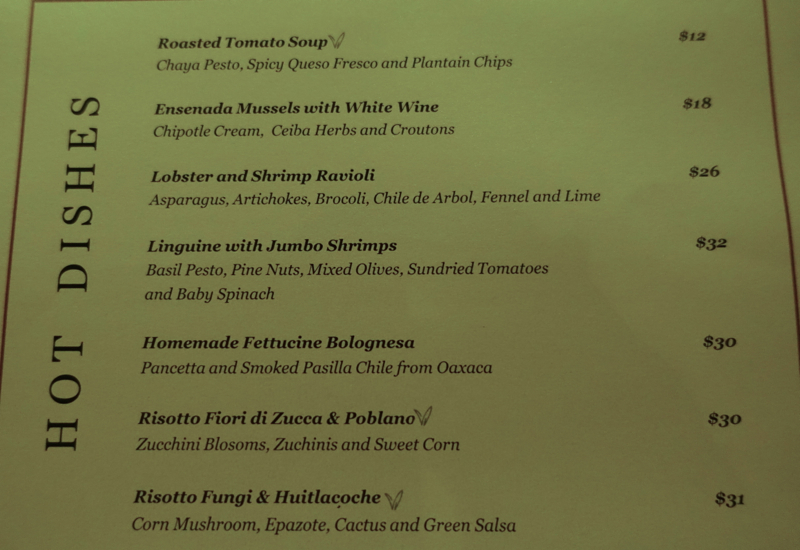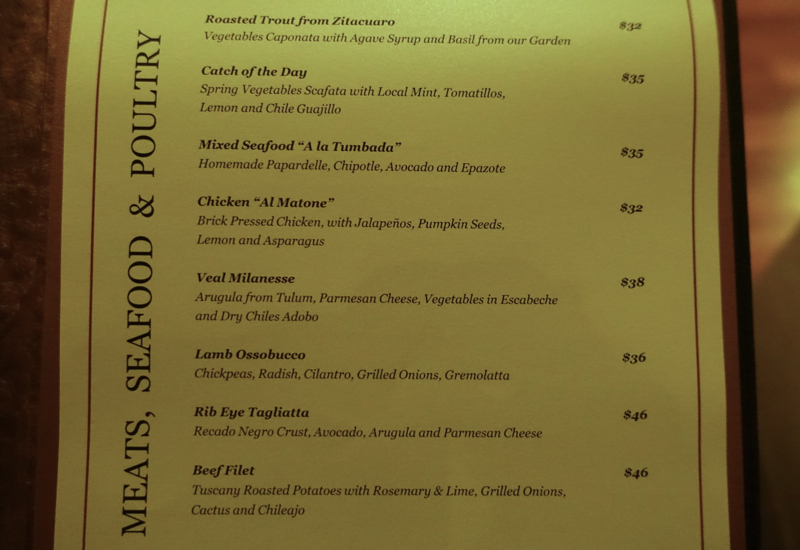 I asked my server for recommendations, and as I was quite hungry, he recommended the Veal Milanese. After taking my order, he brought out a basket of fresh bread, some breadsticks, olive oil for dipping, and some tasty marinated mushrooms: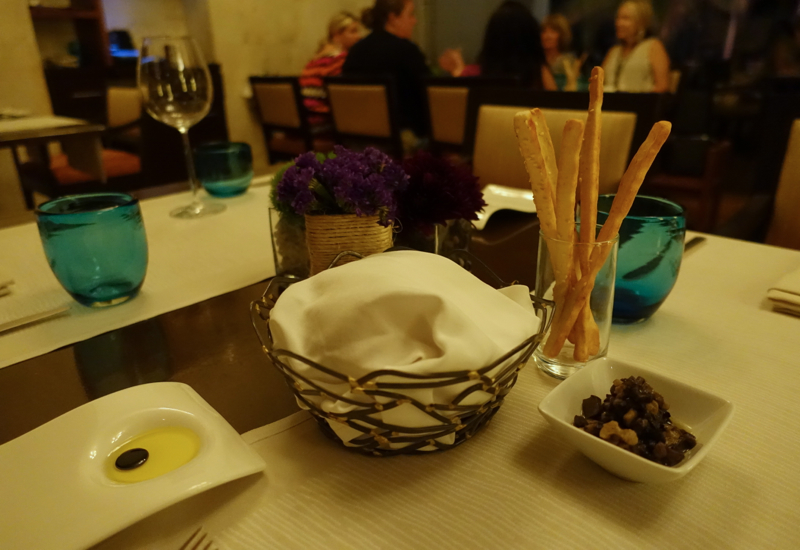 The Veal Milanese itself was textbook perfect: crunchy on the outside, and moist and flavorful inside. What really made it was the dry chiles adobo paste serve alongside, which provided a sweet, smoky foil to the dish. It was so good that I asked if I could have more, and my server willingly obliged.
It was a good thing I didn't order an appetizer or dessert, as this was a very filling dish for one person. For a couple, it would make a good dish to share, along with 1-2 appetizers or perhaps a pasta. Although I didn't order a dessert, some complimentary mignardises, some kind of cookie with coconut, was brought out. It was a nice gesture, although honestly I've had much better mignardises, and would probably forego dessert if the quality is similar.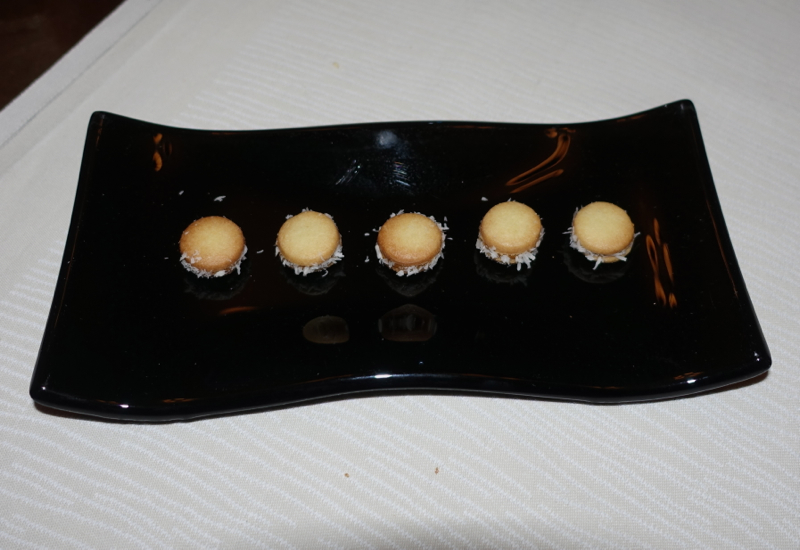 Dinner at Punta Bonita
Punta Bonita is right by Rosewood Mayakoba's beach, so it offers great ocean views during the day, when pizzas and light lunches are served. Here's the lunch menu: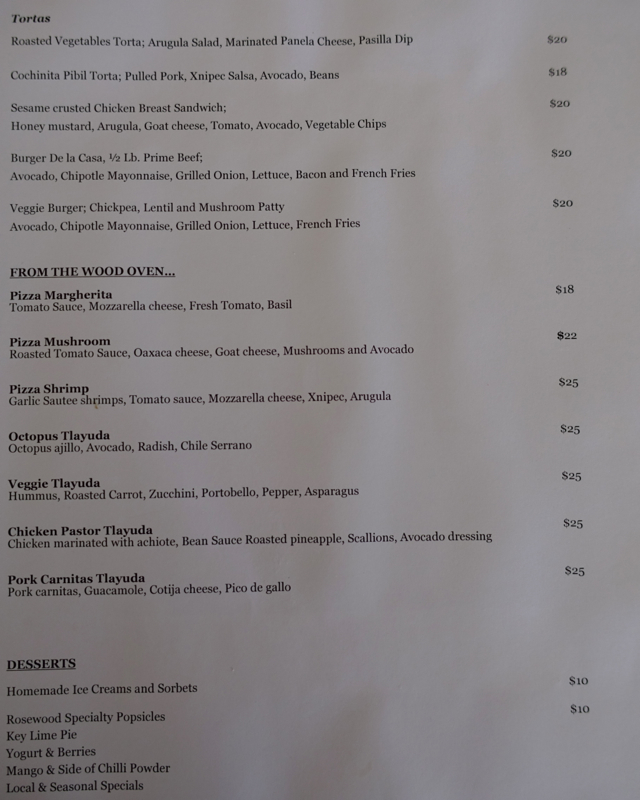 I had dinner at Punta Bonita, arriving at dusk to a view of palm trees silhouetted against a darkening sky:
Since it was good weather, I dined outside, though there's also indoor dining if you prefer.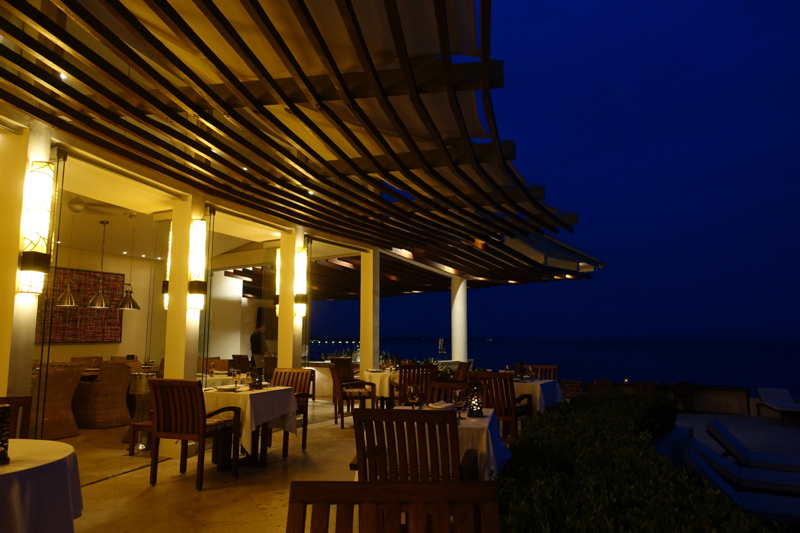 The menu focuses on regional Mexican cuisine: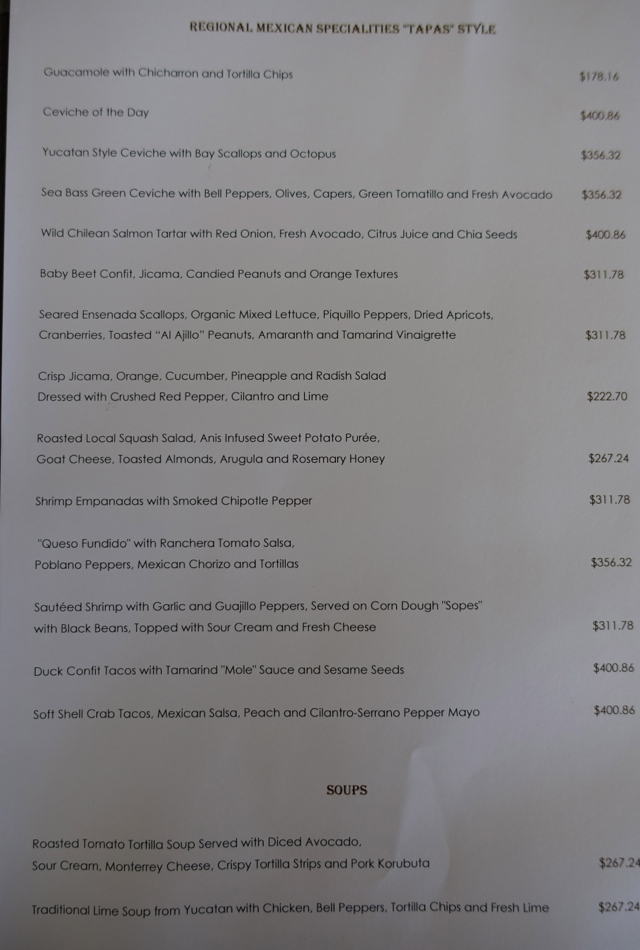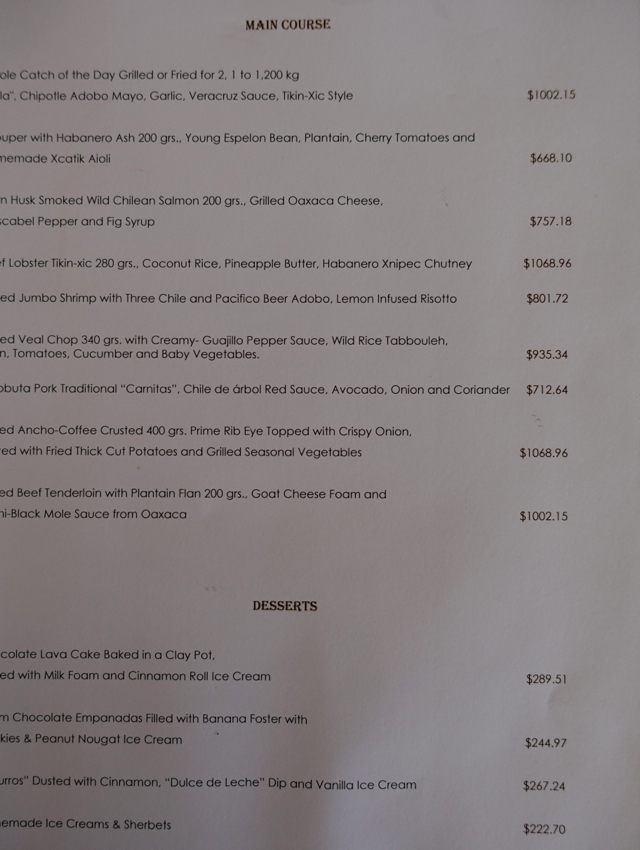 The meal started wonderfully, with piping hot fresh bread served with two different sauces and salt: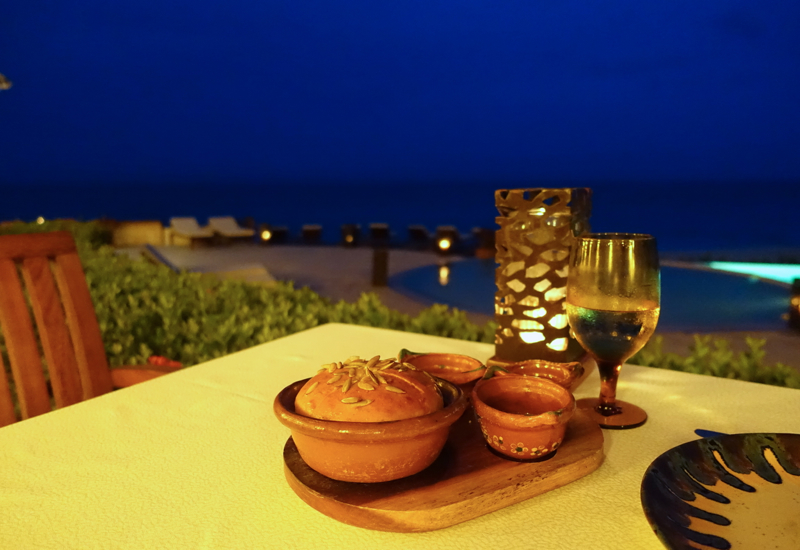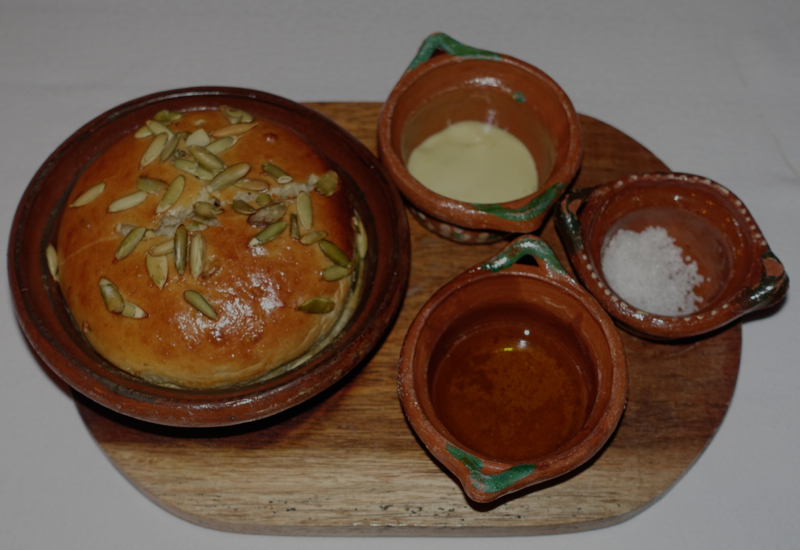 Based on the server's recommendation I tried the ceviche of the day, which was sea bass. I'm certainly no expert in Mexican cuisine, but to me it seemed as though the fish had "cooked" in the lime juice a little too long, as it was tougher than I had hoped for. While I enjoyed the flavors of the dish, I must say that I preferred the Ceviche Mayakoba served at the Fairmont Mayakoba, with its more tender seafood and the addition of the tomato sorbet.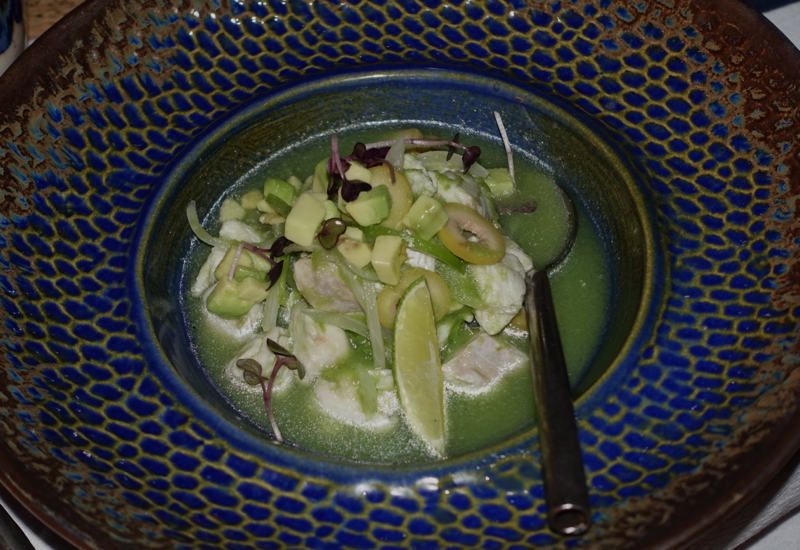 The standout of the meal for me were the Duck Confit Tacos with Mole Sauce. I've no doubt that there are versions of this as good or better at places in Manhattan, but it was a delicious dish and the perfect amount of food given that I'd started with the ceviche.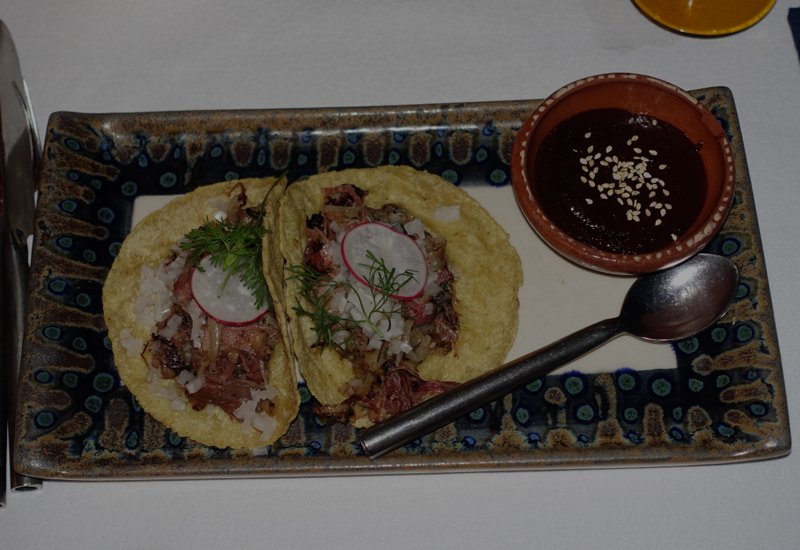 The Maitre D' was circulating among the tables, checking that guests were enjoying their meals, a very nice service touch. He insisted on offering me a complimentary glass of Agave spirit, which seemed rude to refuse, so I tried a little. I can't say I ever got used to sake in my one year in Japan or vodka in my two years in Russia, so while I'm sure the agave was excellent quality, I just couldn't finish the liquid fire–not to mention I had work to do that night.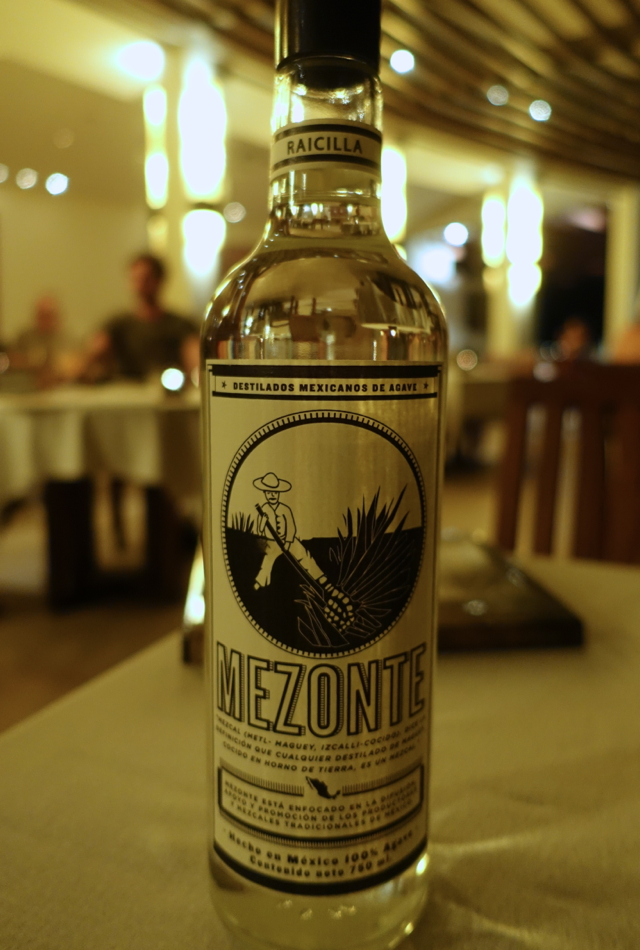 This night I gave into my sweet tooth and tried the Chocolate Lava Cake Baked in a Clay Pot with Milk Foam, with Cinnamon Bun Ice Cream. It was ok, but I thought the milk foam detracted from the dish and didn't like it atop the chocolate cake as it made for a soupy presentation. Personally I prefer the molten chocolate cake I've had at other restaurants, for example Jean-Georges, and simple high quality vanilla bean ice cream.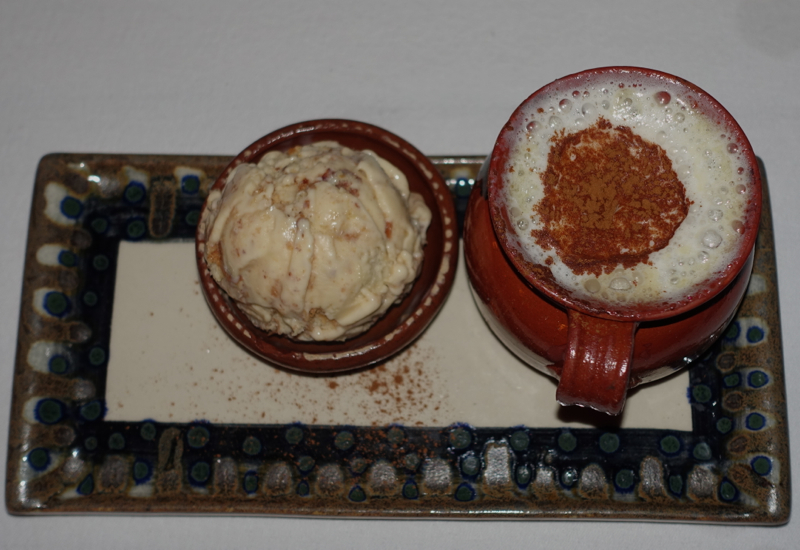 The end of my meal was marred slightly by the fact that there were problems signing my bill to my room at the Fairmont Mayakoba. There are signing privileges for all the Mayakoba resorts (Fairmont Mayakoba, Rosewood Mayakoba and Banyan Tree Mayakoba) as long as it's not the day before check-out. But somehow because of the manual imprint of my credit card, my Punta Bonita server said I wouldn't be able to sign. Since I'd had no problem signing my Casa del Lago bill to my room the night before, I hadn't even brought a credit card, so in the end I had to get on the phone with the Fairmont Mayakoba to explain the situation and have it rectified.
Given this inconvenience, which in my view could have been handled by the restaurant and Fairmont, instead of requiring my direct involvement, I left a modest tip (keep in mind this is over an above the already included 15% service charge) and the server asked if it was in USD, implying that it wasn't enough, which I found unprofessional, though to be fair, this was the only Rosewood staff member I had anything less than a very positive interaction with.
The Verdict
Dining overall was high quality at the Rosewood Mayakoba, though it should be, given that you're paying effectively NYC prices taking into account taxes and the mandatory 15% service charge on everything. I loved the delicious warm fresh bread at both restaurants, and the Veal Milanese with smoky adobo sauce as well as the duck confit tacos were excellent. I wouldn't bother with desserts, and would instead fill up on savory appetizers and main dishes. Punta Bonita is a must during the day for its relaxing sea views, though also has a lovely romantic ambience in the evening. Service was excellent, especially from the Punta Bonita Maitre D', apart from the issue with signing back to the Fairmont Mayakoba, which could have been handled more professionally.
If you've dined at Rosewood Mayakoba, what was your experience?
Related Posts
Rosewood Mayakoba Review: Deluxe Lagoon Suite
Fairmont Mayakoba Review, Riviera Maya
Fairmont Mayakoba Breakfast and Dining Review
Disclosure: I paid for my own meals at both Casa del Lago and Punta Bonita.
Need Award Booking Help? Our fee is as low as $75 per ticket if you book your hotel or cruise with us.
If you enjoyed this, join 200,000+ readers: please follow TravelSort on Twitter or like us on Facebook to be alerted to new posts.
Become a TravelSort Client and Book 5-star hotels with Virtuoso Perks and Four Seasons Preferred Partner Benefits