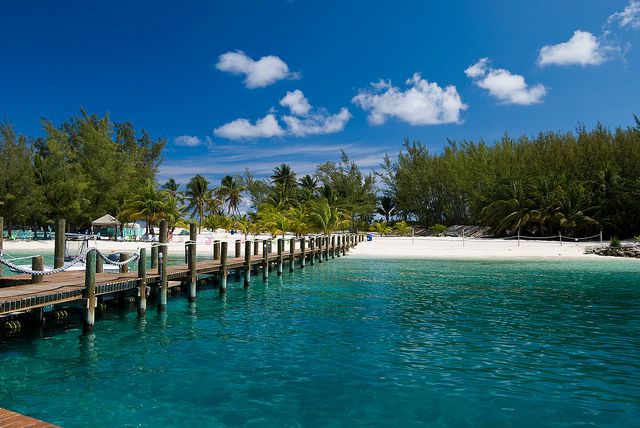 Why Go
The Bahamas have been the dream vacation spot for visitors from around the globe, and for good reason. Pristine, white sandy beaches, crystal clear turquoise water, palm trees swaying in the breeze. These are the images we have when dreaming of this Caribbean destination. Even better is experiencing these sights firsthand with a loved one.
After seeing some online deals for beach gear my mind went back to soaking up the sun on those white sandy beaches of Nassau. I knew I had to go back, and with some convincing I was able to get my fiancé to agree to a week trip to Nassau for a romantic getaway.
Nassau, the capitol of the Bahamas, is located on the 21 mile long New Providence Island. Its past is a rich one as Nassau's history can be traced back to the days of the legendary pirate Blackbeard. Nassau's sheltered harbor and strategic location made it a perfect location for pirates to plunder. However, the British tightened their grip on security in the Caribbean and the pirates were completely driven out of the area by 1720. The city, and the Bahamas, is filled with that aura of history which you can feel as you walk the streets of downtown Nassau.
Tourism is the bread and butter of the city. Luxurious resorts, beautiful scenic views, a thriving nightlife, a rich history, and a year round tropical climate make this city a mecca for anyone wanting a island vacation with some pampering and excitement.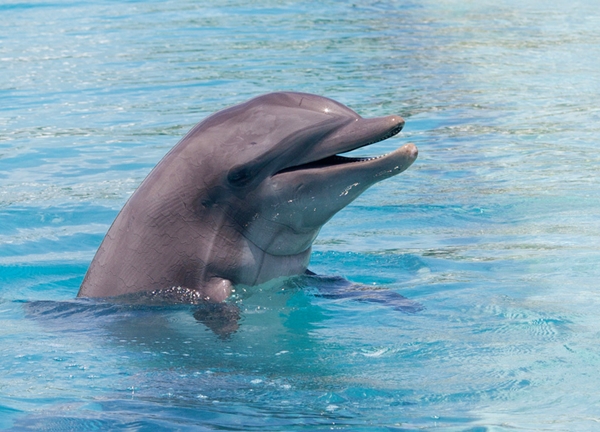 Insider Tips
There is no real "perfect" time to visit as Nassau is a year round destination. But if you are looking to find cheaper prices then you will want to visit during the "off season" which runs from late spring to late fall when tolerable temperatures reign throughout the region. This period, however, coincides with hurricane season which runs from roughly June 1- Nov. 30.
There is no public transportation available from the airport, but you can find a posting at the exit of taxi fares. It will cost roughly $25 (US) to catch a taxi ride to central Nassau where most of the hotels are located.
Don't forget to bring along some formal clothing. For dining in most upscale restaurants, casinos, and some nightclubs formal clothing will be required. Bathing suits are only allowed at beaches, pools, and pool-side dining, not in the streets or in restaurants.
The Bahamian Dollar is the official currency, but it is equivalent to the US Dollar. The US Dollar is widely accepted as are credit cards and travelers checks. ATMs can be found throughout Nassau and Paradise Island.
The Bahamas can be expensive but luckily you won't have to deal with tipping in all areas as both restaurants and hotels automatically add in an extra 15 percent gratuity charge for all food and beverages. You will usually want to tip bellboys about $2 per bag, and taxi cab drivers should be tipped roughly 15% of the fare.
You will be able to use your standard American or Canadian electronic appliances without adaptors in the hotels.
Some criminals target restaurants, nightclubs, and shopping areas that are frequented by tourists. The most common approach is for the criminals to ask the victim for a ride, either by asking as a personal favor or claiming to have an actual taxi, then robbing and/or assaulting the victim once in the car. Make sure you are riding only in licensed taxis which can be identified by their yellow license plates.
Where to stay
When people think of places to stay in the Bahamas, clearly Atlantis is the resort that people think of. The mega resort, located just off Nassau on Paradise Island, is where I spent my first trip to the Bahamas and although it's definitely a place that requires a visit (more on that later) it isn't the ideal stay if you truly want to experience Nassau.
If you do choose to stay to there, know that there are a number of different accommodations at the resort (The Royal Towers, The Imperial Club, The Coral Towers, and the Beach Tower), each giving visitors a wide range of different room and suite types to choose from. Atlantis is definitely pricey so I would recommend staying in the more reasonably priced (at least by Atlantis standards) Beach Tower where you can stay for $229 a night.
Atlantis, however, is sort of its own little world and if you stay there then there is really no need to leave the resort as there are so many things to do there to keep you happy. So Atlantis is really a vacation in-and-of itself. So, when my fiancé and I were deciding on a place to stay we wanted to find a relatively quiet getaway instead of the insanity of Atlantis.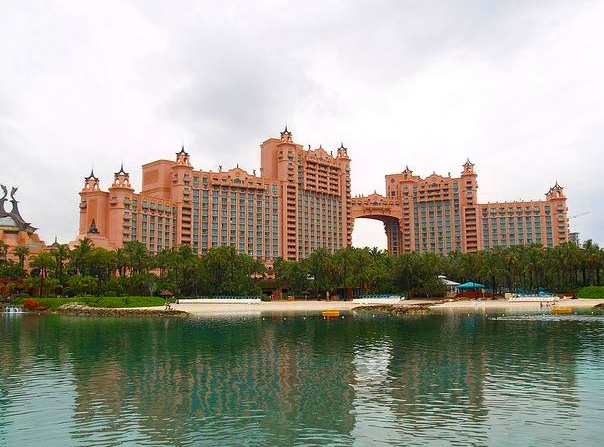 We found the British Colonial Hilton Nassau to be the perfect fit for our Nassau escape. The hotel is truly a landmark itself as the building's design embodies Nassau elegance. The hotel underwent a massive $17 million renovation in 2009 which just added to its plush atmosphere. Not only is the hotel beautiful, but it offers guests a private beach which is lined with lounge chairs and sunshades that overlook the harbor. This gives guests a great way to soak in the sun and take a dip in the clear, blue Caribbean without having to deal with the flock of tourists that the cruise lines bring in on a daily basis. Being able to relax on a hammock, while enjoying the amazing view of looking out to the sea is an amazing experience. When we weren't relaxing on the beach or taking a dip in the pool, my fiancé and I took advantage of the complimentary kayaks and snorkeling gear that the hotel provides for its guests. Rates range from $200 to $400 a night.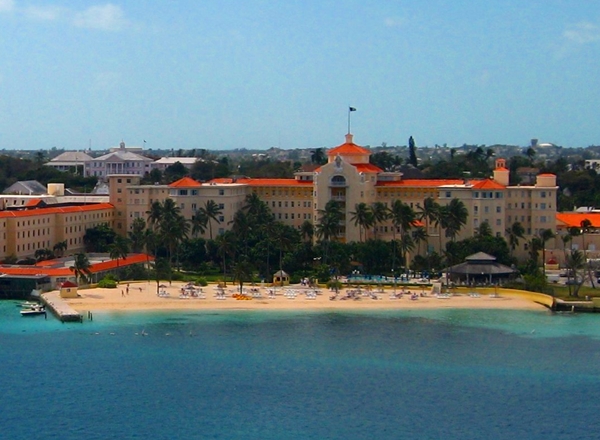 What to eat
If you're not a fan of seafood, then traditional Bahamian cuisine probably isn't for you. Crawfish, conch, land crabs, and fish such as Grouper, Yellow Tail, and Red Snapper are local and tourist favorites which you can find in restaurants throughout Nassau. You will not want to miss out on a chance to grab a taste some of that fresh, Caribbean seafood while on the island.
When looking for a place to have a romantic dinner in Nassau we came across Café Matisse. This picturesque little café is tucked away in a quiet lane and serves wonderful Italian food which they make with fresh and local ingredients. You will want to make reservations, especially if you are visiting during peak tourist season. If you can, grab a seat in the outdoor garden which provides a perfect romantic dinner setting as the garden is lit up at night. Their menu changes every three months so they are always providing customers something new and fresh, but you will always find amazing Italian pasta and seafood. And their deserts are to die for as they serve homemade tiramisu which was absolutely amazing! Being a more formal café (proper dress is required; no shorts or sandals) you can expect a steep bill as prices range from $50 to $70 per person.
For a more relaxed dining experience, take in lunch or dinner at the Beach Club Café. The setting is great, as you can take in beautiful views of the sea as you eat. The grilled fish and international dishes are the real specialties here. I would recommend going at dusk as the views of the sunset from the café are amazing. The prices here are reasonable compared to other restaurants as most lunch meals are around $20 while dinner prices range from $20 to $50 per person.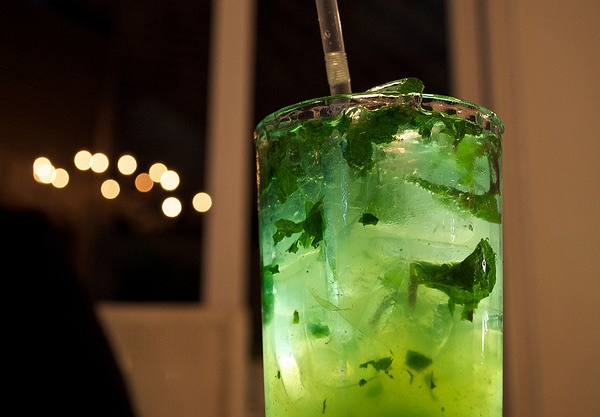 While most restaurants throughout the Nassau area are a bit pricey, you can find some cheap meals in some hole-in-the-wall places downtown as you can grab a decent meal for around $8 at these places. Also, you can find some fast food places such as McDonald's or Burger King for those of you vacationing on a budget, or if you're just not a fan of the Caribbean or international cuisine found at most Nassau restaurants.
What to see and do
Atlantis is definitely a sight worth seeing. Ever since it first opened its doors in 1998, tourists have flocked to this huge, Vegas-esque resort. The Bahamas have definitely benefited from its success, as the resort generates 11% of the country's GNP. The amazing water park alone is worth a stay here, but again this resort is really a vacation in-and-of itself. So, if you're not planning on staying here you'll definitely want to make the trip over to Paradise Island to see what all the fuss is about. You can buy a day pass ($39 for adults) for access to the Atlantis grounds and with it you can enter the Dig, a series of aquariums and the world's largest open-air marine habitat. The Dig gives visitors a taste of the legendary city of Atlantis as guests will observe wreckage and debris throughout the aquarium that is supposed to represent the ancient lost city. The aquarium contains a number of exhibits and displays that are absolutely incredible which makes for a great day trip while in Nassau.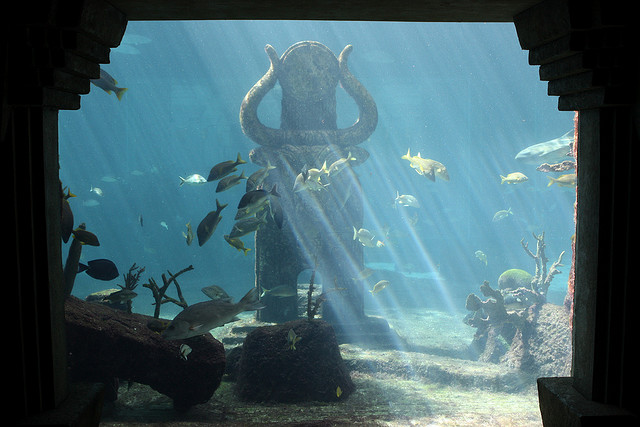 Bay Street is a great shopping destination in downtown Nassau. The street is filled with an assortment of different boutiques and souvenir shops. Considered the city's "main street" it has maintained a historic feel to it while still catering to the needs of those shopaholics out there such as myself. You will find all the normal touristy items that you would expect, but you can also find a number of deals on local products in places like the straw market where you will find a number of locally made crafts (hats, dolls, and baskets are the tops sellers).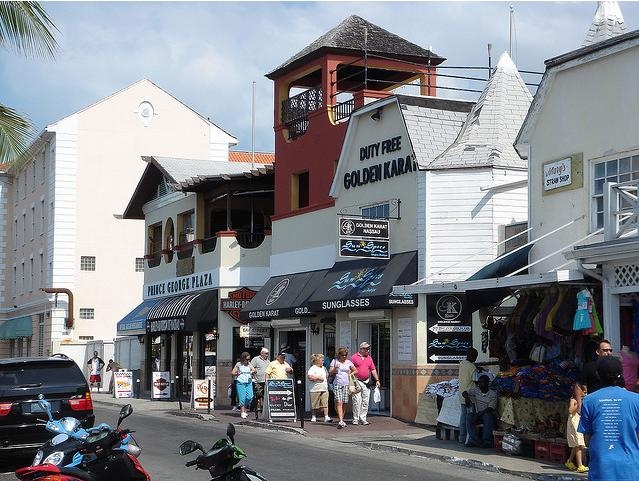 Having the rich history that it has with pirates, it came as no surprise when we came across the Pirates of Nassau Museum. I don't think there is quite any other place more fitting for a pirate museum than the place where it all happened. It's a very reasonably-priced attraction ($12 for adults) and filled with great pirate-related exhibits as they even have a replica of a pirate ship inside the museum. It takes about an hour to go through so it's definitely worth a stop when you're in town.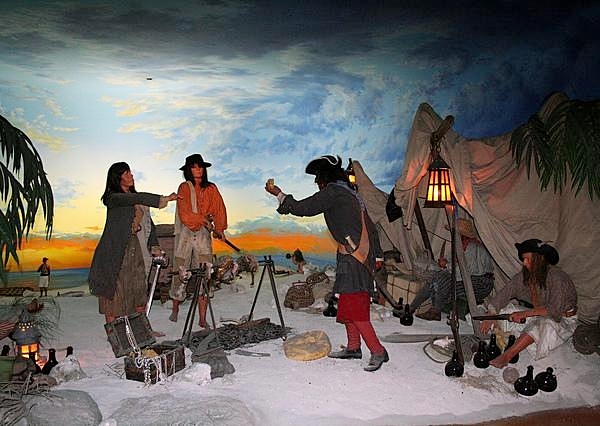 When my fiancé suggested taking a Segway tour of the island, I was a little bit hesitant. I didn't think a Segway would exactly be the best way to take in the island, but I was wrong. Bahamas Segway & Beach Experience offers a truly unique experience as you get to view the beauty of the Bahamas at a slower pace than by car or even by bike. First, they took us on a scenic 30 minute bus ride out to a 200 acre privately-owned property where you get to hop onto your Segway. They give you a quick crash course on how to operate it (it's pretty easy to figure out), and then you're off on a guided tour of the area. The tour guides were really friendly and helpful as they guided us to some great scenic spots, and we even took a quick break to take a dip in the ocean. If you're looking for something different and exciting to do in the area this is definitely it!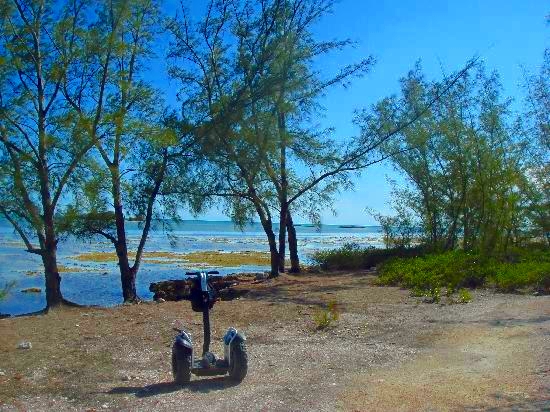 Before our trip was over we made sure to make a stop at the Ardastra Gardens and Zoo. It's a fairly small zoo being only 5 acres, but it gives visitors an intimate setting to take an up close and personal view of hundreds of mammals, birds, and reptiles from all over the globe. The zoo and gardens were beautiful and the marching flamingos show alone was well worth the price of admission ($15 a person). The zoo is in a great location as it's only five minutes from downtown. Walking through the beautiful winding trails of the garden hand-in-hand with my fiancé was a great way to cap off our romantic Nassau getaway.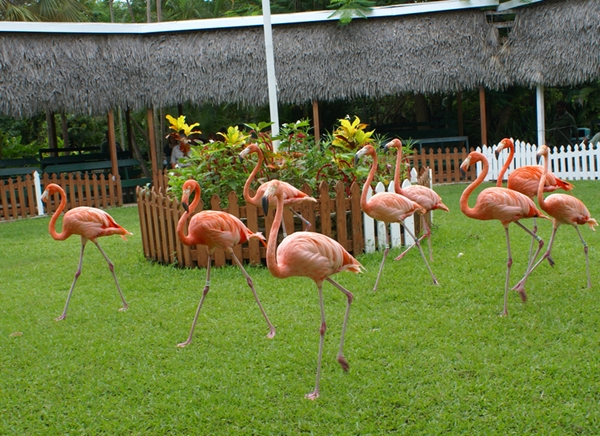 Related Posts
Beaches, Haute Cuisine and Creole Delights in Sunny St. Martin
St. Lucia, Caribbean with Kids
Need Award Booking Help? Our fee is as low as $75 per ticket if you book your hotel through us.
If you enjoyed this, join 150,000+ readers: please follow TravelSort on Twitter or like us on Facebook to be alerted to new posts.
Become a TravelSort Client and Book Your Hotel with Virtuoso or Four Seasons Preferred VIP Amenities!
Photos: A. Thomason, absoluteczech, the queen of subtle, jnap, M. Caban, Ben Dodson, Thomas Hawk, Charles P.