Update: Our new 2013 Riverpark Restaurant Week Review
We reviewed Tom Colicchio's Riverpark for Summer NYC Restaurant Week last year, and it was one of our favorites, apart from the lackluster dessert. I was curious to see, one year on, whether it was as good as we'd remembered. Regular readers may be wondering if, given the rather harsh reviews I've given recently to Ai Fiori, Park Avenue Summer in NYC and to Parkhuus at the Park Hyatt Zurich whether I've become overly critical and impossible to please. I was beginning to wonder myself, if I'm just too harsh a critic. Fortunately, Riverpark was a great experience, and the best Restaurant Week meal I've had in a long time.
Riverpark is definitely not the most central restaurant–as you can guess (or remember from our other review) it's right on the East River, in a nondescript office park called the Alexandria Center that you enter off of 1st Avenue. Perhaps because of that disadvantage, it's gone to some pains to deliver a great experience. As you walk in, you see a well-tended garden that grows many of the restaurant's vegetables and herbs–pretty hard to get more locavore than that.
At the time we got there, it wasn't possible to sit inside by the window, so we chose outside. Probably better anyway, since I was dining with the munchkin, and outside is a bit more casual, with plenty of boats and helicopters going by for a 4-year old boy to enjoy.
Our server welcomed us, and wasn't fazed at all by my dining companion being a 4-year old, offering him his own menu and bringing us a carafe of ice cold water–perfect given the warmth of the New York summer. I asked him about the pastas, as I wasn't sure if they counted as appetizers or mains, and he replied that they could be either. I already had my eye on the sweetbreads ($5 supplement) but if I'd been ordering a pasta for myself, it would have been the Squid Ink Chitarra with calamari, octopus and Fresno chiles. Since the pasta was for the munchkin, however, I decided on the Cavatelli with summer squash, farm basil, squash blossoms and ricotta salata. Our server volunteered that the kitchen could make a simple kid's pasta, and I appreciated the offer, but I want my son to grow up with an appreciation of different kinds of food, not just kid standards.
After ordering, we went to wash our hands. The only thing I dislike about Riverpark's space is that it doesn't have its own bathrooms–you have to exit the restaurant and use the ones in the building's lobby. Minor quibble though.
After we got back, warm bread rolls arrived. The munchkin would have happily made a meal out of his (and mine) if I'd let him, but I managed to get him to save room for the meal to come.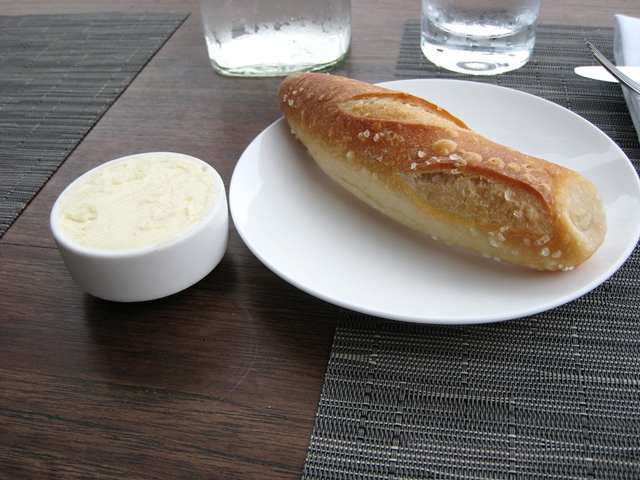 When the appetizers came, my son initially wasn't too thrilled with his pasta, since he wasn't used to seeing pasta in pesto sauce, or for that matter, basil leaves and squash blossoms in his food. He started picking at the ricotta salata cheese (his favorite food) until I persuaded him to try the cavatelli, pointing out that it was his favorite color–green–and that he didn't have to eat the basil leaves and squash blossoms (which I think would be asking a bit much of a 4 year old). I tried some as well–it was like summer in every bite.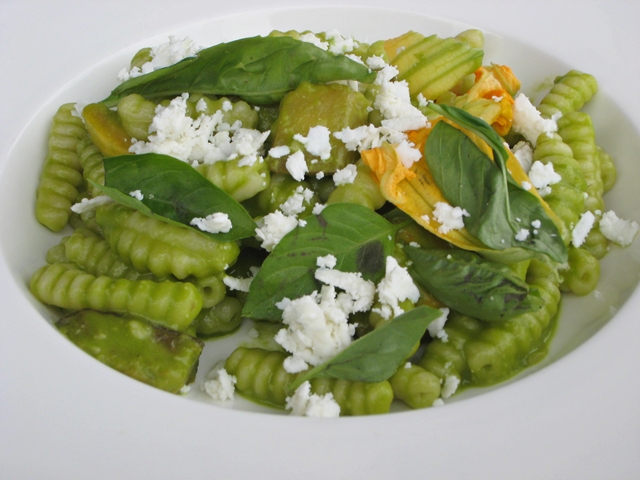 My sweetbreads weren't quite as seared and crispy as I'd like, but the flavor was wonderful, and the pairing with bronze fennel and tiny yellow ground cherries ingenious. I wasn't drinking any wine, but if I had, I'd have chosen a nice Riesling Kabinett.
There was some time before the mains arrived, so we enjoyed reading a couple of books, looking at photos on my camera, and sticker fun (See What's In Your Wallet–stickers to the rescue!) When our entrees came, it was all I could do to get a photo before the munchkin could nab a piece of duck from the plate–it's easily his favorite protein. The duck breast was cooked perfectly to medium as I'd requested, and artfully arranged over a bed of duck confit cassoulet, with a surrounding lovely green puree of summer savory. I'd anticipated taking most of this home to my husband, but the munchkin ate at least half of the duck.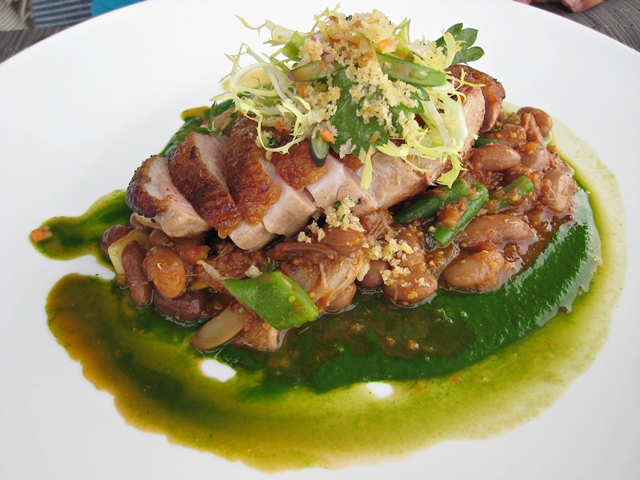 Just as good was my grilled Berkshire pork chop, crispy outside and still moist inside, complemented so well with the grilled peaches (I wished there were more of them), some peach puree, grilled cipollini onions and bacon with collard greens. No wonder Southerners miss their food. It was a good thing I took some of this dish home as well, since otherwise it along with the appetizer would have been more than enough.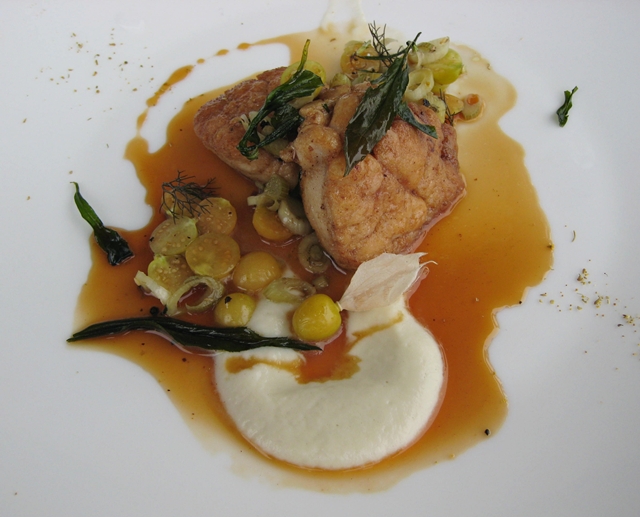 Last time we were somewhat disappointed with dessert, a black forest sundae and lemon pudding cake. My son wanted the housemade ice cream and sorbet, and was loathe to give me even two small bites to taste them. They were well made, but of course have nothing on my favorite, Berthillon (see Don't Miss These Paris Desserts).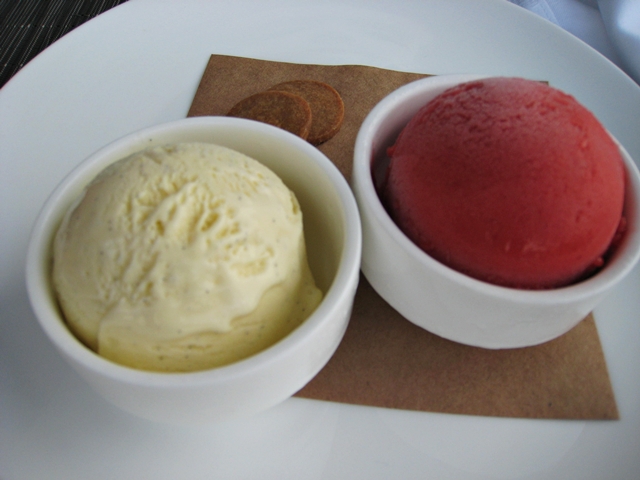 I chose the beignets, which were served piping hot with a bit of berry sauce. They were light, and I liked that they weren't too sweet, but somehow I still prefer the merveilles we get for brunch at Prune.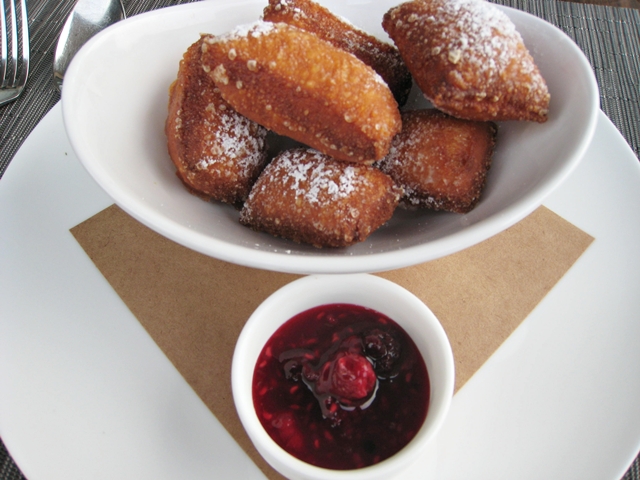 The verdict: This is the one place I would definitely go back to even after Restaurant Week. It's a bit out of the way, but food was delicious and fresh, creative without being fussy, generous portions, and service was professional and friendly. My husband calls it "the most Californian" of the upscale places in NYC, which is a compliment. Even though it's unlikely you'll get a Restaurant Week table unless you nab a cancellation, it's well worth a trip for an uncomplicated but delicious dinner a deux or with friends in NYC. And a nice bonus is that paying with my Chase Freedom, we earned almost 500 Ultimate Rewards points for dining at a place we would have dined anyway.
Apply: Chase Freedom Card gets 5X on all dining July-September 2012
Related Posts
NYC Restaurant Week Summer 2012: Where to Go
Tom Colicchio's Riverpark NYC Restaurant Review
British Airways Offers $100 Off 2 NYC Michelin Restaurants…Again!
Park Avenue Summer: NYC Restaurant Week Review
Chase Freedom Rewards: Activate 3rd Quarter 5X Bonus and Where to Dine in NYC
Check out and apply for the Best Travel Credit Cards.
If you enjoyed this, please follow TravelSort on Twitter or like us on Facebook to be alerted to new posts.
Become a Member to find your perfect luxury or boutique hotel at up to 50% off: TravelSort Hotels