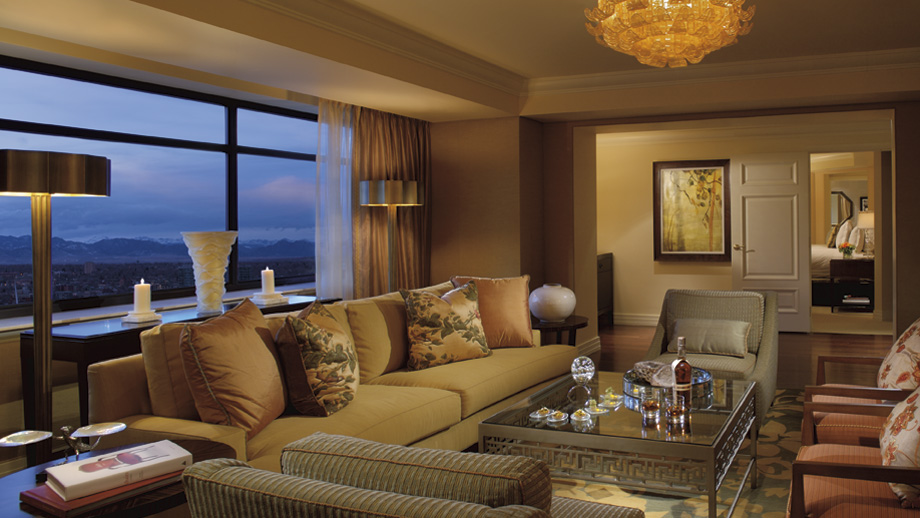 This Ritz-Carlton Denver hotel review is part of a Denver trip report. For the prior post, see Hyatt House Denver Airport Hotel Review.
The Ritz-Carlton Denver was the base for two nights of our recent Denver stay. We chose a Club Level Deluxe Room, given the convenience (especially in wintery weather) of Club Lounge access with complimentary breakfast, light lunch, evening hors d'oeuvres, dessert, and fruit and drinks throughout the day, as well as included Internet.
TravelSort clients may book the Ritz-Carlton Denver with Virtuoso benefits:
Upgrade on arrival, subject to availability
Continental breakfast daily, for up to two in room guests
$100 USD Spa Services credit, to be utilized during stay
Early check-in/late check-out, subject to availability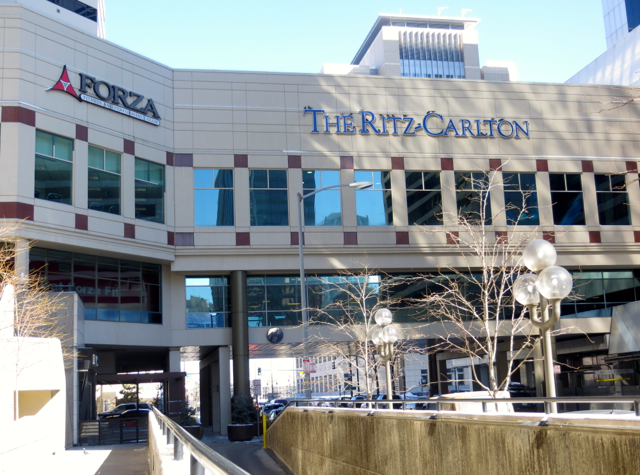 Ritz-Carlton Denver Location, Lobby and Check-In
The Ritz-Carlton Denver is located at 1881 Curtis Street in downtown Denver, by 19th Street. Since I chose not to rent a car during our Denver stay, we took the RTD SkyRide bus from Denver Airport downtown for just $11, and the final stop, the Denver Bus Center, is literally across the street from the Ritz-Carlton Denver. It just doesn't get more convenient than that.
The Lobby is rather small, with about 6 large seats, and check-in as well as the Concierge desk is to the right as you enter. On both occasions, there was no line, and we were greeted and checked-in swiftly, as well as given a sheet noting the Club Lounge benefits and hours for the culinary presentations.
Club Deluxe Guestroom
We stayed two separate nights, and the first stay was in a Deluxe Guestroom on the 11th floor, but with Club Lounge access via a private stairway. Since I was traveling with the munchkin, we requested a room with two double beds, instead of one King bed. The second stay, we were on the 12 floor, so in a Club Room. The only difference I noticed was the slighly different bedspread design. The feather beds are comfortable, at least if you prefer a plush pillowtop mattress, as I do, and the soft sheets are 400 thread count Frette linens. There was plenty of space, since Club Deluxe Rooms are 550-580 square feet.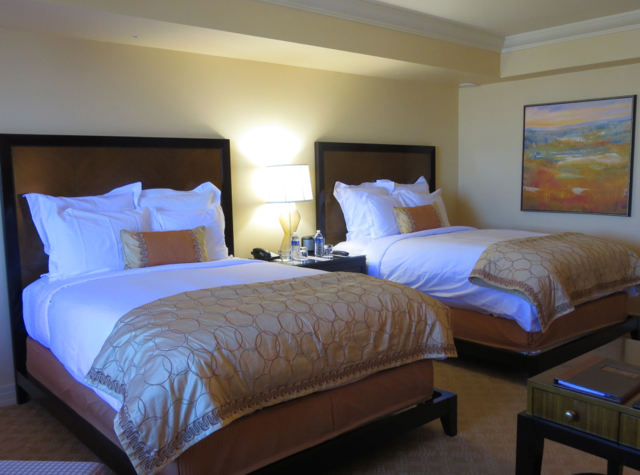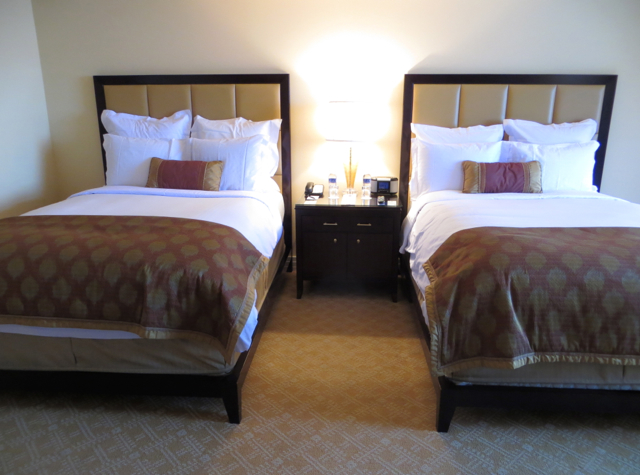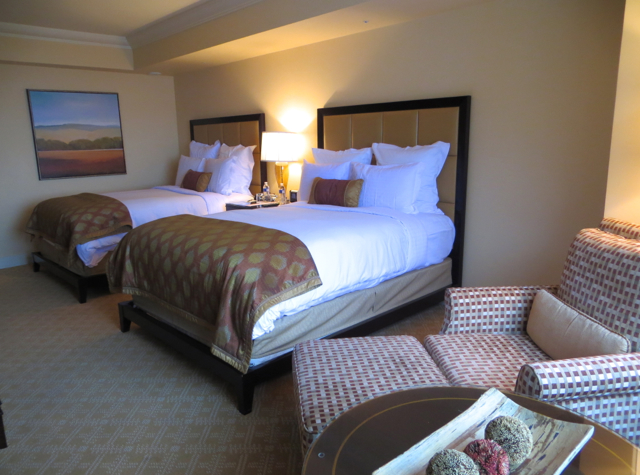 For both rooms, I noticed that there was a connecting door, which can be great for families that want a connecting room, but can sometimes be a disadvantage in terms of noise if you're just booking one room and another guest party is in the connecting room. Fortunately, in both cases our room was quiet, apart from the occasional sound of a closing door somewhere down the hallway.
I wouldn't say the view from either room was anything to write home about, although of course at least it let in natural light and wasn't directly facing another building. Some of the suites, however, do have views of the Rocky Mountains in the distance. Here's the view we had: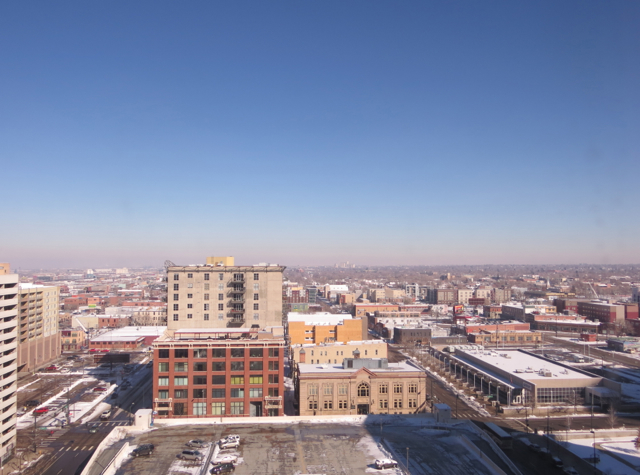 While the first stay we kept the privacy sign on and decided to skip turndown service, the second stay we left the sign off and there was turndown service. It was adequate, with the shades drawn, the beds turned down and bottled water as well as Ritz-Carlton milk and dark chocolates provided, but not stellar. Unlike the turndown service in other hotels, where the bathroom has been tidied, with wastebaskets emptied and your toiletries neatly arranged on a washcloth, our bathroom was completely untouched. Not a problem, of course, but not quite the level of detail one would expect for Ritz-Carlton Club Level.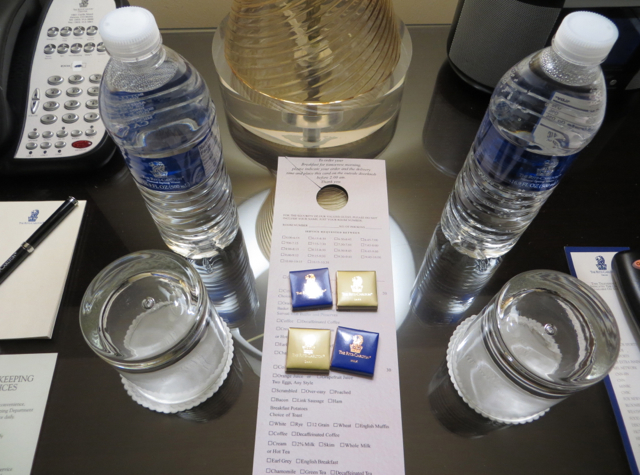 The bathroom featured a dual vanity with his and hers sinks, a walk-in shower (although with a regular showerhead, not a rain shower), separate toilet chamber, and a deep soaking bath.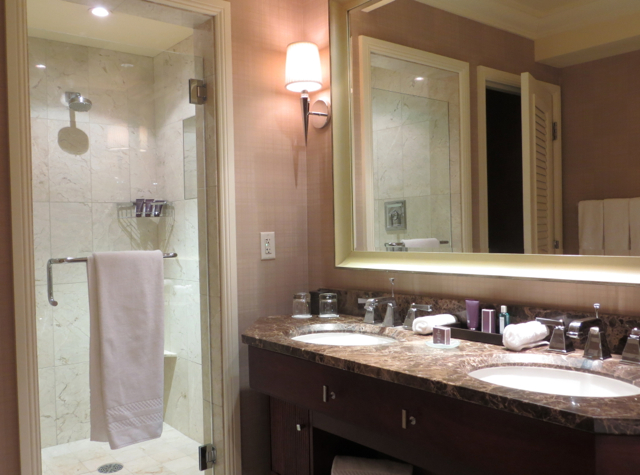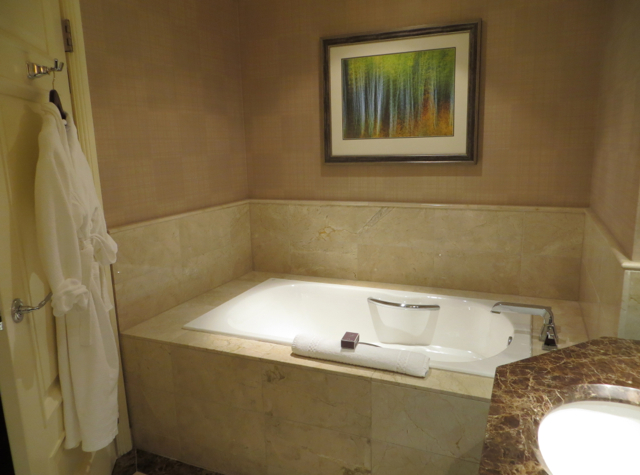 Bath amenities were Asprey of London Purple Water, which were fine, and better than the Ritz-Carlton branded bath amenities I encountered at the Ritz-Carlton Millenia Singapore, but not my favorite, compared to L'Occitane or Bulgari. What I did like was that a comb and also mouth wash were provided, in addition to the usual shampool, bath gel, conditioner and moisturizer.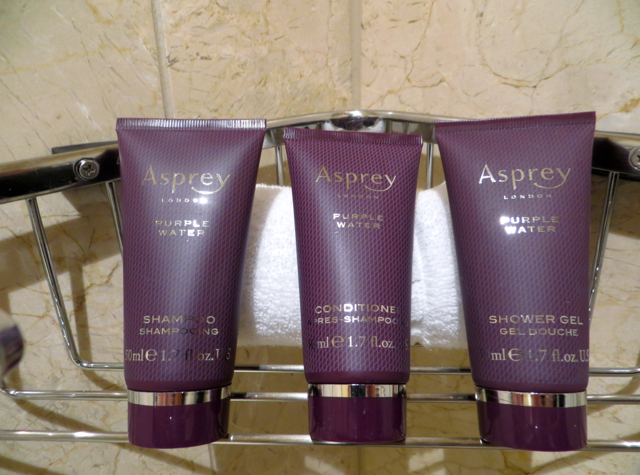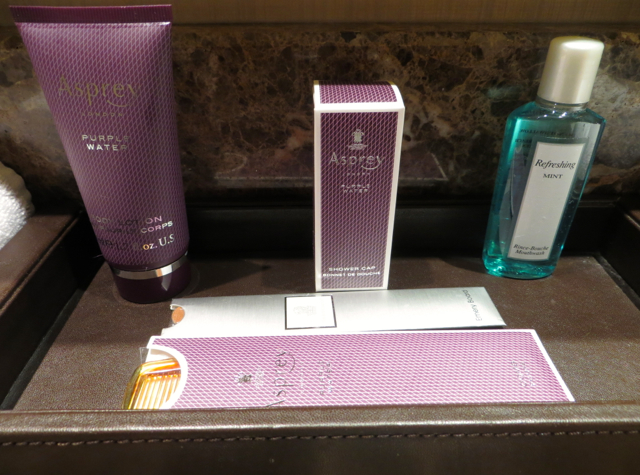 The work desk wasn't huge, but provided ample space for my work. I liked that there were two outlets that rolled directly out of the desk, although on my second stay they didn't work and I had to plug into one of the wall outlets.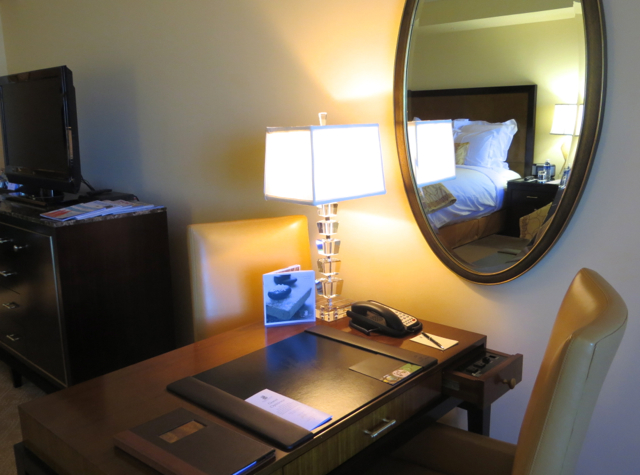 I was happy to see a Nespresso machine, even though since we had Club Lounge access I ended up having cappuccinos and mochas in the lounge.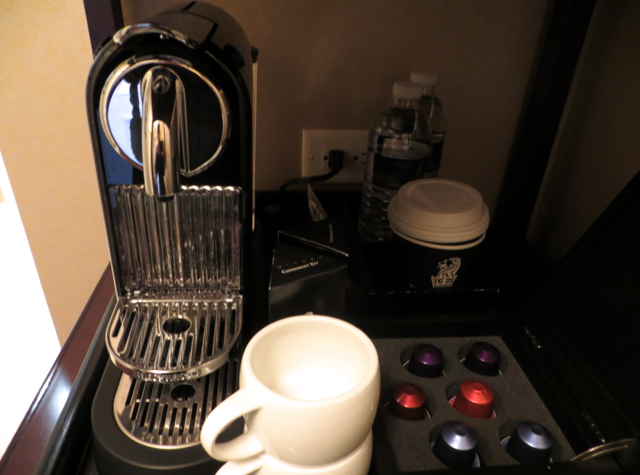 FORZA Fitness Club and Swimming Pool
Ritz-Carlton Denver guests receive complimentary access to FORZA Health Club. FORZA is adult only (18 years and older) Monday – Friday, so it was fortunate that we were visiting during the weekend, when children are allowed when accompanied by an adult. As far as I know there's no change in access policy over the summer or school vacations, so this is either a plus, if you are childless, since there will be no kids in the fitness center or pool area, or a minus, if you're a family staying during the week, since you won't be able to use FORZA with your kids, and would presumably need to find a babysitter if you wanted to get in a workout yourself and have young kids you can't leave on their own.
We first went swimming, and were the only ones in the pool for most of the time. The indoor lap pool is kept cool, so it's great if you want to swim laps, but I found it a bit too cool to enjoy recreationally. The munchkin didn't mind though, and there were both noodles and kickboards to keep him busy.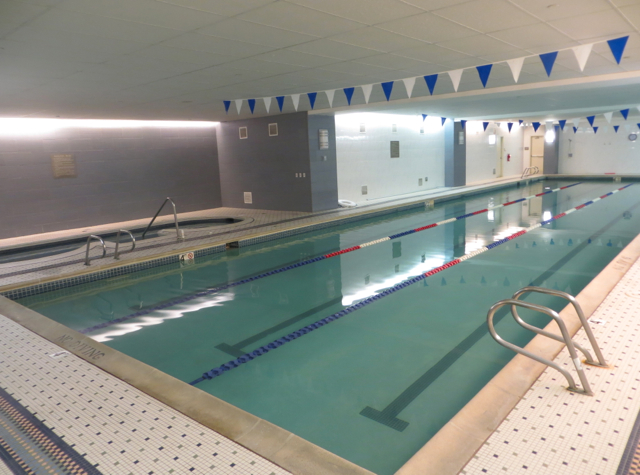 The jacuzzi hot tub was kept nice and hot, although I couldn't get the whirlpool feature to work. No matter–it was great for a relaxing soak.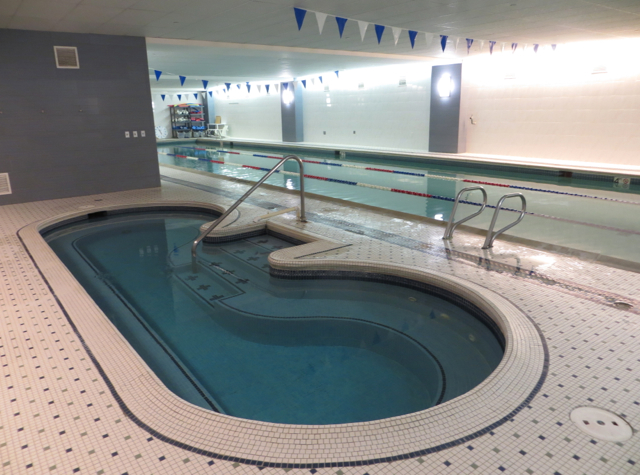 The highlight of our experience at FORZA was the huge basketball court, with tons of natural light. We spent quite awhile shooting (or trying to shoot) baskets. There's also a climbing wall, which you can see at the far end of the basketball court.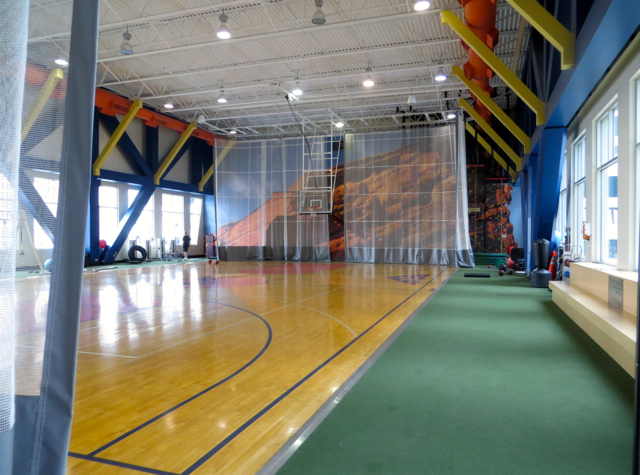 There's also an extensive array of machines, treadmills, Stair Masters and free weights. It may not be the most up to date equipment, but you most likely won't have to wait for a machine, especially on the weekend.
Club Level
Complimentary House Car Service
The Ritz-Carlton Denver offers a complimentary house car service on a first come, first served basis within about a 3 mile radius of the hotel. Fortunately, even though the Denver Museum of Nature and Science was just slightly over 3 miles away they were willing to take us there, and also to pick us up. Naturally I tipped well, given how convenient this was. We didn't rent a car for our stay, and didn't need to, thanks to this car service. Sometimes there was no wait, and on those occasions we did wait, it was no more than 15 minutes.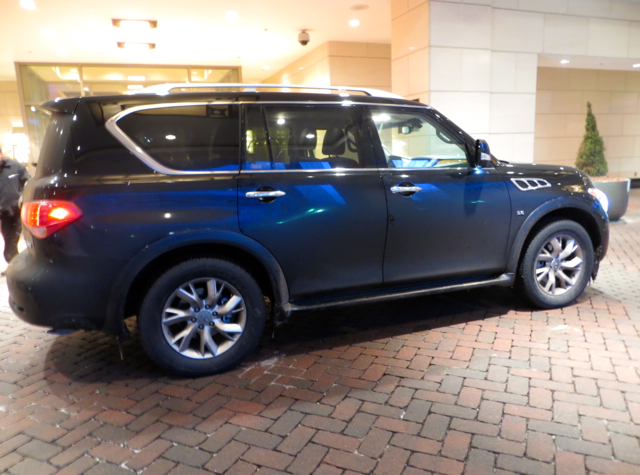 The Verdict
The Ritz-Carlton Denver offers a convenient location, well appointed (although slightly dark) classicly styled rooms, and very good service, especially on the Club Level. Minor gripes are that housekeeping could be more detail-oriented at turndown, and that the lobby seating is limited. The house car service is professionally run, friendly, and very convenient for those without a car, given how expensive taxis are in Denver.
Disclosure: I booked my stay with a travel professional rate.
If you've stayed at the Ritz-Carlton Denver, what was your experience?
Related Posts
Best Ritz-Carlton Third Night Free, Fourth Night Free Offers
Four Seasons Denver Hotel Review
Ritz-Carlton Rewards Card: 70,000 Points and $200 Gift Card: Worth It?
Ritz-Carlton Millenia Singapore Review
Need Award Booking Help? Our fee is as low as $75 per ticket if you book your hotel through us.
If you enjoyed this, join 100,000+ readers: please follow TravelSort on Twitter or like us on Facebook to be alerted to new posts.
Become a TravelSort Client and Book 5-Star Hotels with Virtuoso or Four Seasons Preferred Partner Amenities!