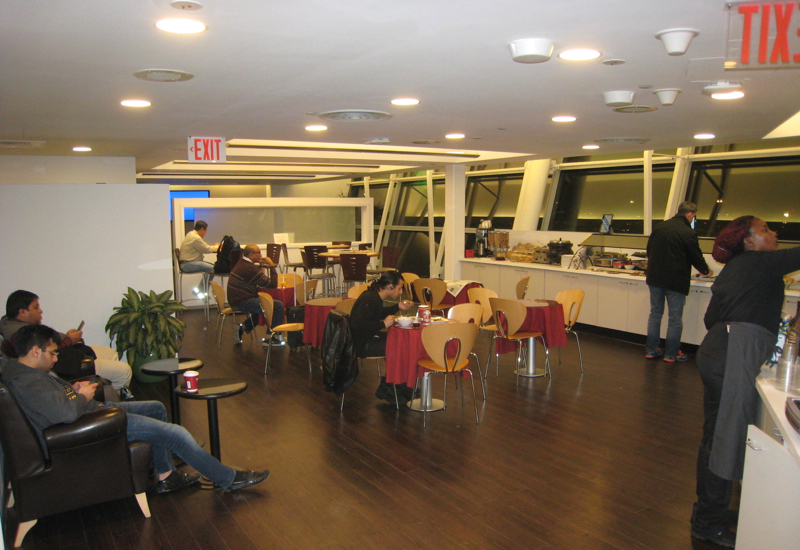 This Review of the Wingtips Lounge, JFK for Etihad First Class passengers is part of a trip report including Etihad First Class on the 787-9 Dreamliner and 777-300ER and luxury resorts in the Maldives and Southeast Asia. For the prior posts, please see:
Review of Etihad's Lounge at Washington Dulles Airport (IAD)
Etihad First Class 787-9 Dreamliner Review
I had already read TravelSort's Review of the Etihad Lounge in Washington DC Dulles Airport, so I was relishing the prospect of several hours in the Etihad Lounge (the Wingtips Lounge) at JFK. I thought because New York City is the U.S. financial hub while Washington DC is the government center, that the JFK Lounge should be even better.
But after about 30 minutes in the lounge, I decided I was better off in the gate waiting area with the rest of the suckers.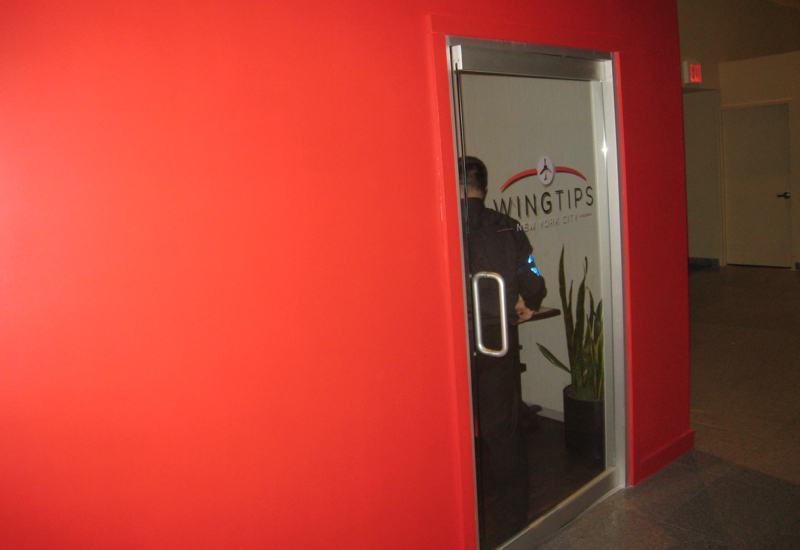 Location and Access to the Wingtips Lounge, JFK
The Wingtips Lounge at New York's JFK Airport is at Terminal 4. After passing through security, turn right and walk about 100 yards; the lounge will be on your left.
In addition to Etihad First Class and Etihad Business Class passengers, Wingtips provides access to business class passengers of Air Europa, Caribbean Airlines, China Airlines, China Southern, Copa, Kuwait Airways, Pakistan International Airlines, Singapore Airlines, Transaero and Uzbekistan Airways.
Members of Priority Pass, Lounge Club, Diner's Club and Airport Angel are also able to use the lounge EXCEPT between 5-10pm daily, due to capacity issues.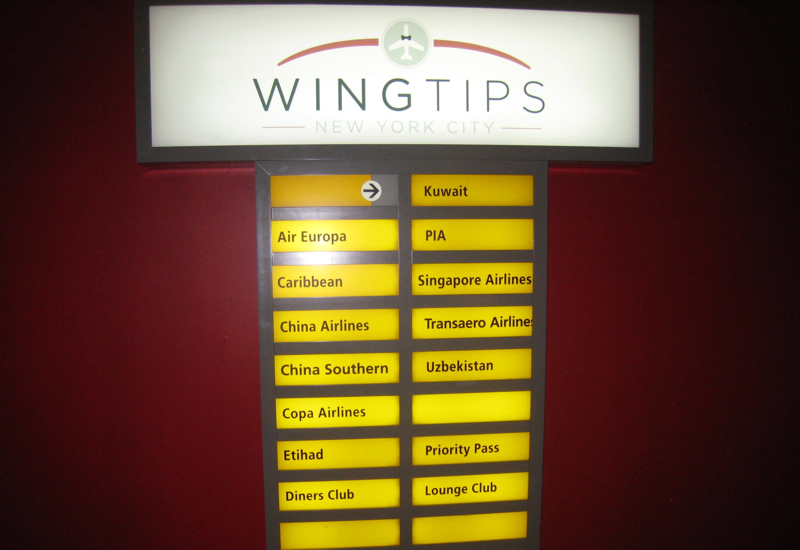 Wingtips Lounge JFK Amenities and Seating
It turns out (as described above in the access section) that the lounge is a contact lounge, used not only by Etihad but by a variety of other carriers, including Uzbekistan Airways and China Southern. So the amenities only included free WiFi, a basic buffet, seating and bathrooms that were in desperate need of cleaning (bus station awful).
When I arrived, the lounge was at capacity and almost all the seats were occupied. So to eat my dinner, I shared a tiny bar table with another guy who looked as disgruntled as I felt. After I finished eating, a few seats did open up, but the entire space of the lounge was so narrow and cramped that I decided I would have more room and feel more relaxed by moving to the gate area. I got this picture only right before I left for the gate, after several other passengers had also had enough and left: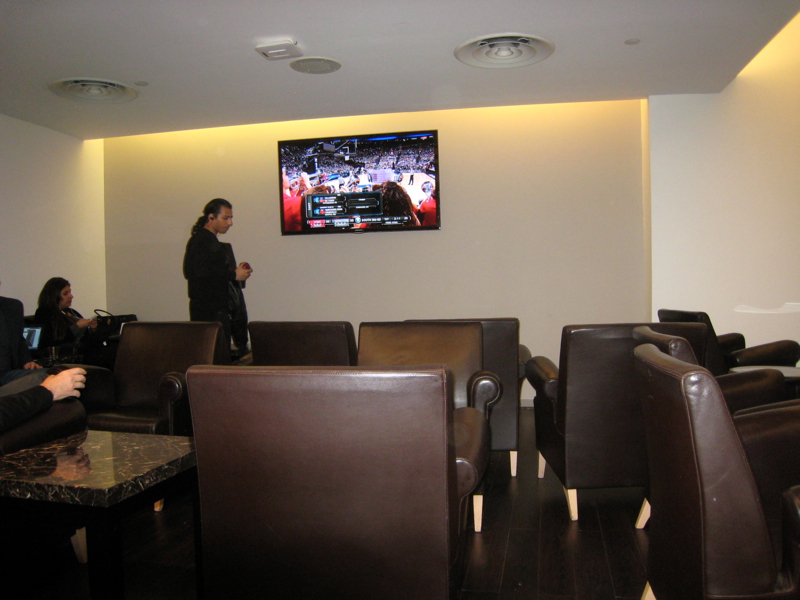 Given that even the basics such as seating capacity and bathroom cleanliness couldn't be handled, it should come as no surprise that there were none of the other nice amenities Etihad's Dulles Lounge offers, such as a la carte menu service, showers, a kid's playroom, or direct access to the gate.
Lounge Food
The hot dishes consisted of a chicken curry and a vegetable curry with rice. These were the highlights of my stay, insofar as they were somewhat tasty and reasonably edible.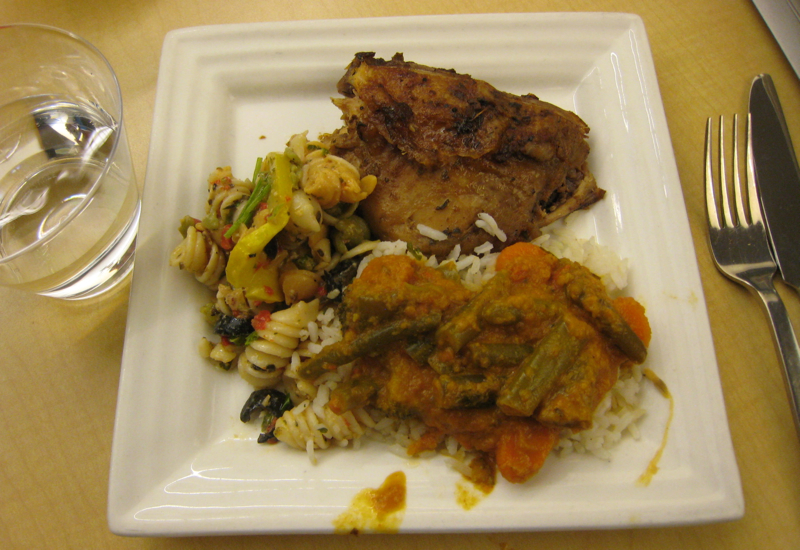 Some salad items and dips were available on the cold buffet: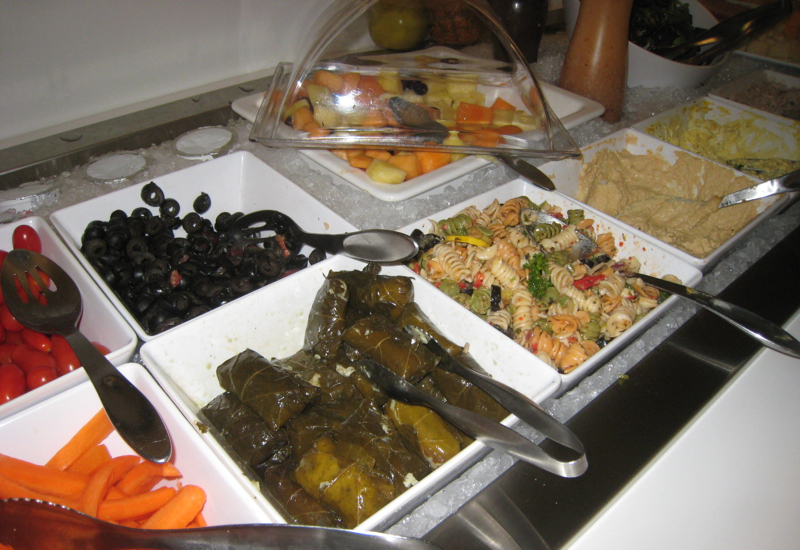 There also was a decent selection of wines and spirits, as well as an espresso machine: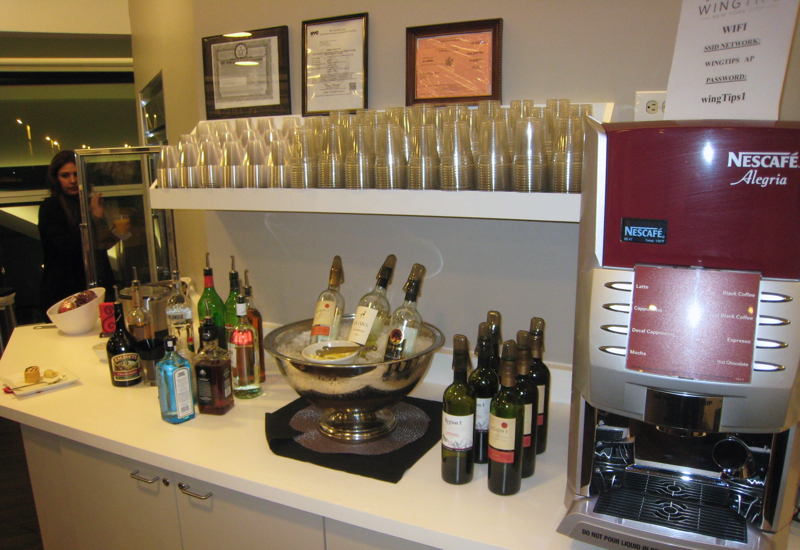 Fruit and hot and iced coffee from a machine were also available: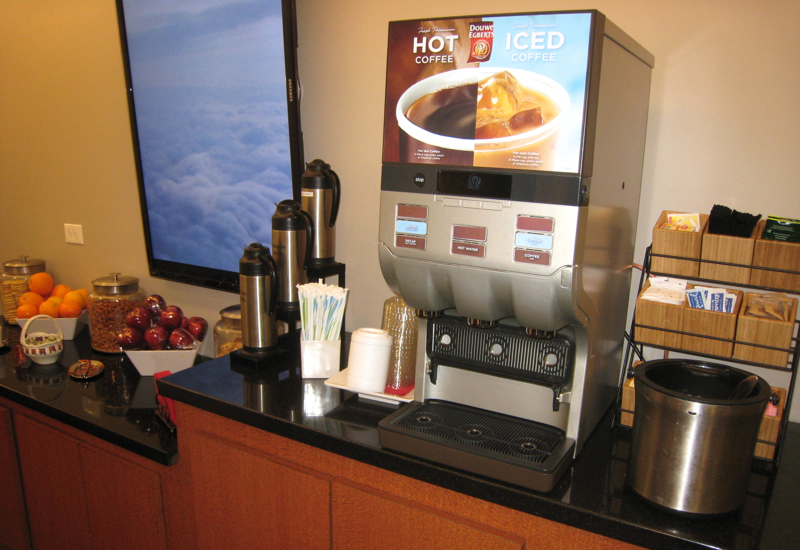 The Verdict
Except for the free food, there was no point whatsoever in coming to this lounge. I refused to believe that this was really the Etihad First Class lounge, so I kept asking lounge staff, hopefully, if I was in the wrong lounge. But sadly, I was corrected that this was indeed the Etihad Lounge. One staff member told me apologetically that Etihad's dedicated lounge would open at the end of 2015. That day can't come soon enough.
As I left the lounge to head for the gate, I saw, immediately on my right, one of the more bizarre examples of bad airport art, which, however, perfectly matched my mood: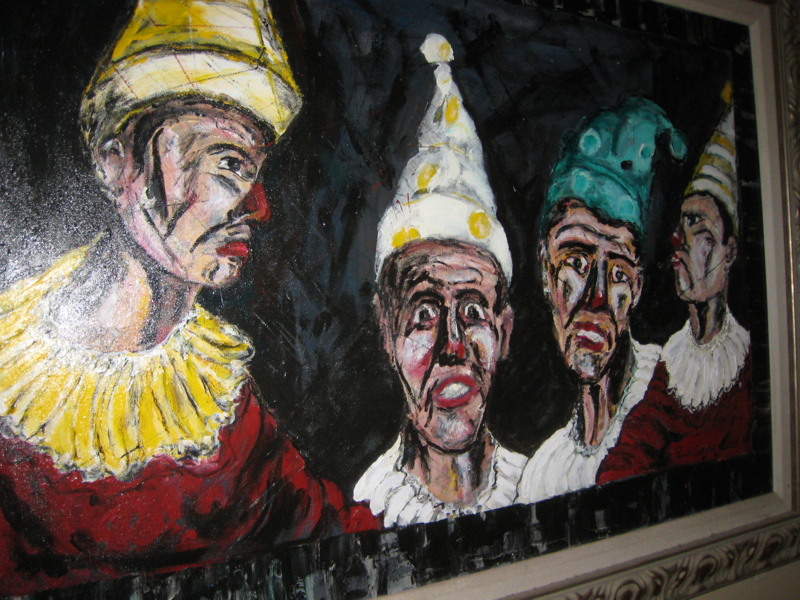 If you've visited the Wingtips Lounge JFK as an Etihad First Class or Business Class passenger, what was your experience?
Related Posts
Etihad First Class Review: Abu Dhabi to NYC
Etihad A380 The Residence and First Apartments
Etihad A380 NYC to Abu Dhabi Starts December 2015
Review: Airspace Lounge at JFK Terminal 5 Before a JetBlue Flight
Virgin Atlantic Clubhouse JFK (Lounge for Singapore Suites)
Need Award Booking Help? Our fee is as low as $75 per ticket if you book your hotel through us.
If you enjoyed this, join 200,000+ readers: please follow TravelSort on Twitter or like us on Facebook to be alerted to new posts.
Become a TravelSort Client and Book 5-Star Hotels with Virtuoso or Four Seasons Preferred Partner Amenities!