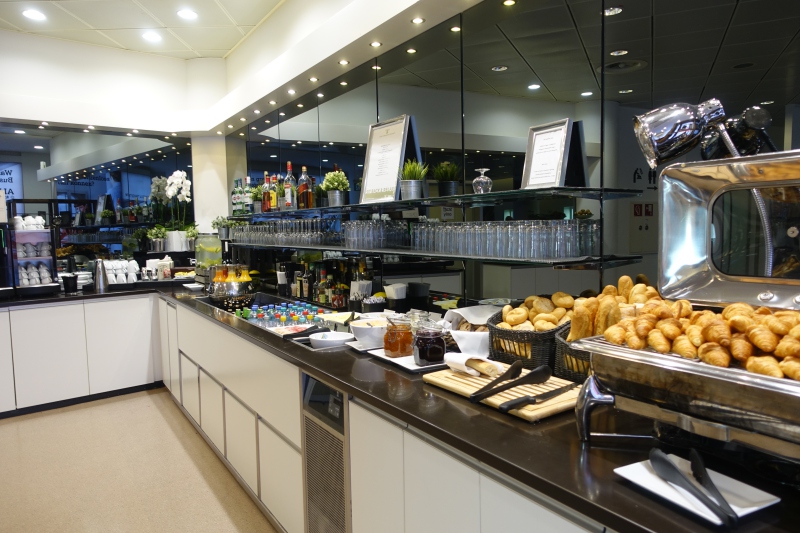 This Vienna Airport Jet Lounge, Priority Pass Review is from our recent layover at Vienna Airport, after our Austrian Airlines Business Class flight. We had several hours between our flights, and while it's possible to get to downtown Vienna fairly quickly by train, the short flight meant that we were both tired, so we made our way to this lounge.
Jet Lounge Vienna Airport Location, Access and Hours
The Jet Lounge is located airside in Vienna Airport's main terminal, after security checkpoint 2, on the 2nd floor. It's easy to miss, since you need to take the elevator up a level to it.
The Jet Lounge is open daily from 5am to 10pm, and the following passengers enjoy complimentary access:
Priority Pass (this is how we accessed the lounge: through my Priority Pass card that came with my Chase Sapphire Reserve card)
Other Membership Cards: Airtours, Doc on Board, FTI Touristik GmbH, Heinemann & me, Lounge Key, Lounge Pass, Nice Lounge, ÖAMTC, Österr. Luftfahrtverband, Vienna Airport Executive Card, Wien Card, Dragon Pass,

GÖD
MasterCard PREMIUM:

Free admission for the holders of selected cards issued in Austria, Bosnia, Bulgaria, Croatia, Czech Republic, Hungary, Macedonia, Montenegro, Romania, Serbia, Slovakia and Slovenia.
Diners Club: Free admission for the cardholder and guest, assuming annual spend of at least EUR 3600 within the past 365 days, maximum of 12 lounge visits per year
Passengers traveling first or business class or with elite frequent flyer status for the following airlines: Adria Airways, Aer Lingus, Aeroflot, Aegean Airlines, Air Algerie, Air Baltic, Air Berlin, Air China, Air France/KLM, Air Malta, Air Moldova, Air Serbia, Alitalia, American Airlines, British Airways, Brussels Airlines, C.A.I First, Cathay Pacific, China Airlines, Czech Airlines, Darwin Airlines, Delta, El Al, Emirates, Estonian Air, Ethiopian Airlines, EVA Air, Finnair, German Wings, Hop! Regional, Iberia, Iran Air, Iraqi Airways, JAL, Korean Air, Niki, People's Viennaline, Qantas, Qatar Airways, Rossiya Airlines, Royal Jordanian, S7 Airlines, Sky Work Airlines, Sri Lankan Airlines,TAM, Tarom, Transaero Airlines, Turkish Airlines, Ukraine International Airlines, Vueling
While the above is a very expansive list, if you don't have a Priority Pass card or otherwise have complimentary access through your airline or credit card, you can pay EUR 29.90 per passenger to access the lounge. Children 2 years old and younger are free with an accompanying paid adult, children 3 years old and older are charged as adults.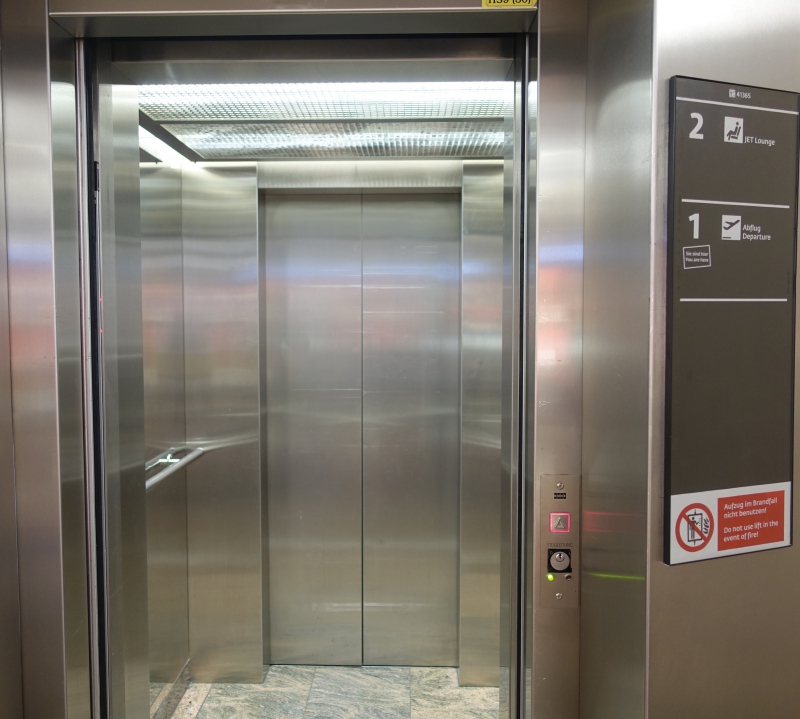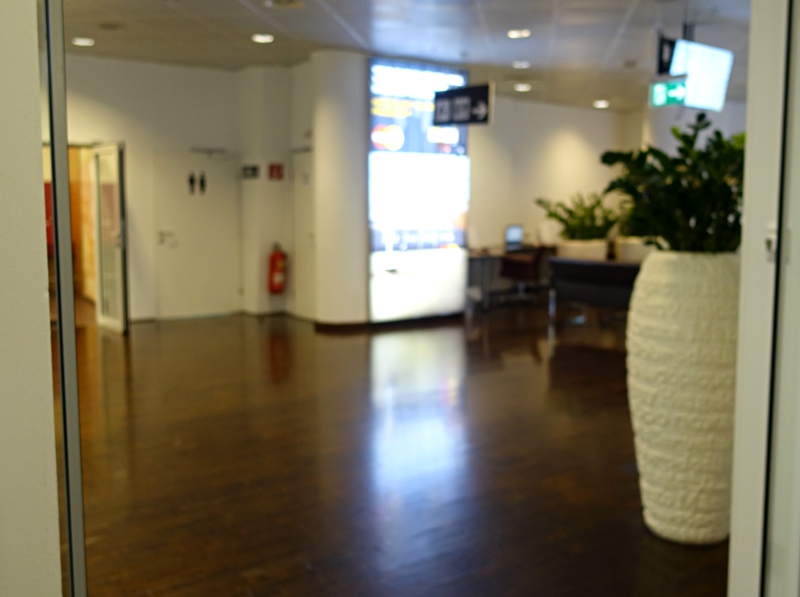 Jet Lounge Vienna Amenities
The lounge offers WiFi, computer stations, seating, bathrooms, showers, and refreshments. There were chairs and tables near the buffet area.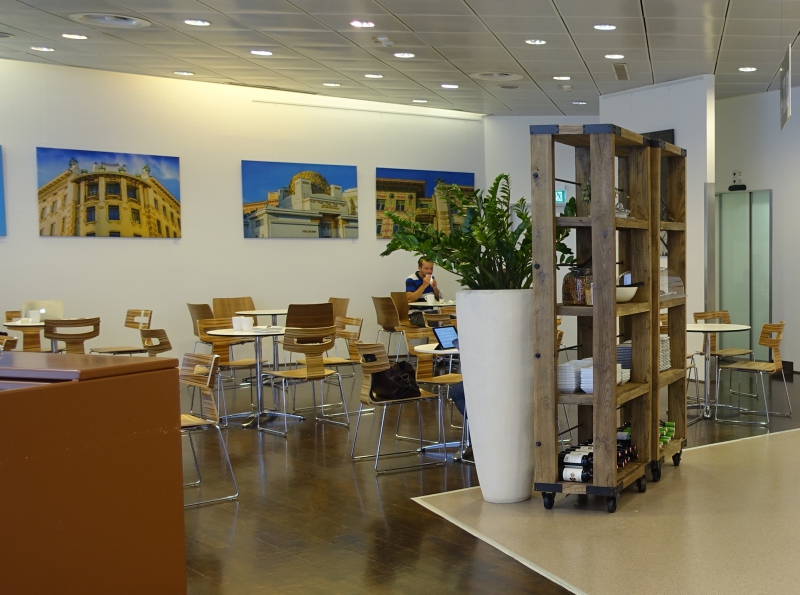 But closer to reception were some nondescript brown sofas, and as soon as my son spied them he wanted to lie down. Fortunately there were only a few people in this section of the lounge, so he wasn't depriving anyone of a seat when lying down.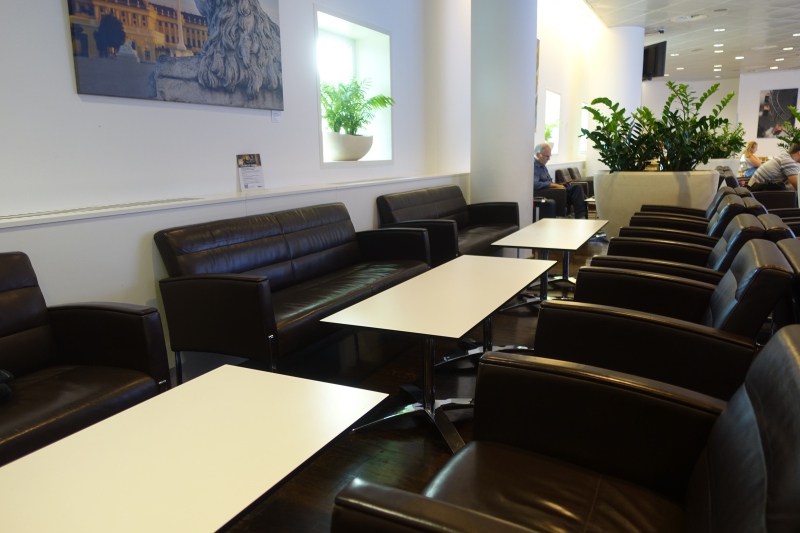 The Internet worked fine, although in order to charge my laptop I needed to sit at one of the computer stations, since there weren't any power outlets easily accessible to the brown sofas.
There's also a separate "AMEX VIP Lounge" area to the left as you face reception, although I didn't bother trying to enter since my son was already installed on one of the sofas, and the seating there actually looked less comfortable.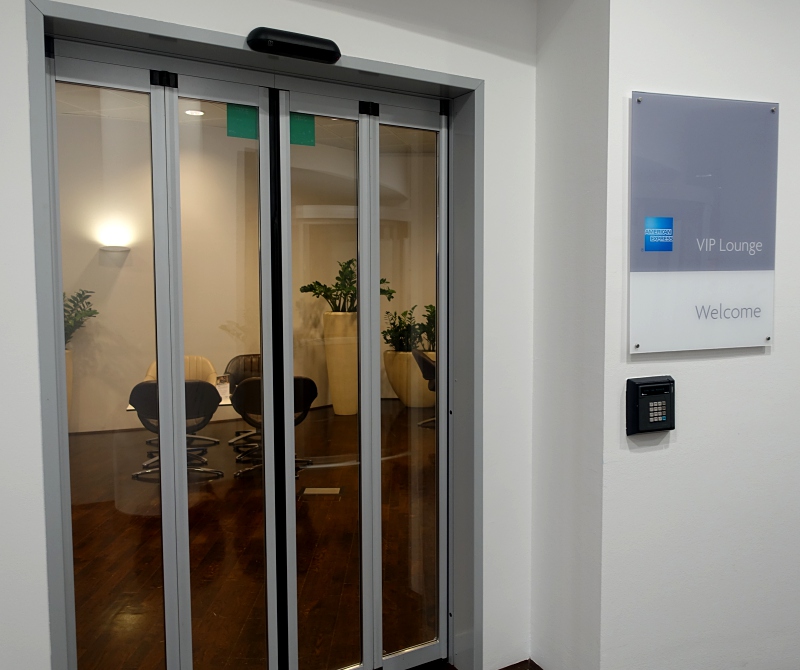 The bathroom was spartan but clean. I didn't see a shower room, but that, to me, would be a key reason to use the lounge.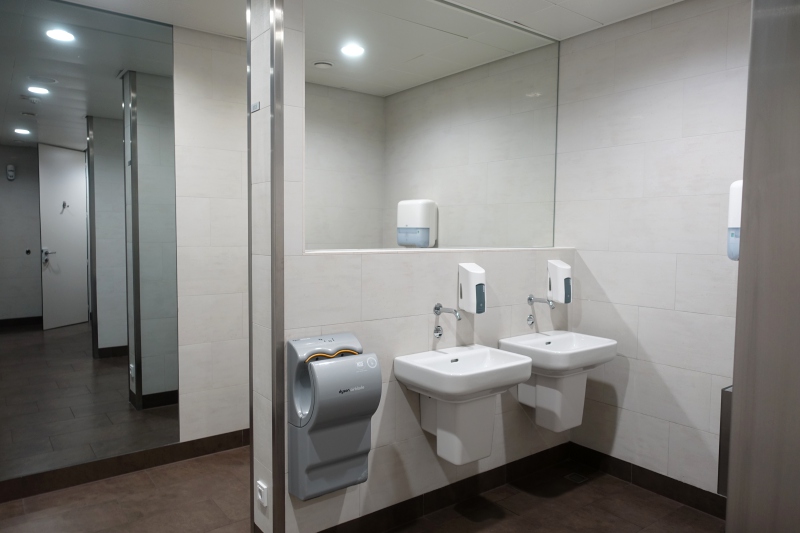 Jet Lounge Vienna Airport Food and Drinks
We were there in the morning, and even though I'd only had a smoothie and a couple bites of fruit on the flight, I quickly decided that I'd be better off not partaking of any of the Do & Co offerings, which in any case were rather meager. The reason? I saw flies buzzing around, and landing on some of the food. Here's what was on offer in the morning:
Croissants and bread, with two types of jam: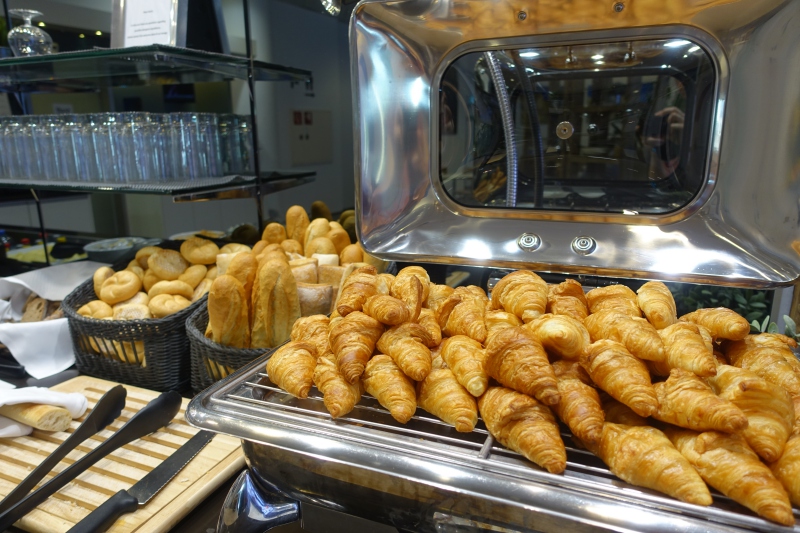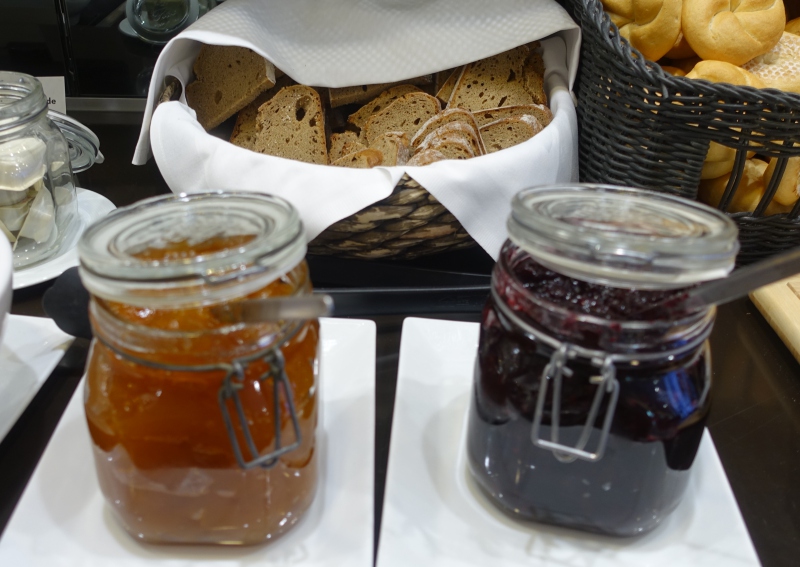 Cereal (of which two had been left open; I did not open them for the photo):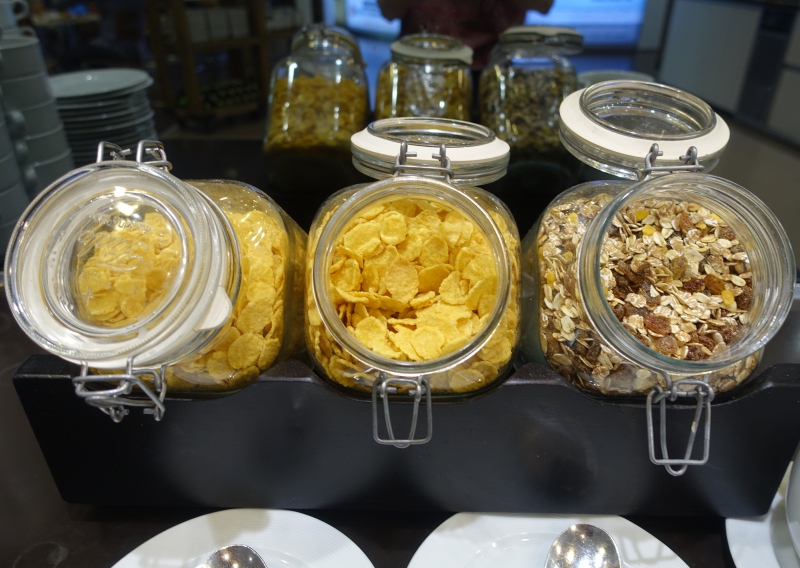 Cheese and cold cuts: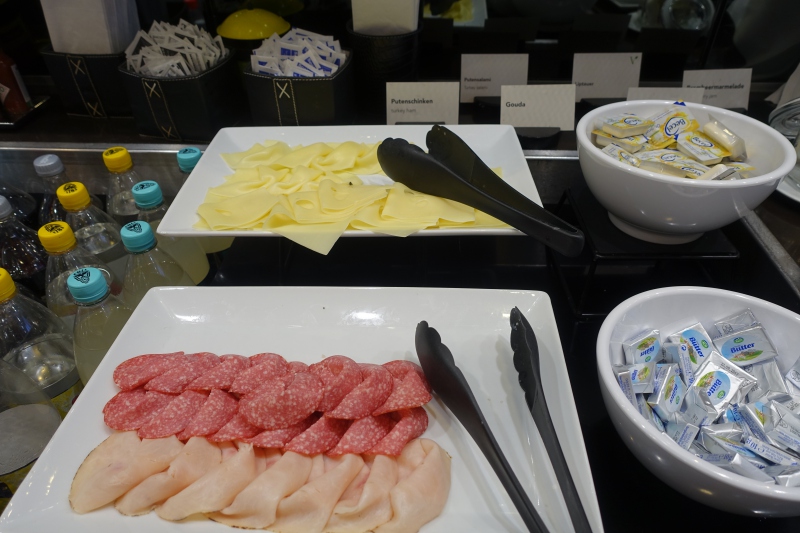 Whole fresh fruit (but no sliced fruit):
Juices and other drinks. I had some orange juice (since this at least was in a covered container), and it was from concentrate, and fairly poor quality at that.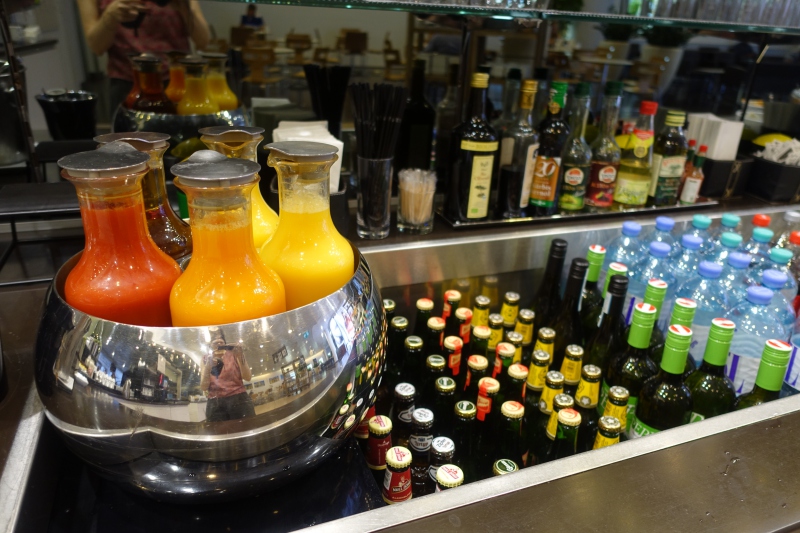 There was also tea and an espresso drink machine.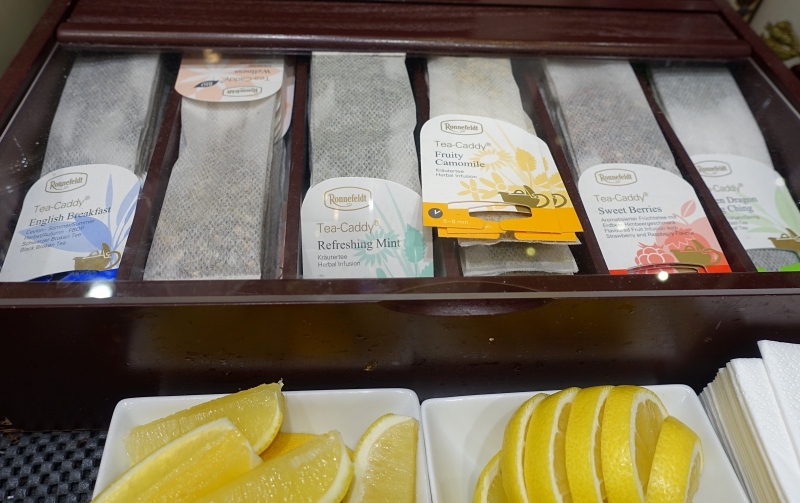 Because we were at the lounge until late morning, we were there in time to see the lunch offerings. There were a couple salads, which again I didn't touch as they weren't covered and the flies were still around.
I did have some of the hot dish, which seemed to be an Austrian version of a Thai dish, a mild chicken coconut milk curry with rice. Apart from the chicken being overcooked, it was actually quite tasty (it didn't hurt that I was quite hungry by this point).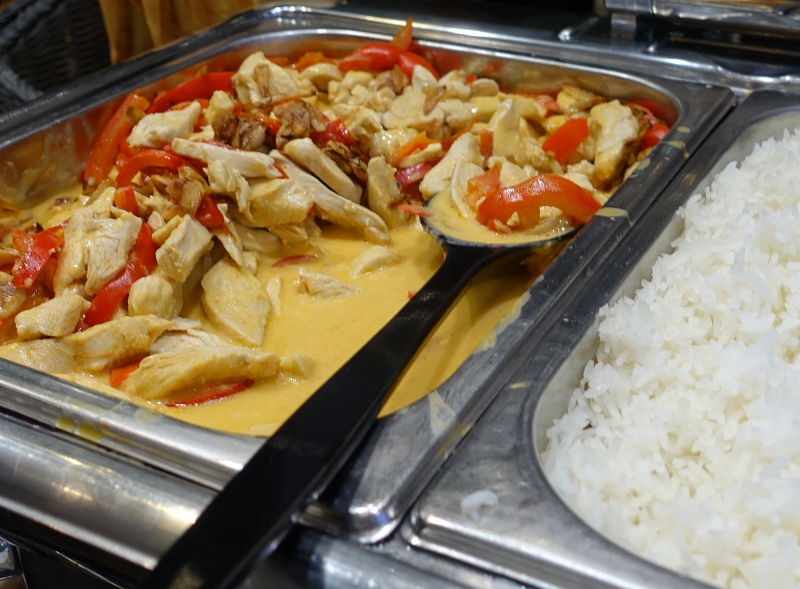 Some dry looking cakes were also available–nothing tempting, even apart from the fly issue. Had there been authentic Viennese apple strudel I would have had regrets over not being able to have any, but there was nothing to miss here.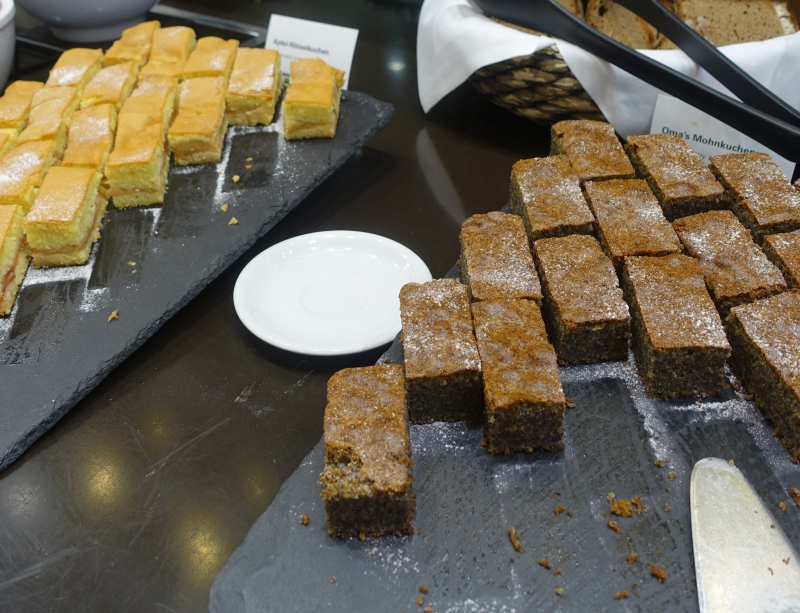 The Verdict
I can't recommend eating anything in the Jet Lounge at Vienna Airport until they fix the problem with flies buzzing around the food. To be safe I'd suggest sticking to items that are in a covered container, or the canned or bottled drinks. I also wish there were more power outlets around the lounge, as I ended up having to use a computer station space just to recharge my laptop.
If you just need to sit somewhere, use WiFi, or take a shower, however, the Jet Lounge will suffice.
If you've recently visited the Jet Lounge at Vienna Airport what was your experience?
Recommended Posts
Review: Austrian Airlines 767-300 Business Class
Chase Sapphire Reserve Priority Pass Select Lounge Access and FAQ
Labstelle Wien Vienna Restaurant Review
JFK Lufthansa Business Class Lounge Review
Need Award Booking Help? Our fee is as low as $75 per ticket if you book your hotel or cruise with TravelSort.
If you enjoyed this, join 200,000+ readers: please follow TravelSort on Twitter or like us on Facebook to be alerted to new posts.
Become a TravelSort Client and Book 5-Star Hotels with Virtuoso or Four Seasons Preferred Partner Benefits