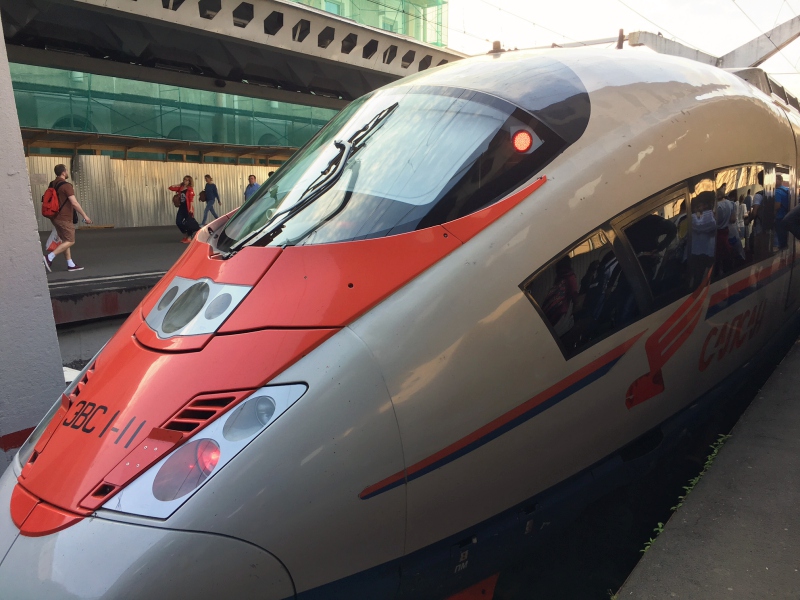 This review of Sapsan Business Class from St. Petersburg to Moscow, Russia is from our recent trip to St. Petersburg and Moscow, Russia. I love being able to take high speed trains from city center to city center, particularly as St. Petersburg still doesn't have a train link to Pulkovo airport, and even the Domodedovo Airport Express takes the better part of an hour, plus travel time to your destination in Moscow. Add in the time to clear security and waiting around in the airport, and the Sapsan often takes less time door to door. The Sapsan travels at a maximum speed of 155 miles (250 km) per hour, and the journey is quite smooth, as you'll see in my brief video below.
Visiting Russia? See our 10 Travel Tips for St Petersburg, Russia and our posts tagged St. Petersburg and Moscow.
Booking Sapsan Business Class
I normally go to the Russian Railways site, rzd.ru, and book Sapsan tickets online. While there's an English version of the site, it's not the same as the Russian site and currently I don't see the online booking engine, so you're best off staying on the Russian site and if needed using Google Translate.
Simply input Санкт-Петербург for St. Petersburg in the first box and Москва for Moscow in the second box if you're searching for trains from St. Petersburg to Moscow, or reverse them if you're searching for trains from Moscow to St. Petersburg.
In the results, search for trains that say Сапсан, or Sapsan, as these are the high speed trains, making the journey in as little as 3 hours 45 minutes.
Sapsan Business Class Seat and Features
Sapsan Business Class seats are the same size and design as Economy Class seats, but they're in leather instead of fabric: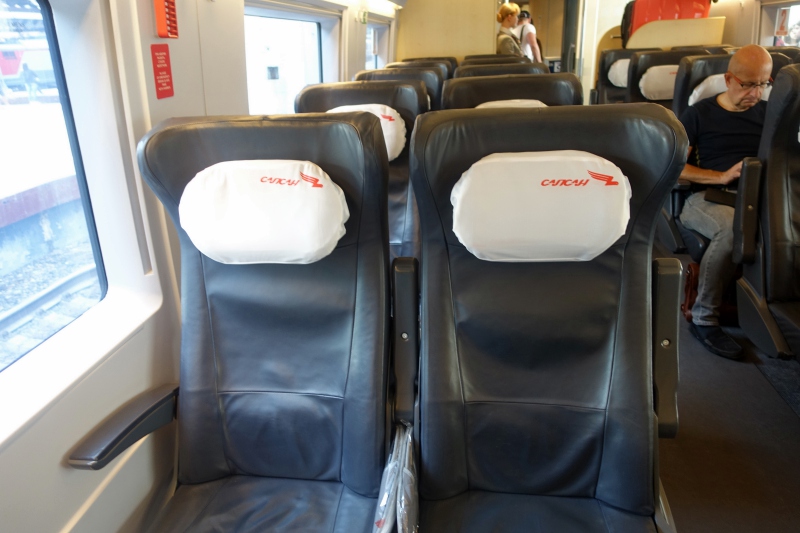 We chose to sit at a table, as I prefer the stability of a fixed table to a the folding table when working on my computer. Fortunately no one else was seated across from us, as I do find there's not a ton of leg room at the table seats and you can end up bumping knees.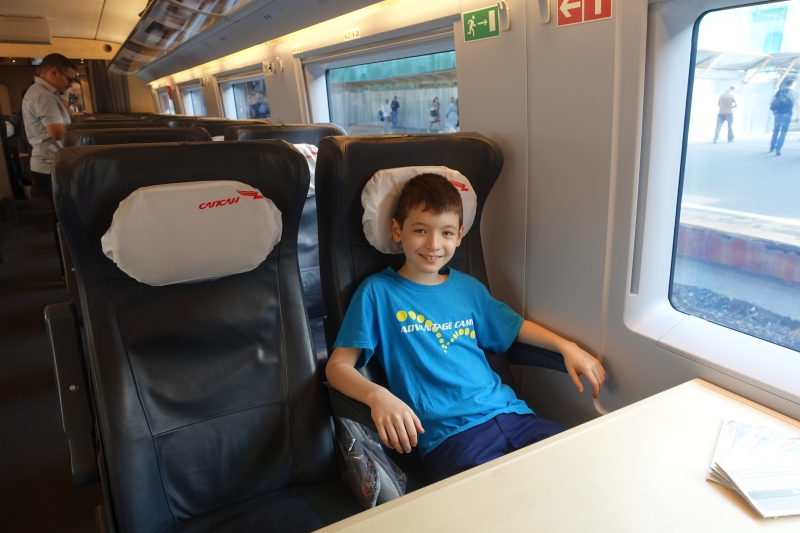 Our side of the train was a bit sunny, so we pulled down the solar shade: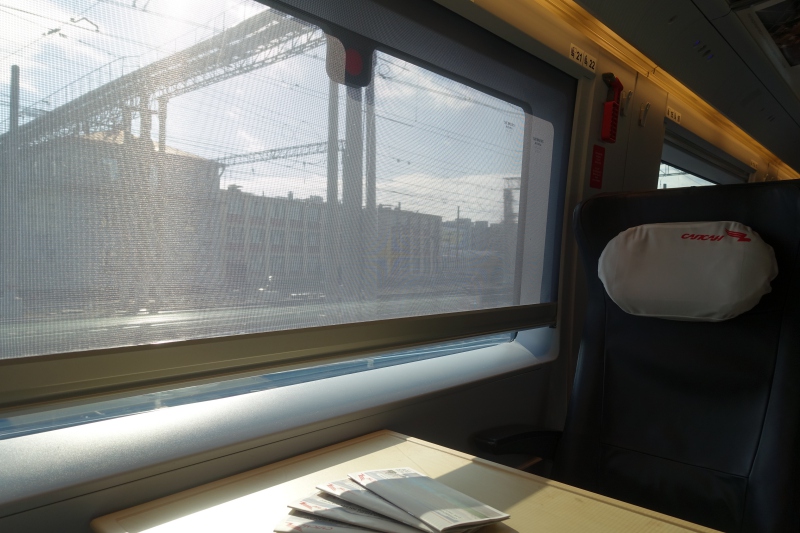 One of the key benefits is that Business Class, due to the price premium, is typically less crowded and quieter. Here's a view of Economy Class; I walked through several Economy Class cars and they were all full. This isn't surprising, since overall Sapsan trains operate at 83% occupancy. Compare the first photo, of our business class car, to the second photo, of an Economy Class car: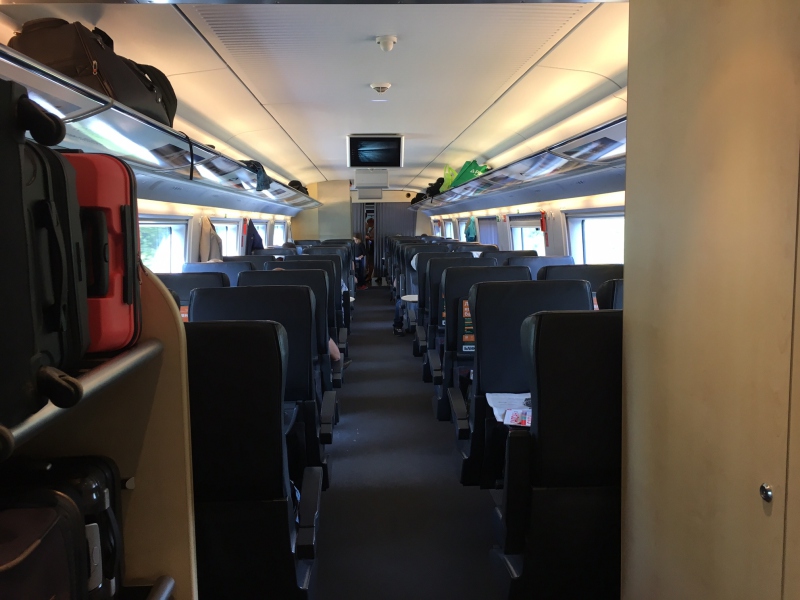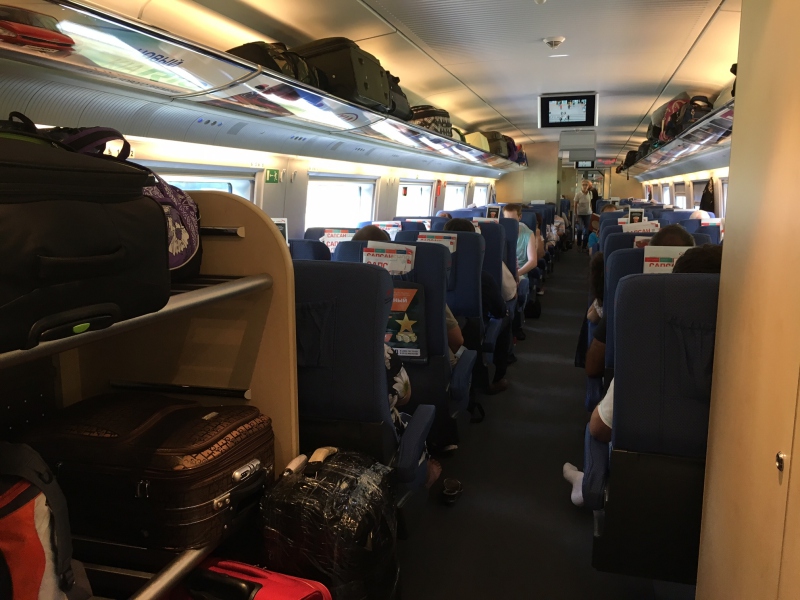 There's a power outlet between the seats in Business Class, which isn't available if you travel in Economy: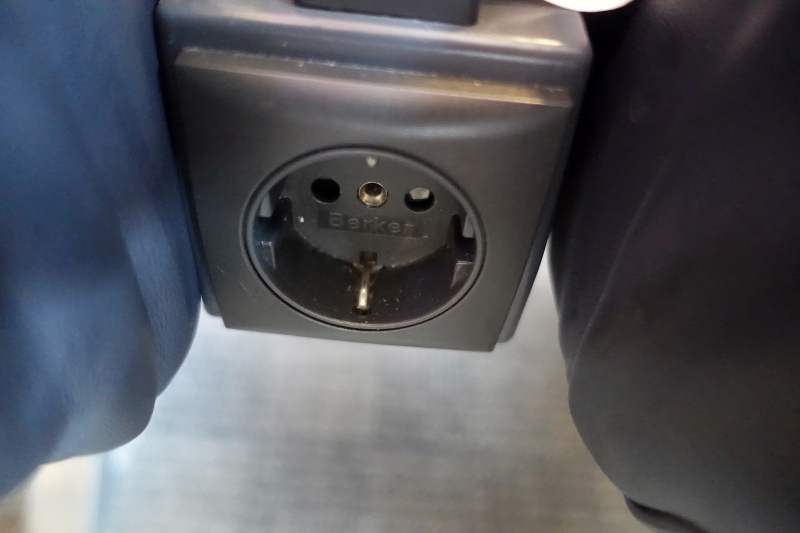 Business Class passengers are also given a pair of slippers, a nice touch–even most non-Asian airline business class products don't provide slippers.
Here's the Russian Railways Sapsan video, which is quite comprehensive, with the glaring exception of not explaining WiFi, perhaps because it's a weak point. While there is WiFi, provided you have a mobile phone you can send the access code to, it's not very fast. It's ok for checking email, but don't plan on a lot of downloading or uploading.
Sapsan Business Class Breakfast Menu and Food
You also enjoy unlimited soft drinks, tea and coffee when traveling in Business Class, and you also are served a hot meal at your seat. The attendant first provided placemats and a moist towelette, then served everyone a drink of their choice, in my case, water.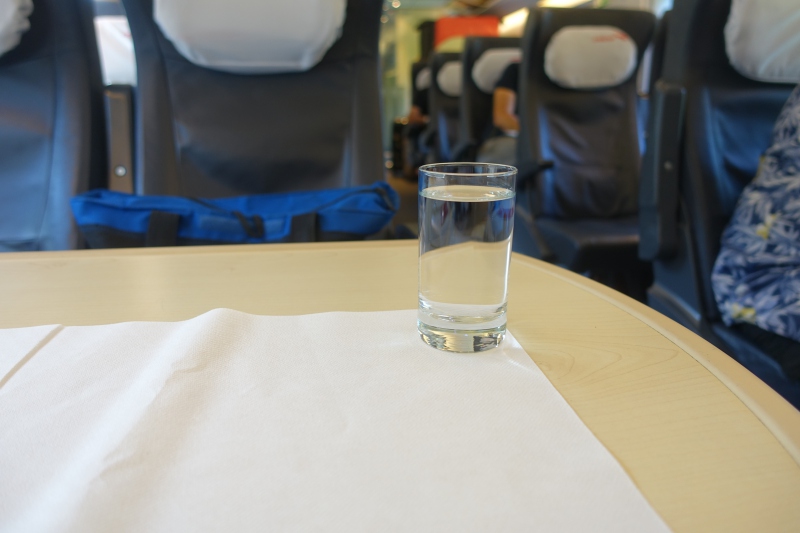 Since we were on a morning train we were given the breakfast menu, which offered three choices: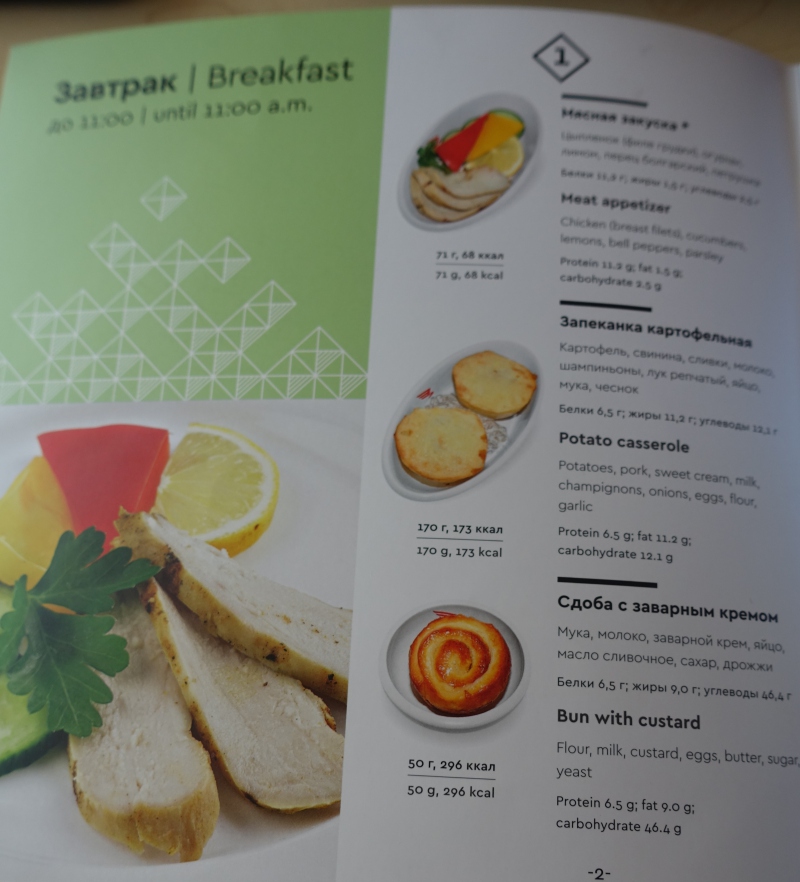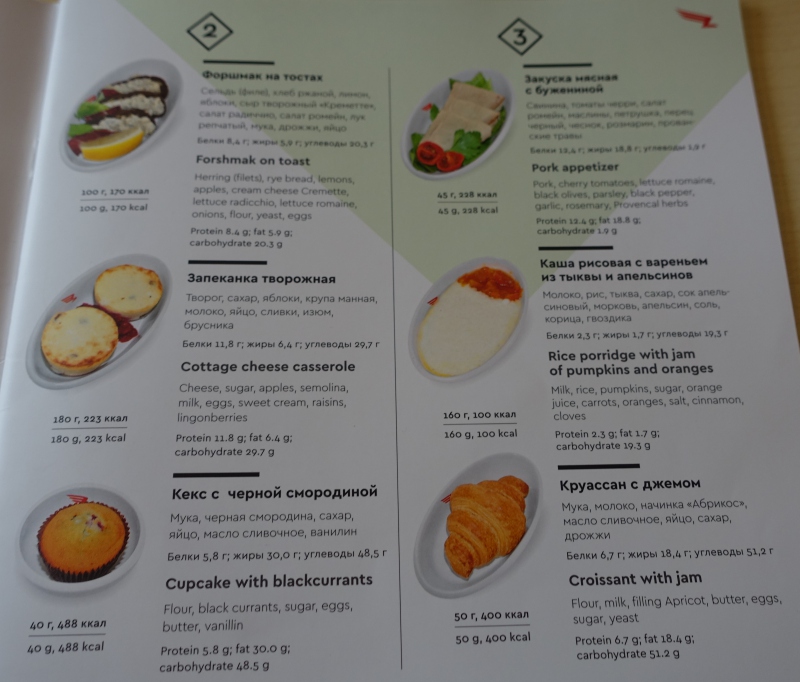 Both my son and I enjoy Russian farmers cheese, known as творог, so we ordered the 2nd option, which came with an appetizer of Russian rye bread with "forshmak." I'd never heard this word before, and it certainly isn't Russian in origin. I looked it up, and it's German for starter. In this case, it was made with herring, and was fairly salty. I liked the rye bread, but I can't say I'll be looking up forshmak recipes anytime soon.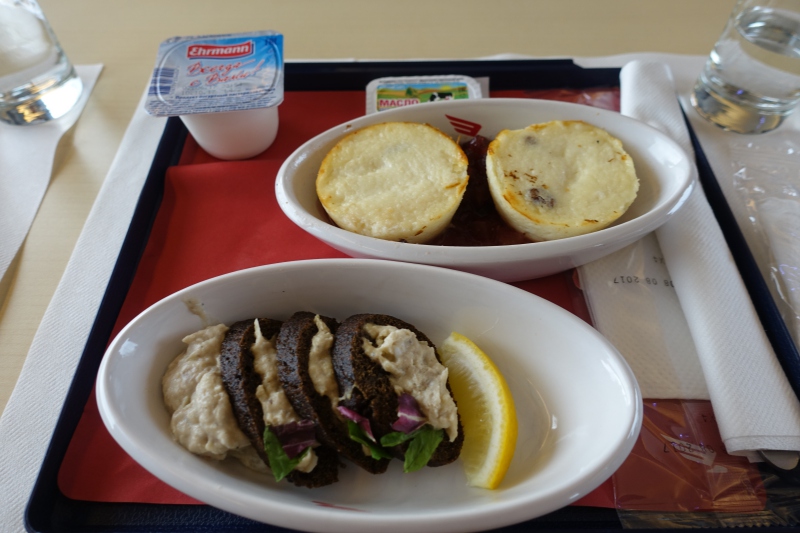 Much better was the baked farmers cheese, which was our real reason for ordering the breakfast. It's hard to see in the photo, but it came with a compote of lingonberries, a delicious sweet-tart contrast to the creamy farmers cheese. This would definitely be my recommendation if it's still available as a choice, for a morning train, at least if you're not allergic to dairy.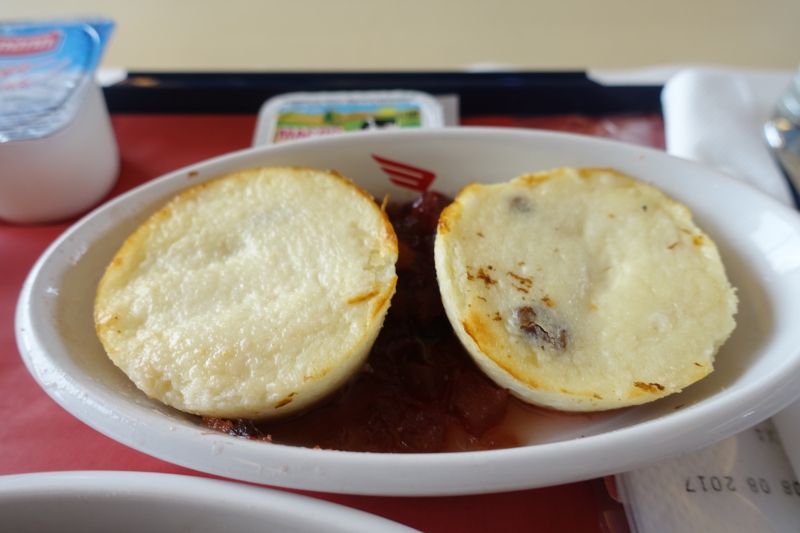 Later, we were offered tea or coffee, as well as a pastry or muffin. These are nothing to write home about, so if you like pastries, I recommend visiting Volkonsky (part of Maison Kayser), which is in both St. Petersburg and in Moscow and has much better quality French pastries, thanks to its French provenance.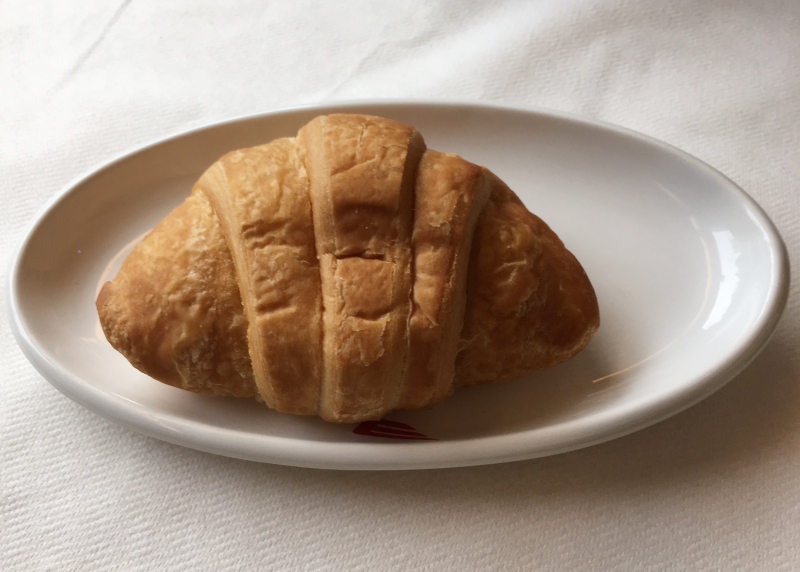 The Verdict
Previously we'd taken Sapsan Economy Class, and I must say that, while the seat itself is the same, I enjoyed the less crowded Business Class car. It meant that we could keep our bags across the table from us, and not have to worry about bumping others' knees while sitting at the table. Sure, I wish that the WiFi was faster and some of the food was better, but these are minor things given the convenience of traveling city center to city center in under 4 hours, on a train ride that is far smoother than the Acela, even if it's not as fast as the Japanese shinkansen.
Recommended Posts
Review: Four Seasons St Petersburg, Russia
Review: Four Seasons Moscow, Russia
Taste to Eat Review, St. Petersburg Russia
Review of Grand Maket Rossiya: Russia in Miniature
Dom, St. Petersburg Restaurant Review
Need Award Booking Help? Our fee is as low as $75 per ticket if you book your hotel or cruise with us.
If you enjoyed this, join 200,000+ readers: please follow TravelSort on Twitter or like us on Facebook to be alerted to new posts.
Become a TravelSort Client and Book 5-star hotels with Virtuoso Perks and Four Seasons Preferred Partner Benefits