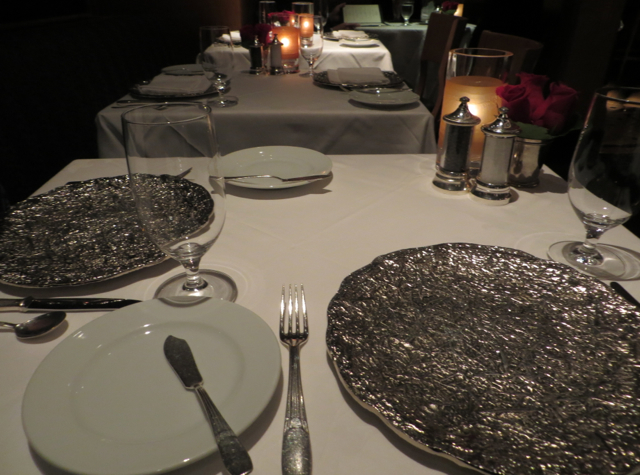 This Gary Danko restaurant review is part of a San Francisco trip report. For the prior posts, see:
Mandarin Oriental San Francisco Hotel Review
Marrakech Magic Theater with Peter Morrison, San Francisco
House of Thai (Thai House Express) San Francisco Restaurant Review
Mandarin Oriental Brasserie S&P Breakfast Review
Tartine Bakery San Francisco Review
St. Regis San Francisco Hotel Review
Two months before our San Francisco trip, I called Restaurant Gary Danko to request a reservation. If you're celebrating any kind of special occasion while in San Francisco or simply want one of the very best romantic dinners in the city, I recommend you do the same.
Restaurant Gary Danko is in somewhat of an unlikely location, not downtown, but instead in the northern part of the city, on an unassuming residential street a short walk from Ghiradelli Square and Fisherman's Wharf, super touristy locations that I never frequent. There's a doorman outside, and so after arriving by taxi, the munchkin and I opened the door and stepped into the small entrance way, where we were warmly welcomed. If they were surprised by the munchkin's age, they didn't show it, and we were even led to a lovely corner banquette in the room on the right that was perfect for us.
There are two rooms, and if possible, I would recommend requesting the room on the right–somehow the decor is more romantic. It's an intimate setting, and somehow feels more akin to a lavish dinner party in the home of a well to do friend than merely a restaurant dinner. I especially love the fresh roses and candle on each table.
The munchkin was slightly intimidated by the setting, but once he started tasting the food, he was right at home.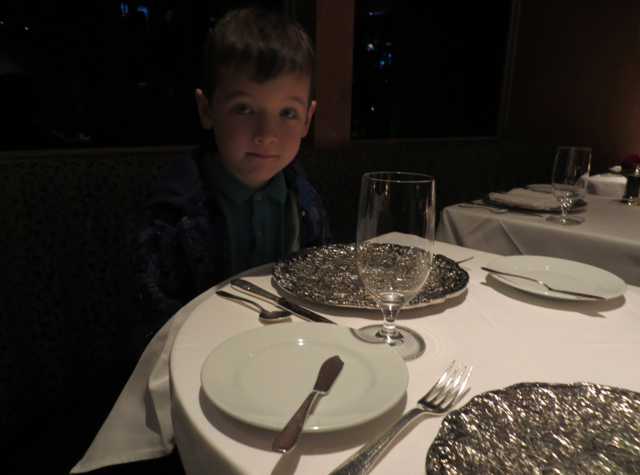 Our friendly server introduced himself, presented us with menus, and asked about our choice of water and if I'd like to see a wine menu. Here's the dinner menu on the night of our visit. As you can see, you can select three, four or five courses.
The great thing about Gary Danko is that you have complete flexibility with your choices. So if, say, you eat seafood but no meat, you could select three seafood courses. If on the other hand you only eat meat dishes and not seafood you could select three meat dishes. Or, of course, be more traditional and select an appetizer, main dish and dessert for a 3 course meal. They were kind enough to allow me to select a 5 course menu to share with the munchkin, as I didn't think the munchkin would be able to eat his own 3 course meal.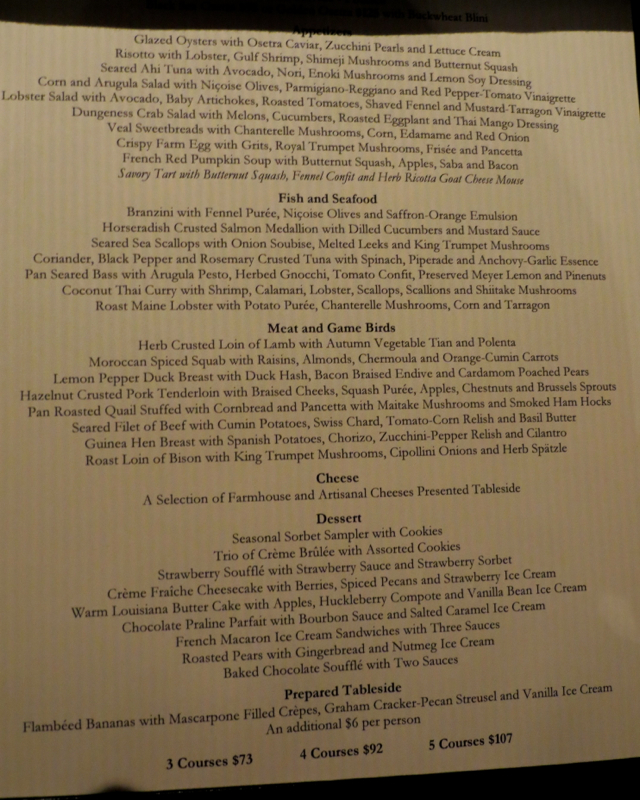 There was also an Autumn Tasting Menu, with optional wine pairings: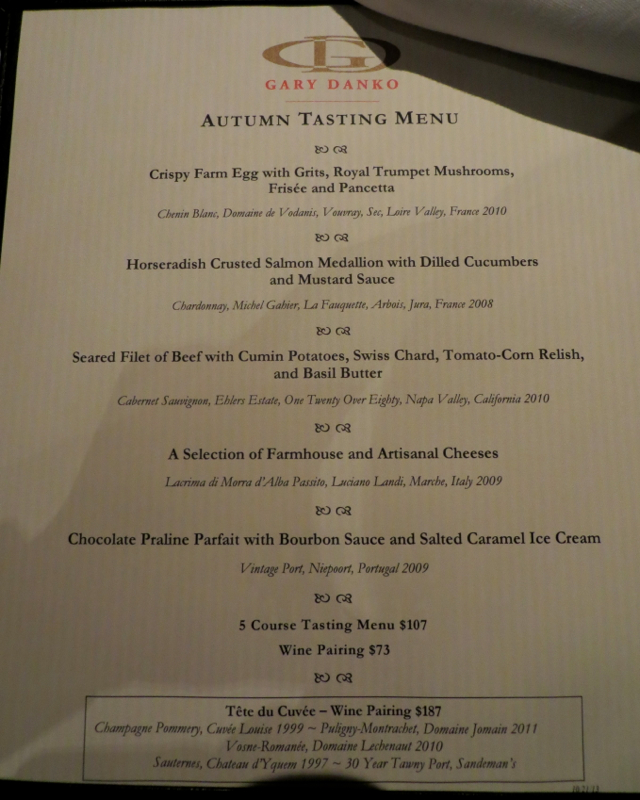 We started off with a silky butternut squash puree amuse bouche, which I thought was delicious but which the munchkin didn't want to try–his loss, I was happy to eat his.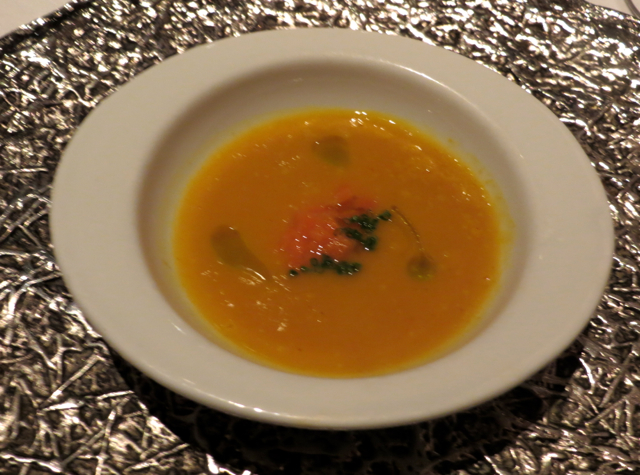 Perhaps my one criticism is that the bread, while very fresh, is quite ordinary. That didn't stop the munchkin from wanting to fill up on it, but I think some kind of housebaked bread, such as the one served at Eleven Madison Park, would be much better.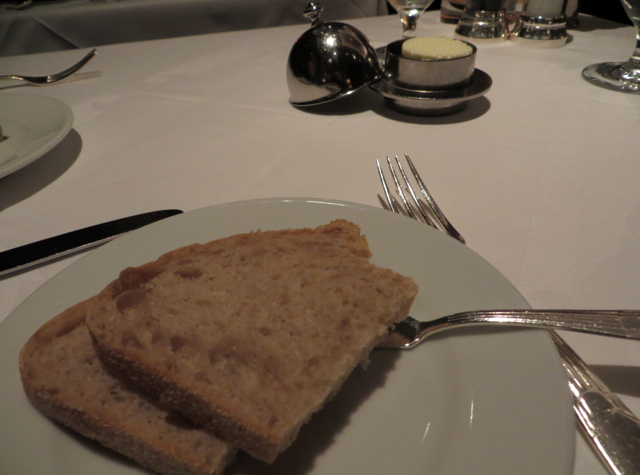 Our first course, which I chose, was Veal Sweetbreads with Chanterelle Mushrooms and Edamame. Perfectly seared and wonderful–the munchkin would happily have eaten all of it if I'd let him. I don't see sweetbreads on many U.S. restaurant menus, but fortunately Gary Danko normally offers them as one of its appetizers, even though the accompaniments do change with the seasons.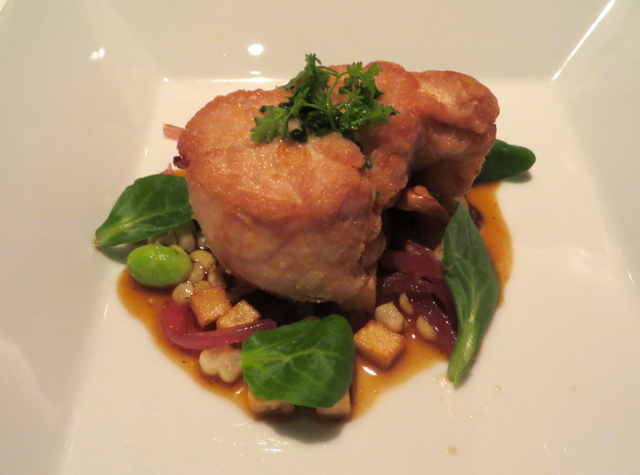 For our second course I couldn't resist ordering the Lemon Pepper Duck Breast with Duck Hash, Bacon Braised Endive and Cardamom Poached Pears. I've ordered duck on all three occasions I've been to Gary Danko, it's that good. I suggest that you allow the kitchen to cook your meat dishes to their recommended doneness, because you don't want to overcook duck, pork tenderloin, etc.
Also note that serving sizes are generous, so if you do decide to just order main courses, go with the 3 course menu–any more than that and you'll want to take portions home with you (not that it would be such a bad thing to have leftovers from Gary Danko, as long as you live in San Francisco and have a refrigerator handy).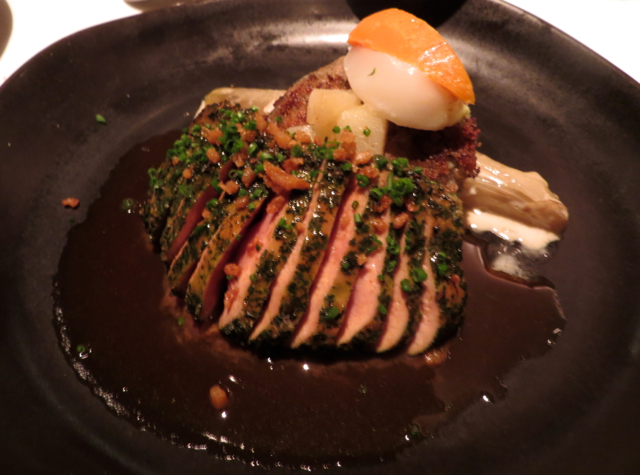 ).
Our third course was one the munchkin chose: Hazelnut Crusted Pork Tenderloin with Braised Cheeks, Squash Puree, Apples, Chestnuts and Brussels Sprouts–think of it as edible autumn. This dish and others at Gary Danko may not win awards for bleeding edge culinary innovation, but they're just so inherently satisfying and cooked the way you *wish* Lufthansa First Class would make their meals.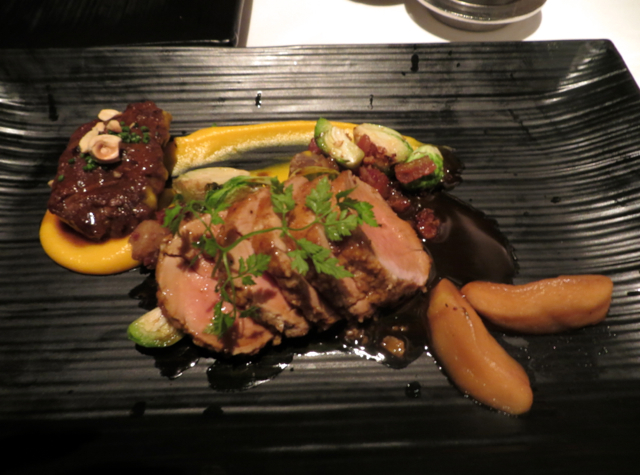 Restaurant Gary Danko is also known for its extensive artisanal cheese selection, and given how much the munchkin and I both enjoy a great cheese plate, this was a must as our fourth course. It was wheeled to our table, and our server explained each of them, and was very knowledgeable about where each cheese came from. We opted out of the blue cheeses, since those are a bit too strong for the munchkin, and chose several that were from local producers.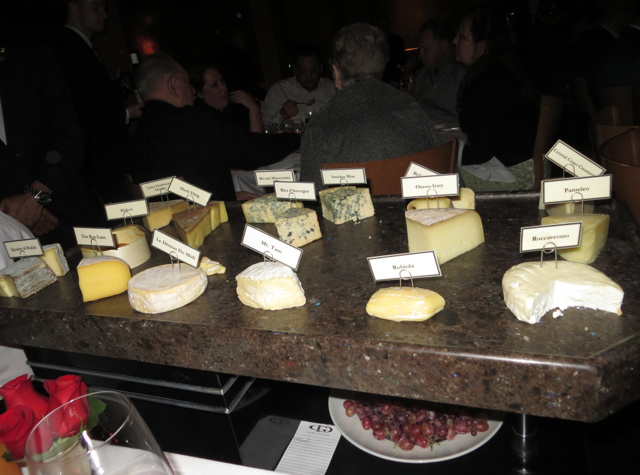 Our cheese selections were nicely plated with some raisin pecan bread and grapes: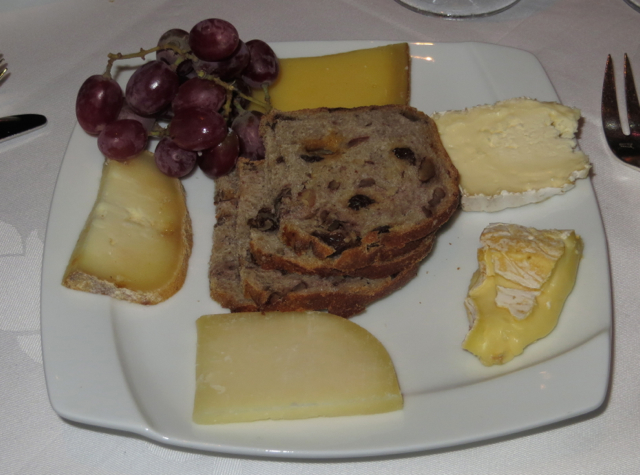 For dessert, the munchkin really wanted to try Strawberry Souffle with Strawberry Sauce and Strawberry Sorbet, which we did. Our server also highly recommended the Louisiana Butter Cake with Huckleberry Compote, and I likely would have tried that on his strong recommendation if it had just been me. If you want a showy dessert, we saw a couple near us enjoy a tableside preparation of Flambeed Bananas with Mascarpone Filled Crepes–the munchkin loved seeing the flames shoot up, I don't think he's ever seen this prepared tableside in a restaurant.
Even with our souffle, the strawberry sauce was poured tableside: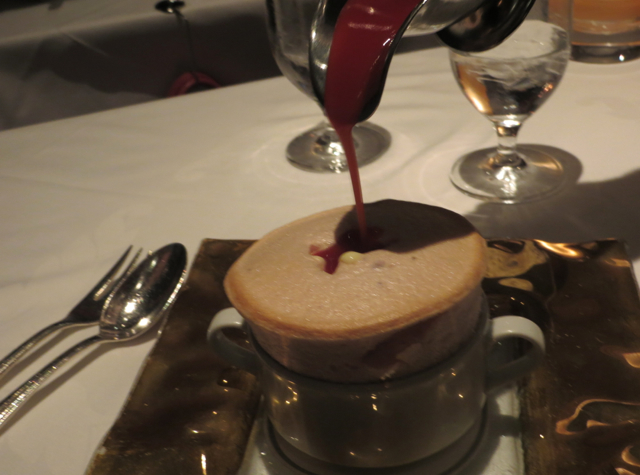 And then the strawberry souffle was further adorned with a scoop of housemade strawberry sorbet: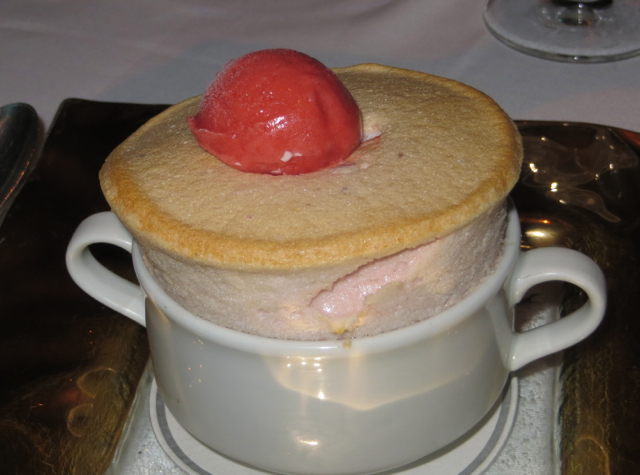 Amazingly, this was not all. Even though I hadn't said we were celebrating a special occasion when making the reservation, somehow we were presented with a complimentary lemon cream icebox cake with "Happy Birthday." Even though I admitted to the server that neither of us was celebrating a birthday, he smiled and suggested we enjoy it, so we did.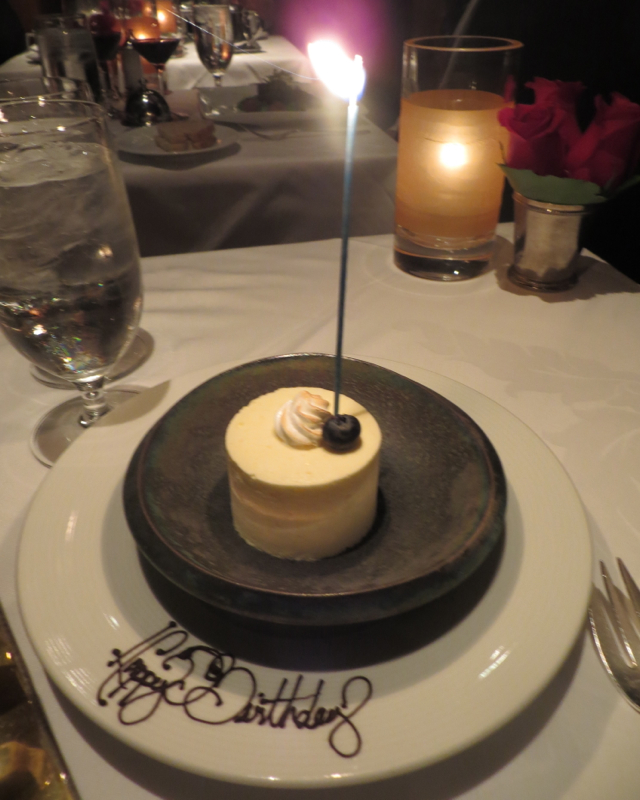 That meant that we definitely had no room for the pretty mignardises, so we did ask to take those home, and we enjoyed them back in NYC with my husband.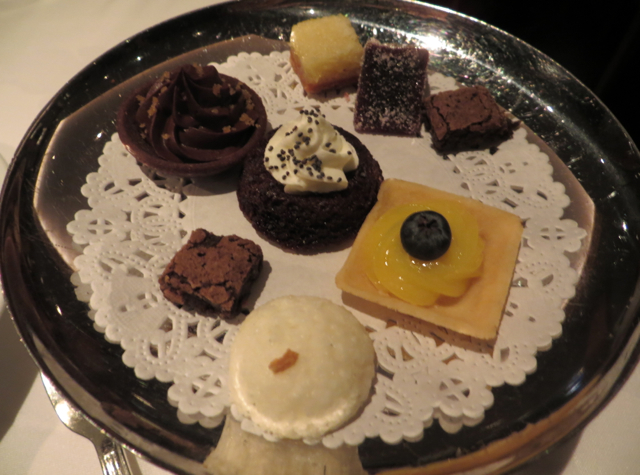 A parting gift was a housemade pumpkin muffin with cream cheese filling for each of us, beautifully wrapped: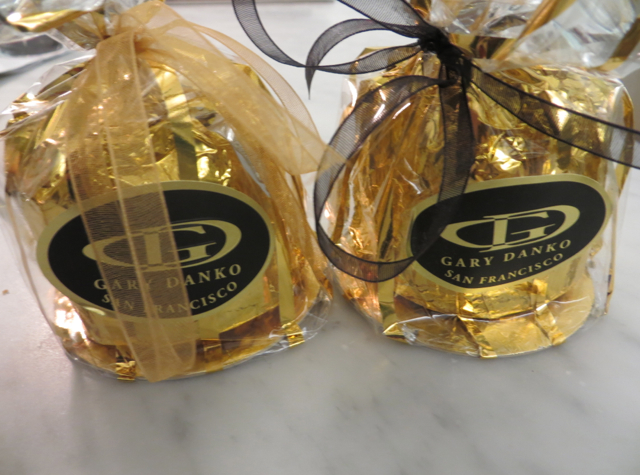 The Verdict: Restaurant Gary Danko is one of the special occasion restaurants I most wish I could transport to NYC. It may have just 1 Michelin Star, but for a splurge meal in San Francisco, it remains my favorite restaurant in San Francisco. It's also excellent value, starting at $73 + tax and tip per person for a 3 course menu. Just remember to make reservations well in advance, since it does fill up. If you don't mind a more informal experience, there are also a few bar seats where you can also dine.
Have you dined at Restaurant Gary Danko in San Francisco?
Disclosure: We paid for our own meal at Restaurant Gary Danko.
Related Posts
Mandarin Oriental San Francisco Hotel Review
Best Fine Dining Restaurants in San Francisco for a Splurge?
What are the Best San Francisco 5-Star Hotels with Great Views?
10 Tips for Dining with Toddlers
20 Best Cities in the World for Foodies
Need Award Booking Help? Our fee is as low as $75 per ticket if you book your hotel through us.
If you enjoyed this, join 90,000+ readers: please follow TravelSort on Twitter or like us on Facebook to be alerted to new posts.
Become a TravelSort Client and Book 5-Star Hotels with Upgrades, Complimentary Breakfast and Other VIP Amenities!