This Residence Inn LAX Airport Hotel Review is part of a new trip report on Bora Bora and Tahiti luxury resorts, dining and activities. For the prior posts, please see Review: American A321 Business Class New York to Los Angeles and Paradise! Can You Guess the Place?
Since we had a long layover in LAX, between 3pm-11pm, and since LAX really doesn't have anywhere good to sleep in its airport lounges, I decided to book an airport hotel. I'm not much of a Marriott fan, but the Residence Inn LAX seemed one of the better airport hotel options.
Residence Inn LAX Airport Shuttle, Location and Check-In
We had no checked baggage since we avoid checking bags (see How to Avoid Checked Luggage and 6 Reasons to Never Check Baggage) so we found our way to the LAX hotel shuttle area quite quickly. Unfortunately, numerous other hotel shuttles and parking shuttles came and went until, 25 minutes later, the Renaissance Inn LAX shuttle (which is black) finally arrived. It first dropped off one passenger at its sister Embassy Suites property before arriving at the Renaissance Inn LAX.
The hotel is located at 5933 Century Boulevard, so in retrospect, if we'd known we were going to wait 25 minutes for the shuttle, we should have walked the 0.8 miles as it would have taken us about the same amount of time.
Once we arrived, check-in was fine. There had only been king bedded studios available when we booked, so I asked if by any chance a room with 2 queen beds had opened up, but the associate replied that they were fully booked out that night, so the hotel seems to be a popular choice. He offered to instead send housekeeping up right away to make up the sofa bed, which I appreciated.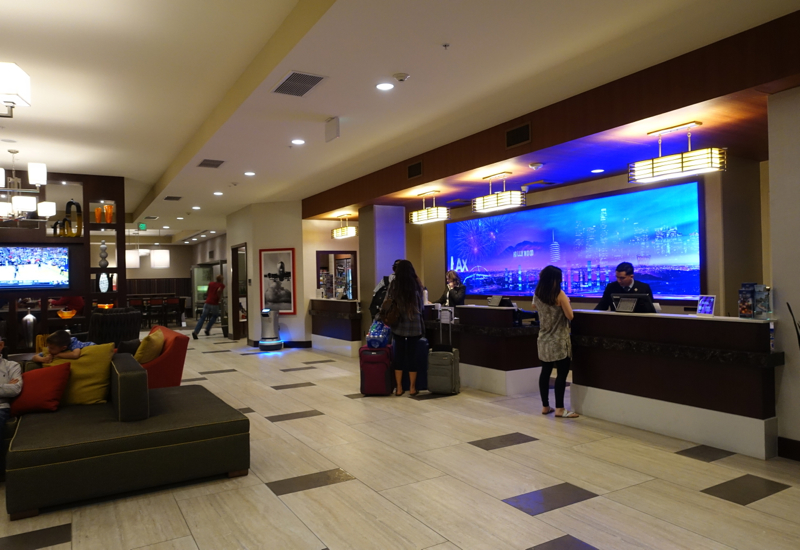 One of the more unique aspects of the hotel, although we had no occasion to use it, is the hotel's robot butler, "Wally," which my son wanted a photo op with: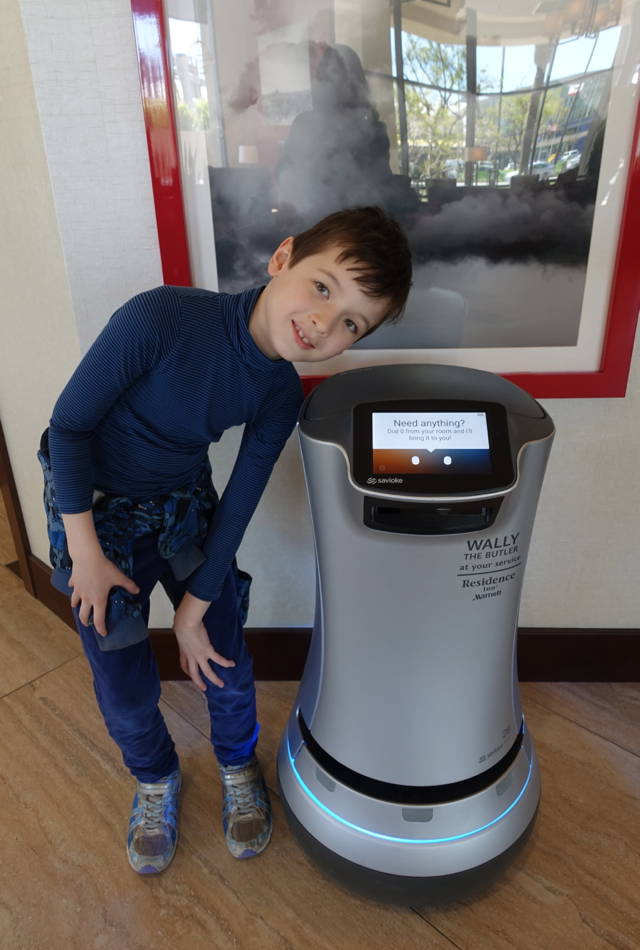 Residence Inn LAX Large Studio
As an extended stay property, each Residence Inn LAX studio and suite has a full kitchen with a full size fridge, microwave and a 2 burner stove, as well as plates and cutlery. Here's our studio's kitchen: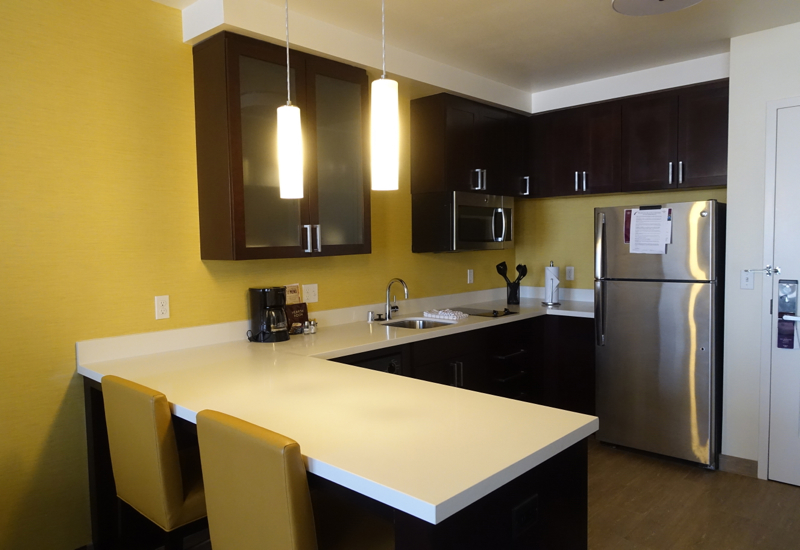 There was a view of the airport, although fortunately the soundproofing was good and flights were barely audible.
We were in a Large Studio, which is 540-573 square feet, while regular Studios are 406-450 square feet. The L-shaped sofa turned into a sofa bed for my son, who fortunately got a good 3 hours of sleep before our night flight, which was exactly what I was hoping for.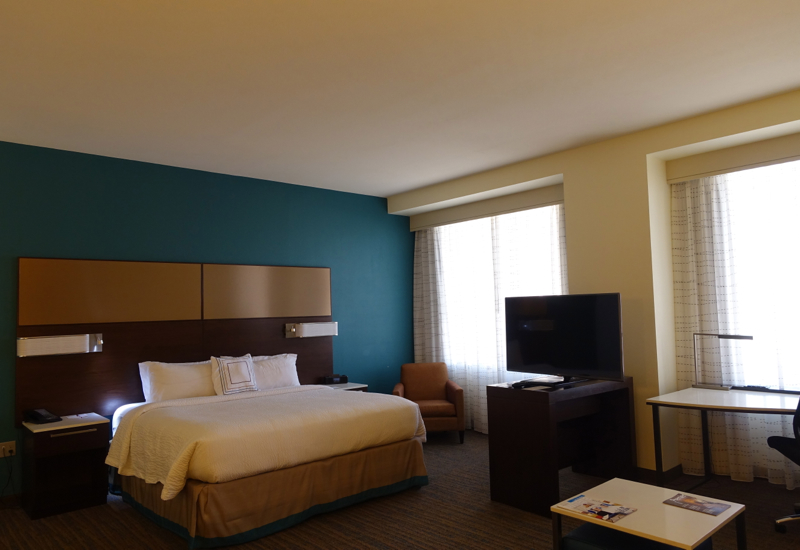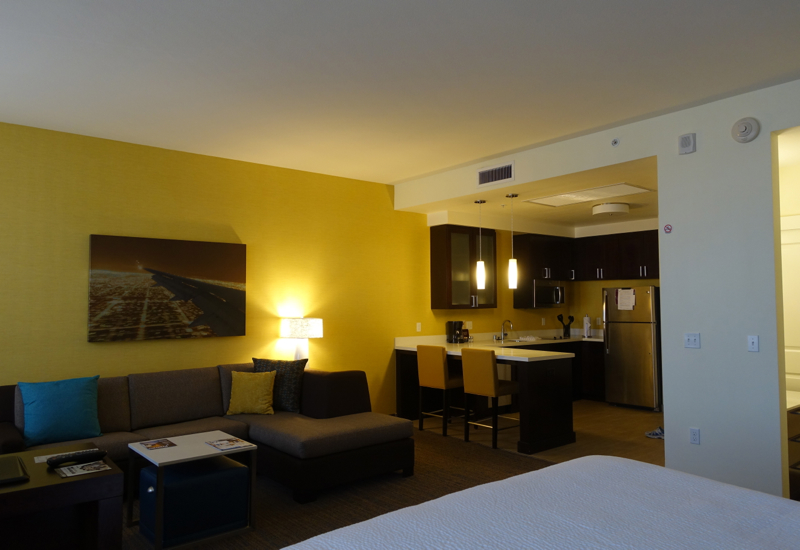 The king bed is supposed to be a pillowtop bed, but I have to say I found it so firm and uncomfortable that I couldn't sleep at all on it. On the upside, it meant there was no danger of sleeping through my alarm or the wake-up call, since I was awake the entire time.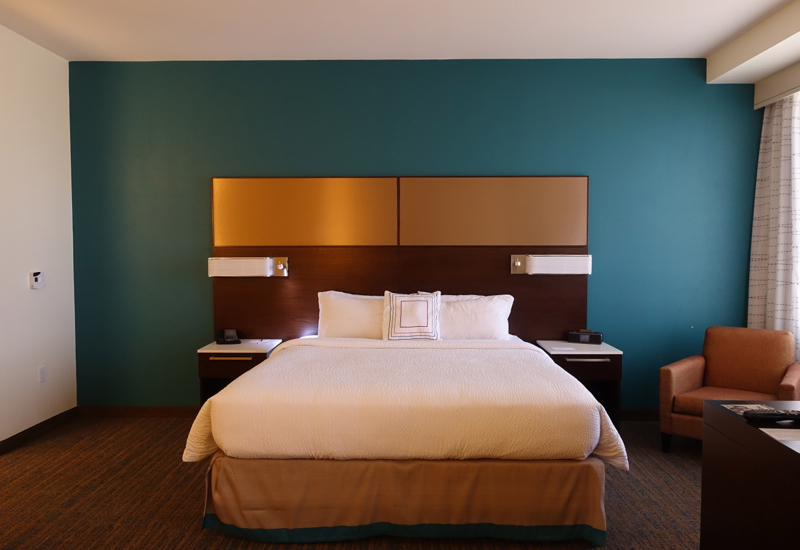 The bathroom was simple but clean, with a single sink, toilet, and a shower. I did wish there was a shower door, since water got a bit outside the shower given that there was only a half wall.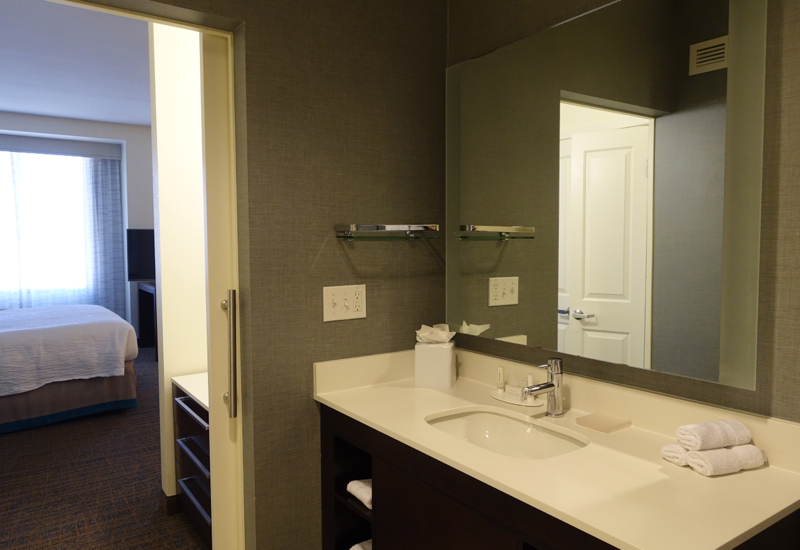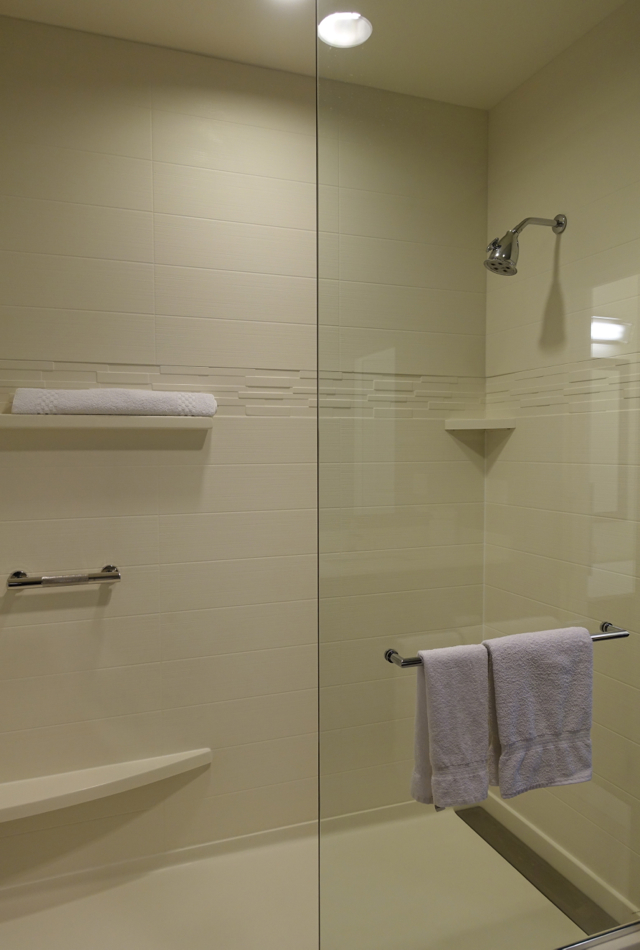 Bath products were Paul Mitchell, but in very tiny containers–barely enough for the two of us.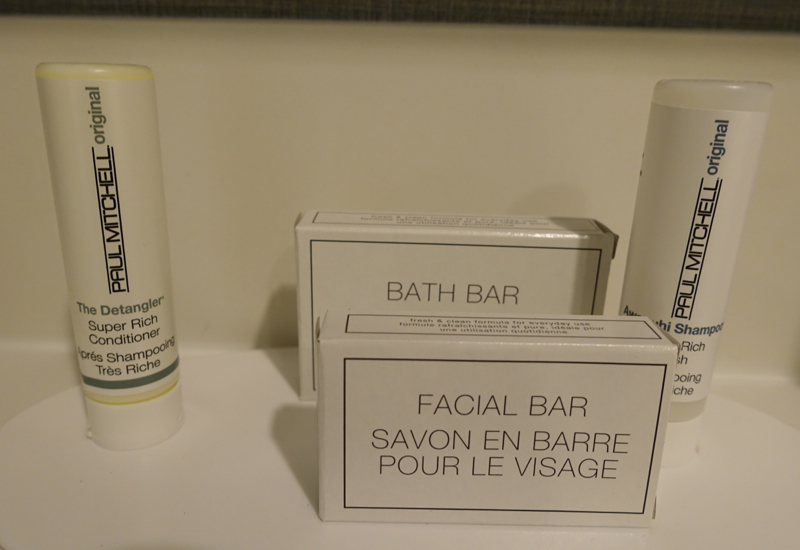 Residence Inn LAX Outdoor Swimming Pool
The hotel has an outdoor swimming pool just off the lobby, so we went down so my son could have a swim. While it looked perfectly nice, it was freezing, so it was his shortest swim in recent memory before, shivering, he got out and we relaxed a bit poolside before returning to our room.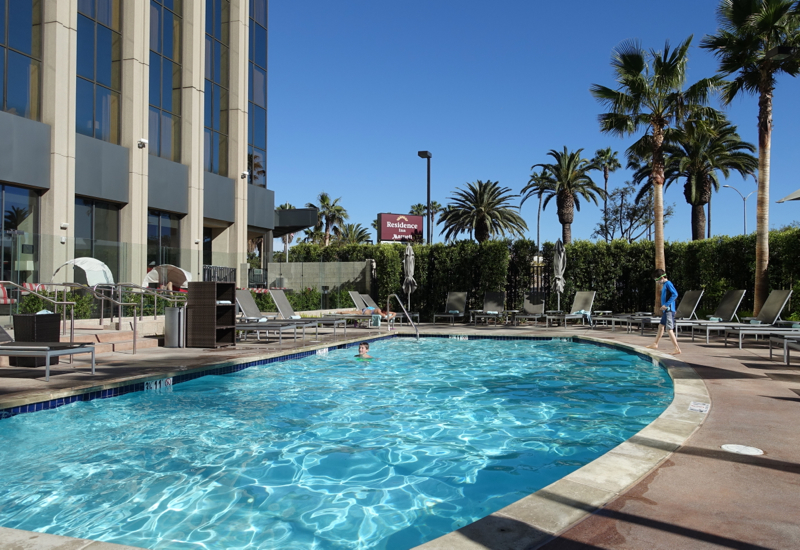 The Verdict
The Residence Inn by Marriott at LAX Airport looks great for an airport hotel, as it should, since it opened just last year, in 2015 and is often priced at over $200 per night. And it is very close to the airport, although our shuttle experience varied enormously–we had a 25 minute wait on arrival, but waited just 5 minutes when taking the shuttle back to the airport.
Studios are roomy, with a full kitchen, handy if you do have an extended stay. And the sofa beds are also convenient for families. If only the beds themselves were more comfortable and the pool was heated, with more regular shuttle service, it would be just about perfect.
If you've stayed at the Residence Inn at LAX Airport, what was your experience?
Related Posts
Review: Qantas First Class A380 Sydney to Los Angeles
Review: Qantas First Class Lounge Los Angeles LAX
Review: American A321 Business Class New York to Los Angeles
Needed: More Airport Day Rooms / Sleeping Rooms
Need Award Booking Help? Our fee is as low as $75 per ticket if you book your hotel through us.
If you enjoyed this, join 200,000+ readers: please follow TravelSort on Twitter or like us on Facebook to be alerted to new posts.
Become a TravelSort Client and Book Your Hotel with Virtuoso or Four Seasons Preferred Partner Amenities!