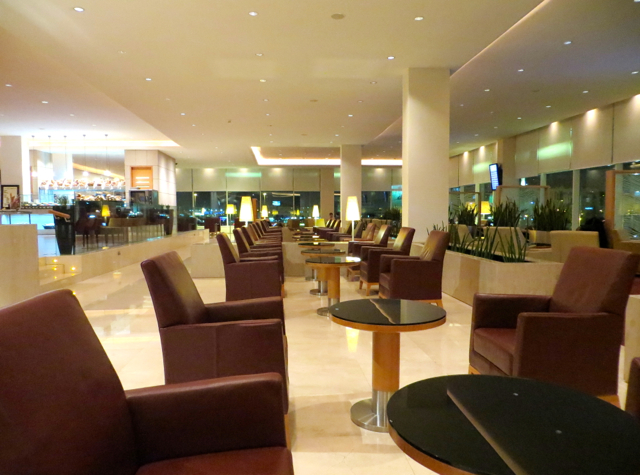 This review of the Qatar Business Class Lounge in Doha is part of a trip report including Qatar Business Class and the Maldives. For prior posts please see:
Review: American Airlines Flagship Lounge in NYC, JFK
Reveiw: Qatar Business Class NYC JFK to Doha
Doha Airport itself didn't impress me much, mainly because flights don't deplane at a gate; rather, you deplane on the tarmac and have to take a bus, Paris Charles de Gaulle style, to the terminal. And a lengthy bus ride at that–it took at least 25 minutes and 3 stops until we arrived at Qatar's Premium Terminal in Doha.
That said, once we entered the Premium Terminal, things began to look up. Even though my husband only held an economy class ticket for our onward flight, they were gracious enough, given his business class ticket NYC to Doha, to allow all 3 of us to enter the Qatar Business Class Lounge. We proceeded up the escalator, where an attendant checked our boarding passes, and pointed us toward the Business Class Lounge entrance, which is on the right.
Once inside, we gravitated toward the hot food buffet on the left, where there were several entrees as well as a cold salad section.
I chose some Indian Butter Chicken and Seafood Thermidor; both were very good, easily better than our main dishes aboard Qatar Business Class: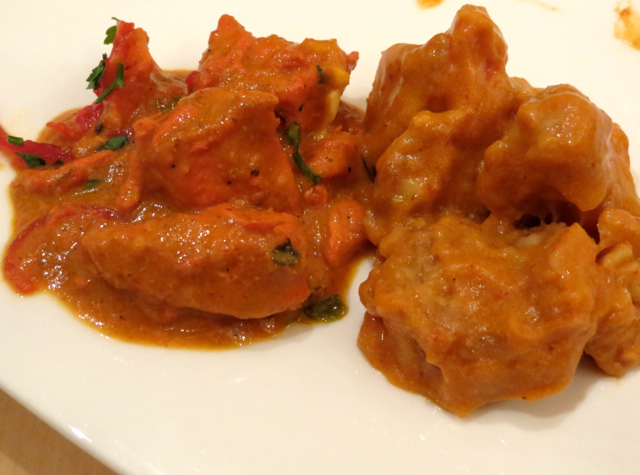 There was also a dessert table. The cakes and panna cotta looked pretty enough, but not necessarily that tasty. What we did try and enjoy were the some dried apricots and pistachio baklava:
When we sat down, a server offered to get us drinks. My husband remarked that the lounge had the most attentive service he'd experienced in a lounge. The Business Class Lounge is spacious and extensive, so that even though there were many passengers, it was relatively easy to find plenty of seating, unlike the American Airlines Flagship Lounge in NYC.
I was especially taken with the tea station, where a number of different types of whole leaf teas were offered.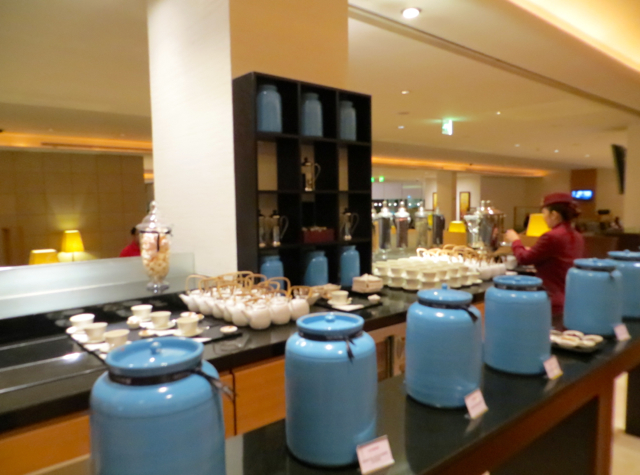 Of course, since I'd shared my previous baklava with the munchkin and my husband, I couldn't resist having a bit more with my Moroccan Mint Tea!
Although I didn't take a shower, I was happy to note that there were a couple of showers available in the Ladies Bathroom, which itself was immaculate: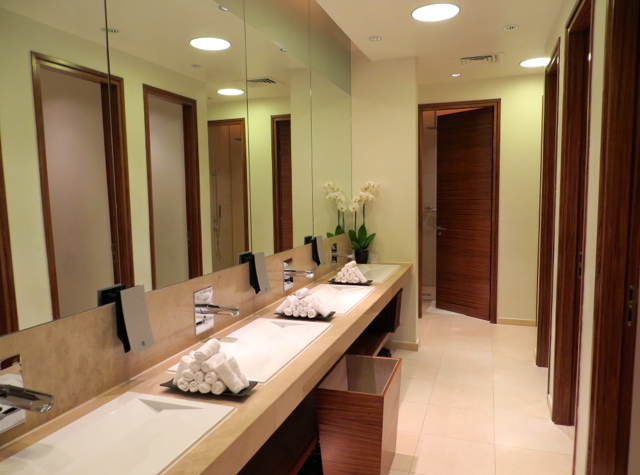 The showers even featured L'Occitane bath amenities: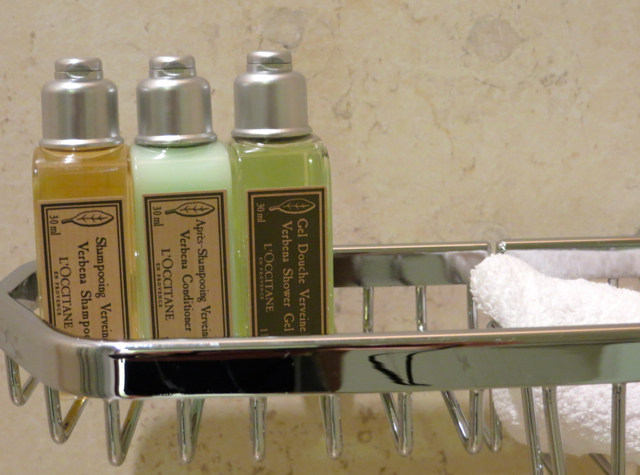 Another great feature of the Qatar Business Class Lounge is the Nursery, for young children. There are easles set up for drawing, which my son happily took to: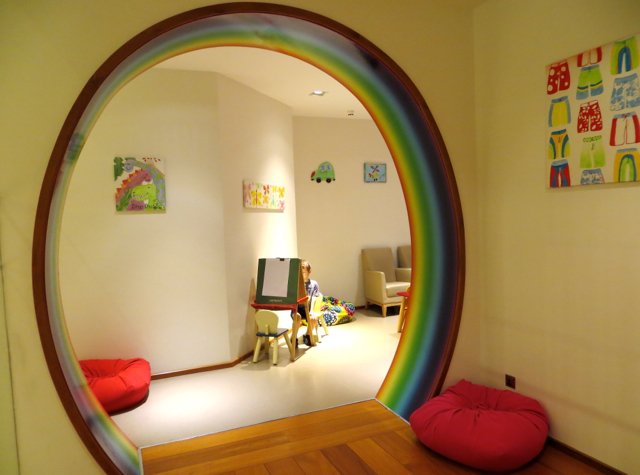 If you have a baby, there's even a crib and a diaper changing station.
And just next door to the Nursery is a playroom for older kids, with Playstations and a Foosball Table:
After plenty of Foosball and some running around, we were ready for a little more food. There's a separate dining section with different buffet items near the windows. Prominently positioned is a plate of sushi. To be honest, it wasn't that great, but some points for offering sushi at all: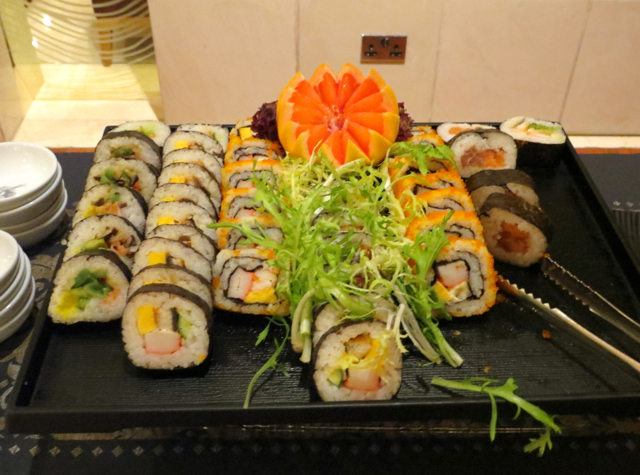 Much tastier were the Tandoori Prawns, Grilled Halloumi Cheese and Merguez Sausage: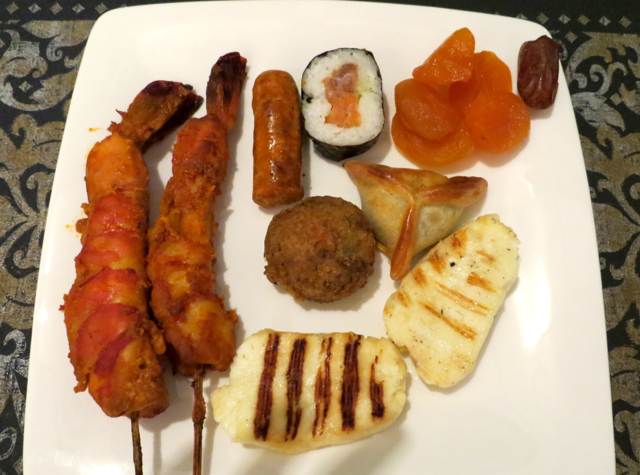 The Verdict: The Qatar Business Class Lounge in Doha is the best Business Class Lounge I've visited–spacious, plenty of hot food options, a dedicated tea bar, yummy baklava, immaculate bathrooms and shower facilities, kids' playroom and nursery, and some options I didn't have occasion to try, such as massage chairs. For any smokers, there's also a smoking room. The main thing I missed is something generally only found in First Class Lounges: beds or sleeping rooms.
If you've transited through the Qatar Business Class Lounge in Doha, what was your experience?
Related Posts
Need Award Booking Help? Our fee is as low as $75 per ticket if you book your hotel through us.
If you enjoyed this, join 90,000+ readers: please follow TravelSort on Twitter or like us on Facebook to be alerted to new posts.
Become a TravelSort Client and Book Your Hotel with Virtuoso or Four Seasons Preferred VIP Amenities!