We booked Qatar Business Class from NYC JFK to Doha back when Qatar was still a United partner, so we were able to use United miles we earned with our Ink Bold and Ink Plus cards. Qatar bills itself as a "5-star airline" and generally even its business class gets great reviews (there's no first class service from NYC or other U.S. cities) so I was excited for our trip.
Qatar departs from JFK Terminal 8, so it uses the American Admirals Club Lounge which was better than I expected for a U.S. airline lounge. Quite soon, it was time for us to board, so we made our way to the gate, which fortunately was just a couple minute's walk away.
We were welcomed aboard and led to our seats.
Here's the cabin: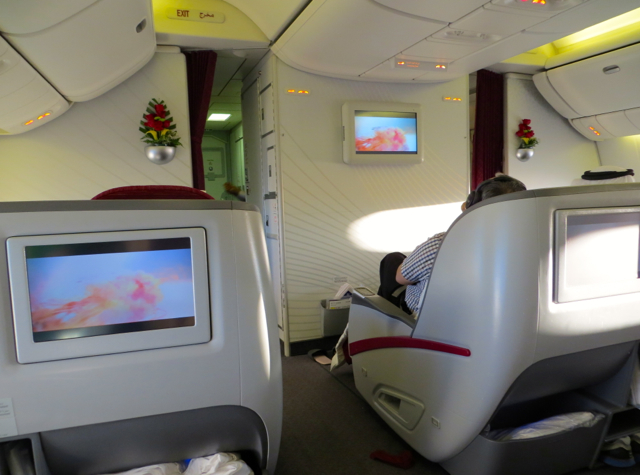 And two of our seats, 2A and 2B: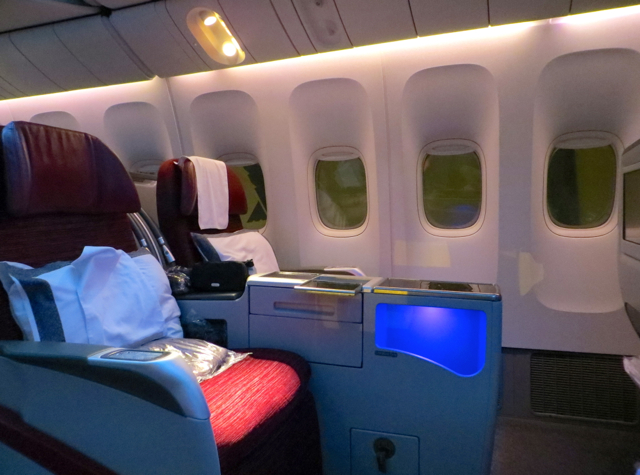 We were offered pre-departure drinks and a hot towel: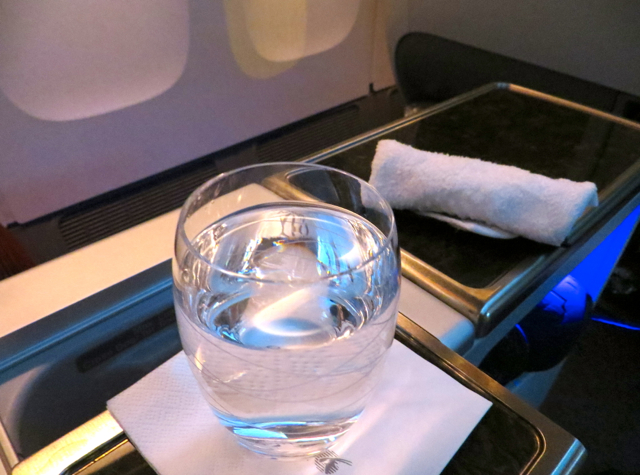 The purser, Albert, personally introduced himself to us, which I thought was nice–this hasn't always happened to me even when flying first class–for example, it didn't occur when I flew Lufthansa First Class. Albert brought a Spongebob backpack with activity book and stuffed Spongebob character that the munchkin loved: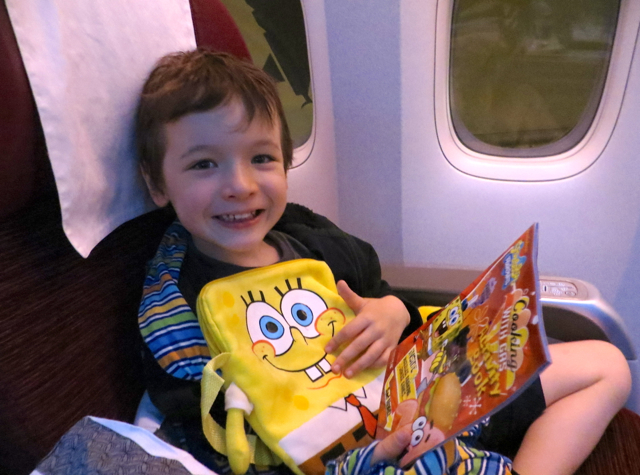 We were also given pajamas and a sock kit, with eyemask and earplugs: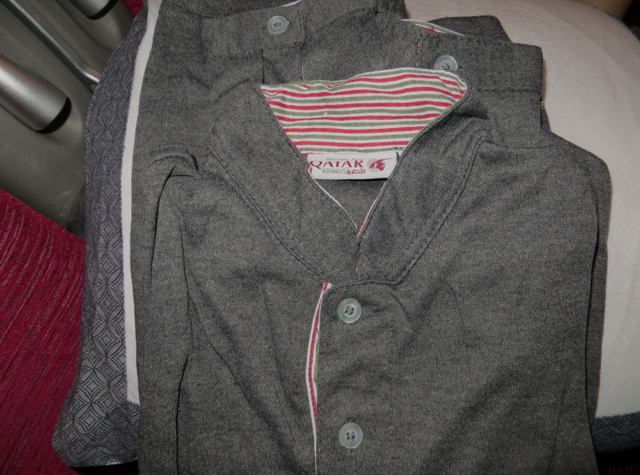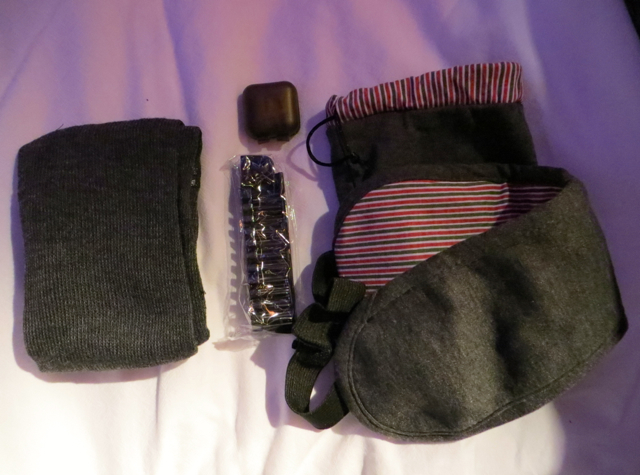 Flight crews are often international, but this one seemed particularly so. I'm guessing there are few if any native Qatar women serving as flight attendants on Qatar Airways, and the crew seemed to draw from India, various Asian countries, and even Ukraine–as in the case of the flight attendant who asked us our meal preferences.
Since I'd heard Qatar offers on demand dining, I was keen to take advantage of that and asked the flight attendant about it. She seemed at first a bit surprised that the munchkin and I wouldn't be eating right away, but then agreed that she could save our meal choices for when we woke up. To me, this was preferable since the flight left the gate at 11pm but didn't take off until close to 11:45pm, and I wanted to get some sleep first and foremost.
Here's the dinner menu:
And the drinks menus: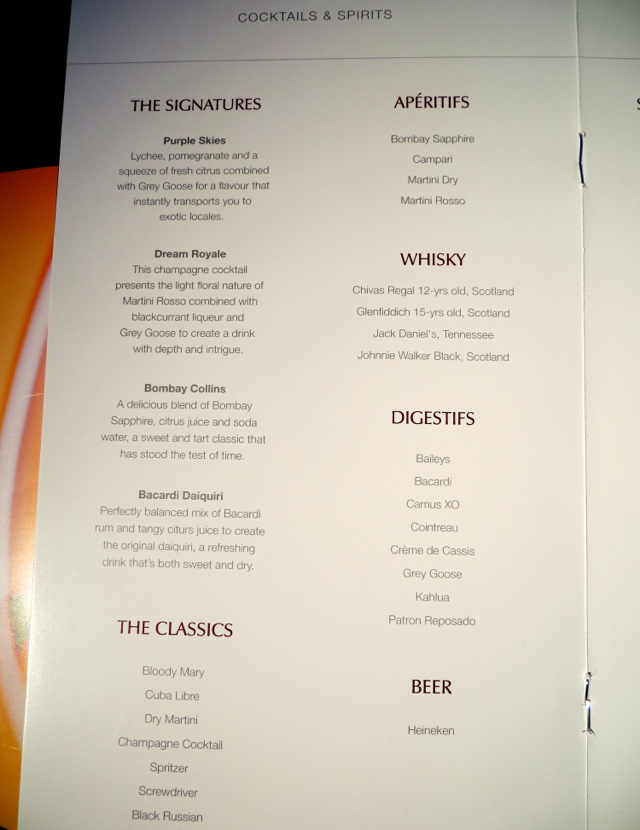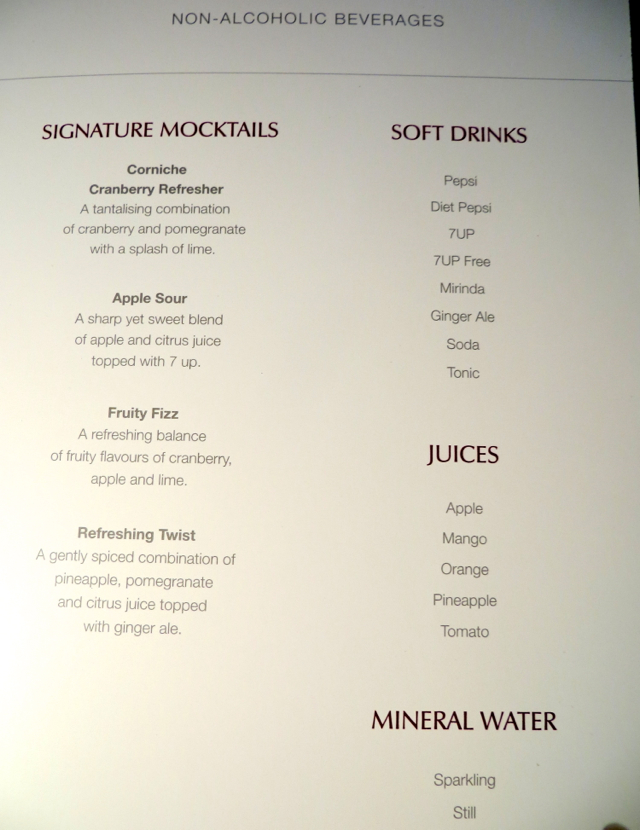 Takeoff was uneventful, and as soon as we could, once airborne, I put our seats into the bed position. The seats are considered flat bed seats, although I noticed a slight incline to them, similar to Swiss Business Class. There was a combined sheet and mattress pad stowed in front of us, so I started to make my bed myself, but the purser, Albert, came and did this for me.
Here's the bed: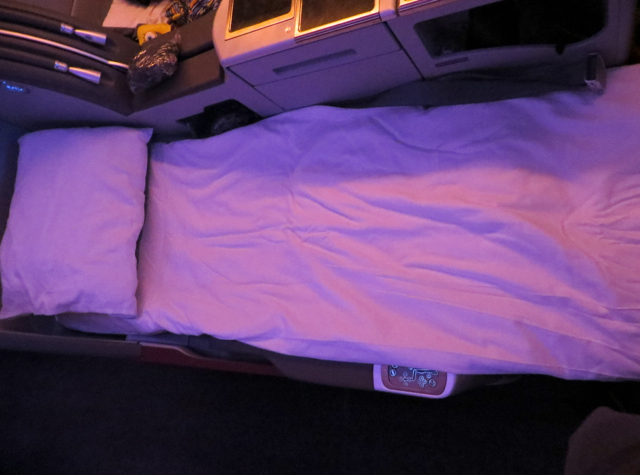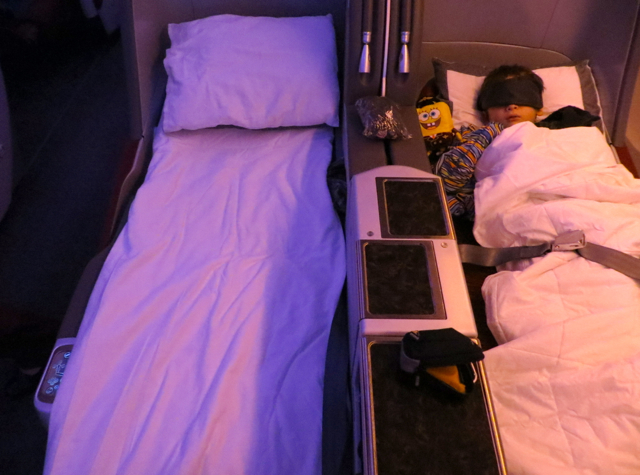 Now, I have to be honest: my husband and I did not find the beds to be very comfortable, mainly because it seemed way too firm in the lower back and hip area, where you'd want it to be more padded (especially if you like to sleep on your side, but even sleeping on my back it was uncomfortable after awhile. The munchkin slept really well, so if you're not too picky about your bed, it will probably be fine. But I definitely prefer the more padded bed on Cathay Pacific Business Class, and of course in Cathay First Class, although that's not a fair comparison.
Since I'm always hungry after not having slept well, we had a filling meal once we got up.
I opted for the Arabian Mezze, which included hummus, baba ganoush, taboule, flat bread, a kind of sausage, and a spinach stuffed savory pastry. The hummus and baba ganoush were among the best I've tasted.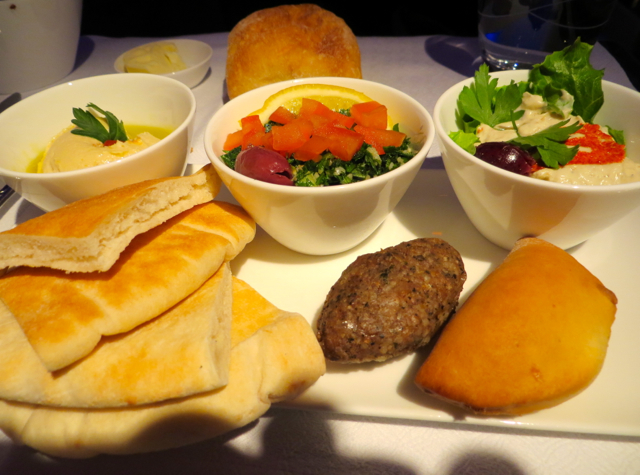 The munchkin chose smoked salmon, although it also came with smoked mackeral and peppered trout, which he wasn't so keen on.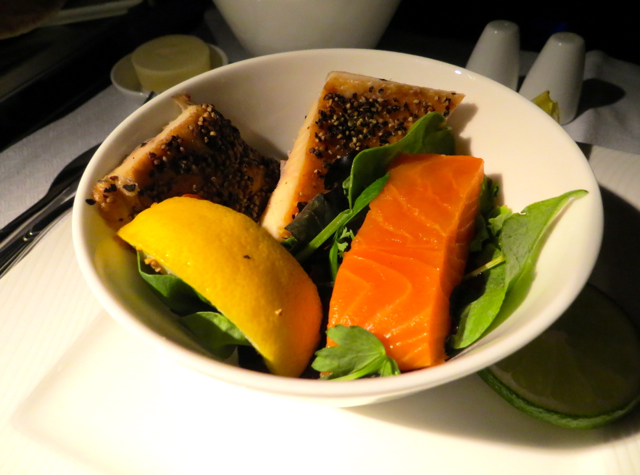 For my main, I chose the Alaskan Cod with an intriguing pomegranate walnut sauce. The cod itself was nothing special, but I did really enjoy the sauce.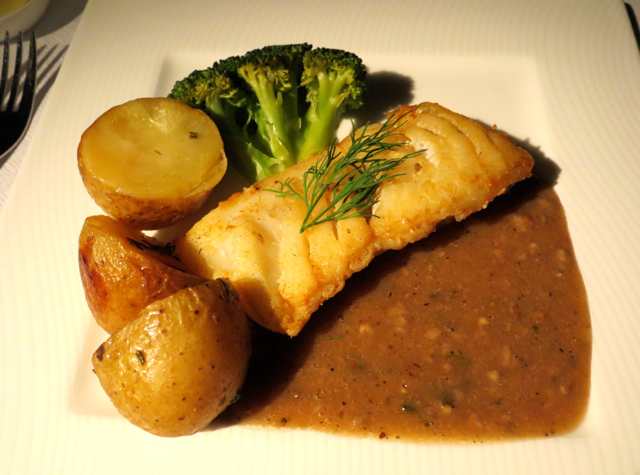 The highlight for us was the dessert. It was called a Chocolate Trio, but it was quite simple, featuring a very moist and chocolatey warm cake, an almond butter cake with a dab of chocolate filling, raspberry coulis, fresh berries, and cream. Nothing too elaborate, but just about the most delicious airline dessert I've had.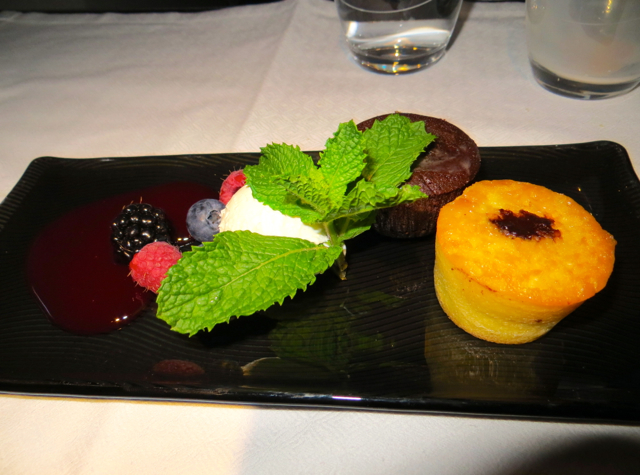 The munchkin, after his appetizer, was in the mood for breakfast type food. Here's the breakfast menu: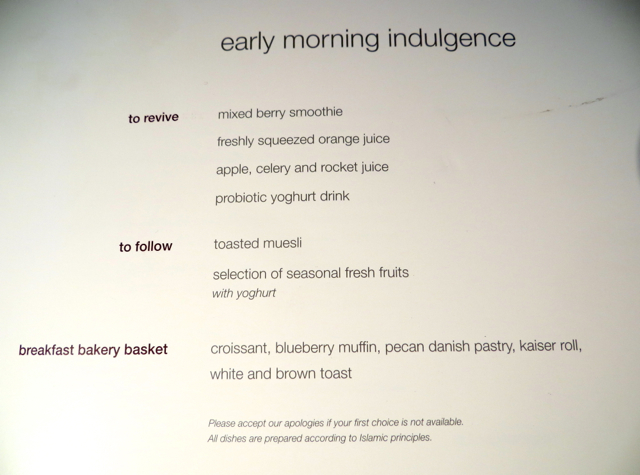 I chose the fruit plate for him, and also a yogurt drink. Both were very good: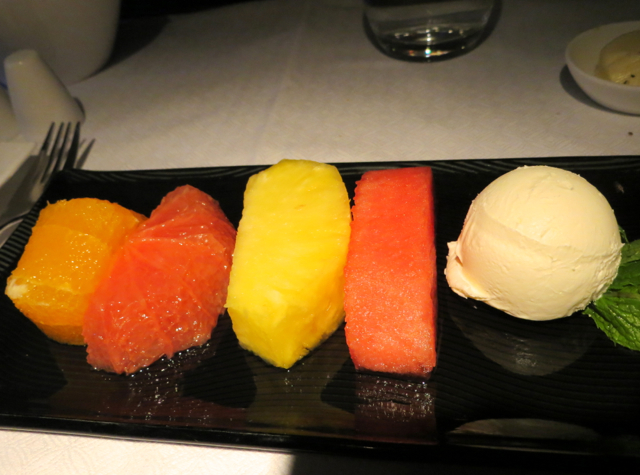 When brushing my teeth, I took a photo of the bathroom. It was small–nothing like the more roomy bathroom you might find in Singapore First Class–and just had a couple of Molton Brown amenities, razors with shaving cream, and toohtbrush kits.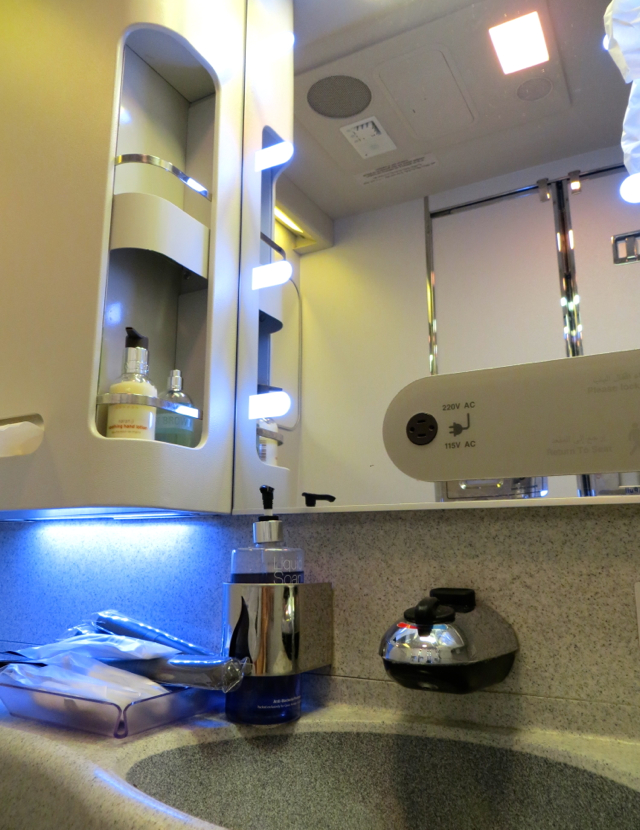 The Verdict: I liked many of the aspects of the soft product: personalized greeting from the purser, super soft pajamas and eye mask, great appetizers and dessert–but I feel the hard product, namely seat comfort in the bed position, left a lot to be desired. While it was great to have a flat seat, it just wasn't comfortable to sleep in, at least for my husband and me.
Related Posts