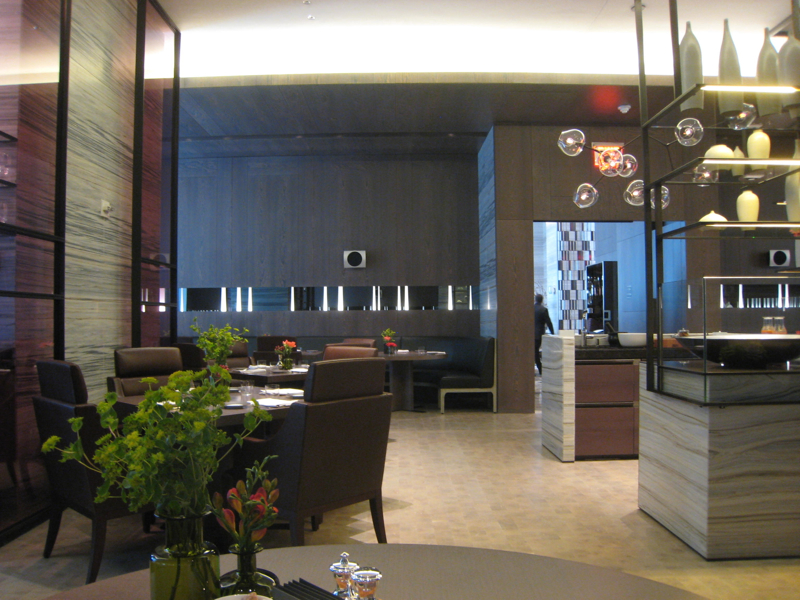 This Review of a Park Hyatt New York breakfast at The Back Room at One57 is one of our many NYC Restaurant Reviews. Visiting New York? See all of our posts tagged NYC.
Several of my TravelSort Clients have expressed interest in booking The Park Hyatt NYC with Virtuoso benefits, which include full breakfast either at The Back Room at One57 or via room service. I recently tried out the hotel's breakfast with my family, to review the offerings.
Virtuoso benefits at The Park Hyatt New York (paid bookings only) include:
Upgrade on arrival, subject to availability
Daily full breakfast, for up to two in room guests, available in The Back Room at One57 or in-room dining
$100 USD Hotel credit, to be utilized during stay
Early check-in/late check-out, subject to availability
For bookings in Park Executive Suites and above, guests additionally receive Round Trip Sedan transfers between JFK, LGA, EWR and Park Hyatt New York
Getting to The Park Hyatt New York
The new Park Hyatt New York is located at 153 West 57th Street, between 6th Avenu (Avenue of the Americas) and 7th Avenue, two blocks from Central Park South. The closest subway station is at 57th Street/7th Avenue, served by the N, W, R and W lines, or alternatively, the 57th Street/6th Avenue stop served by the F line.
The entrance is on the north side of the street: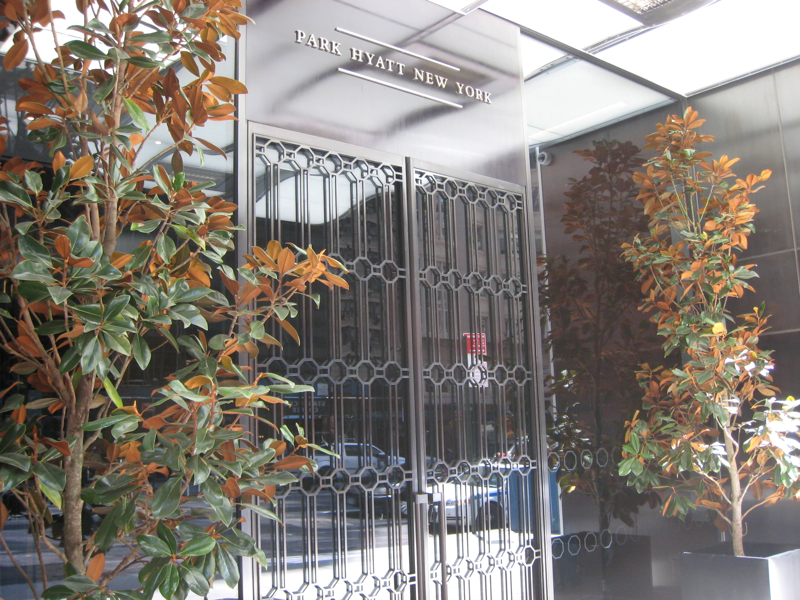 Once inside, you'll need to take one of the elevators on your left to the 3rd floor, where the lobby and The Back Room at One57 restaurant is.
The Scene at The Back Room at One57
The Park Hyatt New York had been open less than 2 weeks when we dined, and not all rooms and suites are complete, but I was still surprised by how few guests there were in The Back Room at One57 for breakfast. Perhaps most of them got room service or went out somewhere else for breakfast instead. I'm pretty sure we were the only non-hotel guests there during the time we dined.
We were welcomed warmly and seated at one of the comfortable crescent shaped booths, which were the perfect size for our family of 3 (and could have fitted 4 a bit more cozily). I liked the high ceilings and overall design of the space, even though it doesn't get as much natural light as one might like–but then again, that's the case for most restaurants in NYC, with the exception of places such as Eleven Madison Park, places with outdoor terraces, etc.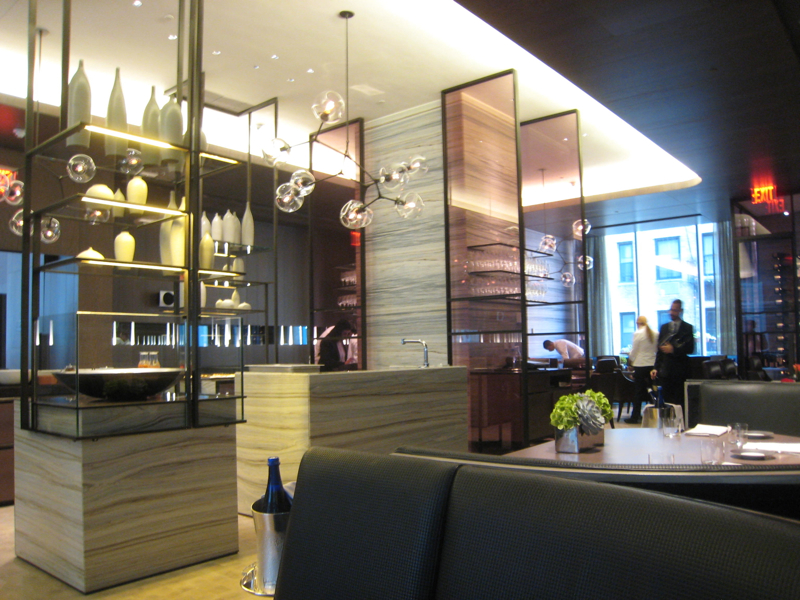 The Back Room at One57 Breakfast Menu and Food
It's always interesting comparing luxury hotel breakfast menus. Just the other weekend we stayed at The Peninsula New York and enjoyed breakfast at Clement Restaurant, which was very busy even for our fairly early weekend breakfast. I have to say, I enjoyed all of the variety and Asian options on Clement's menu.
At The Back Room at One57, the menu, as with the hotel's design, is far more pared down and restrained, with the classic choices you would expect: some fruit starters, various egg dishes, pancakes, waffles, and a 57th Street Breakfast that includes eggs, potatoes, bacon or sausage, toast and breakfast pastries, juice, and coffee or tea. The East Houston Street Fish Platter does offer a nice twist on the traditional smoked salmon with bagel breakfast, since in addition to smoked salmon it offers pastrami of salmon, smoked sturgeon, belly lox, Swedish matjes herrings, German Potato Salad and Romanian Eggplant Salad.
The truly extravagant can order The Backroom Breakfast for Two with 2003 Dom Perignon, Beluga Caviar Bagel, Kobe Steak with Truffle Eggs, Foie Gras Toast, Saffron Poached Fruit and Kopi Luwak Coffee, for a cool $400 per person.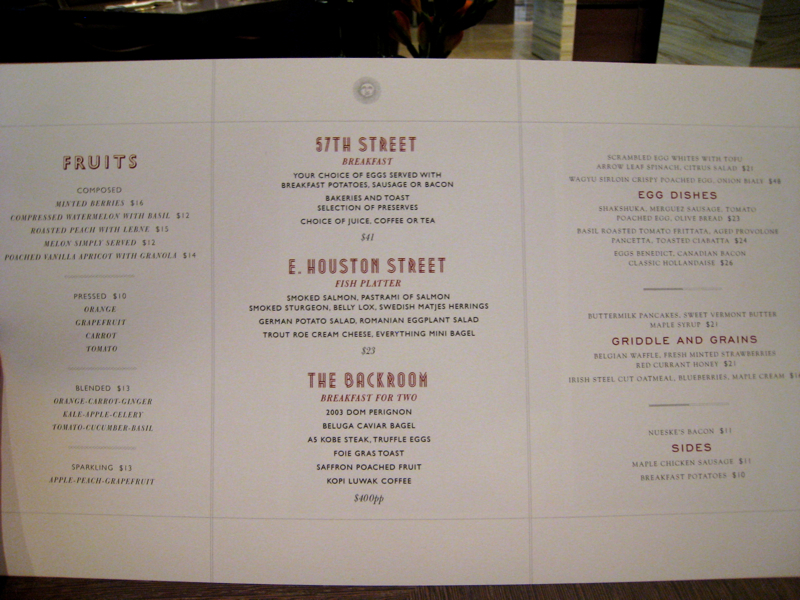 The munchkin loves watermelon, so he couldn't resist ordering the Compressed watermelon with Basil to start. I didn't think he'd go for the basil atop it, but he ate at least half of the dish, so, while I wasn't hugely impressed with it, he enjoyed it.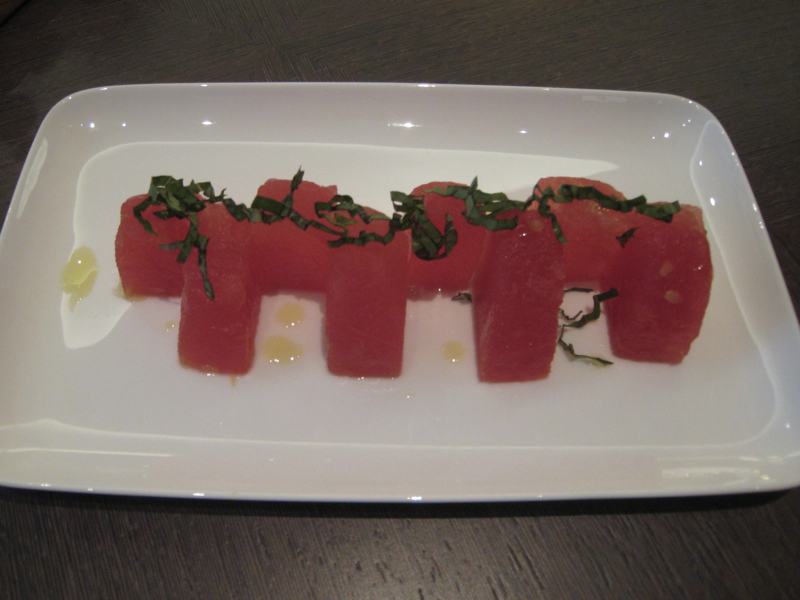 I was surprised not to see any yogurt on the menu at all, so I asked our friendly server, Dominic, about it. He said that low fat yogurt is available by request (although not on the menu) and also suggested the Roasted Peach with Lebne, since Lebne is similar to thick Greek yogurt. I asked him if I could try that, but with the poached vanilla apricots from the Poached Vanilla Apricot with Granola dish, and he was happy to oblige.
When it came, I was surprised to see what appeared to be plums, and he explained that the kitchen was using plums today, instead of apricots, but that they were poached similarly, and also came with the apricot compote of the usual dish. So I ended up getting mostly the Poached Vanilla Apricot with Granola dish, but with plums instead of apricots and with dollops of lebne. It was good, and I appreciated that it wasn't overly sweet, although honestly I would have liked to have known that the kitchen was out of apricots before it was brought as that was the main reason I ordered it–I far prefer apricots to plums.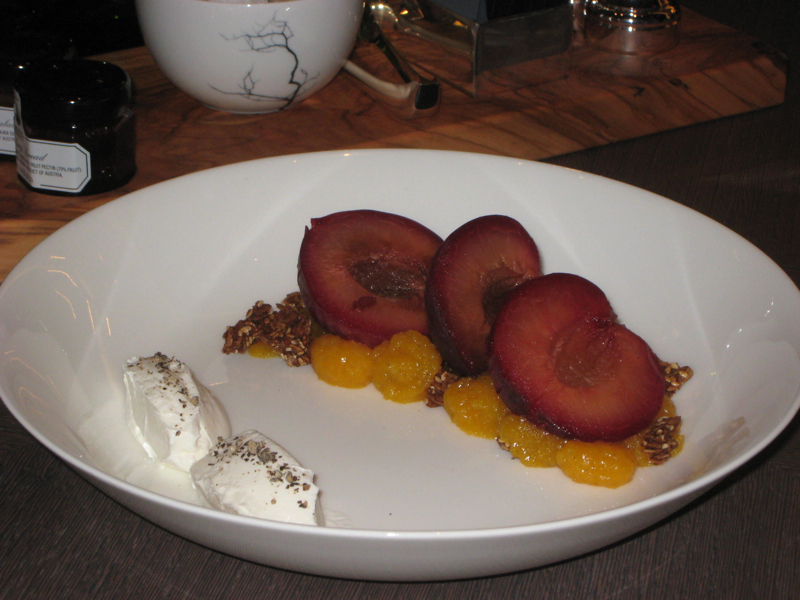 My Shakshuka with Merguez Sausage and Poached Egg was delicious–nice and spicy, and it wouldn't surprise me if this is the best egg dish on the menu, at least if you enjoy something with a kick to it.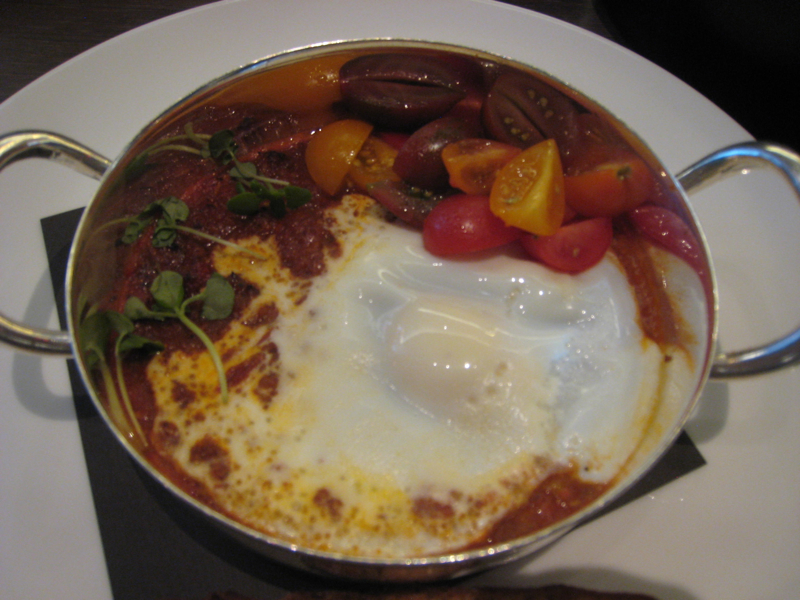 My husband ordered the 57th Street Breakfast, with fresh squeezed orange juice, bacon, and rye toast. The fresh squeezed orange juice was good, although no better than the fresh squeezed organic orange juice we buy at Whole Foods.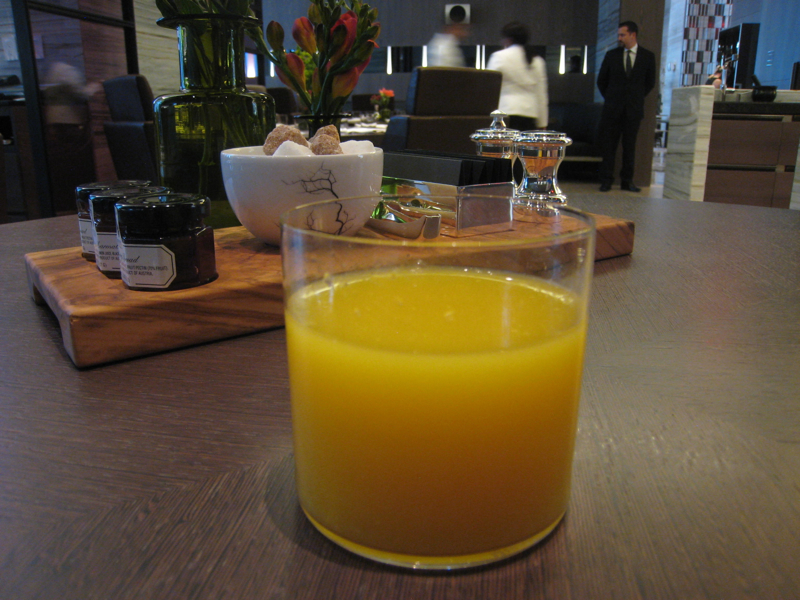 The eggs seemed a bit runny to me, although fortunately more cooked than the inedible version we were served at The Park Hyatt Paris Vendome. The bacon was meaty and thick cut, and my husband said it had great flavor.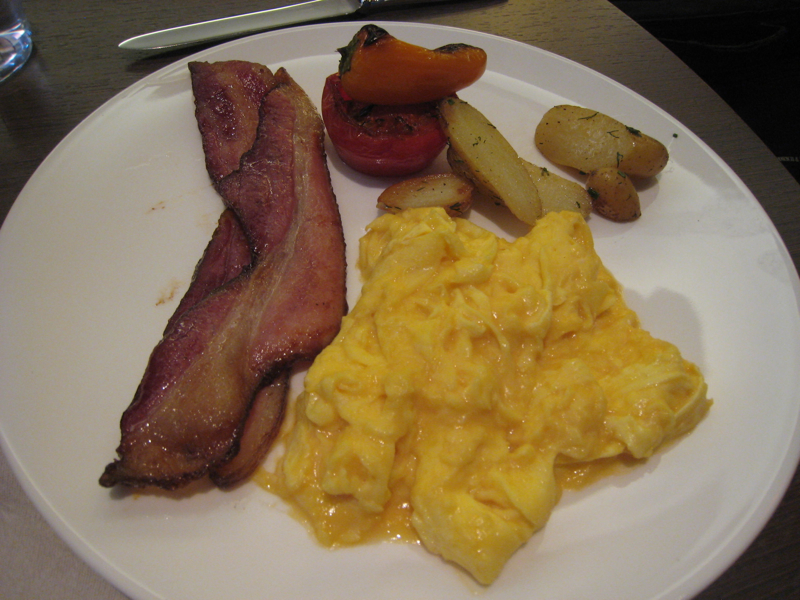 The basket of toast and breakfast was fine, although nothing remarkable. I asked if they offer almond croissants, but no dice–only regular croissnats and pain au chocolate are made in-house. There were mini versions of these, along with a mini scone.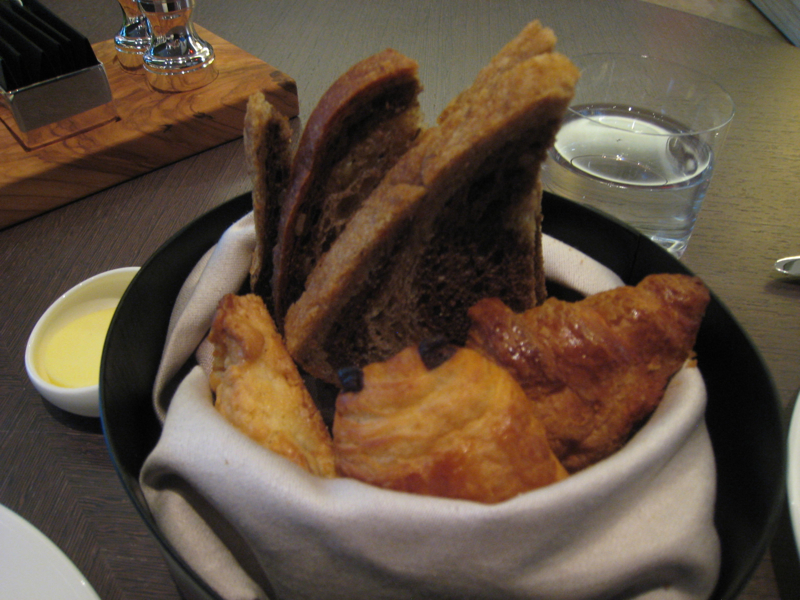 What was better than the pastries was the fact that Stauds jam is served. In my hierarchy of jams, La Trinquelinette is my favorite, but doesn't come in mini sizes for hotel use. Of those that do, Stauds and d'Arbo are my favorites. Now if only the Park Hyatt New York could simply outsource their pastries to Maison Kaiser and serve some fantastic almond croissants and better pastries to go with their stellar Stauds jams…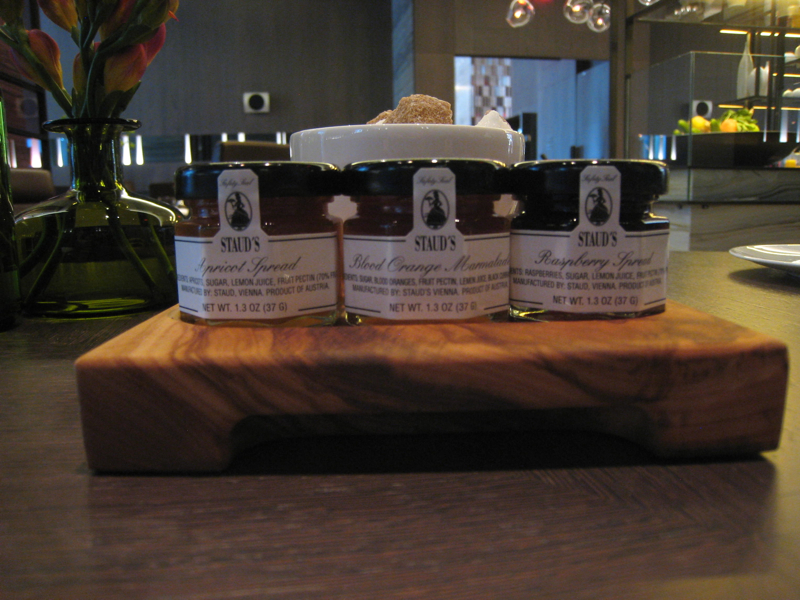 As usual, the munchkin ordered pancakes. Only plain buttermilk pancakes are offered, which he was perfectly happy with, although I was a bit surprised that no options were offered, such as at least blueberry pancakes, if not ricotta pancakes or something a little more interesting. Both my husband and the munchkin enjoyed how cakey the pancakes were, so they were a hit with them, although I found them rather boring.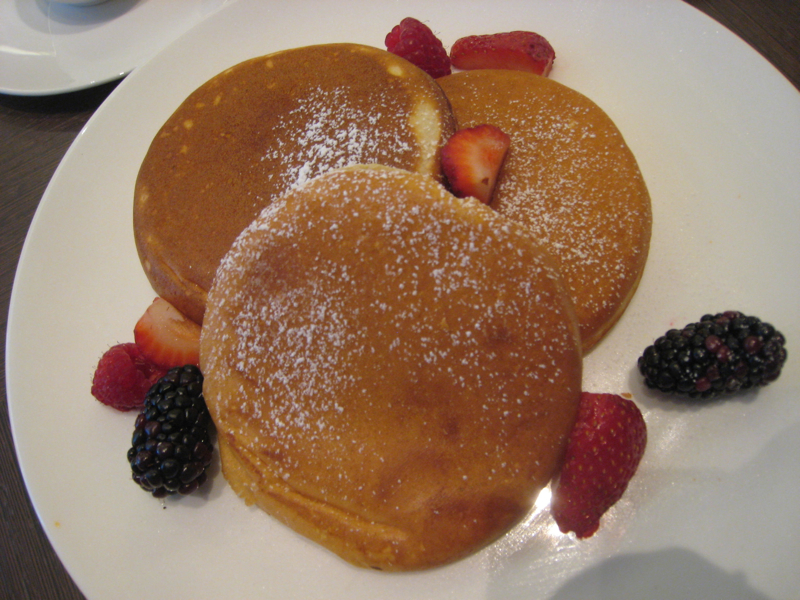 Coffee service was good: a carafe of well brewed coffee, with warm milk on the side.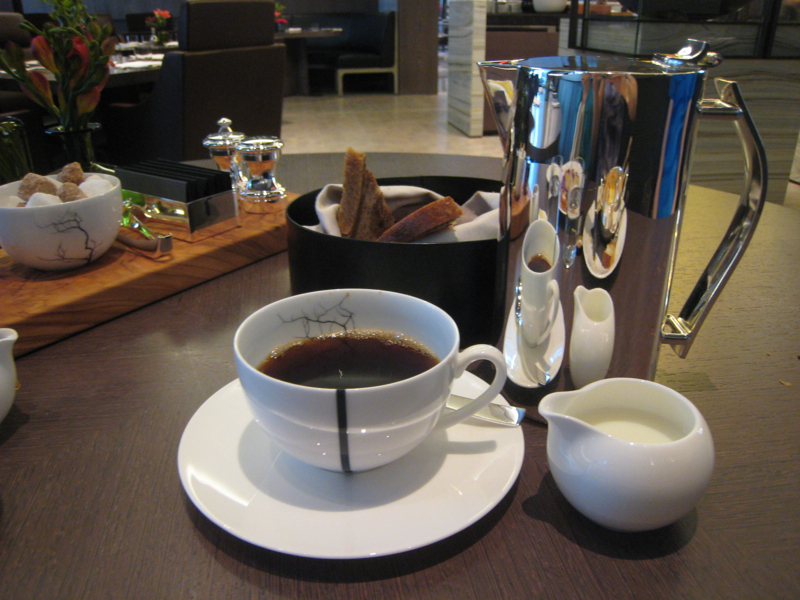 The Verdict
For me, the highlights of breakast at The Park Hyatt New York were the excellent, friendly service and the beautiful design of the space and attention to detail, down to the use of Stauds jam and the warm milk served with the coffee. While service wasn't perfect (it took a very long time to process a Hyatt check certificate I was using as partial payment) our server was excellent, and apologized for the delay.
The highlight of the dishes we tried was the Shakshuka with Merguez Sausage and Poached Egg, but note that this may not be sufficient if you're very hungry.
I would love to see more variety or at least more creative dishes added to the menu, especially in terms of pancakes, something with lobster or crab, and a yogurt or yogurt parfait option. One of the staff was effusive about the eclairs, so perhaps the pastry team puts all their energy into afternoon tea pastries and lunch/dinner desserts, but honestly, I think the breakfast pastries should be outsourced. There's no shortage of great bakeries in the city that can provide more variety and better Viennnoiserie, including almond croissants, chocolate almond croissants, pain aux raisins, etc.
If you've had breakfast at The Park Hyatt New York's Back Room at One57, what was your experience?
Related Posts
Park Hyatt New York Available for Virtuoso Bookings
Park Hyatt New York: No Free Night Awards
Hyatt Award Chart: New Category 7 for 30K Points, Pricier Awards
Need Award Booking Help? Our fee is as low as $75 per ticket if you book your hotel through us.
If you enjoyed this, join 150,000+ readers: please follow TravelSort on Twitter or like us on Facebook to be alerted to new posts.
Become a TravelSort Client and Book Your Hotel with Virtuoso or Four Seasons Preferred VIP Amenities!