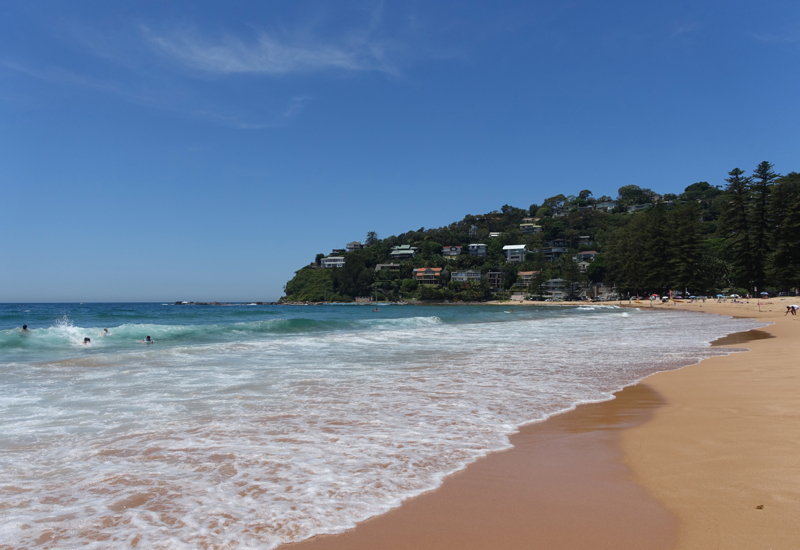 This Palm Beach and The Boathouse Pam Beach Review is from our visit on a recent trip to Sydney, Australia. For the prior Australia-related posts, including Etihad First Apartment to Sydney and Qantas First Class to Melbourne, please see:
Review: Qantas First Class A380 London to Dubai
Review: Emirates First Class Lounge Dubai DXB
Review: Qantas First Class A380 Dubai to Melbourne, Australia
Review: Etihad Business Class Lounge Abu Dhabi
Review: Etihad A380 First Class Apartment Abu Dhabi to Sydney
Review: Qantas International Business Class Lounge, Melbourne MEL
Review: Shangri-La Sydney and Horizon Club
Review: Park Hyatt Sydney Opera Deluxe Room
Social Brew Cafe Sydney Review
Review: Featherdale Wildlife Park Near Sydney, Australia
Getting to Palm Beach and The Boathouse Palm Beach
Palm Beach is about 1 hour 10 minutes by car from the Rocks area of downtown Sydney, driving north. It's a good 45-50 minutes even from Manly Beach, which gives you a sense of how far north Palm Beach is. Fortunately, thanks to Peter Bailey of Bailey's Sydney private tours, we didn't lose any time getting lost, as we surely would have done if we'd rented a car. And it was Peter's idea to bring us to Palm Beach, once he'd heard we preferred less crowded beaches, without the crowds of Manly.
Palm Beach
The comparatively long drive is worth it to enjoy the ample space of Palm Beach. Ideally, go on a non-holiday weekday as we did, as you'll share it with only a handful of others. I wouldn't be surprised if we were the only non-Australians on the beach at the time we went.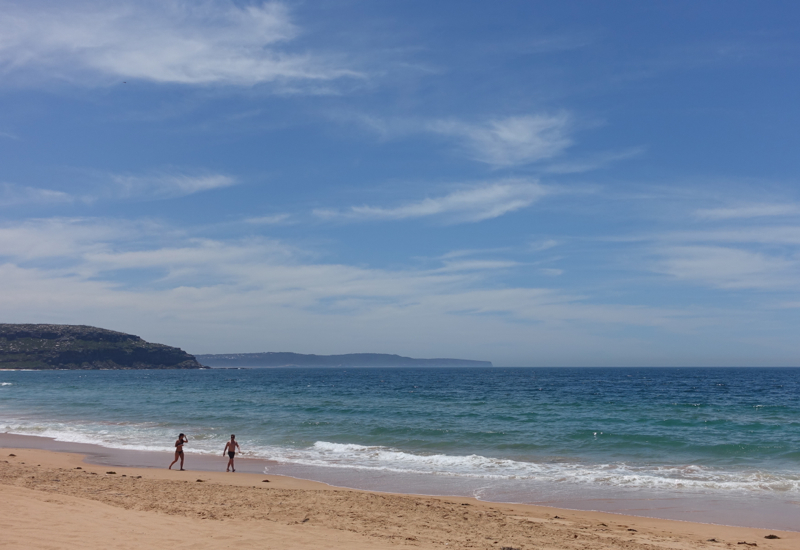 We were on the ocean side of Palm Beach, which gets some wave action and can be a bit rough–which is what my husband and son wanted. My son loved jumping in the waves, fortunately with my husband holding him high up. At times, the wave crashed over my husband's head (and he is 6'5″) so he'd be holding the munchkin above him.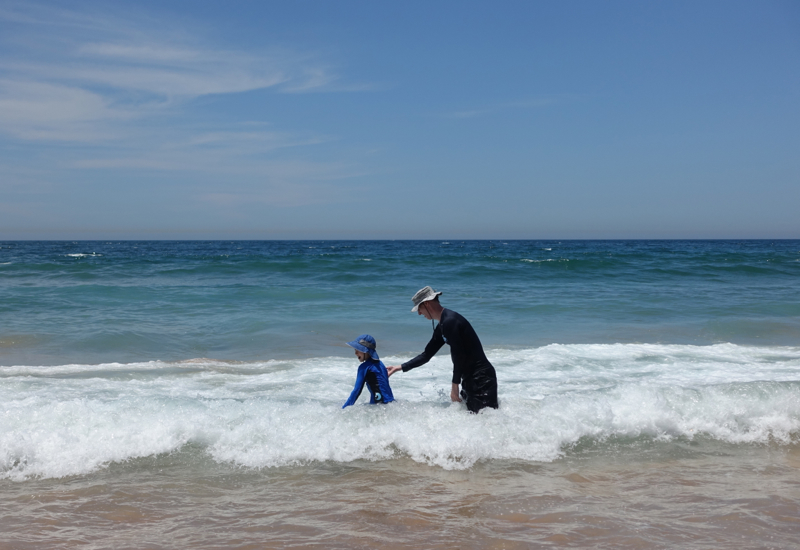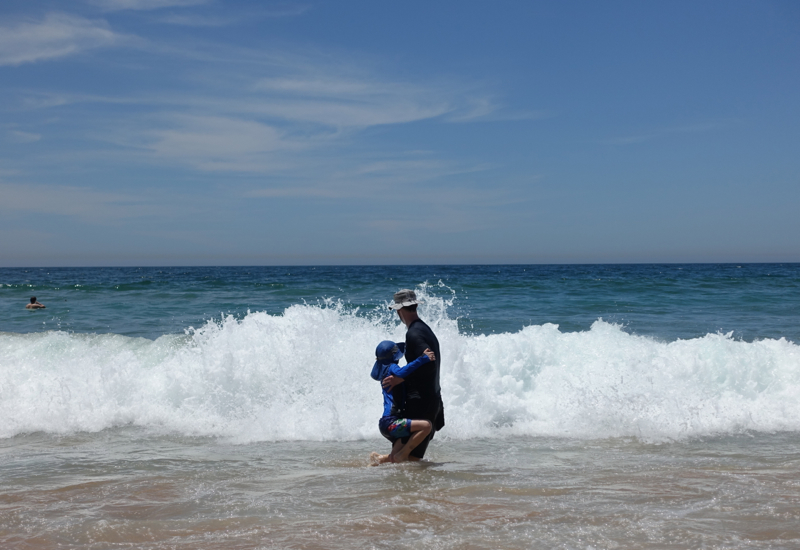 The Boathouse Palm Beach Lunch Menu and Food
After all that wave action, everyone had worked up an appetite for a hearty late lunch. Fortunately, Peter had in mind The Boathouse Palm Beach, just a 3 minute drive away.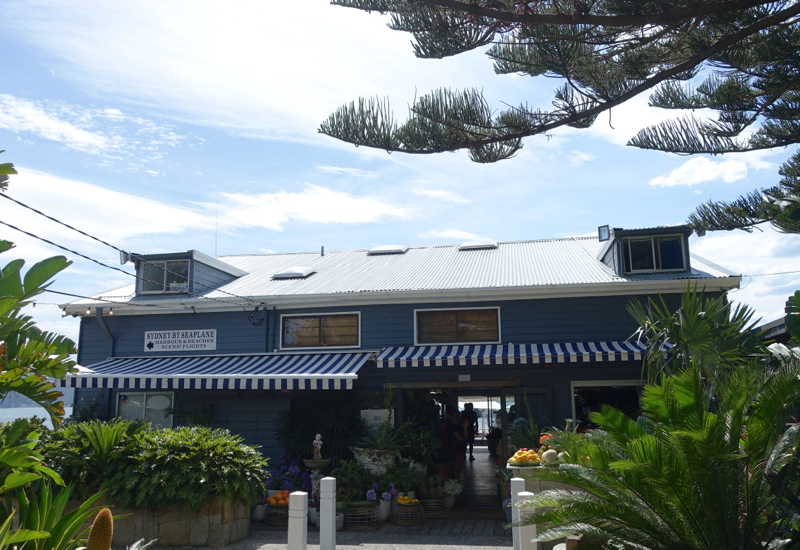 The Boathouse doesn't take reservations, but the line moved quickly and there's a nicely curated menu of favorites on a chalkboard: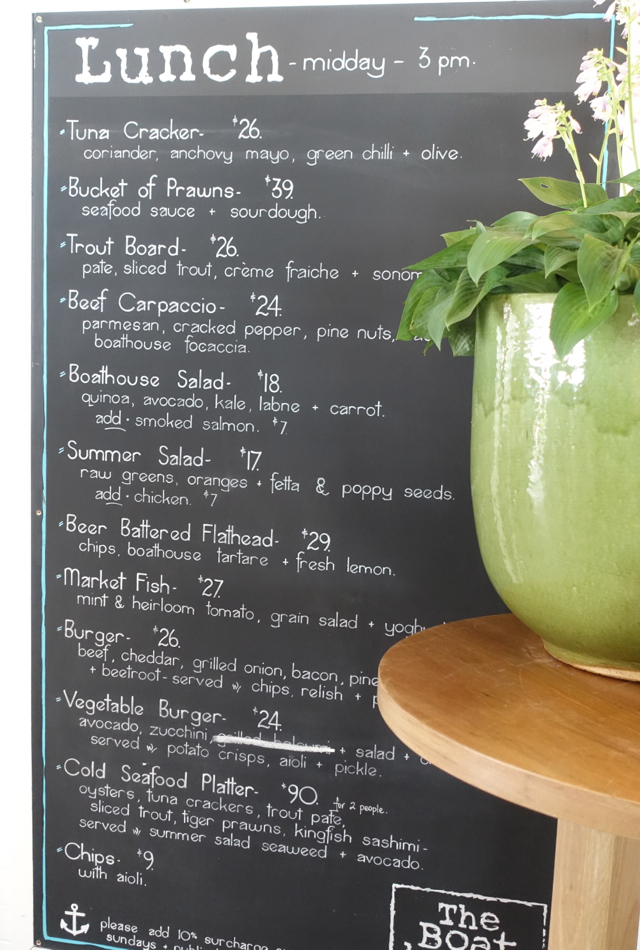 Meanwhile, my husband, son and Peter had nabbed an outdoor table under one of the umbrellas.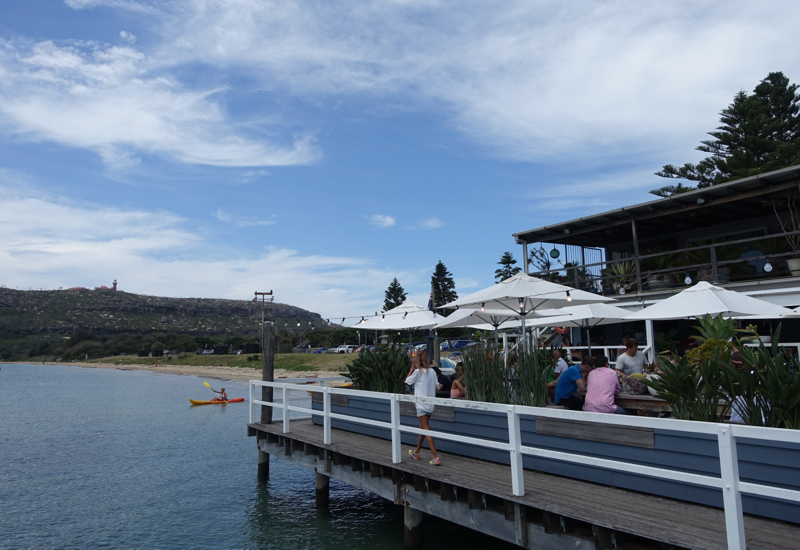 The Boathouse is on the inlet side, and you can see the difference in how placid the water is–perfect for kayaking or paddle boarding.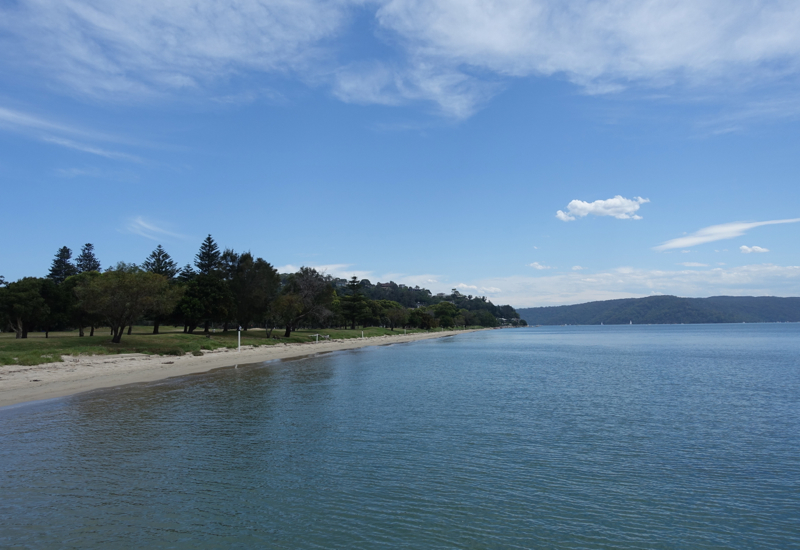 While the wait was hardest on the munchkin, whose energy stores were depleted by all the fun in the surf, the wait was worth it. He loved his burger and chips, and intently demolished most of it, even though it was a substantial, adult size portion.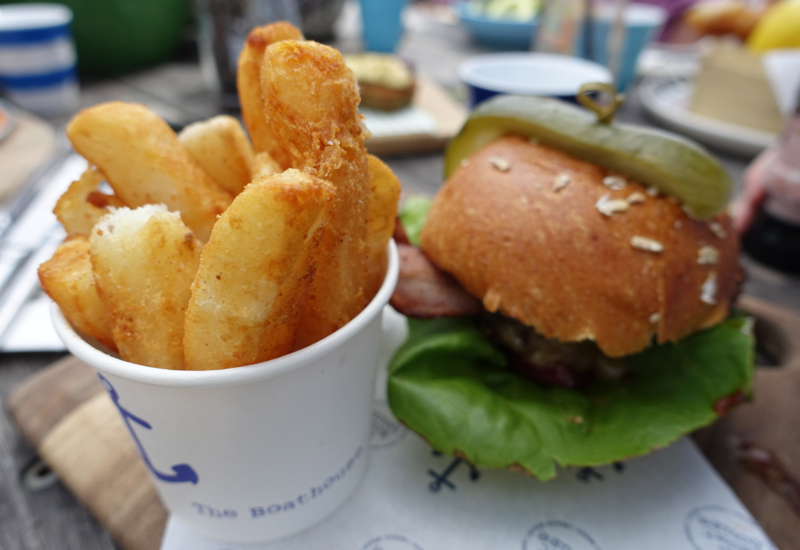 Ever since the Maldives, he's ordered watermelon juice whenever it's available, and The Boathouse's fresh squeezed watermelon juice did not disappoint. It came with a fresh mint garnish that we also used in our iced water, for spa-style mint infused water.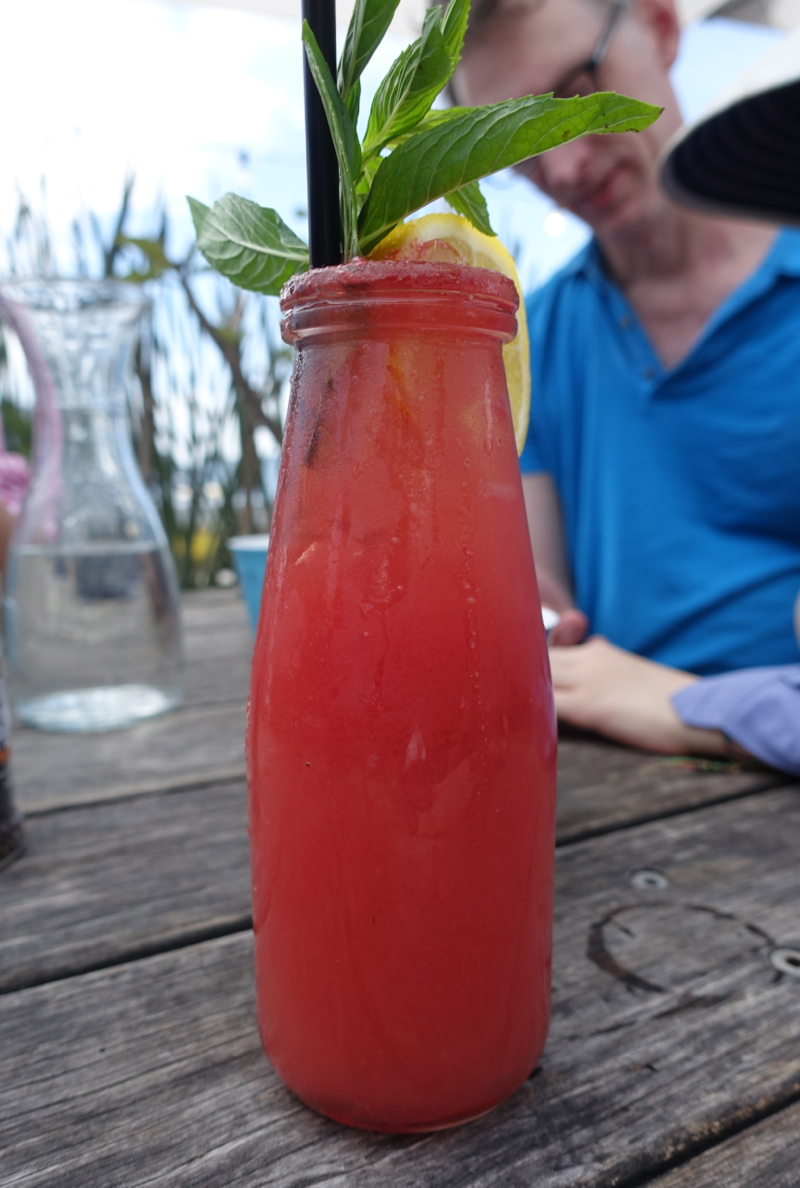 Peter ordered his favorite, the green and healthy looking Boathouse Salad, which came with avocado and labne (a thick Greek yogurt-like dip).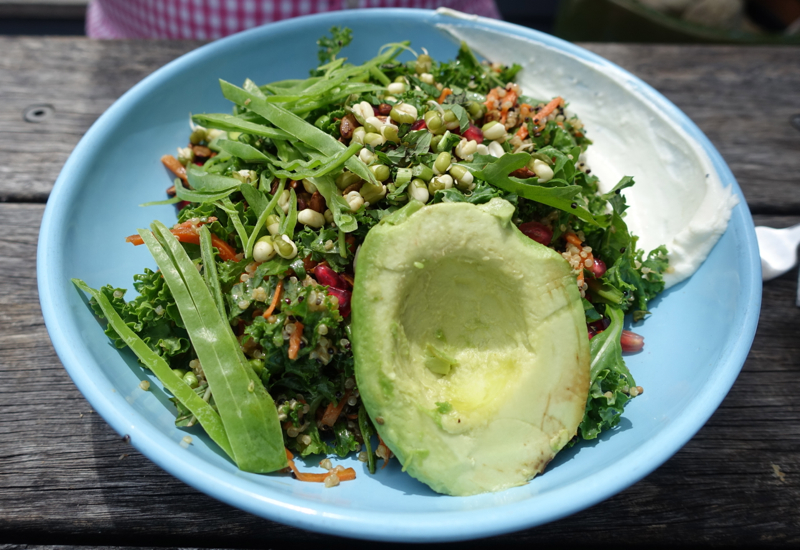 My husband enjoyed his beer battered fish and chips (which the Boathouse claims as the best of the Northern beaches). The portion looked big enough for two normal appetites: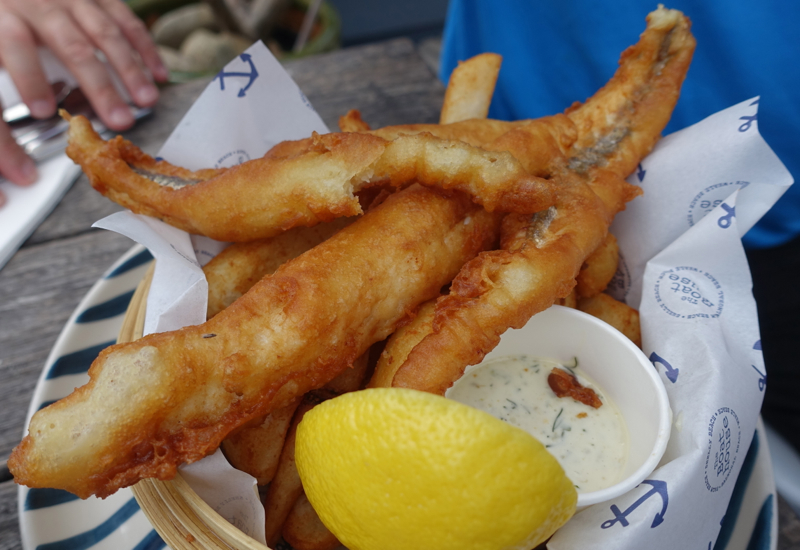 And my order, the Trout board, which came with smoked trout pate, brown bread, thin slices of smoked trout, creme fraiche and salad, was fantastic. It's a good thing that this was a generous serving as well, since my husband and son took several tax bites.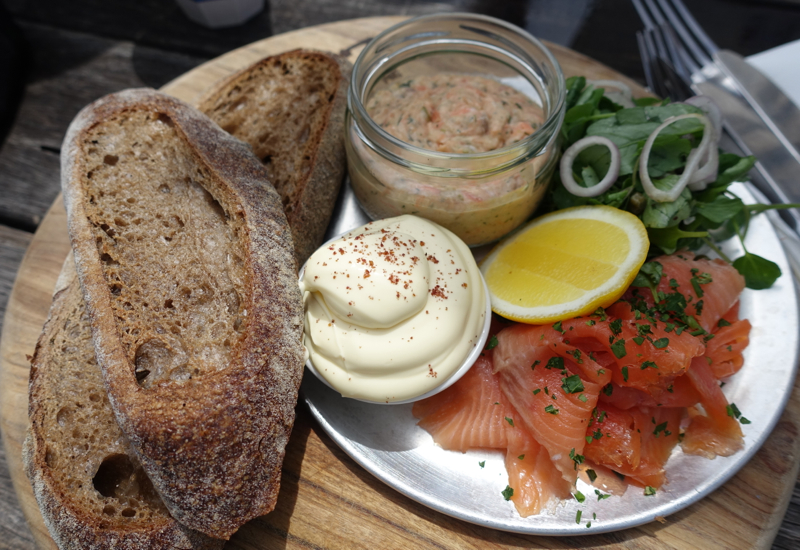 I couldn't resist trying something sweet, so I picked a pistachio financier for all of us to share. Great pistachio flavor, and nicely plated with a garnish of fresh cherries: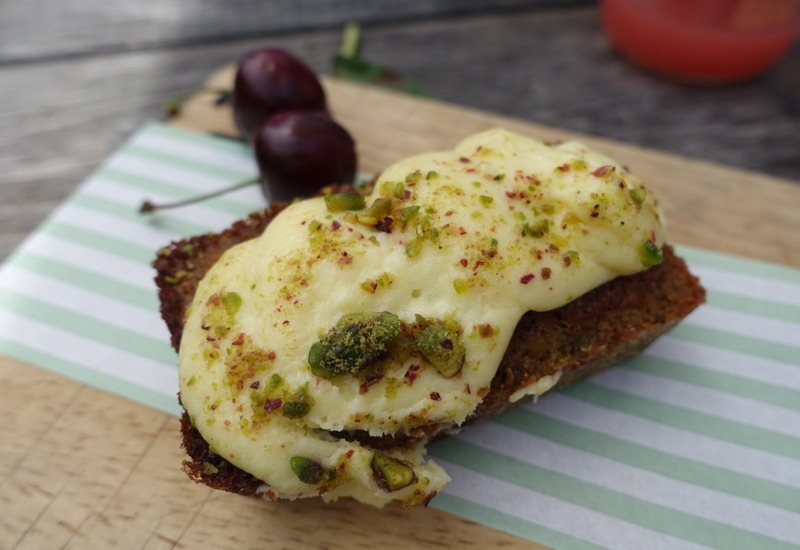 The Verdict
If you only have a full day in Sydney, as we did, I highly recommend not trying to squeeze in everything, but rather pretend to be a local and enjoy some time at Palm Beach, followed by lunch at The Boathouse Palm Beach, at least if you have a sunny clear day. We loved the views, the water (albeit too cold for me, being from Hawaii!), the relaxed vibe, and the food at The Boathouse. Just take into account the no reservations policy and try to come before or after the main lunch rush.
If you've visited Palm Beach or had lunch at The Boathouse Palm Beach, what was your experience?
Related Posts
Review: Park Hyatt Sydney Opera Deluxe Room
Virtuoso Review: Shangri-La Sydney and Horizon Club
Social Brew Cafe Sydney Review
Review: Etihad A380 First Class Apartment Abu Dhabi to Sydney
Virtuoso Hotels: Bookings with Upgrades, Complimentary Breakfast and VIP Perks
Disclosure: We paid full retail rate for our private tour of Sydney with Peter Bailey. The views expressed in this post are my own.
Need Award Booking Help? Our fee is as low as $75 per ticket if you book your hotel or cruise with us.
If you enjoyed this, join 200,000+ readers: please follow TravelSort on Twitter or like us on Facebook to be alerted to new posts.
Become a TravelSort Client and Book luxury hotels with Virtuoso or Four Seasons Preferred Partner Amenities!