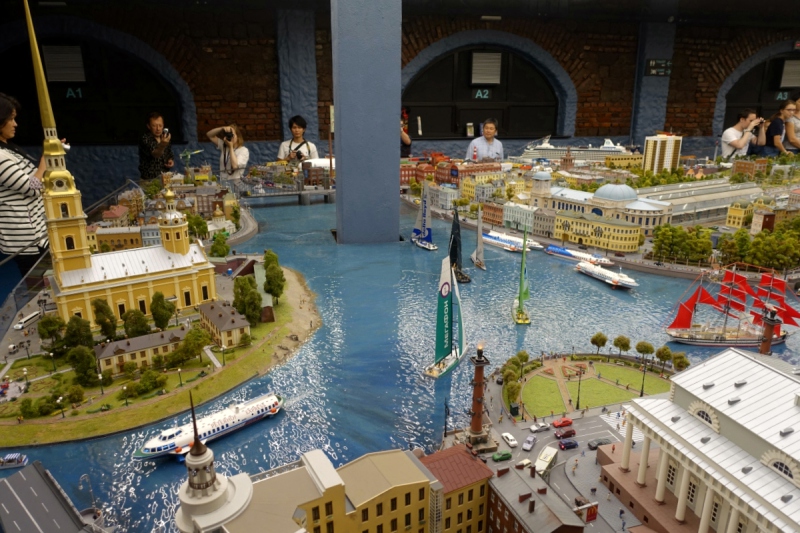 This Review of Grand Maket Rossiya (Гранд Макет Россия) in St. Petersburg, Russia is from our recent visit to this model of Russia in miniature.
Visiting St. Petersburg, Russia? See our 10 Travel Tips for St Petersburg, Russia and our posts tagged St. Petersburg.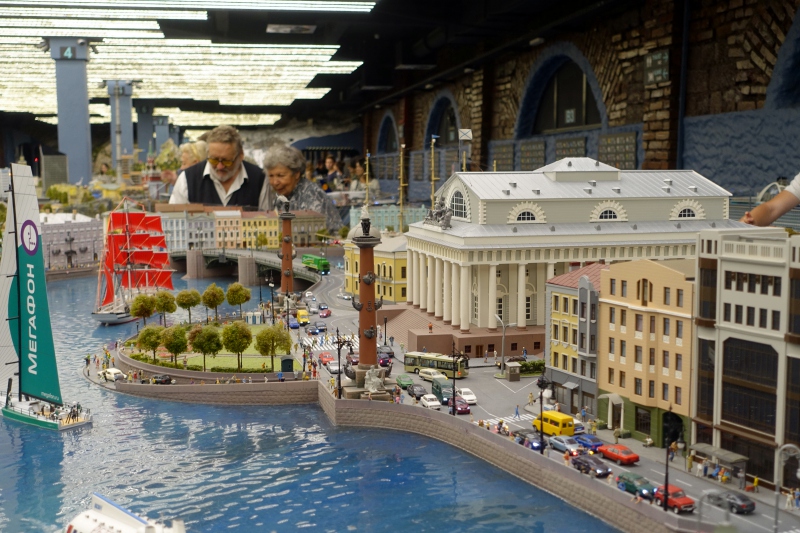 Grand Maket Rossiya Location, Hours and Ticket Cost
Grand Maket Rossiya is located at Tsvetochnaya str., 16, about a 12-15 minute walk from Metro Station Moskovskie Vorota (Line 2). It's open daily from 10am-8pm, with the last admission at 7:15pm.
Adult admission, for those 14 years old and up, is 480 RUR per person, while children age 3-13 are charged 280 RUR per person. Families of 3 and more enjoy a 10% discount. There are audio guides available in Russian, English and German, for the cost of 250 RUR plus a deposit of 500 RUR that is returned when the audio guide is returned.
Families with kids are reminded that touching is not allowed, via this child mannequin with the words "I'm punished" under the sign "He touched the model!"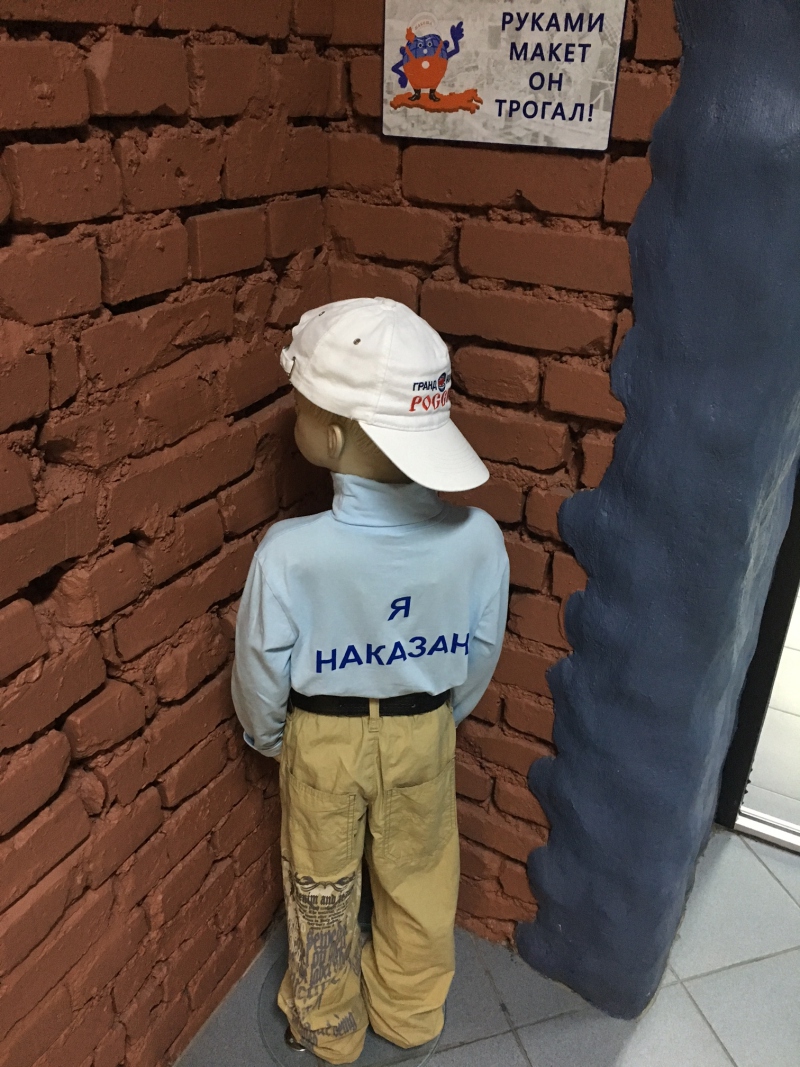 Highlights of the Grand Maket Rossiya
1. The Extent and Detail of the Model
Given the level of detail, down to individual people and animals, it was incredible to see every region of Russia represented, in the West all the way to the exclave of Kaliningrad (in its own separate area, since it isn't contiguous with the rest of Russia) through European Russia, all the way to the far East. Here's a video of just a small part of the model:
2. The Miniature Steam Engine
We loved seeing the miniature steam engine, which emits actual smoke and a whistle as it chugs around. You do need to sometimes wait a few minutes to see it, and its journey may coincide with "night" falling across Russia, as in the video:
3. Funny Scenes
Who said engineers (or at least the engineers of the Grand Maket Rossiya) don't have a sense of humor? There were several examples that made us laugh. Take the "Bad Husband" scene, for instance, with a wife throwing her husband's clothes and belongings out the window, while he stands helplessly on the sidewalk in his boxer shorts: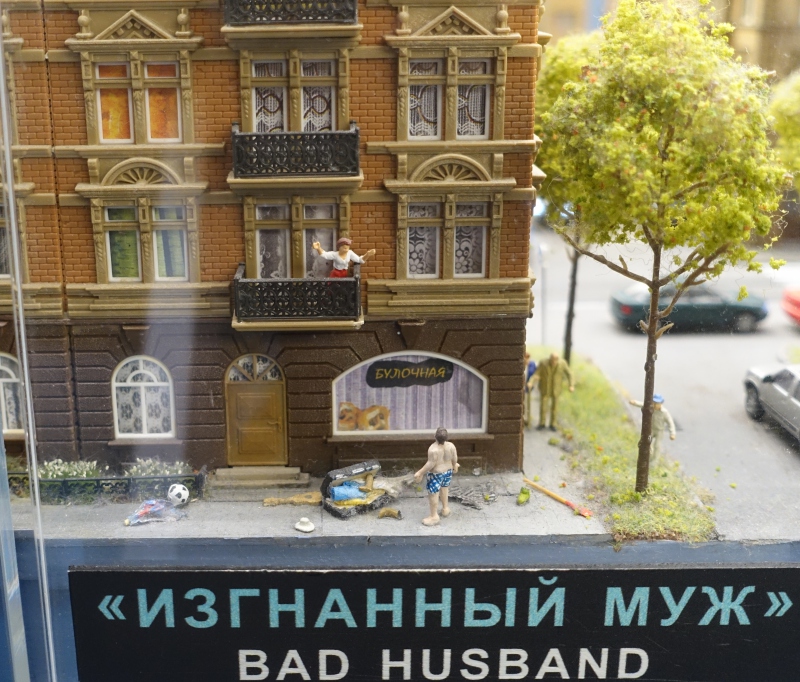 Or the "Idiot" sawing off the very tree branch he's standing on: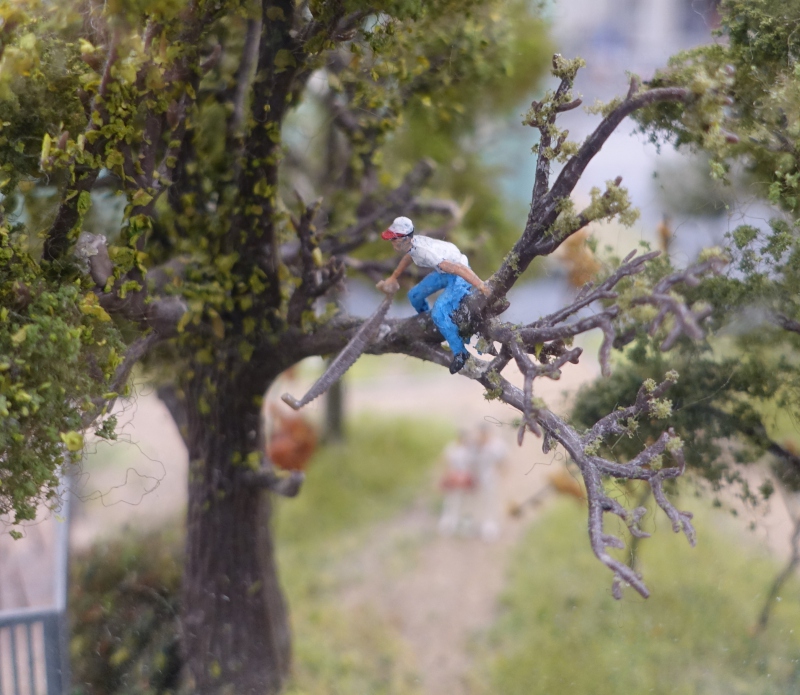 Or the "Signs of a UFO?" scene with crops flattened in weird patterns: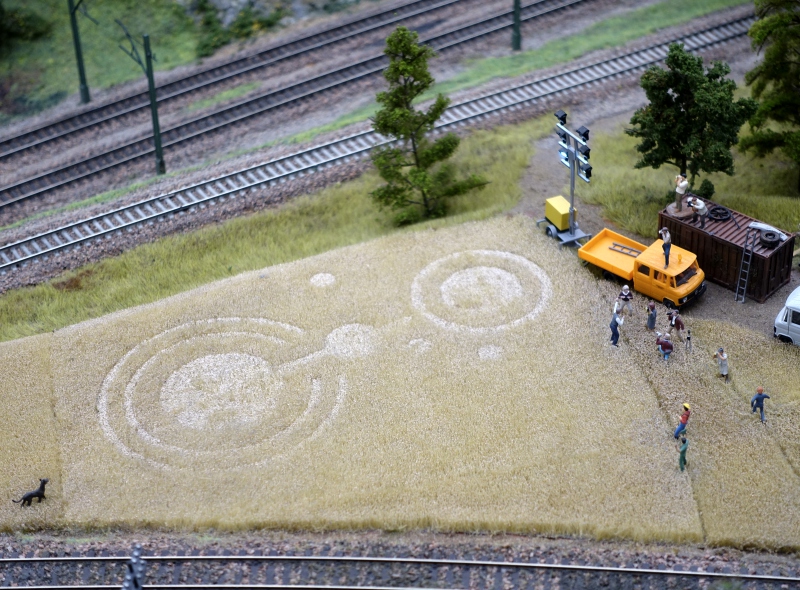 And here's a protest of the Grand Maket mini figures, holding signs in Russian and English: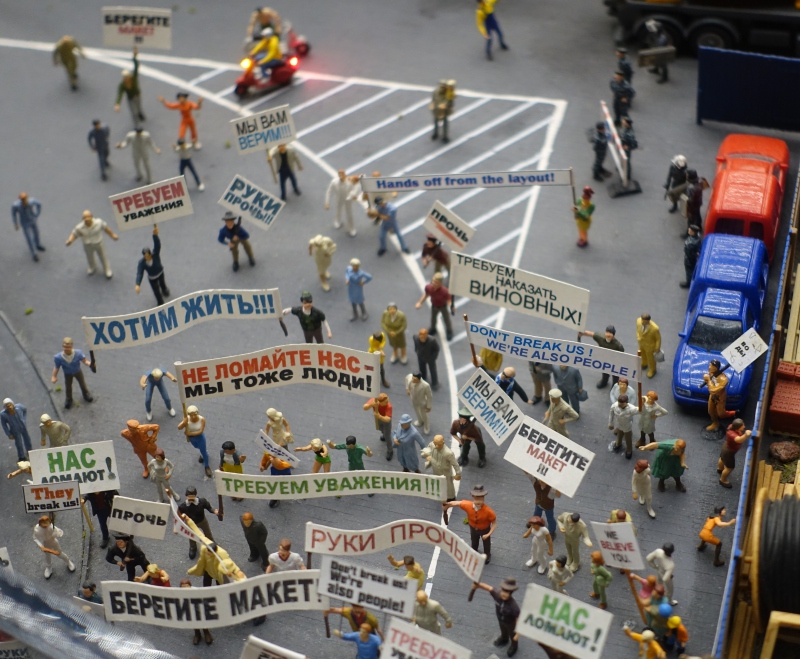 4. Seeing the Team at Work
There's a large team of designers and engineers who have created the Grand Maket Rossiya, and you can see some of them at work on any given day. Here's one working on a train: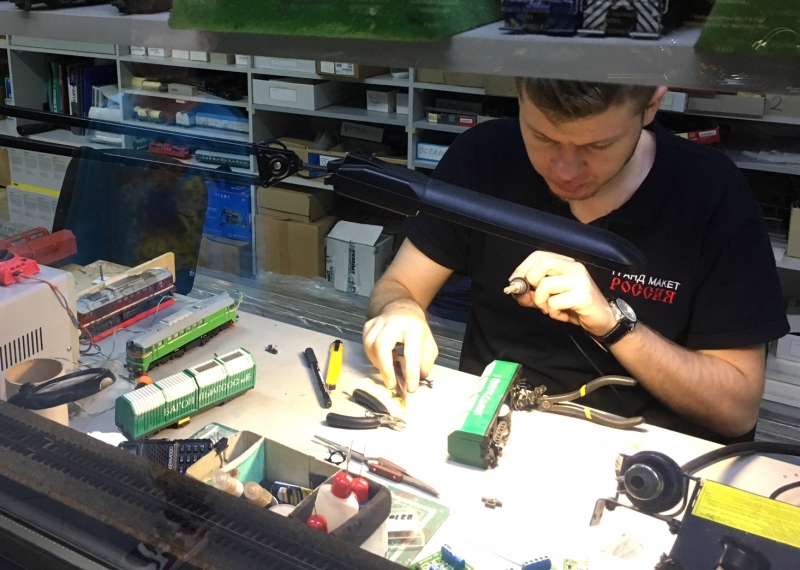 And here's another staff member working to right a derailed train: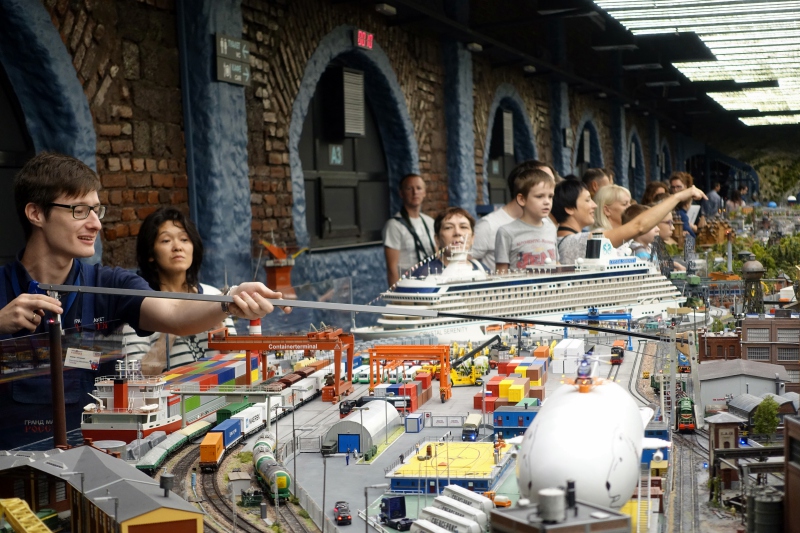 Grand Maket Rossiya Cafe
There's a handy cafe if you get hungry after your visit, and it's reasonably priced. Our snack of borscht with sour cream, a slice of pizza for my son, watermelon, and Russian blini with jam was all of $7.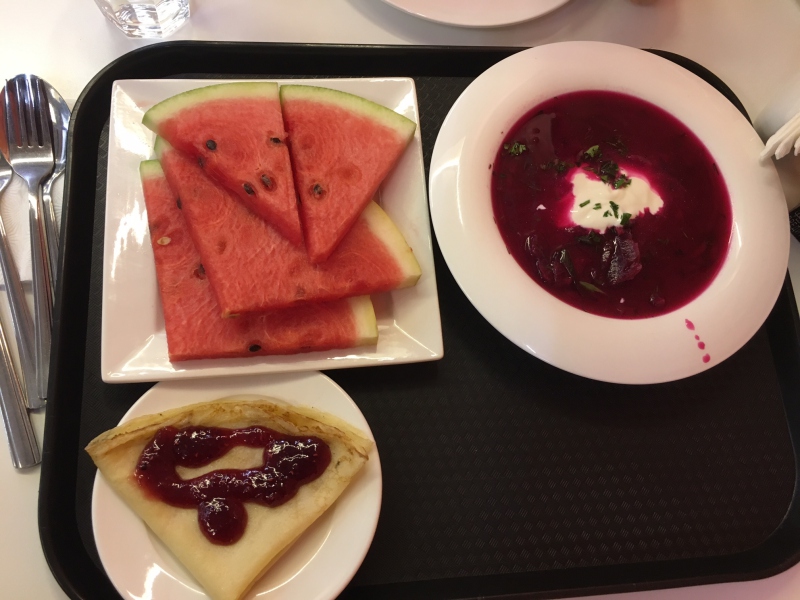 There were other options as well, had we been hungrier; other types of pizza, various salads, other fresh fruit, main dishes and desserts.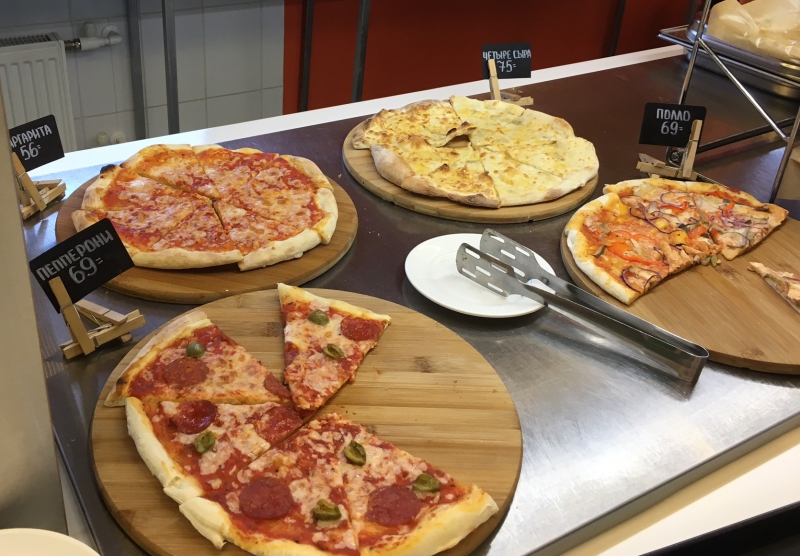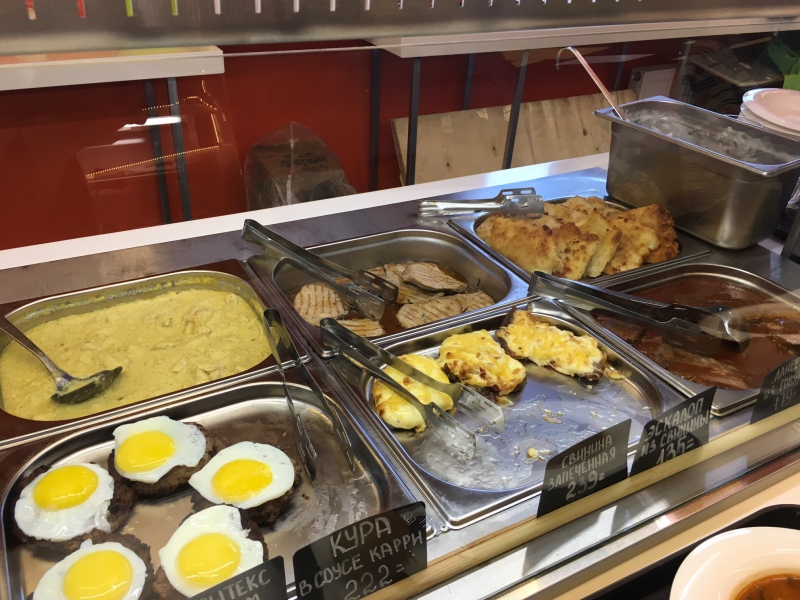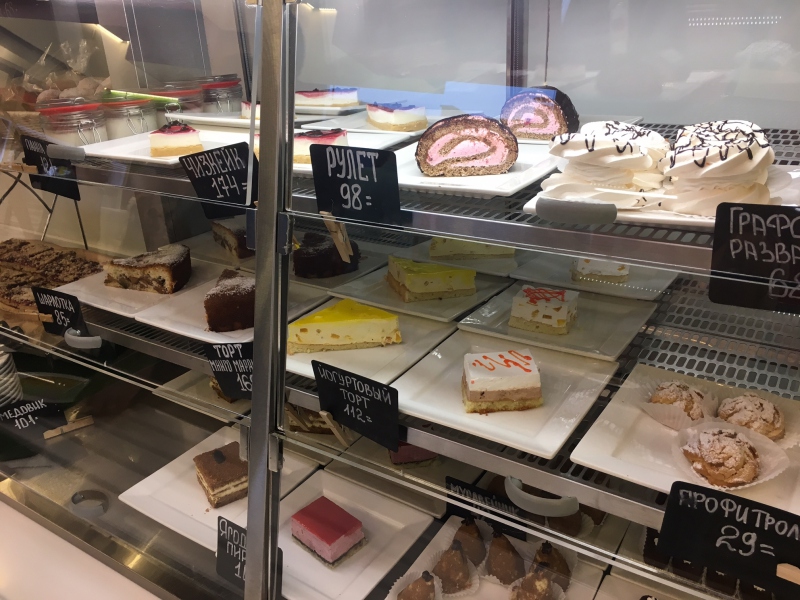 The Verdict
While you might think that models and miniatures are for kids, the detail of the model and the wry humor is actually better suited to slightly older kids and adults, although certainly young kids will enjoy seeing all the moving trains and pushing buttons to see additional movement for some of the figures. The good value cafe makes it an enjoyable half day activity for families or for anyone interested in highly detailed models.
Recommended Posts
Review: Four Seasons St Petersburg, Russia
Taste to Eat Review, St. Petersburg Russia
Siege of Leningrad: Starvation and Suffering During World War II
Dom, St. Petersburg Restaurant Review
Need Award Booking Help? Our fee is as low as $75 per ticket if you book your hotel or cruise with us.
If you enjoyed this, join 200,000+ readers: please follow TravelSort on Twitter or like us on Facebook to be alerted to new posts.
Become a TravelSort Client and Book 5-star hotels with Virtuoso Perks and Four Seasons Preferred Partner Benefits