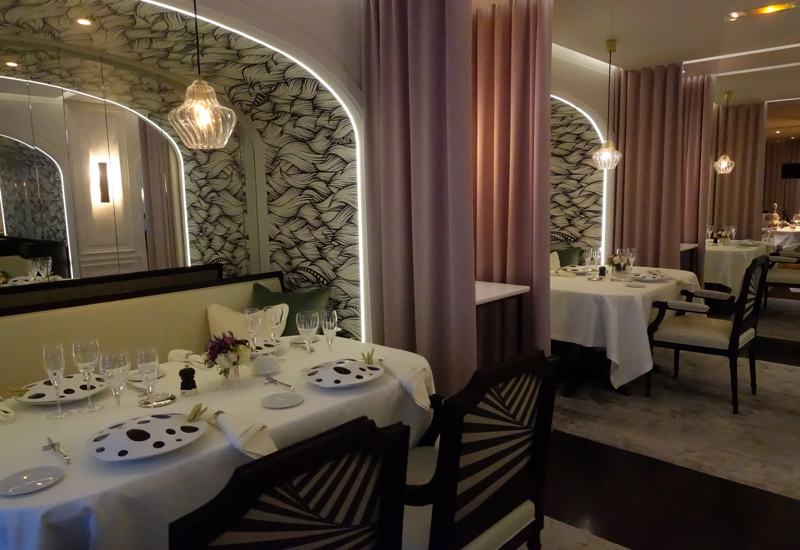 Mathieu Pacaud's Histoires Restaurant received its 2nd Michelin star earlier in 2016, while its more casual sister restaurant Hexagone received 1 Michelin star. Mathieu Pacaud is a household name in Paris, initially because of having been born to Bernard Pacaud, Chef and Co-Owner with his wife Danielle at 3 Michelin Star L'Ambroisie, but more recently because of his own culinary successes.
After years of working alongside his famous father, Mathieu Pacaud struck out on his own, opening Hexagone and Histoires in the 16th Arrondissement. While I've never dined at L'Ambroisie, I was intrigued by Mathieu Pacaud's fast ascent (he's only 34) and the small dining room, with just 6 tables.
This Mathieu Pacaud Histoires review is part of a trip report including luxury hotel stays and Michelin star dining in Paris and London. For the previous posts, please see:
Review: Lufthansa First Class Lounge JFK Airport Terminal 1
Review: Lufthansa First Class 747-8 NYC to Frankfurt
Review: Lufthansa First Class Terminal Frankfurt
Review: Pur' Paris Restaurant, Park Hyatt Paris
Hotel Review: Park Hyatt Paris-Vendome
La Cuisine de Philippe Paris Review
Review: Paris Muse Discovery Walking Tour for Families
Hotel Review: The Mandarin Oriental Paris
Getting to Mathieu Pacaud Histories Restaurant
The first thing to realize is that Mathieu Pacaud Histoires is a restaurant within a restaurant; it's hidden (literally) in Hexagone, the restaurant he first opened at 85 Avenue Kleber. While many will likely arrive by taxi, we opted for the Paris Metro, and took the 1 line to Charles de Gaulle Etoile, where we transferred to the 6 line to Trocadero; Hexagone is just a 5 minute walk from the station.
In fact, because the Hexagone Bar is so popular, even if you miss the relatively small Hexagone sign, you probably won't miss the many young people spilling out into the street.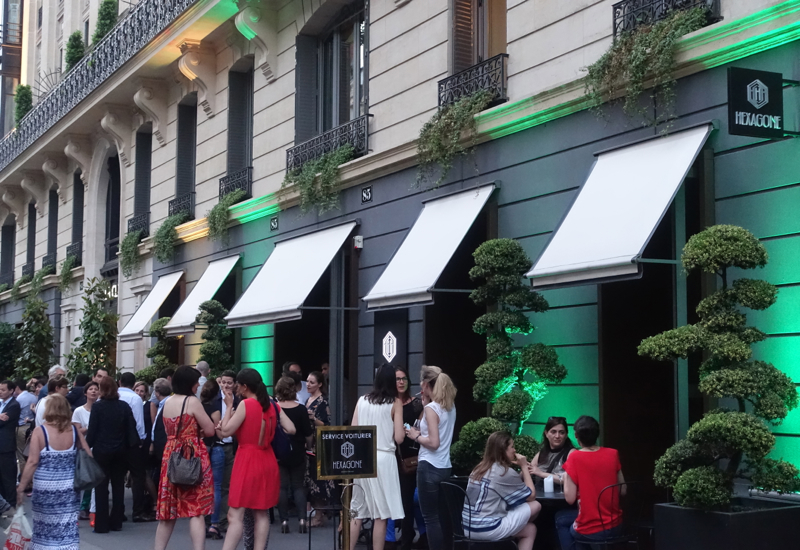 The interior of the bar is sleek, but this isn't Histoires yet, so proceed further…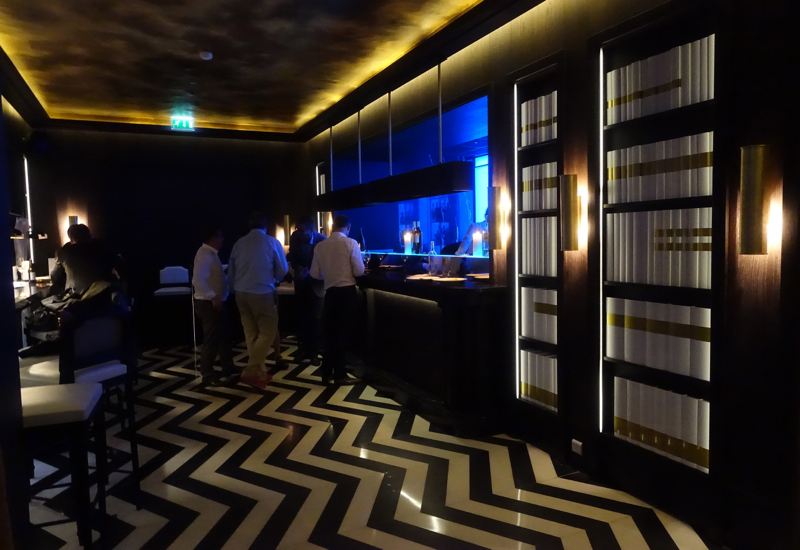 Once we made our way to the hostess for Histoires, she led us down some stairs and to what seemed to be a wall with a strikingly modern white, yellow and black design. As we approached, the door opened…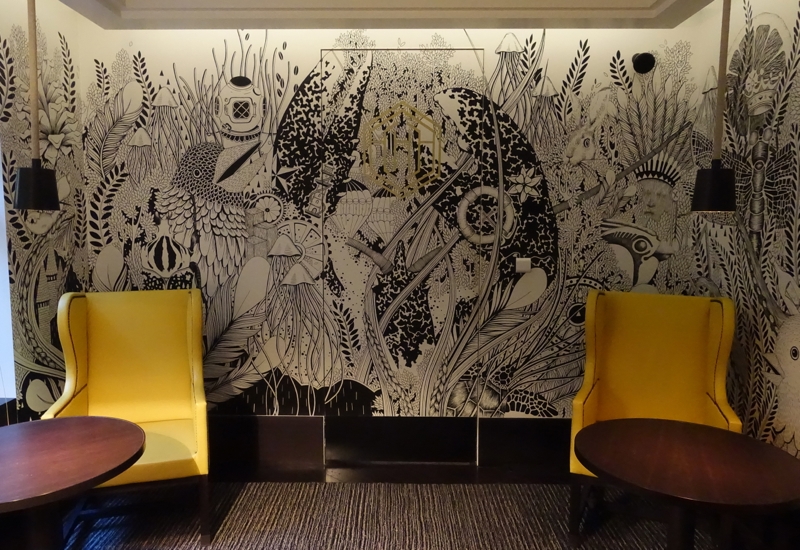 The Scene
The Mathieu Pacaud Histoires dining room is intimate, with just 6 spacious tables. Since we were there for an early reservation, I wasn't too surprised that we were the first. There were three tables on the right, and on the left, three tables that were banquettes, with views of a little garden: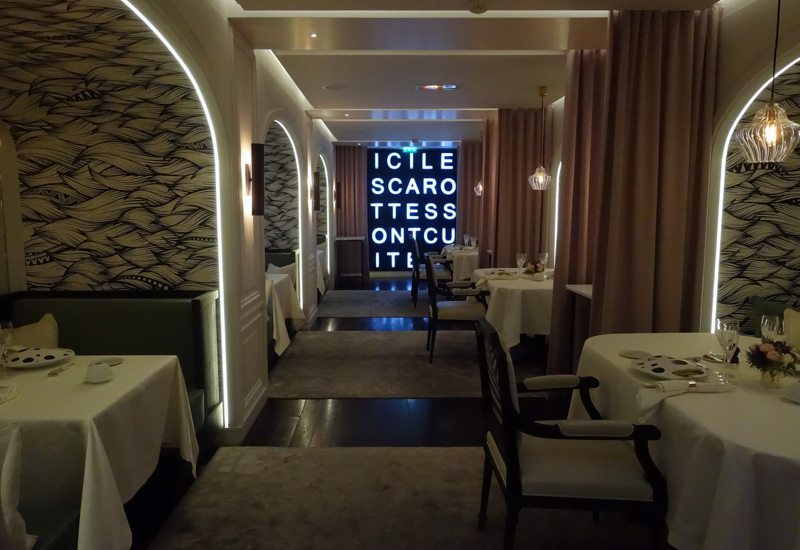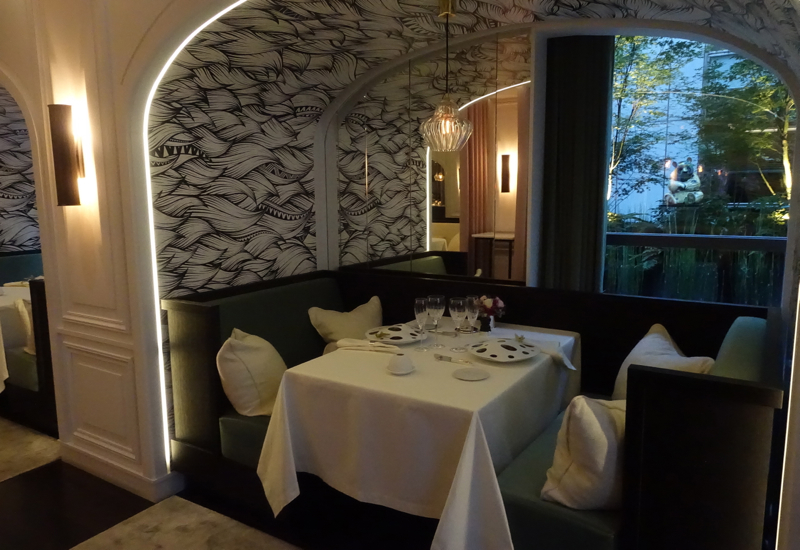 What did surprise me was that we were led past all of these tables, and into a room with a Chef's Table, right next to the kitchen! It turned out that due to our weeknight dinner and the fact that all of Paris seemed to be focused on the UEFA EURO 2016 football / soccer games, we were the only diners that evening. Still, this was our first time ever at a chef's table, let alone at a Michelin star restaurant, so we were excited.
Mathieu Pacaud Histories Menu and Food
We were warmly greeted both by the hostess and the Maitre D', both of whom served us and spoke flawless English, which was helpful since my French doesn't extend to all the rarefied ingredients and spices used in haute cuisine. I knew going in that, given I was visiting with my son, we would need to go a la carte so as to get him to bed at a somewhat reasonable time. I'd wanted to visit for lunch, but unfortunately Histoires was solidly booked that day for lunch.
Here is the a la carte menu we chose from; this copy (my son's) didn't have prices (a little odd, I thought, to have this ultra traditional practice continue in a young chef's modern venture), but per dish prices range from EUR 90 for Bresse chicken (which I really wanted to order, but discovered it would take too long; it's better suited to a tasting or when you're ordering a couple other dishes before it) to EUR 155 for a langoustines dish.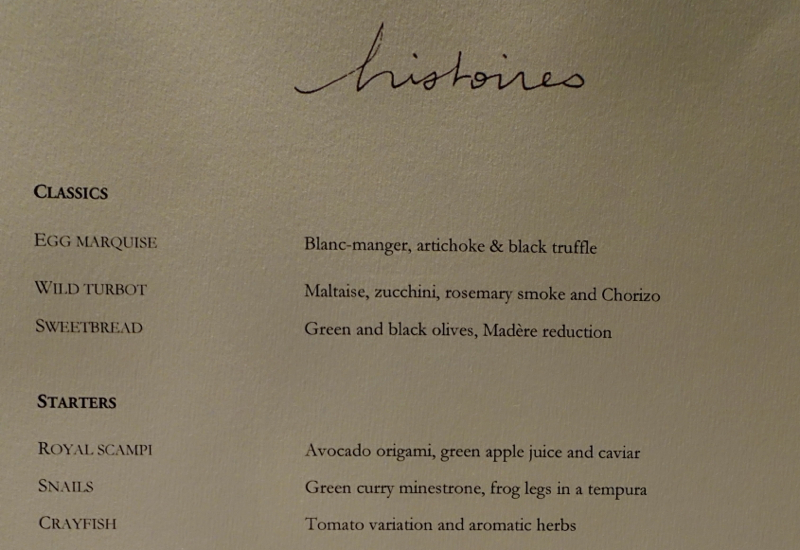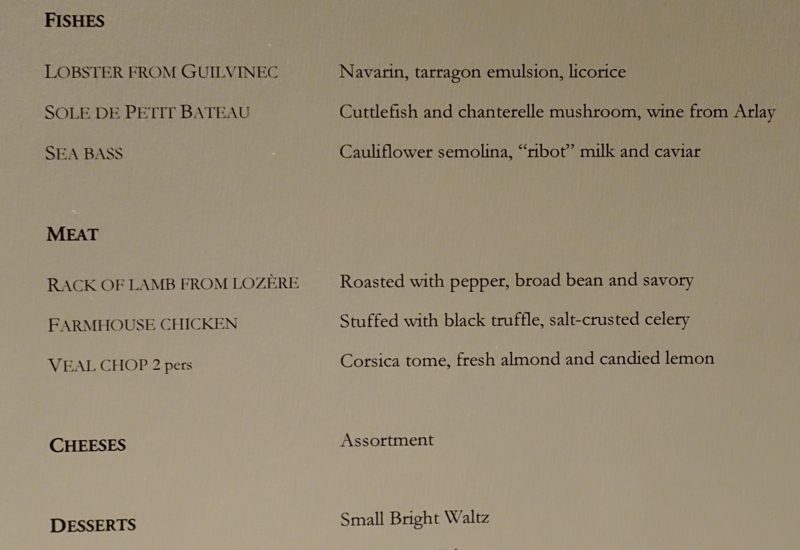 And here is the more elaborate tasting menu, which is EUR 350 per person; the 4 course tasting menu is EUR 230 per person.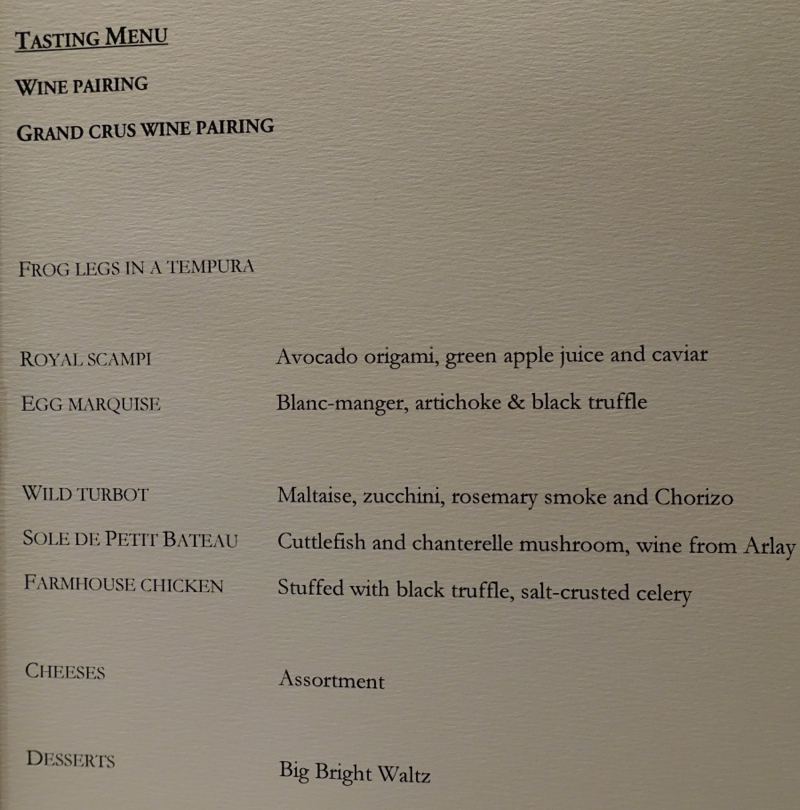 Bread and butter were brought, but while fresh, I don't suggest wasting any calories on them, given the treats to come.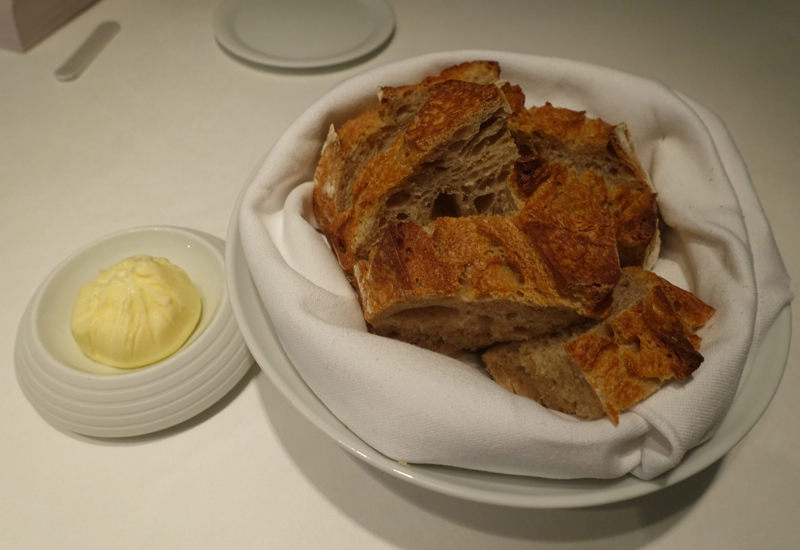 A true highlight of a visit to Mathieu Pacaud are the many gorgeous and delicious amuses bouches that you are treated to, even before you order. I know, I should have actually taken notes on what exactly all of these are, but you can bet that if there wasn't a single one that my 8 year old (who usually proclaims his favorite foods to be mac and cheese and pizza) didn't eat, you will savor each and every one of them too, barring any allergies or dietary restrictions (which you could always advise the restaurant of beforehand).
Some of the individual amuse bouche items are placed in the unique dome with several different sized holes. My favorite of these was this silky fois gras and mushroom amuse bouche–this was my son's favorite as well.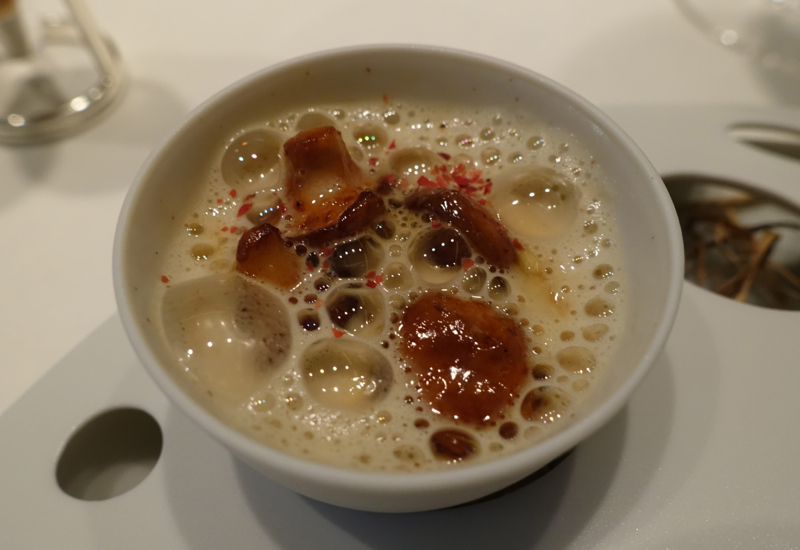 The clam with caviar was also scrumptious.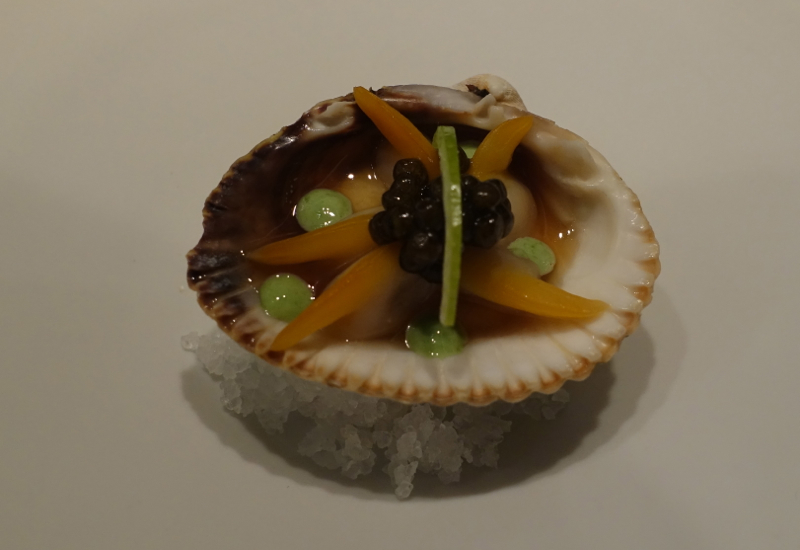 But there were many other delicious flavors, with apologies for not recalling what all of them were.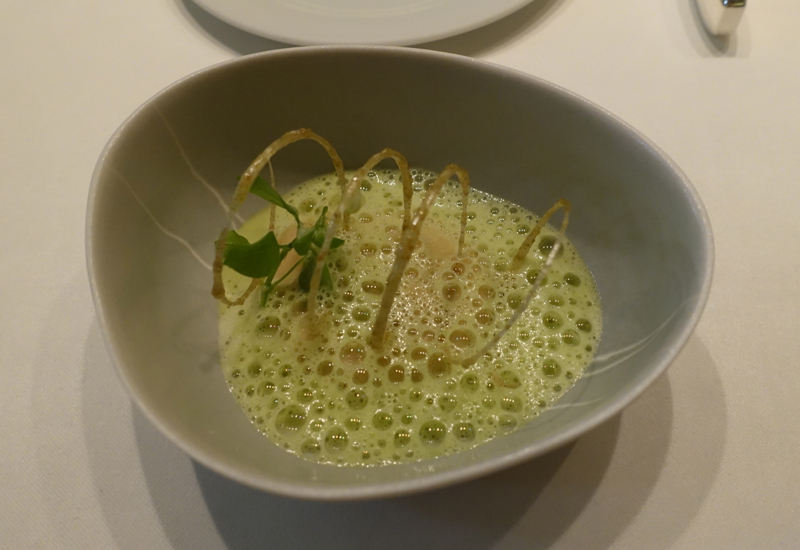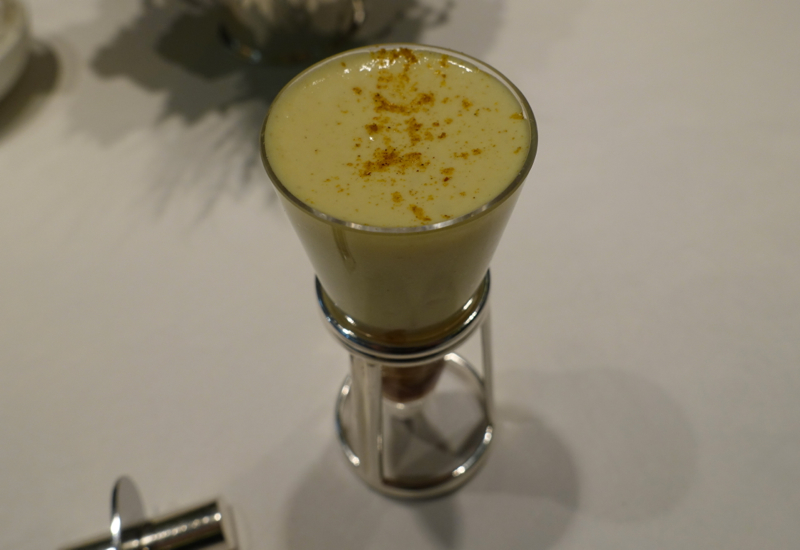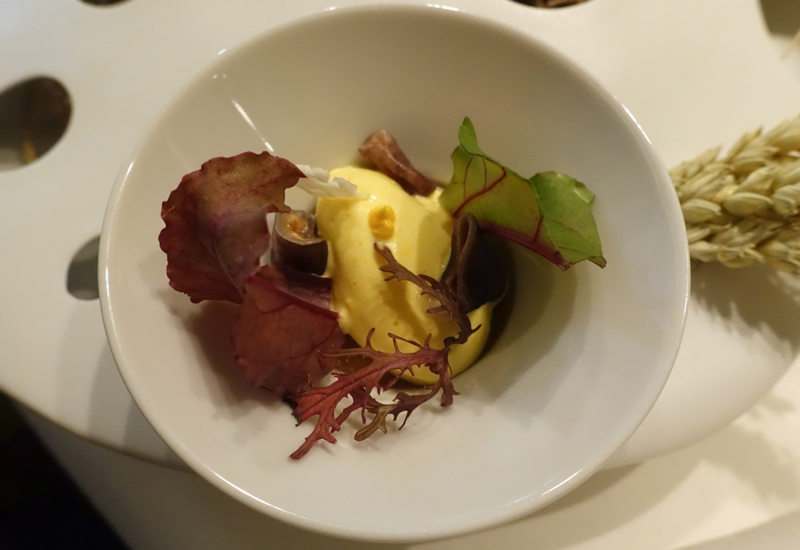 An elegant tiered holder that you might expect to see miniature tarts at a British afternoon tea held three perfect tarts for each of us, all of them savory; I especially liked the one with fresh pea puree.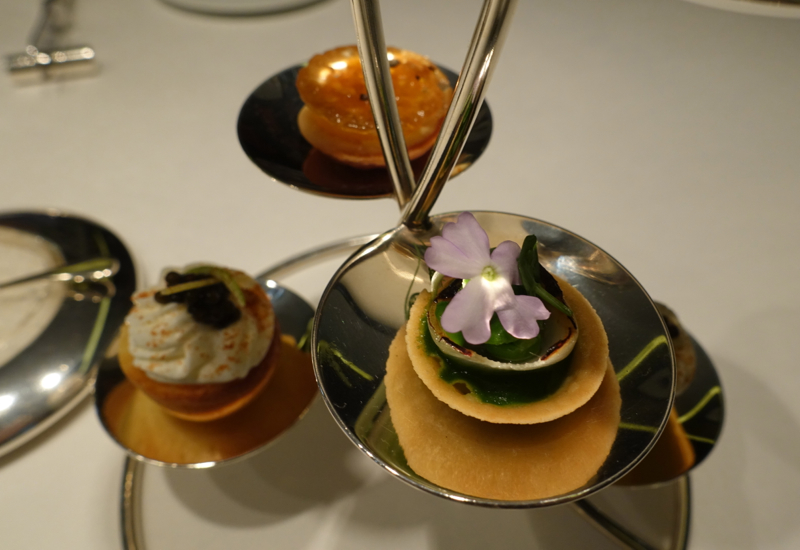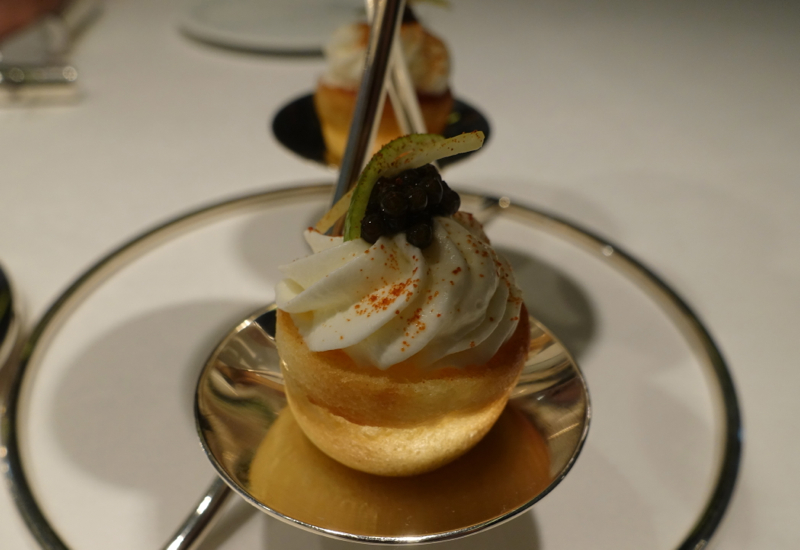 Even after we ordered, we were treated to yet another complimentary dish, this time of fresh yellowfin tuna with a creme fraiche-like dollop; this was further enhanced by a sauce poured tableside. Again, while I was hoping my son wouldn't finish all of his so that I could, no such luck.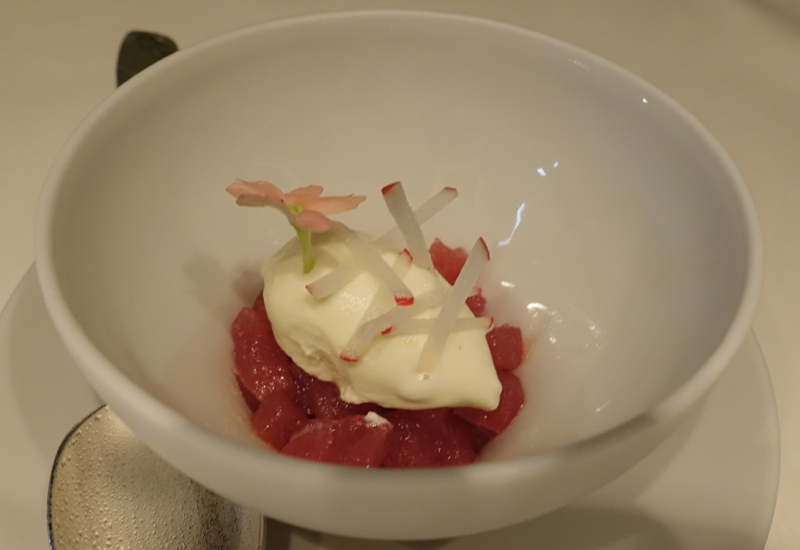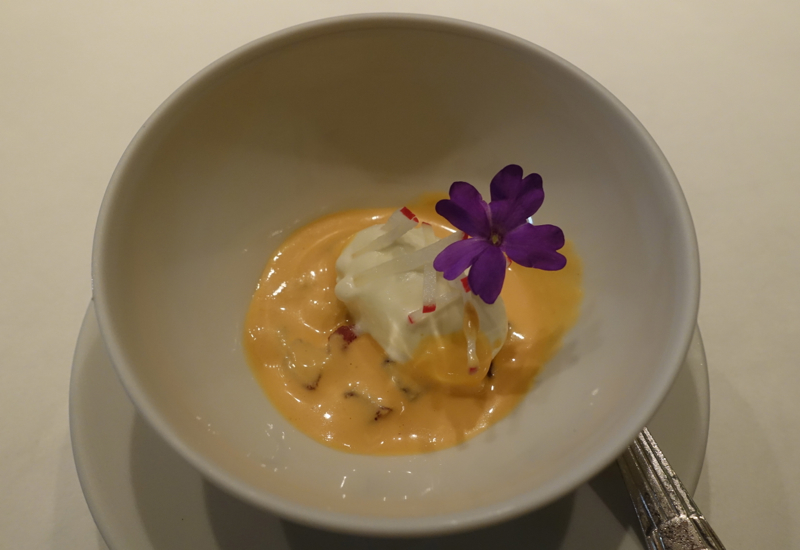 I'd heard how silky and sumptuous Mathieu Pacaud's Marquise d'Oeuf avec Blanc Manger et Truffe Noire (Egg Marquise with Blanc Manger and Black Truffle) was, so this was a must order (also according to the Maitre D'). It certainly did not disappoint–the kitchen kindly split the dish so that we each enjoyed three light blanc mangers, enriched by fresh black truffle and seemingly dried artichoke, with egg yolk melding all the flavors together.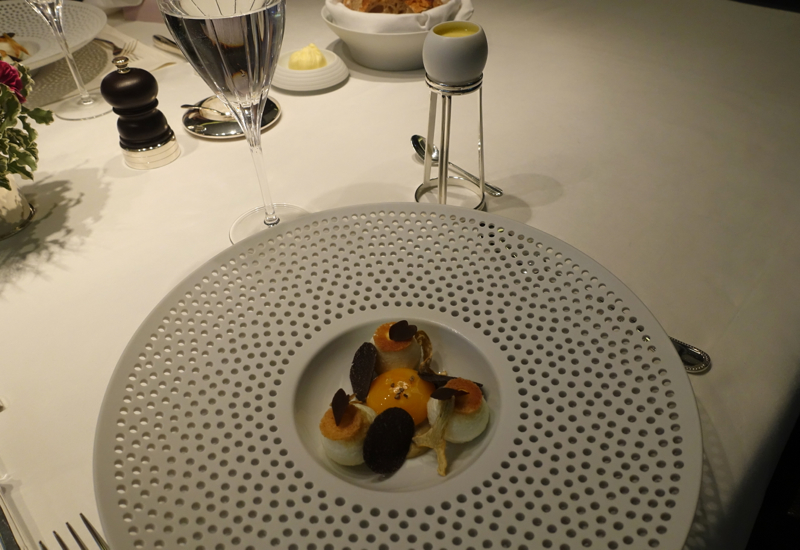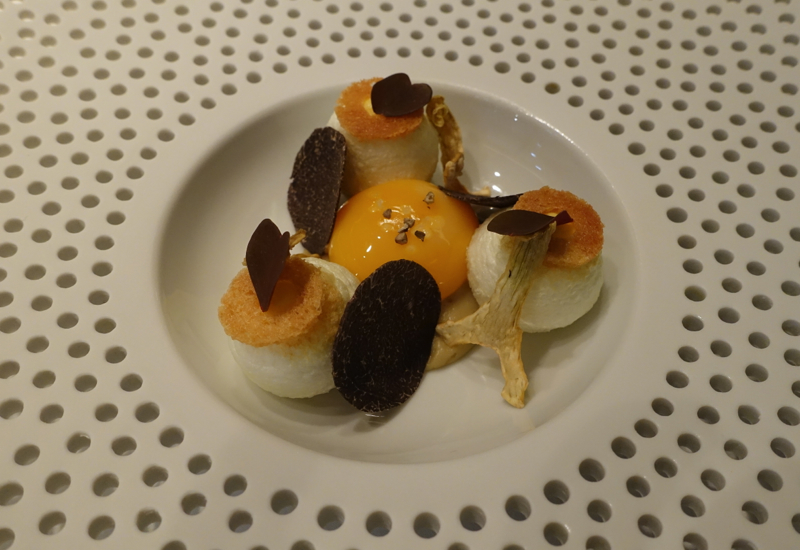 The Egg Marquise was served in a special egg shell-like holder, with the silky marquise hiding a black truffle center–fun to eat, and superb–I would come back for this dish alone.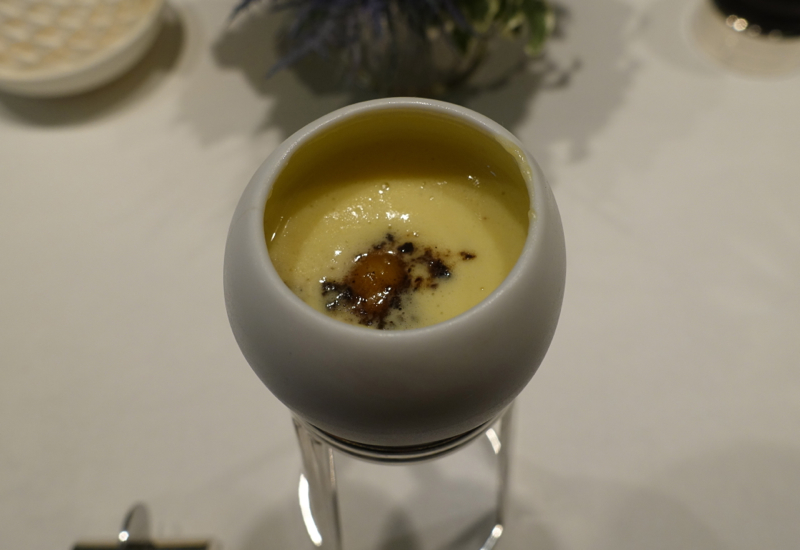 Since it was going to take too long (close to an hour) to make the Bresse chicken dish, I opted for the Noix de Ris de Veau (Sweetbreads) with green olives and Madeira reduction. This is where I made an ordering mistake, since I do love crispy sweetbreads, but that's not how these were cooked. If I'd just asked about their preparation, I could have discovered this and would have chosen another dish, but as it was, I enjoyed the Madeira sauce greatly, but not the way the sweetbreads were prepared, simply because of my own personal preference. Lesson learned.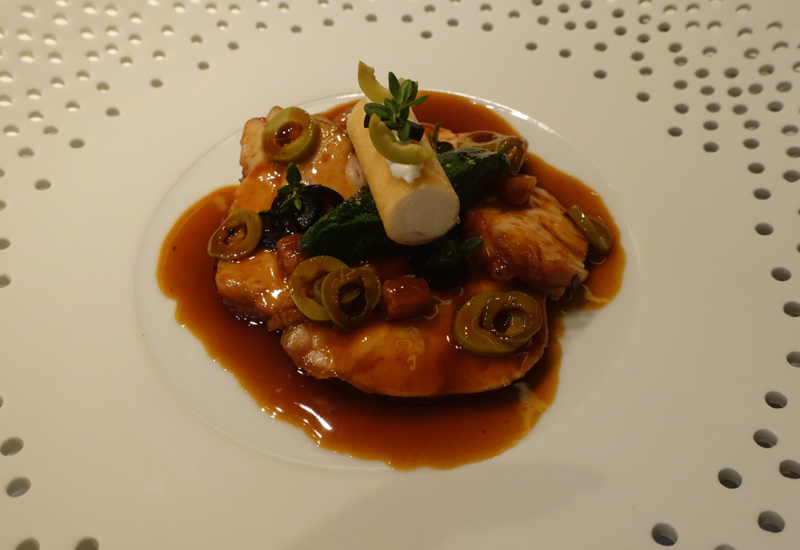 Since my son by this point was very full and tired, we didn't order any dessert, although next time I would definitely like to try it. The desserts are merely described as a "Small Waltz" and "Big Waltz," so not exactly descriptive–based on the sweetbreads incident, I'll ask next time.
The Verdict
No question, a visit to Mathieu Pacaud Histoires is a splurge for most of us, but one that if you're a foodie, I think is entirely worth it. Based on the delicious amuses bouches and that Egg Marquise with Blanc Manger and Black Truffles I definitely plan on returning, probably for lunch so that I can try more things, skip dinner, and sleep well (since this food is pretty rich). The only things I would mark it down for slightly are the bread, which, while perfectly fresh and good, wasn't distinctive at all–I'd expect a 2 Michelin star restaurant to offer its own housemade bread that is distinctive in some way.
We also weren't offered any kind of mignardises at the end, perhaps because I mentioned we didn't have time for dessert so the restaurant figured we also didn't have time for this, but I would have appreciated even a couple of mignardises to end on a sweet note, rather than just the bill. Still, with the kitchen's incredible generosity with the amuses bouches, it's perhaps unfair to expect some complimentary sweets at the end as well. These are minor criticisms, and I'd still say that the 2 Michelin Stars are well deserved. And I will definitely come back, still on my own dime–it's that good.
If you've dined at Mathieu Pacaud Histoires, what was your experience?
Related Posts
Le Cinq Restaurant Review, Four Seasons George V Paris
Epicure at Le Bristol Paris Restaurant Review
Where to Travel for a 10th Anniversary Trip?
Top 20 Luxury Honeymoon Destinations
Disclosure: I paid for our meal at Mathieu Pacaud Histoires
Need Award Booking Help? Our fee is as low as $75 per ticket if you book your hotel through us.
If you enjoyed this, join 200,000+ readers: please follow TravelSort on Twitter or  like us on Facebook to be alerted to new posts. 
Become a TravelSort Client and Book Your Hotel with Virtuoso or Four Seasons Preferred Partner Amenities!