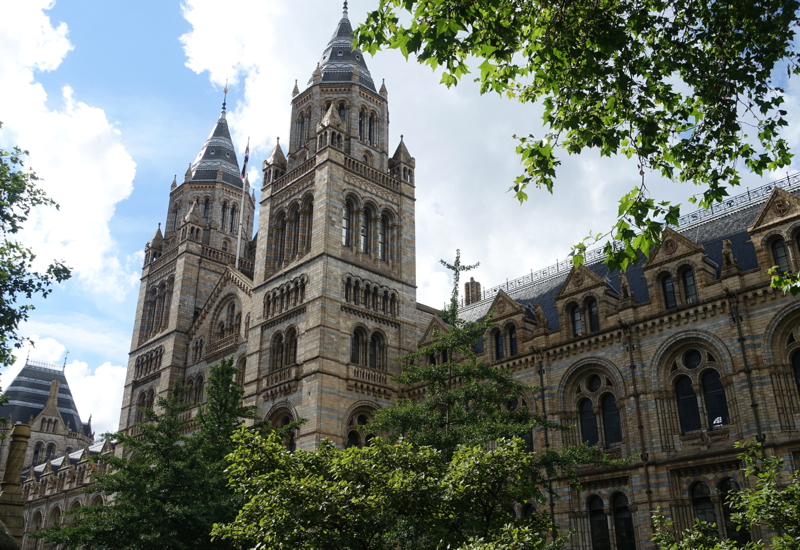 Bringing Kids to London? This Review of London's Natural History Museum Dinosaur Exhibit is for you, and is based on our recent visit to London. Visiting London? See all our posts tagged London.
For our hotel site inspection reports and reviews from our most recent visit to Paris and London, please see:
Review: Pur' Paris Restaurant, Park Hyatt Paris
Hotel Review: Park Hyatt Paris-Vendome
La Cuisine de Philippe Paris Review
Review: Paris Muse Discovery Walking Tour for Families
Hotel Review: The Mandarin Oriental Paris
Review: Mathieu Pacaud Histoires Paris, 2 Michelin Stars
Review: Hidden Paris Gourmet Walking Tour
Review: The Milestone Hotel, London
Review: Cheneston's Restaurant, London
Review: Brown's Hotel London West End
London Natural History Museum Location and Opening Hours
If you're visiting London with kids, especially ones who like dinosaurs, I highly recommend a visit to the Natural History Museum, where you can see the first T Rex fossil ever found, an animatronic Tyronnosaurus Rex, and interesting interactive exhibits. It's located on Cromwell Road, and is a short 5 minute walk from the South Kensington Station (Circle, District and Piccadilly lines).
The museum is open daily (except December 24-26) 10am-5:50pm, with the last entry to the museum at 5:30pm.
Note that admission is free of charge, but you do need to pay GBP 1 for a map of the galleries.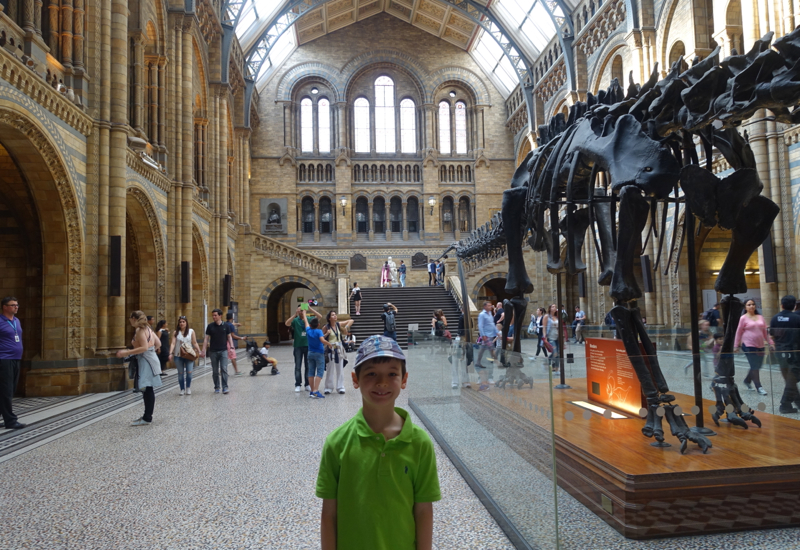 Dinosaur Exhibit Highlights
We visited specifically to see the dinosaur exhibit. While my son's peak interest in dinosaurs was probably around age 4-6, and he's currently more interested in Harry Potter, he was still happy to explore the dinosaur exhibit as was I.
Here are some of the highlights of our visit:
1. Dinosaur Fossils
It's still amazing to gaze up at the largest fossils and think about what it was like when these giants walked the earth. True, there are still animals such as elephants and giraffes that are larger than us, but the size difference is especially stark when seeing a person, especially a kid, next to a fossil of large plant eater.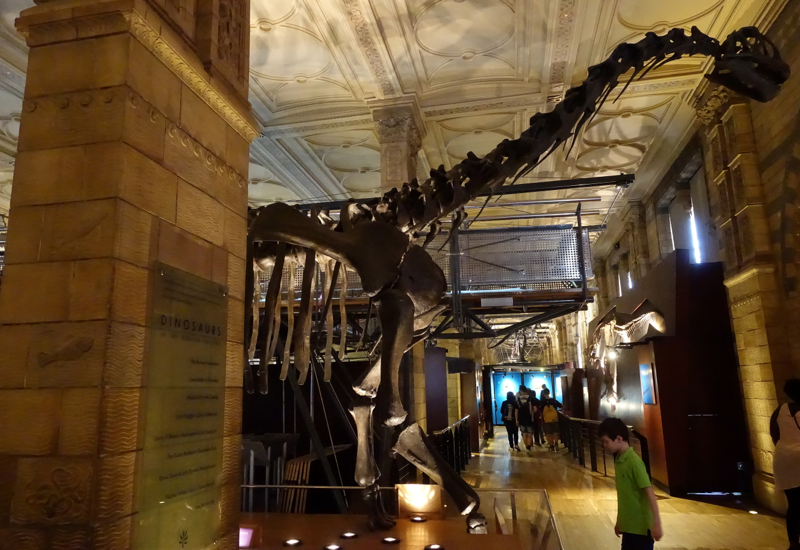 One of the highlights of the collection is this Baryonyx fossil, the most complete meat eating dinosaur fossil found in Europe in the past century.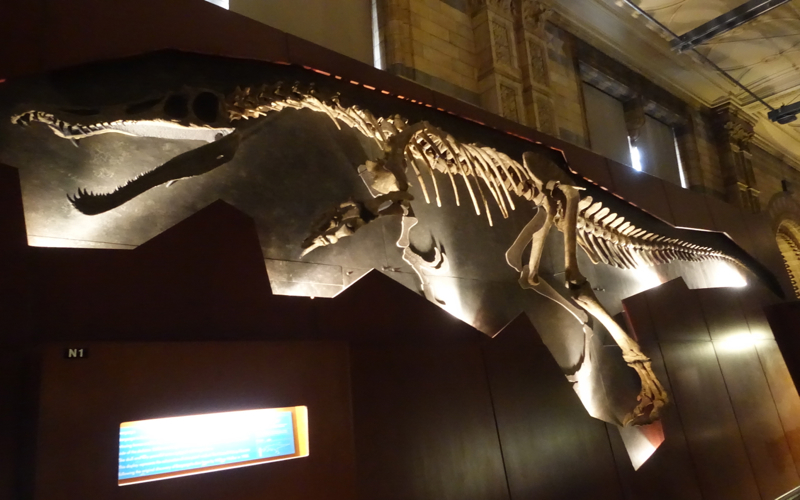 2. Warm Blooded or Cold Blooded?
While this was just a simple poster type exhibit, I thought it presented the possibilities very succinctly. Sometimes we automatically think of dinosaurs as cold blooded, but there's still much we don't know. Heck, we now know that not all fish are cold blooded–the Hawaiian Opah (very delicious, by the way) is warm-blooded predator that gains a speed advantage. It can consistently keep its entire body about 5 degrees warmer than its environment.
But back to dinosaurs–it's likely that at least small fast moving dinosaurs, such as Velociraptors, were warm-blooded, at least to some degree.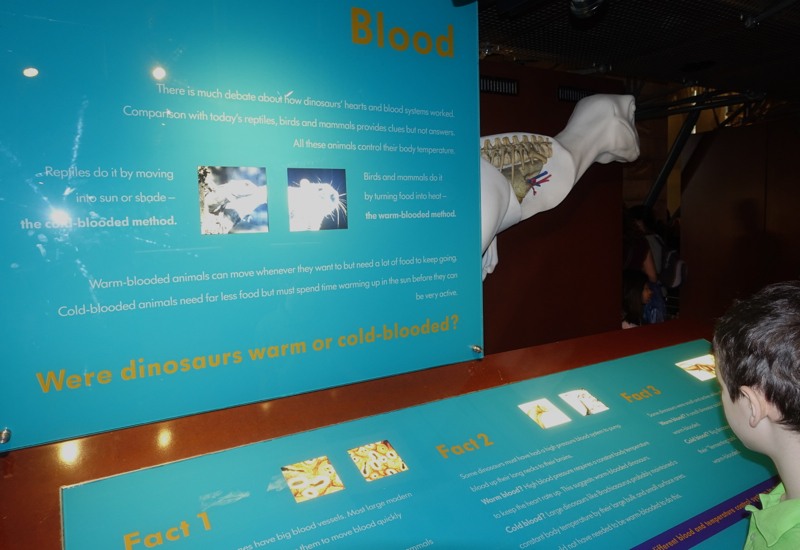 3. Is It a Dinosaur?
My son and other kids about his age enjoyed testing their knowledge about what constitutes a dinosaur. The game is arranged so that a couple kids can play at the same time.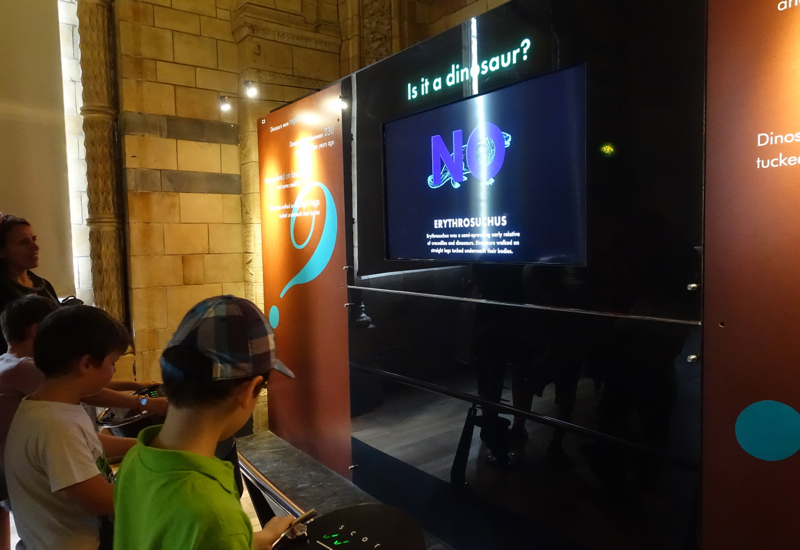 4. Dinosaurs in Popular Culture
No surprise, this is a popular exhibit, as it shows not only movie posters but also rotating clips depicting dinosaurs in films, from The Flintstones to Jurassic Park to Night at The Museum.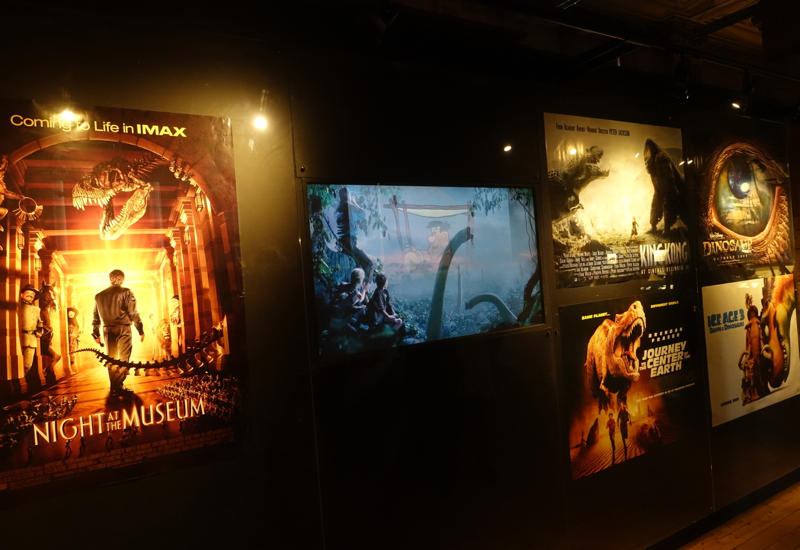 5. The Earth Over Time
We especially liked this exhibit, visually depicting how the earth looked at various stages, 220 million years ago to present day: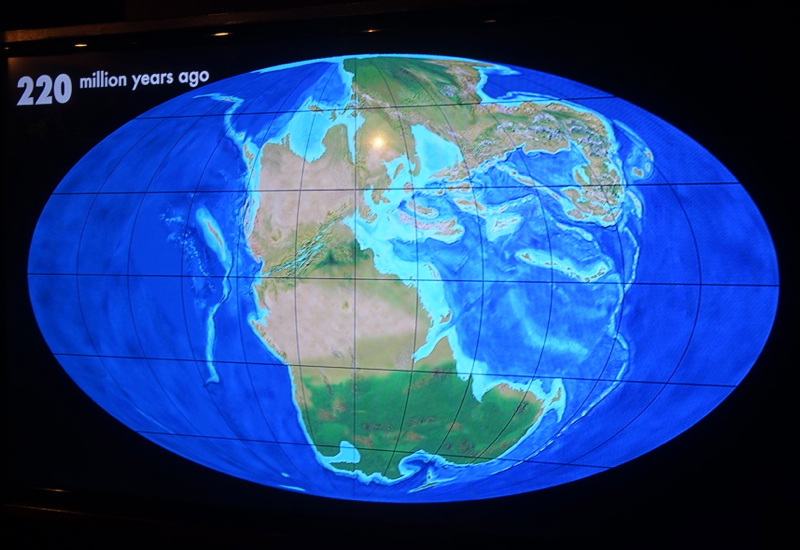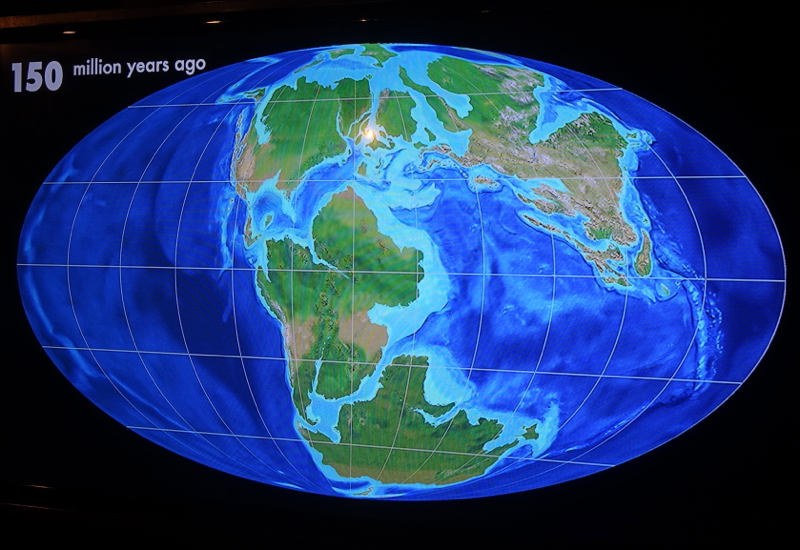 6. Animatronic T Rex
While it's not realistic enough to frighten, plenty of young kids were in awe of the giant animatronic Tyrannosaurus Rex.
7. Dinosaurs Over Time
This time frame, describing the Cretaceous, Jurassic and Triassic, was early on in the exhibit, and one of the better ones I've seen in terms of showing the way the earth looked and the kinds of plants and dinosaurs in each period.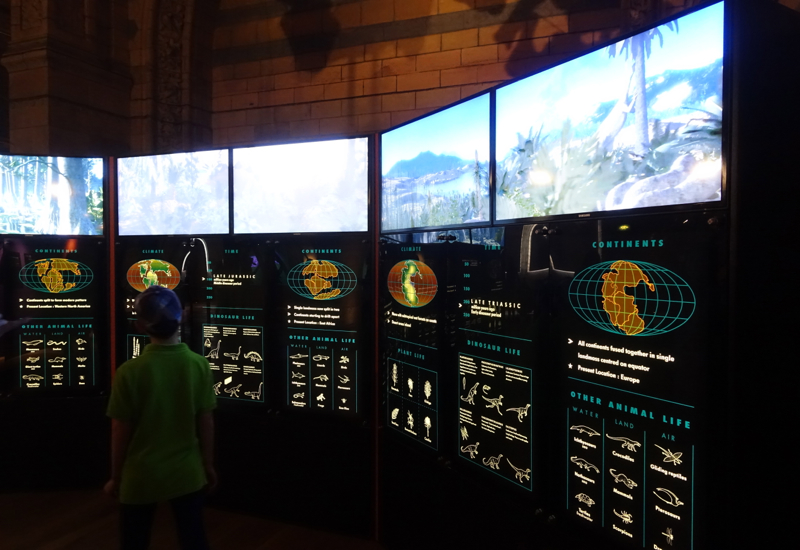 If you've visited the Dinosaur Exhibit at London's Natural History Museum, what did you enjoy most?
Related Posts
London Tips: British Museum with Kids
Best Time of the Year to Visit London?
Review: The Milestone Hotel, London
Need Award Booking Help? Our fee is as low as $75 per ticket if you book your hotel through us.
If you enjoyed this, join 200,000+ readers: please follow TravelSort on Twitter or like us on Facebook to be alerted to new posts.
Become a TravelSort Client and Book Your Hotel with Virtuoso or Preferred Partner Amenities!